This question gets asked a lot, and seems pretty straightforward. Yet, many candidates struggle to describe their position and significant accomplishments.
To give the perfect answer, you need to analyze the job description, pinpoint key responsibilities and tasks listed, consider the main job responsibilities and accomplishments in your current role (and include quantitative results), and structure your answer using the STAR formula.
This article will help you prepare a powerful and compelling summary of your role and duties and provide a breakdown of the steps listed above. What's inside:
4 things to consider when talking about your current job responsibilities
6 tips on how to structure your answer to stand out
Common mistakes to avoid when answering this question
Job responsibilities examples for different roles and industries
Want to get an offer after every interview? Our interview prep tool will guide you through all the questions you can expect, let you record and analyze your answers, and provide instant AI feedback. You'll know exactly what to improve to turn your next interview into a job.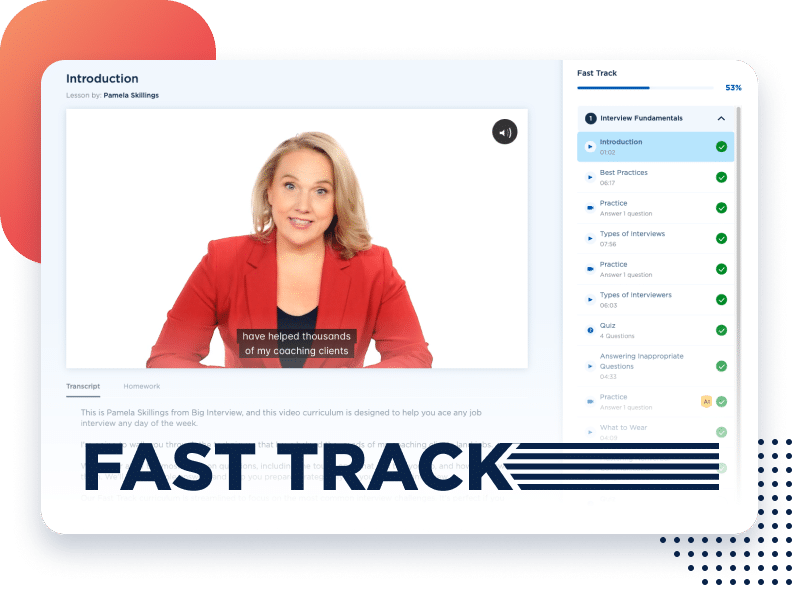 Our users land jobs 8 to 9 weeks faster than the national average. Get ready for your interview now.
Why Interviewers Ask You to Describe Your Current Responsibilities
Isn't the description of your current job duties and responsibilities already in your resume?
Sure, the key bits of info probably are, but the interviewers need you to go beyond bullet lists. They also want additional context and to hear it from you directly.
Here are a few reasons why interviewers want to know about your responsibilities:
To assess your skills and experience
By asking you to describe your current responsibilities, the interviewer wants to figure out if your skills and experience match the requirements of the role you applied for.
Your resume is just a sneak peek into your professional life, so this question gives you the opportunity to expand on those bullet points that briefly outline your duties.
Simply put, the answer is supposed to show the employer if you have what it takes to be successful in your new role.
By the way, if you're looking for a new job or want to practice for your next interviews, check out this Free Course.
To see if your past achievements and day-to-day duties might translate into success in this role
AKA, the interviewer is interested not only in what you do at work but also in how you do it.
They will read between the lines, and try to determine how well you handle your day-to-day tasks and challenges. They also want to learn about the solutions you come up with when facing problems.
All these factors reflect your skills and the value you add to the organization. Your answer should demonstrate your ability to deliver and convince the potential employer that you're the ideal candidate for the role.
Having said that, there's no need to stretch the truth and overstate your abilities. Employers usually don't look for a 100% match, especially for a new role. By exaggerating your accomplishments, you'll only do yourself a disservice as fibbing is a major deal-breaker for most hiring managers.
How to Prepare Your Answer to "Describe Your Role and Responsibilities"
First of all, you can relax. This isn't a trick question intended to catch you off guard.
Here are the key steps to take:
Analyze your current job description
You know what tasks and responsibilities you handle on a daily basis, but you need to infuse your answer with specific, real-life examples of how you applied your skills to achieve positive outcomes. Don't just retell what's in your resume.
Use your current job description as a starting point and dig deep into it. Think not only about what you do every day, but also about your accomplishments and what you consider to be your wins.
The narrative should go beyond talking about responsibilities. It needs to include why you were good at those tasks. Your answer should present you as a premium asset and someone willing to go above and beyond.
Determine your key responsibilities and tasks
Focusing on key responsibilities and tasks will allow the interviewer to understand your level of expertise and the breadth of your skillset. They're trying to gauge if and how these responsibilities align with the role you apply for and its complexities.
When structuring your response, describe your key responsibilities through the lens of how they have prepared you for this new position.
And if you're overqualified and need help, here's how to frame your responsibilities and land a job if you're an overqualified candidate.
Identify transferable skills relevant to the new position
Besides highlighting skills listed in the job description, you can benefit from including transferable skills in your answer.
Think back to your experiences in your current role and pinpoint the skills you have developed that are relevant to the new position. Don't forget to use the feedback you received from your superiors and check out how they perceive and describe your strengths.
Some of them are transferable and you can use them across different industries, roles, and settings. Here are some skills necessary for almost every job. Not mentioning them could hurt you.
Communication
Leadership
Accountability
Problem-solving
Adaptability
Organization
Conflict resolution
Flexibility
Reliability
Data analysis
Decision-making
Active listening
You can get more ideas in this guide on how to list skills in your resume. Although they are for a resume, these exact skills work in interviews, too.
Think of quantifiable achievements you'll want to mention
Of course, you want to sell yourself in the job interview but just listing your tasks and responsibilities isn't enough.
The trick is to frame your duties and responsibilities as impressive accomplishments.
A compelling response should contain quantitative results — numbers, stats, percentages, awards won (and any other actual tangible results). This will be the "proof" of how you bring value to your current organization and communicate you'll do the same or even better for the potential employer.
It's much more impactful when you say:
I lead a team of 8 financial analysts, address about 20 investment inquiries daily, and have been instrumental in boosting the company portfolio's annual returns by 14%,
than
I'm in charge of an investment management team and my duties include overseeing day-to-day operations, managing clients' assets, and deciding when it's best to buy or sell securities.
Why?
Because the second answer sounds like thousands of others they've already heard and doesn't include any details about results or performance.
So the trick isn't really in "describing" the duties and responsibilities (e.g. answering tickets and improving customer support efforts), but rather about proving that you're efficient in solving problems (e.g. you analyzed the customer support process, fixed a weak point, increased ticket resolution speed by X% and improved satisfaction score from X to Y). Here are some more examples of using the quantification method:
With these tweaks, I increased website traffic by 40% over a 3-month period.
A simple benefits package I created helped reduce employee turnover by 30%.
I secured a deal that added 2M to the company's annual bottom line.
Last year, a blog post I wrote resulted in 140 conversions.
Squeeze a few of these in, and your answer will get an immediate boost.
How to Structure the Answer About Your Responsibilities
Now that you've laid the groundwork, it's time to learn how to put all those bits of information together and structure your answer.
Use the STAR method
The STAR method is a powerful approach to answering behavioral interview questions. It's an acronym for Situation, Task, Action, Result, all of which should be the elements of your answer. Here's how the STAR method works:
Situation: Set the stage and provide some context about a particular challenge you faced while performing your duties and responsibilities
Task: Describe what your goal was in the situation
Action: List the steps you took to address this challenge and solve the problem
Result: Share the outcomes of your actions (and make them quantitative) and what you learned from this entire situation.
This formula works because it will prompt you to use storytelling and transform a generic descriptive response into a "why you should hire me" pitch.
Additionally, the STAR formula helps you demonstrate your skills and abilities through a conflict-and-resolution scenario.
It will be much more memorable and persuasive when you illustrate your responsibilities by telling a story about how you deal with specific workplace situations, what skills you use, and what results you achieve.
Here's an example of how a customer service rep might structure their answer using the STAR method:
Situation: I work as a customer service representative for an online retailer, Vision.
Task: I typically handle customer inquiries and complaints via phone, email, and chat.
Action: I use clear, polite, and empathetic language to communicate with customers and resolve their issues. Patience and active listening are my particularly strong points, so even when customers are angry or annoyed, I always manage to convince them we're doing everything to sort out their problem as soon as possible. Also, I regularly follow up with them to ensure their satisfaction and loyalty.
Result: Last 3 years in a row, I received positive feedback from customers and managers for my communication skills. I also increased the customer retention rate by 15% and increased sales revenue by 10%.
Be clear and to-the-point
Remember that describing your current responsibilities is just one of the questions you'll get in the interview and that you don't have too much time. So, don't drone on everything that you do in your current position — stick to the most relevant information.
If the interviewer wants to dive into the details later, they will ask for more information. If you elaborate on all the details of your current responsibilities, you can veer off-topic and lose sight of the main objective. Plus, being verbose will make you look like you don't know how to articulate your ideas clearly and that you can't tell what's important and what's not.
Maintain a logical flow of ideas
When interviewing, many candidates struggle to present their ideas in a clear, concise, and coherent way.
If you talk too little, you won't capture the interviewer's attention or make an impression, and if you go into too much detail, you risk going off-topic.
To prevent this:
Keep a logical flow of ideas
Avoid jumping from one topic to another
Structure your answer in a meaningful way
Again, this is where the STAR method really helps, just don't try to memorize the answer word for word. This answer needs to sound authentic, not pre-learned.
To do this, you can use a mock interview preparation tool to practice your answers before the big day.
Adapt your answer to specific job requirements
As with all other questions, you should avoid general or vague answers, or try to use the same, memorized script. You can have an outline or stick to a bullet-pointed list of things you want to cover.
The key is to be specific, so don't skip the step of analyzing the job description. Always consider how you can demonstrate that your current position has prepared you to master the new role's responsibilities.
Show how your current responsibilities align with the prospective role
Interviewers want to learn if your experience matches the duties and responsibilities required for the position.
That's why it's crucial to mention that you have similar experience, and note some of the accomplishments and milestones you hit while in your current role.
If relevant, mention previous experiences too
Although the question is about your current responsibilities (in your most recent or current job), you can mention any other experiences listed on your resume if they're contextually relevant and fit the flow of your answer.
When changing careers, this is especially important. You need to identify your transferable skills and analyze how your previous experience has prepared you for the role you're currently applying for.
The key thing to remember is that this should be a compelling, big-picture description of your current (+ past) role and responsibilities. It should also match the job requirements and make sense for the interviewer.
"Describe Your Current Responsibilities" is just one of the standard interview questions, you can be almost sure you will get asked. Prepare for other interview "classics" with our dedicated guides:
If prepping for a video interview, learn what to expect from this guide: Video Interviewing Tips & Tricks
And if you're interested in interviewing for specific positions, see:
"Describe Your Current Responsibilities" Example Answers for Different Industries
Here are some ideas on how you can answer this question. If your role or industry is not covered here, you can use this formula:
I'm currently working as a [Your Current Role], and my typical job responsibilities involve [Duty 1], [Duty 2], and [Duty 3]. For example, I use my [Skill 1] and [Skill 2] to [Goal]. I recently [Task 1], which helped the company reach [Goal], resulting in [Quantifiable Result/Accomplishment].
Customer Service Representative
Q:
Tell me about the day-to-day responsibilities in your current role.
A: As a Customer Service Representative, I primarily handle customer inquiries and requests via email, chat, and phone. I handle about 150 requests a day and recently hit a 95% customer satisfaction rating based on post-interaction surveys, surpassing the company's target of 90%. When I first joined the company, I often had to consult senior colleagues, so I later suggested that we create an internal technical knowledge base for our team, and thanks to that, we reduced ticket resolution time by 20%.
Why this works: The candidate is concise when describing their day-to-day duties, then quickly shifts to quantifiable results: the number of requests handled a day and the customer satisfaction rate. The choice of accomplishments is excellent — surpassing the company's target is always a good signal to the interviewer. His story about fixing processes and reducing ticket resolution time is a good example of how you can implement the STAR formula to drive your point home.
Retail Worker
Q:
How would you describe the main responsibilities in your current role?
A: Currently in & Other Stories, I actively engage with customers and use my knowledge of fabrics, garment care, and styling to maximize sales. I also process customer transactions and deliveries and help to prepare seasonal sales. This includes tasks like forecasting sales, planning displays, and scheduling managing the floor on the busiest days. Last year, I exceeded my sales target by 15%. I also collaborated with the visual merchandizing team to create seasonal displays that resulted in a 35% increase in sales for promoted items.
Why this works: Again, this answer goes deeper than simply listing duties. They're noted briefly in the first two sentences, but the candidate uses specific results (exceeding targets by 15% and increasing sales by 35%) that immediately present him as someone who takes work seriously and can take on a challenge.
Marketing Specialist
Q:
Could you briefly describe your current job responsibilities and duties?
A: You could say I'm the main guardian of Philo's main online asset – the website. For this, I use tools like HubSpot, Google Analytics, Google Optimize, and Ahrefs. I recently led the implementation of an A/B test of the main conversion form on the website, using the breadcrumb form method, boosting the number of booked demos by 20% in the first week.
I also organized various automation workflows to drive conversions. An example of that is a recent automated demo workflow I created. We wanted any leads with fewer than 200 employees to go through a recorded demo before touching base with our Sales team. This required a complex algorithm of emails, forms, and pre-recorded videos. I'm happy to say that the quality of our SQLs has improved by 30%.
In an average year, I generate and analyze 17 reports (monthly, quarterly, and yearly), mostly on campaign performance, website traffic, and lead generation. I also present the most important ones to the executive team.
Why this works: This candidate uses the STAR formula to show how they achieved important goals – increased the number of leads and handled an important and complex automation task. They didn't stop there, but also noted the results using numbers and metrics.
Software Developer
Q:
Could you briefly describe your current job responsibilities and duties?
A: I use HTML, CSS, and JavaScript to create and implement websites for 8 client companies. I also conduct testing and debugging to ensure optimal functionality across different devices and browsers. Last year, there was a client that struggled with website speed. I realized that the issue lay in a few old patches and outdated plugins, and managed to reduce load time by 20% through code and plug-in optimization.
Why this works: The candidate communicates their daily responsibilities effectively by immediately diving into the specifics – mentions the technologies they use and the number of websites they work on. Next, they use the STAR formula to present the situation (a client struggling with website speed), what their task was (improve speed by X percent), what action they took to solve the problem (diagnose and fix the issue) and what the end result was – improve website load time by 20%. Their anecdote is a great illustration of how you can use the STAR formula to provide a compelling, yet concise answer.
Financial Analyst
Q:
Can you tell me a bit about what your current job entails?
A: I'm a Financial Analyst at Neopix, and, as you may guess, my day-to-day is all about reports, financial modeling, and forecasting to support strategic decisions or analyze business performance. I recently worked with our DevOps team to organize a major cost-saving project, reducing our S3 buckets on AWS, resulting in a 12% reduction in OPEX over a 3-month period. In the last year, I implemented several process improvements that reduced the monthly financial closing timeline by 20%.
Why this works: The candidate packs their day-to-day in a single sentence, then goes on to explain a major accomplishment that's perfectly aligned with their role – a cost-reduction project that saved company dollars.
Registered Nurse
Q:
Can you give me a walkthrough of your current responsibilities and duties?
A: I'm an Illinois-licensed Registered Pediatric Nurse at Aurora Hospital, where I assess patients' conditions, perform treatments, administer medications, and communicate with patients and their families. I'm also head of intravenous therapy and telemetry. Last year, I achieved a 96% patient satisfaction score based on post-discharge surveys, and in May this year, I was voted Employee of the Month and recognized for teamwork and communication skills.
Why this works: This response goes beyond just listing duties (interviewers know what a nurse does). The first sentences provide a concise overview of the responsibilities, the candidate proceeds to highlight tangible outcomes (96% satisfaction rate) and list a recent award as additional proof of their reliability and attitude to work.
High School Teacher
Q:
Could you briefly describe your current job responsibilities and duties?
A: I'm an English teacher at Oslo Gymnasium, where I teach grades VG1-VG3. My standard duties include lesson planning, classroom management, assessment, and administration. In the last 4 years, 23 of my students have participated in national language competitions and won 7 awards. In 2022, I also raised students' average test scores by 15% compared to 2021. I organize two school plays every year, at the end of each semester.
Why this works: The candidate provides a concise, yet detailed answer on her current duties and focuses on her impact through her students' accomplishments – better average test scores and participation in national competitions, both supported by numbers and quantifiable results.
Common Mistakes to Avoid
When structuring your answer to "Describe your current responsibilities," there are a few mistakes that candidates often make.
Here's how not to fall into the trap:
Don't be too vague or generic
To give you a better idea of what this means, let's take the English Teacher example above.
Every teaching job will have one and the same essential requirements – preparing course materials and lesson plans, implementing various teaching methods and strategies, maintaining attendance records, correcting and assessing student assignments and tests, using effective classroom management techniques…
Bored yet?
Even if the job description says precisely this, you need to act smarter. 90% of other candidates will have a generic response, so this is your chance to differentiate yourself.
Always try to showcase skills and accomplishments, establish a strong connection between your past experience and the requirements of the position, and add those numbers to really stand out.
Another thing – being vague can signal a lack of preparation. You want to come across as someone who has carefully considered their responsibilities and taken the time to reflect on your contributions.
Don't just list your responsibilities
This question is not about what your average week looks like, so don't say things like Every Monday morning, I create a weekly SEO report, and then have a call with the team to discuss the tasks for the upcoming week.
Avoid listing your responsibilities mechanically. Instead, mix your responsibilities with some key skills and "greatest hits" accomplishments, and you're good. The rebranding of job duties into accomplishments will send a message that you're someone who's goal-oriented and brings value. A simple hack, but a total game-changer.
Refrain from oversharing or providing irrelevant information
This rule applies to every single interview question.
You want to come across as focused, professional, and collected. And when you overshare or dilute your answer with lots of irrelevant details, it communicates the opposite.
You don't want to waste the interviewer's time by going off on tangents or being taken as someone who can't prioritize and communicate effectively.
That's why it's crucial to prepare for the interview and use a proven formula (like the STAR method) that will keep you concise and coherent. You can use the Big Interview mock interview tool to practice answering the most common interview questions.
You can practice at your own pace, and replay your answers to review mannerisms and facial expressions. You can also re-record your answers until you're satisfied.
Once you submit your answer, you'll get AI feedback – a score that includes answer relevance, pace of speech, um counter, vocabulary, power, and filler words. These were all examples for Describe your current responsibilities, but we have a full article on the most common interview questions if you'd like examples for more questions you'll get in your next interview.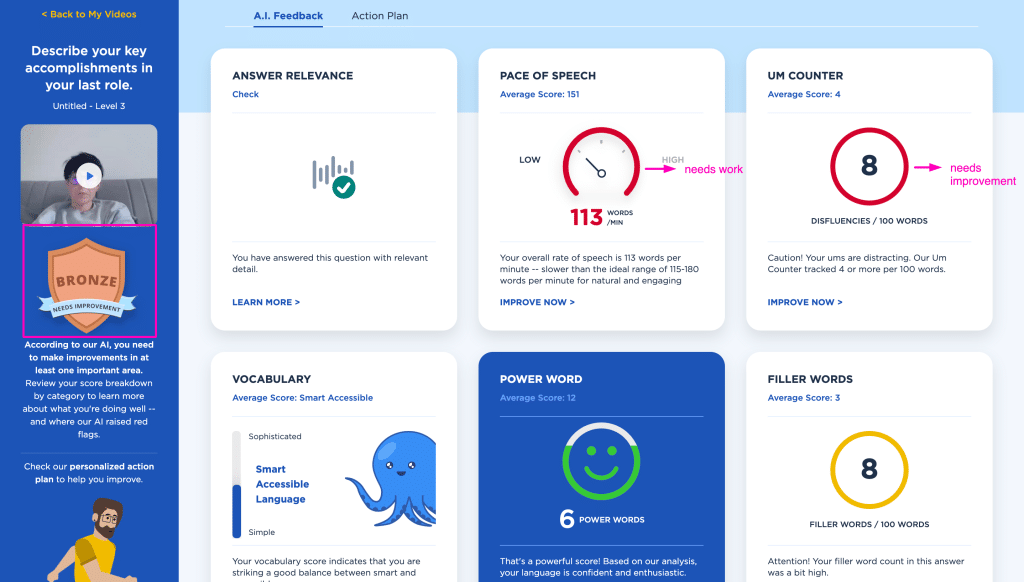 In this example, the candidate got a Bronze (Needs Improvement) score because they spoke too slowly, and used a lot of filler words and ums. They can now check the Action Plan with tips on how to improve their score.
Avoid negative language and don't criticize your current role
Many companies value attitude above skills.
If you speak negatively about your current role and employer, and you'll raise a huge red flag. A negative attitude like this will reflect poorly on your professionalism, mindset, and ability to cooperate.
So even if you're miserable in your current role, try to keep a professional attitude and positive tone and emphasize the skills, accomplishments, lessons learned, and experiences you've gained there.
Final Thoughts
Although Describe your current responsibilities is not considered a particularly difficult interview question to answer, you still need to remember to be brief, clear, and highlight your accomplishments. Here are our top tips again, summarized:
Cross-reference your resume with the job description. Focus on the things you do in your current role that match the job description. Next, list your greatest accomplishments to support your qualifications, responsibilities, and duties with a success story.
Focus on your impact. Stress any important details like stats, numbers, awards, or direct positive outcomes of your activities.
Use the STAR method to structure your answer. Explain the Situation/Tasks you are given, Actions you take to get them done, and Results of your work.
Be brief. This question is usually asked at the beginning of the interview. There will be time to get into the details later, so practice your answer in advance so you can fit the key information in two or three sentences.
If you're currently job-hunting, here are some resources to help you out: 1. Check out theis guide on how to prepare for an interview
Master answering behavioral interview questions like a pro
Practice answering common questions with this interview preparation tool (Rated 4.9/5 by 1,000,000 users).
FAQ
What are examples of job responsibilities?
They vary greatly depending on the industry, role, and seniority. Each position entails an average of 10-12 responsibilities. But here are some examples to give you a better idea. For someone working in Sales, it could be "Providing product demos and sending POs and quotes." For a Project Manager, "Assigning tasks to team members, managing progress and deadlines."
What is the description of your job responsibilities?
Once a job opening is advertised, the job description usually includes sections like Responsibilities and Requirements. You can source the description of your job responsibilities there, but don't copy it to your resume or interview answer. It's important to use it as a starting point, but also add some tangible, quantitative accomplishments and skills for a complete answer.
How to answer "What do you like most about your current role and responsibilities?"
This interview question gives a positive spin to a standard "Describe your current job responsibilities." It asks them to focus on their favorite aspects of their current job. This tells the interviewer what the person's main passions are and what they'd like to continue doing in their new role. Again, use this as an opportunity to sell yourself by listing your accomplishments doing these tasks.
What to say when they ask: "How would you describe your current job role?"
This question is misleading because it asks you to "describe", but your answer shouldn't really be descriptive or focus on your day-to-day. Start by stating your current role and what it entails, but keep it to 1-2 sentences max. Then use the STAR formula to explain how you solve problems, and hit KPIs at work. Focus on your accomplishments and tangible, quantitative results to really bring your argument home.
Do I have to limit myself to responsibilities in my current or most recent role?
The interviewer expects you to focus on your current or most recent role and responsibilities because, in an ideal scenario, you'd like to continue and build your career in the same direction. Also, your most recent experience is supposed to give them a good idea about your current skills and strengths. If you think your other experiences are relevant to the position you're interviewing for, you can include them too.
How much detail should I give when describing my job responsibilities and position?
Find a balance between providing enough detail and not overwhelming the interviewer. You should be concise and provide a high-level overview, but also use specific examples, quantitative accomplishments and results. If you're speaking with a hiring manager who knows the ins and outs of your job role and industry, you can be more specific.
What if my current responsibilities are different from what I'd like to do?
In this scenario, you want to highlight the transferable skills and experiences relevant to your desired role. Focus on the technical aspects, skills, and strengths you need in both roles, emphasize the new skills you've acquired, and mention the enthusiasm and practical steps you've taken to learn about the new role (like courses or training).