Most people feel pretty comfortable with describing their current job responsibilities (or their most recent position if the candidate is currently between jobs).
In fact, when hiring experts conduct interviews on behalf of corporate clients or for their own company, they often ask this question first precisely because it is so straightforward. The candidate is likely to be comfortable answering the question, so they will usually relax and open up a bit.
While it may be easy to answer this question adequately, we know that you, reading this article, want to not only perform well, but excel in your interview. You want to deliver a great answer — one that clearly demonstrates why you are a fantastic fit for the job.
Why Interviewers Ask About Your Current Position
Some candidates think that interviewers asking about their current position is quite silly. After all, you worked hard to craft those coherent resume bullet points. Shouldn't your interviewer be able to get this information from a quick read-through of your resume?
Well, someone obviously read your resume and determined that you were qualified enough to call in for an interview. However, the person who ends up interviewing you may not have had time for a full review — or they may have reviewed it and forgotten the details (easy to do when they have a busy schedule and especially if they are interviewing numerous candidates with similar backgrounds).
You may get asked about your current position even if your interviewer is intimately familiar with your resume. Asking questions about one's current position is good for a couple of reasons:
1. It puts the candidate at ease
This question is much easier to answer than the most common interview opener, "Tell me about yourself." It's a specific question about your current role or very recent job responsibilities so the details should be easy to recall and articulate.
Interviewers generally ask this question not only to get the information they need, but also to make candidates feel comfortable and give them the opportunity to start off easy and confidently.
2. It can help the hiring manager clarify and expand on the resume
There's only so much a resume can communicate. If you're meeting with interviewers, your resume obviously got someone's attention. However, your future boss will want more details and context to determine if you're the best person for the job.
3. It can help the hiring manager validate your resume
Shockingly enough, people have been known to lie on their resumes. So, when asking you about your current role, your interviewer will want to make sure that all of those impressive bullet points on your resume are ACTUALLY true.
In general, your most recent or current position is always going to be the most relevant for your interviewer. The way you describe your current responsibilities will provide a good idea of the work that you're capable of doing at this point in your career.
How To Answer: Describe Your Current Position
Here are some guidelines for wowing your interviewer with the answer to this question:
1. Remember what you listed in your resume
It's a good idea to start with the duties and responsibilities you listed in the experience section of your resume. Remember that the interviewer has already seen it, so the point of this question is NOT to just list what you've already written, but to elaborate and provide a bit more context.
Also, try to think back to the responsibilities that were listed in the job ad. It's great if you can connect your current duties with the ones mentioned in the job description. For instance, if the job description states that they're looking for a customer service manager who'll provide feedback to management, don't forget to mention how you handle that in your current role.
For example, you can say that you organized weekly calls with Product and Management teams to discuss common trends in customer calls and major points of struggle for customers. Also, make sure you mention that this initiative resulted in a 10% reduction of calls (if you can do so honestly, of course.) The point is to validate what you say you did with quantifiable results.
2. Focus on results
Many candidates make the mistake of just listing their job duties (this is a common mistake in the job interview and also on their resumes). If you want to impress your interviewer, focus on how you performed and how you went above and beyond the job description. Here's what you should stress:
any impressive achievements (a promotion, an award),
statistics (#1 sales person, 26 people managed),
numbers (revenue generated, expenses reduced),
actual tangible results (e.g. wrote a blog post that resulted in X conversions and Y sales) and other details.
3. Customize for the position
You can develop a standard approach to this question. Again, don't try to memorize a script (we repeat this advice constantly because it is REALLY important). You just want an outline of the bullet points that you want to cover.
Once you have a standard approach in mind, be prepared to customize it for each new job opportunity. For some positions, your standard description may work perfectly.
For other roles, it may make sense to add an extra line or detail if the firm is looking for specific expertise that you don't always highlight. Analyze the job description and think about how you can show that your current position has prepared you to master the new role's responsibilities.
Here's how I'd answer this question as a copywriter in 2 different situations:
a) A small business looking for someone to manage all their copywriting efforts
"In my current role, I'm responsible for all brand content — from defining the content style guide, voice and tone, producing website content, ad copy, blog and landing page copy, to writing ads and email copy for marketing and sales campaigns. A blog I recently wrote has just reached 1,000 organic visits, resulting in 17 leads and 4 sales to organizations with 200+ employees."
b) A large organization looking for an SEO blog writer
"Some of my current responsibilities focus on blog writing — I have produced 130+ articles in my current role, 7 of which now rank in the top 10 visited pages in Google Search Console. Under normal circumstances, I produce 2-3 1500-word articles per week. I'm also in charge of the on-page SEO aspects of the blog. I currently use SemRush as my SEO tool, but I could easily switch to Ahrefs."
4. Be concise
Don't try to describe absolutely everything that you do in your current position. This question is NOT about your TPS reports. Instead, focus on the highlights that this particular interviewer will care about. Don't feel obligated to explain details about your current responsibilities that could be confusing or lead you off on a tangent. Stick to the most relevant and impressive aspects of your current job. If the interviewer wants to dive into the details later, they will ask for more information.
Describing Your Current Position Example Answers
Describe your current position: example answer 1
Position: 
Senior Program Manager, Technology Department at Major Financial Institution
Job description:
The job holder will manage the planning, organizing and implementation of a large complex internal governance system (highly visible initiative crossing multiple disciplines and businesses.
S/he works with constituent Project Managers to monitor cost, schedule, and technical performance of component projects and operations, while working to ensure the ultimate success of the program.
S/he is responsible for determining and coordinating the sharing of resources among their constituent projects to the overall benefit of the program. S/he is responsible for stakeholder management.
S/he facilitates Steering Committee and regular program team status meetings and all other communications. All team members within the program take direction from the Program Manager for the duration of the project. The Program Manager is accountable for the overall management and delivery of the program on behalf of a business, operations, and IT.
Qualifications:
Prior experience managing strategic and/or cross-organizational projects and planning and tracking multiple complex projects or programs required.
Must have experience coordinating work across multiple disciplines or organizations and be adept at building consensus across organizational and functional lines.
Experience managing vendors and contracts as components of a program. Advanced degree preferred.
The candidate:

Josh is an experienced project manager in a senior role at another financial services organization.
Watch Josh's answer explaining his current duties:
"For the last two years, I've worked as a lead project manager on the redesigning of a trading platform used by 4,000 investment managers at MegaInvestments. In that position, I was responsible for a cross-functional team of 14 from information technology, operations, and project management. And I was able to complete the project under budget and a few months ahead of schedule."
Why we like this answer:
In his response, Josh emphasizes his successful completion of a comparable project. This shows that he can get results. He also draws attention to the fact that he managed a cross-organizational team from the business, technology, and operations departments.
The job description clearly states that they are looking for "prior experience managing strategic and/or cross-organizational projects" and someone able to take responsibility for "management and delivery of the program on behalf of business, operations and IT."
Notice that Josh didn't get into too much tactical detail in his answer. The interviewer will certainly ask for more information about Josh's approach and any obstacles encountered. However, Josh's initial answer is fairly broad and focuses on the complexity of the project and his success managing it.
Describe your current position: example answer 2
Position:
Administrative Assistant for a cable television network
Job description:
Provides complete administrative support to the organization.
Works fairly independently, receiving a minimum level of detailed supervision and guidance.
Maintains close and highly responsive relationship to day-to-day activities of the Executive.
Demonstrates strong interpersonal skills as well as an ability to manage multiple tasks in a fast-paced changing environment.
Key job responsibilities:
Schedule and maintain Executive's calendar of appointments, meetings, phone calls, appointments, expenses and travel itineraries
Prepare meeting materials, charts, and reports needed by Executive
Review and handle coverage on all scripts, books, and pitches as well as all unsolicited submissions to the network — maintain submissions log
Handle a wide variety of situations and tasks involving the clerical and administrative functions of the office
The candidate: 
Lauren is currently an administrative assistant for a book publishing company.
Lauren's answer:
"I'm currently the administrative assistant for a senior editor at Big Book Publishing House and I basically run his calendar and his office. I always say my job is to take care of all of the administrative details so he can focus on his projects.
He travels a lot and I do everything from booking his flights to preparing and printing his presentation decks to filing expense reports. I also keep the office running smoothly — one of my favorite tasks is managing the manuscript submissions log and bringing interesting submissions to my boss' attention.
I actually revamped the whole submissions log system last year and my new approach has now been adopted by the rest of the company."
Why we like this answer:
Lauren wants to make the move from book publishing to TV. Her answer focuses on highlighting why her experience is very relevant.
Lauren describes her experience as it aligns with the top job responsibilities in the description (calendar management, preparing meeting materials, managing submissions).
She also demonstrates that she can handle multiple tasks and can work independently — in fact, she came up with a new system that has been adopted company-wide.
Reading between the lines of the job description, you get the sense that they are looking for someone to support a high-maintenance executive. Lauren makes it clear that she could do that very well.
More "Describe Your Current Position" Example Answers
Ola is a local librarian looking for an opportunity in a University library.
"As a Librarian in a local library, my current roles and responsibilities are focused on providing customer service to library users and recommending new books. I'm also responsible for cataloging and keeping track of library materials, as well as overseeing and managing a team of 4 assistant librarians and library aids.
I've just passed the ALSC course on serving teenagers and young adults, which has helped me understand this age group better and get an idea of how they fit into public library service in this particular period of life."
Why we like this answer:
Ola is brief, to-the-point and makes sure to include in her answer that she understands how her potential new role will be different from her current one. She mentions the course she has taken to bridge the gap, which shows motivation and dedication.
Ivana is currently working as a pizza delivery person interviewing for the role of Amazon delivery driver.
"For the last 2 years, I've been employed as a pizza delivery person in a pizzeria. So my current roles and duties are to drive… transport the pizza from the restaurant to the customer's desired location. I also need to perform the final checks on the product before starting the delivery, and I also process card and cash payments. In addition to that, I must know the city and the areas I'm serving, to be able to manage my delivery if I have more than one address to deliver to, and to figure out the best way logistically.
In the delivery business, customer service is very important, so I always arrive on time and be very polite and professional since I'm the face the customer sees, and it's on me to represent our whole business."
Why we like this answer:
With this answer, Ivana shows that she's able to list her current duties without going into much detail. She also shows awareness of the importance of customer service and gives examples of how she handles the actual deliveries.

Jen is a high school English teacher interviewing for the same role in another city:
"I've been an English teacher in School X for the last three years. I've been working with groups of up to 20 students, with some of my main duties being the creation and implementation of lesson plans and managing the classroom. I also need to continually assess students' abilities, knowledge, and performance, outline extracurricular activities, and collaborate with other teachers and parents to track students' progress and improve their results.
Over this period, twenty three of my students have participated in state literature and poetry competitions, and won 7 awards."
Why we like this answer:

Jen provides a concise, yet detailed answer on her current duties and focuses on her impact through her students' accomplishments. She also shows that she understands the importance of collaboration with fellow teachers and parents in order to be successful in a teacher role.
Describing Your Other Positions
Once you feel comfortable with how to describe your current position or most recent role, take some time to think about how to describe all of the other positions on your resume.
Apply the same approach described in this post. You should have a compelling, big-picture description of your current job and every past role.
Focus on your most recent jobs, but be ready to talk about any position listed on your resume. In fact, going through this process may help you spruce up your resume and make it more compelling. That will mean more interviews for you and more opportunities to describe your current position.
How to Practice Answering "Describe Your Current Position"
As with all other questions, you can practice alone, with a friend, or using an interview preparation software. Here's how you can practice with Big Interview's tool: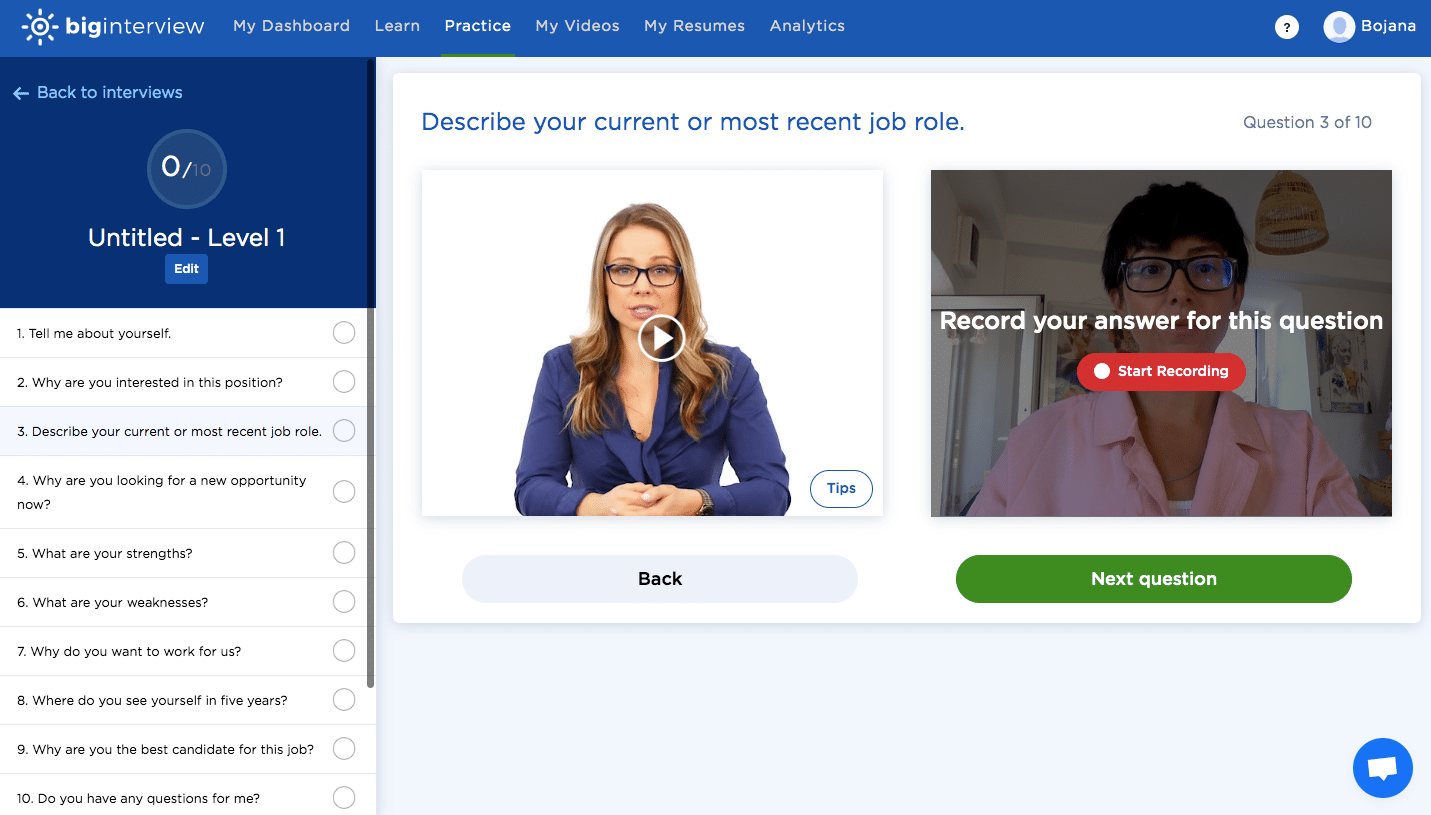 Once in the Practice section of the software, you'll see the list of interview questions on the left and be able to answer them all from 1 to 10 or skip to a particular question you'd like to practice.
If you choose the third question, "Describe your current or most recent job role", you'll be given time to prepare, and then record your answer.
You'll also be able to see some practical Tips before creating your answer, as well as an example answer to help you stay focused.
You can also re-record your answer until you're satisfied. Once you submit it, you can have our AI-based tool grade your answer for clarity, message, body language and eye contact.
Final Thoughts
Although "Describe your current position" is not considered a particularly difficult interview question to answer, you still need to remember to be brief, clear, and highlight your accomplishments.
Here are our top tips again, summarized:
Cross-reference your resume with the job description. Focus on the things you do in your current role that match the job description. Next, list your greatest accomplishments to support your qualifications, responsibilities, and duties with a success story.
Focus on your impact. Stress any important details like statistics, numbers, awards, or direct positive outcomes of your activities.
Be brief. This question is usually asked at the beginning of the interview. There will be time to get into the details later (and the interviewer can always ask for more information). Practice to fit the key information in two or three sentences.
Before you go, make sure to also check out our guide on the 10 most common interview questions (with example answers!).
__________________________
Need a hand? There are 2 ways we can help you:
1. Learn how to turn more job interviews into job offers here. (Rated with 4.9/5 by 1,000,000 users)
2. Learn how to successfully negotiate a better salary. (Take a sneak peek of one lesson for free here)