Tell me about yourself. You'll hear these four fairly unassuming words at the beginning of almost any job interview.
While this question is intended to be an icebreaker and help you ease into the interview, many candidates have a completely opposite reaction — freeze and get tongue-tied. Or, they get carried away and start nervously rambling and oversharing. This guide will help you find the right balance.
What you'll learn:
A proven formula for answering "tell me about yourself" + additional tips you can implement immediately
Why interviewers ask this question (and what it means for you)
"Tell me about yourself" example answers for various interview situations and jobs
Here's how to best answer "tell me about yourself":
Introduce yourself, tell them who you are and what you do. Then, talk about your past work experience, key responsibilities, and skills. Mention your relevant achievements. Finally, explain how your strengths can contribute to the company.
Want to get an offer after every interview? Our interview prep tool will guide you through all the questions you can expect, let you record and analyze your answers, and provide instant AI feedback. You'll know exactly what to improve to turn your next interview into a job.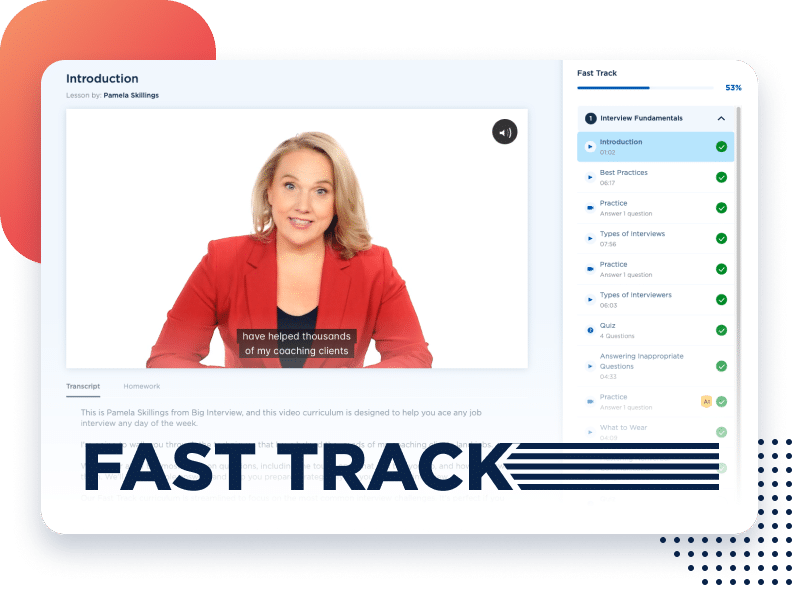 Our users land jobs 8 to 9 weeks faster than the national average. Get ready for your interview now.
Why should you trust us?
As a career coach for 15+ years, I've assisted thousands in landing their dream jobs. I've heard responses to "Tell me about yourself" countless times. Moreover, we've interviewed HR analyst Fabian Sandoval for his valuable advice, which will be featured throughout the article.
Why Interviewers Ask "Tell Me About Yourself"
To help you ease into the interview
You shouldn't have too much trouble talking about your background and interests. That's why interviewers think it's a good idea to take some pressure off by initiating an informal conversation. They also need some warming up before moving on to more complex technical, performance-based, and behavioral interview questions.
To check how you handle open-ended questions
No matter what position you're applying for, good communication is an essential skill. And open-ended questions are the best way to see if you can express yourself clearly and effectively.
To gauge if you're a good overall fit
When answering the "tell me about yourself" question, make sure your narrative resonates with what matters the most to the company and its values.
For example, if your potential employer champions diversity, sustainability, or innovation, try to incorporate that factor into your answer. This will show that you did your research.
To make the interview feel more like a conversation
A detail you share in your answer can catch the interviewer's attention and serve as a starting point for a string of follow-up questions that will turn the interview into a more natural conversation.
To get a glimpse of the human behind the resume
Yes, the interviewer is interested mostly in the professional aspect of your life, but getting to know you as a person might reveal your hidden talents, potential, or strengths. You can mention an interesting hobby you're passionate about or a fun fact about yourself — especially if these bits align with the company culture.
Bonus tip: "Tell me about yourself" is not the only way interviewers can phrase this introductory question. And even if it's formulated differently, your job is to recognize the intent and answer the question using the same formula.
The Most Common Alternatives of the "Tell Me About Yourself" Question
I'd like to hear more about you.
Walk me through your resume.
Could you share a bit about your background?
Tell me more about your journey.
Is there anything about yourself that's not on your resume you'd like to share?
How would you describe yourself?
Talk about the events that led you to pursue your current career?
How to Answer "Tell Me About Yourself"
Focus on your professional life and use the the present-past-future formula:
Present: describe where you're currently at with your career.
Past: explain how your previous roles and experiences shaped your professional self.
Future: outline your career plans and how this role aligns with them.
Let's see what that means and how to structure your answer.
Present: describe where you're currently at with your career
Start by talking who you are at this point of your career and life journey, and what your current role is. Don't hesitate to mention a recent accomplishment. Include some basics like your name, where you live, and your job title. Briefly describe the scope of your responsibilities too.
Example: My name is John Mendes. I'm a marketing director at AlphaBeta Software, and I'm responsible for developing marketing and branding strategies while coordinating a team of 30 people. It's been pretty exciting, we've managed to grow the customer base by 50% and boost revenue by 30% over the past 12 months under my leadership.
💡Our simple interview training tool will quickly teach you how to craft and deliver answers like the one above. With confidence.
Past: explain how your previous roles and experiences shaped your professional self
Then segue into your past experience, previous jobs, work responsibilities, transferable skills, and education, but include only the parts that are relevant to the position you've applied for. Connecting the dots and providing an insight into what made you decide to pursue this particular career would be a nice touch. It would show the recruiter you're genuinely interested in succeeding and that it's an intended path and not just a temporary sidetrack until something better comes along.
HR Analyst Fabian Sandoval recommends, "Talk about a previous role that directly aligns with the job you're interviewing for and highlight any achievements that could be relevant. This could even be projects you've done while freelancing. The idea here is that you want to paint a picture of career progression. You want to show that each step has prepared you for the next and then to this interview."
Example: Prior to my current software developer position, I worked as a QA tester at Acme Engineering for two years. I've always had a knack for problem-solving and numbers, so I majored in Math and was on my college's chess team. Earning the Google IT Automation with Python Professional Certificate was a logical step, after which I landed an internship at a local software startup.
Future: outline your career plans and how this role aligns with them
Obviously, your prospective employer wants to know what your career plans are and what attracted you to this particular job. It's essential to work your skills and interests into this section and tie them to what the position entails. By referencing the future, you'll demonstrate that you've given both your career and this particular job some thought. And you'll score some points for showing proactivity.
Example: Although I really enjoy my work as an SDR, I'd like to dig deeper down the sales funnel and start actually closing deals. The current position has given me the opportunity to master my communication, listening, and negotiation skills. After two years, I'm ready for a more challenging and dynamic role that requires bringing new business and revenue to the company.
This article focuses on how to best answer "Tell me about yourself", which is more centered around making a solid introduction. If you're struggling with how to sell yourself in the interview, check out this guide on how to answer "Why should we hire you?"
"Tell Me About Yourself" Sample Answers
Now let's see how you can use all these tips in practice for a winning answer when introducing yourself in an interview.
Sample answer for interviewing for a similar position
I'm currently a Customer Success Manager at Global Relay. In that role, I'm in charge of leading the Customer Success team, coordinating new client onboarding, reviews, case studies, feedback, upgrades, and handling occasional escalations. The role requires continual cooperation with all other teams – R&D, Marketing, Technical Support, and Sales. I'm happy to say that my 2022 churn rate is zero, which is an all-time low. Prior to my CMS role, I worked in various Account Management and Tech Support roles, which allowed me to get familiar with many different processes. After 5 years at Global Relay, I'm ready to bring my expertise and experience to a rising startup like Globe, where I'd be able to organize the Customer Success department, establish processes and help maintain revenue and high satisfaction scores.
✅ Why this works: The candidate sticks to the present-past-future formula to a tee. She starts with introducing herself without mentioning any personal information (age, marital status, family details, etc.) and focuses on her work persona. She clearly explains what her current job entails (things like coordinating new client onboarding or cooperation with other teams), and includes a particularly important metric (zero customers churned last year), which is impressive but doesn't feel forced. She goes on to explain how she got where she is today and continues to the Future, where she lists the things she finds the most appealing about the new opportunity.
Sample answer for candidates with little to no experience
I'm currently a senior at the University of Pennsylvania where I'm majoring in Marketing and have also had the chance to gain experience through a number of marketing internships. I spent one summer in London, where I took courses at the London School of Economics and also interned in the Marketing department for TALA. I've been interested in fashion since I was a teenage girl, so a mix of marketing and fashion was a dream-come-true. It was a great experience overall and I learned a lot about influencer marketing and international marketing. The previous summer I interned at a marketing agency here in Philadelphia where I supported the team on marketing projects for a number of different clients in the fashion industry. I did a lot of work on social media marketing campaigns and helped to staff marketing events. In one summer, we managed to generate 46K new followers for one of the clients. I'm really excited about this opportunity because it's such an innovative company and I think that the job description is such a good match with my social media marketing experience and my love of the fashion industry.
✅ Why this works: Apart from following the present-past-future formula, this candidate provides just the right amount of detail to spark the interviewer's interest. She starts by listing her present situation (graduating soon) and goes on to show how her additional education and two internships help her qualify (past). She also mentions an achievement (46K new followers) when giving examples of her day-to-day as an intern. Finally, she moves to the future part, where she lits the values in the company that attract her (innovation).
💡Our simple interview training tool will quickly teach you how to craft and deliver answers like the one above. With confidence.
Sample answer for switching industries
I have been a Project Manager for the last 10 years. I'm currently employed as a Senior Project and Delivery Manager at Nutanix. This role involves managing 80+ short-term projects, each with a budget of up to $500K. In my previous PM jobs, I was praised for my communication and organizational skills, and diligent reporting. My BSc degree in Business Project Management from EDC Business School in Paris helped me get familiar with all the main project methodologies like Waterfall, PMP and Scrum, as well as financial planning and risk management. I'm also multi-lingual. Apart from English, I have advanced certifications in French, German and Italian, which has helped me work on various projects in EMEA. Although I'm very happy at Nutanix, I'd love to switch to a similar role where projects last longer and where I would be working with higher budgets.
✅ Why this works: The canidate tarts by introducing herself (again, without listing any unnecessary personal information such as age, marital status, ethnic background) and immediately focuses on some numbers she typically achieves today (10+ years of experience, 80+ projects, <$500K budget). This immediately tells the interviewer that this is someone who knows how to do their job. She then rewinds to the past, and discusses her education (again, not just to flaunt her fancy Paris degree, but to show how it helped with the real-life challenges she solves at work on a daily basis – PM methodologies, finances, risk management). She also mentions the fact that she speaks several languages, which is a great assed in international project management. Finally, she underlines the fact that she's not interested in leaving because she's unappreciated. On the contrary, she's aware that for her to grow as a PM, she wants to be able to manage much larger budgets.
Sample answer for career-changers
I'm a Project Manager at Le Bataclan with a Master's Degree in Management in Art and Culture from the Université Paul Valéry in Montpellier. As a Project Manager there, I'm in charge of overseeing the program and budgeting, as well as working closely with the event team on organizing concerts and preparing the venue. I'm now looking to transition to the IT industry. Working in culture and entertainment means working long and odd hours, and I'd like to have a more regular schedule with a possibility of remote work. I think these two industries do have some intersection, since I've also had to do quite a bit of planning, budgeting, and time and resource management as a PM in the event industry. I spent some time preparing for this transition – I'm Scrum and PMP-certified and have completed Advanced Excel and Monday courses. Although I'm satisfied at Le Bataclan, I'm ready for a big career change and moving to an industry that's a bit more challenging but less physically demanding.
✅ Why this works: This candidate looking to switch from Event Management to a very competitive IT industry, and he's able to connect the two in the first minute of his interview. In his "present/past" part, he lists his current role, responsibilities, and education clearly and succinctly, without much detail (there will be plenty of time to handle that later in the interview). He then explains how his past experience connects with what he would like to do in the future, and lists valid reasons why he'd like to change industries. He prevents the hiring team from thinking he may be a weak candidate because he lacks the technical skills required in the sector – he already completed those courses and is taking this career change seriously.
Sample answer for managerial or leadership roles
I'm a Product Marketing Manager in a small SaaS company, where I manage 8 people. This is my third Marketing Manager role. My activities are focused on creating and implementing go-to-market strategies, lead generation tactics, identifying opportunities for growth and expansion, reporting and budgeting. I also work directly with our Sales and Business Development teams on projects like pricing, funnel optimization and distribution channels. What I'm most proud of is developing and automating various Sales, Marketing, and CSM processes and breaking down silos between our departments. That's what initially attracted me to this RevOps Manager role, as I'm good with numbers and keeping all teams accountable to revenue.
✅ Why this works: Here, the interviewee is looking for a new managerial role, with a slight change in career direction. They start strong, giving a brief, to-the-point overview of where they are now in their career (role, team size, industry). Next, they focus on the fact that they have sufficient experience in a managerial role. Finally, they describe what their current position entails and how it connects with what they're looking to do next – transition to RevOps.
Sample answer for students
I'm a recent Staten Island Technical High School graduate with a 3.9 GPA. I'm looking to join Columbia Engineering with Computer Science as my Major. I've always been passionate about problem-solving and really good with numbers, math and science. I also won 2 coding competitions in high school. In the past three years, I've done volunteer and community work – I helped organize a Hackathon in 2022, and worked with students from low-income households to help them master elementary computer skills. What I want to do next is make my passion for Computer Science my job, and I've always wanted it to be Columbia because you have an outstanding program here. I also admire your product-oriented research and innovation labs, and it would be a dream-come-true for me to work on creating innovative tech solutions in critical areas like energy and climate.
✅ Why this works: This candidate is interviewing for one of the country's top (and most competitive) programs – Columbia Engineering. Despite the obvious pressure, he delivers excellent answers. He follows the present-past-future formula to the letter. He starts by briefly describing what his current situation is, and mentions his outstanding GPA to draw the interviewer in. He then goes on to explain his journey so far, including some achievements like 2 medals from coding competitions and relevant volunteer work. Finally, he shares a bit about his passion for using technology for causes like climate and energy – some of the values that are very important for the department itself.
💡Our simple interview training tool will quickly teach you how to craft and deliver answers like the one above. With confidence.
Looking for more example answers to common interview questions? Check:
If you're interested in guides to interviewing for specific positions and scenarios, see:
Additional Tips for Your Interview Introduction
Understand your audience
Adjust your tone of voice, register, and terminology to match those of your potential employer. To do this, gauge the company culture and check their digital channels to see the lingo and style they use. For example, the perfect answer for a growing startup won't be the same as the one for a law firm.
Analyze the job ad and create your answer around it. Try to check most but not exactly all the boxes — you want to show you did your homework and yet don't come across as trying too hard. Find the right balance and accentuate elements of your professional life relevant to the position. For example, if the employer takes pride in their team culture, mentioning that you're a strong team player will be an advantage.
Keep it professional
Sharing the story of your life won't get you very far, so keep it on a need-to-know basis. Also, avoid any personal details or controversial subjects. Although you should build rapport with the interviewer, talking about politics or offering your unsolicited opinion on any sensitive topic is a big no-no. The same goes for badmouthing your current employer or co-workers. Stick to positive aspects of your professional life and academic background.
Show your personality
(Obviously, not by bringing up your latest fishing trip to Alaska.)
There's nothing wrong with telling a cool (and concise) story about yourself, but only if it makes sense in this particular job interview. So, share an anecdote about how you picked up a hobby that turned into a full-fledged career only if you can work it into the conversation in a meaningful way. That is if it somehow relates to the employer's needs and requirements.
Similarly, it's okay to mention your character traits and interests that aren't directly connected to your work, but only if you do it strategically — to highlight you're a great asset and a well-rounded candidate.
Volunteering in a homeless shelter indicates that you care about your community, which is something many companies hold in high regard. Besides, this also underscores your good time-management skills.
In a similar vein, a Product Owner looking to join a SaaS company can use their Women in Tech club membership to showcase what really matters to them aside from work. An Interior Designer who authored a few articles in AD or Dwell can definitely benefit from sharing this information.
And if you play any sports, mention it. Sports are known to encourage discipline and teamwork, improve judgment, and play a role in accepting responsibility and failure – all valuable transferable skills.
Showcase your achievements (but don't brag)
As the interview progresses, you'll have plenty of opportunities to discuss your achievements. When introducing yourself, it's okay to mention a few things you've done recently that you're proud of, but be mindful. You don't want to overwhelm the interviewer with numbers, a list of recent accomplishments, or come off as a pompous blowhard.
Bottom line — if you've just wrapped up a project that boosted some key metrics by 30% or obtained a relevant certification, weave that into your self-introduction in a natural way. Just avoid making any grandiose statements like: "I have the best results in my current team".
Keep it brief
Don't forget that this is just the beginning of the interview. It's difficult to say exactly how long the tell-me-about-yourself response should be, but try to read the room, the interviewer's body language and get a feel for how long is too long. If you're in a phone interview or a video interview, you can write down a few bullet points to help you stay on track and to the point. There are no definite and correct answers here, but your introduction should probably be somewhere between 30 seconds and 2 minutes long.
"You want to remember also to keep your answer structured – you're not just answering a question; you're telling a story. You want your interviewer to follow your story easily, and you want to make sure you don't end up rambling and stumbling through your answer," states Fabian.
Practice, but don't be robotic
Just because this question is deceptively easy to answer doesn't mean you shouldn't practice. On the contrary. Use the Present-Past-Future formula to structure your answer and polish it by practicing. Ideally, practice with someone who knows you well and can let you know if you really sound like you.
Sandoval suggests, "Preparation is the key to everything here. Before the interview, reflect on your career journey and achievements. It can't hurt to list your milestones and commit them to memory. Take the time to craft your narrative thoughtfully. The confidence you'll have telling the story will come when you're thoroughly prepared to answer the question."
Bonus tip: This is the question that will set the tone for the rest of the interview, and it gives you the power to define it. Do you want to have a normal, friendly conversation or a formal back-and-forth? Avoid over-practicing your answer or memorizing a script. Instead, focus on the framework and leave some room for spontaneity.
If you need some help preparing your answer, it might be a good idea to use the mock interview practice tool. This is where you can record yourself answering different interview questions and get tips + instant AI feedback.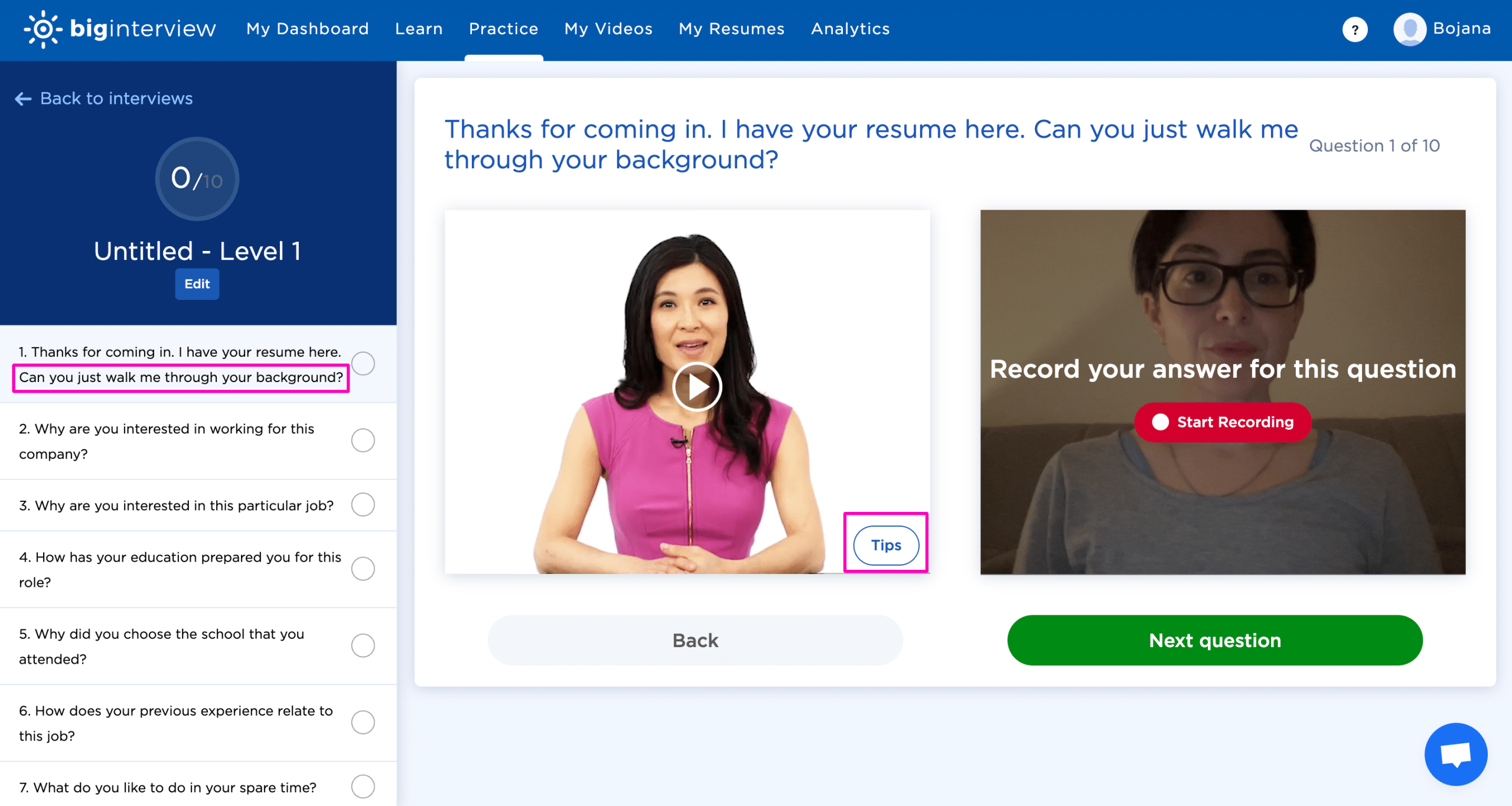 How Not to Answer "Tell Me About Yourself"
Now that you have a better idea of how to answer the tell-me-about-yourself question, let's cover some typical mistakes that candidates make. Here are some of the big don'ts (with examples).
Don't repeat the information from your resume
Even if the interviewer specifically asks you to "walk them through your resume," don't take this too literally. They already know the basics from your resume and are looking for new information. They're also interested in how you deliver it and how concise and confident you are, so launching into a monologue won't get you far.
Interviewer: Could you walk me through your resume?
Candidate: Sure. My name is Mila Rodriguez, I'm 31 and based in Dallas. I graduated from Southern Methodist and majored in Ethnic Studies. After that I volunteered at the Mexican Cultural Center. I think you have the details there in the resume. Then I found my first job in HR in the DEI department at Target and then IBM. And now I'm looking for a new job and I saw the open position in Slack.
❌ Why this is bad: The candidate is simply narrating the items on their resume, without giving any additional information, context or insight. The interviewer is already familiar with their resume — the candidate is just wasting time here. Again, the candidate has both the necessary educational background and amazing work experience, but fails to present it in a way that's structured and memorable.
Don't get too personal and overshare
Some inexperienced candidates may misinterpret "Tell me about yourself" as a question about who you are as a person, your hobbies, and interests. The fact that this is such an open-ended question doesn't help either. In fact, oversharing in a job interview is considered a red flag and can have a serious negative impact.
Sandoval emphasizes, "This question is not an invitation to delve into your life story. The interviewer wants to hear a compelling narrative about your career journey and achievements. Like the rest of the interview, they care most about what value you can add to the company."
To prevent getting overly personal, stick to the Present-Past-Future structure and remember that 80% of your answer should be about you as a professional.
Interviewer: Okay, why don't we start by you telling me something about yourself.
Candidate: Well, I'm originally from a small town in the midwest and I moved to the city a few years ago. I really like to spend my free time binge-watching shows on Netflix. I'm looking for a Customer Support job right now because my rent has gone up and my cashier salary is no longer enough to cover all the expenses around my 5-year old. I've never worked in this field before, but I'm a quick learner and I'm really good at talking to people.
❌ Why this is bad: This is a bad example because it includes irrelevant personal information and lacks any mention of the candidate's qualifications or relevant experience. The candidate starts with a chronological history of their life. Plus, the mention of financial struggles and not having any experience in the field makes the candidate appear unprofessional and unprepared for the job.
Don't undersell yourself
Even if you're humble and introverted by nature or just don't feel comfortable "selling" yourself, it's a mistake to hope that the interviewers will see past your humble exterior and figure out how capable you are. If you're known to undersell yourself, you'll need a bit more preparation and practice. You might need to stick to the factual statements and learn how to expand your answer to include a bit more information (introverts are known to give the least possible information when asked open-ended questions).
Interviewer: Could you share a bit about yourself and your background?
Candidate: Oh, there's not much to say really. I'm just a regular person who's had a few retail jobs here and there. I don't have any special talents or skills, but I try my best. I've spent these last three years in The Body Shop and before that, I worked in Douglas.
❌ Why this is bad: This candidate is overly modest and not highlighting any of their strengths or qualifications. By portraying themselves as ordinary and unremarkable, they won't stand out to the interviewer. Although they obviously have relevant experience in the industry (worked in two major beauty retail stores), and are hardworking ("I try my best"), they fail to provide a convincing, confident, and structured answer. If you often struggle to "sell" yourself in interviews, check out this free lesson on how to pitch your qualities (and feel good about it).
Don't share sensitive information
Candidates often wonder if they should disclose certain personal information (99% of the cases, the answer is no). Even when it's illegal or off-limits for the interviewer to ask, some people panic and inadvertently reveal sensitive information at the very beginning of the interview. Some examples: your marital status, pregnancy, religious and ethnic background, political stance, sexual orientation, romantic life, current salary, or disability.
Interviewer: Tell me a bit about yourself.
Candidate: I'm Ellie and I'm really excited to be here! I'm an event planner specializing in birthday parties for toddlers and pre-school children. I'm also a devout Christian. I'm also planning to start a family soon. I know that's a concern for some employers, but I promise I'll work really hard and won't let it affect my job performance.
❌ Why this is bad: This is a bad example because Ellie didn't use a structured approach to answering the question. Even worse, she shared personal information that's not relevant to the job or the interview, and could only harm her chances of getting hired. Disclosing religious views and pregnancy is unprofessional. Instead, Ellie should have kept the introduction focused on her qualifications, professional background, and experience. If you need more help shaping your "Tell me about yourself" answer, watch this free course with Big Interview co-founder and top interview coach, Pamela Skillings.
Summary of the Main Points
A quick recap of the key tips when answering the "Tell me about yourself" interview question:
Don't wing it. It's the beginning of the interview, so it's important to start strong.
Structure your answer using the Present-Past-Future formula and keep your answer relevant and brief.
Mention your work experience and 1–2 of your top achievements, but don't make it sound like a pre-scripted answer built to impress. Remember that this is a conversation that should flow naturally.
Need a hand with your interview preparation? There are 2 ways we can help:
Learn how to answer all the most common interview questions.
Prepare for your next interview using our interview practice tool.
Learn the best tips for how to prepare for an interview.
FAQ
What if they ask me to describe myself in 5 words?
Carefully select five powerful and relevant words that best describe your personality, values, and skills. Choose words that align with the job requirements and showcase your strengths, such as "adaptable," "collaborative," "innovative," "results-driven," and "efficient." If you're feeling more creative, you can try and form a sentence or at least a coherent phrase using five words, such as: constantly striving to improve efficiency.
How do I sell myself during an interview?
Describe how your experiences, skills, and achievements fit the needs of the company you're applying to. Provide clear examples, be confident, show enthusiasm for the role, and demonstrate how you can add value to the organization.
What if they ask: "How would your coworkers describe you?"
Reflect on your interactions and experiences with your colleagues. Highlight your ability to work collaboratively by mentioning qualities like "active listener," "helpful," "reliable," and "supportive." And, as always, show, don't tell. Reference specific instances and examples of situations that showcase these attributes.
What's the best way to start my self-introduction?
Always start with your name. Then, briefly mention your current role and relevant experience, highlighting your key skills that make you a strong candidate for the position.
What if they ask me to tell them something interesting about myself?
Share a unique hobby, an interesting accomplishment, or an experience that showcases your passions, curiosity, or determination. Try to make sure it is memorable, professional, and relates to the role or company culture in some way. Even if you feel you're "uninteresting," try to mention something that goes beyond what you wrote in your resume or cover letter.
How long should my "tell me about yourself" answer be?
Keep your answer concise, ideally around 1-2 minutes. Focus on a few key points such as your background, relevant experience, skills, and what you can bring to the table. Your goal is to engage the interviewer and provide a strong foundation for the rest of the conversation.