Recruiters will always want to find out why you left your last job or why you're considering leaving your current one. Depending on your reasons for leaving, answering might be uncomfortable so you need to tread carefully.
People tend to move around jobs a bit more these days to stay ahead in their careers. Their intentions are pure. But it's hard to talk about it because companies, on the other hand, don't want employees that want to leave every year or two. So how do you answer this interview question?
The key is being honest but diplomatic. Don't dwell on the negatives (no matter the reasons, even if you were fired or utterly hated your manager). Instead, show that the new position you're pursuing is in line with what you expect from a job.
In this article, you'll learn:
A list of common (and safe) reasons for leaving a job
How to answer "Why did you leave your last job?"
How to frame different reasons for leaving a job (with sample answers)
What not to say when answering questions about your reasons for leaving a job
Want to get an offer after every interview? Our interview prep tool will guide you through all the questions you can expect, let you record and analyze your answers, and provide instant AI feedback. You'll know exactly what to improve to turn your next interview into a job.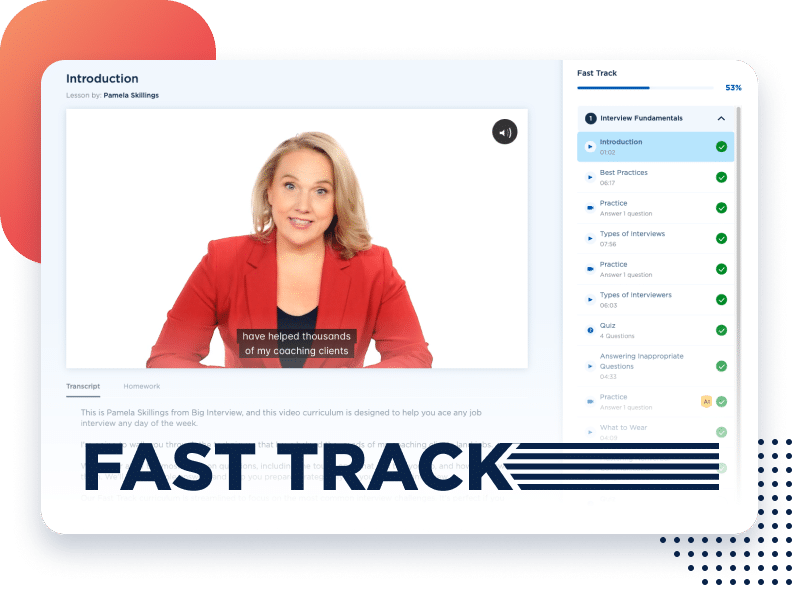 Our users land jobs 8 to 9 weeks faster than the national average. Get ready for your interview now.
A List of Common Valid Reasons for Leaving a Job
You want to chase better career opportunities and reach your full potential.
You'd like to learn new skills and gain fresh experiences.
You need a better work-life balance than your current job offers.
You want to follow your passion or dream job.
Company restructuring or downsizing affected your role, so you need to move on.
You can't find many chances for advancement or promotions in your current organization.
You want to get away from an unhealthy or toxic work environment.
Your company's culture or values just don't fit you.
You've run into poor management or leadership in your current job.
You're searching for support or feedback that you're not getting.
You want a steadier and more secure job.
Personal or family reasons got you thinking about relocating.
Major changes in your life or health require a job change.
You want to switch up industries, fields, or sectors.
You're on the lookout for a higher salary or better benefits.
You're seeking a job with more flexible or remote work options.
You're battling with a tough work schedule or long hours.
A challenging commute or location messes with your personal life.
You were fired from your last position.
If you want to learn more tips and tricks on answering the most common interview questions, sign up for our free course!
How to Answer the "Why Did You Leave Your Last Job?" Question: Dos and Don'ts
Be honest but diplomatic
There's no need to make up reasons and lie during your job interview.
This means that if you were, for example, fired, you should openly say it. But instead of trashing your previous manager, you can say you two didn't always see eye to eye and the role turned out to be vastly different from what you expected at the beginning.
You should also be honest about other tough topics people are usually told not to talk about in interviews, like salary, work-life balance, or remote work. But you should always find a neutral angle and keep it amicable and positive.
The way you talk about these things will show if you have respect for your past company. And recruiters will appreciate it.
Focus on the positive
Speak nicely of your previous company, show appreciation for the skills you gained there, and highlight your enthusiasm for new opportunities.
A healthy dose of optimism will display you as a mature, amicable person dedicated to life-long learning.
If you're coming from a toxic work environment, you can mention it wasn't a good cultural fit but you should also mention the skills you learned from your time there.
Highlight personal growth opportunities
This is probably the most important component of your answer. Changing jobs is always a major career decision. Show that you're making yours with clear goals for development in mind. Acknowledge what the past job taught you and focus on new skills you want to learn.
Keep your answer concise
No need to go into too much detail — state your reasons for leaving a job, mention what you learned along the way, express gratitude, and highlight your enthusiasm for all the new opportunities that are opening up.
Reflect on your reasons beforehand
This is a tricky question for which you'll need a valid reason and a perfect delivery — no stuttering, no negativity, and no unnecessary details. So, prepare the answer in advance.
This will give you enough time to pick the best reason, provide your arguments in a concise way, and know exactly how you want to talk about the topic — which will help you come across as genuine and confident.
You can start by thinking about the main reasons you left your job, filtering them out, and writing the main one down. Then try to frame it in a positive way and add a few bullet points focusing on your gratitude, learned skills, and enthusiasm for future opportunities.
Memorize your key points, head to the Mock Interview Tool, and record your answer several times until you get it right. You don't want to learn the answer by heart (you'll seem boring and robotic), but you definitely want to know the order of the things you want to say and how to list the supporting arguments for each.
This will boost your confidence and ensure a seamless delivery. The Mock Interview tool will then provide you with actionable feedback on how to perfect your answer. You'll get tips on how to make your answer more coherent, your language and vocabulary more appropriate, you'll know if you used filler words (and how to eliminate them), your pace of speech, and similar.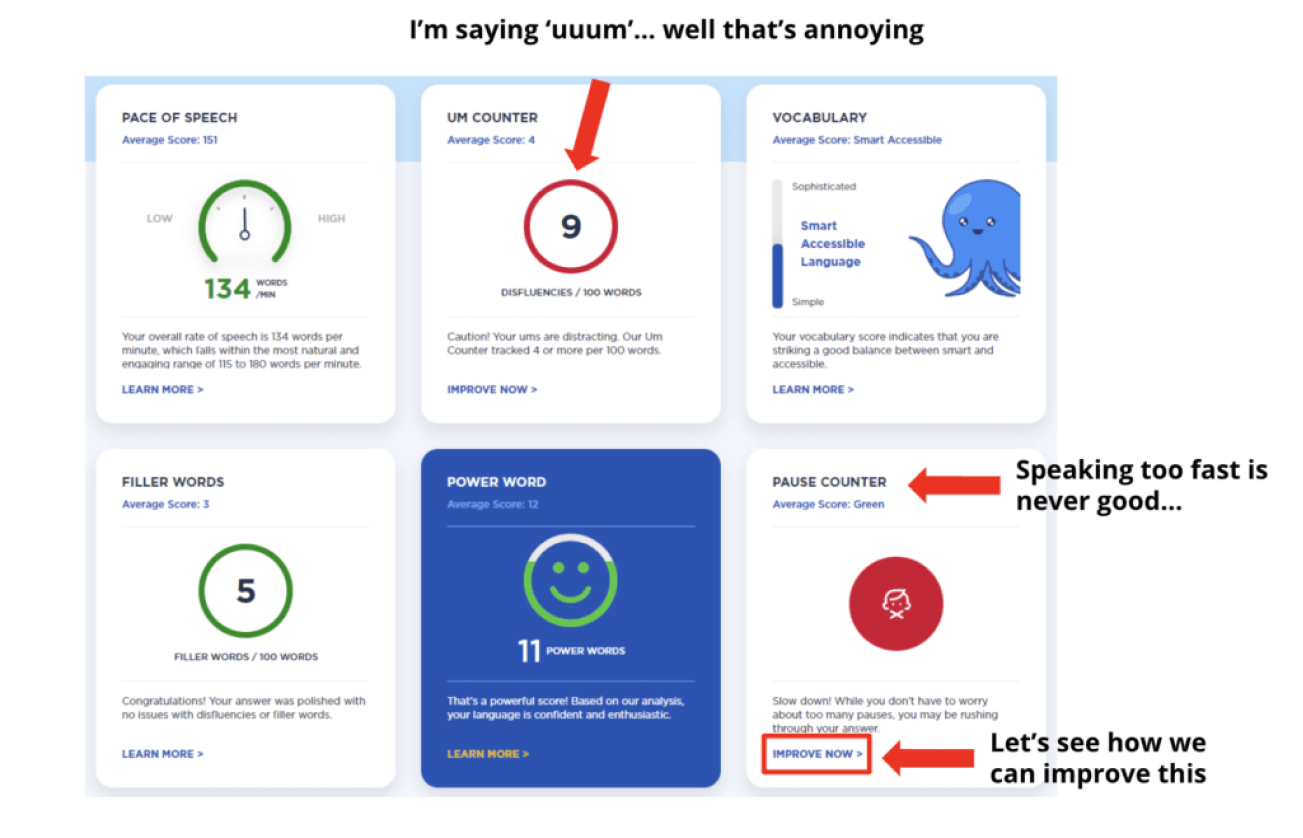 What Not to Say When Asked About Reasons for Leaving a Job
Don't criticize previous employers
Even if they did you wrong, remember there are two sides to every story.
Rising above badmouthing will show you're mature. Plus, a recruiter will respect your discretion and will be certain you won't go around criticizing their own company in the future.
But most importantly, you shouldn't burn bridges in your professional life. Be professional and polite with everyone and keep your work relationships strong.
Don't be negative or defensive
You don't need to create a long, complex narrative about what went wrong and how it wasn't your fault.
You can't click with every company you work for, as there are a lot of factors that come into play to determine if you're going to be the right fit. That's completely natural.
So don't be negative or defensive and don't dwell on your reasons for leaving a job. Say it was good while it lasted, appreciate the time you spent there, and move on.
Don't overshare personal information
For example, instead of saying "I struggled with depression and eating disorders for most of the last 12 months and it made it really difficult for me to find motivation to do anything. Even getting out of bed felt like a tough task at times. So I needed to take a break from working and focus on myself. I went to therapy, and joined a support group… " you could say something like:
"Due to health reasons, I needed to take a few months off work. I'm happy to say I'm fully recovered now and ready for new challenges."
How to Frame Different Reasons for Wanting to Leave a Job (With Sample Answers)
Usually, your reasons for leaving a job will fall into one of these categories:
You want to develop professionally.
The company or the position just isn't a fit for you.
You left for personal reasons (taking care of a sick family member, starting a family, relocating).
Here's how to elaborate on your reasons and frame an answer that's informative, positive, and not too revealing.
Leaving a job because you're seeking better opportunities and growth
This is the most common reason for leaving a job. It's safe, it's positive, and it'll show recruiters you're hungry for knowledge and open to life-long learning.
Template: I left my previous job because I'm seeking new growth opportunities. [Insert the reason why this was not possible at the previous company.] However, I'm grateful for the opportunity to [insert how you benefited from that experience]. Now, I want to [Insert the skill you want to develop] / [Insert how you want to advance your career] / [Insert new interests you want to pursue]. I'm really looking forward to [Express the excitement and the qualification for the job you're interviewing for].
Here are some sample answers to get you inspired.
Sample answer: Desiring to develop new skills
Having spent the last 5 years in my previous position as a UX designer, I feel like I'm ready to start a new chapter. I already have a bit of experience with software development, mostly through courses and a bit of work with my old IT team. So when I saw that you're looking for a junior Java developer, I immediately applied. I am very passionate about the e-learning industry and I was very happy to see that accommodating people with learning opportunities worldwide is one of your key values.
✅ Pro tip: Highlight how the prospective company offers opportunities for your personal and professional growth and describe specific competencies or expertise you are excited about gaining. Studying the job description and researching the company will help you gain insight into how they work and what they need from the open role. This will help you find mutually beneficial factors you can mention in your answer.
Sample answer: Advancing your career
I've been a Sales Associate in several different industries for 7 years. Although it's been fun, I've been feeling a bit of stagnation for some time now as the company structure doesn't really encourage internal promotions. And I feel I'm ready for more responsibilities and a level-up in my career. I know the ins and outs of selling, and now I want to work on the strategic side of things, to develop and implement sales strategies and develop a tightly-knit team. And considering that you need someone with this profile, I think I'd fit in well with your company.
✅ Pro tip: Make sure to mention how your long-term plans align with the prospective company's objectives to prove you're the right fit.
Sample answer: Pursuing new interests or passions
I've been thinking about abandoning English teaching for several years. I want to explore new ways of channeling my passion for transferring knowledge to others, and I believe that content writing is the perfect way to do that. I have key skills such as writing educational content, keeping communication clear, and superb grammar. Becoming a Content Writer would give me more flexibility and the opportunity to develop new skills, such as long-form writing for the Internet and SEO. It would also allow me to make new connections in the industry, which would help me hone my skills.
✅ Pro tip: Emphasize transferable skills that make a good basis for your career pivot.
Leaving due to company-related issues
Your reasons for leaving a job may be related to the company-related issues and that's fine — but you need to be super tactful in order to not speak badly about your previous company.
Template: I left my previous job because [Insert a company-related issue]. However, this doesn't change the fact that [insert how you benefited from that experience], for which I'm grateful. Now, I'm looking for [A company/role that's aligned with your skills, experience, and goals]. I'm looking forward to [Express the excitement and the qualification for the job you're interviewing for].
Here are some of the challenges you can talk about.
Sample answer: Company restructures and layoffs
Because of the recession, my company lost a lot of money in Q4 and they decided to conduct a layoff. I've been affected, along with 60% of the company. It's hard but I'm grateful for the experience, I learned a lot and met a bunch of lovely people along the way. Now I'm focused on landing my dream job in the e-commerce industry. I'm looking forward to new opportunities and I'm enthusiastic about what the future holds.
✅ Pro tip: When talking about restructuring, discuss workload changes or reduced opportunities as your reasons for leaving a job. When it comes to layoffs, frame them in terms of the industry or company climate. Today's economy is unpredictable and a lot of layoffs are happening; what matters here is that you remain neutral and factual in your answer and avoid getting bitter about it.
If you were affected by layoffs, check out our Survival Guide: What to Do After Being Laid Off. It's free and jam-packed with useful tips for landing your next job.
Sample answer: Concerns about job stability
Because of the economy, my company is going through a rough patch. Some people have already lost their jobs and I don't feel confident that my position is stable, which is taking a toll on my performance. I keep worrying about the future and have no focus. So I'm looking for a secure position where I wouldn't have to worry about these things. I want to settle in a stable company and focus on contributing and developing my skills.
✅ Pro tip: Emphasize your interest in a long-term commitment and the growth potential you see in this prospective position. In most cases, recruiters are looking for stability too. It's costly to find and train replacements for people who leave, so your seeking a long-term position will be beneficial for all parties involved.
Sample answer: Company culture mismatch
After some time in the company, I realized that the reality of my position doesn't really match what was agreed upon. The company changed its business model last quarter and I ended up working on initiatives that are not a part of my duties or interests. So I'm looking for a position that's more aligned with my experience and interests. And your company and the email marketing industry seem like a perfect match.
✅ Pro tip: Don't diss the previous company — just because it was different from what you expected doesn't mean it's bad, and there are surely people who enjoy working there. For transparency, describe your ideal working environment and company culture, emphasizing how the prospective company fits there.
Leaving due to personal reasons
Sometimes, life happens and the only way for us to get through certain situations is to reassess our priorities. Work might suffer, and that's understandable.
Template: I left my previous job because [Insert a general private reason without too much detail]. Now that it's over, I'm ready to get back in the loop. [Insert how you're preparing to get back on track]. [Express the excitement and the qualification for the job you're interviewing for].
Sample answer: Family or health-related issues
I left my previous position due to the health issues of a family member. Now, after a year, I'm ready to jump back in. I'm really looking forward to this fresh start and I already took some Udemy courses to set the context and help me prepare for a new role.
✅ Pro tip: Don't reveal the details as this is a highly personal thing. Give a brief explanation, mention steps you took to address the issue, and emphasize your readiness to start a new chapter.
Sample answer: Relocation for personal reasons
I left my previous position because I moved to New York. I worked at an office-based company in Michigan and my husband got the job of his dreams in NYC, so we relocated. We're settled here now and we just bought a flat. So I'm looking for a new position here. I saw your job ad and it seemed like a great fit. I already have 9 years of experience in fashion and apparel retail. Plus, I really liked your "Fashion for Education" initiative, and I'd love to be a part of a company that values social responsibility and accessible education.
✅ Pro tip: Stress the convenience of working in a prospective company (it's close to your home, or you plan to stay in that area for a long time), and highlight your interest in it (shared values, alignment with career goals, preferred industry, and similar).
Sample answer: Work-life balance
I left my last job because I wanted to find a role that allowed me to be more flexible. The pandemic proved that not everyone needs to work from the office and I realized I'm much more productive when working from home. Not to mention all the time and money that I save on food and commuting. So I want to re-establish my work-life balance and spend more time with my family, and a remote position can help me with this. Your company attracted me because it's fully remote, you've established internal processes that help employees reach their full potential, and you also value community very highly. I'd love to be a part of such an organization.
✅ Pro tip: Explain what work-life balance means to you. Then, discuss initiatives or opportunities offered by the new company that will help you achieve balance and describe how you see your future there.
Final Thoughts
"Why did you leave your last job" or "Why do you want to leave your current job" are tricky questions you'll likely hear during a job interview
With this question, the recruiter wants to know whether you're a good fit for the role, what are your interpersonal skills like, if you were fired, and what keeps you interested in a role (so that they can be sure you'll be happy in your new position)
When answering this question, you need to be diplomatic and tactful, even if your previous company fired you or did you wrong and you quit
The best answers will revolve around finding a more suitable opportunity, company-related issues like layoffs, and personal reasons
Whatever the reason, you need to mention it briefly, keep it positive, and state your interest in the new role
Avoid badmouthing your previous employer, as it will backfire at some point — if you judge others, it's very likely that a recruiter will judge you
You can nail the answer to this tricky question if you prepare and practice in advance — it'll help you create a legit answer and ensure a confident delivery
____________________
Need help with your job search? There are 3 ways we can help you:
Tired of interviewing and not landing the job? Discover actionable lessons and interview practice here (Rated with 4.9/5 by 1,000,000 users).
Learn how to answer "Why do you want to work here" to wow hiring managers and land offers, not just interviews.
Learn how to talk about your responsibilities to best represent your skills and experience.
FAQs
Is there a list of reasons for leaving a job?
Some of the most common reasons for leaving a job are chasing better career opportunities, learning new skills, wanting a work-life balance, chasing your passion, company layoffs or restructuring, getting away from an unhealthy work environment, wanting a steadier job, relocating, caring about a family, being fired, or facing lack of support/management.
Should I say I quit because of a bad manager?
You can imply you did not necessarily agree with the way your team/you were managed, but you should not explicitly state your manager was bad. Don't badmouth and show understanding and respect for your past company and teammates. You can also say a word or two about your preferred style of management and what kind of a manager you thrive with, so that you and the recruiter can gauge if you'd fit in with the manager and the rest of the team.
How to answer "Why did you leave your last job?" if I was fired?
Don't lie and say you quit if you got fired. There's no shame in it. Briefly list general reasons why you were fired, say that your skillset did not match what the company needed at that moment, express gratitude for the experience, and end on a positive note.
How to explain leaving a job after 3 or 4 months?
It's not terrible to leave a job after only a few months if you realize it's not the right fit for you. In the long term, you're making a good decision for yourself and the company, as unhappy employees who are not a cultural fit are not likely to perform well. Just make sure not to make a habit of leaving a job after 3 or 4 months. And when explaining your reasons for leaving, list your honest opinion in a neutral way, thank the company for the collaboration, and find something positive to mention (great coworkers, interesting initiatives, etc.).
What shouldn't I cite as a reason for leaving a job?
Any good reason for leaving a job becomes a bad reason if you don't frame it well and if you focus on the negatives. Avoid listing negative factors like your boss who hates you, boring work, no work-life balance, or not getting along with your coworkers. You can frame all of these things in a positive way: briefly state you did not fit in well because the industry is not for you or the position is different from what you expected, and move on.
What to say if I've been unemployed for the past few months?
Be honest and provide the real reason behind the employment gap, whatever it is. Then move on to emphasize your skills and enthusiasm for the prospective role and company, explaining why you'd make a good fit. This might be a difficult question to answer (the most attractive candidates are the ones who have a job), but with the right mindset, you can turn it around to your advantage.