If there were any recruiters that had no experience with video interviews before 2020, we're sure their number post-pandemic is ZERO. But what about candidates?
We've all been spending tons of time video conferencing and immersing ourselves in video platforms like TikTok or YouTube. But is that enough to pass a Zoom interview?
Preparing for a video interview is very similar to preparing for any other interview – the questions you're asked and the ways you should conduct yourself will be the same.
You will, however, have to take some additional things into consideration when video interviewing, including learning to use some hardware and software, how to look good on camera, and how to maintain proper eye contact.
Job seekers are divided when it comes to video interviews. 57% of candidates said that they prefer live video interviews, while 34% prefer in-person interviews and ONLY 9% prefer one-way pre-recorded video assessment tools.
The good news is that most other candidates are terrible at video interviews (yes, even if they prefer this type of interview, it doesn't mean they are good at it). Sadly, the bad news is that you are likely in the same boat.
But here's the thing – you shouldn't be. Even though the ability to shine in a video interview requires some skills and savvy beyond basic job interview best practices it doesn't mean you cannot master it.
In this guide, we'll explain how to properly prepare for a video interview to give you the best chance possible.
Before we share our video interview tips, let's talk for a moment about basics.
What's the Big Deal About Video Interviews?
We define video interviews as remote hiring interviews performed through video technology.
These interviews are usually performed in the early stages of the hiring process or in situations where regular interviews couldn't be performed.
There are several reasons why companies started utilizing video interviews. In one survey, 67% of companies preferred video interviews as a way of reducing travel expenses. At the same time, 47% use video interviews to shorten the time it takes to make a hire, while 22% say that they would use video interviewing to help them reach candidates from other geographic regions.
And those three preferences are the main benefits of video interviews, but they're not the only ones. In addition, these types of interviews are popular because they:
Reduce the number of candidates who don't show up,
Ease the scheduling burden,
Enable after-hours interviewing,
Eliminate stressors associated with in-person interviews, etc.
Why are we mentioning this?
Because the better you understand the reasons behind this type of interview, the better you will understand the company and maybe find a way to use the information to your advantage.
Now let's talk about video interviewing from the candidate's side.
Generally speaking, we could divide people being interviewed into two major groups:
Those who feel perfectly comfortable with the idea of interviewing via video (including many of those who grew up with Skype and YouTube) and
Those who dread the very idea of being on a video (camera-shy folks, I'm talking to you).
If you're reading this article, you're probably in the second group. Or maybe you feel comfortable in front of the camera, but feel like you should sharpen your skills a bit more.
After all, a little bit of video technology knowledge and interview practice can go a long way. (Obviously, you'll still need to be qualified for the job and answer the questions well.)
And, that is exactly why we are here today. These video interviewing tips and tricks will eliminate the possibility of an interviewer unconsciously discounting you based on how you appear on camera–because after preparing well, you will look (and speak) smoothly, professionally, and confidently.
Understanding the Types of Video Interviews
Even though video interviews are generally the same, there are some differences. Typically, video interviews will either be live communication with a recruiter or a set of pre-recorded questions to answer.
Live video interviews
Live video interviews (like Meet or Zoom interview) are typical interview sessions done between you and a recruiter in real-time, just like a regular interview.
What makes these interviews unique is video technology. In most cases, we're talking about communication software such as Zoom, Google Meet, Microsoft Teams etc. and video hardware, including a camera and microphone.
When it comes to the above-mentioned software, things are pretty straightforward since, in most cases, the interviewer will either send you a link or call your user-id / screen name.
PRO TIP: Be careful to clean up your account and privacy settings if you're going to use it with potential employers (your college account with ID stoner-yolo1993 does not inspire confidence).
Most of us are familiar with popular video conferencing tools like Zoom, Meet, Teams and Skype. But if you've never used any of them before, the first thing you should do is ask the recruiter which one will be used in order to prepare properly.
Once you have that information, visit the official tool website and follow their installation instructions to ensure you have everything ready.
Alternatively, the company could use a system that does live interviews but also acts as an internal candidate tracking/screening tool (e.g. HireVue, Skill, SparkHire, and dozens of other companies).
From the candidate's perspective, a live video experience via one of these platforms is generally not much different from interviewing via Zoom or Google Meet. On the employer's side, there are bells and whistles that allow them to share, track, rate responses, etc.
Pre-recorded video interviews
One-way video interviews involve a set of pre-recorded questions you'll be answering through a special link you'll get from the recruiter.
The process is very simple:
The recruiter will send you a link where you'll find questions you need to answer
You will have a defined time for answering each question
You will get 1 or 2 tries for each answer before you have to submit it
Once you're done, all you have to do is simply submit your application
Pre-recorded video questions could be part of the application process or be a screening step after your resume has allowed you to rise above the crowd. In both cases, the process is the same as explained above.
When it comes to software used for these interviews, you'll probably come across AsyncInterview, Wepow, Sonru, and similar platforms.
Your Technical Setup for the Video Interview
There are two necessary technical components of every video interview you will need to have to make it possible:
Hardware (or equipment necessary to ensure video and audio can be recorded/streamed)
Software (computer applications that will connect you and your recruiter/recruiting system).
We already discussed the software you will need depending on the type of interview you will be having above. Now let's talk about the technical equipment you should have.
1. Choosing your webcam
You should consider two things when choosing the right webcam for your next interview – the camera's functionalities and your personal preference (budget).
Although we've tested many different webcams and we can help you choose the right one, don't forget that at the end of the day, your personal preference, and maybe even more important, your budget will determine which one you will get.
First, you can choose between internal and external webcams. If you are using a desktop, you will probably need an external one, while laptops often come with built-in webcams.
In our experience, external webcams are a much better solution — whether you have a desktop or laptop, PC, or Mac. Why? Mainly because they give you more control over image quality and positioning (which we'll discuss below).
MacBook users can probably get away with the built-in webcam. It's nice enough (though not as sharp/crisp as it should be) and you'll just need to take steps to properly position your laptop.
There are many webcam brands out there, but the gold standard will be a nice, higher-end Logitech (C900 series will be fine). We love Logitech C920 and C930.
Here's the Logitech C920: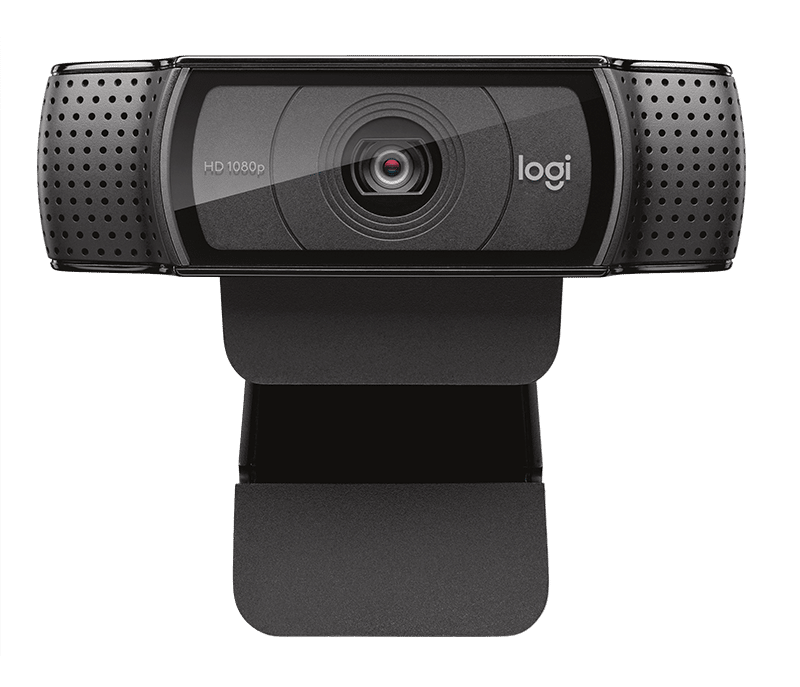 And here's the Logitech C930: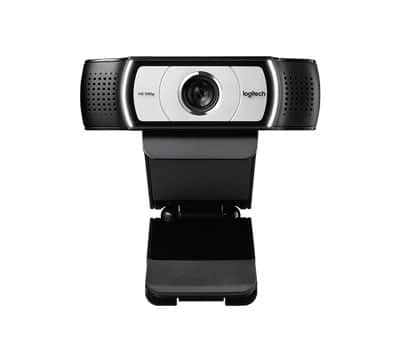 Of course, there are other webcams from Microsoft, Creative, and many other brands you can check out. Research your options, read reviews, and consider your personal pros and cons for each one.
Can I use my phone or tablet camera for video interviews? Even though phone cameras have improved a lot lately, we don't think using both phone and tablet cameras is a wise way to go.
Tablets (both iPads and Android tablets) have some downsides. First, a lot of video software is known to be more temperamental on a tablet so there's a big risk of it not working correctly. Second, there's also a risk of lost connection and/or bandwidth-reliability with wifi (and this doesn't include lighting, webcam, and mic considerations that we'll go over a little later).
When it comes to phones, they have all the same problems as tablets only with a smaller screen with even less flexibility.
If you ask us, landing a video interview is hard on its own. The last thing you need is additional equipment stress. Set yourself up for success and invest in a good webcam.
2. Webcam placement
Once you solve the webcam problem and get the one you feel comfortable with, you should think about its placement to ensure your recruiter has the best experience too.
One thing to remember about camera placement – people (even gorgeous models and celebs) tend to look horrible when a camera is shooting them from below. For the most flattering angle, you want to position your webcam to be above your eye-line, angled slightly downward.
Here's what you can do to accomplish this:
For external webcams: Place the webcam on a stack of books or a box behind your monitor. You'll want the webcam to be a bit above your eye-line, almost in-line with the top of your head.
For built-in webcams: Similar to the advice above – place your laptop on something so that the webcam is above your eye-line, in-line with the top of your head.

3. Lighting for your webcam
Lighting is incredibly important – I can't stress this enough. It can take you from looking like a troll to looking like a movie star.
The nice folks over at Wistia put together a useful set of tips and a video for webcam lighting, which I recommend watching:
The idea is that you don't need an expensive lighting set-up. You just need two clamp lights, some cheap CFL daylight / full-spectrum bulbs, and a couple of light-stands (or something else to clip your lights to.)
Have the lights about 2.5 – 3.5 feet on either side of you at least the same height as the webcam (or a little higher).

PRO TIP: The CFL full spectrum bulbs mimic sunlight, so they make you look better than regular bulbs.
You're looking to achieve nice even lighting across your face – this will minimize shadows, remove wrinkles, and make you look fabulous.

So your setup may look something like this: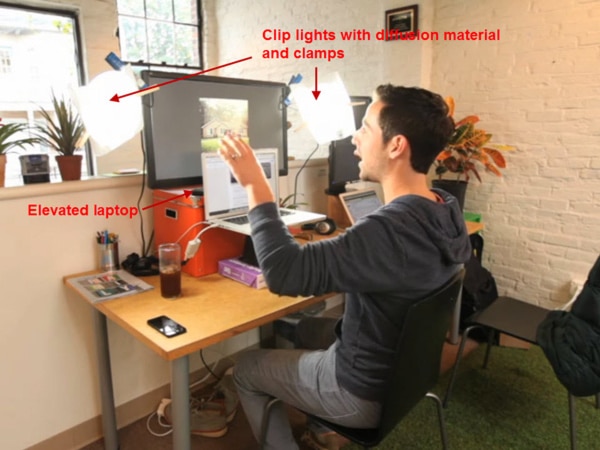 Courtesy of Wistia
You can find a full shopping-list at the end of our article for easy reference.
If you're on a very tight budget or very short on time, you can create an almost-as-good effect by positioning two lamps, one on either side of your desk with the light source ideally at the height of the webcam or a little bit higher (be sure to jerry-rig the webcam positioning we discussed above).
Again, this won't give you the same Oprah-like effect as the set-up described above, but you'll look much better than if you just settle for regular room lighting.
4. Webcam software options
Most external webcams come with some sort of software to adjust exposure, balance, and color. Built-in cameras generally do not.
You can also buy and install software that enables additional camera customization options. I've heard good things about iGlasses. (Here's the Mac version, and the Windows version.
Aim for nice, natural-looking color. Don't over-expose and over-saturate, as it's likely to look weird.
5. Headset
Even though we personally prefer a headset during a video interview, you don't necessarily need one. All webcams have built-in microphones now, but there are a couple of issues with them.
First, you can't control the background and ambient noise that can creep in. Built-in mics (especially on the cheaper webcams) will pick up all the ambient sounds you want to keep out.
Second, your voice will sound tinny and not as rich and clear as it should. The tone of your voice is extremely important in persuasion, so it goes without saying that you should take whatever steps you can to sound as good as possible during your job interview.
Here are a couple of headsets we like:
Logitech ClearChat Comfort/USB Headset H390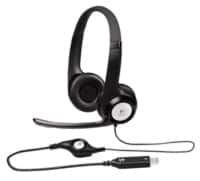 Sennheiser PC 151 Binaural Headset with Noise-Canceling Microphone & Volume Control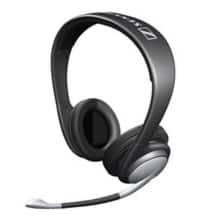 Sennheiser PC 363D High Performance Surround Sound Gaming Headset
(this is our favorite. It works amazingly well, but it might be a bit too big for your interview purposes.)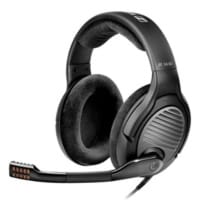 6. Background on camera
Take some time to check what's behind you in your video interview.
Use common sense here – your interviewer doesn't want to see your messy bed or your SO walking in the background.
Avoid anything that could embarrass you or distract your interviewer (you know, that "Legalize" poster on the wall behind you isn't gonna help you). Pay attention to the light and avoid sitting in front of windows – there might be a glare or your face might be in a shadow.
So what can you use as your background? A plain wall, a screen, a bookshelf (with nothing odd on the shelves) is just fine.
If you're really concerned about the background or there are elements you can't control, a cheap screen like this could work, or you can always hang a solid color curtain and hide everything you don't want to be seen during your video interview.
You can use a custom background if the video software has them. If you choose to do so, don't be too eccentric – colorful, dynamic backgrounds may look fun, but they are definitely not professional for a job interview and are super distracting.
PRO TIP: Have at least 2 feet of distance from the background behind you to avoid an ugly shadow that can appear if it's too close to you (the more distance, the more flattering).
What to Wear for a Video Interview
Now that you have your camera ready, it is time to think about your look.
Did you know that 50% of hiring managers believe that the way someone dresses for a job interview is enough grounds for elimination? Take your clothes and neatness seriously, even if they're only seeing you from the chest up.
Dress for your Zoom interview just as you would for an in-person interview. A black or dark-colored blazer or suit jacket over a crisp shirt is usually a great choice for both men and women. For some jobs, guys will want to go with a full suit-and-tie look.
And if you're applying for a position at a laid-back startup, a plain shirt or T-shirt would also do. Avoid skimpy clothes, excessive jewelry, and anything that could distract the employer from you. You should also avoid busy patterns such as plaid and stripes – the lines will look like they're moving. You don't want your potential employer to feel dizzy while listening about your achievements.
If you're not sure what to wear, check out the employer's About page or social media accounts to get the general idea of how casual or professional their dress code is.
Do a camera test on your webcam. This will allow you to see what you look like and adjust wardrobe and hair/makeup accordingly to avoid the embarrassment of a gaping button or shiny forehead.
PRO TIP: Many of us have been guilty of being professional on top but keeping our pajama bottoms on during a video call. I would advise wearing pants in case you have to stand up to adjust the camera or grab your water bottle.
There are a few simple guidelines for your overall look during a video interview that you can follow:
Do not wear white (shirts, blouses or jackets). Because of how the webcam works and the lighting, white will be way too bright and distracting. A light blue shirt or blouse is a better option.
Avoid wearing pure black on camera. Same as above – your webcam will adapt to try and show the black and this can cause your face to wash out a bit due to overexposure.
Super-bright colors (bright reds, yellows, pinks, etc.) can also cause problems and give your skin a slight reddish, unnatural tint on camera.
Do not wear pinstripes, houndstooth, herringbone, or anything that has a busy pattern.
Many softer, solid colors will work great. A dark, deep blue is one of the best options.
As a rule, if there's a very high contrast between two colors, it won't do well on camera.
Here is what we would choose to wear to a video interview following the guidelines above.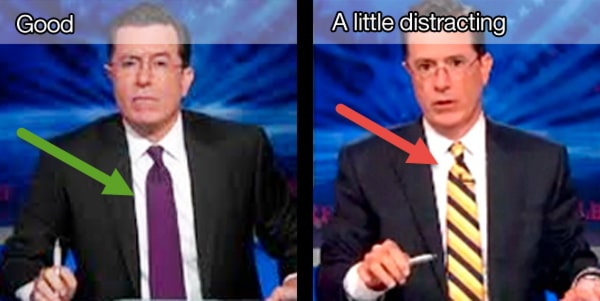 What about make-up?
Your face is the most important part of your interview because it will be the most visible on the video. That is why it's important to ensure you look good, your eyes are visible and that you don't have anything too distracting on your face.
There is a simple rule you should follow when it comes to make-up; less is more. Aim for a natural, daily look and leave any strong make-up for after your interview.
To ensure you have the best look on camera, we prepared a few guidelines you can follow:
You should wear at least some make-up on the nose and forehead to avoid shininess (a nice advantage of the webcam is that you can see how you look ahead of time and fix any shininess).
You might consider something like FaceSaver antiperspirant. It works really well on the face and head and doesn't leave any residue.
If you wear glasses, they will ideally be glare-proof so there's no reflection of the light. You want your interviewer to see your eyes and not a distracting glare. If you have contacts, it might be a good idea to use them.
10 Video Interview Tips Every Candidate Must Know
1. Maintain good eye contact
We all know how important it is to make confident eye contact during a job interview. This is much tougher to do via video. When you're speaking to someone via video conference, your eyes naturally want to focus on the face of your conversation partner. Depending on where that face is on your monitor and the location of your webcam, this can cause you to appear as if you are looking down or away.
You can avoid this by resizing and moving the window with the person's video image. Move it up or as close to your webcam as possible. This will give the closest approximation to real human eye contact.
PRO TIP: There's a fine line between good eye contact and the serial killer stare. Webcam eye contact can feel a bit awkward at first and a lot of people respond by overcompensating. Just try to relax and act as usual (blinking is allowed).
A good rule of thumb is that if someone can see the "whites" all-around your pupil – then your stare is probably too intense.
Michael Ellsberg, author of The Power of Eye Contact has this advice: "The kind of eye contact you want to have when you go into a job interview is neither too aggressive nor too weak. It's walking this perfect middle line that is called confidence."
There are also some cultural considerations depending on where you are in the world (and where your interviewer is), but a good rule is to not sustain eye-contact for longer than 5 seconds at a time.
Break eye-contact, look away briefly, breathe, then reconnect. For those of you who find sustained eye contact uncomfortable, it can be useful to focus on one eye at a time, taking a few beats with each. Don't dart your eyes around like some shifty 1940s cartoon villain. Find a nice, smooth, natural gaze.
2. Look at the camera (not yourself)
That being said, here's what else you need to know. Looking into the webcam will translate to your video interviewer as direct eye contact. This will feel unnatural at first, which is part of why practice is so important.
With many laptops, the built-in webcam is located in the center of the monitor screen. On desktop computers, the webcam is often perched on top of the monitor. Try this out in advance and have a friend tell you how your eye contact translates.
If looking at the person's face doesn't translate well with your webcam set-up, you may just have to train yourself to look directly into the camera (and smile) if you really want to make a connection and give the impression of consistent, confident eye contact.
Warning: If the video software also displays your image on the screen (most do), be careful not to get distracted by looking at your own image too much. This will look odd to the interviewer and will probably just distract you with self-consciousness when you should be thinking about your answers. Also, be careful not to spend too much time looking at your notes or resume. This is the equivalent of sitting in an in-person interview and staring down at the table instead of looking at the person you're speaking with.
3. Make sure to smile (but not too much)
We admit it – this one's difficult. But it is also necessary – the first 90 seconds of a job interview is when 33% of interviewers subconsciously decide whether they want to hire you. You need to leave a strong first impression.
But again, too much of a good thing can come across as creepy. Some confident, enthusiastic smiling is good – but it can easily cross the line into nervous or too-eager-to-please if overdone.
Try not to be too goofy or laugh at every joke. The smile is meant to be a tool to show that you're a pleasant person to work with, you have reasonably good social awareness, and have a good dose of enthusiasm and confidence.
Here's an example of a confident answer that incorporates a bit of smiling and good eye contact:
4. Control fidgeting and other nervous energy
We all have some little nervous tics, twitches or distracting habits — it's normal. But in a video interview, we really have to make a concerted effort to be aware of them and avoid them as much as possible.
This is why we highly recommend recording yourself multiple times to see what you're doing and to become aware of anything that needs toning down.
Some gestures and behaviors that are fine in person can be distracting on video. It could be super-animated hand movements, twirling your hair, touching your face, or tapping your fingers or feet (they won't be able to see your feet on video — so channel that energy and tap away).
Even more commonly, your nervous tic could be a verbal one — like saying "erm", "uh-huh" or "like" over and over again.
Remember, we're talking about little habits that you may not even be aware of. As a result, watching yourself on camera could be a REAL eye-opener. You can break these nervous habits with a little preparation.
PRO TIP: Keep your hand off your chin unless you want to look like a bad yearbook photo. And for god's sake, don't touch your nose.
5. Calm your nerves
Almost everyone feels some nerves when preparing for a job interview. And the number one reason for nerves is fear of the unknown — it's because you're not sure what to expect.
Your head is spinning with questions like "Am I prepared enough?", "Am I even qualified?", "Will they like me?" These questions add up to anxiety because you can't have any certainty about the answer.
It only gets worse when you've been in a few interviews that didn't pan out. Candidates rarely get any real feedback about why they weren't chosen and some end up second-guessing every little moment. This anxiety can turn into a vicious spiral and sabotage all of your hard work.
A job interview is a very weird animal, unlike any other professional conversation you might have. You can be perfectly well-spoken and confident in a typical business meeting, then feel your anxiety shoot off the charts when it's time for a job interview.
Interviewing is a skill and, as with any other skill, you get better with practice. All the practice and prep you put in goes toward reducing nervousness, because when it really comes down to it – there are only so many areas they can ask you about.
A typical interview could be 5-10 areas/topics/competencies. An extremely difficult interview could be 12-15.
The point is that it's not an infinite number of questions or areas to probe – so it's totally manageable. And once you have a handle on things – the stress goes down.
PRO TIP: Decompress before your interview. Possibilities are endless here – be it a quick pranayama practice, affirmations, or listening to your favorite song. Take a few minutes before your interview to get yourself in the right headspace.
6. Eliminate distractions and background noise
Noisy air-conditioning? TV in the background? A crying baby? A curious cat? Notifications? Traffic?
There are many things that can distract both you and your interviewer, so here's a short checklist to follow:
Keep your housemates, children and pets away. You don't want a cat jumping on the back of your chair, your mom entering the room, or your toddler screaming. Yes, we're all human and we all have lives, but these distractions tend to diminish your credibility.
If there's a risk of vacuums, leaf-blowers, or jack-hammers – try to plan ahead for these contingencies. And of course, if something really is unavoidable, you can apologize, address it very briefly, and move on. You can also mute your mic or turn off your webcam for a moment and feign technical difficulties.
Make sure you find a nice quiet place for your interview, with zero distractions and noises that could hurt your performance. Try to arrange a quiet spot with a plain background and lock the door (just in case).
Turn off the ringer on your phone.
Shut down any other programs on your computer, especially any programs that might unexpectedly make noises or launch pop-ups to distract you during the interview.
Make sure you aren't running any other applications that use your webcam (log out of Zoom if you're using another program for the interview, for example) as they can interfere with your connection.
Do not do your Zoom interview in any public place (especially not a Starbucks). You're just setting yourself up for distraction or disaster (or best case, just an unimpressive interview).
7. Pay attention to your posture and body language
Body language is a vital part of public speaking, interviews included. It refers to all the non-verbal signals your body is sending while you're speaking and accounts for 90% of how you'll be perceived.
Your facial expressions, your posture, how you maintain eye contact, where you keep your hands and what you do with them – everything counts.
As a matter of fact, body language is so telling that 20% of recruiters said they would not consider an applicant who sits with their arms crossed in a job interview. A staggering 65% would eliminate a candidate who fails to make eye contact. No need to panic, though, as this can be learned and improved upon.
There are some differences in ideal posture between an in-person interview and a video interview. On the video, the interviewer won't be seeing your lower body or legs (if they can, you're way too far away from the camera). This means you don't have to worry too much about leg positioning. A nice neutral stance in your chair, with both feet on the ground, should be fine. Interestingly, crossing your legs can mess with your on-camera framing.
You'll clearly want to sit upright and keep your back straight. Make sure you're facing the camera, and not showing too much of the side angle. Adjust your chair to make sure you're not too low or high in the frame.
Find a nice, comfortable balance between leaning forward and reclining too far back. What's nice is that you can do a dry run and play with different options and adjust things accordingly.
Using an interview practice tool can also be super helpful here. Make a test recording of yourself answering a question and then put yourself in the interviewer's shoes. Are you fidgeting or slouching? How are your hand gestures? Learn the basics of body language and be especially mindful of your hands – they can tell the interviewer whether you're nervous, dishonest, or bored.
Here's an amazing video to check out – a TED Talk by social psychologist Amy Cuddy talking about the importance and interplay of posture and confidence. Great talk that merits a watch and also includes techniques for reducing your nerves through body language:
8. Check your internet and bandwidth
A good connection is paramount. To ensure you have it, avoid using WiFi (unless you're just a couple of feet away from the router or you are having at least 25Mbps speed). Being connected physically to the router (by a network cable) is the safest way to go.
For video-conferencing, you'll ideally want a connection speed in the 10Mbps range (or better). To test your connection speed, you can use online tests like the Ookla Speedtest.
PRO TIP: Do your best to avoid using a shared connection with roommates or family while on the interview. If your brother is streaming a movie or your friend is on a video call, it can absolutely mess with your video conferencing bandwidth.
And it should go without saying that you shouldn't do a video interview from a public place. Beyond the problems with the setting and noise (I would never do a phone interview in public either), your connection will never be reliable.
You'll either be on your personal mobile hotspot (which can be very iffy even in major cities) or you'll be on public wifi (have you ever tried to watch a YouTube video at Starbucks?)
Do yourself a favor and arrange to conduct your interview on an internet connection you can be 100% confident about. Plan ahead and you won't need to scramble or cut corners.
9. Do a tech run-through
Because technology is unpredictable, it's smart to do a complete run-through of all the tech stuff at least an hour ahead of your video interview.

Test all of your equipment in advance to make sure that the webcam and audio settings will work well. Ask a friend to do a trial run with you to test the equipment and get some feedback on your wardrobe and backdrop.
Here's a quick check-list:
Clear your desk/interview-space of extraneous things and simply have your resume in front of you and a notepad for jotting things down.
Check your lights, and test if you have any light glares on your webcam.
Check your webcam and optimize software settings.
Also, check your webcam placement.
Check your mic and ensure you can be heard clearly.
Check your clothes and face and how they look on camera. Make any necessary adjustments.
Close out of any other programs that might interfere with the webcam. Some webcams can be temperamental and not work with more than one type of video software at a time.
Check your internet connection and ensure it's strong.
Make sure you're not inadvertently downloading something in the background (a movie on itunes, or dropbox quietly syncing 200 gigs). That will kill your video quality.
Place a short video test-call to someone (if possible).
If you tend to have 100 browser tabs open, it's better to close them out. You don't want a memory issue rearing up during your interview.
Your browser should just have your email, the company website, maybe the LinkedIn profile of the person you're interviewing with, maybe an interesting and recent piece of news about the company/industry.
Have your resume, the job description, and your notes printed out and handy. You can also print anything else necessary for your interview, such as portfolio examples. Of course you can also share your screen to avoid printing things, but ensure you are familiar with screen sharing before you do it.
Position a bottle of water nearby.
Disable desktop notifications, just in case you need to share your screen. You don't want Slack messages from your current job popping up.
10. Practice for your video interview
In the weeks, days, hours leading up to your video interview, we recommend very concentrated practice to get comfortable both with your interview skills and the weirdness of interviewing on camera.
Interviewing is a skill (just like tennis or chess), so the more you practice, the better you'll get.
It will be super helpful to practice with a friend, a counselor, a partner, a parent, or record yourself answering questions.
Having the visual feedback of a recording greatly increases your interview skills. You can record your answers on a webcam or phone to monitor what you look and sound like on camera and adjust accordingly.
Alternatively, you can use some interview preparation software tools that replicate the real-life interview experience (more about that later).
Questions Asked in a Video Interview
Now that you're fully equipped for your video interview (you have a proper camera and mic, your interview room is set, and you planned your outfit for the day), you've reached the hardest part – the questions you'll be asked.
All interviewing rules still apply. Looking good on a webcam is important, but your answers to the interview questions are what really counts and what ultimately determines whether you get the job or not.
In other words, don't spend too much time on the tips above but too little time preparing your actual answers.
There are generally two types of interview questions you can expect:
Common interview questions (including Behavioral Questions)
Technical or industry-specific questions
Common interview questions are general questions meant to give your interviewer a chance to get to know you and your work history. For example, you could be asked to tell more about yourself, describe your most recent position, talk about your weaknesses and strengths, etc.
Technical and industry-specific questions are questions specifically related to the position you're applying for. For instance, your proficiency in a certain software, a point of sale system, or other tools necessary for doing the job.
ADDITIONAL RESOURCES: Preparing answers for your job interview is probably the hardest part of your interview preparation, no matter the type of interview (video, in-person, etc). To ensure you have everything you need, we prepared a comprehensive Interview Questions Guide to walk you through all you need to know.
How to Prepare for a Video Interview
We already touched on the idea of interview practice tools, which essentially simulate the interview experience. Here are some HUGE pros of such platforms:
You can practice using your webcam, record, review and even share recordings for feedback with a friend, interview coach or mentor;
You'll get to see and iron out all the subtle quirks, mannerisms, and filler words you have while speaking (which you're totally unaware of). You'll see exactly how you come across via video conference and work on any weaknesses (eye contact, posture, vocal, answer content, etc.).
They will help you get more comfortable with video interviews because you can practice as many times as you need to improve your skills.
They are amazing at helping you prepare for a video interview, but they will also serve you incredibly well for upcoming in-person interviews. Recording and analyzing performance on video is a proven technique for improving your skills — it's a tactic that has been used for decades by professional athletes, public speakers, and performing artists.
If you've never come across or used an interview practice tool, here's how you can practice with Big Interview.
To get started, you'll need to log in to your Big Interview account and choose Practice Interviews from a Practice dropdown menu.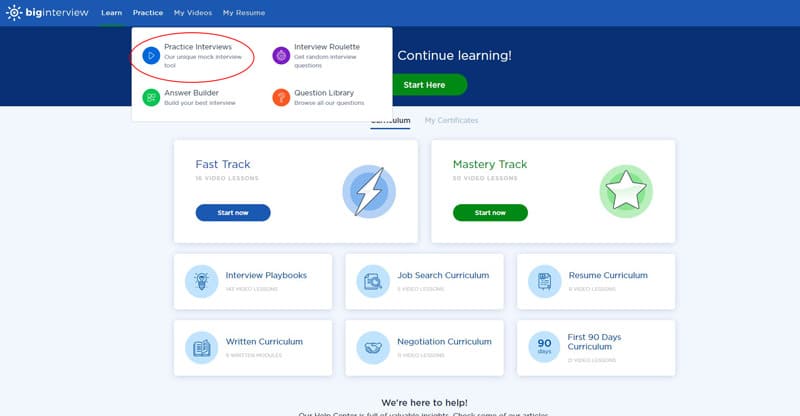 From there you can start a new mock interview by choosing the type of interview you want to get ready for.

It's always best to start with the General section to get a better understanding of the most common interview questions and answers.
From there, you can choose your practice set based on your experience level, industry, or type of interview.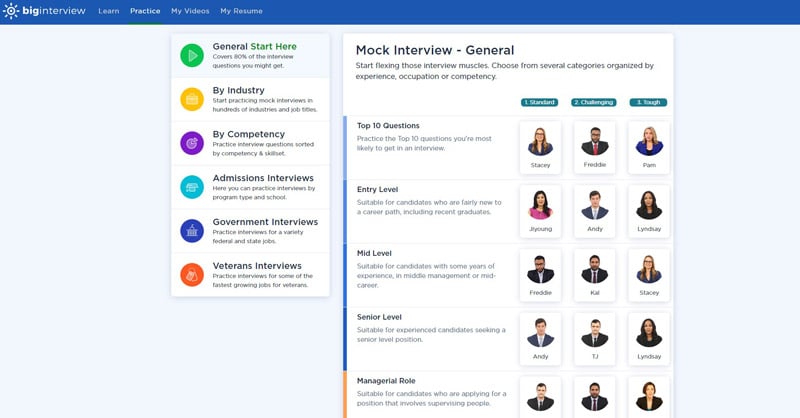 When you're ready to practice, you'll be able to choose your virtual interviewer and start the interview. You can record as many answers as you like, and practice until you feel confident.
Once you are happy with your video, you can save it and send it off for feedback. The more you practice video interviewing, the more comfortable you'll become. Eventually, answering questions virtually will become as easy as talking to someone in the same room.
Final Thoughts
Getting ready for a video interview is not easy, especially if you're not entirely comfortable with cameras. However, this is becoming a whole lot easier for Gen Z, thanks to video content platforms like YouTube, TikTok, and Instagram.
You can control how you present yourself if you take steps to put your best foot forward. You would take time to select the perfect suit for an in-person interview, so why not spend a little effort on your video interview setup too?
By mitigating technical, camera, and body-language-related factors, you improve the odds that the interviewer will focus on the substance of your answers and what you could do for the company.
Even if you charm your interviewer, it's possible that your interview will be recorded for others to review. So multiple people could be influenced by your overall presentation in the interview. That's why it's best to do everything in your power to look good, sound confident and approachable, as well as prevent any technical issues from ruining your video interview.
Before we go, here's the shopping checklist we promised you earlier, and good luck on your next video interview!
The Shopping Checklist
Webcams:
Or something similar.
Lighting Setup:
2 x Clip Lights
1 x Rosco Diffusion Material (to soften the scoop light)
2 x Light Stands (these can either stand on their own, or on a desk)
1 x Pack of Clothespins (for keeping diffusion paper on scoop lights)