Half-baking your skills section is a common pitfall when writing a resume. You might be in a rush to submit, you might focus too much on work experience and downplay the importance of other sections. And that's a grave mistake.
Why?
The job skills section is one of the 3 most crucial resume sections that hiring managers, recruiters, and ATS software all take interest in. Think of it this way: your skills determine if you're going to be successful in this role. Precisely the reason why you shouldn't wing it.
This guide will help you choose the right skills to put on a resume and end up with a rock-solid resume that tops 90% of others out there.
Walk away today knowing:
which hard and soft skills to include on a resume (with real examples from the most popular industries)
how to organize and format your resume's skills section
what skills to highlight in the post-covid world.
Best Skills to Put on a Resume in 2023
Here's a selection of the most in-demand skills for every field, updated for the post-covid reality:
Data analysis
Social media management
Marketing
Programming
Project management
Strong communication skills
Teamwork and collaboration
Adaptability
Attention to detail
Stress management
Emotional intelligence
Productivity
Diversity skills
Time management
Problem solving
Languages (English, Spanish, French, ASL…)
Only came here to see sample skills to add to your resume? Feel free to jump straight to the section that relates to your field:
Customer service / Customer support
Sales
Teaching and education
Healthcare (Nursing)
Software development and IT
Graphic and UX design
Administration
Business and finance
Marketing
Advertising and PR
Project management
Before you add skills to your resume, a gentle reminder of these golden rules to stick to:
Include only skills that you really possess. (Yes, this is a roundabout way of saying don't lie on your resume). If in doubt which ones to handpick, ask a close friend or a colleague for input.
Don't be too generic. Universal skills like "good communication", "internet", or "teamwork" mean little if they're not mixed with other, very specific skill examples.
Provide a blend of hard and soft skills for a well-rounded skill profile. (We'll explain this in more detail in a bit.)
The list above is a mix of red-hot technical and soft skills, but it won't matter much as is. You'll have to adapt your list of skills for each and every job application. Here's why.
Why Resume Skills Matter
Most large companies use applicant tracking systems (ATS) — clever bots that parse resumes before they even reach a human overlord.
This means that you'll have to use the exact keywords from the job description for an ATS to recognize your resume as a match. For example, if the job description specifically mentions Figma as a key technical skill for a UX designer, your resume will be skipped unless you name it. Bottom line: the ATS isn't able to tell if you're using Figma, Adobe or Zeplin unless that information is included in your Skills section.
Applying for the same position in different companies requires a more nuanced approach.
They may be using different frameworks, collaboration tools, or have specific requirements that should be addressed in your skills section. A single resume version with the same list of skills shows the hiring team that you're inattentive and indicates a lack of motivation. Trust me, hiring pros can tell generic the moment they see it. You can make a huge difference by customizing your list of skills to match the position at hand, even if the edits seem pretty minor.
Skills on a resume have to be relevant to *the* job you're targeting, not just any job.
If I'm applying for the role of an Email Copywriter, and it's clear from the job ad that the position would include writing and setting up marketing campaigns and newsletters, my SEO experience is not super relevant to the role. It's then better to swap my Ahrefs proficiency for something more fitting, e.g. experience in email systems like AutoKlose, Lemlist or HubSpot. Even better if I can support my skills with some cool results I achieved. In this case, email open and click rates would be some relevant metrics.
Types of Resume Skills: Hard vs. Soft Skills
Employers want candidates with the right mix of different types of skills.
Hard or technical skills are the skills that you acquire through education and experience. They are often measurable and can be gained and improved through training. They're also industry and job-specific.
For example, if you're a Back End Developer, your hard skills will include a mix of programming languages (Java, Python or PHP), associated frameworks (like Spring or Django), as well as familiarity with servers, databases, and APIs.
Soft or interpersonal skills are about how you relate and interact with other people and are personality-based. Although soft skills come naturally, they too can be improved and strengthened over time.
Apart from the hard skills above, a Back End Developer could benefit from soft skills like critical thinking, teamwork, problem solving, or dependability.
The best soft skills to put on a resume
Here are some of the most desired soft skills to add to your resume. Ideally, and based on how they fit with your set of technical skills, you should pick one from each subcategory.
Listening skills
Active listening
Note-taking
Comprehension skills
Communication skills
Verbal and written communication
Active listening
Public speaking
Presentation skills
Constructive criticism
Interpersonal skills
Empathy
Leadership
Patience
Flexibility
Time management skills
Goal-setting
Prioritization
Delegation
Organization
More on soft skills for a resume here: The Best Soft Skills for a Resume.
The best hard skills to put on a resume
As we explained above, technical skills aren't universal and they're purely job-related. Below is a list of the most in-demand hard skills for the most common professions.
Customer service / Customer support
Product expertise
Live chat
Technical writing
Knowledge base
Email / inbox management
Ticketing systems
Escalation paths
RingCentral
Zendesk
Intercom
Hootsuite
Sales
In-depth knowledge of products and services
Market and competitor knowledge
Sales decks
Conducting demos
Data collection
Prospecting
Outreach
Negotiation
Objection handling
Closing deals
Social selling
CRM tools
HubSpot
Zoho
Salesforce
Pipedrive
Bitrix24
SAP
Relationship building
Sales Navigator
Octopus
RFPs
Teaching and education
Digital literacy
Google Drive
Google Slides
Microsoft Office
Video conferencing
Databases
Spreadsheet creation and management
Curriculum management
Attendance management
Assessment
Classroom management software and systems
Record-keeping
Scheduling
Healthcare / Nursing*
Monitoring vital signs
Electronic patient records
Medical administration
Emergency procedures
RTL systems
Alerting hospital staff
Patient care and assistance
Surgery preparation
CPR certification
First aid certification
HIPAA training
*This list is not exhaustive, as there are special technical skills for ICU, ER and specialty units nurses. Make sure you custom-tailor them further to match the exact job requirements. Remember, the more specific, the better.
Software development / IT
Cloud
Cloud security
Amazon Web Services
Java
Python
Go
PHP
CSS
HTML
Javascript
MySQL
SQL
PostgreSQL
MongoDB
Node.js
Vue.js
Django
DevOps
GitHub
GitLab
APIs
Docker
Kubernetes
Graphic and UX design
Adobe Creative Suite (Photoshop, Illustrator, InDesign, After Effects, Acrobat)
Logo creation
Visual storytelling
Branding
Illustration
Typography
Art direction
Wireframing
Prototyping
Layout
Design theory
Marvel
Figma
Sketch
Avocode
Webflow
Administration
Microsoft Word
Excel
Powerpoint
Publisher
Outlook
Google Suite
Email and calendaring
Electronic and paper filing systems
Basic bookkeeping
Memos and reports
Transcription
Office supplies management
Travel arrangements and hotel reservations
Procurement assistance
Proofreading and editing
Typing speed (in WPM)
Business and finance
Accounting
Corporate finance
Financial modeling
M&A analysis
Excel
10K and 10Q SEC Reports
Statistical analysis software (SAS, R, STATA, SPSS)
Databases (SQL)
Business intelligence and reporting software
Data mining
Data visualization
Documentation
Presentations
Budgeting
Forecasting
Marketing
Market research
Competitive analysis
Search engine optimization (SEO)
Search engine marketing (SEM)
Content management
PPC
CRO
Social media marketing
Email marketing and automation
CMS tools
Storytelling
Funnel management
Video marketing
Inbound
Google Analytics
Google Search Console
Hubspot
Ahrefs
SEMRush
MOZ
WordPress
Google AdWords
Google Display
Advertising and PR
Brand development and branding
Brand positioning statement
Business storytelling
Vision and purpose
Digital marketing
Tone / feel
Production
Media
Video production
Writing
Social media campaigns
Press releases
Analytics
Budget management
Project management
Project planning
Project scoping
Risk management
Financial planning
Project roadmapping
Workload management
Budgeting
PSA tools
Kantata
PMP
Waterfall
Agile
Gantt charts
Kanban boards
Scrum
Task management
Reporting
Presentations
Performance tracking
Notion
Asana
Jira
Want to learn more about hard skills and how to plug them into your resume for greatest impact? See: The Best Hard Skills to Put on a Resume. In case you need more inspo, here's what else you can put on a resume.
New skills to add to your resume (skills you gained during lockdown)
The pandemic changed so many dimensions of work, with many companies still deciding which operating model to adopt long-term. The outcome you may not entirely be aware of — you've gained new skills while working from home. And if a company is hiring remotely, they'll want to see some hot new skills on your resume too.
Here are some great examples you can use:
Technical / digital proficiency skills
High digital literacy
Methodologies: Scrum, Agile, Kanban or Six Sigma
Video-conferencing tools: Zoom, Google Meet
Collaboration and chat tools: Slack, Atlassian, Notion, Dropbox, Google Suite
Soft skills
Resilient
Cooperative
Flexible
Adaptable
Self-disciplined
Self-starter
Initiative
Conscientious
Able to complete work independently
Dependable
Accountable
Time and task management
Effective remote communication
Written and verbal communication
Comfortable with technology
Able to manage an effective routine
Able to stay motivated
Able to maintain productivity
How to List Skills on Your Resume
The key piece of info to remember here — customize your resume, including the skills section, for each particular application.
I mean —
You wouldn't wear the same outfit to a non-profit gala event, a live rock concert, and a romantic dinner, would you? It's still you, just custom-tailored to fit the occasion.
The same goes for your skill set. One-size-fits-all fits no one, as most of the work fields today are so branched out. You should focus on highlighting only the super-relevant skills which match the requirements in the duties and responsibilities section of the job description.
Remember the Holy Trinity of why you need to do this: to please the ATS software, to provide nuance and avoid looking sloppy, and to ensure your resume is relevant to the position.
Which brings us to resume formatting and where to fit the Skills section depending on which resume format you choose.
Reverse-chronological format: include a separate skills section
If you opt for the reverse chronological resume format, you'll need a separate section to showcase your job skills.
You can divide your skills into soft and hard skills or list them together
Include 8–10 top skills
Place the Skills section below your education section or, when using a two-column layout, in a side column
You can format your skills in a few different ways, but make sure you're consistent, whichever one you choose:
1. List your skills as single items (bullets)
Pros: Points for brevity. Plus, the ATS software places an emphasis on keywords, so you're most likely to pass this AI pre-screening test if you lay out your skills as plain bullet points.
Cons: No information about the level of competency or proficiency.
Pro tip: Skip the periods after each item and use a conventional bullet style like circles or hyphens. Don't go crazy with other symbols, as they may present a visual overload to the reader or be displayed incorrectly on another device.
2. List your skills alongside a bar/star rating
Pros: Presented this way, job skills are easily skimmable and memorable. The rating provides a bit more information than simply stating that you possess a skill.
Cons: Imprecise. Bar and star ratings come with an intrinsic set of shortcomings when compared to other competency rating scales. In self-assessment, it's fairly easy to both underestimate and overestimate one's ability. Without some extra info on certifications, years of experience with a tool of framework, and further testing, it's really difficult to tell to what extent a candidate is proficient.
3. List your skills and indicate your proficiency level
Pros: Although this option is a bit less eye-catching than the previous one, it still gives the hiring team mode detailed information on your competency level. Microsoft Excel (Advanced) is a whole lot more telling than simply listing Excel as one of your skills.
Cons: Again, a whole lotta room for self-assessment bias. Similar to the bar and star rating system, levels can be provisional. And even if you have the proof in ink, your real-life competency may be better or worse than what's on your certificate.
Functional or combination format: include skills in your skills summary
If you decide to go with the functional or combination resume format, you should include your job skills and core competencies in the summary at the top, and provide examples of how you used each skill in practice. Keep in mind that in the functional resume format, your skills are the stars of the show.
Here are a few resume skills examples to use as inspo:
Antonio is a Food and Beverage Manager in a local Italian winery looking for a new opportunity in one of Croatia's top wine regions.
AREAS OF EXPERTISE
Reception and Customer Service
Greeted and interacted with an average of 200 customers a day
Answered up to 50 incoming calls a day
Managed the email account with average 80 messages a day
Organized 33 team-building and wine-tasting events for up to 50 people
Scheduling, Coordination and Administration
Created complex weekly schedules for a team of 25
Monitored employee records, including PTO, promotions, and work ethic
Oversaw daily opening and closing register procedures
Tasting Room Management
Monitored and tracked the wine inventory
Organized regular in-house trainings to increase wine and merchandise sales
Managed the wine shop and organized promotions to increase sales
Mila is a Senior B2B SEO copywriter looking for a new opportunity with a SaaS product.
SKILLS & CORE COMPETENCIES
On-Page SEO Strategy
Competitor keyword gap analysis
Completed briefs for 22 blog articles resulting in 800+ new keywords in 3 months
Led 4 optimization projects resulting in 340 new keywords on the first page of Google
Weekly SEO reports tracking main metrics and primary keyword positions
Increased average time on page from 2:32 to 5:40 minutes
Content Writing
Wrote 100+ articles and 5 lead magnets resulting in 20 booked website demos
Helmed team of 7 copywriters, analyzed performance and KPIs
Email Marketing
Hit 73% open rate and 42% reply rate in Lemlist (cold leads)
Reached 87% open rate in HubSpot lead nurturing campaigns
Wrote 24 email campaigns resulting in 37 new SQLs (200+ employees)
Weave your skills in the other resume sections
Finally, there's plenty of room to highlight your skills in other resume sections, especially in your work history or your resume summary. Here's how you can do that for both soft and technical skills.
1. Include your top skills in your work experience
Presenting: Presented in X company webinars that reached an average audience of 250.
Leadership: Led a 12-person cross functional team to manage RFP and bid responses.
Dependability: Completed 95% of projects before deadline.
Teamwork and agreeability: Voted "Favorite person to work with" in company's annual survey 3 years in a row.
SEO: In 2 years, optimized 100+ blog posts, increasing organic traffic by 45%.
Technical support: Resolved 92% of tickets on the first touchpoint, with no escalations.
Reporting: Created annual and quarterly ROI reports and presented in Sales and Marketing calls.
Technical SEO: Increased page load speed and the website's authority score from 39 to 43 in 3 months.
2. Include your skills and accomplishments in your resume summary
And here are some real-life enticing summaries with smartly placed resume skills examples.
Example 1:
An award-winning marketing leader who helped build a 20K+ community and one of the most reputable content hubs in the outreach world. Bootstrapped from 12K to 13.5M ARR in under 4 years.
Example 2:
Solution Architect & application developer. Proven Technical Team Lead in a wide variety of business applications. Particularly interested in distributed architectures. Specialties: Java, Spring Framework, ORM, content templating (Velocity, Thymeleaf), microservices architecture. Familiar with new FE tech stack (HTML5, CSS3, JSON, VueJS) and new frontend development technology stack to support cross-browser and native application support for mobile platforms.
Example 3:
An all-star business marketing leader with a demonstrated history of working in B2B SaaS and hands-on experience with strategic planning to create persuasive, data-driven go-to-market strategies designed to build brands, generate pipeline, drive growth, and create loyalty.
Specialties: Digital and Global Marketing, Account Based Marketing, Demand Generation and User Acquisition
Example 4:
Experienced Product Designer with a strong focus on redesigning and improving existing complex web applications. Proficient in designing web products, responsive websites, and OS-agnostic mobile apps together with creating and maintaining UI design systems in both Figma and Sketch. Actively working with development and product teams since 2013.
If you need a hand with your Skills section, there are 2 ways we can help:
Check if you're selling yourself short and learn how to improve your resume with BigInterview's AI tool (gives instant feedback on readability, credibility, and ATS fit).
Take a crash Resume Writing Course, led by Pamela Skillings, a top resume and interview coach, career counselor, and co-founder of BigInterview.
Here's what a typical lesson looks like: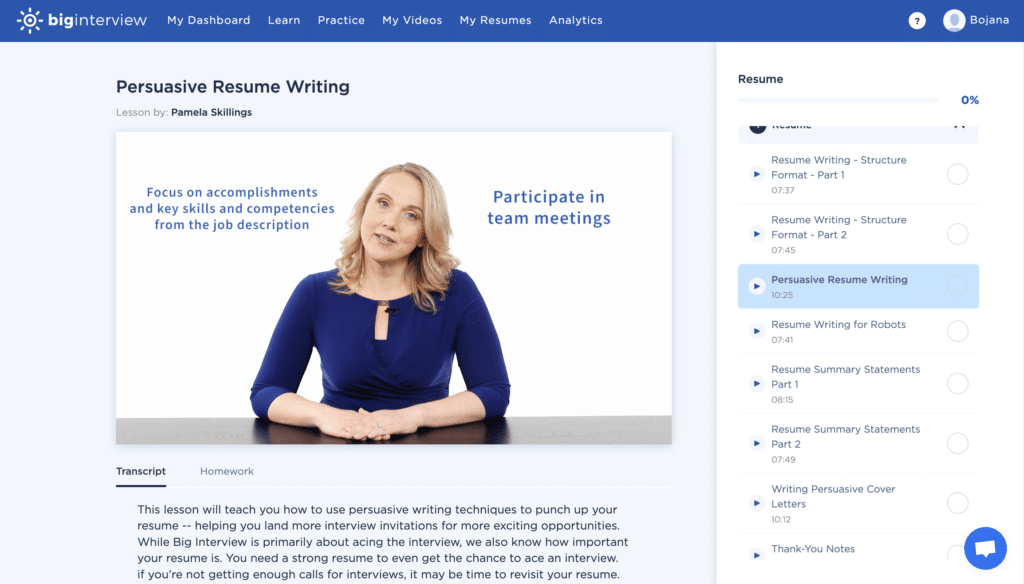 You get 8 video lessons (with transcript and homework) with Pamela, starting with how to structure your resume, followed by tips on how to write your resume summary, and so on. In just over an hour, you'll be ready to slay your resume.
Bonus tip: How to acquire skills for a college student resume.
Final Takeaways
Have a separate skills section on your resume and list up to 10 relevant skills (a mix of hard and soft skills).
Make sure your resume skills are relevant to the position you're applying for.
Check which of your job skills are particularly popular or in-demand in your industry/field and make sure to include them.
Reinforce some of your top skills in other resume sections like work history or the summary.