Problem-solving skills are difficult to describe and quantify: they're a combination of different hard and soft skills such as logical inference, technical knowledge, adaptability and innovation, leadership potential, decision-making, productivity, and collaboration.
All are crucial for developing expertise and delivering results at work — especially when the going gets tough.
And because problem-solving is so important, you're almost guaranteed to get asked about it in a job interview. Read on, and make sure no problem-solving question catches you off guard.
In this article, you'll learn:
How to answer problem-solving job interview questions
Types of problem-solving questions
Why recruiters ask these questions and what your answers might reveal
Sample answers for the main types of problem-solving questions
Want to get an offer after every interview? Our interview prep tool will guide you through all the questions you can expect, let you record and analyze your answers, and provide instant AI feedback. You'll know exactly what to improve to turn your next interview into a job.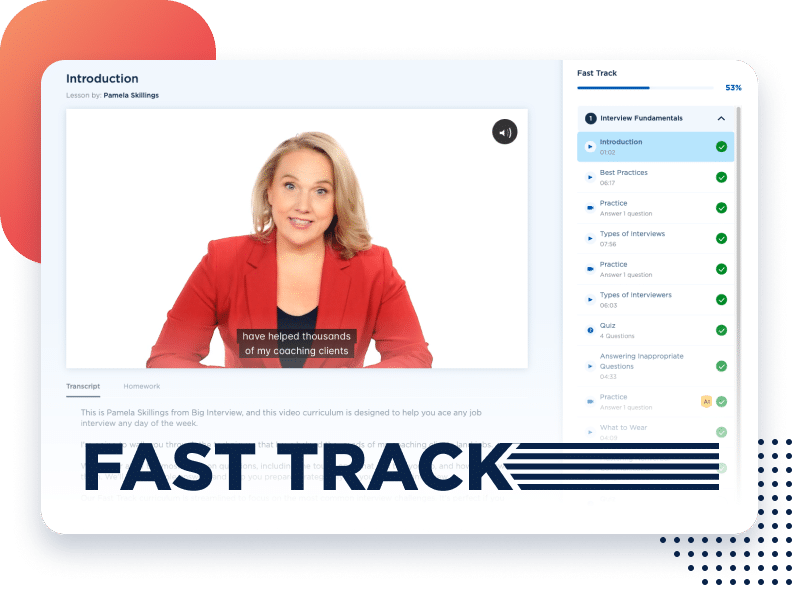 Our users land jobs 4 to 5 weeks faster than the national average. Get ready for your interview now.
How to Answer Problem-Solving Job Interview Questions
Here's how to understand the intention behind problem-solving interview questions and create an informative answer that will highlight your expertise and potential.
Understand the problem-solving question and why recruiters ask it
Hiring managers and recruiters want to know how you identify roadblocks, analyze information, and overcome challenges. These challenges can vary from specific, technical issues to more general issues like improving company processes or handling interpersonal relationships.
To put these skills to the test, recruiters use "problem-solving" job interview questions, also known as analytical questions. Here are some common ones:
Tell me about a situation where you had to solve a difficult problem.
Give me a specific example of a time when you used good judgment and logic in solving a problem.
Describe a time when you didn't know how to solve a problem. What did you do?
Describe how you approach a complex or difficult problem.
Here's what these questions help recruiters discover:
Your adaptability and innovation
Are you an out-of-the-box thinker who's open to new ideas and who can handle uncharted waters easily?
Efficiency and productivity
Are your problem-solving skills contributing to the team's performance, removing bottlenecks, smoothing out processes, and keeping projects on track?
Collaboration and communication
Are you successfully collaborating with others to find solutions? Are you handling people-related problems effectively?
Decision-making
Can you efficiently evaluate different options and reach a decision independently? Can you make sound decisions to minimize risks and maximize benefits and opportunities?
Leadership potential
Are your problem-solving skills so good that they open up new opportunities for you to move in the leadership direction?
Problem-solving interview questions are not tied to a specific role and industry. Mastering your problem-solving skills will help you stand out from the competition and be more successful in your role, whatever it may be.
And if you need help with answering other common interview questions, sign up for our free course!
Reflect on your thought process
Be mindful of your thought processes when you face a difficult problem.
Is your initial reaction to panic or are you calm and enthusiastic to tackle it? Is the problem stopping you from focusing on everything else you're working on? Do you look at the problem as a whole or do you break it down?
Understanding how you think and approach the problem will help you know yourself and improve your problem-solving skills, but it'll also make it easier to answer these tricky questions during an interview.
Be specific
Tailor your answers to problem-solving interview questions so that you cover specific details, actions, and skills relevant to the position. If possible, list the results and share lessons learned from an experience you're describing.
We're not saying you should lie and make up a story about your problem-solving skills for each position you apply for; remember that this is a broad set of skills and you surely have something relevant from your past experience that you can bring up.
💡 For example, if you're a Customer Service Representative applying for the same role in another company, you can speak about how you solved a customer's problem or how you helped the team switch to a new CRM tool and transfer all the data.
💡 If you're applying for a leadership role in the customer service field, you can speak about how you handled an interpersonal problem within a team or how you spotted bottlenecks and modified processes to make the team more efficient.
💡 If you're moving to a Sales position, you can highlight your selling experience and talk about a time when you had to solve a customer's problem and you managed to upsell them in the process.
Follow up with clear outcomes
Prove you have outstanding problem-solving skills by listing clear outcomes for every problem you solved. They can be quantitative or qualitative.
💡 Fixed a process? Say that it improved team productivity by X%.
💡 Handled a difficult client? If they became a VIP customer later on, mention it.
💡 Resolved a conflict? Describe how the experience helped you strengthen the bonds in a team.
💡 Solved a complex technical problem? Say that you got a bonus for it, or that you expanded and improved the existing documentation to help coworkers in the future.
Use the STAR method
Whenever possible, use the STAR (situation-task-action-result) method in your answer:
(S)ituation: Describe the situation and provide context.
(T)ask: What tasks you planned on doing to tackle the issue, your contribution.
(A)ction you took (step-by-step).
(R)esult of your efforts.
It'll help you create a well-rounded answer that's informative and engaging. Plus, using this method to prepare answers in advance will help you memorize the story quickly and easily.
✅ Bear in mind that not every problem-solving interview question can be answered with a STAR method. Some questions will be very specific and will ask for quick and short information about a certain tool or similar. Other questions, the ones beginning with "Give me an example when…" or "Tell me about a time when…" will be the perfect opportunity to use the STAR method.
Also, remember that there's never a single correct answer to a problem-solving question, just like there usually are multiple solutions to a given problem — a study on the hospitality industry revealed that the most successful problem-solving strategies applied in the workplace were always very specific to given circumstances.
Questions about your problem-solving skills are just one group of the standard interview questions, you can be almost sure you will get asked. Prepare for other interview "classics" with our dedicated guides:
If prepping for a video interview, learn what to expect from this guide: Video Interviewing Tips & Tricks
And if you're interested in interviewing for specific positions, see:
Types of Problem-Solving Job Interview Questions

1. General problem-solving questions
These questions aim to discover your general approach to problems and challenges.
How do you approach complex problems?
Interviewers want to know how you approach the process of solving complex problems. Do you jump straight into it or do you take a step back, break the problem down into manageable components, analyze the info you have, and then dive in?
Can you provide an example of a challenging issue you've encountered and how you resolved it?
Can you assess a situation and find the most appropriate solution? Can you handle the pressure? Do you take the lead during difficult times? Are you able to take responsibility for the outcomes?
This question is more specific than the previous one, so make sure you think about a situation in advance and prepare your answer using the STAR method.
Big Interview's Answer Builder can help you shape your answer. You'll be able to list and filter the points you'd like to mention, add details and rearrange the order to create a compelling story.
Plus, you'll get bite-sized tips on how to answer the most common interview questions while you're in the Builder.

How do you prioritize multiple tasks when faced with tight deadlines?
Recruiters want to know how you set criteria based on which you'll set priorities, how and if you juggle between multiple tasks, and how you communicate and collaborate with other people involved.
General problem-solving sample answer
"Tell me about a time when you faced a difficult problem at work. How did you solve it?"
In one of my previous jobs, we used to issue reports containing industry news and trends at the end of each quarter. The report would go out to our huge B2C email list so it had to be spotless and on time. I was the one who would write the entire text and coordinate the designers, developers, and several other people involved in creating the report and landing pages, connecting them with our email system, and similar. During a particularly rough year for the business, a lot of my coworkers quit or were fired. So when the time came for our report to come out, I was left with a handful of people who were overworked with initiatives in their own departments. I had to rethink our strategy and adjust the plan, so in the end, it was just me and my coworker designer who saw the entire process through. I wrote and edited the text and created a visual concept to base the report on. She designed the pdf and I did several rounds of revisions. Together, we decided to ditch WordPress, as it was too difficult for us to set everything up, and we chose a drag-and-drop web page creator for creating the landing page. We went through a few tutorials on how to connect it to our email service provider and create automation that would send the report to anyone who subscribed. Finally, we asked one of our developers for a 10-minute call to test everything. He made sure everything was set up correctly and that quarter's report went out on time. I was proud because the two of us managed to finish a project that would otherwise contain at least 5 people working on it. I learned how important it is to remain calm, flexible, and resourceful in tricky situations.
Behavioral questions about problem-solving
Behavioral questions ask for specific situations from your past in which you displayed a certain behavior. Based on it, recruiters hope to predict how you'll perform in the future.
Tell me about a time when your team faced a problem and you helped to find a solution
This one's asked to assess your teamwork and cooperation skills in tough situations.
Interestingly, a 2015 study on problem-solving in the workplace showed that when it comes to expertise-related problems, employees rarely relied on trial-and-error or information retrieval as modes of problem-solving.
Instead, they mostly relied on help from others, that is, their coworkers who they believed were experts on the subject matter.
This puts emphasis on the importance of teamwork and collaboration in problem-solving. And you certainly noticed how easier it gets to solve a problem (or brainstorm a new idea) as a group, when different individuals bring fresh, unique ideas to the table.
So, recruiters want to know if you'd be cooperative and open to a teamwork experience, and these factors might hint at how you'll fit in with the team.
Describe a situation in which you received criticism for your solution to a problem. How did you handle that?
This one checks how you handle feedback and criticism — it's challenging, but it's essential for growth.
In your answer, make sure you depict a situation in which you demonstrated that growth mindset and the ability to see that taking criticism is not a sign of weakness (or a personal attack on you) but a unique opportunity to learn something new.
Can you provide an example of when you had to collaborate with a team to solve a work-related problem?
Similarly to the first question in this group, this one aims to see how you perform in a team and solve problems collectively.
According to a study, in a team, task completion can be independent, when each team member completes their own activities, sequential, when activities go from one team member to another, reciprocal, when activities are done back-and-forth between team members, or intensive, when all team members work on activities and problem-solving simultaneously.
Recruiters want to get to know more about your ideal teamwork process model and how you connect with others to solve problems.
Your answer will tell them if you're a good team problem-solver, team player, and if you're able to give and share credit, as well as take responsibility if something goes wrong.
Behavioral problem-solving sample answer
"Can you describe a situation where you had to use your problem-solving skills to make a decision?"
As a young and newly appointed team lead, I had to make a difficult decision of who to let go from our team in 2020. I led a 10-people team and due to company layoffs, I had to let go a few of them. To make a fair decision, I established a list of criteria based on which I'll evaluate key competencies, performance, team spirit, and general circumstances. So I carefully evaluated each team member against these criteria, all the while juggling between the company's financial situation, our team's needs, and the well-being of each team member. In the end, there were a few people who performed pretty much the same in terms of success and productivity, and who worked as contractors in our company — meaning, they had several other gigs and sources of income. To me, it made the most sense to let them go because other people were equally good performers but had no other sources of income or side gigs. It was a difficult decision, and I know not everyone agreed with it, but I felt and still feel like it was the right thing to do.
Situational problem-solving questions
Situational problem-solving questions put you in a hypothetical situation, present a problem, and ask for your opinion/solution.
Even if you haven't encountered a similar situation in the past, it will help you to draw parallels from your experience to create answers to these questions.
How would you respond if a high-priority project was suddenly delayed, jeopardizing the deadline?
Your answer to this question will tell recruiters about your flexibility, time and task organization, prioritization, as well as how you handle pressure.
An ideal employee will be able to think quickly and adapt to unforeseen circumstances, all the while remaining calm and composed. You'll want to aim at displaying these qualities in your answer.
Imagine a scenario where your manager was unavailable, but a client had an urgent issue – what would you do?
Taking the lead and taking calculated risks shows that a person has outstanding problem-solving skills and is not afraid to take initiative, which shows leadership potential.
Your answer to this question needs to demonstrate your ability to quickly analyze information, weigh pros and cons of a situation, and make decisions on the spot. This is especially important if you're applying for leadership positions, like a team leader or a project manager.
If you encountered a high-stress situation that required you to stay calm and focused, how would you handle it?
Recruiters and hiring managers want to assess your ability to handle stress, make rational decisions, and maintain a focused approach in tricky, high-pressure situations.
Make sure to provide them with relevant examples from your past that will paint a picture of your skills and abilities. This is especially relevant for high-pressure positions such as police officers, lawyers, financial analysts, and similar.
Situational problem-solving sample answer
"Imagine you're faced with a tight deadline, but you've encountered a significant roadblock. How would you handle this situation?"
First of all, I'd gather all the information on the roadblock to understand how and why it happened and what consequences it might have on the project. I'd then try to re-prioritize, disregard the non-crucial aspects, and try to find several alternatives for each component of the new plan, just in case. If needed, I'd try to speak to other project managers and borrow people who are not working on other important or urgent projects. I'd also relocate the resources if needed, and I'd make sure to communicate the delays and status of the project to everyone involved.
Technical questions about problem-solving
Technical problem-solving questions are based on the technical knowledge that underlies each role. They aim to check your expertise or the means by which you connect the dots or obtain information if you don't possess it.
Will you sort through the documentation to find a solution? Or is your first reaction to recall a past experience? Perhaps you prefer connecting with an expert or a coworker with more experience than you. Or you're the type of person to synthesize your existing knowledge and try to find a solution through trial and error. Maybe you'll turn to a book or a course? Whatever it is, recruiters would like to know.
There are many ways to solve these problems and your preferred strategies will give recruiters insight into how you think and act.
Examples of technical questions about problem-solving are:
How would you assess and resolve a performance issue in a web application?
Describe your approach to troubleshooting a networking issue that spans multiple devices.
How would you approach debugging a piece of software with limited documentation?
How would you deal with an angry VIP customer if your boss was away?
What would you do if you noticed a decline in the ROI of your team?
💡 Bear in mind that, with the rapid development of AI, the majority of technical tasks might be overtaken by robots in the future. That's why it's important that you work on your non-technical skills, too. Employers are already admitting that problem-solving skills are the second most important skill they're looking for. For this reason, researchers are working hard to find and develop frameworks for helping people improve their problem-solving capabilities — you can read more about it in this paper on problem-solving skills among graduate engineers.
Technical problem-solving sample answer
"How would you troubleshoot an error in a software product that has been released to customers?"
I'd start by collecting as much information about the error as possible, such as analyzing error messages reported by users, going through error logs, or going through the documentation to check if there are any existing materials on the possible cause. Once I understand what's the issue, if it's possible, I'd reproduce the error, observe the performance, and hopefully get to the root cause of the problem. I'd then go through the relevant sections of the code and be on the lookout for errors, inconsistencies, or improper data handling. This would help me develop a few potential solutions which I'd test and see which works best. Finally, I'd deploy it and monitor the performance. I'd make sure to communicate the issue and solution in a timely manner to coworkers who are in touch with customers, so that we could provide transparency and top-notch user experience.
✅ Pro tip: Practicing in advance is the only way to make sure your answer is flawless! The Mock Interview Tool will help you record your answer and get instant feedback on its quality and delivery. From power words and your pace of speech to "ummm" counter and eye contact, you'll get help on how to improve in no time!
Our tool helped AJ land his first job in tech and get 7 job offers in the process. "I think Big Interview was super helpful in that aspect of having canned answers for every possible scenario and being in the moment of answering those questions.", said AJ.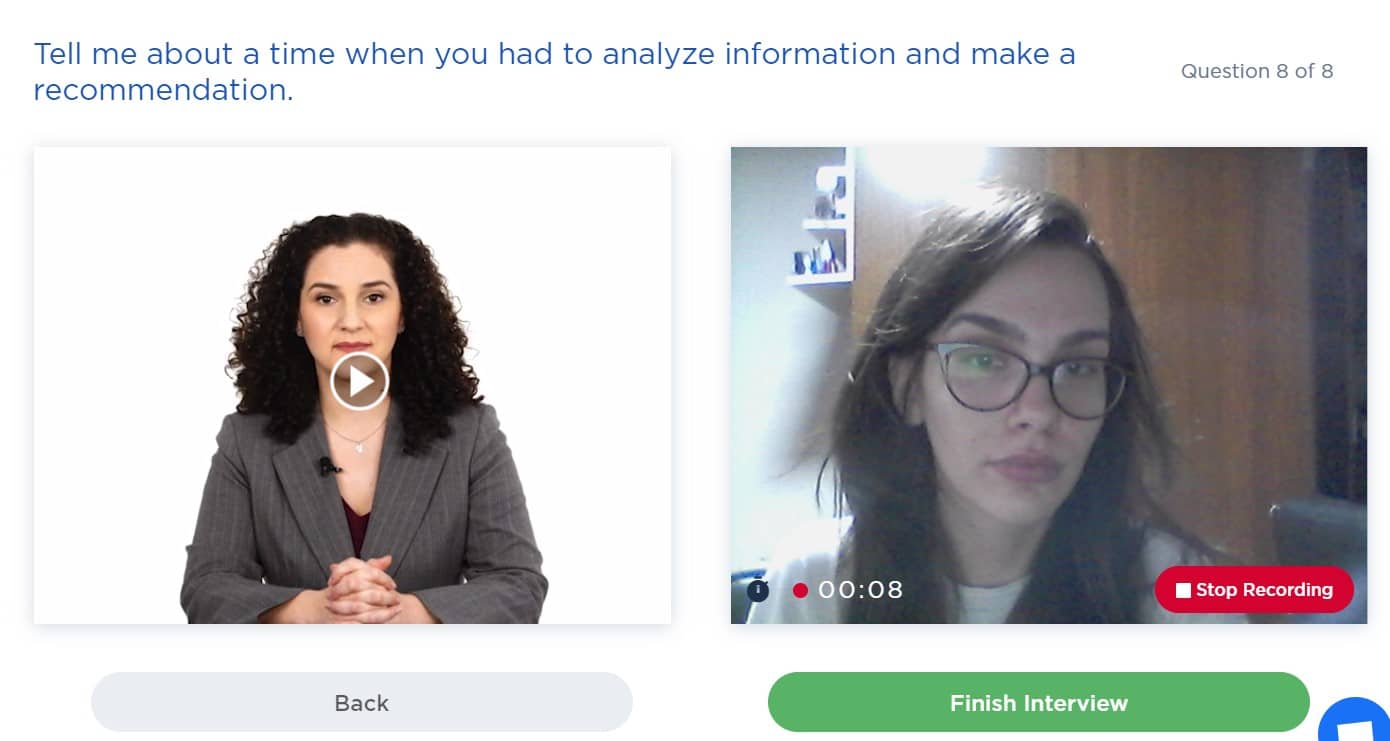 Key Points
Problem-solving skills encompass your logical inference, technical knowledge, adaptability and innovation, leadership potential, decision-making, productivity, and collaboration.
Because these skills are important in the workplace, there's a variety of problem-solving interview questions recruiters will ask to assess you.
Some of them include behavioral, situational, or technical problem-solving questions.
In order to answer these questions, you need to be aware of your thought processes when faced with a problem.
In your answer, be as specific as you can and use the STAR format whenever possible.
Make sure to highlight outcomes, results, or lessons learned.
As always, the best strategy is to anticipate these questions and prepare rough answers in advance. Including practicing your answer so you're confident for your interview.
____________________
Need help with your job search? There are 3 ways we can help you:
Tired of interviewing and not landing the job? Discover actionable lessons and interview practice here (Rated with 4.9/5 by 1,000,000 users).
Learn how to talk about your proudest accomplishments without bragging or underselling yourself.
Learn how to answer tricky questions about conflict resolution in the workplace.
FAQs
How can I improve my problem-solving skills?
Stay in the loop with new technologies and trends. Accept challenges and problems as a way to grow, don't panic over them. Acquire a systematic approach to analyzing problems, break them down into smaller components which will help you discover root causes and devise a solution plan. Practice logical thinking, evaluating evidence, and staying objective. And give yourself time. Perhaps not surprisingly, studies suggest that the more business experience you have, the better you become at problem-solving.
Are there specific resources available to practice problem-solving interview questions?
There's a variety of resources available to you, such as courses and Youtube tutorials, Facebook/LinkedIn groups, forums such as Reddit and Quora, books, or online platforms like Big Interview. If you're trying to develop technical problem-solving skills, you might benefit from relevant platforms' knowledge bases or YT channels; but if you're looking specifically for how to answer interview questions, platforms like Big Interview are the way to go.
How should I handle a question about a problem-solving scenario I have not encountered before?
Don't be afraid to ask additional questions for clarification. If you've never dealt with this problem before, be honest about it but answer how you would solve the problem if you were faced with it today. Break the problem down into manageable steps, try to recall a similar situation from your own experience that could help you draw parallels, and propose several different solutions.
Can I talk about my problem-solving experiences derived from non-professional settings such as student projects?
Yes, especially if you're a recent graduate or a candidate with limited experience. You can use experiences and examples from student projects, extracurricular activities, and you can even use examples from your personal life, as long as you present them in a professional manner and connect them to the position you're applying for. Remember to highlight the results, as well as the skills that helped you solve the problem and that are relevant to the position you're applying for.
Are there any common mistakes to avoid when answering problem-solving questions during an interview?
The most common mistake is not preparing in advance which causes rambling. You need to make sure that your answer is informative and well-structured, and that you're not only presenting a solution but also laying down the steps to display your logical reasoning. Make sure not to forget to give credit to teammates if they contributed to solving the problem you chose to talk about. Finally, for a coherent and informative presentation, make sure you use the STAR method.
What can I do if I don't know the answer to a technical problem-solving question in an interview?
Handle it professionally. You can always try to reach a conclusion by breaking down the problem and thinking out loud to show your thinking mechanism. Draw parallels between the problem at hand and another similar problem you encountered before. Lay down possible solutions, even if you're not sure they'll work, and be transparent — feel free to tell the recruiter you're not sure how to answer it, but make sure you emphasize that you're open to learning.
Can I ask for help or guidance from the interviewer during a problem-solving question?
Avoid asking for help directly, but ask for clarification in case something is unclear or if you need additional information. Sometimes, the interviewer will take the initiative and provide you with hints to encourage you and see how you think.
How can I demonstrate creativity and resourcefulness when answering problem-solving questions?
It's all about storytelling! Preparing in advance will provide some space for displaying your creativity. You can do it by making fun analogies or drawing parallels from well-known situations; or making pop-culture references.