"So, why should we hire you"?
Really? Wasn't this question reserved for sales rep job interviews in 1990s' movies? Not quite… It's still on quite a few interview decks and something you'll need to prepare for. And unfortunately, it's a tricky question.
First, you might not know what exactly interviewers are looking for or what skills you should mention. Second, you need to talk about your experience and skills without bragging (but you still need to be confident). Third, you need to pick the right angle without making any bad assumptions about other candidates.
But there are a few tricks to help you answer this question in an informative and elegant way. Which is why we're here.
After reading this article, you'll know:
Why interviewers ask "why should we hire you" in the first place
Different variations of this question you should watch out for
9 different strategies for telling them why they should hire you (including ones for people with no experience, career changers, and managerial positions)
Common mistakes to avoid in your answer
Why Interviewers Ask "Why Should We Hire You"
Do they want to check if you're confident? Do they want to hear you speak about your achievements? Do they want to know what you think your key skill is? Or do they want to hear how you'll fit in the company? (Spoiler alert, they want a bit of everything.)
Even though the question might sound ambiguous, at the end of the day, it's one of the most straightforward questions they can ask you.
It all boils down to "Please tell us why this business decision (hiring you) is good for our company."
But you'll come across different variations of this question, such as:
Explain why your background and experience would be a good fit for this job
Why are you the best person for this job
Why are you a good fit for this job
What makes you the best candidate for this position
Why should we hire you over other candidates
Why are you the ideal candidate for this position
Three key details they'll look for in your answer:
Examples of how your past experience and skills can translate into success for them
Hints that you'll fit in with the company culture
Proof that you did the research and know a lot about the company
And here's how to create the perfect answer.
How to Craft the Perfect Answer to "Why Should We Hire You"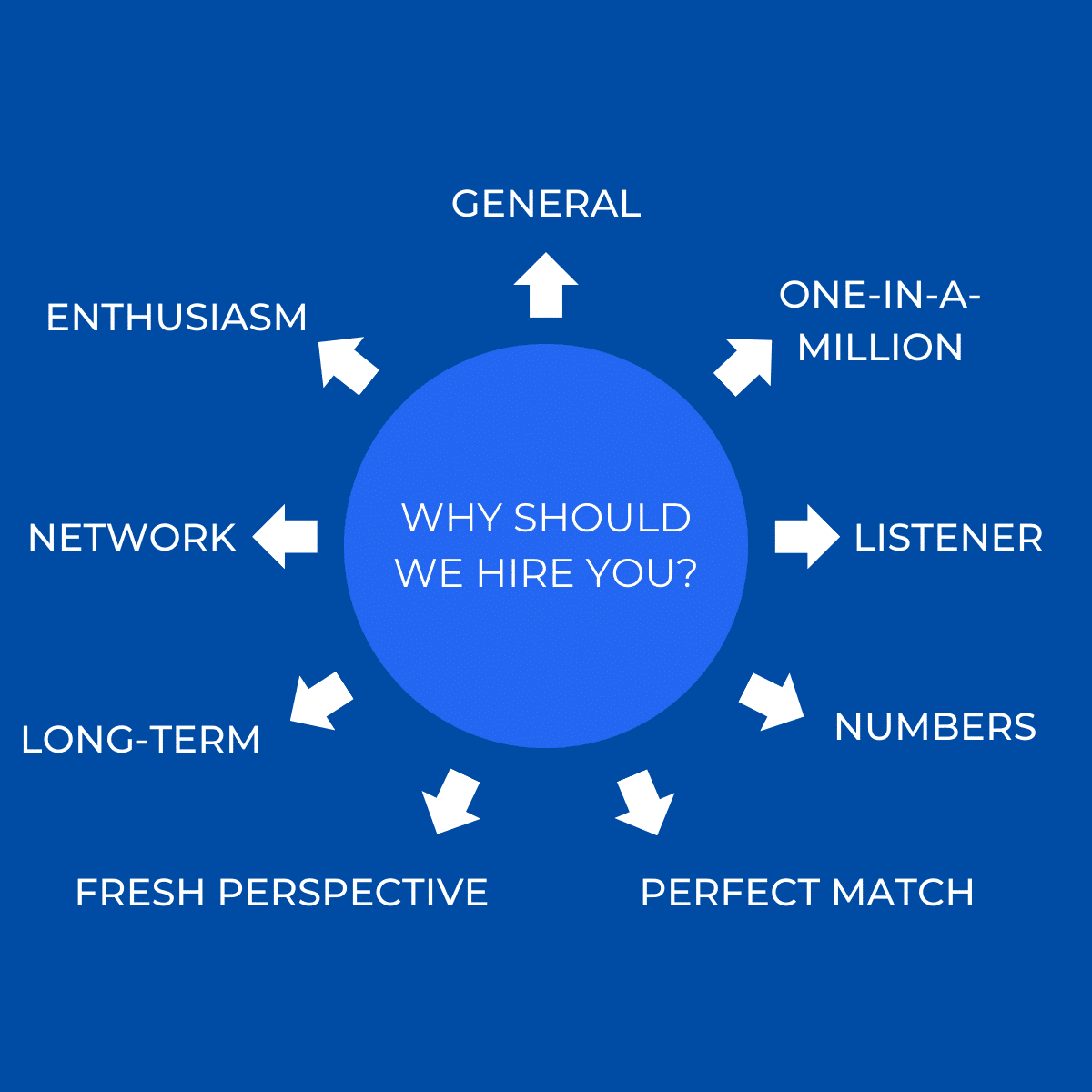 Let's be real. You probably know your strongest asset.
You're not better at everything than any other candidate is, but there must be something that differentiates you from the rest of the bunch.
Show them that one thing you have that no one (or few other people) has.
Here are different approaches you can take to do that:
The "general" approach
The "enthusiasm" approach
The "perfect match" approach
The "one in a million" approach
The "listener" approach
The "numbers" approach
The "long-term vision" approach
The "fresh perspective" approach
The "network" approach
Below, you'll see how to use each with examples.
1. The "general" approach – good for virtually anyone
When answering the "Why should we hire you" question, many people focus on their experience and skills and how they will translate that into success for the prospective company.
Because this is the first thing that naturally comes to mind, we call it the "general" approach.
The idea here is to take all the years of your previous experience, condense it into 2-3 key accomplishments and skills, and present them in an appealing way.
Why it works: It's safe, universal, and hard to mess up.
Why it might not work: It might turn out too generic or plain boring. In addition, a lot of candidates simply don't know how to talk about their work accomplishments. Instead, they focus on their previous job duties (but each position's duties are well-known).
Example answer (position: Content Writer)
Interviewer: Why are you a good fit for this job?
Candidate: Well, I have over 7 years of experience in content writing, so I've had time to hone my creative and SEO skills. I know I'd be able to use these at Zent8 to take your content to the next level. I also have experience overcoming several challenges related to traffic and conversion. For example, I was able to increase my current company's traffic by 31% in the last quarter alone. On top of that, I'm ready to grow in my position. I'd love to get involved in onboarding and training new employees!
2. The "enthusiasm" approach – good for people with limited experience
This one is particularly useful if you don't have much work experience.
The idea here is to show your enthusiasm for the company (and the industry) and convey the message that even though you lack experience, you will quickly learn and catch up because of how passionate you are about what they do.
Be specific here; mention shared values and explain why a particular cause is important to you.
Why it works: A lot of companies like to hire for attitude and coachability because hard skills can be taught. If you show that you have enthusiasm and are willing to work, it'll tell them you're ready to put in extra effort and progress quickly.
Why it might not work: For some companies, nothing beats experience.
Example answer (position: Teacher)
Interviewer: Why are you the ideal candidate for this position?
Candidate: I'm a strong believer in meaningful work. That's why I'd love to work in the education industry – I feel it would allow me to make a difference and do something useful. I'm enthusiastic about joining your institution because I admire your student development programs, especially Student Equity and Inclusion, and accountability, collaboration, and inclusion are the values I too uphold in my personal and professional life. Empowering and educating young people ensures a better future for our nation and I'd love to be a part of the initiative.
3. The "perfect match" approach
This can also be called the "I-did-my-homework" approach. Here you're focusing on the job ad.
One by one, you'll cover all the key requirements from the job ad and support them with evidence to prove that you have what it takes to solve their specific problems.
Check out the job ads and look for:
Key information such as the size of their company, the industry, the type of clients
Key duties for a position
Key accomplishments they want to see from a person in this position, if mentioned
All the things from your experience so far that overlap with job requirements
Transferable skills that might be useful for the position
Why it works: Focusing on the job ad should be the first task on your list both when creating a resume and when preparing for the interview. That's the only way to tailor your approach, connect the dots, and prove you're the right person for the job.
Why it might not work: It might be difficult to check all the boxes from the job ad if you don't have experience or if you're switching careers.
✅ Pro tip: Pair the "perfect match" with the "enthusiasm" approach to demonstrate that you not only check all the boxes and have the necessary skills, but you're also passionate about the cause. It's proven that people do better when they actually love what they do and consider their work meaningful. Hiring managers love to see this.
Example answer (position: Business Development Representative)
Interviewer: Why are you the best person for this job?
Candidate: It felt like the job description was written for me specifically. I have experience selling to both enterprises and emerging companies and I can handle longer sales cycles. Additionally, your job ad says you're looking for someone who can take over the Sales team, and I'm managing a full-cycle-sales outbound team. Finally, in the job ad you stated you're looking for a person with a strong personal brand. I'm pretty active on LinkedIn, and thanks to my account, I was recognized as an industry expert and I advised 20+ early-stage companies on how to grow their business using cold outbound. Judging by the listed requirements, I think I'd be able to solve your problems and deliver awesome results in a short period of time.
4. The "one in a million" approach – good for the brave!
Time to get bold! Tell recruiters what it is that you have that nobody else has.
This can be a skill, something from your past experience that you can connect to the prospective role, your network, and similar.
For example, if you're applying for a PR manager position, you can emphasize your media connections. They'll make your job easier and make the prospective employer more successful (because they'll have someone who's already in the appropriate circles).
Or, if you're switching careers from customer service to sales, your past experience in CS will help you immensely because you already know what clients (and potential customers) need and want, your communication skills are superb, etc… You get the drill.
Why it works: This approach exudes confidence, which is an attractive trait to display. Recruiters will see that you're competent for the role, and that you have outstanding persuasion and communication skills.
Why it might not work: It's really easy to slip into bragging. Plus, if you don't have actual achievements to back up your claims, things can backfire real quick.
✅ Pro tip: This approach is especially useful for positions which require a bit of persuasion and boldness (sales, advertising, law, public relations, top executives, and similar).
Example answer (position: Nurse)
Interviewer: Why should we hire you over other candidates?
Candidate: You would love having me on your team because I thrive in high-pressure situations. I treated over 50,000 patients in ICU, ER, and casualty departments during my long career. But I don't shy away from additional work, so you can count on me to help with administration, paperwork, and counseling and training others. Overall, you'd get a well-rounded professional with a special focus on emergency care, which is really important, considering how many hospitals are understaffed in the ED.
5. The "problem-solver" approach – good when you want your interview to feel more conversational
Humans want to be understood. They also need their problems solved.
Refer to something specific you learned about the position (or a company) during the interview or the research phase. This shows them you understand what you're going through.
And perhaps the company/team struggled with something recently and you happen to have skills that fill this gap. That's where the problem solving comes in.
Low traffic? High employee churn? Unprofitable quarter? A bit of digging through Reddit, Google Search Console, Ahrefs, or Glassdoor can tell you a lot. Double down on potential problems you identify and offer solutions. You'll get bonus points for active listening and superb research skills, not to mention proactiveness.
Why it works: For the most part, companies want to know what you can do for them. If you come forward, outline their problems and propose solutions, they'll see you have the expertise and the proactiveness.
Why it might not work: If you're a junior or if you lack relevant experience, it might be hard to spot the problems and create an action plan. Presenting something as a problem, when in reality it is not, will certainly raise suspicions about your skills.
✅ Pro tip: This is probably the least robotic of all the options because there's no framework on how to phrase your answer. Each time, each struggle will be specific and you will have different ways to help. Got 60 seconds to spare? If so, check this out:
Example answer (position: Marketing Specialist)
Interviewer: Why should we hire you?
Candidate: You mentioned struggling with traffic and paid ads so I took the liberty to check out your performance on Ahrefs. Based on what I saw, I have several ideas on how to make this work. I'd probably start by restructuring the pillar pages. And then I'd work extensively on TOFU materials to raise brand awareness, which will in turn solve the paid ads issue. I'd be happy to share the details with you and I'm convinced that we could see dramatic improvements in numbers within the course of several months. I'm result-oriented and I strongly believe in actionable plans. And considering that you have some very specific pain points that need to be addressed, it seems like I'm the right person to get this done.
6. The "numbers" approach
Time to get sharp! No need for persuasion and dilly-dallying. Use the "numbers" approach to let hard data talk for you.
Refer to your specific, quantifiable achievements from past jobs – your past results are great indicators of your future performance.
This is an effective "long story short, I'll make you guys money" kind of answer.
Why it works: Numbers are the best way to prove your claims on why you'd be the best fit for the role. No bargaining with them.
Why it might not work: It will work. However, candidates tend to avoid it. It might take some time to extract the numbers across different platforms; in addition, some people think that their jobs can't be quantified or that they haven't accomplished anything. But accomplishments can be listed for any kind of job, and you'll learn how to do it a few lines below.
✅ Pro tip: If you need help coming up with quantifiable achievements, check out Achievements and Accomplishments for a Resume: Examples + How to List Them. The article is focused on listing them on a resume, but it also includes a few strategies you can use to think of accomplishments you can bring up during the interview, too.
Example answer (position: Administrative Assistant)
Interviewer: Why should I hire you?
Candidate: I'm efficient. For example, in my current position, I'm maintaining a scheduling system for 9 conference rooms. Additionally, I answer around 80 phone calls per day and successfully manage correspondence of all senior team members. Last quarter, I introduced and tested a new internal task management system which increased office productivity by 39%. Overall, I'm results-oriented and always looking for new ways to improve our metrics.
7. The "long-term vision" approach
Make sure to emphasize that this position offers the exact kind of career development (in terms of skills, as well as the "corporate ladder" progression) that you always hoped for.
You don't want to make it too much about yourself and what you expect to get, but you do want to plant two main ideas inside their heads:
That you're likely to stick around for a long time.
That you'll keep expanding your skills so your value as an employee will grow over time.
Why it works: This approach provides a sense of security to both candidates and companies.
Why it might not work: This might be a thin answer, as life can get unpredictable and no one can guarantee you'll indeed stay in a company for a long time. Plus, companies rarely hire someone based on this assumption alone.
✅ Pro tip: For best results, combine this approach with some of the others we covered in this article. In the current climate, employees are looking for people that will stay around, so mentioning that you're looking for stability can be a big plus (this is especially important for positions with high turnover, such as sales and customer service).
Example answer (position: HR generalist)
Interviewer: What makes you the best candidate for this position?
Candidate: As someone who just broke into HR, finding the right company to settle at is difficult. It's important to me that I share the same vision and values as the company and that I can start contributing from day 1, while still having the room to grow in my career. In that sense, your company seems like a perfect match. I'd love to help you build and retain your Operations team, and, in turn, all the experts from the company can help me expand my skills. And the more I learn, the more I'll be able to contribute to the team and the company. I believe this can be the start of a fruitful collaboration for both of us.
8. The "fresh perspective" approach – best for career-changers
This approach is especially useful for career changers looking to break into a new industry.
Your fresh pair of eyes will easily spot bottlenecks or problems in processes, and generally the way the company and teams function.
Perhaps some responsibilities will be new for you, but your past experiences might provide fresh solutions they haven't thought of before. Not to mention the universally essential transferable skills you'll bring to the table.
Why it works: Sometimes, teams can get so caught up in the everyday hustle that they simply need a breath of fresh air and perspective you can bring to the table.
Why it might not work: You need to either be switching jobs or have a special go-the-extra-mile mindset for this approach to work. Unless you've put in some extra effort into expanding your skills and knowledge beyond your duties so far, you won't really have any valuable insights and fresh perspectives to provide.
Example answer (position: Customer Service Representative transitioning to a Sales Associate role)
Interviewer: Why should we hire you over the others waiting to be interviewed?
Candidate: I might not have years of experience in sales, but I believe my customer service experience is the perfect background for a Sales Associate position in your company. I'm people-oriented with superb communication skills and I know how to predict people's reactions. In addition, I know how customers think and I'm capable of finding solutions to their problems quickly. So with my experience so far, I'll bring a breath of fresh air to your Sales team, I can suggest certain changes to the procedures, and provide a fresh perspective which might be useful.
9. The "network" approach – good for senior-level candidates
This one is invaluable for managerial or executive positions.
If the people you know are your strongest asset, don't shy away from it. It might mean you'd be able to bring valuable employees to the company and form an awesome team; or generally connect the right people and widen the scope of their possibilities in the future.
But networking is also valuable for sales roles, content creators, and similar. Think about it: people are more open to accept collaborations or free interviews when they know you. Selling and buying from people you know is also more reliable.
Why it works: Right people can connect you with right opportunities and you can return the favor. And networking is easier than ever with LinkedIn and a bunch of forums that work in your favor.
Why it doesn't work: Some people are introverted and find it challenging to make connections naturally and with ease. Yet, they're very skilled and capable professionals. So if you're on the introverted side, use a different approach.
Example answer (position: Senior UX/UI Designer)
Interviewer: Why should we hire you?
Candidate: Because you don't have a design team yet, hiring new people and getting the team up to speed can take longer than you expect. But I've worked with a number of outstanding freelance designers who are looking for new opportunities and are ready to settle with the right company. So hiring me also means hiring a great team of several additional people that can elevate your visuals asap. Plus, we already worked together so the onboarding time will be minimized.
Common Mistakes to Avoid When Answering "Why Should We Hire You"
Now that we covered things you should do, let's go through the things you most certainly shouldn't.
Avoid:
Getting overly cocky and arrogant
Interpreting the "Why should we hire you" question in a wrong way might lead you astray and make you sound cocky and arrogant.
There is nothing wrong with knowing your worth, but present it in an objective way.
Instead of saying "I'm the best salesperson you can hire, trust me", say something like "In the past year, I've closed 3 deals with the biggest clients so far, securing more than $5M in revenue".
Amaze them with results, not empty promises.
Being too modest and underselling yourself
On the other hand, you don't want to be too modest and miss out on a chance to sell yourself.
Now is your time to shine – avoid phrases such as "I don't know," "I guess," "I'm not sure," or "I think." Focus on your achievements, skills, and experience, and let the facts work in your favor.
Showing up unprepared
Not preparing an answer in advance will leave you confused as to what it is that they want to hear. Then you'll become uncomfortable and start rambling, and in the end you won't answer the question at all.
Or, you'll create a mental note, assume you'll remember what you wanted to talk about, and then blank out once you actually get the question.
Good news:
Having read this article, you'll know what interviewers are looking for with this question.
Now, just take a few minutes to decide on your approach, prepare a framework for your answer, and practice – you will 100% avoid this mistake.
Use the Answer Builder to quickly outline your answer in a few bullet points you can remember. Pay special attention to the quality of information, language you used, and pace of speech.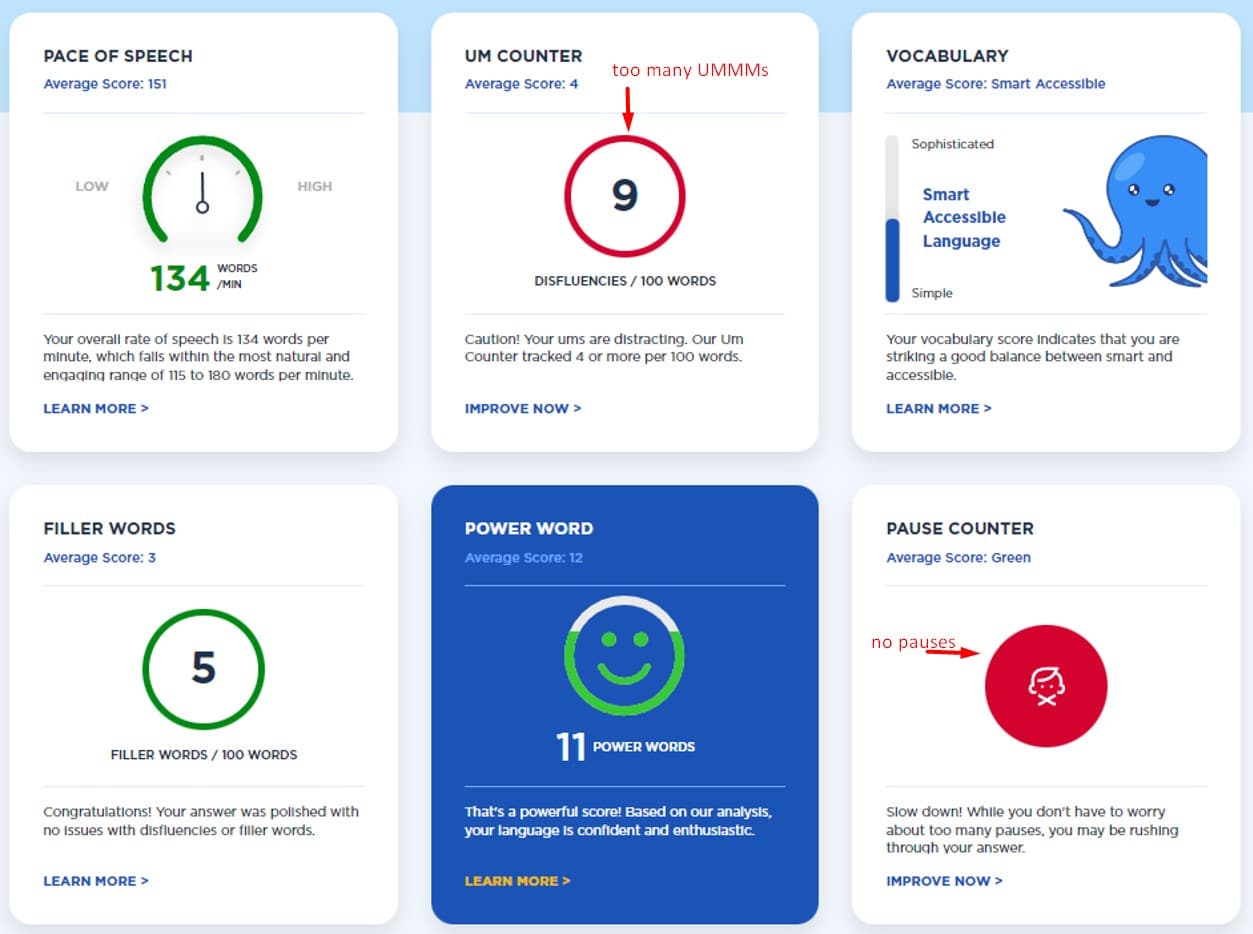 Then you can practice and record yourself and our AI tool will assess your answer, from the quality of information to the language, facial expressions, pace of speech, filler words, and similar. (The candidate from the screenshot above was not 100% prepared because he made no pauses and rushed through his answer and he used too many "ums".)
Coming across as desperate
Show them that you would like to get the job, but don't make it look like your life depends on it. Hiring is a mutual decision and both parties bring something to the table – the company needs you as much as you need the company.
Display healthy confidence that shows you're also evaluating them.
Being too general
Be specific in your answers to any interview question.
List particular reasons for why you're a great fit for the position, list specific skills that will help you achieve specific results, mention specific goals you have in mind for the position, and bring up specific details and pain points of the company you can solve with several specific steps.
Remember, you're a practical and goal-oriented person, and everyone wants such people on their team. 😉
Key Points
"Why should we hire you" = "Please tell us why hiring you is a good business decision for our company".
Depending on the direction you want to take, you can choose between several approaches when crafting your answer (all 9 of them are listed above!).
Each of these will focus on a particular thing, but they will also contain a few your achievements, enthusiasm, skills, etc.
You don't want to come across as too arrogant, too modest, or generic.
It's best to anticipate this question and prepare in advance so that you don't ramble on and avoid giving a clear answer.
Don't worry – as uncomfortable as it may seem, this question becomes easy to answer with practice.
Now you have what it takes to create the perfect answer – we're sure you can use at least a few of those approaches today. Good luck!
__________________________________
Need a hand? There are 2 ways we can help you:
1. Learn how to be confident in an interview without sounding arrogant.
2. Prepare for interviews with our versatile practice tool.