Sales interviews are unique because you need to convince the interviewer you'll impact the bottom line. To get your shoe in, you need to:
Show you're coachable, curious, competitive, and self-aware.
Quantify your achievements whenever possible.
Show you understand that sales is a numbers game.
Practice answering behavioral questions using the STAR method.
Ask a few questions at the end of the interview.
This guide was created in collaboration with numerous sales professionals with different roles, seniority levels, and from different industries. I'd like to thank Summer, Jelisaveta, Antonio, Itai, Igor, and Manny for sharing your sales interview experience with us at Big Interview! What's inside?
10 questions that get asked in 9 out of 10 sales interviews
5 behavioral questions every salesperson needs to master
15+ questions for different seniority levels
Additional tips for how to stand out
What Makes Sales Interviews Unique?
Working in sales requires a special set of soft skills and qualities. That's why the questions, assessment criteria, and interview formats in sales interviews differ from what you'd encounter in a typical interview for other roles. Sales interviews are largely based on situational or behavioral questions — you will be asked about your real-life experience, your exact approach to sales, and results. In short: expect to be grilled and asked about how you made your past employers' money, exactly.. What you can expect in a sales interview:
Questions about your communication skills. You'll need to build relationships, influence people, and know how to express yourself to be persuasive.
Simulations and role play. The hiring manager may want to test your mojo on the spot.
Behavioral questions. Real-life past situations where you need to provide an example of how you handled a difficult prospect or customers' objections.
Questions about your KPIs, quota, and other achievements. Sales roles are performance-driven, and interviews will reflect this.
Questions about motivation and drive. To show you can handle rejection and stay motivated to keep going even when faced with a loss.
Questions on soft skills. Skills like negotiation, confidence, competitive nature, persuasion, persistence, and work under pressure.
We'll break all of these down below.
Common General Sales Interview Questions and Answers
These are the most commonly asked interview questions for sales roles. Start here to build a solid foundation.
Pro tip: These questions are usually asked at the beginning of the interview, so knowing how to answer them smoothly will give you a confidence boost and help you establish a natural flow for the rest of the interview.
Why do you want to work in sales?
Why they ask it
This question is about motivation. The interviewers want to see what's in it for you besides making shitloads of money. Your answer will tell them if you have a genuine interest in what you're selling.
Why do you want to work in sales? — Example answer
I like sales because it's one of the few professions where your compensation is tied almost directly to your effort, and I like to earn my money. There's a high earning potential if you're willing to go the extra mile, and that's the kind of motivation that keeps me working hard every day. Apart from that, I really like that no two days are the same and that I can use my top skills like problem-solving and relationship-building every day.
Tips on how to answer
Be honest. Despite general advice to not focus your answer on the financial aspect of the job, you shouldn't ignore the elephant in the room.
Some hiring managers expect your main reason to be $$$.
Still, make sure to balance your desire to become financially successful with other motivators.
Describe your sales experience
Why they ask it
The interviewers are looking to verify your skill set and evaluate if your previous sales experience aligns with the demands of the role. They want to know if you had similar responsibilities and how successful you've been in terms of your targets and KPIs. They're also probing to see if you're set in your ways or adaptable.
Describe your sales experience — Example answer
I've been in sales for 8 years, and I've been lucky to work in both B2B and B2C environments, managing full sales cycles as a Senior Account Executive. After a few years in a B2C startup, I moved to B2B SaaS because I wanted to sell to enterprises and learn how to handle long sales cycles. There, I exceeded my quarterly targets consistently by an average of 14% over a period of two years. One of my biggest wins was securing a high profile Federal Government client for a deal worth over $500K in annual revenue. 
Tips on how to answer
Start with a short overview of your background — how long you've been in sales, and what verticals and products you worked with.
Mention your key responsibilities, results and achievements, and top skills that helped you get to where you are.
Why [the specific industry] sales?
Why they ask it
Sales departments and processes can vary across industries due to differences in markets, sales cycle length, and the product itself. B2C and B2B sales are two different beasts, so the interviewers want to know why you chose the particular field, what your sales strategies are, and if your skill set and methodologies can be used at their company.
Why [the specific industry] sales? — Example answer
I was drawn to B2B SaaS sales because it required a totally different sales and lead-gen approach compared to what I'd done in Verizon. B2B sales come with special challenges like complex negotiations, long sales cycles, and building relationships with C-level executives. And SaaS sales requires you to obtain deep product knowledge, including complex features and tech lingo. You often need to offer tailored solutions, and act as a consultant rather than a salesperson. This isn't a fit for everyone, but for me, it's what I enjoy the most — putting my negotiation, problem-solving, and communication skills to good use.
Tips on how to answer
Show you're a good fit by tailoring your response to match the requirements from the job description.
Talk about how a career in this particular sales field aligns with your interests, plans for professional growth, and long-term career goals.
What do you know about our company and our offering so far?
Why they ask it
Essentially, they're asking "did you do your homework?". Your answer will tell them how much research effort you put in, how prepared you are for the interview, if you're generally interested in this job (or just a job). It's also a good way to see how you talk about the company's products or services.
What do you know about our company and offering so far? — Example answer
I've researched your company website, user reviews, and your LinkedIn, and I understand you are a leader in providing B2B SaaS solutions to help organizations in regulated industries streamline data retention for compliance and litigation management. Your flagship product seems to be a game-changer in the industry thanks to its AWS-level data security, endless scalability and features like advanced search and redaction. I like your commitment to customers and how you deliver exceptional value — few companies are rated 4.9 out of 5 on all major independent review platforms. Last year's recognition as a Top Player in Gartner's MQ really reinforces your reputation. I've also read about your company culture and values like ownership, transparency and support for learning and professional growth, which is something that really resonates with me.
Tips on how to answer
Show enthusiasm about the company and the opportunity to join.
Start by mentioning the key information you've learned in your research like industry, market share, mission, values, and any recent news that caught your attention.
Show you understand the products and services and emphasize differentiators.
If there's something you admire about the company (for example, a particular product you use or their social media profiles), say it.
End your answer by aligning your skills and background with the company goals and the position you're interviewing for.
Walk me through your sales process
Why they ask it
With this question, the interviewer wants to learn more about your approach to selling (e.g. assertive or relation-builder), your ability to handle various stages of the sales process like prospecting, qualifying, presenting, handling objections, and closing.
Walk me through your sales process — Example answer
For me as a BDR, my sales process starts by taking all the smaller SQLs from Marketing, in this case, SMBs who scheduled a demo on the company website, sending them a recorded demo, addressing objections, following up with details and answers to any questions, and qualifying them further for my AE. At the same time, I do LinkedIn prospecting and cold outreach through inmail. I also follow up with the MQLs who were emailed several times, clicked the emails, but have not booked a demo yet. For all of this to make sense, I also have to keep everything up to date in Hubspot, our current CRM.
Tips on how to answer
Try to customize your response to include experiences that will be (at least partially) relevant to the specific sales role you're interviewing for.
Make your answer even more impactful by listing specific examples and metrics.
What do you consider your greatest failure?
Why they ask it
This is another multifaceted question where the interviewers are scanning for softs skills like self-awareness, honesty, maturity, dealing with setbacks, and problem-solving. They also want to gauge how you own your mistakes.
What do you consider your greatest failure? — Example answer
There was an opportunity I missed a few years ago. I had an enterprise-level lead from Germany, where 6 people attended the demo and appeared to be impressed. It looked like a done deal, so I was persistent with my follow-ups. They completely ghosted me. I was confused, but gave up eventually. I didn't give it much thought until years later. I was talking to a friend, who's also a salesperson with a lot of experience working with German clients. He explained that people in Germany truly disconnect after work, and don't like to be disturbed after hours. I then realized that I hadn't always been mindful of the time difference with our German prospect. I was bothering C-level executives after working hours, totally unaware of the cultural differences. This experience helped me understand that there's no one-size-fits-all solution in international sales, and that I will need to customize my approach in the future. 
Tips on how to answer
Just like when answering the weaknesses question, the key is to pick an actual failure or a missed opportunity (just not something so catastrophic that it makes you look like an incompetent salesperson).
End the answer with what you learned and how you grew from the experience because the interviewers will appreciate your honesty and self-awareness.
Learn how to answer the greatest failure question with confidence: "Tell Me About a Time You Failed: How to Answer + Examples".
What technology are you currently using for sales?
Why they ask it
They want to know how long it's going to take you to get used to their own sales tech stack and if you can leverage technology to increase your sales effectiveness.
What technology are you currently using for sales? — Example answer
I'm familiar with most of the major tech tools out there. When it comes to CRM, I'm a power user of both SalesForce and Hubspot. For sales automation and cadences, I use Outreach and HubSpot Sales Hub. For calls and collaboration, I personally prefer Zoom, but I have experience with MS Teams and Google Meet too. When it comes to lead-gen and prospecting, I did it both in lemlist and on LinkedIn using Sales Navigator. Regarding email campaigns, I'm familiar with Mailchimp and Customer.io. Other tools I use on a daily basis are Calendly, Xero, DocuSign, PandaDoc, Grammarly, Excel, Loom, and Slack. More recently, I've started using AI tools to automate some of the repetitive tasks and brainstorm my cadences.
Tips on how to answer
Make a list of all the tools you've used over the years.
Do mention if you're certified in any of the tools (HubSpot issues official certifications).
Show you know how the tech landscape is evolving and that you're following the latest trends.
Be prepared to discuss these tools and technologies in more detail and mention how they help you hit your targets and be a better salesperson.
How do you keep up with the industry trends and your customers' needs?
Why they ask it
Sales processes and tools are constantly changing, and interviewers want to check how proficient and adaptable you are. They also want to check your growth mindset, customer-centric approach, and how you integrate new trends and technologies into your workflow.
How do you keep up with the industry trends and your customers' needs? — Example answer
I have developed a method to keep on top of the industry trends and news. I spend one hour a day on LinkedIn, where I follow, connect with, and learn from top sales influencers like Dale Dupree and Morgan Ingram. Next, I test out different sales tools as often as I can, it's something I really love doing. Recently, I've been testing out a workflow using n8n and ChatGPT that will automatically prioritize tasks for my team based on how interested a lead is. I follow the market trends, industry reports, review websites and competition regularly, especially the emerging new players. I value customer feedback, and I work closely with CSM to analyze the evolving customer needs and challenges. Finally, I've always been a promoter of RevOps teams as a concept, and I try to maintain a close collaboration with marketing and product to align the customer needs with what we're developing and promoting.
Tips on how to answer
Show you're not living under a rock and that you know a sales process doesn't end once a PO is through.
Get brownie points for networking, following influential people in the industry, and giving examples of that.
How, if at all, do you use recent AI tools in your sales efforts?
Why they ask it
The interviewers want to know how you use cutting-edge technology to help with repetitive, administrative tasks. Plus, using AI tools shows you're adaptable and willing to embrace innovation.
How, if at all, do you use recent AI tools in your sales efforts? — Example answer
I use Grammarly, ChatGPT, and Jasper regularly. I use Grammarly to check my tone when writing emails, Jasper to help with ideation and longer content, ChatGPT for competitive research, and to improve my cadences and get new ideas. ChatGPT4 powers up my outreach sequences and web browsing too. For example, I have a few tried-and-tested prompts that help me find leads for my company list, find competitors, and even qualify companies. 
Tips on how to answer
The interviewers want to know if you're following trends and how quick (or slow) you are to adopt new methods and technologies.
AI is huge. If you're not using it yet, learn from other sales people who are.
If I were a potential customer, what would your cold outreach look like?
Why they ask it
With this question, the interviewer wants to see how you'd treat the customer and raise above the noise of the tsunami of similar sales emails and messages they get every day.
If I were a potential customer, what would your cold outreach look like? — Example answer
Since your ICP is Technology Directors and CEOs, I would first analyze which channels they are more active on. In my experience, such roles are more responsive via email than over the phone. So my initial strategy would be a sequence of three personalized emails, followed by a LinkedIn voice note and a video. The market for async communication platforms is saturated, so I would really need to stand out to catch their attention. That's why I would put extra effort into my email subjects and personalization, as well as run some A/B tests for my emails.
Tips on how to answer
Focus on something that will make you memorable
Don't go with your standard sequence unless you're sure it works for the audience.
Tailor your answer to a specific industry and make sure the approach makes sense for the company you're interviewing for.
Behavioral Sales Interview Questions and Answers
Behavioral sales interview questions are designed to uncover how you behaved or reacted in specific past situations relevant to the sales role you're interviewing for. Or — to test how you'd approach a hypothetical scenario likely to occur on the job. By understanding how you typically overcome challenges, solve problems, or achieve success, the interviewer can learn more about your skills, abilities, and personal characteristics.  Good news — these answers will give you everything you need to prepare for behavioral sales interview questions in advance.
Tell me about a time when you failed to reach your sales goal
Why they ask it
Failing to reach your sales goals, like losing a sale or existing customer, is demoralizing. But it doesn't mean you suck as a salesperson. Employers know that, so the point of this question isn't to hear you never had something like that happen to you, but to assess how you rebounded. It's similar to the "tell me about a time you failed" question you've heard in other interviews.
Tell me about a time when you failed to reach your sales goal — Example answer
A couple of years ago, I was working with a potential client for a couple of weeks, during which things went smoothly. I sent them the proposal and thought I had landed a deal. However, a few days before the deadline, they called me and told me they had decided to go with another vendor. Luckily, I mustered up the courage to ask them why the change of heart. It turned out they chose a competitor who provided a more customized solution. This rejection taught me the importance of truly listening to the client, tailoring my approach accordingly, and knowing when we don't fit a client's needs, so I can move on I started to ask more probing questions and spend more time understanding each client's specific challenges and goals, which led to less time with less qualified leads. 
Tips on how to answer
Explain how you reframed this loss and turned bad into good by learning something from the entire situation. Employers want strong players who dust themselves off after a blow.
One of the strategies is to discuss a situation from your early days or a mistake you made a long time ago. This will highlight the distance you've traveled from those rookie errors to your current level of sales expertise.
Describe your most important sales win
Why they ask it
Because they want to see what makes you effective. They want to know what you consider a "win" and how you achieve it. It's also a way to check your understanding of sales goals and the strategies required to meet them. Plus, by describing a significant win, you're also sharing values, attitudes, and behaviors that show if you're the right culture fit.
Describe your most important sales win — Example answer
I think my most important sales win was securing a contract with ACME Corporation. They were a company that had consistently declined our proposals in favor of competitors. I analyzed our previous approaches and identified that our solutions were not aligned with their specific needs. By working closely with our Product Team, I tailored a unique package that addressed their pain points. Simultaneously, I focused on building a strong relationship with two members of the buying committee, allowing for open and honest communication. Eventually, this led to a contract worth $2 million, a 20% increase in our quarterly revenue, and opened doors to other enterprise clients in the industry.
Tips on how to answer
Be specific. Detail the challenges, your actions, and the outcome. Quantify your results and provide tangible evidence wherever possible.
Demonstrate your skills. Relate your answer to key skills essential for the role, such as negotiation, relationship-building, problem-solving, and strategic thinking.
Stick to the facts. Don't claim credit for the team's achievement if it was a collective effort.
Align with the employer's needs and choose an example relevant to your potential role.
Tell me about a time when you had to think outside the box to book a meeting or close a deal
Why they ask it
The first thing you have to sell as a salesperson is yourself. This is one of the sales interview questions where you can demonstrate your pitching skills.  Given that sales often requires creativity and the ability to think and act on the fly, interviewers want to see if you're capable of approaching a problem from an innovative and fresh perspective.
Tell me about a time when you had to think outside the box to book a meeting or close a deal — Example answer
There was this prospect who was always traveling and had a tight schedule, which made booking a meeting with him virtually impossible. Traditional methods of scheduling were failing, so I decided to improvise. I did some social media snooping and discovered that the potential client was going to be at a specific industry conference. That's when it hit me — attending the same conference would give me a chance to meet up with him. So that's what I did. He appreciated the effort and creativity involved in making it happen, and our casual cup of joe turned into a full business discussion. Fast-forward a couple of weeks, and we signed a two-year contract.
Tips on how to answer
Start by setting the stage and explaining why no traditional tactic worked in this particular situation.
Move on to your thought process and explain how you came up with the idea. This will emphasize your analytical thinking and resourcefulness.
Finally, describe how it all panned out and highlight the successful outcome.
Tell me about a sales process you improved
Why they ask it
Sales professionals are expected to be proactive and to improve sales performance instead of blindly following the existing processes. This question targets your ability to recognize and get rid of inefficiencies and waste.
Tell me about a sales process you improved — Example answer
While I was working at Clothes R Us Fashion Store, we used to struggle with long lines at the checkout during peak hours, causing customer dissatisfaction and sometimes leading them to abandon their purchases. As a Retail Sales Associate, I noticed this was affecting our overall sales and customer experience. I proposed a solution to our manager to introduce mobile payment devices that we could carry around the store. This would allow us to process transactions on the floor, especially during promotional events or busy weekends, without forcing customers to wait in long queues. The impact was immediate and significant. We reduced the checkout time by 40%, increased customer satisfaction, and saw a noticeable uptick in sales during peak hours.
Tips on how to answer
Provide an example when you identified bottlenecks and took the initiative to fix them.
Show you're up for a challenge (this will give you a competitive edge over other candidates).
Don't forget to provide the numbers, specific metrics, and qualitative feedback to illustrate how the former employer benefited from your proactivity and leadership skills.
How do you decide that a given lead is no longer worth pursuing?
Why they ask it
Timing is everything in sales, which is why understanding when it's time to call it quits on a lead is critical, especially when everything is about ROI and efficiency. Interviewers ask this question to test if you know how to make this call and pivot to hotter prospects.  They're also testing your persistence. What the interviewer is actually asking is "Have you got the savvy to make strategic moves, drive results, and keep the pipeline flowing with real opportunities, not dead ends?" but also "Are you motivated enough to not lose lukewarm leads?"
How do you decide that a given lead is no longer worth pursuing? — Example answer
I know having a systematic approach to evaluating leads is crucial. My process is to consider factors like the prospect's needs, budget, decision-making process, and how our solution aligns with their goals. If, after multiple touchpoints and customized outreach, the lead is unresponsive or clearly indicates that our solution doesn't match their requirements, I may decide to move on. However, I always ensure to document the reasons for this decision and occasionally revisit the lead if circumstances change, or new solutions become available. This strategy helps me focus on leads with higher conversion potential.
Tips on how to answer
Saying you follow an established lead qualification (and disqualification) process, such as the BANT (budget, authority, need, timing) framework will score you a lot of brownie points with the interviewer.
Discuss the principles you follow and make it clear that even though you know when to walk away gracefully, you still keep the lines of communication open to avoid wasting any potential sales opportunity.
Sales Interview Questions for Candidates with Little or No Experience
When you're applying for an entry-level sales position, you'll get a few curveball questions designed to test your sales instincts.  To make sure you don't drop the ball, here's a roundup of typical sales interview questions for candidates with little or no experience in the field.
Pro tip: Don't freak out. If you have little to no experience in sales, the interviewers won't keep on asking about your results. What they will do is try and check your drive and see if you have the typical characteristics of a salesperson.
Can you tell me why you're interested in a sales career?
Why they ask it
Sales is not for the faint of heart, and the interviewer wants to check if a sales rep career is just a detour while you're trying to find yourself or if you're there to stay. They want a candidate who's ready to commit to this new career path and wants to learn and grow despite roadblocks.
Can you tell me why you're interested in a sales career? — Example answer
Throughout my career as a customer support rep, I've always been drawn to the interpersonal aspects of the job. I like connecting with others and solving problems while putting my active listening skills to good use. What attracts me to sales, particularly in a B2B setting, is the chance to take my people skills to the next level. Instead of just solving immediate issues, I want to be involved in proactively identifying solutions that align with a client's overall business strategy and goals. My previous job required a great deal of empathy and the ability to translate complex information into easy-to-understand terms, which I believe is crucial for selling B2B solutions.
Tips on how to answer
Be genuine. Trust us, if you're not really passionate about sales, the interviewer will be able to tell.
Highlight transferable skills (from school or past experiences) and tie them in with what's relevant to the company, potential role, and industry.
How do you handle rejection?
Why they ask it
Resilience, persistence, and flexibility are some of the most valued traits in a salesperson. The interviewer wants to know if you have what it takes to be a great sales professional who sees opportunities in a "No". Another reason is to check how you respond to criticism and how receptive you are to feedback.
How do you handle rejection? — Example answer
I may not have sales experience, but I've certainly had my fair share of rejection and criticism. During my time at college, I was part of a student-led initiative to raise funds for a local charity event. One of my responsibilities was reaching out to potential sponsors and donors to get their support. However, not all of my interactions resulted in a positive outcome. Instead of letting that get to me, I reached out to those sponsors again, asking if they would be open to sharing any insights on how I could improve my pitch. They appreciated my proactive approach and provided tips, which I adopted for my future pitches. This experience taught me that being rejected doesn't have to do with my abilities, and that I should see it as an opportunity for growth. I learned to listen to feedback, adapt my strategies, and stay positive throughout the process.
Tips on how to answer
Relate your answer to your past experiences like school, volunteer work, and previous jobs. Rejection is universal, it's not just a sales thing.
Highlight what you learned from those instances of rejection and how you turned them into new chances.
Emphasize your positive outlook (your ability to remain optimistic and driven is a big plus).
Don't use examples from your personal life. If you don't have work experience, use an example from school.
What do you believe makes a successful salesperson?
Why they ask it
The purpose of this question is to test your understanding of your future role and the key qualities that contribute to success. The interviewer wants to ensure you're on the same page about what a top performer is, since you have no previous experience in sales.
What do you believe makes a successful salesperson? — Example answer
Although my background doesn't include direct sales experience, I recognize that a successful salesperson must understand their prospects by actively listening and asking meaningful questions. The goal is not merely to sell a product, but to provide an effective solution and help customers. Apart from hitting quota, customer satisfaction is another metric that distinguishes between a mediocre and a great salesperson. The focus should be on relationship-building, demonstrating commitment, as well as always learning and adapting to the evolving market and customer demands. 
Tips on how to answer
Mention what you've learned about the role from the job description.
Translate the requirements into skills and character traits to show you understand what success would be for someone in your future position.
Don't ignore your lack of experience, but insist on the universal qualities that define success.
Can you describe a situation where you persuaded someone to see things your way?
Why they ask it
This is a twist on the well-known "sell me this pen" trope, which is a sales interview question staple. Your ability to negotiate and persuade can give the interviewer a good idea about your communication skills. The answer you give can shed light on how you would overcome objections and deal with disagreements.
Can you describe a situation where you persuaded someone to see things your way? — Example answer
During my time in college, I found myself in a situation where I was at odds with another student over a critical campus project decision. We were project co-leaders in the middle of organizing a Sustainability Fair on campus. We both had strong, opposing opinions on how the timeline of the fair should be organized, and tensions rose to the point where it was affecting the entire team's productivity. I scheduled a meeting to understand her concerns, and made sure I was actively listening and trying to understand her point of view. I then presented my research and reasoning in a calm, clear and organized manner, using data from other campuses. Through open discussion and presenting an evidence-based argument, I was able to persuade my teammates to organize the schedule the way I initially wanted it. This experience taught me the importance of effective communication and the value of teamwork. 
Tips on how to answer
For this answer to work, you need to pick a relevant example that will clearly demonstrate your persuasion skills.
Show that you respect other people's emotions, beliefs, values, and concerns.
How do you stay motivated?
Why they ask it
Sales takes a toll. It's like running a steeplechase — trying to close a customer before your competitor does, and facing hurdles and challenges on a daily basis. So, it's easy to lose your mojo and give up. Interviewers want to know what keeps you grinding even when times are tough.
How do you stay motivated? — Example answer
I have a vision board at my desk, showcasing my goals, past achievements, and motivational quotes. Whenever I feel overwhelmed, a glance at this board refocuses and re-energizes me. Setting up a self-reward system is another tactic that pushes me forward. For every significant achievement or milestone reached, I treat myself with a nice meal or a concert ticket. I also studied signs of burnout and know how to recognize them if it ever happens.
Tips on how to answer
Provide concrete examples of personal strategies and external motivators.
Focus on practical, day-to-day tactics rather than abstract concepts.
Avoid bringing up any negative motivation factors (fear of failure, pressure from others, or money) as the sole driving force.
How would you handle a situation where a customer wasn't initially interested in your product?
Why they ask it
This is to test how you overcome objections and how effectively you can turn the situation around. In sales, the ability to handle objections is fundamental, so the interviewer wants to hear about your strategic thinking, problem-solving, persuasion, and determination.
How would you handle a situation where a customer wasn't initially interested in your product? — Example answer
If I were in a situation where a customer wasn't interested in leather shoes, my approach would center around understanding their reasons, concerns, and also reinforcing the value our leather shoes can offer. As I speak with the customer about their favorite shoe type and style preferences, I would listen actively to understand what their exact objections are and tailor my response. For instance, if the lack of interest is because the customer is no longer buying leather goods because of sustainability reasons, I would take the opportunity to emphasize that our leather is ethically sourced and that the company is aligned with today's conscious consumer values. My approach would be customer centered and warm. I would educate them on the benefits of genuine leather compared to synthetic options, and then let them browse at their own pace. I will stick around to offer assistance when they are ready.
Tips on how to answer
Mention soft skills like empathy and active listening.
Show how you'd adapt your approach based on customer's reactions.
Aim for a balance of determination and understanding.
What research have you done about our products and services?
Why they ask it
Researching potential customers and learning about their needs, preferences, and pain points is the cornerstone of every successful deal. The same applies to landing a sales job, so the idea behind this question is to determine if you did your due diligence.  For inexperienced candidates, the focus is not necessarily on the depth of understanding, but rather on the initiative taken to familiarize yourself with the company.
What research have you done about our products and services? — Example answer
I began by exploring your company's website in detail, especially your products section and client testimonials. What impressed me the most is that your brand is eco-conscious and cruelty-free, as I personally use only cosmetics not tested on animals. The next step was checking your company out on LinkedIn and Twitter, and going through the content you've shared there. I noticed your summer eye-shade palette is a tremendous hit. I also looked into a few of your competitors, and I must say that your insistence on locally and ethically sourced ingredients sets you apart.
Tips on how to answer
Show interest. Even without professional experience, showing you made an effort to understand the company's products or services will help you.
Highlight methods or sources you used to gather information.
Include actual examples of what made you even more interested in the company and why you think you share the same values and beliefs.
If selected, how would you learn about the products or services that we sell?
Why they ask it
They want to know if you can get to know the product range quickly and effectively. They're also looking to see if you have a plan or strategy for the best and most efficient ways of learning the ropes of a new position.
If selected, how would you learn about the products or services that we sell — Example answer
First, I'd review the training materials and manuals you provide and focus on the features, benefits, and specifications. I usually take notes and ask questions if I have any doubts or concerns. Then, I'd move on to research the competition and understand how your products stand out, what particular pain points they cater to, and what value they offer to your customers. Finally, I plan on shadowing or observing some of the experienced salespeople on the team and learning from their best practices, techniques, and tips.
Tips on how to answer
Show how you don't need hand-holding.
Show you're capable of figuring things out on your own.
Tell me about a time you had to meet a challenging deadline
Why they ask it
Great salespeople thrive under pressure, and meeting tight deadlines is their second nature. So, the interviewer wants to know you won't fall apart in critical situations and underperform due to stress or long hours. They're looking for a candidate with proven time-management skills and the ability to prioritize tasks. Your answer should reflect that.
Tell me about a time you had to meet a challenging deadline — Example answer
During my final year in college, I was part of a major research project. Due to unforeseen obstacles, we found ourselves falling behind the schedule only a week before the deadline. I decided to organize an emergency team meeting in which we analyzed the situation, identified key sections of the paper that required detailed research and special attention, and delegated the remaining tasks to team members based on their strengths. I volunteered as a team coordinator, suggested daily check-ins for tracking progress, and helped others overcome some technical challenges. Finally, I reached out to our professor, informed her about all the setbacks we suffered, and asked her to review our first draft. Her feedback helped us refine our arguments, and we ended up scoring an A. 
Tips on how to answer
Impress the interviewer by showcasing your leadership skills, the ability to work around unexpected obstacles, and staying calm in the face of a challenging and tight deadline.
Don't be vague and offer as many details as possible to describe the gravity of the situation and illustrate how you overcame it with your creativity, professionalism, and confidence.
How would you build relationships with potential clients?
Why they ask it
The interviewer's task is to assess your soft, interpersonal skills and understand if you can nurture relationships with potential customers.
How would you build relationships with potential clients? — Example answer
When I was in college, I took on the role of a student fundraiser for our annual alumni giving campaign. Although I didn't have formal sales training, the nature of fundraising required many of the same principles, especially building genuine relationships with constituents. One situation that stands out involved an alumnus who hadn't made a contribution in a long time. My predecessors had reached out to him multiple times over the years with no success. I was curious about this, so instead of leading with our donation pitch, I started our conversation by expressing genuine interest in his college memories and learning about his experiences post-graduation. As we talked, I discovered that he had fond memories of the drama club he was a part of during his time at the college. I used this piece of information for subsequent touchpoints and shared updates about the recent achievements of the drama club and how they were planning to expand their reach with more performances and workshops. I also shared stories of current students who were benefiting from the club. Thanks to this, he has become one of our regular and most generous donors. 
Tips on how to answer
Don't simply outline theoretical strategies you would use if you were a sales rep.
Illustrate your points and demonstrate that you understand what relationship-building actually means by providing a real-life example in which you employed active listening and persistence to make your prospect feel valued.
Sales Interview Questions for Senior or Managerial Roles
Senior sales positions require additional skills like leadership, strategic thinking, and taking responsibility, and the sales interviews will place a special emphasis on those types of questions.
Pro tip: Expect to talk about your exceptional track record, results, and achievements. The interviewers will want to know if you can manage and lead teams. At least one question will center around a scenario to test your problem-solving skills and ability to make informed decisions under pressure, while taking into consideration short and long-term consequences.
Can you describe your management style?
Why they ask it
When you apply for a managerial role, you'll be at the helm of an entire sales team, meaning you'll be in charge of leading, motivating, and guiding them. And you'll be the one to blame in case they consistently fail to crush their numbers. Another reason is to see if your management and leadership style matches the company culture.
Can you describe your management style? — Example answer
My management style is based on three core values: trust, collaboration, and results. I encourage my team to always share their issues and ideas with me. Honesty and transparency translate to a positive and stimulating work environment. Another factor I double down on is working together and learning from each other. Finally, I believe that the best results stem from setting clear expectations and attainable goals. This approach has helped me build a high-performing sales team that consistently meets or exceeds its targets. For example, in my previous role as a regional sales manager at ABC Inc., I led a team of 15 sales reps who increased their sales revenue by 25% in one year. I also improved their customer satisfaction ratings by 10% and reduced their turnover rate by 5%. If someone isn't meeting their goals, I'm quick to react and book a 1:1 to discuss any roadblocks, and come up with ideas on how to overcome them.
Tips on how to answer
Start by highlighting your core values and principles, but don't overdo it.
Be realistic and don't oversell yourself because the employer will expect you to deliver on your promises.
Support your statements by providing some numbers and achievements.
How would you handle underperforming sales team members?
Why they ask it
Just like the previous question on the list, this zinger provides a peek into your managerial skills. The interviewer will try to figure out if you have the competencies to recognize, diagnose, and solve the underperformance issue before it snowballs into squandered business opportunities, missed quota, and lost revenue.
How would you handle underperforming sales team members? — Example answer
In my previous role as a sales manager at RoboCat Inc., I had a sales rep who was consistently missing his quota by 20%. I didn't want to issue an official warning before giving him a pep talk. So, I conducted a performance review with him and found out that he was struggling with closing deals due to his lack of negotiation skills. Together with him, I created an action plan that involved attending a negotiation training course, shadowing a top performer, practicing mock negotiations, and increasing his quota by 5% each month until he reached his target. I coached him throughout the process and provided him with feedback on his performance. After six months, he improved his negotiation skills significantly and increased his sales revenue by 15%. He also received positive feedback from his customers on his service quality.
Tips on how to answer
Show your human side and problem-solving skills.
Don't be a softie — you still have to hold the underperforming sales rep accountable and insist on better results.
Explain your action-oriented approach and talk about the steps you take in such situations.
Provide a real-life example.
How do you forecast sales? What methods have you found effective?
Why they ask it
Making informed data-driven decisions is what makes a difference between striking it lucky and creating a Predictable Revenue formula. That's why you have to know your KPIs, metrics, and sales forecasting tactics.
How do you forecast sales? — Example answer
In my previous role at HappyEmail, a SaaS company, I was responsible for predicting the sales of our newly launched product. Given that it was a novel product, I didn't have the luxury of historical data. So, I used a mix of methods. First, I talked to our sales team who were on the field, and they provided feedback on customer reactions and potential objections. This qualitative data was invaluable. Then, I looked at indirect competitors and analyzed their growth curve after launching similar products. By analyzing their quarterly reports and market reactions, I established a baseline for our potential trajectory. Finally, I used a sales forecasting tool and combined all these insights with our existing sales funnel data. We predicted a 20% MoM growth for the first six months. In reality, we achieved a consistent average of 18% MoM growth, which I consider a fairly accurate forecast given the uncertainties of a new product.
Tips on how to answer
Include real-life examples. They add authenticity and context to your answer.
Be specific by listing all the steps you took and providing numbers. A detailed account of the situation will showcase your savvy and analytical thinking.
Explain how you managed to get your forecast right despite a lack of data. This will signal to the interviewer that you're capable of rising to the occasion.
How do you maintain relationships with high-profile clients?
Why they ask it
The employer wants to know if you can handle high-stake VIP clients. Since such big clients are key revenue drivers, the employer wants sales managers who will secure these accounts and make sure they stay.
How do you maintain relationships with high-profile clients? — Example answer
At SofTech Solutions, I was responsible for overseeing the development and delivery of customized software solutions for our high-profile clients. My primary goal was to ensure the software solution we provided was not just up to the mark but exceeded their expectations. I collaborated closely with our development team, ensuring they fully understood clients' unique needs. I organized weekly updates, where we showcased the progress and gathered feedback. This ensured that the client was always in the loop and any changes could be made promptly. When one of our biggest clients mentioned an upcoming product launch, I recognized an opportunity to offer additional support. We proactively developed an add-on feature to their software that would integrate seamlessly with their new product, thus enhancing its value proposition. I also made it a point to meet with them in person at least once a quarter, even if just for lunch or coffee. These consistent, personalized touchpoints, combined with anticipating their needs, ensured that we maintained not only a professional relationship but also a bond of trust. Small tokens of appreciation such as holiday cards and complimentary gifts also count. As a result, they increased their business with us by 20% in the subsequent year, and we received several referrals through their endorsements.
Tips on how to answer
Insist on your detail-oriented approach to getting to know important clients and understanding their business needs.
Emphasize your proactivity and willingness to go above and beyond to delight the client since such an attitude speaks volumes about your level of commitment and engagement.
Can you tell us about your experience with sales training? What kind of sales training methodology do you prefer?
Why they ask it
As a senior member of the sales team, you'll be expected to handle the onboarding and training process for the new team members. The interviewer wants to know how fast you can get them up to speed and which methods have worked so far.
Can you tell us about your experience with sales training? — Example answer
Over the last 4 years, we've been fully remote, so my sales training methodology has changed a bit. Shadowing is difficult in remote organizations, especially when doing product presentations online. Luckily, I worked with my team to prepare comprehensive training materials for the new hires. Some of the materials we have are the industry glossary, role-play exercises, recorded demos, a list of common objections, and a comprehensive guide to our sales procedures, policies, and tools. The new hires are usually given a week or two to go over the materials, after which we have a series of calls where we do discussions and do a Q&A. Once they are ready, they do product presentation simulations in front of the entire team. After a month, they are encouraged to do their first demo.
Tips on how to answer
Explain your experience with organizing sales training for new hires. Mention any certifications you may have.
Briefly explain your sales methodology and why you find it effective.
Tailor your response to the company you're interviewing with.
What performance metrics do you focus on? How have you improved these metrics in the past?
Why they ask it
As a Sales Manager or VP of Sales, you'll need to track some metrics to know how individual team members are performing, and how close you are to quota. They want to know which sales metrics you consider relevant and if you can use data to make decisions.
What performance metrics do you focus on? — Example answer
In my last company, the key metrics were the Expressed Interest to Demo ratio, then Demo to Customer ratio. We also tracked things like Average Deal Size, Churn, AR, and NPS. I'm not a big fan of activity metrics like cold calls made, emails sent or meetings booked, but I believe they're worth tracking as well. I'm happy to say that our Demo to Customer ratio improved from 17% to 48% in a single quarter — this happened when we introduced an automated demo for leads below 5K in deal size.
Tips on how to answer
List the key metrics you tracked and explain why each of them mattered for the team and the entire company.
Make sure to provide an example of how you successfully improved one of these metrics.
How do you handle a top performer who tends to violate company policies?
Why they ask it
They ask this question to see if you would turn a blind eye and be an enabler to make more profit and boost company growth, or take appropriate action and sanction the employee. It's basically testing where your priorities lie. It's also a test of your commitment to upholding company values and your ability as a manager to balance performance and ethics.
How do you handle a top performer who tends to violate company policies? — Example answer
Depends on the type of violation. Of course, I value exceptional performance, but I also firmly believe that abiding by company policies and values is crucial for maintaining a healthy work environment. For instance, if a sales rep starts giving discounts by default just to secure a sale or if they take leads from other sales reps — that's something I would handle in our 1:1. If, on the other hand, we're talking about a breach that could damage the company's reputation, like an inflamed post on social media, then I would definitely take action. Either way, I would first make sure I have all the information and then schedule a 1:1 meeting with the person to discuss the issue. I would remind them how important company policies are and explain the potential consequences. If the behavior persists, I would certainly escalate the matter according to company protocols.
Tips on how to answer
There is no cookie-cutter response to this one. Instead of blurting out your answer on the spot, try a dose of diplomacy.
Keep in mind that the question tests your ethical judgment, consistency, and fairness as a manager. At the same time, you don't want to come across as too rigid.
Additional Tips to Stand Out in a Sales Interview
Provide specific instances from past experience
Avoid vanilla answers and boastful statements like "I was the best BDR in my last team." Instead, quantify your achievements to deliver your point more effectively and use storytelling to provide context — "I came up with a sequence of cold outreach emails which had a 78% Open Rate, and 43% Reply Rate. Out of those replies, I ended up booking 23 product demos in a single quarter, resulting in $146,000 in revenue."
Use the STAR method
We already explained that most sales rep interview questions fall into the behavioral or situational category (you will be asked to give examples of how you've demonstrated specific skills or qualities in the past), and the STAR method is the golden standard for answering. It's a structured approach you can use to make sure your answer is concise, relevant, and well-organized. STAR stands for Situation, Task, Action, and Result, where you'll need to talk about:
Situation: start by describing the situation or context to give the interviewer some background information.
Task: describe what your task or challenge was in this situation.
Action: explain what you did to deal with the challenge, how you solved a problem, and what decisions you made.
Result: share the outcome of your actions, note any quantifiable improvements or results of your actions, and what you learned from the experience.
Show a positive, can-do attitude
A positive attitude is a plus in any career, but for sales roles, it's a requirement. There will be objections and rejections, and you need a positive outlook on life if you want to bounce back quickly and keep chasing your quota. Another thing is the fast-paced environment and the nature of sales roles. The interviewer wants to see a positive attitude because it means you'll have the enthusiasm and energy to deal with challenges and stay motivated.
Practice on camera
You should be aiming for spotless, powerful delivery in your interview. This is crucial because if you're fumbling around in an interview, the interviewer might think this is how you'll be when presenting the product. There are two aspects of this — the structure and contents of your answer and the general demeanor and impression you make on the interviewer. Recording yourself on camera or using an interview preparation tool will help you:
Be more aware of your body language, facial expressions, tone of voice, and overall presentation.
Polish up your presentation skills (Before selling a product, you have to present and sell yourself).
Identify weaknesses like speaking too quickly or intense hand gestures.
Manage your time better and learn how to keep your answers to under 2 minutes.
This is what this looks like on Big Interview: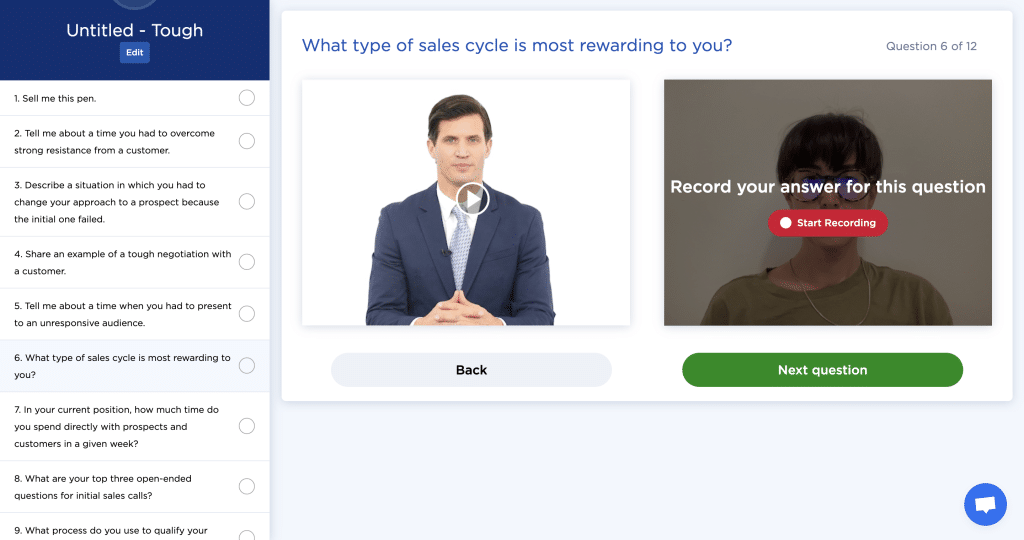 Under Industries, pick Sales to get custom interview questions for your industry. There will also be subsets like Account Management, General Sales, or Manager.
Go over questions and record your answers.
Get AI feedback on 12+ key criteria like answer relevance, pace of speech, power words or filler words.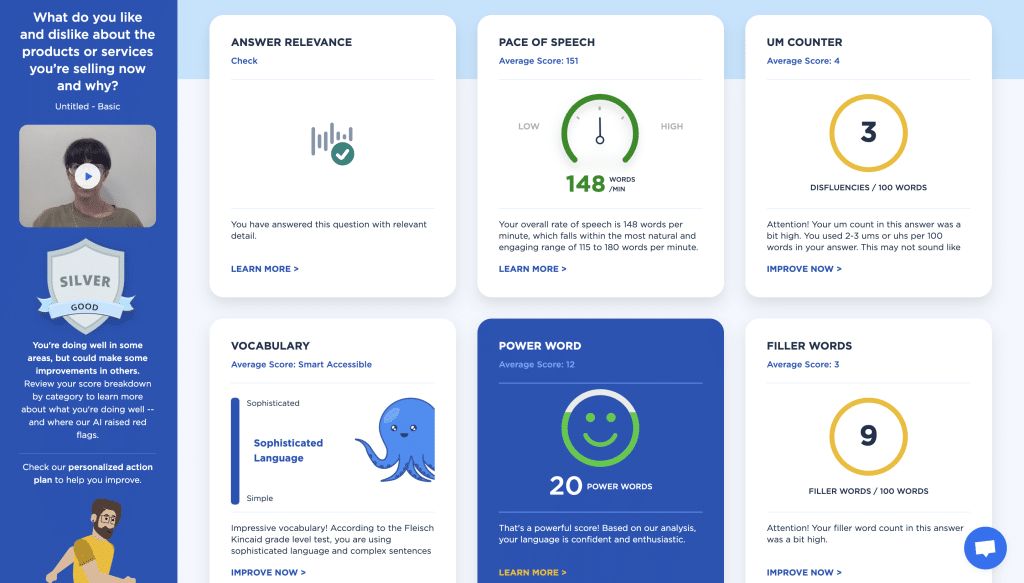 Ask stand-out questions
All the salespeople we interviewed for this article agreed on one thing — they would not even consider you for the role unless you asked a lot of questions at the end of your interview. Not having a single question will scream passivity and lack of motivation. If your interview is soon, and you can't come up with any questions to ask, we picked a few favorites:
What does your tech stack look like?
What is the current percentage split in your team between inbound and outbound sourced opportunities?
How many of your Sales team members hit quota last year?
Who has been here the longest, and what sets them apart?
Do you encourage the use of AI in your sales efforts?
Need more examples? Check out this article with 40 best questions to ask at the end of the interview.
Summary of the main points
And now a TL;DR of how to have a successful sales interview and increase your chances of getting the job:
Cover all the general interview questions for sales reps. They may differ depending on your role, industry and seniority level, but some of them will be the same.
If you're new to Sales, do your best to highlight your soft skills like problem-solving, negotiation, persuasion, motivation, and keep a positive attitude during the interview.
Practice answering questions using the STAR format. Most sales questions are behavioral or situational, and you'll need to come up with a story and give examples in your answer. Prepare those in advance.
Practice in front of the camera or use an interview preparation tool to iron out tiny details in your delivery (all those umms, pauses, filler words, or fidgety energy you may not even be aware of).
Prepare a list of 3–5 questions to ask at the end of the interview.
___________________________
Practicing for your next sales interview? There are 3 ways we can help:
Learn how to create a winning Sales Resume (with examples for various roles and seniority levels).
Get step-by-step interview training (rated 4.9 out of 5.0 by 1M+ users)
Practice selling yourself to turn more interviews into offers.
FAQ
What are the best questions to ask at the end of my sales interview?
Some of the questions you can ask the interviewer at the end of the interview include:
How do you measure success in this role?
What sales tools and technologies will I be using?
Are there any challenges the sales team is currently facing, and, if so, what are they?
Are there any growth and advancement opportunities in this role?
What's your onboarding plan like?
How to answer "Tell me about yourself" in a sales job interview?
"Tell me about yourself" is an ice-breaker that serves as an intro and allows the interviewer to get a brief walkthrough of your life and career. Start by summarizing your background and relevant experience. Then focus on your strengths and accomplishments that relate to the sales position you're applying for. If you have no previous experience, focus on your education and discuss the skills and abilities that make you a great choice for the role. Mention hobbies and interests to show off your personality. Finally, keep your answer concise and focused, without going into too much detail — a minute or two will do.
How to answer sales interview questions if I have no experience?
Draw from your experiences in other roles. If this is your first job, talk about relatable situations you encountered in college or during an internship and the transferable skills you acquired. Don't forget to research the company and its products or services in detail so that you can have enough material to include this information in your answers.
What is the toughest sales interview question? How to answer it?
One of the toughest to answer is "Have you ever had a manager you didn't like? Why?" This question is a test of professionalism, emotional intelligence, and your ability to handle challenging interpersonal dynamics. Avoid badmouthing your former manager and stick to differences in work styles. Recap what you've learned from this experience and state that it taught you to adapt to working with different personality types.
How to nail a sales interview?
Preparation is crucial — research the company, prepare specific examples showcasing your skills and strengths in action, work on your elevator pitch, and think of great questions to ask the interviewer. Be enthusiastic and show your interest by asking what the next steps in the process are.
What strengths should I list during a sales interview?
Mention things like coachability, organizational skills, empathy, problem-solving, business communication, adaptability, persuasiveness, self-motivation, storytelling, confidence, curiosity, and a goal-oriented mindset.
What transferable skills are the most important for a successful salesperson?
Communication skills, because you'll need them in many aspects of the sales job (relationship building, product demos, presenting, emailing and cold calling). Negotiation, because you'll need to negotiate pricing, contracts, terms and freebies. Problem-solving and resourcefulness (there are objections to overcome, and you'll need to think on your feet). Time management and working under pressure, because it's common for people in sales roles to balance multiple clients, leads, and administrative tasks.