The rise of AI is making resume writing quicker and easier than before. A variety of AI tools can help you speed up the process, draw inspiration or find examples, proofread, get feedback on how to improve, and similar.
Let's get two things clear:
Using AI the smart way will help you make a better resume than the one you'd create entirely on your own.
No AI tool can do the heavy lifting for you. If you rely on AI or LLMs (large language models) entirely, your chances of landing interviews will decrease.
If you want to know how to make a resume with AI and be more efficient, read on.
In this article, you'll learn:
How to make a resume with AI
AI-powered tools that can help you
How not to use AI for writing a resume
Tips for getting the best results with AI
3 Ways to Use AI for Your Resume
Nowadays, there's a number of different AI-powered tools that can help with different aspects of resume creation. Here's what they can do to assist you with creating a top-notch resume in no time.
Correct and improve grammar, spelling, and phrasing
A sloppy resume with unclear job descriptions, double spacings, typos, and incoherent paragraphs is a huge red flag for recruiters. With resumes, it's not only about what you say. It's about how you say it and how you present it.
A neat resume with clearly outlined sections, clear job experiences and accomplishments, strategically-used power words, and pristine grammar will leave a great first impression.
Here are some tools to help with this:
Grammarly
Grammarly mostly focuses on spelling, grammar, and punctuation. Once installed, it's easy to use across different platforms so you can have your text checked in a matter of seconds, regardless of where it's stored. Lately, they've added more AI functionalities, also giving suggestions on writing clarity, formality, and conciseness.
Hemingway App
Hemingway is great for making sure your text is coherent and clear. It'll help you spot and fix complex sentences to make your resume straightforward.
ChatGPT
You can use ChatGPT for proofreading your text if you need a second pair of eyes (that you don't have). Bear in mind that you'll have to copy-paste your text and ChatGPT will provide you with the edited version without marking the changed parts. If you want to check the differences, you'll need to do it manually.
In addition, pasting an entire resume to ChatGPT is risky because it often messes up the document and makes unnecessary, confusing changes instead of simply improving clarity and correcting grammar mistakes. So make sure to use it if you want to jazz up a few bullet points or find inspiration on how to describe an achievement, but don't trust it to deal with an entire resume.
Quillbot
If you're struggling to choose more appropriate words (a more formal style, synonyms for overused buzzwords, action verbs, or alternatives to boring industry jargon), try Quillbot. It'll help you paraphrase your text and adjust it to the style you want. Bear in mind that you don't have to use it word-for-word — especially because it tends to lengthen the text — but simply use it as a prompt to help you get inspired or paraphrase individual sentences, or find fitting synonyms.

Shorten the text
Every word on your resume should earn its place there. You want each section of your resume to be informative but short, so choose your words carefully and jam-pack each sentence with value.
If you make your resume too long, you'll overwhelm recruiters with too much information (plus, they don't have the time to go through 3-page resumes). In addition, it'll show that you don't know how to distinguish important from unimportant information or deliver relevant information in a concise way, which might affect your performance in the workplace.
To keep the information relevant and concise, you can use ChatGPT.
✅ Pro tip: When giving prompts, make sure to say you want the meaning to remain the same and the key pieces of information to be included. Take a look at the example below of how ChatGPT shortened this resume summary from 76 to 55 words.

Get feedback and tips to improve your resume
Once you have completed your resume, you can upload it to Big Interview's Resume AI tool to have it assessed and get feedback on how to improve it.
You'll get guidance on:
Readability
This feature tells you if your resume is easy to scan and understand. It covers elements such as your resume's length, the quality of the resume statement, spelling, grammar, and first impression.
Credibility
This feature rates your effective use of language: action and power words, skill and competency focus, and if you listed results and achievements to stand out from other applicants.
ATS Check
Companies are using Applicant Tracking Systems (ATS) to sort through hundreds of resumes daily. They first put resumes through this ATS, and then hand-check the remainder. In order for you to land an interview, your resume will first need to pass the ATS check. What Resume AI checks is how much your resume is aligned with the position you're applying for (through keywords, skills, and competencies). You'll upload your resume and the position you're applying for and get feedback on how aligned these elements are, and what you'll need to add or remove in order to successfully pass the ATS check.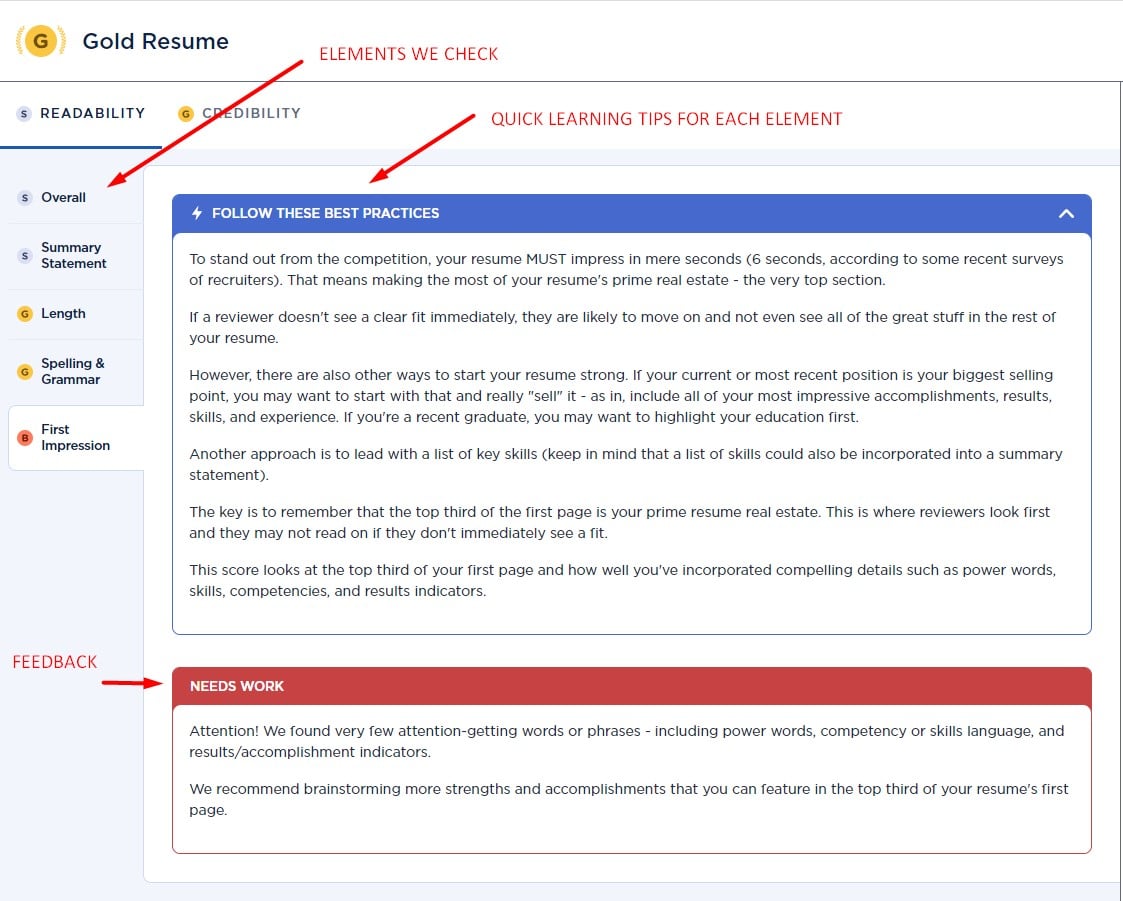 ✅ The elements that Resume AI checks are customizable. If you're a student whose university uses Big Interview, your school can customize the feedback to their specifications and focus on elements that they deem most important/useful for their students.
How Not to Use AI for Your Resume
As we already mentioned, AI tools are getting better every day but they're far from perfect. That's why you'll still need to do the heavy lifting yourself and have AI help with details or tricky aspects in case you get stuck — you can't rely on them to create the perfect resume for you.
That said, here's what to avoid when using AI for writing a resume.
Don't create entire resumes with AI
Although it seems quick and easy, asking GPT to create a resume for you from scratch is not a good idea.
The Internet is vast and full of resume templates. The majority of them are sloppy, of poor quality, and not approved by experts. And ChatGPT has been trained to formulate its answers based on a plethora of sample documents it's been fed with. So if the overall quality of resume samples available online (up until September 2021, to be precise — this is ChatGPT's knowledge cut-off point) is sub-par, that's exactly the quality of what you'll get from GPT.
Plus, AI will never have a complete insight into your intricate experience, skills, and abilities. Therefore, it will never be able to create a presentable, credible, realistic resume tailored to you.
What should you do instead?
Most schools will provide you with an approved resume template that you'll only need to fill in with your personal information and spruce up using some of the AI tools we covered. These resume templates are a safe bet because they're approved and decent in terms of readability and design, so make sure you go with them.
If you're not a student, or if your school doesn't have a template, here's a free resume template you can use. Big Interview's Resume Builder also offers several different templates to choose from.
Don't copy-paste
Don't copy-paste text from ChatGPT to your resume.
It won't look good and recruiters will know you haven't taken the time to create your most important professional document on your own. Letting AI shape and display your experiences is lazy, and it's more than likely the result will be bland and generic.
It's ok to use AI to generate ideas or improve your writing, but you still need to be able to write about your experiences by yourself.
Additionally, resumes are all about standing out. And how can you stand out from the crowd if you use a text generator that is probably making the same suggestions to hundreds of other applicants?
Don't make decisions based on AI
Don't make big decisions about your resume (or your career) based on what AI says.
There's a lot of false information and wrong opinions on the Internet that could be picked up by ChatGPT and similar AI tools and served to you. For this reason, you'll want to be extra careful when accepting suggestions from AI tools. A safer approach is to get in touch with experts: your college career center, professional career coaches, tutors, teachers, and similar.
Tips for Getting the Best Results from AI Tools
Be clear and detailed
In order for it to give you the best and most relevant results, AI tools need to get clear and detailed instructions.
Remember this whenever you're writing a prompt for, let's say, ChatGPT. For example:
❌ Write an example of a resume summary for a student looking to break into sales.
This is a generic prompt. It doesn't provide enough information about your experience and it doesn't give the tool much to work with. The result you'd get would be equally bland and broad.
✅ * Act like a professional resume writer.
* Write an example of a resume summary for an Economics student.
* The student's key skills are: knowledge of economic concepts, data analysis, and research skills.
* The student's key achievement: improved quality of sales leads by 4% during a summer internship at Gartner.
* The objective of the candidate is to get a job in Sales, preferably in the real estate industry.
* Make sure to use power words but avoid meaningless buzzwords.
* The length of your response should be between 70 and 110 tokens.
This prompt is more detailed and follows the instructions by Open AI on how to prompt ChatGPT. It contains some of the key information about this student; therefore, the AI result would be more detailed and relevant. Still, take any result with a grain of salt and look at it as the first step or the push in the right direction which you'd still have to expand and modify to best describe you and fit the position you're applying for.
Take suggestions with a grain of salt
At the end of the day, AI is just AI. It doesn't have the means and abilities to understand the complexities and contexts just yet; you should treat it as such.
You know how Grammarly wants to add a comma where it's actually not needed? It's because it was programmed that way and has no real understanding of the meaning you want to convey in a sentence. It doesn't understand if you want to play around or convey your personality in a text.
Each AI-generated tool can at any point make the same type of mistake, like this sales email Chat GPT created for Will Allred.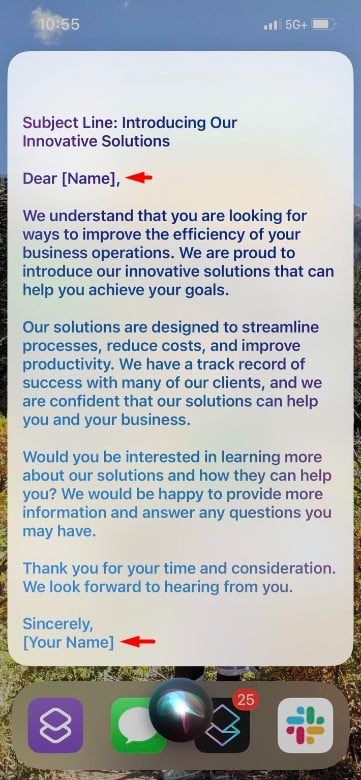 That's why it's crucial that you take suggestions with a grain of salt, judge against your own criteria, and make a decision. You can also always ask for help from someone knowledgeable before you accept a suggestion.
Double-check everything
After using AI for creating just about any element in your resume, make sure to do a double round of checks and ask for feedback from your career advisor, counselor, someone from your college career center, or even a friend working in the industry you're applying for.
They'll be able to give you personalized and specialized feedback that will help you spruce up your resume and create a document that reflects your experience and abilities best.
That's all, folks! We hope this article helped you understand how to make a resume with AI.
Final Thoughts
Writing a resume has never been easier now that there's a variety of AI-powered tools to help you along the way.
Still, this doesn't mean you can have AI create your resume from scratch. You need to create it yourself and then have these tools help with paraphrasing, shortening, adding power words, or proofreading.
Use tools such as Grammarly for fixing typos and spelling mistakes, Hemingway for fixing the flow of your text, and Quillbot for rephrasing and synonyms.
ChatGPT can help you with just about anything, from rephrasing and shortening your text to paraphrasing and improving your writing.
Once your resume is created, use Big Interview's Resume AI to get feedback on credibility, readability, and ATS fit (including tips on how to improve this!)
Remember that you always have the final say: you don't have to accept each AI suggestion, especially if it's not personalized.
Always double-check your resume with a mentor, career counselor, or other expert. They'll be able to give you specific advice you won't find anywhere else.
_________________
Need a hand with your job search? There are 3 ways we can help you:
Get the best tips on how to prepare for an interview.