Looking to write a winning resume objective? Here are some tested tips to help you, together with 60+ real-life resume objective examples for the most common jobs (yours included!).
What Is a Resume Objective?
A resume objective (a.k.a. career objective or objective statement) is a short (two- to three-sentence long) introduction placed at the top of your resume that gives the hiring team an idea of who you are and what you're looking for in your career and from a particular role.
Resume Objective Example
An ambitious and hardworking Journalism graduate looking for my first article-writing role. Ready to apply my linguistic proficiency, interviewing and research skills, and lifelong fascination with pop culture to help the publishing team at Vanna to produce high-quality news articles and hit desired metrics.
Note: It's easy to confuse a resume objective with a resume summary because they're both used to introduce you and capture the recruiters' attention. The biggest difference between the two is that the objective is more about the candidate, their goals, and potential, while the latter focuses more on qualifications, accomplishments, and experience. For this reason, the objective is better suited for candidates who are just starting out or are changing careers. Read on to better understand how and when to write a resume objective.
Some Basic Rules When Writing Your Resume Objective
Again, the point of the resume objective is to explain the motivation behind your job application and act like a teaser or an elevator pitch that will keep the recruiters intrigued and prompt them to find out more.
Worth keeping in mind — the career objective is not obligatory. If you decide to include it, the worst thing you can do is make it super generic and waste precious resume space.
So here are some ground rules to help you do it like a pro.
Who needs a resume objective?
Use the objective statement if you're:
entering the workforce for the first time, or
changing careers.
In these two scenarios, a resume objective can be useful because it shows the recruiting team what you can bring to the table and explains how your background can be applied to different career directions.
How to write an objective for a resume?
When it comes to structuring your resume objective, stick to these 3 golden rules for best results:
1. Place the resume objective at the top of your resume
2. Keep it short (2-3 sentences)
3. Always customize it for the position
1. Place the resume objective at the top of your resume regardless of the resume format you're using. Since it acts as an introduction, it should fit right under your name and contact information.
2. Keep your career objective short and limit it to 2 or 3 concise sentences. The first sentence typically contains your current career status, duties, and position. In the second sentence, mention your top qualifications, skills, and reasons why you're good for the role. Finally, end with how you can help the company by focusing on the main points from the job ad.
3. Make sure you tailor your resume objective to the position and company you're applying for. You'll score zero points if you're just recycling that one objective you wrote two years ago for an entirely different job.
Bonus tip: Write your career objective only after you've completed all the other resume sections like work experience, education, and skills. This will all be much clearer once you've finalized the other sections. Works every time.
Bonus tip 2: Feel free to omit pronouns and use incomplete sentences. Although the resume objective statement is essentially a paragraph, traditional writing rules can be bent here. Aim for clarity and brevity.
Now, let's deconstruct a good resume objective example to see how these rules work in practice.
An approachable, tactful, and responsible flight attendant with 2 years of experience in a low-cost airline excited to apply for the position with Qatar Airways to provide top-notch passenger service and support.
Here's why this resume objective works:
A flight attendant with 2 years of experience with a major low-cost airline. Excited to apply my cabin management skills and bring approachability, tact, and responsibility as a flight attendant with Qatar Airways while providing outstanding passenger service and support.
1. It starts with the job applicant's current status and background and gives the recruiter precise, key info about their duties and experience. This is the part where you should mention if you're currently employed, approaching graduation, volunteering, etc.
2. Next, the candidate lists their top skills (all super relevant to the role!). This is where you emphasize how you're perfect for the role. It helps to think about the skills you possess that are desired for the position. A helpful trick — some of them will be listed in the actual job ad.
3. This part clearly says what they're looking for. No brainer. Mention the company and the position you're applying for and you're good.
4. Finally, they end with what they could offer the company.
And this is where people freak out the most because they a) struggle to cherry-pick their best qualities; b) have no idea how they add value (and get stuck as a consequence).
Much of this anxiety comes from the crazy examples you've surely come across online. Things like:
Seeking to join Adidas to translate my track record of boosting Nike's sales 500% to similar results for your Portland team.
Not everyone is a unicorn candidate, but everyone can bring something to the table. If you've only seen examples that left you feeling overwhelmed and intimidated, don't worry — this doesn't have to be anything crazy. Something as simple as "hoping to delight Roo's customers by offering diligent customer care" will do the trick.
Let's go back to our first example to see how it also fits this structure.
An ambitious, creative, and hardworking Journalism graduate looking for my first article-writing role. Ready to apply my linguistic proficiency, interviewing and research skills, and lifelong fascination with pop culture to help the publishing team at Vanna to produce high-quality news articles and hit desired metrics.
Here's why we like it:
Although it doesn't follow the structure to the letter, this resume objective really has it all:
It gives us the candidate's current status ("a Journalism graduate")
It contains a mighty list of their soft and technical skills ("ambitions, creative and hardworking" plus "linguistic proficiency, interviewing and research skills, knowledge of pop culture"). Again, all highly relevant and specific to the role (*wink!)
It tells us what the candidate wants (to join the "publishing team at Vanna")
And ends with teasing the "new world" a.k.a. "what's in it for Vanna". The person knows what desired outcome Vanna wants — better articles that will help to hit a particular number of reads and shares. The candidate is all about helping them crush those KPIs.
Can you mess up your resume objective?
Yes, pretty much by ignoring any (or all) of these rules.
And don't get me wrong, all kinds of crazy-good candidates write miserable objective statements. Here's a bad resume objective example that a wizard Project Management friend sent me recently.
As a Project Manager, I implemented various projects. I implemented software solutions, developed new businesses and branches of existing businesses. I gained a lot of experience in managing projects and continued to develop software and application solutions for clients. I gained experience in the implementation of SAP ERP solutions as well. I have used different methodologies for project management, and lately I have been using the Agile approach a lot.
Why this sucks (on so many levels):
He managed to (unknowingly) break every single rule of writing resume objectives. Let's see what went wrong.
It's too long. His objective statement is a chunky paragraph with full sentences and pronouns that can definitely be condensed.
It's bland. In other words, I forgot it the moment I read it. Remember, this is a Senior Project Manager who's super qualified in SAP and Agile (two of the most current enterprise resource planning and project management frameworks), and his objective does not reflect that. He should have used this opportunity to chisel his experience into the recruiters' brains and convey authority. Pay attention to his choice of words — "various projects", "gained a lot of experience", "different methodologies" and think — WHAT projects, WHAT kind of experience, and WHICH methodologies. Recruiters are tired of meaningless buzzwords like "synergy" or "streamline", but being vague is a pet peeve level pro. The best advice you can get is: be as specific as possible. When you have 2 sentences to shine, make every single word count.
It's repetitive. He manages to start two consecutive sentences with "I implemented". Also, he uses the same phrases repeatedly — "software solutions", "managing projects", or "gained experience".
It's generic. Finally, instead of tailoring it for this particular job, he wrote a very basic, generic resume intro using 5 lines of empty words.
Here's what his objective looked like after a minor intervention (We just followed the simple 4-step formula we gave you above): 1) what your background is, 2) what your top skills are, 3) what position you're after, 4) what you can offer.
An experienced Project Manager fluent in Dutch and English, able to handle simultaneous Saas and app development projects, and skilled in major frameworks like SAP ERP and Agile. Ready to use my ability to coordinate heterogeneous teams, manage project plans, estimates, and scoping to help Acme.Corp meet requirements in terms of monitoring, multi-project, and stakeholder management.
If this still looks complicated, you can use this simple template to structure your resume objective:
A/an [2-3 DESCRIPTIVE, SOFT SKILLS ADJECTIVES] [YOUR CURRENT ROLE] looking for a [NEW OPPORTUNITY]. Looking/ready/excited/seeking to apply my [TOP TECH SKILLS] to help [COMPANY NAME] reach [THE DESIRED OUTCOME].
If you need more help writing your resume objective, there are two things you can do — get a crash course on resume writing (8 lessons taught by an expert resume writing consultant) or use a tool like ResumeAI to build your resume. With such tools, you can also scan your existing resume and get AI feedback on what can be improved.
This is what s resume objective statement lesson could look like. You get a video lesson (with transcript) and after that, you can go on to create your own resume objective.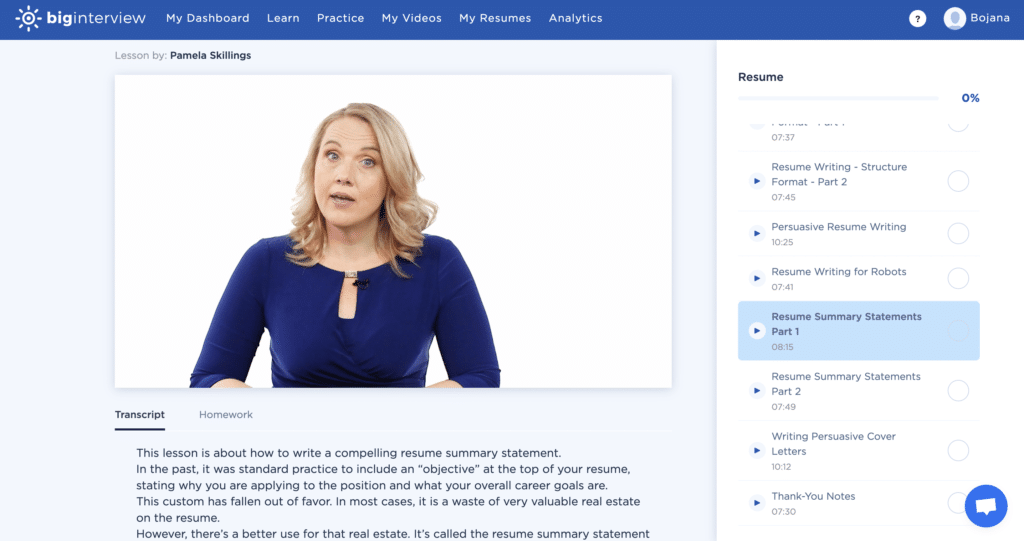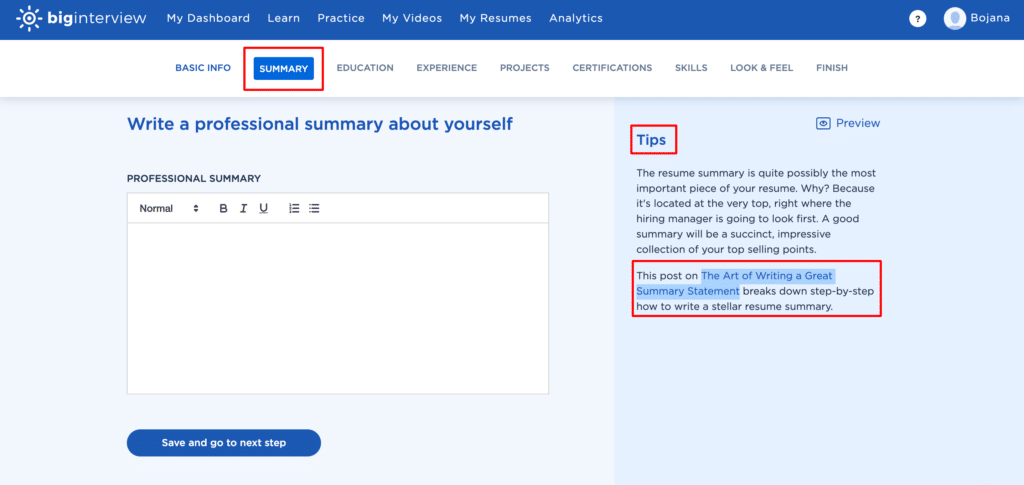 Resume Objective Examples for the Most Common Scenarios
We did the donkey work for you — here's a bunch of really good resume objective examples to use as inspo. Just find a career scenario that sounds like yours in the list below and click the link to view the example that works for you.
Resume objective examples by career phase:
1. You're an entry-level candidate with no experience
2. You're a recent graduate looking for your first job
3. You're applying for an internship
4. You're a student looking for a part-time job
5. You're looking for a career change
6. You're applying for another position at the same company
7. You're entering the job market after a break
8. You're looking for a job after being unemployed for a while
9. You're transitioning from the military
10. You've been laid off or furloughed during Covid19
Not seeing a career scenario that sounds like you? That means you don't need a resume objective. Write a resume summary instead. Here's how: How to Write a Resume Summary That Lands Jobs.
An entry-level candidate with no experience
Newly Udemy-certified content writer with a background in PR and journalism looking for my first opportunity. Fast learner with excellent research and writing skills who thrives in team environments. Looking to join Marketing Plus as a junior content writer to produce high-quality articles for clients in English-speaking countries.
A recent graduate looking for their first job
Motivated, driven, and hard-working recent MBA graduate looking for a full-time position in accounting. Looking forward to applying my critical thinking, proficiency in math and Microsoft Excel, and report-writing skills to help Akredit maintain impeccable financial statements and AR processes.
Resume objective for internships
A highly-motivated, JavaScript-certified professional looking for a developer internship opportunity at Egen. Offering excellent time-management skills, willingness to learn, and cooperation. Ready to improve my knowledge of FE and work with your team of experienced developers to write clean code and provide excellent user experience to clients using your SaaS products.
A student looking for a part-time job
A senior high school student passionate about the history of fashion, vintage clothes, and furniture, interested in a career in retail. Seeking a part-time role in Vintage 90 to provide excellent customer service and spread the love for pre-owned clothes. Offering skills like punctuality, friendliness, and a solid knowledge of 1980s and 1990s fashion trends.
Expert tip for first-time job-seekers: Everything counts. Remember to include any volunteer work you've done, engagement with non-profits, coursework, foreign languages, social media skills, internships, part-time gigs, and school courses that helped you gain relevant skills (even if you initially think this makes little sense). The catch here is to distill what you've learned from all the work you've done and find ways that can help you in your job.
Resume objective for career change
A former store manager with 6 years of experience in retail and excellent communication and teamwork skills. Shifting my professional focus to the hospitality industry, bringing outstanding transferable skills like problem-solving, customer expectation management, and POS systems. Excited to excel in the role of Receptionist at Ramonda Suites.
Expert tip for career-changers: When changing careers, make sure you add some transferable skills (skills you gained in one job but can take with you throughout your career) like communication, problem-solving, teamwork, or research. This will show that you understand which of your skills are relevant in the new position and how they can help you thrive in your new career.
You're applying for another position at the same company
A customer support engineer with 5+ years of experience in providing assistance to Saha's customers. Looking to continue my career at Saha in another customer-facing role and transition to CSM. Bringing skills like relationship building, prioritization, in-depth product knowledge, and technical expertise. Excited to help get more value from our products and services, and act as the first point of contact for feature requests and product improvements.
You're entering the job market after a break
An accomplished, versatile, and award-winning hair stylist returning to the workforce after a one-year parenting sabbatical. Skilled in precision cutting, coloring, styling, and customer service. Looking to leverage my experience, professionalism, and creativity as a full-time hairstylist at Onna to increase client satisfaction and grow the client base.
You're looking for a job after unemployment
A motivated and certified forestry engineer returning to the job market after a four-year sabbatical spent on travel and exploration. Looking for a full-time position at Forests of America to oversee project timelines and ensure compliance with state and federal regulations. Bringing my expertise from earlier positions like analytical thinking and project management, combined with my newly-found passion for sustainability, forest management, and conservation.
You're transitioning from the military
A Zendesk-certified Support Administrator with a background in the military, previously recognized by superiors for teamwork, work ethic, and IT. Looking to continue my career as a Technical Support Engineer at Yava. Offering solid knowledge of configuring and supporting LAN switches, VPN, routers, and remote access. Hoping to contribute to Yava's excellent customer satisfaction scores by providing remote and on-site support.
You've been laid off or furloughed during Covid19
A motivated Business Analyst with 8 years of experience in SaaS and PaaS companies, seeking a new opportunity with Merkle. Previously recognized for databases, presentation skills, and the ability to implement tech solutions in problem-solving. Excited to work with the C-level team at Merkle to drive business change, make data-driven decisions, and increase profitability.
Expert tip for furloughed, laid off, and unemployed job applicants: Honesty is the best policy here. Faced with another massive wave of layoffs this year, thousands of candidates like you are currently looking for their next opportunity. Nothing to be ashamed of. So if you've just been laid off, there's no need to explain that in your resume objective (or anywhere in your resume).
On the other hand, if you've been out of work for a while, we strongly advise that you mention it — this will explain the reasons behind your employment gap and show the recruiters that you have nothing to hide. To show your drive, focus on your commitment to your career goals and note any volunteering or coursework you've done while out of the workforce.
If you want even more inspiration, see these resume examples we created for you to cover the most common jobs in all kinds of industries.
50 Resume Objective Examples for the Most Common Jobs
To see an example of a resume objective statement you can copy, tweak, and use as yours, just click on your profession below. We've put the jobs in alphabetical order.
Resume objective examples by industry (A–Z)
Accounting resume objective
Administrative assistant resume objective
Babysitter resume objective
Bank teller resume objective
Bartender resume objective
Call center resume objective
Cashier resume objective
Caregiver resume objective
Clerical resume objective
Construction worker resume objective
Content writer resume objective
Cook resume objective
Cosmetology resume objective
Custodian resume objective
Customer service resume objective
Data entry resume objective
Dental assistant resume objective
Designer resume objective
Electrician resume objective
Engineering resume objective
Esthetician resume objective
Executive assistant resume objective
Finance resume objective
Flight attendant resume objective
Healthcare resume objective
Hospitality resume objective
Housekeeper resume objective
Human resources resume objective
Maintenance resume objective
Marketing resume objective
Manager resume objective
Nanny resume objective
Nursing student resume objective
Office manager resume objective
Paralegal resume objective
Pharmacy technician resume objective
Phlebotomist resume objective
Preschool teacher resume objective
Project manager resume objective
Real estate resume objective
Sales resume objective
Secretary resume objective
Security guard resume objective
Social media manager resume objective
Software engineer resume objective
Teaching assistant resume objective
Truck driver resume objective
Waitress resume objective
Warehouse resume objective
Welder resume objective
Accounting resume objective
A recent MBA graduate, former intern in major accounting firms like KPMG and Aprio, interested in the Accounting Assistant position at PlusPlus. Familiar with ledgers, payrolls, and compliance. Excited to grow and bring strong analytical skills and professional integrity to PlusPlus.
Administrative assistant resume objective
Highly organized multi-tasker with 4 years of experience in providing administrative support. Proficient in Google Slides, Microsoft Excel, scheduling, and event planning. Ready to use my excellent communication and organization skills to help the team at Nama expedite work results.
Babysitter resume objective
Dependable, organized, and friendly sophomore, experienced in caring for toddlers and preschool children over weekends and evenings. Praised for my ability to come up with creative, educational, and fun games and activities. Excited to meet and spend time with your children.
Bank teller resume objective
Experienced banking professional with excellent customer service and interpersonal skills, applying for the role of bank teller at Vivabank. Accurate and dependable, as well as proficient in data entry, transfers, and handling money. Looking forward to increasing speed and customer satisfaction as a member of your team.
Bartender resume objective
An energetic, lively, and fast bartender with an excellent track record and 10+ years of experience in international bars. Exceptional memory, and knowledge of local and international drinks. Efficiency in loud and fast-paced environments. Certified for all 77 IBA-recognized cocktails. Seeking to join the team at Concordia Cruises to provide outstanding service and entertainment to passengers.
Call center resume objective
A recent HBU graduate with strong communication skills, looking for a position as a Call Center Representative at Theon. Ready to hit the ground running and deliver high-quality service and customer satisfaction. An active listener with a certificate in conflict resolution and mediation.
Cashier resume objective
A friendly, recent high school graduate with a positive attitude, looking for my first job as a cashier at Maxi. Bringing excellent communication skills, attention to detail, and diligence. Looking forward to contributing to customer retention, as well as increased efficiency and satisfaction.
Caregiver resume objective
An enthusiastic, patient, and experienced caregiver skilled in working with children with disabilities. Passionate about assisting patients with personal care, overseeing medication and administering medicine. Ready to apply my dedication, positive attitude, and empathy to ensure your child has the best possible experience and overall comfort.
Clerical resume objective
An organized, well-presented, and dependable individual looking for a full-time position as a Clerk at Martel. Bringing in my two years of experience in administration, combined with excellent public interaction and typing skills (75 wpm). Excited to help bring admin work to the next level and provide support to office managers.
Construction worker resume objective
Strong, experienced, and motivated construction worker with 3 years of experience working on local and international sites. Previously recognized for physical strength and stamina, site cleanup, and meticulous attention. Risk and PPE-conscious. Looking to contribute to the building of the first linear city in the world on the NEOM project.
Content writer resume objective
A recent Journalism graduate looking for an opportunity to apply my strong research and writing skills. With solid freelance copywriting experience and basic knowledge of keyword research in SEMRush. Hubspot Content Marketing certified. Excited to contribute to Skillful's content hub by providing actionable and educational articles.
Cook resume objective
A motivated culinary professional used to working in fast-paced kitchen environments, with a background in working in restaurants in Moscow, Rome, and the cruising industry. Specialized in Mediterranean and Middle-Eastern cuisine. Excited to join the team at Tisa New Balkan Cuisine to provide exceptional eating experiences to international guests.
Cosmetology resume objective
Licensed cosmetologist with a warm personality who stays up-to-date with new trends and gladly shares care and beauty tips with clients. Background in a family-owned salon, specializing in hair styling and make-up application. Familiar with managing salon product inventory and safety checks. Looking to take my experience to the next level by providing outstanding customer service at Vida Beauty Center.
Custodian resume objective
An experienced custodian previously employed maintaining and organizing floors, restrooms, and janitor rooms in several local high schools. Bringing skills like good spirits, diligence, and physical strength. Looking to join the custodial team at Hawkings High School to provide cleaning and sanitation services and improve the health and wellness of local students.
Customer service resume objective
Customer service representative with 2 years of experience working in a call center environment. Acknowledged for persuasion, phone skills, and live chat complaint resolution. Fast learner. Ready to take on new challenges as a Customer Service Lead at Yettel.
Data entry resume objective
An enthusiastic college freshman looking for a part-time role as a Data Entry Specialist at HeyGov. Bringing in skills like the ability to perform repetitive tasks with extreme accuracy, attention to detail, and exceptional web search skills. Microsoft Excel certified. Able to work with little or no supervision and excited to maintain and optimize HeyGov's databases to improve business processes and results.
Dental assistant resume
Skilled and dexterous dental assistant seeking a permanent position at ToothAlliance. Experienced in assisting during procedures, X-rays, operatory setups, oral examinations, and cleanings. Hailed for professional demeanor, calming attitude, and keeping patient records. Looking forward to being part of a team of dental experts on a mission to provide the best oral care to teenagers.
Designer resume objective
An independent visual storyteller and PowerPoint presentation specialist experienced in working with busy executives. Made 100s of high-stakes presentations over 7+ years for Fortune 500 companies. Looking for a full-time presentation designer position at Verum to create persuasive, clear, and attention-grabbing slides to boost sales and support business partnerships.
Electrician resume objective
Skilled electrician with 4 years of experience working individually on installing and maintaining electrical equipment and repairing wiring and fixtures with hand and power tools. Seeking to join the team at Electro to apply my knowledge of circuit design, wiring, and lighting systems on large-scale projects.
Engineering resume objective
Recent graduate with a BSc in Mechanical Engineering and internship experience. Distinguished myself with efficiency and precision when creating blueprints and technical drawings. Looking to join Vantage Engineering to grow professionally and make an impact as a Mechanical Engineer.
Esthetician resume objective
An experienced and enthusiastic esthetician with 3 years of experience in waxing, facials, and mesotherapy. Looking to continue my career in a large beauty salon like Facial Palace and gain in-depth knowledge of chemical peels and face rejuvenation treatments. Bringing skills like customer service, face massage and wraps, and passion for health and wellness.
Executive assistant resume objective
An enthusiastic administrative assistant with multinational experience, looking to continue my professional journey as Executive Assistant at Eulex. Ready to contribute with my exceptional communication skills, agreeable personality, multitasking, mastery of scheduling, reporting, and note-taking in meetings. Excited to offer my expertise to provide assistance to Head of Mission.
Finance resume objective
An experienced banking professional with 5+ years of proven experience in the field of finance in an international environment with ability to multitask and communicate effectively across different levels of an organization, providing analysis and delivering insight that links banking and best-in-class customer experience. Excited to contribute to AhoBank's newly-established Portland branch to provide exceptional financial services.
Flight attendant resume objective
A flight attendant with 5 years of experience in Turkish Airlines. Excited to apply my cabin management skills and bring approachability, tact, and responsibility as a flight attendant with Qatar Airways while providing outstanding passenger service and support.
Healthcare resume objective
Licensed and experienced Physical Therapist specialized in trauma recovery and spinal injuries. Patient caregiver with interpersonal skills and expertise with chronic musculoskeletal conditions. Looking to join the growing team at NeuroMedic to foster a highly positive patient experience.
Hospitality resume objective
An experienced and dynamic Food and Beverage Manager with a customer-centered mindset and experience in boutique hotels and ski resorts, looking for a new role where I can utilize my organizational, delegation, and multi-tasking skills. Interested in joining The Oasis Hotel to assist with scheduling, procurement, and control of inventory and performance management.
Housekeeper resume objective
An organized and detail-oriented housekeeper with 2 years of international experience in cleaning and sanitizing hotel rooms and common areas in the Mediterranean. Looking to continue my career in the U.S. and join The Royal Sonesta to provide exceptional housekeeping services and contribute to guest satisfaction and the highest standards of cleanliness.
Human resources resume objective
A fresh graduate with an undergraduate degree in HRM seeking a full-time position as a Junior Recruiter at Omnia. Looking to implement my theoretical knowledge of talent sourcing and management and bring my strong communication and organizational skills to secure the best tech talent and learn in the process.
Maintenance resume objective
An experienced building maintenance specialist with previous experience in providing high-quality maintenance work in commercial and public buildings. Assets include excellent diagnostic skills, problem identification and solving, blueprint reading, as well as repair planning and execution. Looking to continue my career at Galeria Shopping Mall to ensure smooth and safe operations.
Marketing resume objective
An enthusiastic and creative problem solver in love with advertising, branding, and strategy. Spent 4+ years as a Marketing Specialist assisting with website development, email campaigns, WordPress, and PPC. Currently working my way up in the computer software industry. Excited to join LeadDelta to help spread the word about the product and delight prospects and customers.
Manager resume objective
Organized, detail-oriented, and Agile-certified QA Manager with 9 years of experience in global payment systems. Currently managing a team of 13 engineers. Successfully rolled out 4 big projects where I contributed leadership abilities, testing, and production support. Now looking at the QA Manager position at Penta to improve the product management process, release scheduling, and organize team assignments.
Nanny resume objective
Trustworthy, patient, and reliable childcare professional looking to support your family with your busy schedules. Previously appreciated for enthusiasm, love for children, meal-prep, and the ability to organize fun and educational activities. Looking forward to meeting you and your children.
Nursing student resume objective
A second-year nursing student looking for a part-time role as a Nurse to care for senior patients at Lotus. Recognized in practical classes for my friendly relationship with patients, assessing patient needs, and medication monitoring. Looking to gain clinical experience and specialize in care for the aged.
Office manager resume objective
A dynamic and hard-working individual who thrives in fast-paced office environments, looking for an Office Manager position at Network. Bringing MS Office and CRP certifications, familiarity with Labor Law, and exceptional people and communication skills. Excited to join Network to improve cross-functional collaboration and smooth operations in your Chicago office.
Paralegal resume objective
A driven, detail-oriented legal professional with previous experience in writing documents, client interviews, and keeping track of case files for a major law firm. Looking to move to the corporate sector and join the legal department at Sigma to contribute with my evaluation skills, designing memoranda and settlement agreements.
Pharmacy technician resume objective
An experienced pharmacy technician looking to transition from a hospital pharmacy to retail. Highly skilled in dispensing, packing, and labeling medication and checking prescription validity. Great collaboration and communication skills. Looking to join the team at Joseph Pharmacy to promote patient health and safety.
Phlebotomist resume objective
A motivated and talented former intern looking for my first full-time position as a phlebotomist at Vena. Previously recognized for precise venipuncture and capillary puncture, preparing and storing blood samples. A friendly people person who puts patient comfort and satisfaction first.
Preschool teacher resume objective
Passionate and creative teaching professional moving to Denver and looking for new Preschool Teacher opportunities locally. Comes with 4 years of experience in working with preschoolers, and brings skills like creativity in designing learning programs, mother tongue instruction, and learning through play. Excited to join Little Sparrows to help kids thrive and achieve the best outcomes.
Project manager resume objective
PMP and Agile-certified Senior Project Manager used to working on 40+ projects at a time. Thrives when multitasking, delivering projects on time within the determined budget and scope. Looking to join BBM to ensure resource availability, technical feasibility, and improve my track record in project completion.
Real estate resume objective
Helpful, honest, and personable realtor looking for new opportunities after moving to Houston. Experienced in advising clients on prices, legal requirements, mortgages, and general conditions on the market. Excited to participate in property promotion through advertising and open houses and help Keller Properties match people with the right homes.
Sales resume objective
A tenacious, persistent, and enthusiastic Sales Representative with a background in telecom, looking to transition to SaaS. Excels in cold-calling, familiar with email automation systems and best practices, and eager to collaborate closely with Marketing and CSM teams. Looking to join the team of rising stars in Meadow to help meet all customer needs and bring in new accounts.
Secretary resume objective
An experienced, friendly, and approachable professional looking for a new opportunity as a secretary at Sterling Cooper. Typing speed 70 wpm. Looking forward to applying my IT literacy, discretion, and communication skills and providing support to the leadership team in their everyday duties.
Security guard resume objective
A former veteran seeking a role as a Security Guard, bringing skills like physical fitness, excellent danger assessment skills, alertness, and integrity. Looking to join the team at Securo to provide first-class service to high-profile clients.
Social media manager resume objective
An energetic and driven Marketing graduate who lives and breathes social media, looking for a role as the Social Media Manager at Balance. Specialized in managing and building profiles for mobile app companies on Instagram and TikTok, implementing content strategies, and being in charge of interactions with the public. Excited to grow Balance's following and build a strong online community.
Software engineer resume objective
Proactive and solution-oriented front-end developer offering 3+ years of experience in blending the art of design with strong programming skills to deliver scalable and optimized solutions. Proficient with CSS and JS frameworks, with extensive knowledge of UX. Ruthless when it comes to debugging. Ready to help Ravi build the next generation of content management systems.
Teaching assistant resume objective
A teaching professional with strong interpersonal and communication abilities, looking for a full-time teaching assistant role at Heartbreak High. Bringing skills like classroom management and knowledge of ed-tech. Certified in Special Education Support. Looking forward to supporting collaborative learning and helping HH students reach their full potential.
Truck driver resume objective
CDL-A certified truck driver with an impeccable driving record, looking for a new opportunity in Arizona's TopTruck. Soon to be specialized in transport of hazardous materials. Ready to use my skills like night driving and driving in extreme conditions to improve TopTruck's ratings and provide safe and reliable logistics.
Waitress resume objective
A motivated recent high-school graduate looking for a part-time job as a waitress at Bistro Brocante. Recognized for sharp memory, dexterity, good manners, and multitasking. Ready to provide exceptional serving experience to Bistro Brocante's guests.
Warehouse resume objective
A collaborative and motivated warehouse worker with a demonstrated history of working in large warehouses, looking for a position at Nile. Familiar with warehouse lingo and inventory control. Organized and thrives in fast-paced environments that require coordination and teamwork. Looking to help streamline the distribution process to ultimately delight Jersey customers.
Welder resume objective
An experienced and knowledgeable welder looking to elevate my game by joining the best team of welding professionals in the country. Known for steady hands and endurance. Safety-conscious and able to keep focus. Happy to contribute to Steel's success with my attention to detail and team spirit.
Key Points to Remember
If there's just one thing you'll remember from this guide, let it be this: tailor every resume objective you write to the company and job you're targeting. It will boost your success rate 10x.
Don't just write about what you want. Instead, offer to help the company reach their goals (from the job description).
Keep your career objective short and informative. Use power words to convey confidence, authority, and to keep the reader interested.
Don't use meaningless buzzwords or jargon. The last thing you want is to come across as pretentious or lazy (This is where we tell you to avoid copying other people's objectives or use a single objective for different jobs). Tiny tweaks are often enough.
Remember that the resume objective is your elevator pitch. Have a friend or a family member (or a few!) proofread your objective for you and tell you if it actually sounds like you.