Tick-tock. You're applying for what looks like a damn great opportunity and you're spiraling — What should I put on my resume? Did I miss something? Am I including the right information? Do I really need the hobbies part?
No need to sound the alarms just yet, we're sending help.
So here are the key elements to include in a resume (works for all career situations and jobs).
What to Include on a Resume Depending on the Format?
Depending on the resume format you pick, you'll structure your resume a bit differently, but the key resume components you'll need to include are pretty much the same. Here's what needs to be on a resume in each of the three most popular formats:
Reverse-chronological resume format: standard sections
This is the most common resume format in which you focus on showcasing your work experience. The jobs you've done, courses you took, and degrees you obtained are all listed starting with the current or the most recent one first and working your way backward. In 90% of cases, hiring managers expect you to submit this kind of resume.
Its main elements are (from top to bottom):
Contact information
Additional sections (This is where you list your certifications, publications, awards, projects, conferences, volunteer work, etc.)
Functional resume format: standard sections
A common resume format for applicants with little or no relevant experience, the functional resume focuses on your skills and education rather than work experience.
Here's what to include in it:
Combination (hybrid) resume format: standard sections
Finally (and pretty much self-explanatory), the combination resume combines the parts from the previous two types. This format is a good pick for candidates with a lot of relevant experience or experienced candidates targeting a very specific position. Potentially, this could also work for those of you who are going through a career change (but, again, only if you're experienced).
And here are the resume components to include and in which order:
Contact information
Summary of qualifications
Additional sections
Expert advice: If you're not sure which format to choose, you can get more info and tips in this article on resume formats.
In this guide, we'll focus on the most popular (reverse-chronological) resume format and its elements.
Sections to Put on a Resume
Contact information on the resume header
This is easy — you're adding basic contact details so that recruiters can get back to you and find out more. Make sure to include:
Your full name
Your email address
Your phone number (if applying internationally, don't forget to add your country code)
The link to your LinkedIn profile*
The link to your portfolio or relevant social media profiles**
*Expert tip 1: LinkedIn is a big deal. It's the largest global professional network and most hiring managers expect you to be there. Your LinkedIn profile is supposed to complement your resume, so it pays to take some time and add a professional photo and cover image, and make sure all the information is well-organized and up to date.
**Expert tip 2: The same goes for your social media profiles. Hiring managers will look you up online. Most of the time they're just trying to verify the information and see how you'd fit into the company culture, but for some roles (think Social Media Manager or Customer Service), your online presence and personal branding are crucial aspects of the job.
And now the answer to that million-dollar question — Which social media profiles to include?
A single piece of advice here — only the ones most relevant to your work. So it might be Behance if you're a graphic or interior designer, GitHub for devs, Twitter for an investment banker (if you tweet about finance), or Instagram for a landscaper (if you post your projects there).
And this is what a typical resume header with contact information looks like:

Resume summary or objective
A resume summary is a short paragraph placed right under your contact information. It's an introduction where, in 3–4 sentences, you give an overview of your top skills and career achievements. Basically, this serves as a sales pitch (or "the greatest hits") that shows the hiring team what they'll get by hiring you.
You can learn how to write a compelling resume summary in this article: 40+ Resume Summary Examples [and How to Write One].
A resume objective is an alternative to a resume summary, a bit more suited for candidates with little or no experience. It focuses on what you want to achieve in the new role and how you'd like to build your career in the future.
Get an example for your job and career situation and learn how to craft a good resume objective in this article: 60+ Resume Objective Examples (with Writing Guide and Tips).
Here's an example resume summary by a Data Entry Specialist looking for a new opportunity.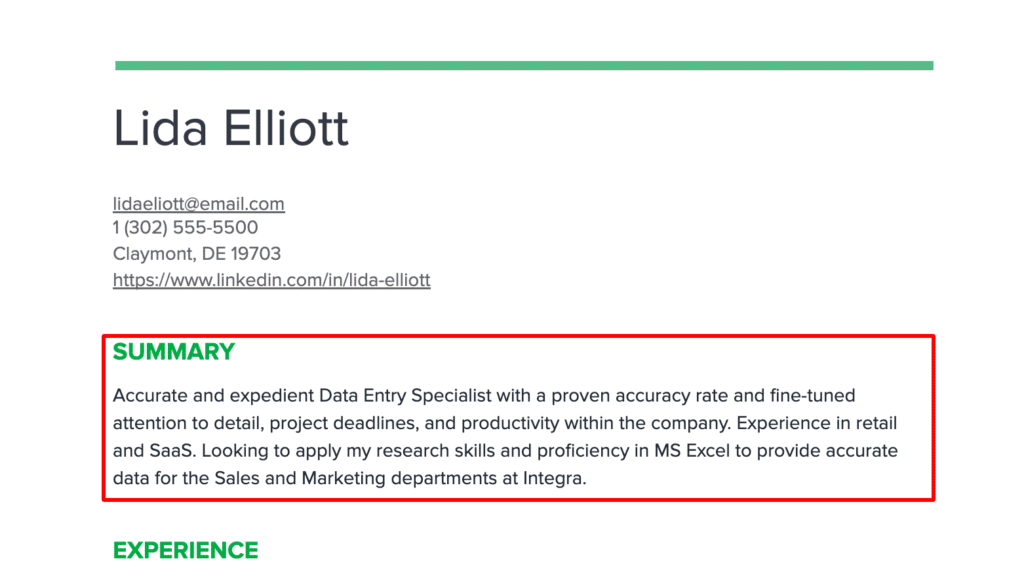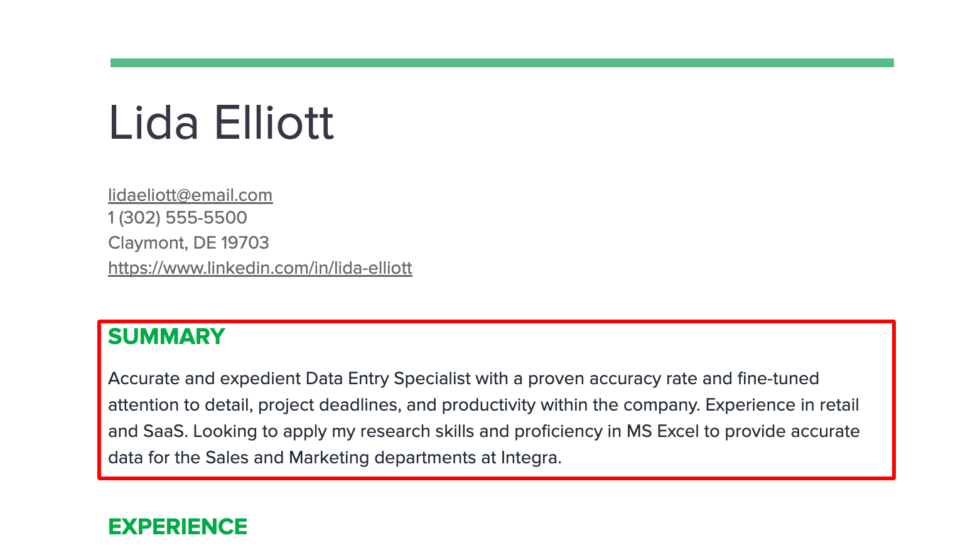 Work experience
Together with the sharp resume summary, your work experience is where you should score some serious points. It's really not that difficult — it's not so much about what you did in your previous job but how well you can organize and present your accomplishments in the role.
So here's what needs to be on a resume in your experience section:
Your position (this is typically written in bold for clarity and to attract attention)
Dates worked
Company name
A bullet-pointed list detailing 3–4 of your main duties and achievements
🔑 Key tip: Remember to list your jobs in reverse-chronological order. Start from your current (or most recent) job, then list the one before that, and so on.
If you're experienced, include only relevant jobs (chances are your retail assistant job from 10 years ago doesn't mean much for your application for Head of Marketing at a SaaS company) and limit yourself to the past 15 years.
Conversely, if you're lacking in the experience department, absolutely include stuff like:
Internships
Volunteer work
Part-time jobs
🧙‍♂️ Wizard tip: You can structure your bullet points describing your experience like this: [Strong verb] + [Job duty] + [Impact]. It pays off to keep your bullet points as consistent as possible, and this approach will serve as guidance.
Let's take a look at this well-crafted work experience section that gets a checkmark for all of the tips above: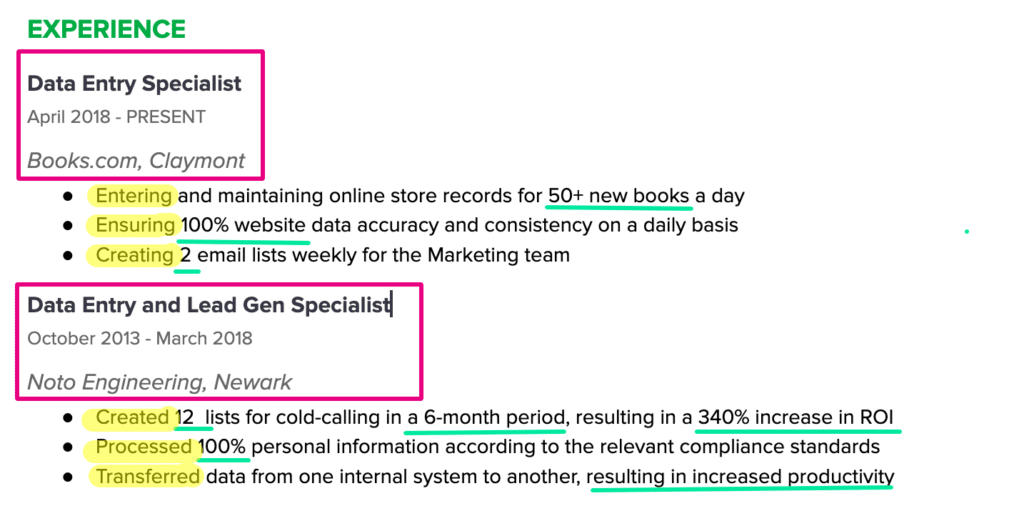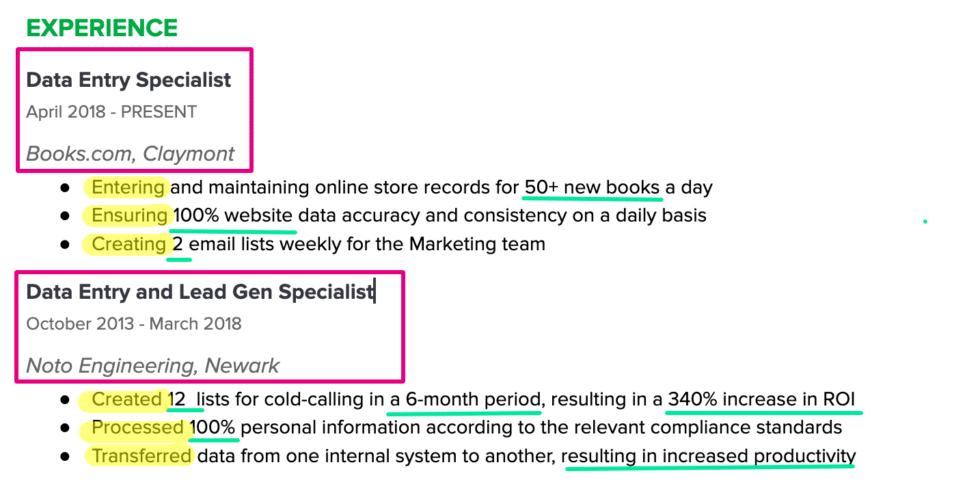 Let's run a quick quality assurance test to see why this works:
Format: The candidate lists their present position first, and places the previous one below
Information placement: The must-have information for the work experience section is all there: the position, dates worked and the company name. Everything is clearly laid out and formatted appropriately.
Consistent bullet points: The bullets all start with a strong verb (check out this ultimate list of 800+ power words to use in your resume) and focus on the candidate's duties and accomplishments, often using numbers and tangible results to reinforce the examples.
All in all, a solid work experience section.
If you think this is easier said than done and need more help, check out this dedicated guide on How to Write the Work Experience Section (with 20+ examples).
Education
Place your education section right under your work history, and, again, use reverse-chronological order. Some basic rules here:
If you're an experienced candidate, include just the basic information in the following order:
Your degree
University/school name
The year of graduation
If you're very new to the workforce, it's fine to add details such as your:
GPA
Relevant coursework
Academic achievements
Thesis/dissertation title
🔑 Key tip: If you have both a Bachelor's and Master's degree, absolutely include them both (just mind the reverse chronological order). If you have a university or college degree of any kind, there's no need to include your high school (unless it's super relevant to the role you're applying for, or was a vocational high school that gave you skills specific to the role).
Here's how our Data Entry candidate handled in it her resume:


Read this full guide on How to List Education on a Resume (with samples for all kinds of education scenarios).
Skills
Next, the Skills section. It's a resume must-have and yet, so many people mess it up. How? They either end up with a list of generic skills not relevant to the position or (worse yet) go for meaningless buzzwords that show no real value.
Essentially, the Skills section is supposed to be the key supplement to your Summary and Work Experience. How can you best handle this?
Include a mix of soft and hard (technical) skills, ideally in two separate sub-sections. For certain jobs, your technical skills will mostly be software skills, so it's okay to name that sub-section differently.
Focus on relevant skills only (the ones that matter in this particular job)
While there are a few ways you can format your Skills section, it's crucial to choose one and stay consistent throughout the section:
– List skills as single items (e.g. Detail-oriented, Attentive, etc.)
– List skills alongside star or bar ratings (e.g. Italian: ★★★☆☆)
– List skills with a short description of your proficiency level (e.g. Italian: Intermediate, or Microsoft Excel: Advanced)
– List skills and provide a bit of context (e.g. someone applying for the role of an Email Marketing Specialist could write something like this: Creating automated email campaign flows and providing reports in tools like Sendgrid, HubSpot, MailChimp, and AutoKlose)
And again, if this is giving you a headache, there's a beast of a guide to help you write a kick-ass Skills section: Skills to Put on a Resume for Any Job (with post-covid examples!)
Additional sections
Now, to the fun part!
All of the sections above are considered standard. But are you going for standard or outstanding?
Having only the mandatory sections is totally fine, but remember that every single candidate will have them too. So if there's anything else you can add to prove your value and stand out from the rest, then absolutely include it.
The optional (but recommended) resume sections can include:
Certifications
Publications
Volunteer work
Foreign languages
Projects
Now let's see how each of these can add some slay vibes to your resume.
Certifications
You're certified, which means you made an effort, took a course, passed a test, and this adds tons of credibility. When I got my HubSpot certifications in Content Marketing and Inbound, I added them to my resume without much thought. You know what happened? Every single interviewer asked me about those certifications.
As usual, list only the certifications which are relevant to the job you're applying for. If you're not gonna be driving, then most definitely don't include your driver's license as a certification.
Publications
These are most common in academic settings, but if you're applying for the position and have a relevant publication, then by all means, add it. Publications send strong signals that you're an expert in your field and that you know the industry.
Volunteer work
There are two super solid reasons why recruiters love seeing the volunteer section in a resume. One, it means you're a purpose-driven (rather than money-driven) person who believes in a cause and is ready to support it. Two, your choice of volunteer work implicitly tells the hiring manager a lot about your interests, soft skills, where you're passionate, etc. Adding it is a win-win.
🔑 Key tip: That being said, remember to only include your volunteer work as a separate section if you have a proper Work Experience section. If you're a student or an entry-level candidate with no work experience, then your volunteer work goes in the experience section.
Foreign languages
It's not only about how proficient you are in a language. Sure, if you're applying for the position of an Account Manager and know that your clients will be French, then your Advanced level of French is a guaranteed asset. But even if that's not the case, foreign languages get included as they also show how you're willing to learn something new and serve as proof that you can communicate and think interculturally (a really big deal in most companies).
Projects
You can add projects right under your Work Experience or Education section to highlight some experiences or initiatives that you've led or participated in that go beyond your day-to-day.
If a project was still in a way part of your day job, it's best to include it in the Work Experience section, just give it more prominence (e.g. make it a subheading in a given entry).
If it's a freelance project or something you otherwise did outside of your full-time employment, a separate section would make more sense.
Hobbies and interests
I'll just say it — hobbies on a resume are fine, but only if they're really cool and specific. They're typically there for the hiring team to check how you'd fit into the company culture. While some companies seem to prefer "the crazier, the better" (let's just say there are crazy-good cyclists, cellists, sommeliers, actors, and hikers in this company), it's not your hobbies that'll get you the job, but your experience and skills.
There are two ways the Hobby section can come back to haunt you.
Number one, you do some gentle stalking and find out that your potential manager is an avid tennis player. Then you go and add tennis to your list of hobbies and skills. Then you end up in the interview clueless as to who's topping the ATP list or how many basic strokes there are. Bottom line: don't lie on your resume.
Number two, you write something horribly non-specific like "Travel", "Music", "Reading" or "Arts". You're not 6, you gotta do much better than that.
Will you be considered a freak if you don't add a hobby? It may not be that big of a deal, actually. Check out this article on why (and why not) to include hobbies in your resume.
One Tip to Rule Them All: Customize Every Section
Even if you follow this advice and include all the mandatory and optional resume elements, your resume is going to be bland, bad, and botched if you create one general version and keep using it for all the job openings out there.
It's like going on dates with five different people, dressing the same, and speaking a script you memorized. Needless to say, there'll be no second dates.
The pros do it like this — you'll need a separate resume for every job application because you'll need to base your resume on the actual job ad.
This sounds like a lot of work, but it's not actually that difficult.
To align your resume with the job ad, you'll need to break down the job description into actual skills the employer's looking for and scan for important, eye-catching keywords.
If the requirements state that a new Product Manager needs to have "experience using agile development methodologies with globally distributed teams" and notes the "ability to triage and manage backlog", then make sure to include your experience with Agile and provide specific results like "Built, managed and grew an AWS-based product and an Agile team of 12 developers".
Also, look at the words they use to describe personality and adapt it to soft skills or strengths. If the ad says "meticulous person with a high bar for quality", "humble, be willing to learn", or "you will not be here just to tell other people what to do", this tells a lot about the company culture and the personal qualities they're looking for. Make sure to include these exact words — meticulous, humble, willing to learn — in your resume.
What Not to Include on a Resume
Now that you've learned what needs to be on a resume, let's go over the elements that you should 100% omit.
Here's what you don't want to include in a resume:
Date of birth
Photo
Your brick-and-mortar address
Unprofessional email address
First person narrative
Buzzwords and jargon
Irrelevant information not tailored to the specific job application
And here's why:
Date of birth: Since it's illegal for the interviewer to ask about your age, having the info on your resume is like an invitation to be ageist. Your age tells nothing about your skills, and can create bias, so it's best to just drop it.
Photo: There are anti-discriminatory laws and employment policies that make it illegal to discriminate against applicants based on race, color, gender identity, sexual orientation, religion, nationality, age (40 or older), and disability. Many hiring teams will simply reject applicants with photos in order to avoid being accused of bias or discrimination. Take this seriously if you're applying for a job in the US, UK, or Canada.
Your brick-and-mortar address: Firstly, it's 2023 and many companies are hiring remotely, which makes your street address unnecessary. Secondly, your street address is considered sensitive information — there are many other ways an employer can contact you.Finally, including your physical address can get you rejected if the job is advertised in another city or state. The employer may not be willing to provide a relocation bonus or they could be looking only locally. If you're open to moving for the job, it's best to omit the street address or include a line stating your intent to relocate.
Unprofessional email address: Let's start with the email client — if you're still using Hotmail or AOL, you'll come across as old-fashioned and inflexible. Opt for something more current (and professional) like Gmail or Outlook.Next, if you're still going by coolboy@ or millie98@, ditch it for something more professional. A flirtatious, silly, or inappropriate email address is a red flag across the board and a rookie mistake that shows a lack of effort. A refined email address, on the other hand, signals to the hiring team that you're taking work seriously and that you're informed about the professional world.As a general rule, you want to use your first and last names and avoid numbers, if possible. If the classic name + surname option is taken ([email protected], try other options like: [email protected], [email protected], or [email protected].
First-person narrative: This is a really simple tweak that makes a world of difference!
Drop full sentences in your resume (all sections, not just the summary) and avoid both the first and third-person narrative. Employers value result-oriented writing and concise statements. Instead of using pronouns (I generated 52 weekly SEO reports), focus on the action (the verb) by excluding the subject (Generated 52 weekly SEO reports).
Buzzwords and jargon: If you read through your resume and you don't remember anything, you may have fallen into the trap of using empty words or trendy buzzwords that have little actual meaning. Avoid cliches and overused phrases like "hard-working", "team player", "synergy" and "streamlined". Instead, refer back to the job description and replace these empty words with keywords from the ad.
Irrelevant or general information: Let your common sense guide you. There's no such thing as a general resume — you'll lose points if your resume is not aligned with the actual job ad. Always ask yourself: Is this really necessary? Is it relevant to the job? You don't need to add links to irrelevant social media profiles, your references (the employer will ask for references if they need them), or salary history.
If this still looks a bit complicated or if you aren't sure how to organize your sections, you could try using an online tool like BigInterview's Resume Builder.


This tool comes with a resume-writing course with 8 video lessons where our co-founder and an HR authority, Pamela Skillings, takes you through the resume sections and teaches you how to write and what to include in each. Simultaneously, you can work on your resume in the Resume Builder.
Once you're in, the system will guide you through resume sections. You just need to provide your info and follow the instructions. The end result is a polished resume that you can complete in less than an hour.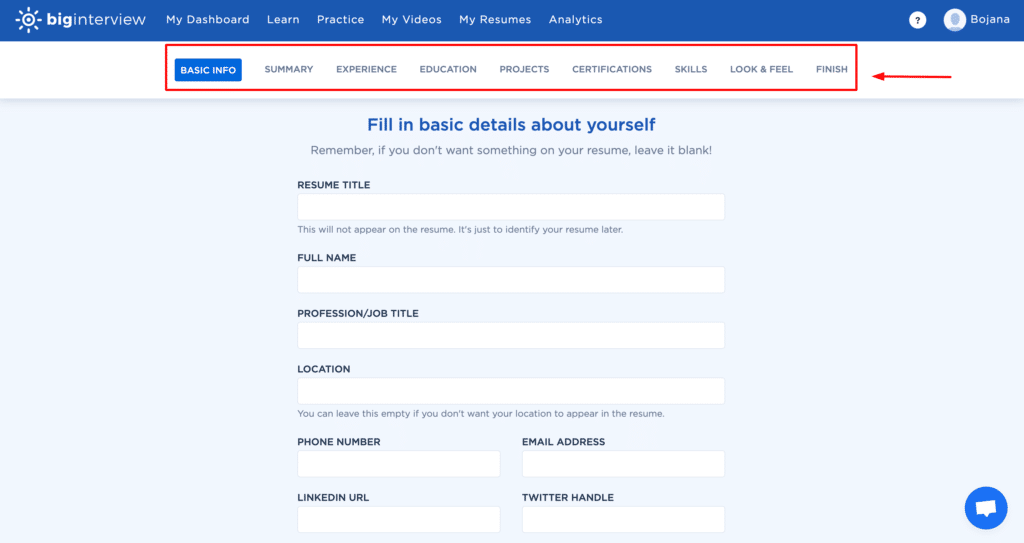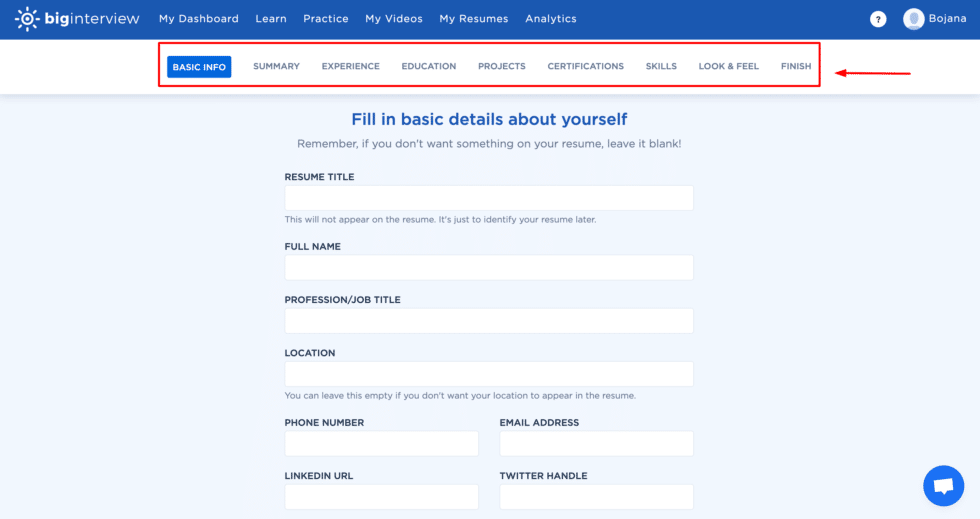 Once done, you'll be able to use the ResumeAI feature to assess your resume in terms of readability, credibility, and ATS-fit.
What to Put on a Resume: Checklist
Finally, here's a quick checklist to guide you on what to put on a resume:
Mandatory sections to include:
Contact information
Resume summary of resume objective
Work experience
Education
Skills
Optional sections to include:
Certifications
Publications
Volunteer work
Foreign languages
Projects
Hobbies and interests
Don't include:
Date of birth
Photo
Street address
Unprofessional email address
Buzzwords and jargon
Irrelevant or general information