"No one cares about your duties, focus on your accomplishments on a resume." If you're a job seeker, you've probably heard this piece of advice a thousand times. And it might sound gut-wrenching.
Yet, listing accomplishments on a resume is difficult.
You keep trying to quantify your work and show measurable results, but you're not even sure if you achieved anything and you don't know how to support achievements with hard numbers.
You're not alone. Most job seekers struggle with listing their accomplishments on a resume.
The good news is that there are easy formulas anyone can use to turn bland duties into achievements that will drop hiring managers' jaws.
In this article, we will teach you:
Why accomplishments on a resume matter so much
How to come up with measurable accomplishments (you'll be surprised by how many of your responsibilities are, in fact, major achievements!)
Where and how to list achievements on a resume
Why Do Accomplishments on a Resume Matter so Much?
Because verifiable results speak for themselves and achievements are the main proof of your skills.
The sad truth is that people are mostly lazy and not many of them are ready to dedicate time and effort to create a high-quality resume. What they'll usually do is list their duties and call it a resume.
Eek. Recruiters know what you did. Your job title says that. Achievements on a resume show how well you did it.
The most successful job seekers score bonus points by proving their skills and qualifications via their achievements.
That way, hiring managers and recruiters can clearly see how you can contribute to the company. They know they're not just hiring an employee. They're doing great business.
Take this pitch-perfect example of how to put achievements on a resume. This Business Development Manager candidate took the time to optimize their resume and list their key achievements in the work experience section.
Accomplishments for a resume: Good example

What makes it so great?
The candidate mentioned the size and type of clients they worked with
They provided hard data and concrete $$$
They even hinted at having a reputable personal brand and being an advisor to 20+ companies
This makes them look incredibly professional and valuable in the eyes of hiring managers. This is the approach you want to take when filling in your work experience section.
And here's an example of a Business Development pro who didn't really care for framing their duties as achievements.

Not horrible? Maybe. But it's certainly not great either.
The candidate just repeated the duties listed in the job ad, without saying anything about their results and skills. Therefore, hiring managers don't know what type of clients this candidate worked with, what type of deals they closed, and what their real-life skills are.
Where to Put Accomplishments on a Resume?
There are several places on a resume for you to sprinkle some achievements over.
Add key achievements to your resume summary or resume objective
A resume summary or a resume objective is a short paragraph at the top of your resume that's usually the first thing a recruiter sees when they open up your document.
It comprises the key information on your skills and experience, so it's the perfect place for mentioning achievements you're especially proud of.
Of course, you need to keep it short, so stick to one particularly impressive achievement (you'll be able to add plenty more in the remainder of your resume), and don't go into too much detail. Here are a few examples of accomplishments on a resume, in the resume summary section.
Accomplishments in a summary: examples


Highlight accomplishments in the work experience section
Consider the work experience section the nuts and bolts of your resume. With the right achievements, those nuts and bolts will be made of hardened, stainless steel, rather than cheap aluminum.
As we already mentioned, everyone knows what each position's duties are, so there's no need to list them. List achievements instead, like this:
How to showcase achievements for a resume: another good example

Alternatively, at the bottom of each Work experience section, you can add a "Key Achievements" sub-section and list them there.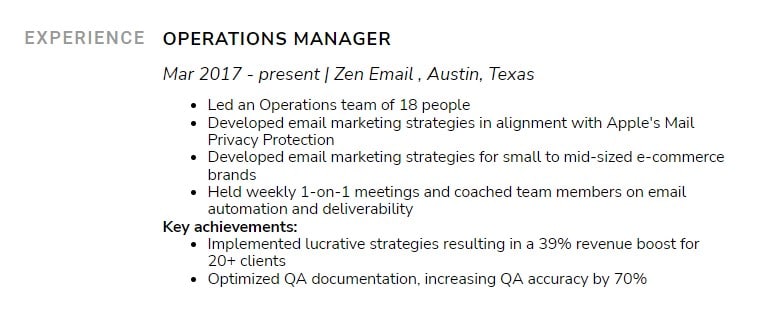 And because you're pretty limited in terms of space, to keep things short and sweet, bear this in mind:
Aim for action verbs to show you achieve things, not merely do them. (Responsible for developing a new training system that reduced employee churn by 20%) (✅Developed a new training system that reduced employee churn by 20%✅).
Focus on the outcomes and include numbers as much as possible.
Don't go above 5–6 bullet points per position.
In the end, condense, condense, condense.
Bring the spotlight to your accomplishments in separate sections such as Awards, Certificates, and Skills
If your key achievements are reflected by awards or certifications, you can list them in those sections too. If you listed key skills and have hard data to back them up, by all means, do.
If you have several awards or certificates, list them in reverse chronological order and provide only the name of the award and the year you got it. Below, you can list the achievements.
You can even play around a bit and list achievements related to your hobbies. Got a language certificate? That's an achievement!


As long as you're specific, you're good.
How to Come Up with Measurable Accomplishments
We covered the theory. Now comes the hard part. Buckle up. You can do it.
You might be telling yourself you don't work with hard numbers, or that what you do can't be measured, or that there are no "achievers" in jobs like yours.
But that's wrong. Every job can be measured or listed by quantitative or at least qualitative achievements. There are good and bad performers in every job. Good performance is an achievement in itself.
Once you have it sorted out, listing accomplishments on a resume will be a breeze.
Let's now see how you can come up with measurable achievements.
Use the PAR (Problem-Action-Result) formula
For every job you worked at, think about some of your successes and the actions you took.
Now, when thinking about each action, go back and tie it to a particular problem. Then, if the problem was solved, what was the end result?
For example, I used to work as a Quality Assurance Lead in an email marketing agency. During my time there, Account Associates, who were in charge of creating email automation emails and setting them up in Email Service Providers, made frequent mistakes.That was the problem.
So I created extensive-yet-easy-to-follow checklists with explicit instructions for all types of email marketing automations (from Welcome sequences to Post-Purchase emails, Cart and Checkout abandonments, etc.).That was the action.
We made all Account Associates go through each checklist each time they would set up a new email. That way, they would check the items from the list that they successfully completed, and go back to finish additional tasks they forgot to do/did not do correctly the first time around. As a result, the quality of those emails increased by 21% in the first month.
That was the result.
Therefore, in my resume, I listed:
Created an Email Automation Quality checklist with explicit instructions for each type of automation, which resulted in a 21% quality improvement in the first month of use.
To repeat it once more, think of the initial problem that needed to be solved (P), the action you took to solve it (A), and what the result was (R).
Make your accomplishments SMART
Always make sure your achievements are SMART: Specific, Measurable, Achievable, Realistic, and Timely.
Specific: Make sure you include key details while still being succinct
Measurable: Make sure you include measurable, hard data (%, $; how much money you saved for the company, how much you increased the good things [revenue, employee engagement, retention, etc.], how much you decreased bad things [employee churn, the time needed for completing a task, etc.]. If you don't have the data, reach out and ask for it. And keep track of it yourself for each new role.
Achievable: Make sure you're realistic about the achievements you list; never lie.
Timely: Make sure to mention how much time you spent working on an action.
This means that an achievement such as "Significantly improved employee retention" is not something you'd want to list on a resume.
It's not specific (how was it done?), it's not measurable (lacks %), and we're not sure if it's achievable and realistic (there are no details, so what if the candidate is lying?).
Here's a more fitting way to convey the same achievement in a SMART way:
"Within the course of one month, developed and implemented a new training and feedback system that reduced employee churn by 42% in the first quarter of use."
Specific: The result was realized by developing and implementing a new training and feedback system.
Measurable: The churn was reduced by 42%.
Achievable: It was obviously possible for this person to devise a plan and act on it in order to gain specific results. The scale was realistic.
Timely: The person did this in a single month.
What if you don't have any achievements?
Sure, not everyone can show off the millions of dollars they made or saved for the company. Not everyone did crazy process optimizations with amazing results.
But doing your day-to-day job well is an achievement in itself.
So, you can focus on:
Frequency
Talk about how frequently you were able to deliver your work (resolved X customer tickets/day, wrote X long-form pieces of content/month, booked X demos with clients/week).
Scale
Talk about the scale you were dealing with: how many people you managed, how many people from other departments you collaborated with, how big the budgets you handled were, how many international markets your team operated on.
Qualitative achievements
If you don't have concrete numbers but you feel you improved something at a job, mention it. It makes for an interesting story you'll probably be asked about in an interview. Then, you'll explain why you think you improved something (even things like receiving positive feedback from your coworkers or supervisors counts as achievements!). This can be especially useful if you're a junior or just starting out in your career.
In case you need more inspo, here's what else you can put on a resume.
Examples of Accomplishments on a Resume for 30+ Common Jobs
To get you inspired, here are resume accomplishment examples across different positions and industries. I'm sure you'll find something that sounds like you. Once you do, just don't mindlessly copy and paste it. Make sure to adjust each achievement to reflect your work history.
(Yes, this is my roundabout way of saying don't lie on your resume, you'll get caught anyway).
Administrative Jobs
Administrative assistant
Boosted office productivity by 48% by creating a new internal task management system.
Maintained a schedule of appointments for 9 conference rooms.
Answered 50+ phone calls daily and managed correspondence.
Executive assistant
Increased Executive team's productivity by 28% by applying a new set of operative procedures and client protocols.
Successfully transitioned the entire team to a new project management software with 0 incidents and no delay.
Winner of the Employee of the month award 3 months in a row.
Marketing
Project manager
Through outstanding organizational skills, boosted the Marketing team's efficiency by 29% in Q3 2022 and consistently met deadlines throughout the entire year.
Created a new personal development and training program, connecting developers with seniors from the same industry, decreasing team errors by 19%.
Account manager
Managed 5 key accounts for 12 months with a 95% customer satisfaction rate.
Increased yearly sales by 37% through renewed contracts thanks to outstanding communication and client satisfaction skills.
Product designer
For 3 years, led a multidisciplinary team of 12 in charge of developing and testing layouts, interfaces, and app functionalities.
Created and promoted edulang.com, a language-learning platform with over 120k monthly users.
Redesigned the homepage curation experience for mobile and desktop, leading to a 47% increase in traffic in 3 months.
Copywriter
During the first month at Peopleio, conducted SEO research and updated 40+ pieces of copy, resulting in a 13% increase in click-through rate.
Wrote engaging, short-form copy that increased website traffic by 37% in Q2 2021.
Revamped internal writing systems by introducing exhaustive checklists, increasing productivity by 15% and decreasing errors by 87%.
Sales and Customer Service
Customer service
Successfully handled 20 client accounts and maintained a success rate of 98%.
Answered 120+ client calls daily.
Business development representative
Secured a $2.1M contract and boosted company revenue by 42%.
Managed full-cycle-sales outbound team (hitting 71%+ open, 23%+ reply rates on average).
As an industry expert, advised 20+ early-stage companies on how to grow businesses using cold outbound.
Call center representative
Handled 100+ calls on a daily basis with a consistent customer satisfaction rate of 94%.
Winner of the Employee of the year award in 2019 with a yearly customer satisfaction rate of 98.7%.
Real estate agent
Increased annual sales by 27% through strategic negotiations and lucrative marketing strategies.
Won the NAR's REALTOR of the Year Award three years in a row.
Generated new business in a slow sales territory, generated a 38% revenue increase in the first year.
Tech
QA tester
Consistently ensured 99% on-time delivery and error-free project completion.
Helped the development team fix bugs 5x faster by raising them early in the software development life cycle.
Software engineer
Led development of EduLang, written in Python. Wrote 70% of the code, reviewed and tested the remaining 30%.
Oversaw a team of 3 developing a new ELD solution for the American trucking market. Ensured on-time, on-budget delivery with a 97% client satisfaction rate.
General labor
Teacher
Introduced a new behavior management program that reduced bad behavior by 61%.
Managed a new grading system that increased student participation in reading and writing exercises by 49%.
Social worker
Implemented 50+ treatment plans and coached 50+ teenagers with Oppositional defiant disorder, Attention deficit hyperactivity, and conduct disorders.
Implemented a Recovering Quality of Life (ReQoL) program with a 98% client satisfaction rate.
Truck driver
Proven track record of consistent timely and accident-free deliveries with a 96% client satisfaction rate.
Winner of the TruckSafe John Kelly Memorial Award 2018.
Police officer
Implemented a community policing program involving municipal resources and allied agencies, which resulted in a 23% crime rate decrease.
In the last year, responded to 3K+ 911-dispatch calls, reducing the crime rate by 19%.
Nanny
Provided daily nanny care and pedagogical efforts to 3 families, with a 100% satisfaction score and letter of recommendation from each.
Gave biology lessons, increasing children's marks by 20% on average.
Healthcare
Nurse
Treated over 60,000 patients during a long career in burn unit, ICU, and ER.
Helped manage hospital scheduling systems, increasing efficiency by 31%.
Dental assistant
Implemented a new organizational program and increased the weekly number of patients by 17%.
Increased customer satisfaction by 41% through a patient-oriented approach and detailed procedure explanations.
Pharmacy technician
Scored a 97% success rate in the 2020 Masters Pharmaceutical customer questionnaire.
Assisted over 30K people with prescription and insurance-related issues.
Hospitality and service
Receptionist
Revamped hotel organization and scheduling system, increasing accuracy and efficiency by 24%.
Winner of the 2013 Commercial Receptionist of the Year Award.
Bartender
Created 3 new gin cocktails registered in the Cocktail Registry.
Served more than 100K people throughout the U.S. and Europe.
Food delivery driver
Delivered around 100 cases of food per day.
Winner of the Driver of the year contest with a 98% client satisfaction score and $2K dollars in tips.
Housekeeper
Saved $5K per month by changing the cleaning supply brands.
Onboarded and trained 10 new colleagues.
Standardized the cleaning process and schedule, resulting in the team's 34% increase in productivity.
Retail
Cashier
Helped around 5,000 customers a day and handled a sum of $450,000 per day on average.
Resolved customer complaints and inquiries, resulting in a 93% client satisfaction rate on a monthly questionnaire.
Retail manager
Increased monthly sales by 37% in Q3 2022 by introducing several buyer incentives.
Decreased employee turnover by 24% by implementing a new reward and development program.
Trained 10 retail sales workers and 2 retail manager assistants.
Security guard
Oversaw a 2-story facility with 70+ employees with zero major incidents in the last 9 months.
Prevented 2 property breaches and 14 stealing attempts in the last 2 months.
Business and finance
Operations manager
Overhauled customer segmentation and communication which resulted in an average of 39% revenue boost for over 10 clients.
Improved marketing materials quality rate by 51% by optimizing more than 20 processes, manuals, and checklists.
Conducted weekly 1-on-1 coaching sessions and created development plans for 8 team members.
Human resources professional
Decreased employee churn by 38% in the past 3 years by creating and implementing a new talent development program.
Hired and onboarded 15 new employees within the two-month deadline and on budget.
Streamlined high-volume positions and cut hiring time by 19% by introducing video interviews as a first round in the hiring process.
Accountant
Worked with the fastest-growing startups in the U.S. and managed grants totaling over $50M annually.
Improved internal company processes, resulting in a 22% efficiency increase in financial reporting.
Financial analyst
Increased company revenue by 40% through comprehensive cost analysis.
Boosted inventory turnover rate by 19% by coming up with an innovative sales and inventory monitoring system.
Summary of the Main Points
It's crucial that you list achievements, not duties, on your resume
List achievements in the resume summary or resume objective, work experience section, and in Hobbies, Skills, or Awards section
To think of achievements, use the PAR Problem-Action-Result) formula or think about your scale and frequency of work, as well as qualitative achievements
List your achievements in a SMART (Specific, Measurable, Achievable, Realistic, Timely) way
Don't mindlessly copy-paste achievements from the Internet; make each achievement reflect your own experience