Career change at 40 is scary, no matter your reason behind it. But it can be done successfully and millions of Americans achieve it every year.
Why should you trust me? Because I changed careers at 37.
To me, that career pivot meant a bigger pay-check, improved work-life balance, and vastly increased job satisfaction.
Was it easy? Hell no. I made tons of mistakes along the way. This guide is here to help you do it better and faster.
To change careers at 40, you need to figure out what you want to do next, research the potential new careers, gain the skills you're missing, spend time networking with people from the new industry, and finally, optimize your resume and prepare for interviews. This will require patience and persistence, but is totally possible (especially today when we have the ever-evolving job market and advancements in technology).
In this guide, we break down the key steps to making a successful career change if you're (or around) 40.
What's inside:
6 key steps to take to increase your chances of switching careers at 40
Top jobs to consider when starting a new career at 40
A list of challenges and tips to overcome them
*This article focuses on changing careers at 40, but changing careers midlife is a pretty similar process between the ages of 35 and 50, and your exact age won't make much difference.
How to Make a Successful Career Change at 40
When I first started considering a midlife career change, I faced a mix of emotions — fear and doubt on the one hand, and excitement and hope on the other.
And this is all valid, but it makes little sense to change careers at 40 without a solid plan and strategy.

Below are the key steps I took (and you need to take) as I prepared for a career pivot. 
Do self-assessment
The first thing to do is to pinpoint the direction you want to take. Some people will know this immediately; others will be confused and have little idea about what they want. 
Either way, you should do some self-exploration, analyze your strengths and weaknesses, note down your skills, and make an overview of your experience so far. 
Here are some questions you can ask yourself:

What do I enjoy learning about?

What do I love doing in my free time?

What are the causes I care about?

What does success look like for me?

Which of my skills do I enjoy putting to work?

What are my top 3 values in life?

What do I want more of in the future?

What do my friends and family come to me for help with? 

What do my coworkers mention when giving me a compliment?  
In my experience, people are never 100% conscious of their skills and abilities (we take them for granted). If you're not sure what your key skills are, and if this is all overwhelming, you can talk to a friend, a therapist, or use personality tests and career aptitude assessments to get a better idea.
Research potential new careers
Once you have a better understanding of who you are professionally and what skills you bring to the table, it's time to identify the industries with a high demand for new talent.

To save you some time, here are some of the fastest growing industries in 2023: 
Healthcare services

E-commerce

Shipping and Delivery

3D Printing

Virtual Reality

Bioengineering

Artificial Intelligence

Personal Care

Travel and Hospitality

Residential and commercial construction

Video Marketing
This is good news, you have plenty of options. ✨✨✨
But before you choose an industry just because it offers better job security and gets you a higher income, you need to consider your individual preferences and requirements. Things like work environment, schedule, or location.
Some things to consider:
Would you prefer a fast-paced environment of a startup or a more structured workplace offered by an SMB?

Is moving to another city or country an option? If yes, what are the roadblocks?

What time of the day are you most productive? 

Would you like to work in an office-first, hybrid, or WFH setting?
Finally, refer back to your skills and cross-reference them with everything you've learned in this research. It will be much easier and faster to transition to another career if it matches your existing skills, at least to a point.
Upskill
Which brings us to your next step — doing an audit of your technical skills and doing everything you can to bridge the gap between where you're at now and the skills required for the new career.

More good news. Not all of your skills will require transformation — many of your soft skills like communication, problem-solving, or time management are universal and absolutely transferable.

Even some technical skills may be transferable, but may require additional learning. 
Let's say you're a marketer who wants to go into podcasting or video marketing. Your knowledge of campaign management or SEO will help you promote and rank this new form of content, but you'll need to learn about video and sound editing, equipment, and animation.

What you can do (and it's super easy because we live in the age of the world wide web) is:
Take relevant courses, attend workshops, and obtain certifications to acquire the necessary skills (a diploma to prove it will be a big plus!).

Attend industry-specific seminars, conferences, and webinars to learn the lingo, and get informed about the unique challenges in the industry.

Use online learning platforms and resources like

Coursera

,

LinkedIn Learning

, or

Udemy

.
Network and connect with professionals in the desired field
Networking is crucial for your career change and can be a door to many opportunities. 
When you attend industry events, gatherings, meetups, or conferences, you get to connect with more professionals from the industry than you'd ever be able to do elsewhere. You go straight to the source.
You'll also learn about job openings and, in time, build a network of trusted contacts from the industry who can provide guidance and advice while you're searching. You'll also gain more visibility. 
Make sure to leverage social media (e.g. Facebook groups), industry forums, and online platforms like LinkedIn. Follow the top voices and household names in the industry to stay up to date and get truly immersed in the industry jargon. 
Finally, reach out to your existing contacts, including friends, family and former colleagues, and let them know you're changing careers. You may get a referral (nothing beats word of mouth) or help on your journey.
If you're a career changer looking for interview preparation support, sign up for our free course.
Optimize your resume, cover letter, and LinkedIn profile
You'll need a serious overhaul of your current resume. 
One of the most common mistakes interviewers see in career changers' resumes is using the same language you used in your previous field.
Of course, you should keep the information about your previous work experience and accomplishments, but make sure to highlight your transferable skills and the experience that applies to the new role.
Pro Tip: Many companies use ATS software to filter applications. The ATS will scan your resume for keywords and might only include the full form of the skill. Not using the relevant keywords and phrases can hurt your resume's ranking. To pass this, check the job description for skills you have and be sure to list them in your resume.
In addition, you should take the time to consider and showcase any side projects, volunteer work and coursework you did to prepare yourself for the new career.
In a nutshell, make sure to:

Do your research

Advocate for your experience

Use quantifiable results ($$$, %)

Position your transferable skills as company benefits

Don't use buzzwords from your old job

Mirror the terms used in the job description (speak their language)
Prepare for interviews
With your experience, you should already be pretty skilled at interviewing.

But also a bit rusty, right?

That's why you should put in extra effort and learn how to sell yourself for this new role (especially because you'll be up against candidates who have been in the industry for a while).
Here's what you can do:
Practice responses to

common interview questions

, focusing on situational examples.

Review industry trends, jargon, and prominent companies to demonstrate well-informed knowledge.

Develop a

compelling narrative

to explain the motivation behind the career change.

Sell the strengths of your old career that others can't offer. 

Show how excited you are to take on this new challenge.

Acknowledge that starting in a new industry or setting will require new skills, but make it clear you're a pro-learner with a growth mindset.
And check out our dedicated guide to interviewing when changing careers: Career Change Interview Questions and Answers
Here's what I did:
(I was an English teacher who majored in Linguistics and was employed in a local high school and later taught IELTS and Cambridge and Oxford courses to adults in a private language school.)
I started reading about Content Writing and Digital Marketing in general and made a glossary of key industry terms. A asked a friend who was working as a Marketer in a tech company to tell me more about how the department was structured and what my role and responsibilities would be if I switched to content marketing. 

I opened a LinkedIn account and built my profile in line with the best practices. I set up alerts on internships and Junior Content Writer positions to stay informed.

I knew I had solid transferable skills like communication and research, but I knew I needed to learn more about how writing for the web differs from essay or academic writing. So I took a bunch of courses and subscribed to at least a dozen newsletters on the topic.

I redid my entire resume, refocusing it on my transferable skills.

I practiced the narrative I would use in interviews

— although I loved teaching, I've reached a point in my career when I needed more challenges, stimulation, and growth. At university, I was always at the top of my writing class. I was great at taking complex concepts and explaining them to an average student (reader). 

When I needed to sell myself in the interview, I would also reinstate my growth mindset, transferable skills, and my ability to learn fast and adapt quickly.

When asked about any technical skills (that I still lacked), I was honest but showed that I was open to learning.
If this sounds too complicated to manage on your own, you can always get help from a career coach or use an interview preparation tool to learn how to present yourself more strategically. 
Some of these tools have specialized interview prep for career changers (that I wish I had back in the days!).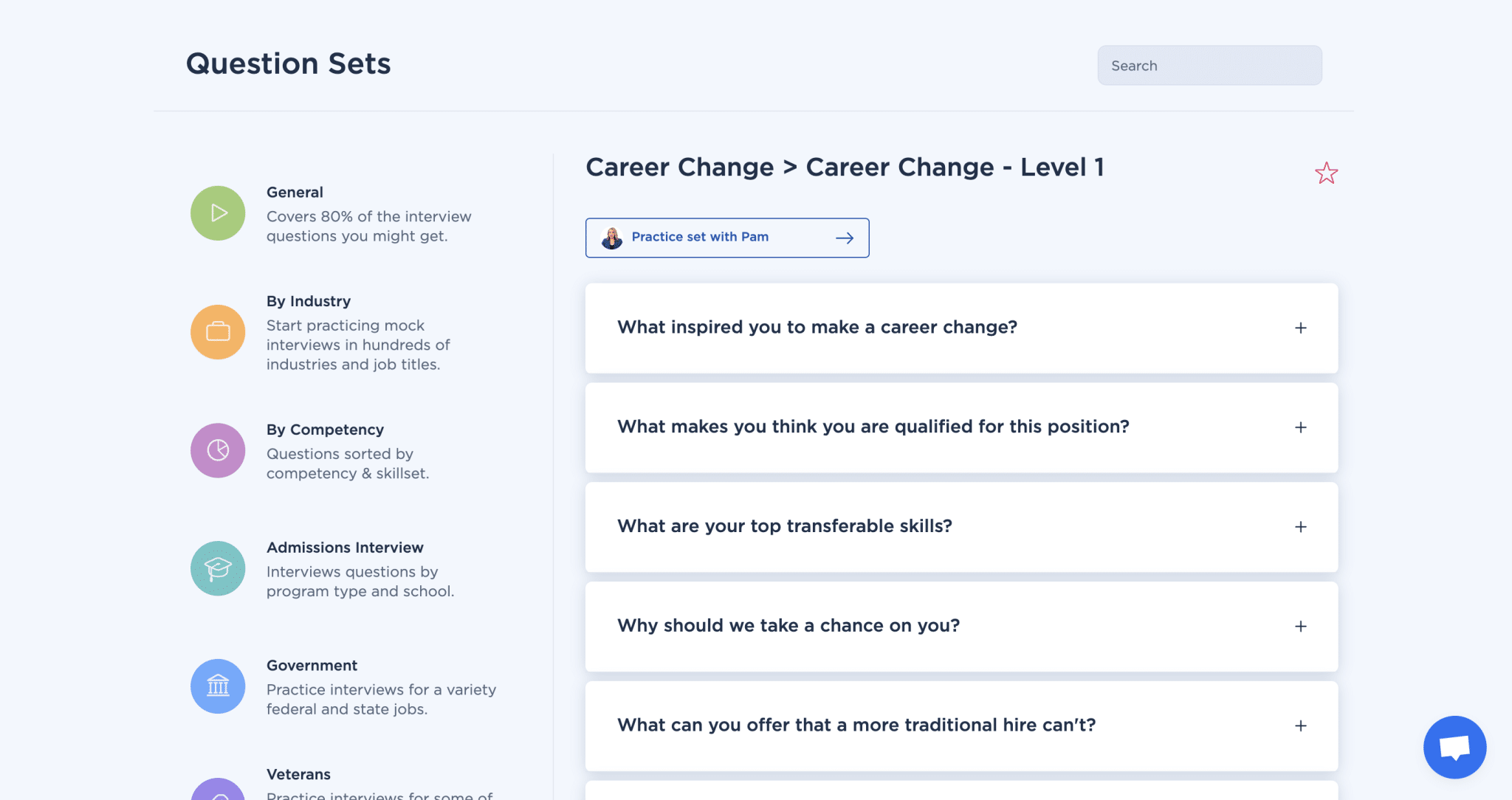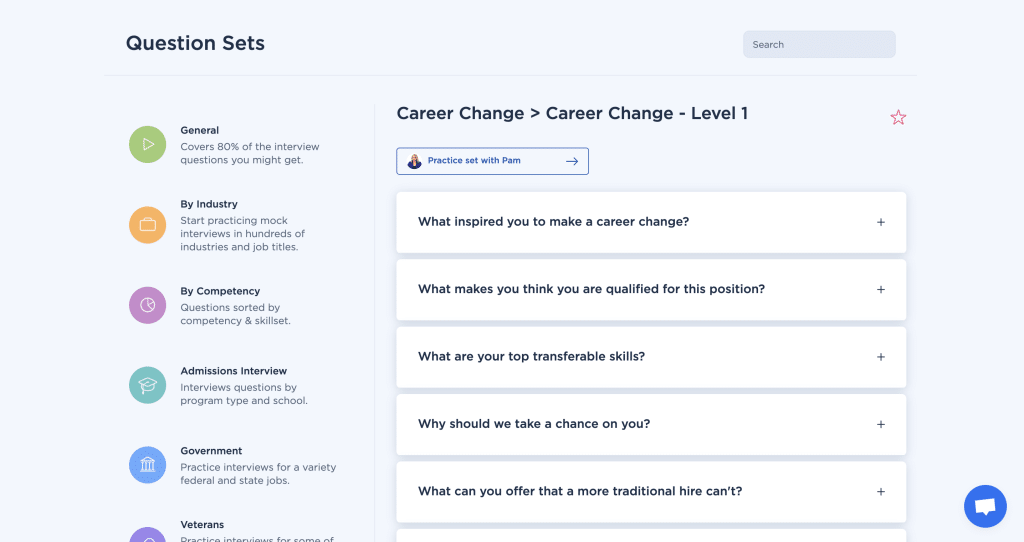 You can go through the most common questions about career change in a video interview simulation, record your answers, and then get instant AI feedback on your answer (things like answer relevance, pace of speech, "um" counter and filler words, vocabulary, the use of power words, sentiment analysis (e.g. if your tone is negative) and answer length.

For example, you can see here that I got a Silver score — I should reduce the number of filler words (yellow) and definitely limit my unconscious "ums" to sound more confident and fluent (red).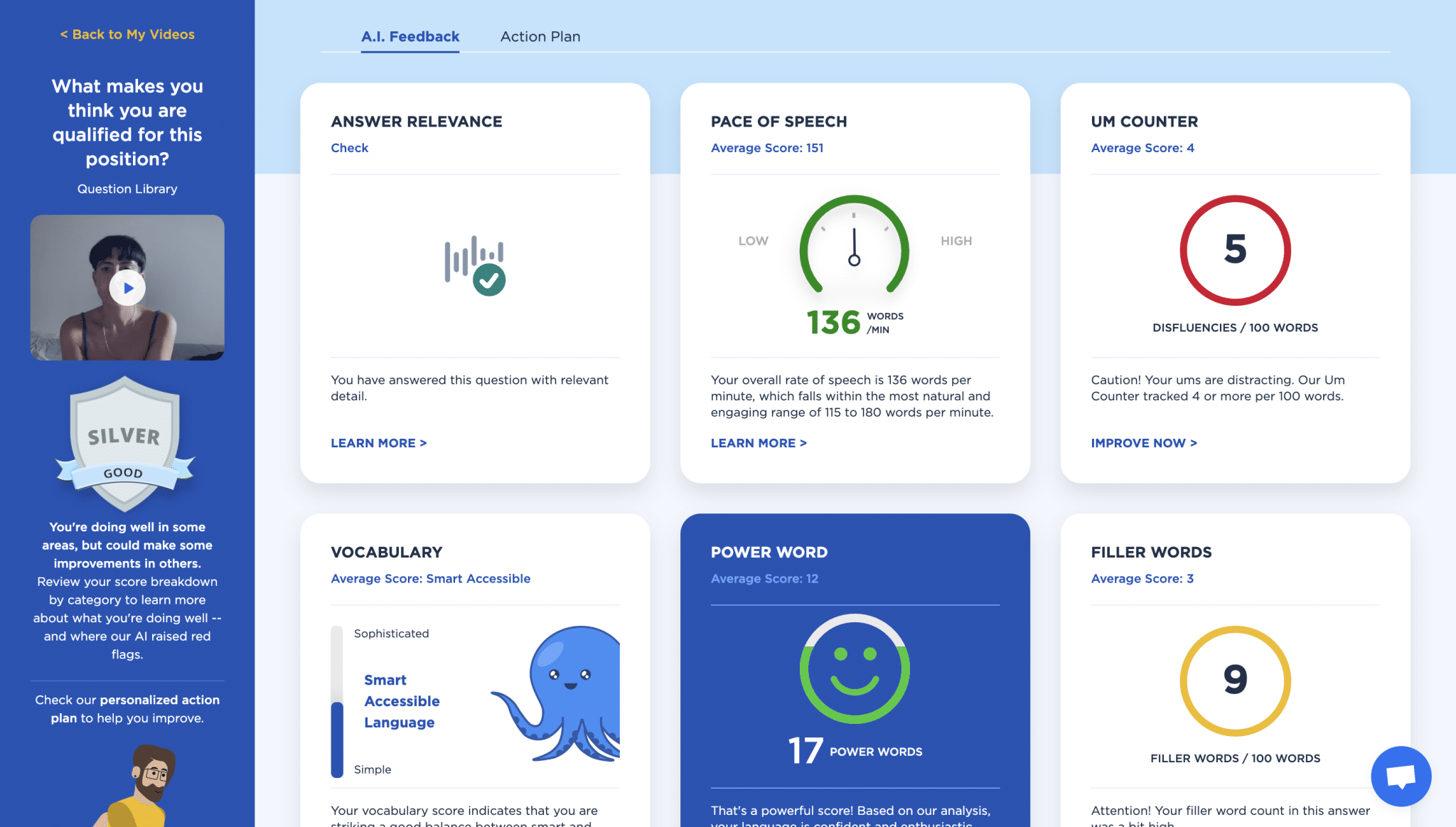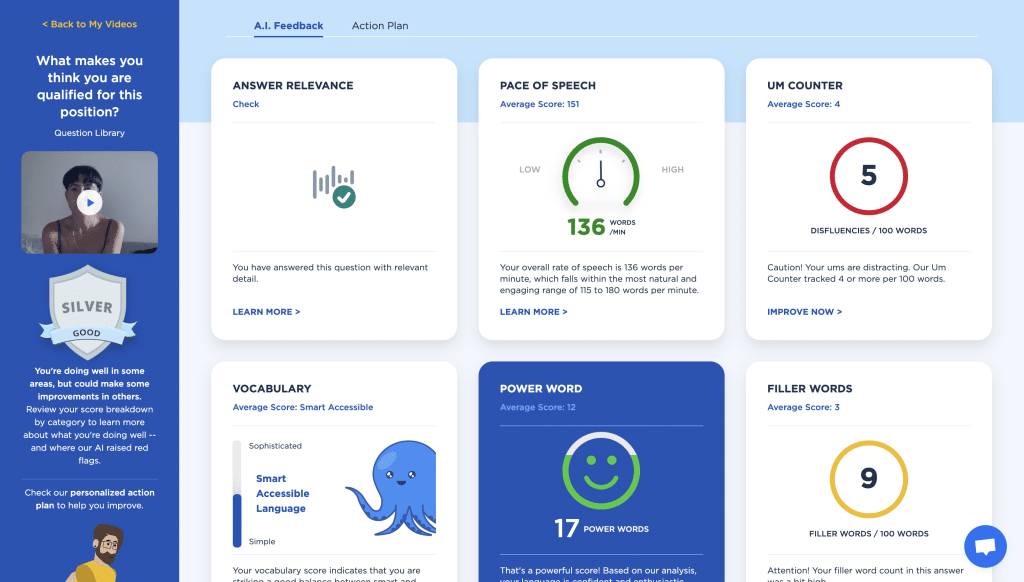 What I can do now is re-record myself to improve my answer and then run the VideoAI again to see how I did.

If you want to check out how the Big Interview interview practice tool works, you can get more info here.
Top Jobs to Consider for a Midlife Career Change
Okay, now that we've established it's possible to successfully reinvent yourself and your career at 40 or later, let's see what jobs you can most easily switch to. (We picked these because they're a great match for the transferable skills you've acquired so far.)
The following list consists of up-and-coming roles that allow lots of growth opportunities and a great work-life balance.
Digital marketing specialist
Digital marketing is a perfect mix of data and creativity. 
As a digital marketing specialist, you're expected to deliver and generate business opportunities for your clients. But it's also a role in high demand (AKA you'll easily find work everywhere) because both local startups and big industry players are continually looking for marketing folks.
In this job, you would be responsible for creating and implementing online marketing strategies, and monitoring how your campaigns perform. This is a fun, dynamic, and exciting career option for people who want to tap into their creative and analytical sides. 
Most of the marketing gigs are either hybrid or remote, so this is another plus if you're looking to spend more time at home or on a beach in Bali.
Data analyst
There's an increased need for data-driven decision-making in various sectors (mostly finance, healthcare, and education), which makes a data analyst an excellent career choice. If you're worried that this job requires a college degree in data science or statistics, relax. 
The lack of a degree isn't a deal breaker — with an analytical mind, a penchant for critical thinking, and a couple of online courses, you'll be fine.
Your responsibilities would be collecting, processing, and analyzing massive amounts of data, with the help of various tools and techniques, communicating your findings and recommendations to stakeholders, often through visualizations and reports.
Healthcare professional
The healthcare industry is experiencing growth on steroids. It's estimated that employment in the healthcare sector will grow by 15% from 2019 to 2029, much faster than the average for all occupations, adding about 2.4 million new jobs. 
In other words, you won't have to worry about job stability. 
Besides this practical upside, being a certified nursing assistant, physical therapist, paramedic or professional caregiver is a noble and fulfilling career option for people who want to switch careers but also make a difference. 
Project manager
Are you a stickler for keeping things organized, enjoy problem-solving, and clear and effective communication is your second nature?
If yes, you found your true calling as a project manager. 
This job is so flexible and versatile that you could find yourself working in all sorts of areas like engineering, fin-tech, marketing, culture, entertainment, or healthcare. You'd be responsible for planning, executing, and overseeing projects, ensuring everything's running smoothly from start to finish, and juggling budgets, deadlines, and resources. 
Your task would also be to collaborate with different teams and coordinate them to make sure they achieve the project's objectives. 
So, if you're looking to put your current skills to good use but in a fresh and exciting way, then project management could be a perfect fit.
Entrepreneur
When you're in your forties and thinking about a career switch, starting your own business could be a smart move. 
Think about it — you've got tons of experience and skills from your previous job, and you've probably built up a pretty solid network of contacts over the years. 
This gives you a real edge if you decide to dive into the world of entrepreneurship. Besides, who wouldn't love the flexibility of being their own boss? Especially when you're at a point in life where you might want a bit more freedom and a flexible schedule.
However, factor in that this career path also comes with its fair share of challenges and stress, but can pay off in the long run since all the hard work is an investment into your financially secure future. 
IT professional
If you're into technology and innovation, the world of IT could be a logical continuation of your career.
There are many career options in this field, such as web developer, system administrator, cybersecurity specialist, QA tester, to name just a few. 
According to the U.S. Bureau of Labor Statistics, demand for web developers and designers is expected to grow by 23% in the next 10 years. 
IT is clearly an industry that keeps on evolving, and is basically packed with opportunities for those looking for a career shake-up. Plus, you'll have the chance to pick up some new skills and tools that are super hot in the job market right now*.
Some of these positions have a steep learning curve, and you can qualify by earning certifications and completing relatively short courses. It's also seriously rewarding, as these jobs pay well. 
*Remember that you can also transition to the IT industry from other, more standard roles. Not everyone working in tech is a developer. IT companies need Business Development, Operations, HR, and Sales too.
Consultant
As a consultant, you'd put all your experience to work, assisting clients and companies to hit their goals and improve performance. As someone with know-how and experience, you'd be the go-to person for advice and insights. 
Depending on your credentials, interests, and preferences, you could find yourself working on various projects across a range of sectors. 
What's rewarding about being a consultant is that you can make a real impact and bring added value to the table without having to learn anything from scratch. Working hours are flexible (you wouldn't have to work full-time either). 
Reasons for a Career Change at 40 (and a Success Story for Each One)
Historically, people have switched careers for more money, better benefits, and advancement opportunities. These factors might still matter to you, but post-2020 reality sparked a new wave of career changers, motivated by different reasons.
Here are the top reasons why people decide to start a new career at 40 and a real story for each one (including my own).
Changing passions and interests
When you hit 40, you're a very different person from when you chose your first real job. People's interests change over time, and many are looking for ways to capitalize on their hobbies and passions outside of work.
Take this example — a few summers ago in Croatia, I met a glowing and driven winery manager with a great career backstory. After 25 years in sales in multinational corporations, having a company car, flying business class (you see where this is going), he hit burnout. 
I was an absolute workaholic for years. At one point, I knew I'd be completely fried soon. As years went by, I started to lose interest in hitting KPIs and attending board meetings in a designer suit. I needed a big change, but was afraid of the risks. I'm a foodie who's always preferred slow island life to the hustle and bustle of the capital, and my family has been making wine forever. So when an acquaintance asked me if I wanted to help manage his up-and-coming winery and a gourmet restaurant, I did not falter for a second. I've never been happier.
He was 47 when he made the shift.
Seeking work-life balance
When we hit 40, many of us have already been working for 20 years, and the toll is real. 
Especially if you worked in jobs you didn't really like. Age and family life call for a better work-life balance, and people want a job that's more fulfilling, flexible, and that aligns better with their personal needs and circumstances.
I spent my 20s and 30s working in a language center, teaching English to adults from 5–11pm. When I moved in with my partner, who worked a regular 9–5, I struggled to make the relationship work.
It suddenly became impossible for us to do anything together during the week. I was constantly beat when I came back from work, while my partner was eager to swap stories from the day and do fun things in the evening. And there I was, regularly falling asleep while watching our favorite Netflix show.

An English major, I invested in Content Writing courses and soon found a remote job with flexible working hours. 
I was 37. 
New challenges and growth
At around 40, people naturally start to re-evaluate their career choices. If you've had a lackluster career where you feel like you've lost your mojo, this may be the no. 1 reason you're looking for a major change. 
A great example is a 47-year old Regional Head of Corporate Banking in a major bank who left his job to pursue a career in IT. 
After 15 years in banking, I had it all on paper, the whole nine yards. A title I'd craved for years and a financial cushion to match. But I was neither happy nor proud of myself. I would watch my younger colleagues compete fiercely, and I could no longer match their energy, enthusiasm, and ambition. It wasn't because I was getting older. I was just getting bored.

Today, he works as a Financial Advisor helping tech start-up founders make better financial decisions.

I earn a lot less money, but I'm finally doing something where I feel alive again.
Higher salary potential
According to this recent survey, the wish to earn more money is among the top drivers of career plans (79% of respondents). Thanks to emerging and fast-growing industries that offer better financial opportunities, flexibility, and long-term rewards like equity, people are less and less reluctant to take the leap.
Mila is a 40-year-old designer with an MA in Marketing Management in Creative Industries. She had spent 10 years teaching various design and marketing courses at a public university before deciding to move on. 
I loved working with young people, but I was stuck in a career where my paycheck was dictated by the Government, since I worked in the public sector. No matter how hard I worked and what teaching awards I've won over the years, a substantial raise was not an option. Meanwhile, my friends and own students were killing it — Art Directors, Lead Designers, Creative Directors, doing phenomenal things in Digital Marketing and Advertising, and earning three times my salary. It took me 6 months to make the decision to leave, and I haven't looked back since.
Job security and industry shifts
Others are looking to move to a more stable or thriving industry. 
Two years ago, a friend of mine left her Editor role at a popular women's magazine. As she watched the sales of the hard-printed magazine plummet and their Instagram following rising rapidly, she realized her future was no longer in printed media. At 39, she took the courage to start her own podcast for women, which is now the third most popular podcast in the country. 
Wanting to make a difference
Finally, for some people it's all about doing meaningful work and supporting a cause (especially for those with substantial savings).

Take Andrew Huberman, a Stanford professor and lab director who is now a top podcaster providing free science and personal development advice to 4.3M followers. Or a businessman I know who invested into a village cinema to entertain, educate, and inspire local youth.

As you grow older, especially if you achieved success in your previous career,  it's natural to seek greater meaning and purpose and want to create a lasting impact that goes beyond professional accomplishments.

If you're this person, you already know your true passion, go for it!
Tips for Overcoming Challenges on the Career Change Journey
I'm not going to lie: a career change at 40 ain't easy and there will be challenges and obstacles. 
Here are some tips I used to overcome the most common ones.
Be patient and persistent
Every change is difficult, and takes time and effort. At some point, you'll be on the brink of giving up (don't!).
You'll encounter setbacks, rejections, and be frustrated as hell, but remember — this is all part of the process. Every "No" you get from a potential employer is an opportunity to finetune your resume and interview skills.
Keep working on your skills, apply for jobs, and network with people in your desired field. Celebrate the small wins and track your progress to stay motivated. 
This mindset will help you get through this tricky between-jobs period and maintain laser focus. 
Seek guidance from career coaches, mentors, or experts in the new field
When it comes to switching careers at 40 (or any other age for that matter), one of the smartest things you can do is find a mentor or coach. 
These people can offer valuable advice, feedback, and insights on how to succeed in your career transition. Remember, they've been where you are at the moment, and they know the drill. 
Career coaches can help you refine your job-hunting strategies, identify your strengths and weaknesses, and connect you with the right people.

Want to find a mentor or a coach? Try LinkedIn, professional associations, or personal referrals.
Even if they look celebrity-level unapproachable, people who are authorities in their fields are usually glad to be mentors or provide paid coaching. 
Build a strong support network
Communicate your decision to close friends and family who can offer you emotional support and cheer you on. 
You can also join online or offline communities of people who are going through a career change at 40 or who share your interests. Maybe they're strangers, but you can still get encouragement, inspiration, and first-hand advice from them. 
Make time for self-care
It's never easy to change careers, especially mid-life when you may have to juggle your current job, coursework, upskilling, and of course, your private life.  That's why it's essential to take good care of yourself by keeping your mental and physical health in check during the transition. 
To prevent burnout, find healthy ways to cope with stress, such as meditation and exercise, and don't forget your hobbies. Get enough sleep, eat well, and find time to have fun!
Conclusion
Making a career change at 40 is possible (and worthwhile) if you do it right.

Age is not the issue. There are more important factors at play – your savings cushion, family status, qualifications, skills inventory, and experience.

To make a career change at 40 successfully, you need to research potential new careers based on your interests and transferable skills, take courses to obtain new skills, connect with other professionals in the field, and work on your resume and interview preparation

There are many new careers to choose from, but some fields with the most potential include: digital marketing, data analysis, healthcare, project management, IT, and consulting.

To overcome common challenges associated with career change, you have to be patient, and stay optimistic and persistent. Don't expect you can do everything alone (you're smarter than that!). Instead, build a network of friends and people from the new industry to hype you up. If you can, invest in courses, interview preparation tools, and find a mentor.



You got this. ❤️
–––––––––––––––––––––––––––––––––––––––––––––––––––––––––––––––––––––––––––
There are 3 ways we can help you on your career change journey:
FAQ
Is changing careers at 50 different from changing careers at 40?
Changing careers at 50 can be more demanding than at 40. Although you have more experience and expertise to offer in the new field, you may also face more competition or age discrimination. Another downside is learning new skills or credentials or accepting a lower salary or position before you learn the ropes of a new job. Still, if this move will allow you to pursue your interests or passions, no price is too high. 
What's the best age to change a career path?
The best age to switch careers is the one that works for you and your goals. Different people may have different reasons for changing careers and everyone's circumstances are different. Although some experts suggest that late 20s and 30s are the best time to change careers, age is just a number if you've set your mind on a total career makeover. 
How do I change careers with limited experience in the desired field?
Changing careers with little experience in the new field isn't easy because you'll have to start from square one, accept a more junior position, or lower salary. But it's 100% possible. You have transferable skills (skills that matter in any job, no matter the title or the field). Some strategies that will help are taking courses, volunteering, interning, or freelancing in the new field to gain experience and make connections. Stay open to learning from others and accept feedback.
What age do most people change careers?
The average age at which a person changes careers is 39 years old. The reason for this is that people at this age may feel their careers are stagnating or face changes in their personal or professional lives, which makes them more likely to seek new challenges.
What are the best careers for women over 40?
The best careers for women over 40 depend on their skills, interests, goals, and personal interests. Some ideas are: nurses, teachers, translators, administrators, accountants, writers, designers, photographers, social workers, counselors, or mediators.
Is going back to school at 40 worth it?
Yes, if it helps you achieve your career goals or adds personal fulfillment. Additionally, it can land you a job with a bigger paycheck or more stability. However, it can also be costly, time-consuming, and stressful. Therefore, before going back to school at 40, you should consider your motivation, the return on investment, the flexibility of the program, as well as the reputation and accreditation of the school.