Feeling pressure over your resume work experience section? Can't blame you.
Your work history is what recruiters look at first. Sometimes, it's the only part they review.
Describing your work experience correctly will take you from "thanks, but no, thanks," to "yes, let's definitely interview this one."
That's why you need to give this section some extra TLC (meaning: spend 80% of the total time spent on your resume… well, on your work history).
Sound intimidating? Don't worry.
As with other resume sections, there are some simple rules to follow. In this guide, we'll unpack them for you and help you create a resume that stands out every single time.
Here's what you'll master today:
How to list your experience on a resume (plus how to format it)
Extra tips on how to make your work history super-memorable
How to sell yourself on a resume in different situations
Tested examples from real resumes for the most common scenarios and jobs
Let's dive in!
How to List Your Experience on Your Resume
Just follow these steps:
1. Put it under a clear, legible heading
2. Place it right after the resume summary or objective
3. List your most recent experience first
4. Include relevant experience
5. Be clear, concise, and consistent with your formatting
6. Use bullet points to describe your responsibilities and achievements
1. Put it under a clear, legible heading
Make sure your work experience section is clearly visible and has its own heading. You can name this section "Work Experience", "Experience" or "Employment History".
2. Place it right under the resume summary or objective
It's best to place the experience section right under your resume summary or a resume objective. However, if you're fresh out of college and have little or no work experience, you can fit the work history under your education section.
3. List your most recent experience first
You typically list your work experience in reverse chronological order — put your current or most recent gig at the top, followed by the previous one, then the one before that, and so on.
This is effective because it gives the hiring team the most relevant information instantly. If you're a UX designer looking for a new opportunity, the hiring manager will want to know about your most recent accomplishments to see how you progressed, where your expertise lies, and how your latest experience can translate into success in your new role.
4. Include relevant experience
Do you need to put all your past experience on a resume? By no means. Professional resume writers and career coaches advise that you include up to 15 years of relevant work experience. Including every single job you've done (like that pizza delivery summer gig when you were 16) can actually work against you.
Remember, this is just a general rule that can be broken in certain situations.
For instance, if you're looking for a job in tech, where skills, frameworks, and tech stacks change often, your experience from 13 years ago may not be truly relevant today.
Also, if you've had a major career change, e.g. switched from teaching to copywriting 10 years ago, you could omit your teaching roles. However, if working in that position gave you relevant skills and experience that you still consider useful and valuable (e.g. clear communication, time management, or presentations), you can definitely include it in your resume.
Read on if you're changing careers, switching from the military, or are freshly graduated (we'll cover those scenarios in a bit).
5. Be clear, concise, and consistent with your formatting
This is a big one. It's crucial to format your entries properly so that the information is easy to spot and read. Also, consistency is hugely important. Maintain the same order of information in each entry for a polished, organized, and harmonious look.
Here's how you can order the items in a single work experience entry:
Your position (usually written in bigger font or in bold)
Company name
Dates worked
Bullet points highlighting your responsibilities and achievements
6. Use bullet points to describe your responsibilities and achievements
Instead of writing a paragraph or description explaining your role in detail, make sure to use a bulleted list (it's way clearer, better organized, and memorable).
Next, it's always wise to focus on your most important accomplishments and achievements, rather than simply listing your everyday responsibilities. After all, the point of this section is to gently persuade the hiring team that you're equipped to do the job and that you have an excellent track record.
In other words, this is where it pays to take a moment to think back to your biggest career wins and corroborate that with some data (more about this later).
Finally, make sure to limit the number of bullets as you go back in time. While it's perfectly fine to have 5–8 points for your latest job, 3–4 will be enough for older entries.
Resume Work Experience Section Example
Here's an example of a well-formatted work experience section that you can use as a guide.
Vice President of Marketing
Vue
03/2017 – Present
Helmed website overhaul, resulting in increase of organic traffic by over 300%
Spearheaded the team of 7 full-time employees and 12 contractors
Tracked email, PPC and display marketing performance to optimize cost per lead
Hit 541% and 137% return on marketing investment for organic and email, respectively
Technical Support Engineer
Vela
06//2019 – Present
Responded to up to 20 tickets a day, resulting in 97% first touch resolution score
Maintained a >9.0 monthly average satisfaction rating each of last 12 months
Resolved 7 escalations with the IT/SysDev teams in the last 3 months
Wrote 24 knowledge base articles to reduce ticket resolution times by 1.3 minutes
How to Take Your Resume Work Experience Section from Standard to Job-Winning
Now let's zoom in on your work experience section even closer and help you take those bullet points from average to outstanding. To sell yourself on your resume, just follow these simple tips.
1. Focus on achievements over day-to-day duties and quantify wherever possible
This is precisely where most candidates get stuck. A lot of you are probably thinking: yes, I've heard this piece of advice many times. But I don't have any stellar achievements. I just do my job well.
Precisely. That's enough to be sure you do have achievements. You might not even know it. And the best way to showcase those is by hard numbers.
Again, don't freak out. You don't have to be in the data and numbers game to be able to come up with quantifiable results and statistics. There are simple strategies to present tangible results to back up your accomplishments.
And just so you realize how miserably bad people are at showcasing their accomplishments —
Here's a real-life story that a resume-writing consultant friend told me.
He was hired to revamp a spacecraft engineer's resume (btw, how cool is that!). When she walked him through her resume and explained what each item meant, one caught his attention — "Optimized and automated the procurement and invoicing flow." Optimizing and automating? That always means something cool.
She eventually explained how she made a highly complex process fully automatic, and in doing so, saved around 18 work hours a month for 7 people each. These people were paid an average of $200/hr. That's $1.3 million a year saved for the company. And that was not on her resume.
Why am I telling you this?
Because this is proof that you're not alone in being horrible at framing duties as achievements. Apparently, even the most extraordinary candidates are. Bottom line: you will most definitely stand out if you know how to do it!
So here are a few tips on how to really stand out from the crowd:
Mention the scale, e.g. how many people you managed, or the size of the budgets you handled
– Provided consultations for 120 students a year over 7 consecutive years
– Managed a shift of 70 workers in a 250.000 square foot facility
– Standardized the Sales process in a 2000-employee company averaging 300M annual ARR
– Controlled an annual marketing budget of $30K
Mention the frequency, e.g. how many tasks you performed within a time frame
– Wrote 14 new SEO-optimized articles in the last quarter
– Onboarded 17 Fortune 2000 clients in 2021
– Performed 13 weekly technical website audits and resolved 25 issues
– Hosted 5 company webinars attracting a total of 790 B2B leads
Mention specific results, e.g. money and time saved
– Reduced the employee turnover rate by 5% in 2021
– Tripled the number of Instagram sales since 2019
– Reduced cost per sale from 3.8K to 2.7K in two years' time
– Attracted 2.6 new LinkedIn followers in the last quarter
Pro tip: Record your accomplishments as they happen. This is how I do it. Every time something cool happens (e.g. 89% of email subscribers click on the CTA button in an email and read my article or 5 product demos were booked on a blog page that I wrote), I take a note in a Google document. Even if I'm not actively looking for a job. (Or not even thinking about it.) In time, you'll have a killer list of accomplishments to add to your resume, cutting your writing time in half. Otherwise, you'll either forget the details or spend hours digging through your old projects to find the right info.
2. Use action verbs at the beginning of your bullet points
If you take a closer look at all the examples we listed in this guide so far, you'll notice a few common themes — none of the bullets start with "I" and they sound super descriptive although we used zero adjectives.
The secret lies in action verbs, the powerful verbs that are used at the beginning of each bullet to draw the reader in and show your impact.
Take a look at these examples again:
Responded to an average of 20 tickets a day, resulting in 97% first touch resolution score
Received 9.1 satisfaction rating in the last 365 days
Resolved 7 escalations in the last 3 months with the IT/SysDev teams
Wrote 24 knowledge base articles to reduce ticket resolution times by 1.3 minutes
Combined with numbers and specific results, these verbs show the recruiting team exactly how you accomplished things and attained goals at work.
There are extensive lists of power/action verbs you can find on the web, but here's a short list of our favorite ones to get you started.
Top 50 action verbs to use in your resume work experience section:
Achieved
Acquired
Analyzed
Assessed
Built
Conducted
Compiled
Coordinated
Created
Decreased
Defined
Developed
Designed
Doubled
Eliminated
Established
Executed
Facilitated
Generated
Implemented
Improved
Increased
Introduced
Launched
Managed
Mentored
Minimized
Monitored
Obtained
Overhauled
Oversaw
Pioneered
Prepared
Presented
Produced
Reduced
Redesigned
Researched
Resolved
Revised
Saved
Simplified
Solved
Standardized
Streamlined
Strengthened
Supervised
Tripled
Verified
Updated
Expert tip: Vary your power verbs to avoid repetition. Keep your bullet points as short as possible and avoid the use of pronouns, articles, and adjectives.
Here's an example of a bland work experience section turned amazing and catchy by applying the 3 tips above.
Responsible for all content marketing activities in the company
I was in charge of the link-building project
Proofreading of the copy before publishing.
Why we think it sucks:
Let's dissect this Frankenstein.
Consistency issues: Although the candidate uses the bulleted list to provide more information about their recent role, they are not consistent. The first bullet starts with an adjective, the second uses a pronoun ("I") and looks like an actual sentence, while the third one starts with an -ing form. All in all, it's a mess.
No details or real info: The candidate uses overused phrases like "responsible" and "in charge of" combined with little other info. All in all, super bland and nonspecific.
Now let's see how you can transform this meh work history section into an unforgettable one by using action verbs and quantifiers.
Designed annual content marketing strategy, resulting in 247 SQLs (500+ employees)
Oversaw a team of 10 writers, resulting in 60 do-follow links in the last 90 days
Increased content downloads website-wide by 78%
Conducted quality assurance for 100% of content
Why we love this version:
First, it's super specific and it tells us exactly what this Content Marketing Manager did. Next, they listed the results of their efforts in a consistent and persuasive way. Finally, a nice mix of power verbs (designed, oversaw, increased, and conducted) leaves the reader with the impression that this person knows what they're doing.
3. Customize your employment history section to the job description at hand
We've been saying this forever and we'll say it again: don't expect to have a single resume that can win you endless jobs. Heck. Don't expect a generic, all-purpose resume to land you more than 1 interview out of 50 applications.
That's not how the pros do it.
Instead, you'll need multiple versions that you'll then further customize by tailoring your work experience section to the exact position you're targeting.
The easiest way to do this is to peruse the job description, identify which skills and requirements matter to the employer and then have your resume prove that you possess those very skills.
Here's how it works in practice.
Let's say a MarTech company is looking for someone to join the Billing Customer Support Team.
Here is a sample job ad and some of the requirements and duties listed in the description: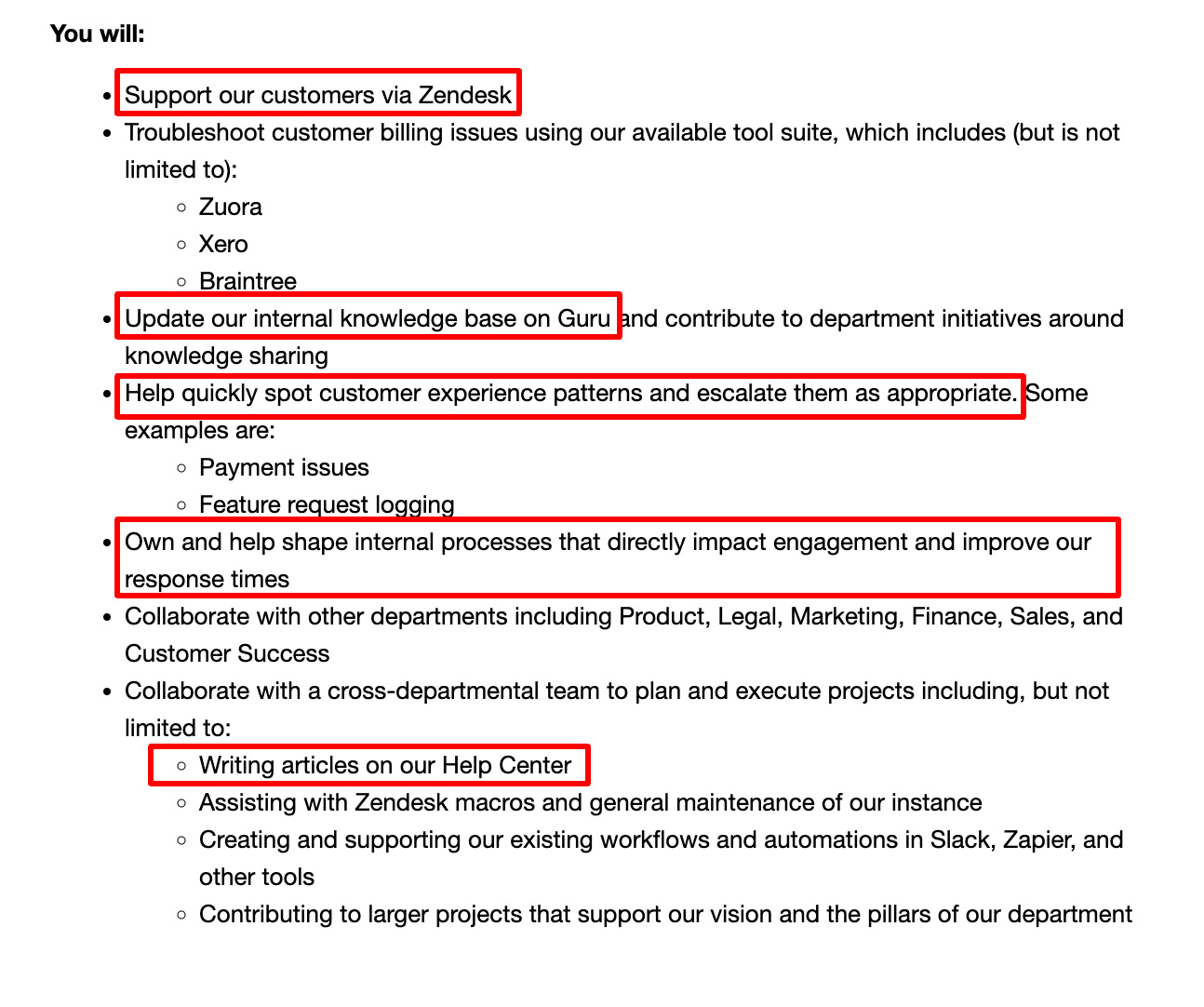 After carefully reading the job description details, this candidate found 5 points they have previously excelled in. Next, they'll use them as guidelines to tailor their work experience resume section to match the requirements 100%.
Customer Support Engineer
Omnis
Solved a daily average of 20 Zendesk tickets over a 3-year period
Maintained the internal knowledge base 100% clean and up to date
Prioritized feature requests and worked with AppDev and PO until implementation
Hit company-record ticket response times (11 hours Zendesk; 2 minutes live chat)
Authored a total of 56 technical articles in the Help Center
Why we like this answer:
The candidate relied on the information from the job ad to highlight their accomplishments in a clear and convincing way. They showed their familiarity with Zendesk, their dedication to keeping the internal company wiki updated, and proved that they are independent and proficient enough to write technical documentation. Finally, they illustrated most of their efforts with relevant metrics and KPIs and used power verbs to convey authority and skill.
How to List Work Experience on a Resume for Different Scenarios
This may make perfect sense to someone who's had 10+ years of experience and few job gaps. But what if you're applying for a job outside your industry or aren't sure whether to include your volunteer experience? Here are all your questions answered.
How to show a promotion on your resume?
If you've held multiple positions in the same company or if you'd like to highlight your growth and change in roles, you can approach this in two different ways.
1) List them as a single entry if similar and if the career path is clear. Start with the company name, dates worked, and then list your positions together with the from-to period when you held them. Like this:
Acme Technologies Inc.
03/2017 – Present
Content Marketing Manager (01/2021 – Present)
(a bullet-pointed list of accomplishments)
Content Writer (03/2017 – 01/2021)
(note the promotion, followed by a bulleted list of responsibilities and achievements)
2) List them as two separate entries if you made a bigger shift or changed departments (e.g. started in a call center, then switched to Business Development).
A note of caution: When using stacked entries (1), there's a chance that the ATS software won't recognize your promotion as such, and may list your skills and experience under the earlier position. To ensure your resume will be well-parsed by the ATS and look good, it's safer to stick to the format shown in (2) and list your promotions as two separate entries.
How to put freelance work on a resume?
Absolutely include your freelance work in your employment history, as it shows your versatility, skill set, and soft skills like client management, negotiation, and independence. Here's an example of how a writer and illustrator listed their freelancing experience.
Content Writing Consultant (alternatively, you can use Contractor)
Freelance
Contributed original blog content to businesses (include most notable clients)
Increased organic traffic by 250% with a 6-month blog project
Helped generate 14 Fortune 2000 leads through Google AdWords over a 6-month period
Independent Illustrator
Freelance
Illustrated for both web and printed media
Provided 50+ illustrations for clients such as NewYorker Magazine, CondeNast, Monocle
Won Best Book Cover Award (Illustration Category) in 2021
Collaborated with 20+ teams with an average UpWork score of 4.8
Should I include volunteer work on my resume?
If you can supply at least 5 years of paid work experience, you can skip your volunteering experience altogether or add them to other resume sections.
If your employment history is short or if you're just starting your job search after being a stay-at-home parent or a student, then definitely include the volunteering gigs in your main work history section. After all, recruiters love seeing this type of experience — it tells a lot about who you are as a person, what you're passionate about, and that you're not entirely motivated by money.
How to list part-time jobs on a resume?
When adding your part-time jobs to your resume work history, treat it like any other entry. However, make sure to add that you worked part-time. A simple note next to your position works just fine. Like this:
Online Marketing Specialist (part-time)
Forwa
Posted 5 blog posts weekly in WordPress over a 2-year period
Set up an average of 10 email marketing campaigns/week
Assisted 2 Lead Gen Specialists to clean 14 lists over a 2-year period
How to put internships on a resume?
You can include your internship just as you would with any other work experience, no matter if it was paid or not. Add your official role, the company name, and then provide a bulleted list of your responsibilities and accomplishments. Here's how one candidate did it:
Front End Developer Intern
Yana
Used javascript, HTML, and bootstrap to build UI pages
Worked closely with frontend developers to solve more complex issues
Collaborated with backend developers and UX/UI designer to assess requirements
How to explain employment gaps on a resume?
I'll start with a general note here: people freak out about their employment gaps way more than they should. Yes, employment gaps on your resume can be considered red flags, but not by default.
As a matter of fact, a recent study published in the American Economic Review reveals that "long-term unemployment spells in the past do not matter for employers' hiring decisions." The study also found that all subsequent experiences canceled out the gaps in employment, as well as that employers didn't treat short-term and long-term unemployment much differently.
So no reason to panic, okay?
You'd normally have the chance to explain the gaps in your employment in an interview. To get there, it's wise to address them in your resume work experience section and provide a bit of information and context.
This is especially valid if the gaps are bigger and happened for a good reason like getting a degree, being a full-time parent or caregiver, or for medical reasons.
And here's how you can integrate that smartly into your resume employment history.
Full-time Parent
2019–2021
Took time off from professional career to provide care for a baby and a toddler and manage the household
Used the gap years to complete 3 B2B Sales courses
(In case you need more inspo, here's what else you can put on a resume.)
Resume Work Experience Examples for Different Careers
Here you'll find some of the best resume experience examples for the most common professions.
Customer service and tech support
Customer Service Representative
Verizon
July 2016 – August 2019
Assisted customers and troubleshot technical issues on 30+ calls/day on average
Resolved 90% of issues without transfers or escalations
Decreased cancellations by 11% over a one year period
Ran regular customer satisfaction surveys resulting in 9.6/10 satisfaction rating
Sales
Account Executive
Noturus
11/2018 – Present
Built close relationships with CIOs and CTOs from prospective companies
Provided software demonstrations to 52 companies in the last quarter
Closed 36 new deals, hitting a 69% closing rate in the last quarter
Software engineering
Senior Software Engineer
04/2018 – Present
Worked with PO team to update and rearchitect 50+ page web app
Built 5 additional features in the last 12 months
Cooperated with a team of 8 agile developers to prioritize biggest impact features
Office administration
Office Manager
European Transportation Community
09/2021 – Present
Provided reliable administrative assistance to the Regional Manager
Organized 2 conferences for 2000+ attendees
Managed 7 workshops and 10 local events over a two-year period
Interviewed 6 potential new candidates and trained 3 new team members
Digital marketing
Social Media Manager
Big Interview
05/2022 – Present
Posted daily on 5 company social media profiles
Interacted with 10 LinkedIn HR influencers every day
Grew the LinkedIn account by 525% over a six-month period
Nursing
ER Nurse
San Jose Bonaventure Hospital
06/2017 – 10/2022
Provided emergency health care to 20 patient per shift on average
Participated in 300+ emergency procedures over a one-year period
Exceeded standards of care to hit 9.7 patient satisfaction rating in an anonymous survey
Teaching
English Teacher
Padua High School
04/2017 – Present
Prepared and delivered 100% of lessons to second year students (<20 students/class)
Coordinated 30+ extra study sessions to prepare students for state exams
Increased assignment completion by 40% via technology-based learning during Covid19
Business analysis & data science
Business Analyst
Jasper
02/2022 – Present
Reduced the cost of IT infrastructure by 24% via alternative software solutions
Relocated budget from social to organic for 30% increase in ROI
Restructured the Sales department, resulting in 45K of new revenue
Find out how to write a next-level resume work experience section for 100+ other professions in this free resume library.
Need a bit more guidance?
You can hop over to Big Interview's Resume Builder, where you'll get to enter your information section by section (basic info and contact details, summary, work experience, education, certifications, skills), choose the design and then have the tool create a resume for you. Here's what you'll find inside: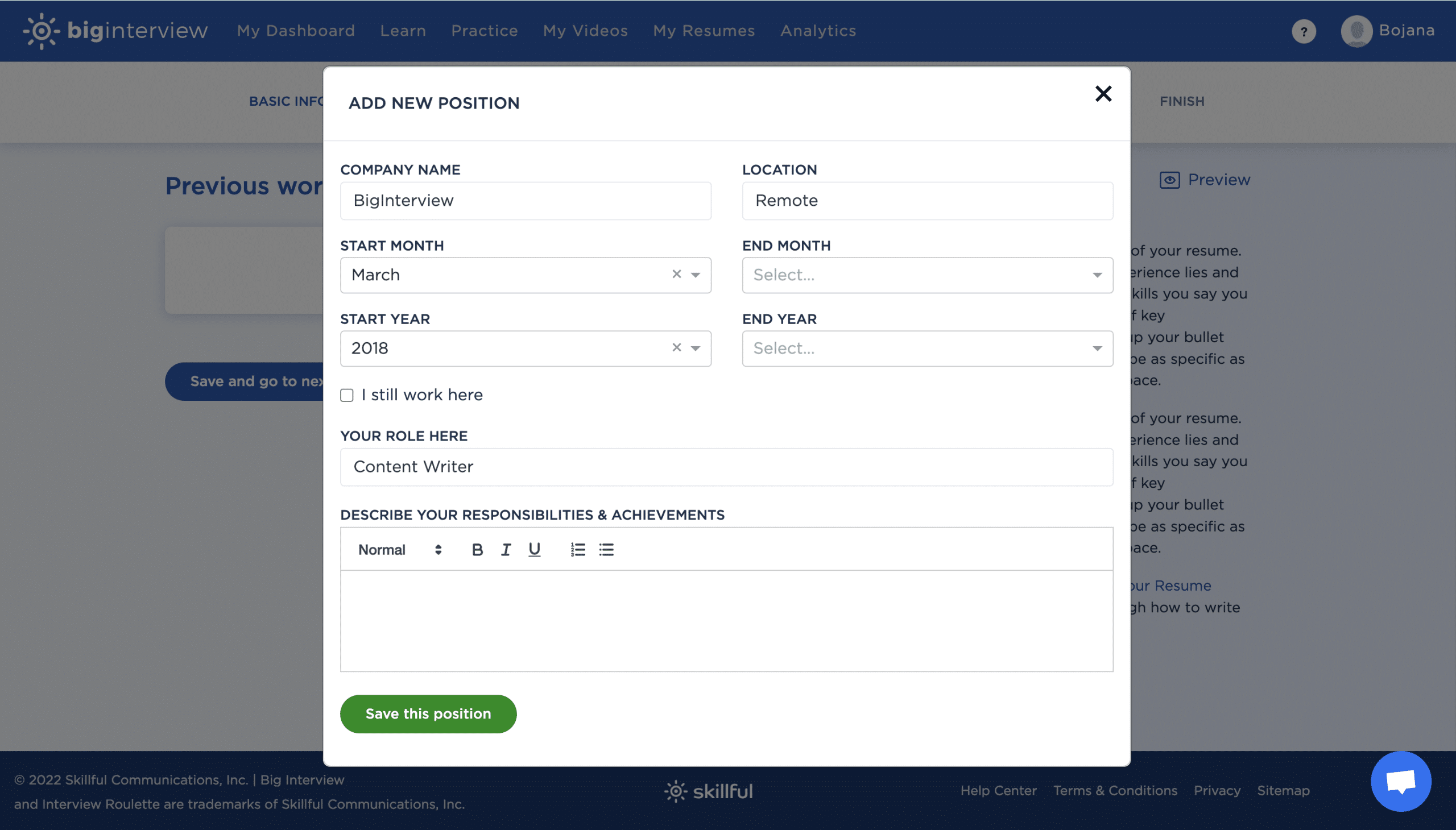 This is super useful because you can easily create many iterations (for different job ads) and save a bunch of time in the process.
Once that's done, you can also use ResumeAI, a new feature that assesses your resume for various criteria hiring teams use in real life – how easy it is on the eye, how you used action words to convey experience and skills, and whether it's ATS-friendly Basically, you'll get a rating based on how effective you were in showcasing your skills and experience.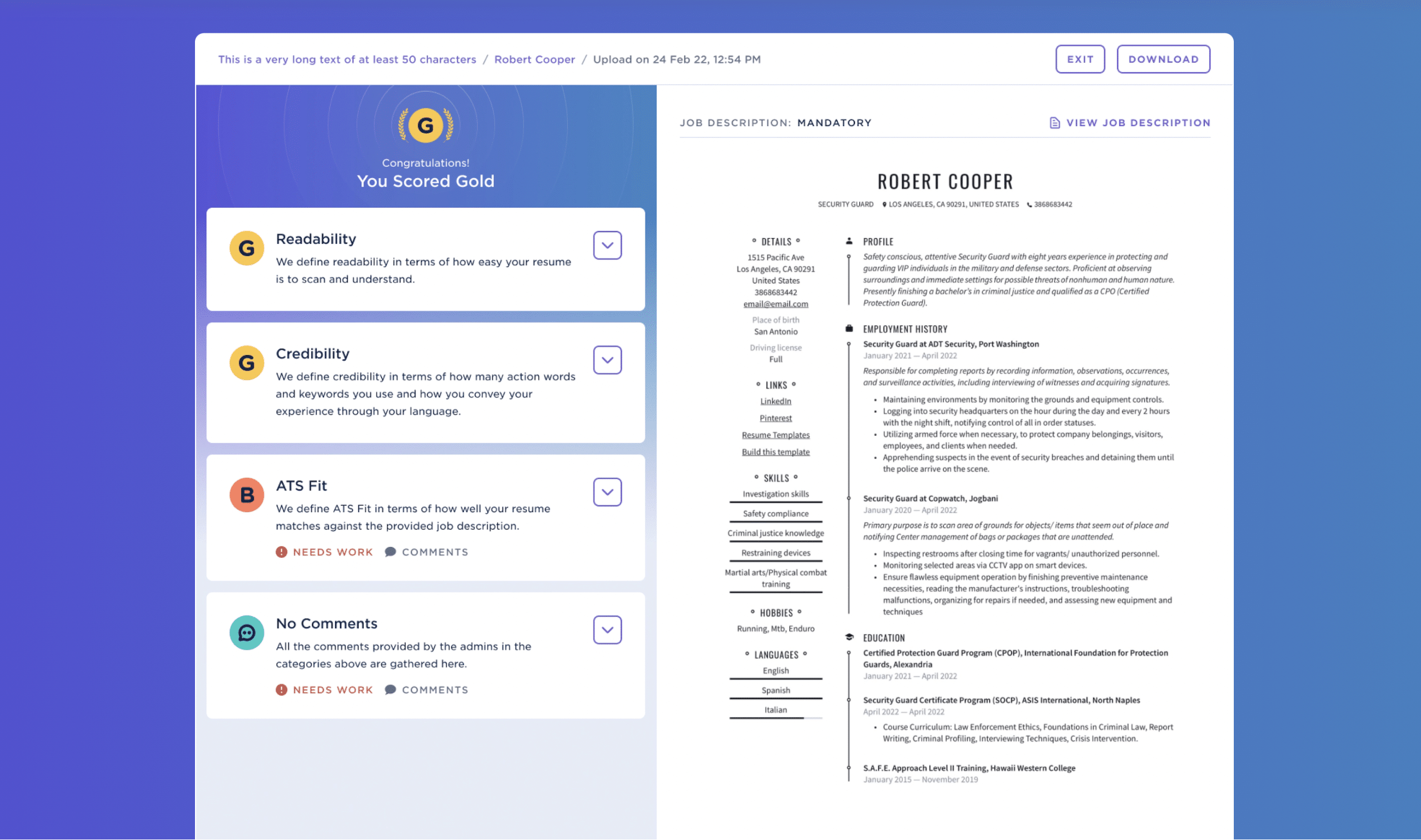 And if you need a bit more support, we created a short course on resume writing, designed and led by our own co-founder, Pamela Skillings (aka *the resume and job interview guru*). In this curriculum, you get 8 video lessons with Pam (with transcript) + homework, after which you'll be 100% sure you'll crush that resume.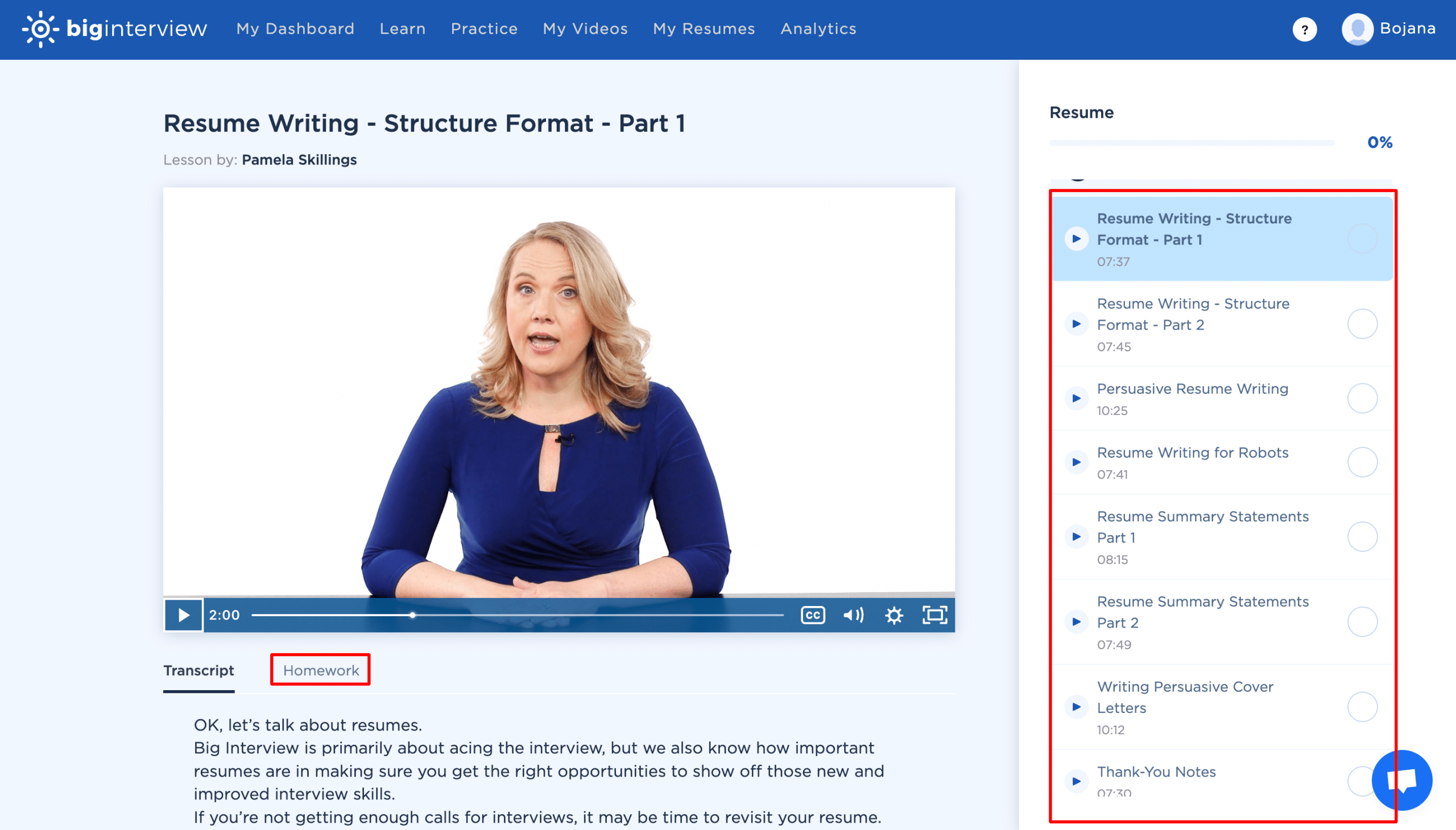 Key Points Summarized
TL; DR? Here's the essence of a killer resume work experience section that you can copy in no time.
A well-written employment history section directly impacts your chances of being shortlisted. Take some extra time to do it right.
Always present your work experience in a clearly separated section and place it under your resume summary.
Begin with your current (or most recent) job and work backward from there.
Include the following information, in this order: your position, company name, and dates worked.
Back up this information with a bulleted list of up to 5 achievements and responsibilities. Forget false modesty and show your excellent track record. Quantify and provide tangible results wherever possible. Use power verbs to convey authority and entice the hiring team.
When applying for multiple jobs in different companies, custom-tailor your work experience section to each job opening. Browse the job requirements and duties and match them with examples from past experience.
Bonus tip: Keep the high standards in other resume sections too. Learn how to best showcase your skills on a resume.