A resume profile is a paragraph at the top of your resume that quickly sums up the BEST things about you and explains why you will be the perfect addition to the company. And we're here to help you nail it (and show you 20+ resume profile examples to steal or get inspired by 😏).
Why is a resume profile so important? Because, when written properly, it gives the recruiter a reason to keep reading your resume, instead of barely scanning it.
After reading this article, you'll know:
How to create an attention-grabbing, high-quality resume profile
How to highlight your best achievements
How to customize your resume profile for each new position (it's easier than it sounds!)
Most common mistakes to avoid
Read on!
What Is a Resume Profile?
A resume profile is a short block of text at the top of your resume, right below contact information.
It's an umbrella term for a resume summary and a resume objective. So when you come across the term resume profile, remember that it basically means a resume summary and occasionally (for candidates who have limited experience) a resume objective. (Click the links above if you want to learn more about what makes these two different.)
A resume profile contains only the key information from your resume.
⚠️ Pro tip: It should always be focused on what you can do for the company, not on what you want out of the job. You can negotiate your conditions later on — in a resume profile, you need to show the value you bring to the table.
Let's take a look at a good resume profile example.
Notice how the candidate focuses on their areas of expertise and backs them up with specific, quantifiable achievements (%). They also mention being excited about joining the company and how they can contribute.
Sample resume profile

Below is a bad resume profile example for the same position.

Not horrible? Maybe. But far from stellar. Here's why:
The candidate described their position, even though it's common knowledge what that position entails.
They did not include any quantifiable results or proof of their skills and expertise.
This resume profile also lacks powerful words or action verbs that would make it more impactful.
Finally, the candidate used a lot of personal pronouns, which is a big no-no (a resume is always written without a subject).
Resume Profile Examples for the Most Popular Industries and Professions
Here's the list of resume profile examples for different industries and professions. We hope it will help you get inspired to write your own resume profile efficiently.
(Or you can just copy the example relevant to your industry, tweak the metrics and the wording a bit and you'll be good to go!)
If you want to learn more about the ins and outs of writing a resume profile and get step-by-step tips for how to create yours, feel free to scroll down to the next section.
Store Manager
Experienced retail Store Manager with 5+ years of experience in the apparel industry. Strong leadership and communication skills with a demonstrated ability to coach and develop others. Increased sales year-over-year by 21% and decreased employee churn by 17%. Excited about joining Zara's team and increasing sales through outstanding customer service and managerial skills.
Customer Service Representative
Patient and highly organized Senior Customer Service Representative with 5+ years of experience in the trucking and logistics industry. Extensive experience with all major electronic logging devices. Successfully finished 2022 with a 97.2% customer satisfaction rate, leading a team of 7. Looking to join Interex's team, form a Customer Care team, and establish procedures and benchmarks for successful operations.
Call Center Representative
Resourceful Call Center Representative with 2+ years of experience in the B2B
sector. Highly developed communication and problem-solving skills; thrives in fast-paced environments. At Spinfluence, increased customer satisfaction rates by 27% and handled 70-80 customer calls daily. Excited about joining Omnilert and leading customer service initiatives to boost satisfaction rates and company reputation.
Content Writer
A dedicated recent graduate with M.A. in English language and literature. 5+ years of writing experience for various types of content, including descriptive, analytical, persuasive, and critical content. Winner of the Alexander Rose Memorial Award for Excellence in Creative Writing in 2021. Excited about contributing to Big Interview's content marketing team with superb research, writing, and editing skills.
Business Development Manager
A motivated Business Development Manager with more than 8 years of experience in the fashion industry. Secured a $3.2M contract in previous company and boosted yearly revenue by 32%. Excited about contributing to Skill Communication's revenue with extraordinary marketing and sales knowledge and skills.
Nurse
Diligent, registered nurse with 15+ years of experience in private and public hospitals throughout Europe. Specialized in ER, ICU, and burn unit. Nurtured over 45,000 patients and increased customer satisfaction by 25% by adopting and implementing new medical quality control procedures. Wants to join Clearwater hospital and contribute to service quality with excellent medical and people skills.
Software Engineer
Dedicated Software Engineer with more than 4 years of experience in the education industry. Advanced knowledge of Ruby on Rails, Java, JavaScript, SQL Server, and No SQL. Created numerous features for an interviewing and resume-building platform that generated more than 1M users. Eager to join Big Interview and build advanced features for users around the world.
HR Professional
People-oriented HR professional with 5+ years of experience. Skilled at employee retention and development. Created and implemented a new learning and development system, which resulted in a 32% employee churn decrease. Excited about joining Aventura and building a world-class team with exceptional human capital and workplace culture development skills.
Marketing Manager
Data-oriented Marketing Manager with 7 years of experience in the advertising industry. Focused on and excelling at content marketing and email marketing. Successfully handled 7 key accounts with a 95% customer satisfaction score. Looking to join Essence's Marketing team and increase revenue through tried-and-tested marketing tactics.
Security Guard
Reliable Security Guard with over 10 years of experience in retail settings. Highly skilled in non-violent crisis management. Overlooked the entire building with only 2 safety incidents in the last 3 years. Wants to join Sephora and ensure a safe working environment through outstanding surveillance and property safety skills.
Receptionist
Dependable Receptionist with 15 years of experience at luxury hotels. Excels at administrative and front-desk tasks. Fluent in Spanish and Italian. In 2022, handled telecommunications and scheduling with 100% accuracy. Excited about building White Lotus's image through outstanding customer service skills.
Food Delivery
Efficient and dependable Food Delivery Driver with 2 years of experience. Skilled in meeting strict deadlines in hectic environments. Winner of the Employee of the month award three times in a row at Dominic's Pizza. Looking to join Vega and drive brand loyalty through punctual, customer-oriented service.
Accountant
Ethical Accountant with over 20 years of experience in tax accounting and financial auditing. Skilled in data analysis and budgeting. Reduced a client's overall business expenditure, saving the company $1M over the course of one year. Enthusiastic about joining Lira IT, managing accounting transactions, and improving company profits.
Project Manager
Highly organized Project Manager with 5 years of experience in the SaaS space. Excels at planning and managing product implementation and development. Planned and forecasted resource requirements with 98% accuracy in the last 2 years. Excited about joining BackEight and building a successful email automation solution.
Administrative Assistant
Reliable Administrative Assistant with 3 years of experience. Possesses a strong understanding of corporate policies and procedures. Increased Operations' team productivity by 32% by simplifying existing operational regulations. Looking to join Evito and support the team with outstanding organizational skills.
Teacher
Dedicated English teacher with 9 years of experience in high schools. Skilled at implementing numerous pedagogical strategies to successfully teach and develop adolescent students. Winner of the Teacher of the Year award in 2022. Excited to join Eagleton High School and contribute to youth education and development through extensive pedagogical experience.
How to Write a Resume Profile That Stops Recruiters in Their Tracks
Here's a foolproof formula for you:

Let's break it down and help you craft a show-stopping resume profile that will land you that interview.
Mention your job title and years of experience
Adding your current (or latest) job title and years of experience (and optionally industry) will give recruiters some context right away. Spice it up with one or two key adjectives that best describe you.
For example:
A creative Content Writer with 4+ years of experience in the B2B space.
A dedicated Customer Service Representative with 2 years of experience in the trucking and logistics industry.
Senior Retail Manager with 9+ years of experience.
List your key skills
In the next sentence, list your key skills relevant to the position. If you're changing industries or have limited experience, think of relevant transferable skills you could bring up. As always, try to be as specific as possible.
For example:
Skilled at writing long-form, educational content for one of the top 10 largest HR firms in the US.
Highly developed communication and problem-solving skills; thrives in fast-paced environments.
Excels at training and leading email marketing teams and driving sales.
Mention your top achievements
Remember those quantifiable achievements you need to list in the Work Experience section?
It's time to pick out the most impressive one and list it in the resume profile.
Remember the time you saved the company some money; or increased sales; or engaged and retained customers or team members? List that.
Can't come up with an impressive achievement?
Think about your duties and view them through the lens of:
Frequency: how often you delivered, how many calls you took per day, etc.
Scale: how many people you managed, how big the budgets you handled were.
Qualitative achievements: if you don't have hard numbers but you know you did something well, mention it. This can be a promotion, employee of the month award, etc.
For example:
Increased blog traffic by 21% in 2022.
Increased customer satisfaction rates by 19% in 2021 by developing and implementing a new operational policy.
Increased monthly sales by 37% in Q3 2022 and decreased employee churn by 13% through a new reward and development program.
Winner of the Employee of the Month award 3 months in a row.
Successfully taking 50–70 customer calls per day and resolving issues within 10 minutes.
For more help, read all about How to list achievements and accomplishments on a resume (tons of examples included).
Describe how your past experience can translate into success for the new organization
Remember that you need to focus on how you will contribute to the company, not on what you need from it.
Now's the time to do it.
This sentence is usually the last one. In it, say that you are excited to join their company and do X by means of Y.
X = The plans or initiatives that were mentioned in the job ad; or the goals planned for that particular position.
Y = Your experience and expertise.
Examples:
Excited about joining Big Interview and leading customer service initiatives to boost satisfaction rates and company reputation.
Looking to contribute to Big Interview's content strategy with superb writing, editing, and SEO skills.
Excited to join Zara's retail team to boost sales and increase customer satisfaction with excellent customer service and communication skills.
Write your resume profile last
A friendly piece of advice: although a resume profile comes at the top of your resume, make it the last section you write.
This is a very short paragraph that needs to contain only the essential information. If you write it first, you'll likely forget to include a valuable piece of info. You'll also probably be a bit vague and waste precious space.
So write it at the very end. You'll be able to see the bigger picture, prioritize information, and pick out the jewels of your career thus far.
Tailor each resume profile to a specific job ad
We always recommend tailoring your entire resume to a specific job ad — the resume profile is no different.
Each job ad contains specific requirements and keywords. Including those keywords will prove that you have the exact experience they're looking for.
In addition, it will help you pass the Applicant Tracking System (ATS) easily.
Common Mistakes to Avoid
Here's a bad example of a resume profile for a Store Manager. On the face of it, it looks fine. Heck, it actually seems to follow the formula we outlined above! But let's take a closer look.

Let's dissect it to see which common mistakes you need to avoid.
Being generic
Whenever you can, include details about the industry you're in, the type of clients you worked for, work achievements and not duties, and how exactly you can contribute to the company.
The example above is generic as it contains a lot of words that say essentially nothing.
"Motivated store manager with over 5 years of retail experience".
❌ "Motivated" might not be the best adjective to use, as it's not painting an exact picture and it's a general trait that is not THAT relevant to a store manager position. Highly organized? Reliable? Process-driven? Much better! These tell us a bit about the person's capabilities and priorities.
❌ "…Over 5 years of retail experience" — if they're a store manager, it's very likely they're in retail. Instead of being generic, they could have mentioned the industry (apparel; cosmetics, auto retailers, home furnishing, etc.).
Be as specific as possible; otherwise, you'll leave recruiters in the dark.
Using buzzwords and meaningless jargon
Buzzwords waste space. They're the fast food of your resume. Tempting but useless.
❌ "Looking for new opportunities to utilize my skills and experience to drive business success". Utilize what to do what? What does business success even mean?
Not to mention the fact that this candidate appears focused on themselves and their goals only.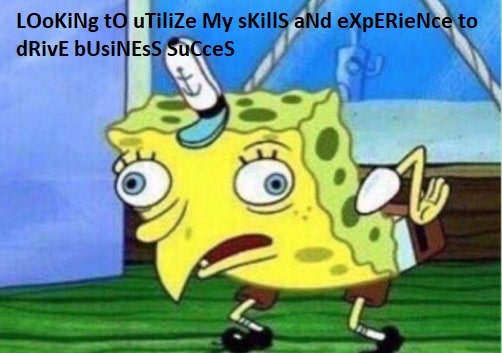 Not referring to the job ad
We've said this so many times we're getting a bit tired of ourselves.
The resume profile, the work experience section, skills, tailor everything.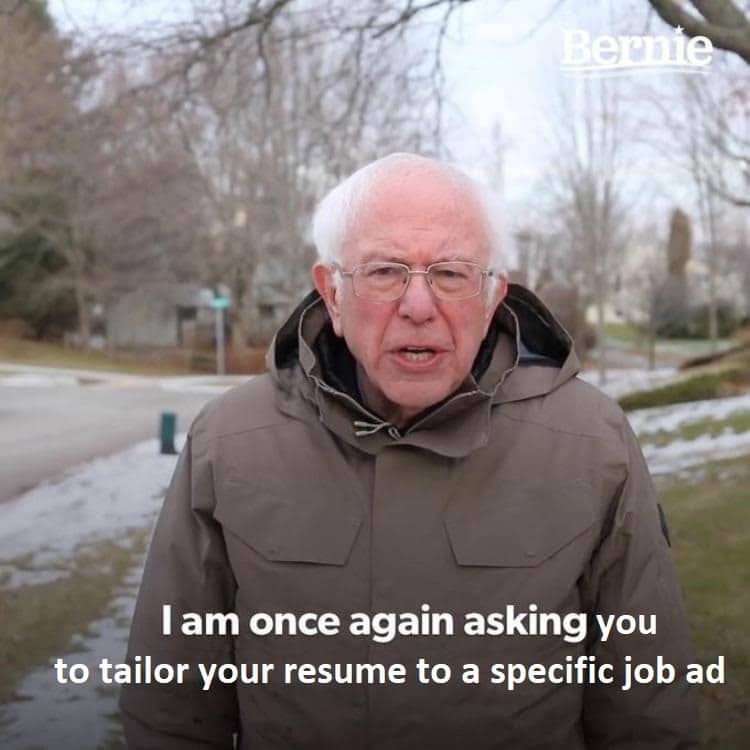 Not quantifying your achievements
Always quantify your achievements; otherwise, recruiters won't know how good at your job you are.
Key Takeaways
A resume profile is like a trailer for the movie that is your resume. You need to crush it or your resume's box office will be a flop.
Use this bulletproof formula: [Position + experience + industry] + [General experience + key skills] + [Biggest achievements (quantitative or qualitative)] + [Potential contribution].
Hand-pick your key skills and best achievements.
Explain how your experience can contribute to the prospective company's success.
Write your resume profile last, after you're done with the rest of the resume.
Tailor each resume profile to a specific job ad.
Don't be generic and don't use buzzwords.
Have someone check your resume (look for missing info, formatting inconsistencies, typos, etc.). A quick and easy solution is to upload your resume to our Resume AI tool which will give you exhaustive feedback and help you polish your resume profile and the rest of your resume.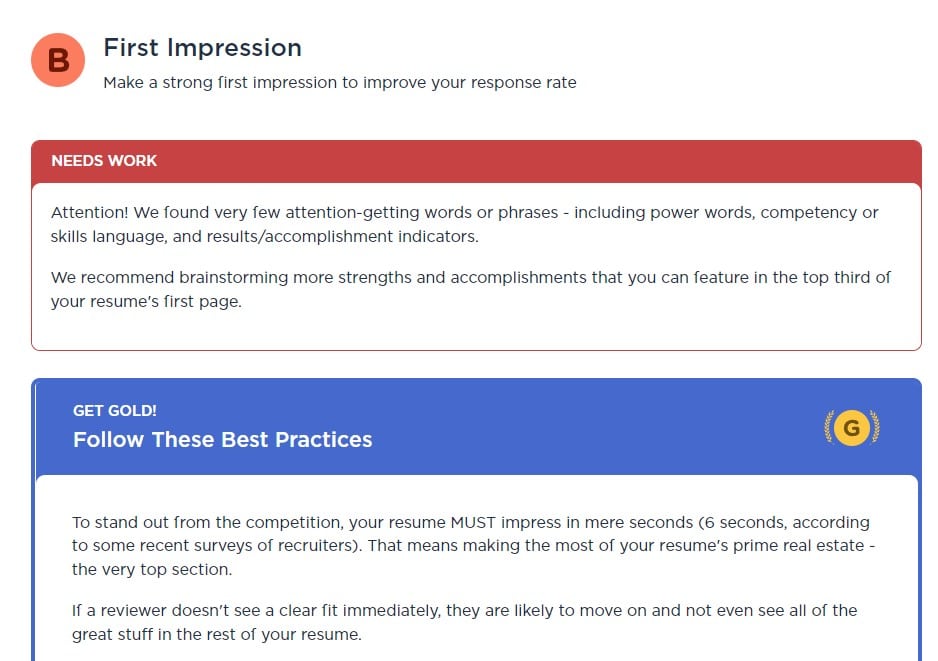 Now go and write! Good luck!