There are dozens — or hundreds — of candidates applying for your dream job. Some of them are more experienced than you are. Some have fancier degrees.
The good news?
There is a way to get ahead of the competition. In this article, we will show you how to write a resume that will make you look like you were born for this role.
Pamela Skillings, a top interview coach and authority in the HR industry, is letting you in on the secrets of recruiters so you can beat them at their own game.
No matter your experience level, industry, or job situation, we'll help you learn how to build a resume that will get you replies from any company you apply to.
First, though, let's see some examples of great resumes you can use as a point of reference.
Sample Resume for an Experienced Candidate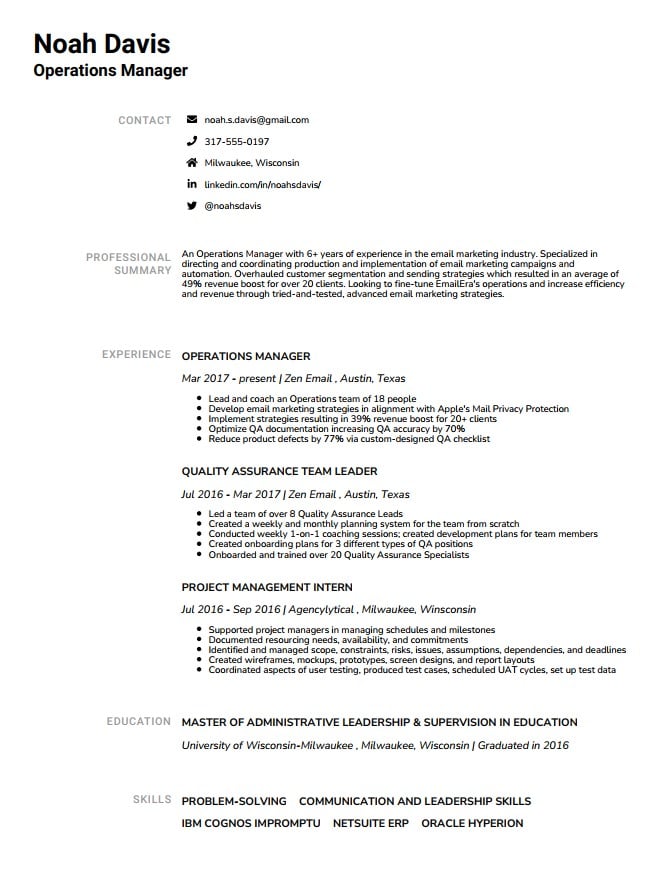 Sample Resume for a Recent Grad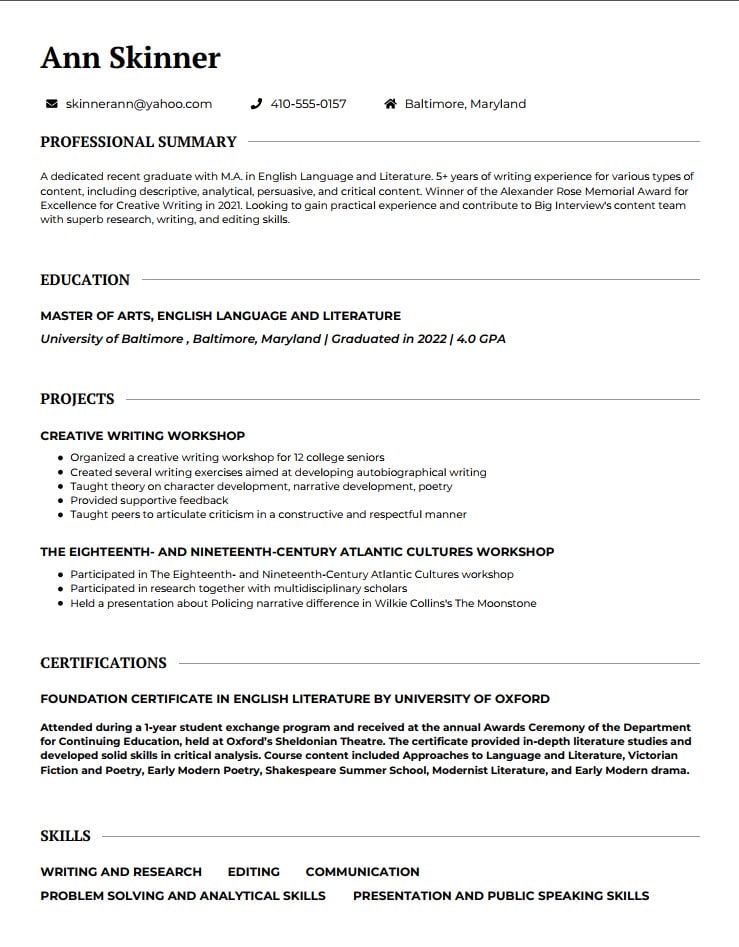 Now, here's how to write a resume step by step:
Pick the font, spacing, and length of your resume
Choose the best resume format (reverse chronological, functional, combination)
Create a header with contact details
Write a resume summary/objective
Fill in the Work History section
Fill in the Education section
List your skills
Add extra sections (certificates, awards, publications, volunteer work, conferences, languages)
Customize your resume for each position and include keywords
Double-check and proofread your resume
1. Pick the Font, Spacing, and Length: Best Practices
The very first thing a recruiter will notice without even reading your resume is the layout. You want it to be clean, readable, and neatly organized. Here are the main elements to help you with this:
Font
Use easy-to-read fonts that catch the eye, but don't overdo it. Think Arial, Helvetica, Tahoma, Times New Roman, Verdana, Calibri, or Roboto. Do not use: Comic Sans, Courier New, Lucinda Console, etc.
For normal text, use 11-12pt, and 14-16pt for headers and section titles.
If you want to make your resume stand out, pair two different fonts — that is, use different fonts for headings and normal text. For example, combine one Serif font and one Sans Serif font for a balanced look.
Not sure what font combo to pick? You can get inspired by Fontjoy, a brilliant, free font-pairing tool (seriously, try it, it's so much fun!).
Finally, use bold and italics (see what I did there 😉) to make certain words stand out, but don't overdo it. Use bold for keywords you want to emphasize and for headings. You can use italics for subheadings or for previous job titles and dates in a company.
Let's face it, choosing a typeface the recruiter isn't too fond of won't really break your chances, so don't obsess over it.
But keep this in mind: Whatever font/font size/text formatting style you choose, be consistent throughout the entire resume.
Line spacing and margins
You want your resume to look clean and be easily scannable, without looking empty. Stick to a single-spaced format up to 1.5-point spacing.
Don't forget to set the margins straight, too. Margins in a resume should be around one inch on all sides. You can slightly reduce them in case you need some extra space, but if you go below ½ of an inch, your resume will look stuffy.
Headings
As soon as someone opens up your resume, your headings need to guide their eyes straight to the relevant stuff.
So make the headings stand out from the rest of the text without going over the top. Use 14–16pt for headers and section titles, as well as different fonts (one font for all the headings, one font for normal text).
The text in your headings needs to be short yet informative. For example, instead of "Experience", you can use "Work Experience". But "My Work Experience" would be too much — come on, whose else's resume is it? (While we're at it, personal pronouns on a resume are a big no-no.)
Labeling and phrasing your headings properly will help Applicant Tracking Systems (ATS) and recruiters easily find key information, and you'll be a step closer to landing an interview.
Resume length
How long should you make your resume? The rule of thumb is:
If you have fewer than 5 years of experience, and if you're a student or a new graduate, stick to a single page.
If you have 5+ years of experience, 2 pages are acceptable. Still, the shorter — the better.
If you have a lot of experience, include only the last 15 years and the biggest, most meaningful achievements.
If you're applying for a mid-level position, you should include a detailed overview of your previous jobs that are relevant to the position you're applying for. For those that are not relevant, include only key details.
If you're a junior with little to no experience, include any sort of paid work you did, but also include volunteer work and internships. We will cover this later in more detail.
The key is to avoid overwhelming the recruiter with too much irrelevant information.
2. Choose the Best Resume Format
Picking the right format for your resume is all about making sure your most relevant achievements get the attention they deserve.
Depending on your experience and the type of job you're applying for, there are three standard resume formats to choose from.
Reverse chronological resume format
The reverse chronological resume format is by far the most common format for resume writing and it's suitable for the majority of applicants.
The typical reverse chronological resume consists of the following sections, in this order:
Contact information
Resume summary or resume objective
Work experience
Education
Skills
Additional sections (certifications, publications, volunteer experience, and the like)
By far the most important section in this type of resume format is the work experience section. You list your jobs in reverse chronological order, from the most recent to the oldest.
Let's see a sample of a well-written work experience section.
How to write the work experience section of a resume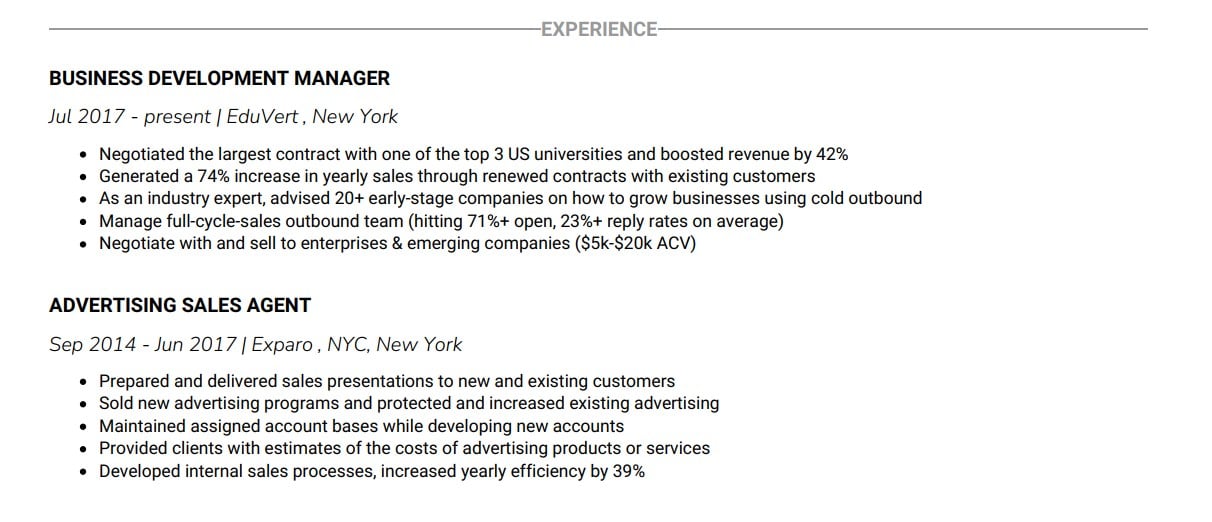 Functional resume format
The functional resume format focuses on skills rather than work experience.
The typical functional resume consists of the following sections, in this order:
Contact information
Resume summary or resume objective
Hard skills related to the position
Soft skills that complement hard skills
Education
Experience
Additional sections (certifications, publications, volunteer experience, and the like)
Bear in mind that this type of resume format is not particularly liked by recruiters, it's not ATS-friendly, and it might hide the most relevant information.
That's why we don't recommend using the functional resume format to anyone except people working in creative industries. If you're a creative person with a diverse set of skills who works in a highly creative industry and has a powerful portfolio as a testament to your skills, you might pull it off. In any other case, stick to the reverse chronological resume format.
Combination resume format
The typical combination resume consists of the following sections, in this order:
Contact information
Resume summary or resume objective
Work experience or areas of strength (key skills)
Additional skills
Education
Additional sections (certifications, publications, volunteer experience, and the like)
If you're a senior with a wide range of (transferable) skills and abundant experience, you can use a combination resume format.
This format is a mix of the reverse chronological and the functional resume formats and it focuses on both experience and skills.
However, this format is pretty rare and definitely not a standard.
As you can see, we'd recommend using the reverse chronological resume format: it's common, recruiters are used to it, it allows you to focus on your most relevant work experience, and it's especially useful when applying for entry and mid-level positions.
In this article, we will show you how to build a reverse chronological resume that gets attention.
3. Create a Header with Contact Details
Now that we covered basic details and resume formatting, it's time to focus on what to include in your resume.
When it comes to resume content, the first thing you'll want to do is create a header with contact information at the top of your resume.
Personal details
This section will store essential information about you and how the recruiters can contact you.
Here are key things to include in a header:
Your first and last name
Your job title
Your phone number
Your email address

Triple-check your phone number and email address to make sure there are no typos. A single letter could cost you an interview, as recruiters won't be able to contact you in case you misspell your email address.
Location

It might be useful to include your location (city and state) in case you need to move. If this is the case, the employer can be aware and help you with relocation and accommodation. Or, if you're applying for a remote job, it will be easier to figure out the time zones and similar practical details.
LinkedIn URL

If you're active on the platform, including your profile can complement your resume and verify you're an active professional who contributes to the industry and the market. Also, many job listings specifically ask for a LinkedIn URL.
Other Social Media / Blog / Portfolio

If you have a platform where you post about your work, definitely include it in the resume. For designers and writers, it will be Behance, Dribble, Journo Portfolio, etc; for developers, it can be GitHub, and similar.
Here's what not to include in your resume:
Your photo

There's no reason for a recruiter to know what you look like, as your experience and education will speak for you. In the U.S., U.K., and Ireland specifically, it's recommended not to include a photo. In the majority of Western European countries, as well as in South America, Asia, Africa, and the Middle East, including a photo on a resume is recommended. Still, this rule can vary from company to company and from hiring manager to hiring manager. In a nutshell, if you're applying for an American company, don't include your photo in your resume.
Unprofessional email address

Avoid using your old high school [email protected] email. Create a separate, professional email address (that contains only your first and last name) that you'll use for work purposes only, for example: [email protected].
Date of birth

Including your birthday on your resume might lead to ageism by recruiters. Unless specifically required, there's really no need to include it.
Here's what this section of your resume should look like: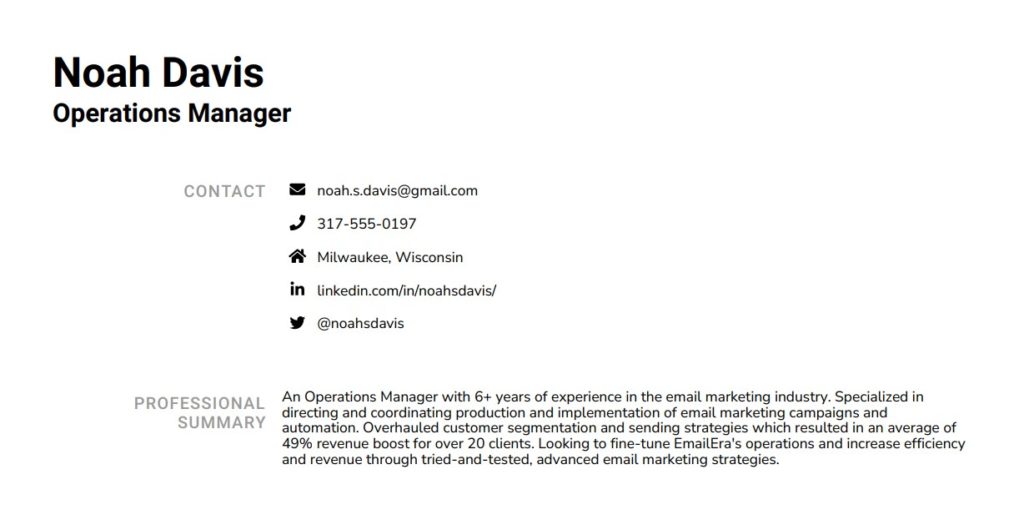 4. Write a Resume Summary or Resume Objective
This is a short paragraph of text right below your personal information, at the top of your resume.
It is the perfect opportunity to grab the attention of a potential employer and leave a great first impression.
A resume summary is a great option for basically any candidate, except for recent graduates and people switching careers (a resume objective proves to be a better option for them).
In your resume summary, you need to mention:
Your role and years of experience

A content writer with 4+ years of experience in the email marketing industry.
Key skills and accomplishments

Specialized in writing long-form content such as blog posts, eBooks, and case studies. Publishing unique content with a 98% quality rate, attracting over 11,000 visitors to the company website.
The desired goal (focus on what you bring to the table)

Looking to contribute to Big Interview's content team with superb research, writing, and editing skills.


On the other hand, if you're a recent graduate without practical experience, or if you want to switch careers, you should use a resume objective. Just not the 90s-like resume objective where you drone on about what you want out of the job.
The focus of a modern-day resume objective is on your transferable skills and education and how they can bring value to the job you're targeting.
Below are examples of resume objectives written by an English graduate looking for a Content Writer role and an experienced QA tester looking to transition to DevOps.
In your resume objective, you should include:
Who you are

A dedicated recent graduate with M.A. in English Language and Literature.
An experienced Quality Assurance Tester with a B.A. in Computer Science.
Your education, certifications, or skills relevant to the position you're applying for

5+ years of writing experience for various types of copy, including descriptive, analytical, persuasive, and critical content.
5+ years of experience in the SaaS industry, including software testing and managing a team of 3 people. Possesses a holistic view of the development process.
The desired goal

Looking to contribute to Big Interview's content team with superb research, writing, and editing skills.
Looking for new ways to employ software testing and analytical skills and deliver value to Skillful Communications through a DevOps role.

Resume summary or resume objective, whatever you pick — make sure to focus on what you can bring to the table instead of what you want from a company you're applying for.
5. Fill in the Work History Section
Not to put too much pressure on you but…
This is by far the most important section of your resume. It will land you that interview or put you in the "thanks, but no, thanks" file.
When describing your experience, focus on key achievements that prove why you'd be a perfect addition to the company you're applying for. Don't just talk about your day-to-day duties. Show (and prove) how you excelled in them.
How to format the work history section
Use reverse chronological order and start with your current or most recent position. You'll want to be more detailed (without making the entry too long and overstuffed) about the recent positions, and include fewer details as you work your way back in time.
Here's what an entry for a single position needs to include:
Job title
Company name and location
Employment dates

Use years and months — no need to add the exact day when you started and stopped working for a company.

Main responsibilities listed in bullet points

Make sure you focus only on the ones that are relevant to the role you're applying for.
To demonstrate that you exceeded expectations around your responsibilities, list key achievements too. Focus on quantitative achievements ($, %), but you can also use qualitative successes (awards, recognitions, promotions, honors), especially if you don't have much experience or if you're a recent grad.
Quantitative: "Created a new Talent Development program that decreased employee churn by 21% in the past 2 years." or "Generated $700,000+ in revenue for a client over the course of six months, by revamping their email automation and adding several new flows".
Qualitative: "Ranked first out of five company interns for the 2017–2018 school year, based on performance indicators in annual performance reviews." or "Promoted to Head of Content, after one year on the job, based on demonstrated industry expertise and strong leadership potential."
When thinking about how to quantify achievements, think about frequency (how often and how efficiently you were able to perform your tasks); scale (how large the teams you managed/worked with were, what budgets you handled); and revenue (how much money did you bring/save for the company).
For each position's entry, don't go over 5–6 bullet points. You want to keep it concise and include only key details.
In case you don't have much practical experience, you can list any part-time jobs you had, volunteering experience, internships, student exchange experiences, important projects during your education, and similar.
Example of how to write a resume: work experience section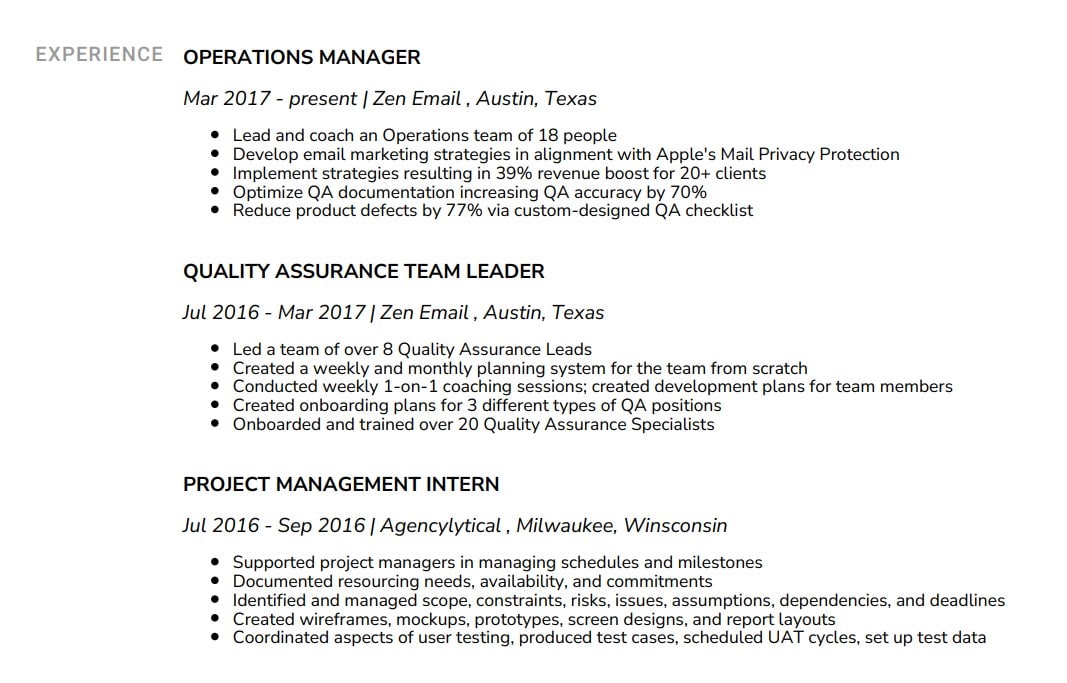 6. Fill in the Education Section
The philosophy here is similar to the work history section: you will start with your highest degree first and then list other degrees in reverse chronological order.
If you're experienced and have relevant work experience, list only the highest degree.
If you don't have any experience, you can place your education section first, before the work history section. In this case, you can elaborate on your education, add your GPA score (only if higher than 3.5), list extracurricular activities, and include relevant coursework.
Finally, if you have a university degree, there's no need to include high school.
How to format the education section
Include:
Your degree, field of study, and major

For example, "M.A. in English Language and Literature" or "B.A. in Computer Science"
University name

"Stanford University" or "New York State University" or "Cornell University", etc.
Years attended

2012-2016 or you can include months too: 09/2012 – 06/2016
If you haven't graduated, include completed credits
Honors or academic achievements (optional)

Magna Cum Laude, Summa Cum Laude, etc.
"Elected by peers with a 98% majority vote to serve as President of Student Government"
Sample education section of a resume

For more information about listing education on a resume for all scenarios possible, see this guide: How to List Education on a Resume
7. Showcase Your Skills
Your skills are a crucial complement to the work experience and education you provided in the resume.
Go back to the job description and try to figure out what key skills are needed to be successful in that position. If you have them, list them and make sure you mention both hard and soft skills.
For example, if you're applying for a Content Writer position, some of the hard skills would include SEO knowledge, knowledge of content management systems (CMS) such as WordPress, and SEO tools such as Ahrefs or SEMRush. Soft skills would include attention to detail, research skills, time management, and similar.
For an Administrative Assistant, hard skills include knowledge of fax machines, scanners, projectors, knowledge of email platforms (Gmail, etc.), and database management, while soft skills would include effective communication, time and task management, empathy, flexibility, and similar.
You can either list each skill under a bullet point, or you can shortly elaborate on each. A lot of resume builders will give you the option to grade the level of proficiency for each skill — but it's really important that you don't lie about it. Checking skills is easy and rest assured that recruiters will find a way to test them.
If you're a student, check out how to acquire skills for your resume.
How to create a resume's skills list


Here's an article that dives way deeper into the art behind putting the right skills on your resume: Resume Skills: How to List Them and Which Ones to Pick
8. Add Extra Sections
All the sections covered so far tell recruiters you're a good candidate. The sections we're about to go through will show and prove it.
Certificates, awards, and even your hobbies and volunteer work can be put on a resume to showcase your skills and personality. Let's see how.
Certificates and awards
In case you have any awards or certificates that would be relevant to the position or industry, include them.
Agile Certified Practitioner (ACP), Associate in Project Management (APM), BVOP Certified Project Manager, and Certified Associate in Project Management (CAPM) are, obviously, cool to include if you're applying for a Project Management position.
For example, if you got a creative writing award at university, include it if you're applying for creative roles such as Content Writer, Social Media Manager, etc.
AICPA license will be useful for accountants, the Professional in Human Resources (PHR) Certification is great for HR positions, and language certifications such as TESOL (for English) are great if you're not a native English speaker.
So if you have anything relevant, make sure to include it. If not, consider enrolling for a certificate that's relevant to your expertise. It will do you good in the long run.

Volunteer experience
Volunteer work is especially important for entry-level applicants with no previous experience. However, it will come in handy for basically anyone, as it helps set you apart from the competition and showcases your values and dedication.
For certain industries and professions, volunteer work is especially important, for example in the medical field, veterinary medicine, or hospitality.
Publications and projects
If you have some of your work published, make sure to include it. If your papers or graphic design work, for example, can't be found online, create some sort of portfolio and include it along with your resume.
You can also do this with different projects you've worked on.

Conferences
If you attended or gave a lecture/presentation at a conference relevant to your field or position, include it in your resume.
Languages
Listing the languages you speak is important as it adds value to you as an applicant. It's especially important if your job would entail communicating with people from different countries and cultures, or if you work in customer service roles.
Remember to mark the level of fluency for each language you list (basic, intermediate, proficient, fluent, native). And don't exaggerate or lie!
Hobbies and interests
Believe it or not, listing your hobbies on a resume can boost your chances of getting hired.
They're a great way for you to showcase your personality and values.
If you can, try to stay away from common hobbies such as: listening to music, watching movies, jogging, etc. Everyone like these, and they don't necessarily showcase your skills and values.
Hobbies that can set you apart from others include writing, podcasting, learning languages, photography, video games, playing chess, and similar.
If you think about it, each of these display certain skills that are much needed in the workplace, such as analytical thinking, creativity, patience, precision, and focus.
9. Customize and Include Keywords
A key thing to remember: you need to optimize your resume for each position you're applying for. You can't just create a single version of your resume and spam it around to all companies in a 30-mile radius.
This means checking out job ads and finding:
All the areas of your existing experience and education that overlap with what is needed for a position
All the transferable skills that will be useful for the position you're applying for
Keywords you should include throughout your resume to show that you optimized your resume AND to help you get through Applicant Tracking Systems
Bear in mind that large companies with a lot of candidates turn to Applicant Tracking Systems (ATS) to help them filter quality resumes. This will often be the very first round of resume checks and recruiters will only look at yours if it passes the ATS check.
Go back to the job ad and take a look at the key responsibilities and expectations. This will be fairly easy as the majority of ads are pretty straightforward.
Take a look at the Business Development Representative job ad below, where we underlined key responsibilities and words: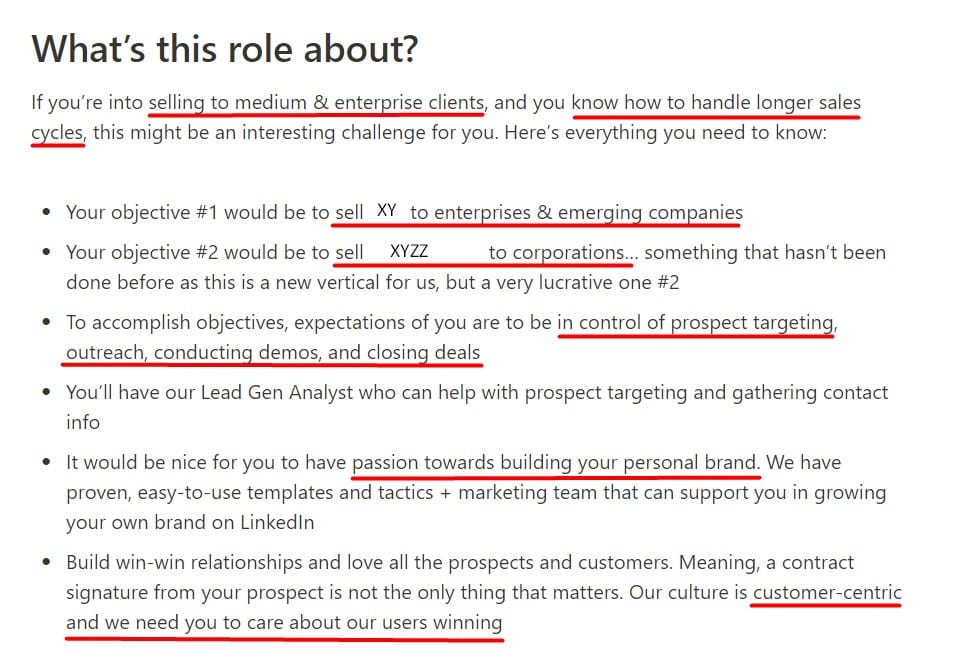 If you were writing a resume applying for this position, you would know what words to use and what relevant responsibilities and achievements from your experience to focus on. Hence, your resume would focus on your sales skills (SMEs and enterprises), prospecting, and relationship-building. It would look something like this: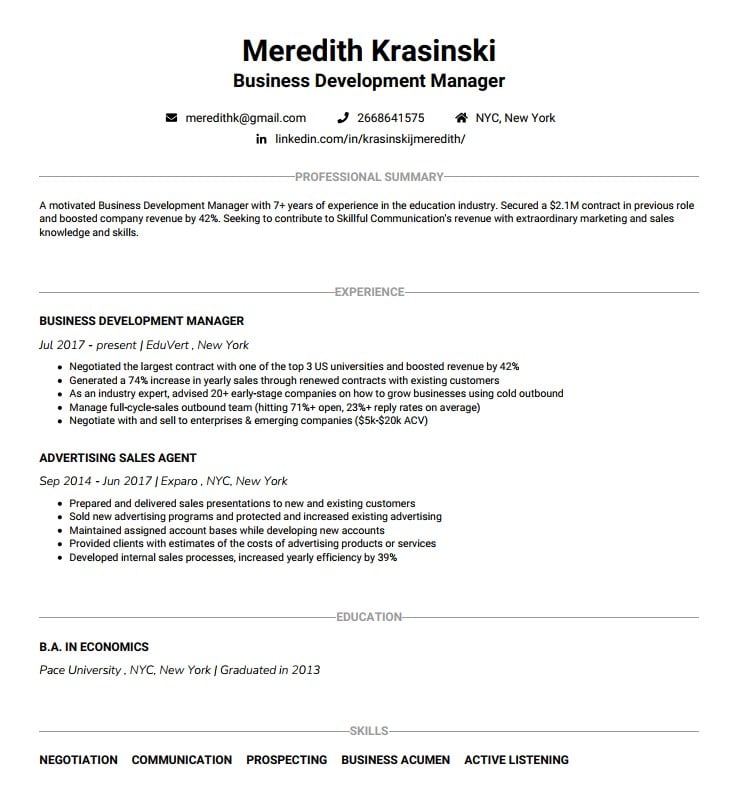 If you take a closer look at the work experience section, you'll notice key details that mirror what the company is looking for in the job ad. The candidate included keywords and specific numbers to prove their accomplishments through real examples.

Optimizing your resume and including keywords will prove your worth. You won't be just another applicant in the sea of others. You'll stand out because recruiters will see that you did your homework and dedicated some time and effort to think about the best ways you can contribute to their company.
10. Double-Check Your Resume
Creating a resume can often be difficult — but congrats, you made it to the final step.
Once you have your resume created and optimized, the last thing to do before you send it out is to have it checked.
It's best if you can sleep on it and come back with a fresh pair of eyes. Make sure you proofread your resume at least twice and hunt for any:
Formatting inconsistencies
Typos, grammar mistakes, double spacing
Wrong or irrelevant information
Run it through Grammarly, just to be safe. Then, ask a friend or a family member to go through it — you never know, they might spot a mistake or remember a useful piece of information you can include on the resume.
Advanced resume builders (like Big Interview's resume builder 😉) can save you (and your friends) a ton of time on this final step. They let you simply upload your resume, fill in some details regarding the position you're applying for, and voila…
You'll also get feedback on what to improve on your resume! But we will also let you know the parts that are already awesome. Because we believe in you!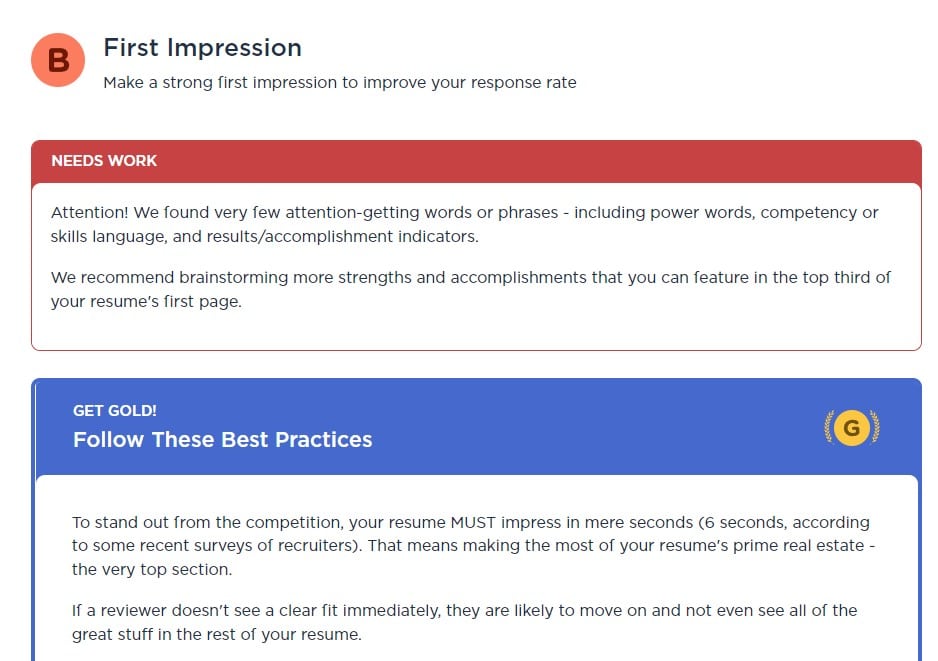 You'll also get extra tips on how to improve each area of your resume. Wanna try it out? Get more info here.
Good luck with your job search!