Customer service takes expertise, tact, and patience.
While some people are easier to deal with than others, everyone calling or coming in expects their needs to be met and their problems to be resolved.
Taking up a job that is on the front lines of dealing with any customer issues means you need to be ready to deal with whatever and whoever is on the other end of the line or counter.
If you already have experience in this line of work, you know all the stress that comes along with it, but you also know the rewarding feeling of finding solutions.
In case you're ready to take on the world of customer service, or if you want to advance in it, writing a stellar resume is crucial.
In this article, we'll show you how to:
Structure and format your customer service resume
Filter and list information to include on a CS resume
Optimize your customer service resume for applicant tracking systems (ATS)
Stand out from the competition
In addition to this, you'll get a bunch of customer service resume examples to draw inspiration from. Keep reading.
Customer Service Resume Example for an Experienced Candidate (5+ Years of Experience)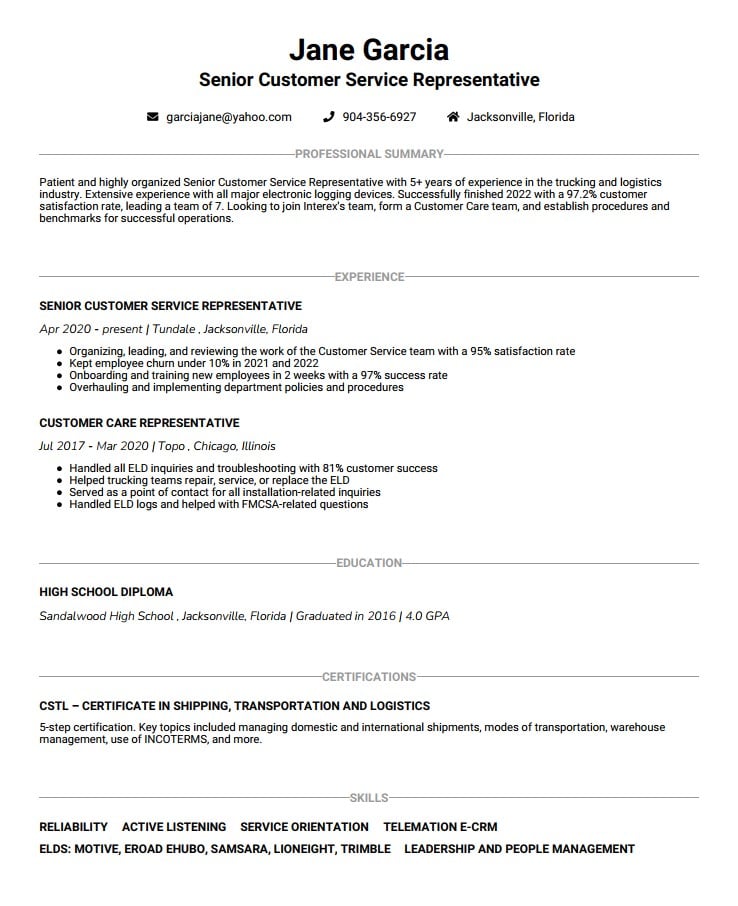 Customer Service Resume Example for a Recent Graduate with Limited Experience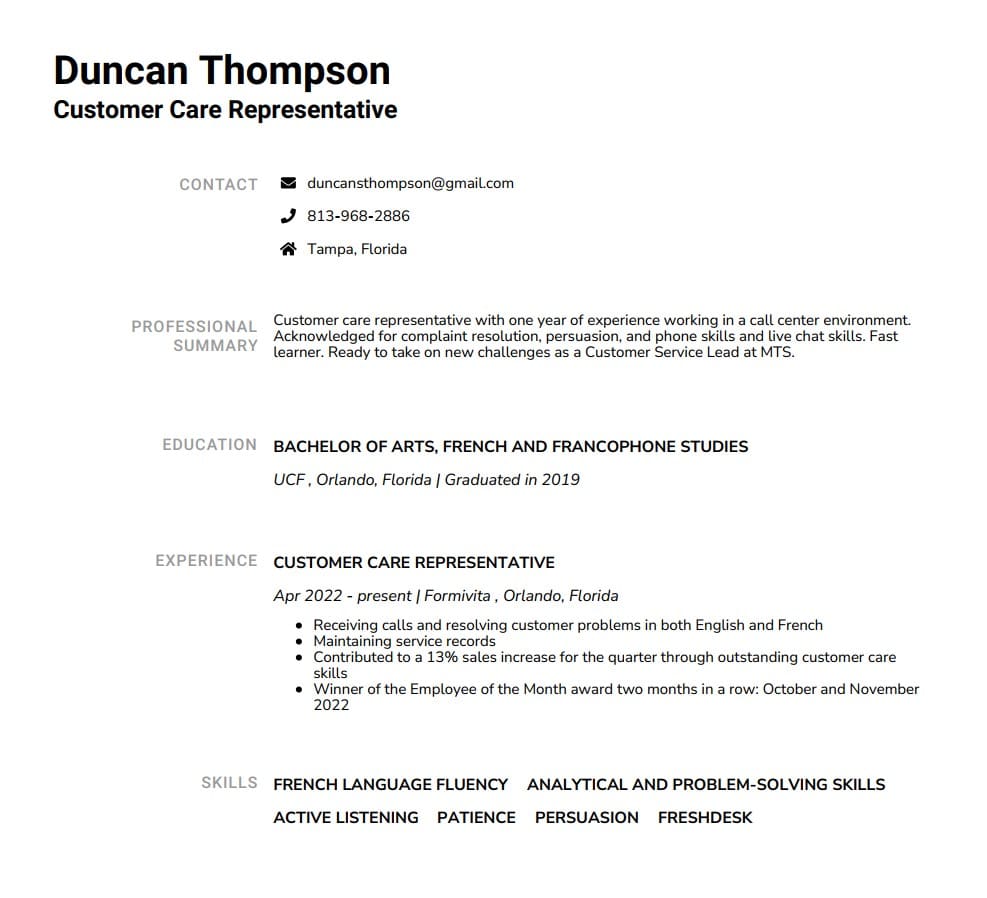 How to Format and Structure a Customer Service Resume
Here's how to create a great customer service resume that will bring all hiring managers to your yard.
Formatting: Give your CS resume a professional look
This is all about the basics that will help your customer service resume visually stand out. If you nail this, it'll be eye-catching and clean.
Pick a font
Choose a font ➡️ Don't overcomplicate with fonts such as Comic Sans, Courier New, or Lucinda Console. Aim for clean-looking, simple, professional fonts such as Arial, Helvetica, Tahoma, Times New Roman, Verdana, Calibri, or Roboto.
Font size ➡️ 11-12pt for normal text, 14-16pt for headers and section titles.
Font pairing ➡️ Combine two different fonts to make your resume stand out. Use one for headings (for example, a Serif font) and another for normal text (Sans Serif font).
Formatting tips ➡️ Use bold and italics to make certain words stand out.
Consistency ➡️ Whatever font and font size you choose, make sure to use it consistently throughout the entire document.
Adjust line spacing
➡️ Use a single-spaced format up to 1.5-point spacing.
Set your margins
➡️ Set margins to around one inch on all sides. Don't go below ½ of an inch.
Use legible, large headings above each section
➡️ Make headings slightly larger than the regular text on the resume. Depending on the font, use 14–16pt size.
➡️ You can also bold them or use a different font to make them stand out.
Give your customer service resume a logical structure
Use the reverse chronological resume format
The reverse chronological resume format is the best and the most common resume format for all job seekers.
It lets you easily highlight your experience and career progression. It's clean, information is readily available, and hiring managers love it.
In theory, you can choose between three different formats:
reverse chronological
functional (skills-based)
combination (reverse chronological + functional) resume format
In practice, sticking to the reverse chronological resume format is your best bet.
Interested to know why? Read about the best resume format to use.
What sections to include?
1. Header with contact information
Include your first and last name, email address, phone number, current job title, location, and LinkedIn URL.
Don't include your date of birth and photo.
Make sure there aren't any typos in your resume, especially in your email address and your phone number. Missing a single digit here will cost you an interview because recruiters won't be able to reach you.
2. Resume summary or resume objective
A resume summary (if you're an experienced candidate) or a resume objective (if you're a recent grad) is the paragraph at the top of your resume. It informs readers about your key skills and achievements and how you would contribute to the company.
This is the best place to grab recruiters' attention and stand out from the competition by comprising your unique experience into several carefully written sentences.
3. Work experience
List your experience in reverse chronological order, starting with the current/most recent position. Focus on achievements, not duties.
You'll find more instructions on this later on in the article.
4. Education
List your highest degree first. List your GPA score (if higher than 3.5). If you don't have enough relevant experience, elaborate on your education and include relevant coursework and extracurricular activities, and certifications, but make sure it's relevant to the position you're applying for.
5. Skills
List a combination of hard and soft skills relevant to the position you're applying for.
You can either list the skills under bullet points or elaborate a bit on each one. Some resume builders will also give you the option to grade your level of proficiency for each skill.
6. Additional sections: certifications, membership in professional organizations, foreign languages, volunteer experience, hobbies, etc.
These sections are optional but recommended. They provide interesting details about your career that can make you stand out.
They're especially useful if you're a recent grad or if you don't have a ton of experience, as they will help you showcase your interests and values (and fill in the empty page, let's be honest).
You'll find out how to fill in each of these sections soon.
For more details and a comprehensive guide, check out our article: How to Write a Resume That Lands Jobs.
Write a resume summary or a resume objective statement
If you're an entry-level candidate, a customer service resume objective will be a good choice for you.
In all other cases, go for a customer service resume summary.
But no matter which one you pick, one thing is certain: you need to focus on how you can contribute to the potential new company – this is not the place to list what you need and expect from the job.
✅ Pro tip: Write this section last, after you're done with the rest of your resume. It'll help you "skim the cream", that is, extract key accomplishments, pick the best bits, and compile them into a summary statement or a career objective.


For more information on how to write a resume summary or a resume objective, check out our blogs.
Prepping for some customer service interviews? See one of our dedicated interview guides for CS pros:
Highlight your customer service experience in the work history section
Use reverse chronological order and list your jobs from the most recent one to the oldest. Be more detailed when describing your recent positions – you don't have to include much detail about that first gig you had 10 years ago.
Focus on experience relevant to the job you're applying for. No need to list your experience as a freelance translator if you're applying for a customer service position, for example.
Here's an example of a properly written work experience section. Notice how the candidate listed tangible achievements.

Now, take a look at a bad example.

Nothing suspicious, huh? Take another look. The candidate merely listed their duties – but everybody knows what Customer Service Representatives do. This section says nothing about the candidate's skills.
✅ Key thing to remember: Don't list duties. Focus on achievements over day-to-day duties and quantify achievements ($, %) whenever possible.
Learn more about how to list your work experience and focus on accomplishments on a resume to wow hiring managers.
List your education
Keep it simple here. Include:
Your degree
Field of study and major
School name
Graduation date (add examples for each)
It's as simple as this:

In case you want more details (and a ton of examples), check this out: How to List Education on a Resume.
Showcase your CSR skills
You can see key skills needed for a position in a job ad – you'll usually find useful hints in the list of requirements.
Make sure to include a mix of both hard and soft skills to paint a complete picture of your potential.
Some of the most common hard skills for a customer service representative role include:
Knowledge of POS (Point of Sale) systems
Microsoft Office & Google Suite
Knowledge of CRM (Customer Relationship Management) software
Email software, chatbots, live chat
Data entry
Product knowledge
Customer information
Knowledge of foreign languages
Writing
Telecommunications
Bookkeeping
Typing speed
Some of the most useful soft skills for a customer service representative role include:
Interpersonal communication
Patience
Conflict management
Empathy
Compassion
Problem-solving abilities
Persuasion
Attention to detail
Active listening
Emotional intelligence
Positive vocabulary
Assertiveness
Sense of humor
In some cases, you'll be able to mark the level of proficiency for each skill – depending on which resume builder you're using. But in general, creating a list will be more than enough.


If you're interested, here you can learn more about which skills to put on your resume.
Additional sections for your customer service resume
Although not an absolute must, the sections we're about to break down can be a true game-changer. If you use them correctly, they will show hiring managers that you're a valuable employee who's going the extra mile.
And if you don't have a lot of experience, they can be particularly useful for showing off your qualities. Let's break them down.
Customer Service Certifications and Awards
Customer service representative certifications will demonstrate your commitment to professionalism and continuous improvement.
In the same vein, awards will testify to your skills and experience. And if you have any, make sure to include them on your resume.
You can list them either in your work experience section (if tied to a particular position in a particular company) or in a separate section designed specifically for that.
You can include the name of the certificate, and additional information such as the institution that issued it, or key topics/areas of work it covered.

Volunteer experience
Volunteer experience shows dedication, your values, and how you spend your free time. It can be a great addition to the resume, especially if you're a recent grad or if you don't have a lot of experience.
If you don't have any experience and you want to break into customer service, volunteering (and joining relevant organizations) will help you immensely. You'll gain valuable experience and have a great item to list on your resume.
Conferences
List any customer service conferences you attended. It will help you display your dedication to continuous improvement and show that "extra mile" mentality. They are also the best way to connect with people from the customer service world. They are likely facing similar challenges as you, so you'll have someone to talk to and learn from.
Languages
Foreign languages on your customer service resume are the cherry on the cake.
Multi-language customer service in a company is important because it increases sales, provides access to a larger market, and builds client relationships and trust. And you can be a key player here. 😉
So if you're fluent in other languages, make sure to list them in your resume (as well as the proficiency level), as it'll give you an advantage over other candidates. Make sure you're realistic here, as it's more than likely you'll be tested!
If you have any certifications (DELE, DELF, IELTS, CAE, CPE, TOEFL, etc.), you can include them either here or in the Certifications section of your customer service resume.
Customize your customer service resume to match the job requirements
You should create a tailored version of your resume for every job you apply for. This helps your resume pass the ATS scan.
And once your resume reaches a human recruiter, it will show you are the perfect candidate, not just another candidate. Why?
They'll see that you took the time to study the job ad
You researched the industry and the company
You found overlapping elements between the job ad and your experience
You took the time to tailor the resume, which hints at your enthusiasm, dedication, and approach to work.
So how do you customize your customer service resume?
By looking for skill and experience-related keywords in the job ad and making sure you use those keywords in your resume.
Look for information that reveals: the size of the clients, the industry, years of experience they want, day-to-day duties, the company's targets and goals, its target market, key areas of focus, additional requirements, and similar. Then find a way to connect them to your experience.
Here's an example of a Customer Service Representative job ad with underlined keywords.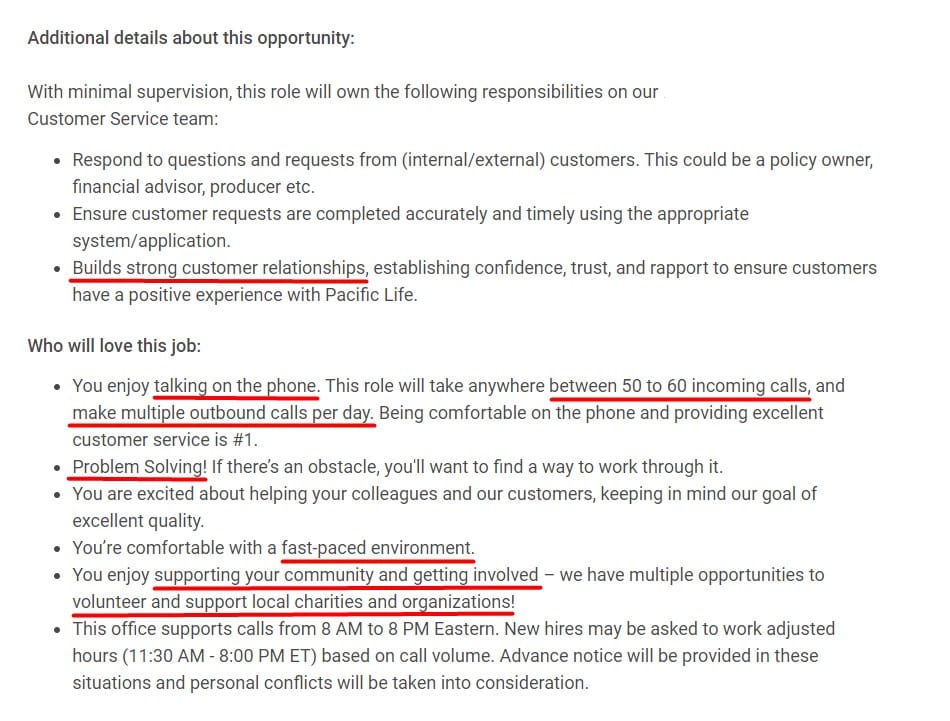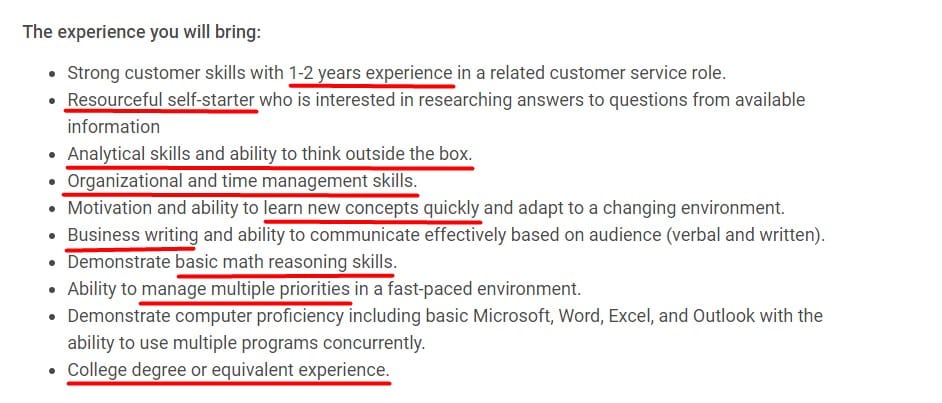 Suppose you're a good fit for the position, here's how you could customize your resume.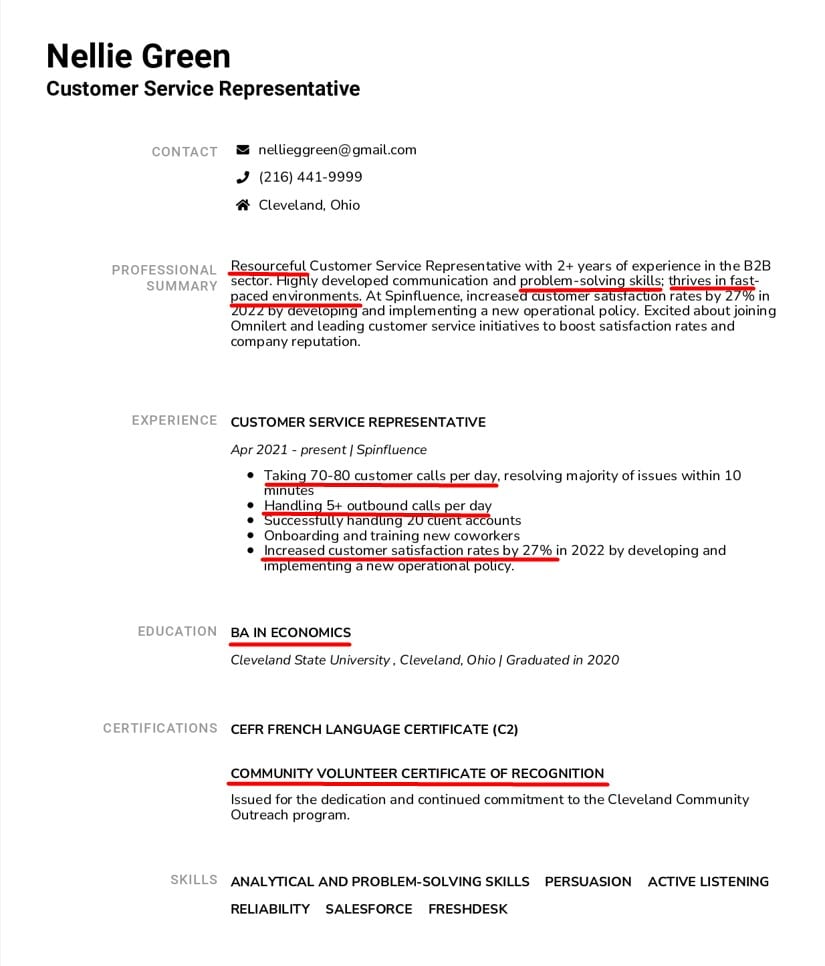 Before hitting "send", you'll want to make sure that your resume is spotless (no typos, right and relevant information included, etc.).
To make sure everything is in order, you can ask a friend or a family member to help you out. But even they can miss out on key details if they don't work in the same position/industry.
In that case, you can use our advanced resume builder. It will take 2 minutes: all you'll need to do is upload your resume and our AI will give you detailed feedback on how to improve it.
From the quality of information to the design, spelling and grammar, and power words, we got you covered.
If you want to stay ahead of the curve, do check it out.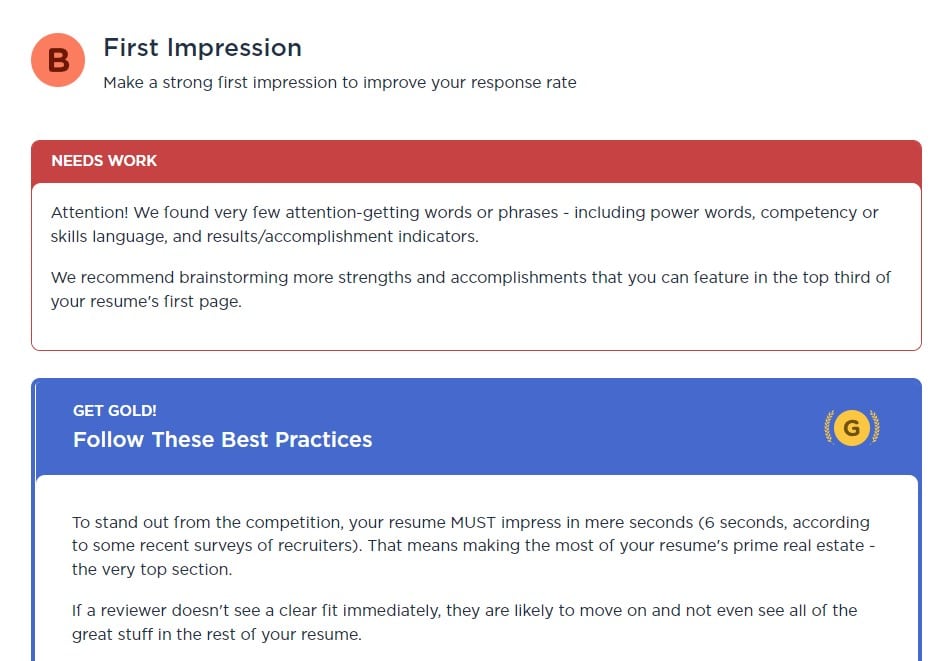 Key Takeaways
To create a high-quality Customer Service Representative resume that contains all the key information AND looks good, do the following:
Choose a Serif and Sans serif fonts for headings and regular text to make a clean-looking, neat resume
Use the reverse-chronological resume format
In your resume summary or objective, focus on what you can do for the company, not vice-versa
Focus on accomplishments, not duties in the work experience section
Showcase both hard and soft CSR skills
Highlight foreign language knowledge to gain a competitive edge
Customize your customer service resume to match job requirements. Always.
Proofread your resume (even better, have a friend or a tool do it)
Good luck!