If you're like most people and freak out at the feeling of being interrogated during a job interview… we have great news for you.
There are some common interview questions you're almost guaranteed to hear.
Knowing them and getting prepared is by far the most important thing to do before a job interview. Once you've done it, the interviewing nightmare might actually turn out to be a pleasant conversation.
That's what we'll help you with. In this article, you'll learn:
Most common interview questions
How to prepare and practice your answers to questions that will be asked
Must-know rules of interview preparation
Sample common interview question answers to get you inspired
The most common interview questions fall into these categories:
General interview questions
Behavioral interview questions
Competency-based interview questions
Situational interview questions
Cultural interview questions
You'll hear the majority of them during an interview, so let's break them down.
Want to get an offer after every interview? Our interview prep tool will guide you through all the questions you can expect, let you record and analyze your answers, and provide instant AI feedback. You'll know exactly what to improve to turn your next interview into a job.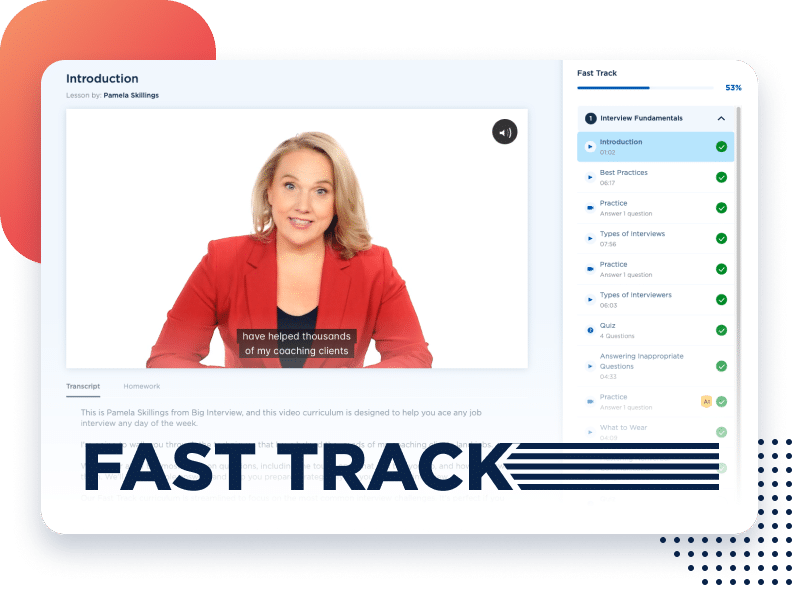 Our users land jobs 4 to 5 weeks faster than the national average. Get ready for your interview now.
Common general interview questions
General questions are there to help recruiters get to know you and your professional past and future better. Some of the most common ones include:
Can you tell me a little about yourself?
This is one of the versions of the "Tell me about yourself" question and it's typically asked at the very beginning of each interview.
It's a nice ice-breaker and a chance for recruiters to get to know the person behind the resume.
When answering this question, you should deliver an elevator pitch and follow the present-past-future formula.
Talk about your current position and who you are at this point in your career: your position, current company and industry, and a few accomplishments will be more than enough.
Then touch upon your past experience, education, and transferable skills, but mention only things relevant to the position you're applying for.
Finally, reference your future and career goals, as well as how this position fits there. It'll be a nice demonstration that you're a great fit for the role.
Tell me about yourself: Sample answer
My name is Dave Palmer and I'm from New York. I work as a Director of Email Marketing — I lead a team of 5 email marketers, 2 designers, and 2 copywriters and create email marketing strategies for our clients. It's been great so far, we're constantly expanding our clients' businesses and building their brands. Our latest segmentation project skyrocketed our biggest client's revenue by 29%.
Prior to this position, I worked as an Email Marketing Manager in the ecommerce industry, after obtaining my MS in Integrative Marketing at NYU. Marketing was always my passion.
Although I enjoy working in email marketing for the ecommerce space, after 6 years I feel like it's time for a change. Travel and hospitality were always attractive to me because of my hobbies, and I believe switching to this industry would help me further grow my skills and make meaningful contributions.
What interests you about this position?
Recruiters want to know what made you apply to this role in order to know if you're gonna be a good fit.
In your answer to this common interview question, you need to emphasize why this position is tailor-made for you. Prove that it's a good fit for your skills and experience and how it can help you further grow in your career.
You can also mention why you think you'll be successful in that position. You can do it either by listing key skills that make you a great fit or recall one or two (related) accomplishments and how you can achieve similar results for this company, too.
Why do you find this position interesting: Sample answer
My friend works at this company and I know for certain your company culture is strong. In addition to that, this position represents a logical step forward for me in my career. My customer service experience is a strong background for a sales associate position, but I'm aware that I need to work on further developing my sales skills and I look forward to that. Especially if it'll be with the strong experts from your Sales team. Finally, I'm a happy user of your product, so I'm already familiar with the ins and outs of the product and can demonstrate to clients how to make the best of it.
Why do you want to work for our company?
This question is partially similar to the previous one. But with "Why do you want to work here," recruiters want to know what made you apply and how you'll fit in, if you have what the company needs, and if your career goals align with what the company has in plan for the open position.
So you need to sell yourself and show why you and this company are a good fit for each other.
To do this, focus on 3 elements:
Why do you want to work at this particular company
Why does this particular position interest you
Why you'll be successful in that role
The key here is to research properly and show you're in the loop with what this company does, as well as industry news and standards. You'll want to show how the company stood out when you decided to apply.
Then, provide reasons for why this position is interesting to you (refer to the question above), and provide proof that you'll be successful in it (again, mention key hard and soft skills, as well as a few quantifiable achievements; your past is the best indicator of your future performance).
Why do you want to work here: Sample answer
I want to join a company that shares the same values as me, like putting teamwork first and striving for continual improvement. And given how meaningful and useful your product is, I'd say we're a match. I also like how this position is a mix of copy and content writing, which is a great way for me to enter the copywriting waters. But with my content writing and SEO skills, I still feel like I could start contributing from day one. I also noticed that your Blog features a wide range of useful topics and I already have several ideas on how to best repurpose them for social media and newsletters.
If you need more tips that'll help you rock absolutely any interview, we've prepared a free course in which we teach you how to speak about your strengths, sell yourself, and negotiate the salary and benefits of your dreams.
What are your career goals?
Your career goals will tell recruiters about your long-term thinking, proactiveness, and the direction you want to take in your career.
As always, your answer needs to be tailored to the company and the position you are applying for (so if your goal is to get your yoga teacher certification so you can teach random classes when you feel like it, you should not mention that in your "career goals").
Mention both short and long-term goals (a few months vs. a few years) and make sure you have an action plan and actual details on how you want to get to your goals.
And if you can, tie your plans to the company you're applying for, aka, show them how they fit in with this picture and how they could benefit from your career progression.
What are your career goals: Sample answer
I know I've just started and I still have a lot to learn. So one of my short-term goals is to find a company that could let me work and focus on both UI and UX design and fully develop those skills. And with time, as my generalist expertise grows, I'd like to switch focus solely on UX design and ultimately become a UX researcher. In addition to Interaction Design Foundation's courses, I'm seriously considering enrolling in NYU's Professional UX Program. I know it takes years to get there, but I'm confident that education and practical experience is the combo that'll help me get there.
This one's a variation of "What are your career goals?"
Interviewers want to know about your career plans and if their company has a place in your professional future.
That's why you should emphasize the alignment between your goals and the company's objectives, show you're dedicated to professional growth and continual learning, and showcase your adaptability and the ability to handle change (HR managers love flexible candidates!).
Where do you see yourself in 5 years: Sample answer
In the next 5 years, I plan to master the management of all stages of product development and become a well-rounded Product Manager. My Project Management experience is, I believe, the perfect starting point for this. I'd also like to obtain an AIPMM Certified Product Manager Credential and I already passed 4 of 18 learning modules. As for what comes after that, I'm considering several best-case scenarios. Right now, my ideal situation would be working in the healthcare industry and actually making a change with the company's products. Which is why this company attracted me in the first place.
Now, this is a tricky question.
Interviewers want to know if you have a good reason for leaving your current job, as well as what you want from a new job, as your answer will help them understand your values and what motivates you in your professional life.
Of course, you don't want to lie, but you also might not be able to be 100% honest (You can't really say you're running away from micromanagement, bad working conditions, and toxic leadership — badmouthing never looks good).
Common reasons for leaving a job include wanting growth and more responsibility, industry change, relocation, work-life balance, values alignment, or personal reasons you don't really have to share, so try to center your answer around these reasons.
Whatever your reason is, your answer should be brief, positive, and focused on you. Do not badmouth your ex-managers and company or complain about a particular situation that made you make the decision to leave.
Why are you leaving your current job: Sample answer
To be honest, I feel like I'm ready to take on more responsibility and widen the scope of my skills. I think that I've progressed as far as it's possible in my current company and position, and a change of environment would be the perfect boost right now. Joining a bigger team like yours would provide me with access to different tools, work opportunities on new projects, and perhaps even work on the editorial side of content. I feel like I've perfected my writing skills and the natural next step would be to jump to editorial waters — and when I saw you're looking for a senior writer/editor, it seemed like the perfect opportunity.
Or, if you're experiencing toxic leadership or micromanagement (which is really common but also really hard to talk about), the template below might help, as it leaves a positive impression but also helps you establish what you don't want to happen again:
Unfortunately, I don't feel like a fit anymore. I've learned so much from [Company A], such as my experience with [B], [C], and [D], and for that I'm grateful. But I'd really love to work for a company that allows me to do [X], [Y], and [Z] because it's more aligned with what I consider a success.
What can you bring to this role that others cannot?
This is basically another way of asking "Why should we hire you?"
And it's straightforward: they're asking you why the decision of hiring you is a good business decision for them.
Depending on how you want to present yourself, you can choose a variety of angles: general, enthusiasm, the perfect fit, one in a million, listener, numbers, long-term vision, fresh perspective, and network.
You can read all about them in the article linked above: the whole point is to take some of your strongest skills or traits and construct your answer around them.
What can you bring to this role that others cannot?: Sample answer
You'd love having me on your team because contrary to the majority of people, I thrive in high-pressure situations. Working in ER and ICU for 10 years has been the most rewarding experience of my life. But I'm also really skilled at the administrative side of things. So your team would get a well-rounded professional with a diverse skill set. I believe this can be the start of a fruitful collaboration for both of us.
For common mistakes you'll want to avoid when answering this question, check out the video below:
Common behavioral interview questions
Behavioral questions aim to discover how you act in certain situations. They'll usually start with "Tell me about a time when…" or "Describe a situation when you…"
When answering behavioral questions, it's best to rely on storytelling and using the STAR format (Situation — Task — Action — Result). You should briefly describe the situation/problem and set the context, speak about the tasks and actions you took to resolve it, and say what the results were.
Here are some common behavioral questions you're likely to hear at a job interview.
Can you describe a time when you had to deal with a difficult colleague or customer?
With this one, recruiters are trying to gauge your communication and interpersonal skills, as well as how you handle unpleasant situations.
Your answer will be especially important if you applied for a project manager/team lead position (as you get to handle multiple people and resolve their conflicts) or a customer service/sales position (it's difficult to deal with unhappy customers and difficult prospects).
Here, you'll want to showcase traits such as patience, persuasive communication, staying calm in stressful situations, and similar. It's best to do so through storytelling.
Can you describe a time when you had to deal with a difficult colleague or customer?: Sample answer
I worked in a smart appliances store back in the day, dealing with customer inquiries and returns. I remember this man who wanted to return a blender he bought just days ago. Apparently, it was the second time the gasket had come off the extractor blade. The man was furious and didn't even want a new blender, he wanted his money back. It was really difficult communicating with an angry person but I did my best to calmly explain it was not our store's fault and that we would direct the matter to the authorized dealer. It seems that my calm tone helped him cool down. He even apologized for snapping at us at the store. We ended up giving him a refund and earning a positive review on Google.
Tell me about a time you had to prioritize multiple tasks or projects
Time and task management are invaluable skills for pretty much any position.
And with this question, hiring managers want to check if you're an independent worker or if you need someone to hold your hand. They also want to know how your mind works, how you set priorities, and if you're able to juggle several things at the same time.
Tell me about a time you had to prioritize multiple tasks or projects: Sample answer
One time, we had an important campaign to blast for our client (it was Black Friday, so it was extremely important), but I also had to work on an internal report that had to be completed in order for the entire team to move forward the following week. Because we're an agency, I always put clients first, so I decided to dedicate the first half of my day to the client campaign. The time that remained I used on an internal report. But I quickly realized I'm not going to be able to complete it by myself, so I asked another coworker to help out. We managed to complete both initiatives on time. Knowing what's a priority is sometimes difficult because of competing demands — but whenever I'm stuck I reassess my priorities and ask for help. This approach never failed me.
How do you handle stress and pressure?
Bear in mind that this question doesn't necessarily mean that the position you applied for is stressful.
Instead, interviewers ask it in order to check how you deal with stress in general. In any company, there will be ups and downs, and it's important that you display you handle pressure in a healthy and productive way.
How do you handle stress and pressure?: Sample answer
Like any job, my position tends to get really stressful from time to time. As a BDR, I have a lot of targets to hit and I'm constantly on calls, which sometimes takes a toll on my mental health. But every time I see it coming, I take action. I take frequent short breaks to do things I enjoy: jog, walk with my dog, paint, or spend time with my family. And my policy is no work on weekends. I have to say it works really well for me, as I noticed I'm more focused and it's much easier for me to deal with stress. So ultimately, balancing work with hobbies is the most important factor for me.
Describe a situation where you took initiative or demonstrated leadership
Especially important for project management or team lead positions, however, it'll come in handy for just about any position.
Even if you never had any managerial duties, taking initiative or demonstrating leadership can be about organizing events, leading a project, or coaching someone.
Describe a situation where you took initiative or demonstrated leadership: Sample answer
Several years ago, there was a company-wide layoff at the company I was working for. As a result, only 4 people remained in my team and we were expected to take over the duties of the 4 that left. Needless to say, we were overworked and our morale also suffered. I suggested to my team leader that we all jump on a call to identify and discuss the main problems and find the solutions to make us more efficient. We got some really good insights and realized that our weekly reporting takes up 9 hours each week so we decided to pause it and focus on monthly reporting. We also automatized certain simple tasks which gave us a few extra hours on a weekly basis. We slowly became more efficient and were back on track within the course of a month. Our Head of Operations even asked us to help him roll out a similar process in other departments in our division, and my team leader praised my leadership skills and told me I'll be a great leader one day.
Tell me about a time when you had to solve a problem creatively
Recruiters want to see if you're capable of thinking creatively and taking unique approaches to solving problems. It'll show them you're focused on solutions, not problems.
Tell me about a time you had to solve a problem creatively: Sample answer
We had a new coworker in the role of an Office Assistant that had to closely collaborate with the Executive Assistant. But because of the nature of our industry, she had a really hard time fully grasping different duties and conflicting priorities of the Executive Assistant. So as a part of her onboarding process, I suggested that the two of them switch roles for a week or two. That way, the experienced Executive Assistant could show the Office Assistant tips and tricks in the company, and the Office Assistant could fully understand how a day in the life of our Executive Assistant works — which would help her immensely later on. My manager praised this idea and they actually swapped roles. Both said it was a fun experience and it saved a ton of time for both of them. They got accustomed to one another and had a hell of a collaboration over the next year.
Can you share an example of a time you failed and how you handled it?
Handling your failures gracefully is very important.
With this question, recruiters want to see if you're self-aware enough to see and admit your failures and if you're wise enough to learn something from them.
Can you share an example of a time you failed and how you handled it?: Sample answer
In my previous company, the leadership was looking for ways to maximize our productivity so they introduced a new weekly planning and reporting system. After a short session where they explained how we'll approach things, we were asked to create our weekly plans and report our success at the end of that week. I failed miserably. I made all the wrong estimates and ended up finishing only 2 out of 9 initiatives for that week. I complained to my manager about it and during that conversation I realized I was making estimates nonchalantly. So next week, I installed a time tracker and started measuring how much time I need for different types of tasks. This allowed me to make rough estimates I could take into account when planning my week. And within the several next weeks, I improved greatly. My weekly reports showed I consistently completed all the planned initiatives and I got praise from my manager.
Describe a situation when you had to work with a team to achieve a goal
Teamwork is one of the most desirable skills to have.
Recruiters want to know if you can integrate into any team easily, collaborate with others, and share credit with a team.
Describe a situation when you had to work with a team to achieve a goal: Sample answer
In my previous agency, I worked as a Quality Assurance Lead where I had to do a final check for every single email marketing campaign that went out. I worked in a team of Account Managers, Developers, Copywriters, and Designers. During a particularly busy holiday season, we realized we were going to be late with our clients' holiday campaigns unless we got more efficient and split the workload. So Quality Assurance Leads and Copywriters shared work, meaning, both of the roles both wrote copy and checked final versions of all emails, and Developers and Designers organized working sessions where they coded and implemented emails on the spot, skipping several procedural steps. By working as a team we were able to get back on track and meet all the deadlines that season.
Common competency-based interview questions
These are the questions to check your knowledge of specific tools and processes that are needed for the position.
Please note that these questions will vary across industries and positions.
What software are you most proficient in?
Depending on the position or the industry, this can be an SEO tool like Ahrefs or Semrush, or email service providers like Mailchimp or Klaviyo, or graphic design tools like Adobe Photoshop or Figma, or a project management tool like Asana or Notion, or a CRM system like Salesforce, and similar.
The whole point of this question is to gauge your proficiency — the recruiters will need this info to check your seniority, it may show them you need additional training or that you can train others, it may be a factor when deciding on your offer, and similar.
Can you describe your experience with specific tools or technologies relevant to the role?
This is the perfect opportunity to display your hard skills and the areas you're proficient in.
It's similar to the previous question and recruiters will use it to gauge your seniority, which in turn will affect your offer (salary, benefits).
How do you stay updated on industry trends and best practices?
This is where you want to showcase your curiosity and commitment to lifelong learning.
Make sure you mention digital news platforms, newsletters, forums, groups, seminars, and similar tools that help you stay in the loop and continuously learn more about your industry.
What projects have you worked on that demonstrate your technical skills?
Pick your favorite or most successful project to showcase your technical skills.
Recruiters want a well-rounded image of you as a professional, so make sure you provide details in your answer.
Describe the project, the challenges you faced, how exactly your technical skills helped you overcome them, and what you learned from the experience.
Can you explain a complex technical concept in simple terms?
No matter how experienced you are and no matter how many complex skills and technical knowledge you possess, you'll need to be able to break them down into digestible chunks and explain them in simple terms.
During your career, you'll probably have to train a new employee, or write an article for a wider audience, or explain the context behind a project.
And if you use complex industry and position-specific terms, you won't reach your audience and no one will understand you.
That's why you need to demonstrate you can easily explain complex concepts in simple terms. It's a useful skill that will bring you a lot of points in your professional life.
Template answer for competency-based questions
Because there are so many different competencies that are key to different positions and industries, creating a relevant sample answer would simply not be possible. That's why we've prepared a template answer that you can use and modify for your own situation:
My experience with [a platform/tool] is [level of experience], which helped me successfully complete [a significant task/project with measurable outcomes]. But I plan to improve my [knowledge of another platform/tool] by [taking a course/working with a mentor/applying for a project]. I'm also following [expert in the field/newsletter/forum/LinkedIn group/online newspaper] and it really helps me stay in the loop and learn about new technologies.
Common situational interview questions
As their name suggests, situational questions will present a hypothetical situation and ask you what you would do in that situation.
Situational questions help hiring managers see how you'd think and react in specific circumstances.
These questions are also awesome for assessing your problem-solving, communication, and time and task management skills, as they will put you in situations commonly encountered in that particular industry/position.
Below are some common situational questions you'll hear in an interview.
How would you handle a situation where you disagree with your manager's decision?
Are you able to present your thoughts in a respectful manner? How do you handle disagreement? Do you try to find a middle ground or do you agree with the manager right away?
How you answer this question will say a lot about your ability to accept and tolerate differences and disagreements.
How would you handle a situation where you disagree with your manager's decision?: Sample answer
I am a person who likes to voice their opinion, so I would surely bring up my concerns as well as arguments as to why I disagree. And then I would ask if we could find a middle ground. But if I don't have arguments that are rooted in facts and numbers, I would clarify that I haven't done the research. At the end of the day, all that matters is that we can have open discussions and find solutions that will be acceptable to everyone on the team.
If you were given a project with a tight deadline, how would you manage your time and resources?
Once again, recruiters want to check the way you think and organize your time and tasks, as well as how you work under pressure.
Other things your answer will reveal: do you ask for help? Do you openly say that something is not feasible? Do you break a project down into smaller tasks? How do you prioritize things on your plate?
If you were given a project with a tight deadline, how would you manage your time and resources?: Sample answer
It all depends on my role in the project and how many other people there are. My go-to technique is to split my schedule into time blocks dedicated to different components of the project, but I would definitely voice my opinion and ask for help if needed. I would do my best to make the most of what I have.
How would you deal with a team member who isn't contributing their fair share?
Are you able to gracefully provide negative feedback? How do you deal with unpleasant situations? How do you stop a conflict from escalating? How do you motivate coworkers?
Your answer will tell volumes about your teamwork.
How would you deal with a team member who isn't contributing their fair share? Sample answer
I would approach them and be open about the challenge we're facing. I would try to give valid arguments backed up by data, and I'd certainly avoid general statements like "Everyone's working more than you" and similar. Then I'd ask the person if there are any problems that are stopping them from being productive and how we can solve them together. And I'd definitely suggest establishing some kind of a plan that could help the entire team stay on track and that would make the team member accountable for their work. If the situation doesn't change, I would hand it over to the team leader.
If you had to choose between meeting a deadline and delivering a high-quality product, which would you prioritize and why?
Now this is a tough one, especially because each project/product is different and you, as a candidate, don't have any details and are still in the hypothetical realm.
But interviewers want to know how you think — and the best option here would be to show them how diplomatic you are.
In your answer, you'll want to say it depends on the project scope, what a team wants to achieve, and what was agreed on.
There's no secret recipe for answering this question: the whole point is to show that you're diplomatic and that you take different factors into account.
If you had to choose between meeting a deadline and delivering a high-quality product, which would you prioritize and why? Sample answer
The question is a bit general, but I'd say it depends on the context, the scope of the project, the impact it will have, and what was previously agreed on. If we're working on a serious project that could have a meaningful impact on people's lives, I would definitely put emphasis on quality. I would provide clear arguments for my opinion and ask for a deadline extension. If it's something smaller, I would usually try to deliver as much as I can within the time frame, with as much quality as possible. In case quality suffers or we don't meet the deadline, I would again back it up with arguments and data.
How would you handle a dissatisfied customer or client?
In case you haven't noticed, interviewers are big on communication and interpersonal skills. That's why there's a variety of questions that aim to assess these skills — and this is one of those variations.
Although this is hypothetical, we're pretty sure that you did have an unpleasant experience with a client, customer, coworker, or even your peers at university. Draw from that experience when creating your answer.
How would you handle a dissatisfied customer or client?: Sample answer
I would stay calm and avoid violent confrontations in any way possible. I would show understanding for them and their position and do my best to help them out in that situation. I think that the key here is not losing my cool and always showing empathy. When they understand they're speaking to another human being on the other side of the phone, not a robot who's trained to take their money, they usually calm down and cooperate with your suggested fixes.
Common questions about company culture and your overall fit
Company culture is a set of values, beliefs, attitudes, and behaviors, that you as a candidate and the company you applied for need to share in order to have a successful collaboration. And oftentimes, it's a vital component that many companies use to make their final decision about you.
In order to check if you're a culture fit, there's a variety of questions recruiters will ask you to check your work ethic and style, your values, what makes you thrive in a company, how you would get along with your future team, and similar.
Here are some of the questions you're likely to hear.
What type of work environment do you thrive in?
Is it a startup or a corporation, a big or small team, a team that nurtures trust and collaboration, in-office or remote, etc.
There are so many options here — what's important is that you know what you want and have a specific answer ready. That's the only way for you and the prospective company to decide if you're a good fit for each other.
What type of work environment do you thrive in? Sample answer
I thrive in startup environments. I find it provides more freedom and flexibility. And although it's hard and often unpredictable work, that makes it a thousand times more rewarding. I also like working with a team of experts who puts teamwork first. Being comfortable with my team is one of the key components for my success in a role.
How do you define success in your career?
This question will help recruiters check your career goals and aspirations, as well as your values.
It'll help them figure out if what you're looking for in a career aligns with what is planned for the open position you applied for — after all, this factor can determine if you're gonna be successful in happy in your new role or not.
How do you define success in your career? Sample answer
I'm not big on titles or prestige. For me, being successful means working on projects I'm passionate about in a meaningful industry. And having enough time to dedicate to my family, private life, and passion projects. For me, as long as it has a cause and allows me to live a peaceful life, that's perfect.
What management style do you work best under?
If you're working under a management style that doesn't really fit you, it can negatively affect your performance and enthusiasm.
That's why it's important to work with a manager you trust and whose style suits you.
Recruiters know this and asking this question will help them figure out if you're likely to get along with your new potential manager and if you'll fit in with the team well.
What management style do you work best under? Sample answer
I prefer working under managers who don't micromanage and who let me make decisions for myself. This is especially important in creative positions like mine. If I feel overburdened by administration and processes, or that my manager is breathing down my neck, I immediately get a creative block and become defensive. So having a manager who trusts their team to do their work works best for me.
How do you balance work and personal life?
Your answer will tell recruiters about your values, priorities, boundaries, and what work-life balance even means to you.
A balanced life will help you achieve optimal results at work — so what you say here matters.
How do you balance work and personal life: Sample answer
I'm not sure I believe in a strict work-life balance division, as work is a part of my life. I'm ok with the fact that sometimes I'll have to dedicate more time to work and less to my family and vice-versa. What matters is that I believe in that work and that I'm surrounded by people who believe in it too. It makes work enjoyable.
What motivates you at work?
People can be intrinsically motivated (a sense of purpose, helping others, developing skills, life-long learning) or extrinsically motivated (raises, bonuses, more days off, benefits, etc.).
Usually, we're all motivated by a balance of these things, but picking your brain on the topic will help recruiters figure out how to keep you happy and motivated in your new position.
What motivates you at work?: Sample answer
What motivates me the most is that my work and effort are recognized and rewarded and that I'm an integrated member of a well-played team. Also, the freedom to be flexible and organize my own schedule is something that gives me a tremendous serotonin boost. Overall, I'd say that a healthy team with reasonable demands is my biggest motivator at work.
Can you describe your ideal team or colleagues?
What you value in others says a lot about you.
Recruiters will therefore ask this question to see what type of person you are, what type of people you prefer, and how you'll fit in with the rest of the team.
Can you describe your ideal team of colleagues?: Sample answer
An ideal colleague is someone who's friendly, chill, and ready to help. It's also someone who doesn't get overly emotional, who can be reasoned with, and who respects differences. I'm all about compromise, so I really appreciate that trait in others, too.
How do you handle constructive criticism or feedback?
No one likes to be criticized but sometimes that's the only way to grow. Recruiters know it.
That's why they'll want to make sure you're an open-minded person that takes constructive criticism or feedback gracefully, without getting defensive.
Not only are such people great to work with, but they're also bound to quickly progress in their careers. Be one of those people.
How do you handle constructive criticism or feedback? Sample answer
Being in a creative role, I'm used to getting a lot of feedback that isn't always positive. But I learned to accept it gracefully because I don't take it personally: it's always criticism of my work and not me as a person. And if that feedback is backed up by solid arguments or evidence or data, then I'm all for it. It helps me to continuously grow!
Basic rules of job interview preparation
Now that you know the intention behind each common interview question, here are some tips on how to prepare for the interview.
Research the company
This is the basic step but not many candidates do it.
Researching the company (their website, social media, forums, Glassdoor, hiring platforms, etc.) will let you stay in the loop with the company's initiatives, employees, reputation, and similar.
This will help you reduce anxiety during the interview, but it'll also make you look confident and resourceful. Depending on the info you obtain, you'll be able to break the ice and prepare nice topics for chit-chatting, or suggest improvements (this will definitely bring you bonus points and help you stand out).
In addition, you'll know exactly what sets the company apart, why you'd like to work there, and if you and the company are a good fit for one another.
Study and understand the job description
Knowing the ins and outs of the job description will help you figure out what exactly the company needs and what they intend to do with the position.
It'll definitely give you an angle through which you'll answer the most common interview questions, as you'll know exactly what skills and key accomplishments to emphasize and position yourself as the perfect fit.
Prepare your responses to the most common questions
Job interviews are one of those things that always make everyone nervous — and that anxiety often interferes with our ability to say relevant things in a coherent way.
The only way to stop this is to prepare in advance.
This usually means writing down key points you'd like to mention and then practicing until you know exactly what and how you want to say things.
Our Answer Builder can come in handy, as it will let you jot down ideas and provide tips for answering some of the most popular interview questions (for other questions, you can use a general Free Form).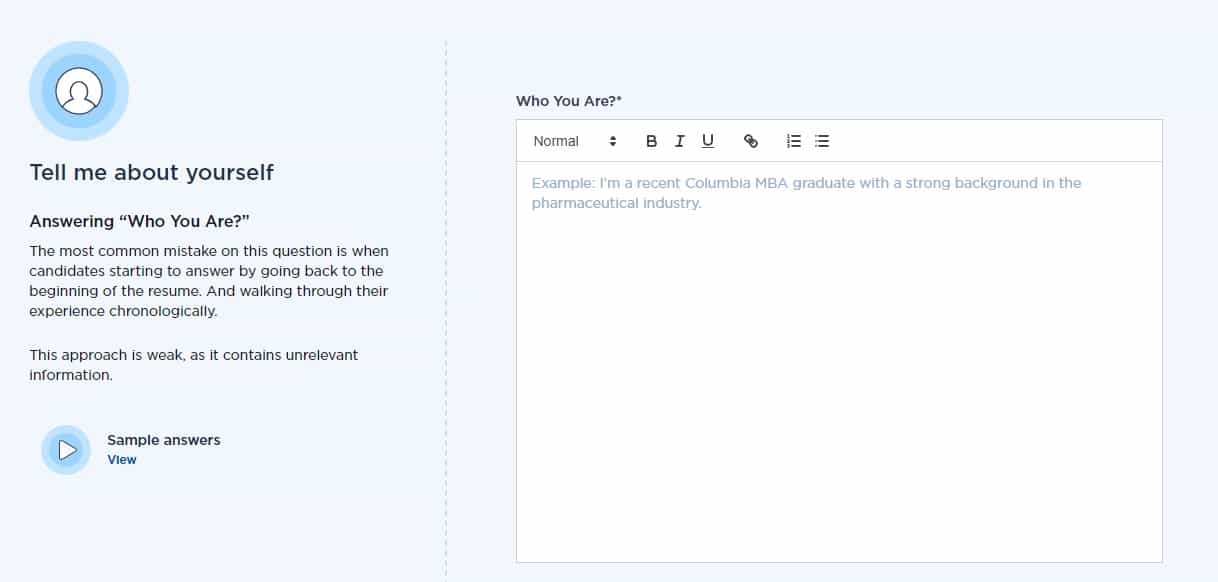 Run a mock interview with a friend or someone who knows your professional self
You can practice with a friend — or you can use our Mock Interview Practice Tool which is specially designed to give you feedback and actionable tips on how to improve.
You can expect valuable info on the quality of information you mentioned, the power words you used, your pace of speech, filler words, pauses, the vocabulary you used, and so much more.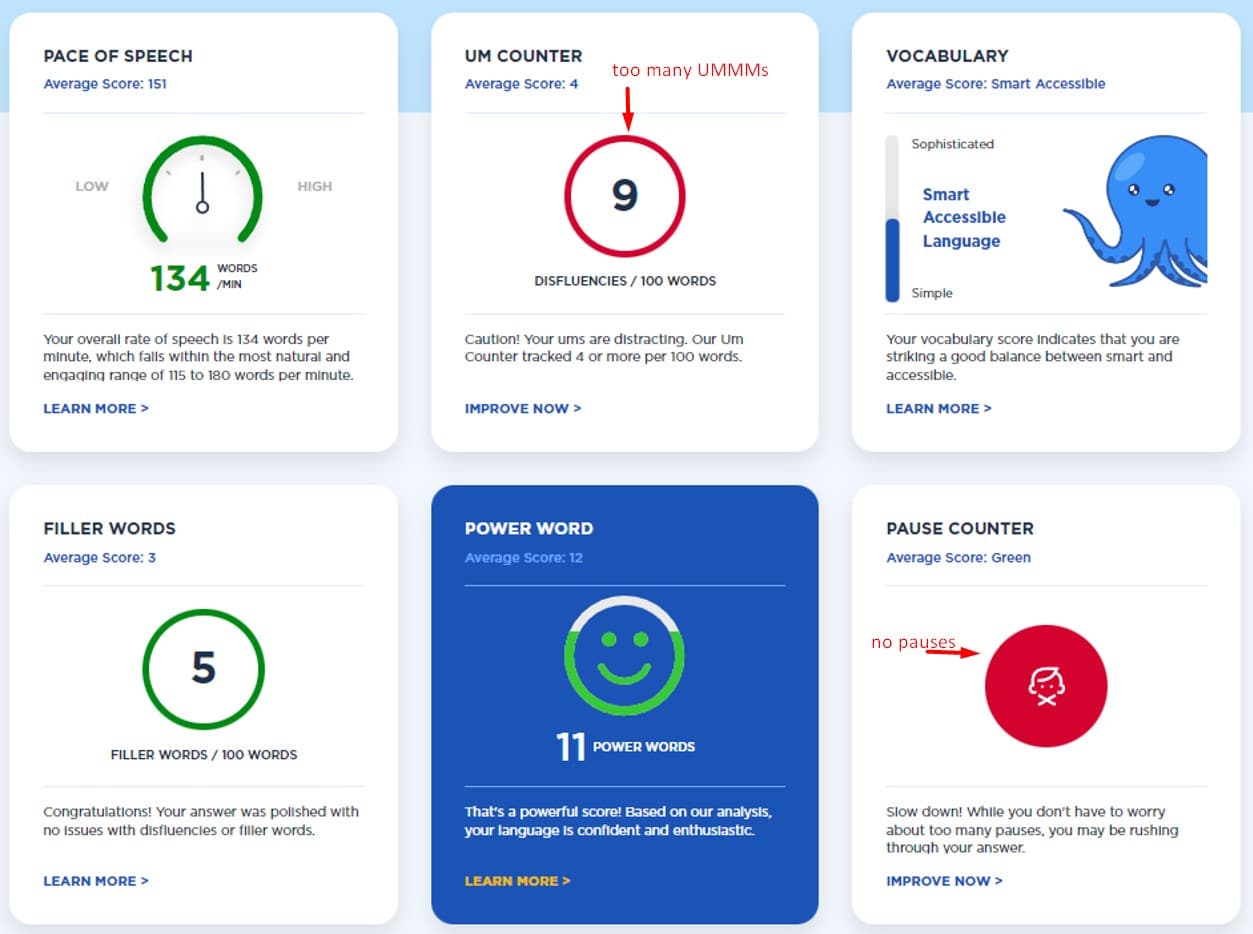 Remember, you don't want to learn your answer by heart. It'll make you sound robotic and boring, and you won't be able to pick up where you left off in case a recruiter interrupts you.
Running a mock interview helps ensure you know what you'll say and how you'll say it, but leave room for improvisation as it'll help you sound relaxed and prepared.
Big Interview helped AJ land his first job in tech and get 7 job offers in the process. "I think Big Interview was super helpful in that aspect of having canned answers for every possible scenario and being in the moment of answering those questions.", said AJ.
Prepare the questions you'll ask at the end of the interview
We can't emphasize enough how important asking the right questions at the end of the interview is.
If you have no questions, it's likely that you'll come across as disinterested and unprepared.
But asking great questions will show recruiters that you're resourceful and serious about this position. It'll also give you a lot of valuable info.
Here are some good examples:
How will you measure success for this role?
Where do you see me in the next 3/6/12 months?
What are your team's biggest strengths and challenges at the moment?
Why is this role open?
Who would not be a good fit for this team and company?
How many people have been internally promoted in the last year?
The more specific the interviewer gets in their answers, the better. Check out the article above for a full list (including some ones recruiters won't be expecting).
Dress appropriately
How to dress for an interview is usually going to depend on the type of company and you'll certainly want to ask around and research the company's dress code.
If you're applying for an executive position in a huge corporation, then sure, you can wear a suit or a skirt and a blazer or any other formal combination.
But if you're applying in a startup or in a company that's not too formal, you can opt for trousers or even black jeans paired with a blouse, polo shirt, knee-length dresses or skirts if you're female, etc.
What matters is that your clothes are decent, tidy, ironed, and that they're comfortable and make you feel confident.
Arrive early
Early is on time, on time is late, and late is unacceptable.
Besides, if you arrive 10-15 minutes early, it'll give you enough time to find your way around the building, cool down, settle down, and get used to the surroundings, all of which will help you be more relaxed and comfortable.
But if it's an online interview, there's really no need for this. Arriving a minute or two before the interview starts is totally cool.
Follow up with a thank-you note after the interview
It's critical that you follow up with the interviewer after the interview and send a thank-you note.
It's common courtesy but it will also set you apart as, let's be honest, not many candidates do it anymore.
You'll want to send it immediately after the interview (24 hours after the interview at the latest). It'll reinforce the good impression you left on an interview and prove you're a seasoned professional who knows hiring tips and tricks.
Customize the thank-you note and make sure to include specific details you mentioned in your interview. Finally, restate your interest in the position.

Common Interview Questions: Key Points to Remember
The main groups of questions you'll get asked are general questions, behavioral questions, situational questions, competency-based questions, and questions about company culture and overall fit.
General questions are there to break the ice and get the conversation going.
Behavioral questions look at your past professional experience and behavior.
Situational questions put you in hypothetical situations to check how you'd react.
Competency-based or technical questions aim to assess your knowledge of platforms and the industry (your hard skills).
Questions about overall fit aim to understand your values and if you'd fit in with the rest of the team.
Prepare your questions in advance and practice them. This is what makes the biggest difference on interview day!
Researching the company and studying the job ad will help you craft targeted answers and impress the interviewer.
Sending a post-interview thank-you note is an easy way to make you stand out.
_________________________________
Need a hand? There are 2 ways we can help you:
To learn how to land an offer after every interview, discover actionable lessons and interview practice here (Rated with 4.9/5 by 1,000,000 users).
FAQs
Should I memorize my answers to the most common interview questions?
Never! You need to remember all the key points you want to mention, but memorizing the entire answer by heart will make you sound monotonous and robotic (and yes, recruiters will know you learned your answer by heart). You want to know what exactly you want to talk about, but leave some room for spontaneity and improvisation in order to sound natural.
What interview question is asked most often?
Questions such as "Tell me about yourself," "Why should we hire you," "What are your strengths," and "Where do you see yourself in 5 years" are some of the most common questions you'll hear at any interview.
Are different questions more common across different stages of interviewing?
Yes. For example, you'll hear "Tell me about yourself" only on your first interview. More technical and situational questions will come in the middle. Negotiating your salary and additional perks will come in the later stages.
What are the best questions to ask at the end of an interview?
Some of the best questions to ask at the end of an interview are:
How will you measure success for this role?
Where do you see me in the next 3/6/12 months?
What are your team's biggest strengths and challenges at the moment?
Why is this role open?
Who would not be a good fit for this team and company?
How many people have been internally promoted in the last year?
Should I start job interviews with my elevator pitch?
You can use your elevator pitch when asked the "Tell me about yourself" question, which you'll 99.9% likely hear as the very first question in your interview.