Sales management is… interesting, to say the least. And so are the interviews for the role.
You'll spend a lot less time speaking of quota and comp, and the conversation will be more focused on coaching and maximizing your team's impact on the business.
Meaning, you need a totally different strategy to make this interview work in your favor.
In this article, we cover:
How to answer sales manager interview questions (different from other sales interviews)
20+ questions that come up in most sales manager interviews (with example answers)
Impactful questions to ask at the end of a sales management interview
Bonus insider tips for sales management interviews
This guide was created in collaboration with numerous sales hiring managers and professionals with different roles, seniority levels, and from different industries. A big thank you to Summer, Jelisaveta, Antonio, Itai, and Manny for sharing your sales interview experience with us at Big Interview!
No time to dive deep? Here's what you need to know:
Interview questions for sales managers are different from questions you get as a sales associate or other sales roles.
Instead of selling, the conversation will be more about your leadership skills, strategic vision, the bigger picture, and people management.
Most of the questions will be about describing your past sales success, or explaining how you behaved (or would behave) in a situation that requires problem-solving, new initiatives, conflict management, or resilience.
The interviewer may throw in a couple of standard, common interview questions like "Tell me about yourself" or "Why do you want to work here?", so make sure you cover those too as you prepare for the interview.
In your answers, try to mention key sales director skills like analytical thinking, effective communication, active listening, coaching, openness to experimentation, and negotiation. Make sure you illustrate these qualities through real-life examples from your career.
At the end of the interview, make sure you ask 3–4 impactful questions to learn more about the company and the requirements of the role. Asking questions will also make you come across as curious and motivated, and help the interviewer remember you better. Here are some questions you can ask.
Want to get an offer after every interview? Our interview prep tool will guide you through all the questions you can expect, let you record and analyze your answers, and provide instant AI feedback. You'll know exactly what to improve to turn your next interview into a job.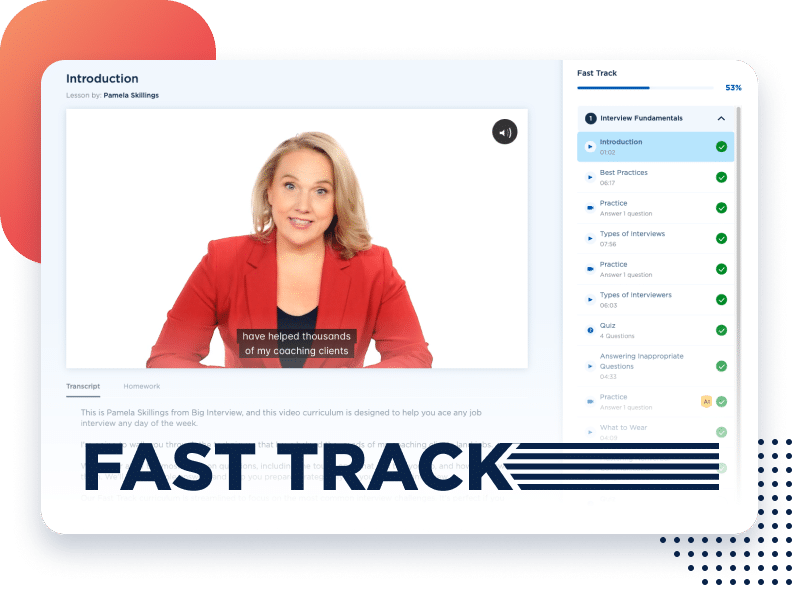 Don't waste days compiling overused interview techniques. Get original answers to every single question you could expect.
What Makes Sales Manager Interviews Unique
The most challenging aspect of sales management is sitting between top management and front-line sales.
This requires you to stand up for your team and represent their best interests while also representing the larger interests of the organization.
In the interview, you need to show you can strike that balance.
It's a step-up from your role as an individual contributor, and qualities other than selling come into play. You'll also have a bigger say in company strategy and processes.
The core sales director skills you need to show are communication, leadership, strategy, planning, and analyzing what is and isn't bringing profit.
The best sales managers are coaches, so training, inspiring, and supporting your team are your main goals.
During the interview, you'll have to highlight your soft skills, but also show that you can deliver tangible results. No vague answers and sales-speak that lacks substance.
As for the specific sales manager interview questions, you can expect a mix of general and more specific behavioral and situational questions. Below is a list of most common ones, with sample answers and why they work.
General Sales Manager Interview Questions and How to Answer Them
After a quick introduction, the interview typically starts with a set of some general questions concerning past sales success and your process. The idea here is to see how you would approach this new role based on your previous work experience.
Some general sales manager interview questions to expect:
How have you achieved your sales goals in the past?
Can you describe a time when you turned a low-performing sales team into a high-performing one?
How do you deal with underperforming team members?
What strategies do you use to coach and develop your sales team?
What do you think your typical week would look like in this role?
How do you handle a missed sales target?
What role does customer relationship management play in your sales strategy?
What are some things you found surprising when you first started in a sales manager role?
Describe an innovative sales strategy you implemented. How did it perform?
Now let's go into each and look at some sample answers and tips.
How have you achieved your sales goals in the past?
This question is asking you to prove you can prioritize sales targets and show versatility in achieving them (rather than having a single formula).
Here's how you can answer:
Last time I joined a team in the role of a sales lead, my initial goal was to increase revenue by 20% in the first year. That sounded feasible to me, but at the time I didn't know that the current sales team was struggling to meet quota and that the morale was low. The first thing I did was conduct a thorough analysis of strengths and weaknesses of each team member, analyzed the existing sales process, and identified areas that needed improvement. I also changed the KPIs a bit and introduced a performance-based commission structure to motivate the team. My next project was to establish a closer relationship with marketing to see how they can help us get more qualified leads. Once I analyzed the market and the competitive landscape, I realized we could increase revenue by upselling some of the premium features. These strategies helped us achieve 25% growth in revenue in the first 12 months, a bit more than the initial target.
Tips on how to answer:
Quantify your achievements. You can mention revenue growth, sales targets you exceeded, new markets you penetrated, profit margins you improved, or demo-to-customer conversion rates you boosted.
Use storytelling. Questions like these require answers that have a story-like structure. We call this the STAR formula (more about this later). It means that you need to start with a situation (S), then explain your main task (T), and then specify the actions (A) you took to achieve tangible results (R).
Can you describe a time when you turned a low-performing sales team into a high-performing one?
This question is about your leadership and problem-solving skills. In your answer, focus on your strategic thinking and result-oriented approach that led to improved performance.
A sample answer:
A few years ago, I was working as a sales manager in a company that provides EdTech solutions to governments and school districts when sales suddenly dipped. The reasons seemed clear — long sales cycles and post-covid lack of funding. Nothing we could do about that. But something caught my attention. Prospects kept staying with their current solutions because migrating data to a new provider was viewed as a hassle and a risk.I stepped up and brought the sales, product, and marketing teams together to decide what needs to be done. Marketing quickly came up with a list of MQLs my SDRs could follow up with immediately, and the R&D team focused on building a migration solution so that we could migrate competitor data automatically, with zero errors. Meanwhile, my top sales reps and the marketing team worked on how to position and sell this new service. After two months, our numbers not only recovered, but we were able to exceed quota by 19%
Tips on how to answer:
Don't give blanket answers. Instead, get specific and give a real-world example focusing on the actions you took to improve your team's performance.
Emphasize skills. Improving team performance requires a blend of skills (leadership, problem-solving, analytical thinking, initiative) and this is a perfect opportunity to weave them in your answer.
Always quantify. In sales, the truth is always in the numbers. The same applies to interviews. It sounds much more powerful if you say that you exceeded quota by 24%, than simply saying "we exceeded quota".
💡Pro tip: Antonio, one of the sales managers who collaborated with us on this article, admitted something we all know — we have trouble remembering achievements if they happened a long time ago. Here's his trick: "Early in my career, in interviews, I could never remember the exact numbers. I was aware that I would need to think back to my best and worst quarters, explain, and share some metrics and achievements like revenue growth, increase in sales, or number of deals closed, but I just had no idea. You never think about your next job interview while you're happy and closing monster deals in your current job. So I started writing down my accomplishments as they happen. It takes a few minutes to do, but helps you in so many ways. For performance reviews, promotions, interviews. It also feels good to look at your list, kind of pumps you up before the interview."
How do you deal with underperforming team members?
This question is about dealing with failure, coaching, and knowing when to make a difficult decision.
You could answer along the lines of:
In my experience, every sales team is made up of 3 levels of performers. Your best guys and girls will be your A-team, the team that exceeds targets and doesn't need hand-holding. Then you have the B-team, those who hit quota or at least close. And then you have the C-team, and they will struggle. I like to think of myself as the coach and my reps as players in the field. Some are better than others, but each has their strengths and weaknesses. I will give my best to coach the underperforming reps and help them build confidence and be better. I could also assign a mentor or help them with technical training if that's the problem. At the same time, I believe as a manager, I should also be spending time empowering my A team and coaching my B team. So in the end, if there is no improvement after PIP, I'd probably be forced to make a difficult decision and replace the C team guys.
Tips on how to answer: 
Aim for a balance of empathy and decision-making. It's important to show you're not a merciless, stereotypical boiler room manager who's all about more activity. At the same time, as a manager, you'll inevitably have to have a lot of uncomfortable conversations and make difficult decisions, and you should show that in the interview.
Show you're a proactive manager. This question is also about you being a proactive vs. reactive manager, and they are looking for someone who's proactive. This means you need to show that after you identify a problem, you will take steps to support the underperforming sales rep.
Tell a story. If you have a real story that illustrates how you dealt with an underperforming team member in the past, do tell it. If not, you can use a more general answer like the one above.
What strategies do you use to coach and develop your sales team?
As a sales director, a big chunk of your time involves coaching and developing your sales team to improve performance. That's why you need to show you're committed to bringing results.
Here's an example of a good answer:
I think you should always adapt your coaching strategy based on sales objectives and values of the company, but here's how I usually do it. Once I learn about your sales process and get to know my sales rep's weaknesses, I typically have 3 strategies for coaching, most of them focused on performance improvements. The first type of coaching is group workshops, where the idea is for the team to improve product knowledge, and sales techniques. This is where we cover things like regional market differences, and why a successful rep in one region can see their methods fail in another because of the cultural differences. I also address any gaps in the process, like introducing battle cards to help craft better pitches. In my experience, successful sales reps don't really enjoy presenting their methods to the strugglers, so if I do mentorships or buddy-coaching, I like to make sure they receive an extra bonus for the additional effort. I also provide individual coaching sessions to new team members, participate in their conference calls, and help handle any discount requests. After performance reviews, if an issue persists, I usually have the budget for additional courses the team can take. This strategy has been very successful in my previous job, where we improved our NPS score by 13, and boosted demo-to-customer conversion rates by 14%.
Tips on how to answer:
Tailor your answer to the company. Always make sure to mention that your coaching strategy is not set in stone and that you would align it with what the company needs.
Highlight the ROI. As usual, focus on the positive outcomes your career development and coaching strategies achieved. Use metrics like increased revenue, conversions, new leads in the pipeline, or individual success stories.
What do you think your typical week would look like in this role?
With this question, the interviewer is looking to see if you know what the sales management role entails, and how you would allocate your time and resources to drive growth.
A sample answer you can use as a starting point:
I expect around 25% to be spent on team calls — one-on-one meetings with each team member, then one weekly call with the entire team, and cross-departmental meetings discussing how to drive leads and opportunities. So far I've had such meetings with marketing, business development, product, legal, finance, and management. Then I also believe roughly 30% of my time would be spent on calls with my team to review deal strategy for key deals, go over the pipeline, and help with larger enterprise accounts. Then maybe 20% would be spent on my own work to support channel partners. I would also need to factor in recruiting talent for sales and BDR roles, coaching sessions with my team, and checking the CRM, tracking, and planning.
Tips on how to answer:
Show awareness. Even if this is your first sales manager role, show that you're aware how this job will be different from a regular sales position.
Go for variety. Make sure to include meetings, coaching, and syncing with other departments.
How do you handle a missed sales target?
The missed sales target question is about bouncing back. The employer wants to test your problem-solving skills, resilience, and leadership style.
Here's what you can say:
I don't shrink from owning the miss. In my book, blaming everything on my reps makes no sense. Instead, we perform a postmortem and pinpoint why our sales fell through. What went wrong there? We turn every failure into a lesson. If any rep isn't on their A game, I'll have a one-on-one to help them get back on track. I'm all about maintaining a positive atmosphere despite setbacks. Instead of being harsh or demotivating the team, I focus on improving morale and presenting new strategies for success. After a hit, we need to bounce back stronger, so we come up with a "rebound" plan. And this also leaves them room to play with new strategies once our numbers have settled. Regular chats to stay on track and transparent talks ensure we're all on the same page and aligned with the new strategy.
Tips on how to answer:
Show you can approach a problem analytically. This means identifying the root cause of the issue, taking a hard look at data trends, and using the data to inform your future steps.
Display positive leadership. Show you're a leader who motivates the team instead of demeaning them when faced with a challenge.
Turn previous mistakes into valuable lessons. Emphasize the importance of learning from experience and creating an actionable plan to prevent making the same mistakes in the future.
Insist on regular updates. Transparent communication keeps everyone in the loop, so talk about the need for regular updates within the team, maintaining clarity about the objectives and progress.
What role does customer relationship management play in your sales strategy?
This question helps the interviewer determine your understanding of CRM and the importance of a sales stack in building and implementing a successful sales strategy. Your response should focus on your technical proficiency and how you use tech solutions to improve customer relationships, streamline sales processes, and drive business growth.
In your answer, try something like:
Running a sales team without tech tools and CRM would be tough, and keeping our CRM updated at all times is one thing I'm not willing to compromise. You may think this is about controlling my reps and tracking their activity, but it's more about knowing where we are with our sales targets at any point in time. Thanks to all the information that sits in SalesForce, I understand our customers' needs and pain points much better. I know in which deal stage a lead gets stuck, I know how many deals we lost to which competitor, and this allows me to act on time and change our approach. It also helps give our marketing team actionable feedback on what kind of BOFU content assets we need. The best bit is that CRM gives me insight into trends and helps me forecast sales.
Tips on how to answer:
Explain how you use it. Use examples and tie in how CRM allows you to better understand customer behavior and optimize your sales strategies. And if you can, tie this in with how you use it with your outbound sales tools to increase wins.
Highlight efficiency. Talk about how CRM improves your and your team's efficiency in managing leads and customer interactions.
Focus on flexibility. Don't forget to mention how CRM helps in fine-tuning and optimizing your sales strategies based on data-driven insights and predictions about future trends.
Offer a glimpse of leadership. Talk about how you leverage CRM to guide your team toward providing personalized customer experiences and hitting sales objectives.
What are some things you found surprising when you first started in a sales manager role?
This question is asked to check what could surprise you if you get hired. It's also a good way to test how you view the sales manager role.
A sample answer you can use:
Many things, actually. I knew being a manager was a lot more "us-centric" than "me-centric", but there were still some things that surprised me or were initially difficult. When I first started, I could not have imagined the amount of bureaucracy and paperwork I'd have to handle. The number of meetings was another thing — I was used to having a bunch of meetings, but meetings with prospects and meetings with the team and management are two entirely different things. I would sometimes feel like 70% of the conference calls could easily have been emails. Not making commissions and having no incentives based on my team's performances also required a bit of adjusting. Then, on a more positive note, I was surprised at how much I enjoyed being a mentor and the coaching aspect of the role.
Tips on how to answer:
Be honest. It's not the point to highlight only the positives. If there have been negative surprises, say it. The interviewers will appreciate it.
End on a positive note. You don't want to sound like you're complaining. The point is to say you've overcome the challenges and are happy and comfortable with the role.
Describe an innovative sales strategy you implemented. How did it perform?
Here, the interviewer wants to check if you're set in your ways or if you welcome new ideas and strategies. The key is to show you have a growth mindset.
Sample answer to use:
I once decided to boost our engagement by implementing a strategic "customer education" program. We created targeted webinars, infographics, and support articles that helped our customers understand how to use and make the most of our products. It was a shift from delivering a sales pitch to educating our potential customers and onboarding them before they even made a purchase. Our prospects appreciated this approach, and our average sales per customer grew by 34%.
Tips on how to answer:
Describe your idea. Be specific about why it was unique or groundbreaking.
Get specific. Explain how you executed this plan. For example, you can mention the specific tools you used.
Talk about the results and quantify them. Share details about how the strategy performed. For your answer to be more impactful, include numbers, statistics, or improvements you made.
Hint at your skills and proactivity. Make sure to subtly work your management skills, such as creativity, strategic thinking, and result orientation, into the narrative.
Besides these general sales manager interview questions, expect to get some standard, non-sales-specific questions as well, so make sure you know how to answer:
Behavioral Interview Questions for Sales Managers and How to Answer Them
Behavioral questions focus on how you dealt with a specific situation in the past, assuming that's how you'll also perform in the future.
These questions aim to uncover your skill set — everything from team management to swift decision-making, from strategic planning to handling pressure. How you've done in actual professional scenarios is a reliable indicator of your potential success in the new role.
The STAR method is the best way to structure your answers to behavioral questions.
It's an organized and effective way of telling your story without missing any critical points. STAR is an acronym for Situation, Task, Action, and Result, and it helps you frame responses around demonstrating your skills and competencies through real-life examples.
Some behavioral sales manager interview questions to expect:
Tell me about a time you handled a difficult customer situation?
Give an example of a time you had to make a tough decision regarding a team member.
Tell me about a time when you faced a significant challenge in meeting your sales targets and what you did to overcome it.
Describe a situation where you had to work closely with a difficult co-worker or team member.
Describe a time when you led by example in a sales situation.
💡Pro tip: Behavioral questions will be particularly hard when you're interviewing for your first ever sales management role. If that's the case, talk about the times when you showcased leadership skills even if you weren't formally a team leader. Think about leading a project or an initiative, mentoring junior colleagues, or making tough decisions. You can say something like: "I've never been in that particular situation, but I had, I would…"
Tell me about a time you handled a difficult customer situation
As a sales manager, handling difficult customers is an integral part of the job. The interviewer wants to reveal your problem-solving and conflict-resolution skills, as well as see how willing you are to go out of your way to ensure customer satisfaction.
A sample answer:
Once, one of my senior account managers had a Fortune 500 prospect who was very demanding. Although he was experienced in dealing with special requests, this company wanted a two-month free trial of our SaaS solution, with 24/7 support and daily meetings with our support and R&D teams to check if we could accommodate their requirements. Although the account manager agreed (this was, after all, a $1,750,000 deal), a week later, he asked for my help. The prospect was requesting a statement of work, several certifications, and informed us that we still needed to go through the RFP process, as they were also negotiating with two of our competitors. We had only 3 days to provide everything. So I organized a cross-department meeting, with my sales rep, our head of tech support, and the RFP project manager. I explained this account needed maximum priority and asked the project team to stop whatever they were doing to focus on this deal. We managed to prepare all the documents and submit our application just in time.
Tips on how to answer:
Choose the right example. Pick a significant incident that shows your problem-solving and customer service skills.
Be concise. Briefly describe the issue and explain what steps you took to resolve it.
Show empathy. Your answer should prove you can handle tough situations and demanding customers with care and respect.
Give an example of a time you had to make a tough decision regarding a team member
There will be tough calls. Nobody loves the idea of having to fire a team member or announce pay cuts, but that's the test of true leadership.  In your response, try to show you can navigate the delicate interpersonal issues while keeping the company's best interests at heart and without jeopardizing the integrity and morale of your team.
Here's an answer example:
In my previous role at XYZ Corp, one of my top-performing reps disregarded our team's code of conduct consistently. Although he brought in significant revenue, his behavior was affecting the team's morale. I talked to him several times about it, issued a couple of verbal warnings, and tried to get to the bottom of the problem, but ultimately, I had to let him go. It was a difficult choice given his contribution to our figures, but team harmony and a positive workplace environment took precedence. Luckily, we soon hired another senior rep, who managed to get our revenue back on track in less than 2 months.
Tips on how to answer:
Be honest but tactful. Choose a real situation, but make sure to maintain confidentiality and professionalism.
Highlight positive outcomes. Talk about why the decision was right and how it impacted the team.
Show emotional intelligence. Did you consider team members' feelings and perspectives, especially if the decision involved letting someone go or addressing a sensitive issue?
Consult before acting. Mention how you consulted with HR or higher management. It shows you value advice and collaboration, understand the weight of your decisions, and have a collaborative leadership style.
Keep your answer focused and succinct. You can always elaborate if the interviewer asks for more details.
Tell me about a time when you faced a significant challenge in meeting your sales targets and what you did to overcome it
Even if you have a great team and a fantastic product, things don't always go as planned. And that's precisely why the interviewer wants to find out how you handle setbacks.
Sample answer:
One time at NBN Tech, we were halfway through Q2 and significantly behind our sales targets due to a sudden market downturn. Traditional sales tactics weren't cutting it. After reviewing performance analytics, I identified the underperforming areas and collaborated with marketing to build targeted campaigns. I also introduced a short-term incentive program to motivate the team. By the end of the quarter, we had recovered 90% of the projected revenue and retained two key accounts on the brink of churn.
Tips on how to answer:
Provide a backstory. Specify what made the situation difficult. Was it competition, the pandemic, internal resource constraints, or something else?
Detail the steps you took and the logic behind them. The idea here is to show that dealing with a problem successfully wasn't a stroke of luck, but an outcome you worked toward purposefully.
Give your team some credit. Always make sure to recognize your team's contribution to the success.
End on a high note. Wrap the answer by talking about the results of your actions.
Describe a situation where you had to work closely with a difficult co-worker or team member
With this question, the interviewer is looking for evidence of how you maintain a productive environment amid personality clashes or differing viewpoints (in other words, how you prevent and stop office drama).
You can answer like this:
In my previous role, I had a team member who was an exceptional sales person, and also very hard-working, but had a confrontational and cocky style that was affecting team dynamics. For example, he would purposely keep deal sizes low and a stage or two behind to keep them off my radar, assuming I would want a piece. Needless to say, I considered this highly problematic behavior. I've been a sales rep before, and I know sometimes you gotta play the game, but sandbagging everything was harming the team spirit. Instead of sidelining him, I decided to have a frank, one-on-one conversation where we discussed our mutual goals for the team's success. I also provided specific feedback on how his approach was impacting others. Over time, we worked together to adapt his communication style, improving not just team harmony but also overall productivity.
Tips on how to answer:
Don't be vague. Let them know what happened and get specific.
Focus on resolution, not conflict. The issue itself isn't as important as the way you handled it. Open with the problem, but emphasize the resolution.
Keep your tone professional. Stick to work-related examples and avoid trashing the co-worker. Use neutral language and stress how you respected their perspective and worked together to find a solution.
Focus on the positive. Talk about what the entire team learned from the negative experience.
Tell me about a time when you needed to adapt your selling style to a customer's needs
When the interviewer asks this question, they want to see if you're a one-trick pony or a versatile sales leader. If you're flexible enough to tweak your approach based on what a customer needs, you've already set yourself apart from the crowd.
Here's an example of a good answer:
One of the long-standing clients whose account I was responsible for was traditionally very numbers-oriented, focused mostly on ROI. However, during a renewal discussion, I sensed they were more concerned about user experience than ever before. I quickly pivoted my pitch from the usual metrics and instead began demonstrating the user-friendliness and innovative features of our solution. We not only renewed the contract but expanded the scope of our partnership.
Tips on how to answer:
Detail the shift. Clearly define how your usual selling style differs from this adapted approach. Make it evident you recognized the need for change and acted on it.
Explain the "Why." Provide context for why you felt the need to adapt your style.
Show how you did it. Discuss how you communicated the new strategy to your team and how quickly they were able to implement it.
Close with impact. Highlight the positive outcome — a successful deal, a strengthened relationship, or something you learned that informed future sales tactics.
Describe a time when you led by example in a sales situation
Leadership is not about delegating and "let me know if you need anything." It often means being "one of the guys" and showing your team how it's done. When an interviewer asks you to discuss a time when you led by example, they're really looking for cues about your hands-on leadership style and your ability to inspire action through your own actions.
Sample answer:
During a particularly challenging quarter, my team was striving to meet an ambitious sales target that seemed out of reach. Rather than simply piling on more pressure, I took on a few high-value prospects and applied a new upselling strategy we had discussed but still needed to implement. My hands-on involvement led to closing critical deals and demonstrated the new strategy's effectiveness to my team. The whole team soon followed suit, and we met our target.
Tips on how to answer:
Be precise. Highlight what specifically you did that counts as "leading by example." Was it a sales call, a new strategy, or perhaps problem-solving on the fly?
Discuss the ripple effect. Mention how your actions impacted the team. Did they adopt your methods? Did morale or performance see a spike?
Reflect on its impact. Was this a one-off instance, or did it lead to a lasting change in how you or your team operate?
Show you're the kind of manager you needed when you were on their side.
Some other sales manager interview questions to think through:
Why are you interested in a sales manager position?
What do you like and dislike about being a sales manager?
What qualities would you look for when hiring your team members?
Have you ever had to fire anyone? How did you handle it?
What tools do you use for data analytics?
What do you think would be a successful rep coaching session?
How do you approach setting goals?
What qualities do you think a good manager should have?
How would you ensure that the sales process is upheld?
What are some of the things you found surprising when you first started as a sales manager?
Questions to Ask Your Interviewer After the Sales Management Interview
Towards the end of your interview, you'll be asked if you have any questions for the interviewer. Saying "no, I think we covered everything" is one of the biggest interview faux-pas you can make.
Here's why you need to ask at least 3–4 questions at the end of the interview:
It shows you've been paying attention and are really interested in the role.
It also shows you understand that the interview (like sales) is a conversation, where both sides contribute.
Many other candidates won't have questions, or will only choose general, vanilla questions like "What's the company culture like?". Make sure you choose interesting and insightful questions to set yourself apart.
Once you start asking questions, and the interviewers open up a bit, you may get a lot more information about the company culture, sales processes, and the role itself.
Shows you're a closer. The role reversal will assure them you're a true salesperson who knows when and how to close a conversation and define next steps.
Our top 5 questions to ask at the end of a sales manager interview:
What would a typical day look like for this role?
How would you know you'd hired the right person after the first 90 days in the role?
What do new sales people often find surprising after they start?
What's the performance review process like here?
What is the current retention rate for your sales team?
If you need more examples, we have an in-depth guide on this. Check it out here: 24 Questions to Ask in a Sales Interview.
Extra Tips to Ace Your Sales Manager Interview
You can be the best candidate for the job, but you will do poorly in the interview if you come unprepared.
Some helpful tips:
Research the company and the industry
Don't come to the interview convinced your existing strategy will work. Instead, make sure to research the company, the industry, and the structure of the sales team. Selling B2B SaaS software in a remote company will differ considerably from selling outdoor gear in a brick-and-mortar shop.
Get as much information as you can beforehand. LinkedIn, Glassdoor, Reddit, and Quora are good places to look.
Tailor your answers to the job description
Again, don't think you can have a pre-planned set of answers you can use in every interview.
It's okay to have a general structure of what you want to say in your head, but you will need to adapt the answers to match each role and the actual job description.
For instance, if the job ad lists "ability to create custom workflows in HubSpot and set up various dashboards for BDRs and account managers", then mention the workflows and dashboards you've built in HubSpot (or any other CRM software) over the years.
Don't stop there, though. Finish strong by saying how the CEO liked the dashboards because he could get a high-level overview of everything in just a quick glance.
Small modifications like this will win you the job.
Highlight transferable skills from past sales experience
To convince the interviewers you're ready for a sales manager role (especially if it's an interview for a first-time managerial role), you need to focus on the transferable skills from your past.  Leadership being number one.
If you led projects, mentored new team members, or took project management initiative, say it.
This can be something "small", like replacing a CRM with an alternative, project managing an RFP for a large customer, or working with marketing on lead-gen. Everything counts, as long as it shows you're good at time management, cross-departmental communication, team work, delegating, identifying issues, and solving them.
Emphasize leadership experience
Sales managers need to be people-focused, rather than deal-focused (this is also one of the hardest things to master for new sales managers). You need to show you're not just a spreadsheet jockey who exists solely to manage forecasts and track activity. Mention how you also assist in deals, help close difficult accounts, stand up for your team in management meetings, and play a big role in enablement.
Practice for the interview
Being in sales, you're probably more comfortable with public speaking, meeting new people, negotiating, and selling yourself than an average candidate.
But speaking about products and services with prospects is not the same as selling yourself for a sales manager position. You have to live up to your reputation as a good sales person and you'll be against a bunch of other qualified sales candidates who think the same.
Practicing for the interview will give you an extra layer of confidence and preparation that sets you apart. There are many ways to approach it — from booking a few sessions with an interview coach, doing it on your own, roleplay, or using interview preparation software.
Big Interview's mock interview tool lets you choose the industry and exact role you're interviewing for (for the Sales Manager role, you'd go to Industry > Sales Profession > Sales Manager) and practice on camera.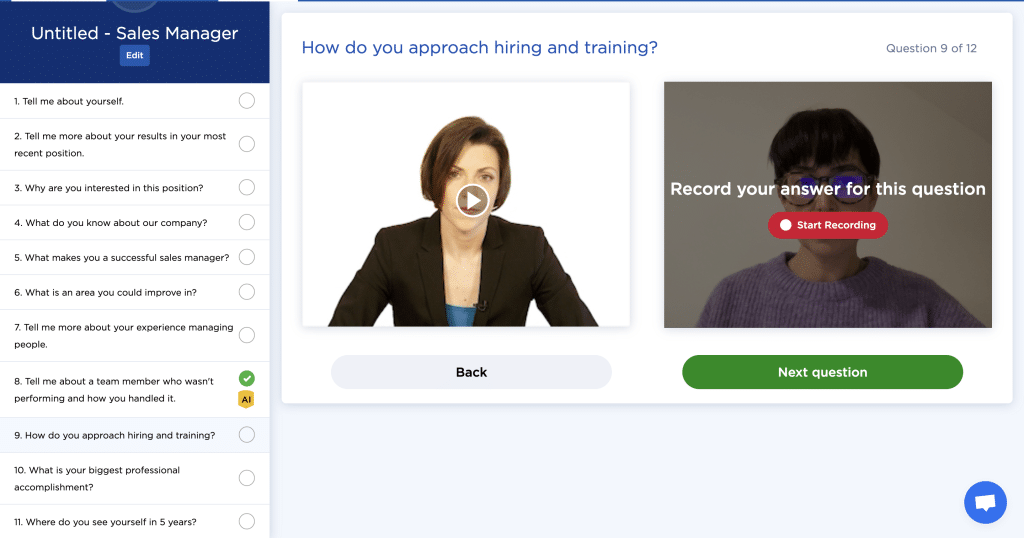 Then when you've completed the interview you'll get AI feedback on your delivery (both the content of your answer and 12 non-verbal cues, including body language).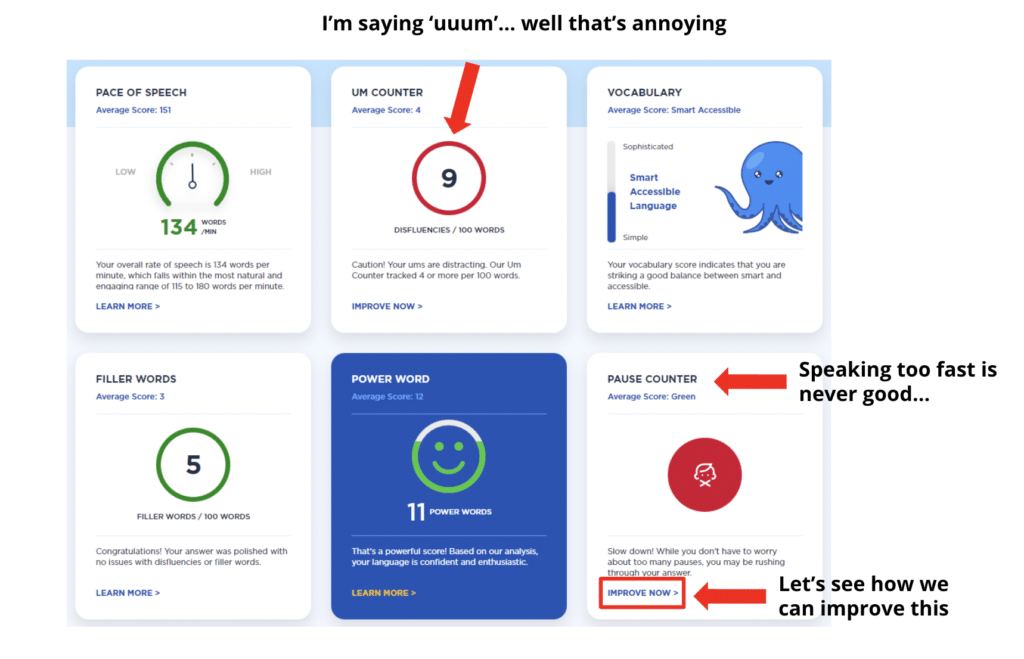 It's not about the money
You don't take a sales manager job because you want to make more money.
In fact, depending on the industry and company, you could even take a considerable hit to your on-target earnings, in return for a more predictable and consistent base. Bottom line: your most successful Account Executives will outearn you.
You take a sales manager job because you enjoy the coaching aspect of the role and you thrive on seeing your team grow. Keep that in mind when interviewing, and keep money out of the conversation until the later stages in the interview process.
And if you need a few more tips to feel confident, here's a quick reminder of how to sell yourself in an interview:
Summary of the Main Points
Here's what you need to know about interviewing for a sales manager position:
The conversation will be centered around your leadership and coaching skills rather than your past success as a sales representative.
The questions will be a mix of general and sales-specific questions, and many of them will be behavioral (require you to tell a story of how you would behave in a hypothetical scenario or describe one such past situation).
To succeed, you need to research the company, industry, and the position, customize your answers to make them relevant to the position, and practice before the interview.
At the end of the interview, you're expected to ask 3–4 insightful questions.
Practicing for your next sales interview? There are 4 ways we can help:
FAQ
What makes sales manager interviews different from regular sales interviews?
Sales manager interviews differ from regular sales interviews, primarily in scope and leadership focus. While both try to identify your sales acumen and customer engagement skills, a sales manager interview digs deeper into your people skills and the ability to lead and inspire a team. The emphasis isn't so much on your individual sales performance but on team management and strategic planning. In short, it's less about making the sale and more about enabling your team to make sales consistently and effectively.
What should I do in preparation for my sales management interview?
Research the company's products, culture, and sales processes to align your answers with your employer's requirements and ask relevant questions. It's also important to revisit your past leadership or managerial roles and prepare specific examples that will demonstrate your skills in motivating a team, conflict resolution, and strategic planning. The odds are you'll have to discuss key sales metrics and industry trends as well as your ability for data-driven decision-making, so prepare for that, too. Finally, familiarize yourself with the STAR method when structuring answers to behavioral questions.
How do I answer "why should we hire you?" in a sales management interview?
Start by emphasizing your sales leadership experience, as well as the industries and markets you've worked in. Briefly go through your track record and mention things like revenue growth, targets you exceeded, or major deals you secured. Mention things that set you apart, like a wide skill set, transferable skills, or the ability to set clear goals and expectations. Finally, to provide evidence of your statements, include an accomplishment that shows you made a real, tangible impact.
What are the toughest interview questions for managerial positions in sales?
Questions about past situations and future scenarios, because you need to tell stories, weave in your skills, and also make sure you quantify results wherever possible. A few such questions are: "Was there a time when you had to implement an unpopular or difficult change for your team? How did you handle it?" or "Describe a time when you had to use your analytical skills to solve a problem." 
What if I'm interviewing for my first managerial position in sales and have little leadership experience?
Keep in mind that being an extraordinary sales rep doesn't automatically make you the right person for the sales manager role. You'll get this job based on your people management skills, not your sales performance. This is why your answer should focus on soft skills like communication, problem-solving, motivation, and coaching. It's a good idea to take some courses on Udemy, Coursera, or LinkedIn to back up your leadership claims.