What Are Behavioral Interview Questions?
Behavioral interview questions ask for particular situations in which you displayed a particular skill or behavior that is relevant to the position you're applying for. It's a space for you to show how capable and awesome you are and to back it up with a concrete example.
Behavioral interview questions are an important part of most job interviews. Employers and hiring managers use them in order to check whether or not you have the skills and competencies needed for the job.
The rationale? Knowing how you performed in the past will give them a sense of how you might do in the future.
Answering these questions on the spot is difficult as you won't be able to recall a particular situation and turn it into a cohesive, engaging story without some forethought. Because of this, it's best to prepare answers (basically "interview stories") in advance.
The answers need to highlight the different competencies and skillsets the employer is looking for. But most candidates have only a general idea of how to answer behavioral questions, resulting in long, unfocused answers that don't actually answer the question and certainly don't display their greatest strengths.
That's why you'll need to make a concerted effort to create these stories and adapt them to the relevant competencies.
Let's learn how.
How to Answer All Behavioral Interview Questions
What if we told you that there's a formula for answering these questions? All you need to do is learn it and then customize your answer to fit different questions – but the framework remains the same.
STAR formula to the rescue!
What's the STAR Formula?
The STAR (or PAR) approach stands for Situation – Task – Action – Results.
Situation: In this part of the story, you're briefly laying out the context. Describe the situation or a problem that needed to be solved and be as specific as possible.
Task: What was your responsibility (task) in that situation?
Action: What concrete steps did you take to resolve the situation? How did you do it?
Results: What was the end result? What did you learn from the experience?
This is the framework that will help you craft an answer to all kinds of behavioral questions.
Practicing the STAR Formula
It's all about storytelling here, which means practicing is important.
Taking the time to anticipate questions and prepare answers will boost your confidence and make your answer "meatier". You can jot down key points you want to use for each STAR component and then practice in front of the mirror or with a friend.
Alternatively, you can try our Answer Builder which will help you write down the main things to say and practice by recording your answer. Our AI will then give you feedback on filler words, power words, the pace of speech, vocabulary, and similar. It will help you easily spot areas of improvement and modify your answers.
Big Interview's AI Feedback Generator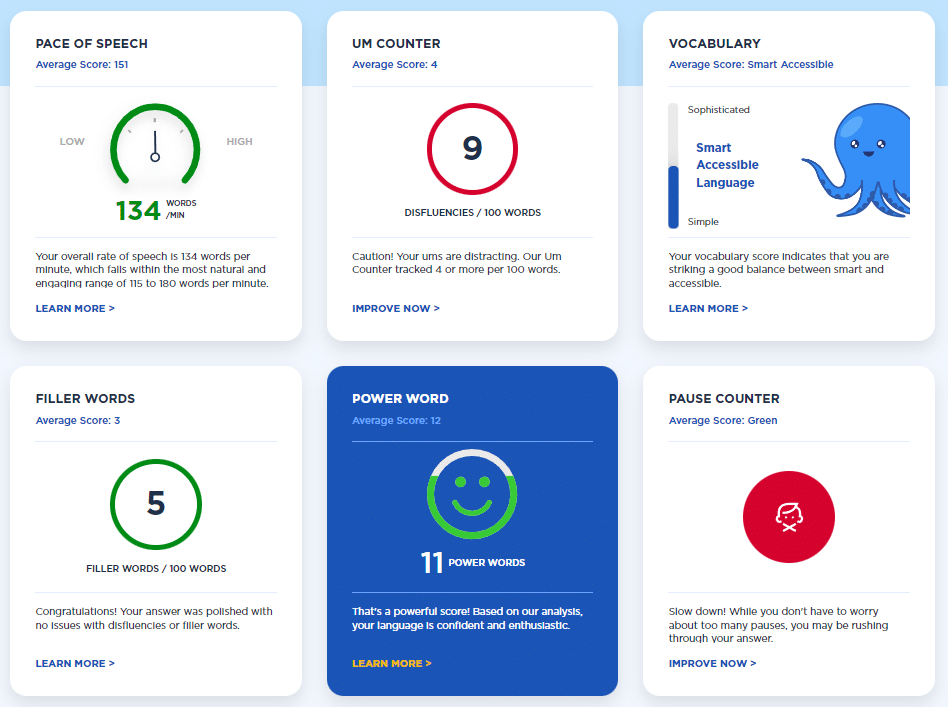 As you can see, the STAR model provides a framework for crafting an answer. But it won't make the answers sound boring and monotonous. On the contrary, having that frame will help you get creative and have fun, as you'll have the space to play around with things to say and discover what works best for you.
Bear in mind the interviewers are listening not only to what you're saying but also how you're saying it. That's why it's smart to create a distinctive storytelling style. You can be humorous, or engaging, or you can provide a plot twist, and so on.
It's a unique opportunity to tell a story with you as the main character. Use it!
Top Answers to Behavioral Interview Questions
Sample Answer 1
In my previous company, we were preparing to enter the Black Friday/Cyber Monday period, which is always a busy and stressful time in eCommerce. I led a group of 5 quality assurance experts who were in charge of proofreading all materials before they go live. But with the volume of work, all 5 of them were overworked and stressed out.
It was my responsibility to make them more efficient and quick while also reasonably managing the workload. I did a lot of research and decided we needed to use the Eisenhower Matrix.
So I set up regular meetings where we prioritized that week's tasks according to urgency and relevancy. We went through tasks and decided which will get done immediately, which will be decided upon, which will be delegated to other teams who had more bandwidth, and which we would eliminate and leave for when the holiday craze wears off.
This fairly simple solution yielded awesome results: our tasklist got shorter, we managed to finish everything on time, and the team's morale was boosted significantly.
After the holidays were over, we got generous bonuses and I organized a meetup to celebrate.
Why we like it: This is a short and straightforward, yet detailed answer. It clearly describes the situation, the task, the action, and the result. The answer focuses on teamwork and team management but it also shows that the candidate has some great leadership and time-management skills.
Sample Answer 2
I was a one-person content team and I had to finish a project: a lengthy eBook on key email marketing metrics. Everything was done on time and I only had to officially launch it on one particular Friday, as we'd previously announced it and our audience expected it.
It happened that this was in August. A lot of people I worked with on the more technical side of things were on vacation.
On the day of the launch, I had several problems: the signup form on the page wouldn't connect with our email service provider, and I couldn't optimize the page to look good across several different devices and browsers.
I had no one to turn to and I didn't want to ping people who were on vacation, so I started going through our documentation to try and find some written material that could help me fix the problems myself. I also did a lot of googling.
After several nerve-wracking hours, I somehow managed to fix things myself. I launched the page and went for a beer. Throughout the weekend, I kept getting messages from coworkers about how awesome the eBook was. The sense of accomplishment felt better than the beer – it still makes me happy when I think about it.
Why we like it: This is a nice example of storytelling and building anticipation. It follows the STAR format and focuses on the candidate's ability to work under pressure and their resourcefulness. The candidate is not afraid to dive into the unknown and they take initiative to solve unexpected problems. A green flag interviewers like to see!
Sample Answer 3
I worked at a small company as a developer. My team leader unexpectedly quit because of a quarrel with the upper management. For that reason, his notice period was 10 days instead of a month.
This left me alone in the middle of a project we were working on, so I had to take on client communication while also working on the frontend and backend side of things.
But I wasn't discouraged. I went full steam ahead and handled my usual frontend things while learning backend too. I had to learn .NET Core Web API and how to write SQL procedures.
While it was extremely stressful and time-consuming, this situation made me into a full-stack developer. And with that came greater freedom at work, with lots of perks and benefits.
Why we like it: The candidate wasn't discouraged by a very unfortunate turn of events. Instead of stopping the project, they used it as fuel for progress. With a bit of extra time and effort, they learned several new things which helped them exceed in their career and reap the benefits of their hard work. This example also shows their ability to work under serious pressure, willingness to take on additional tasks (client communication), and determination, which is always great to see.
Common Behavioral Interview Questions
What are some examples of behavioral interview questions? Below are a few lessons to help you tackle some of the most common behavioral interview questions and answers.
If the role calls for being a team player you'll find specific advice on how to show that you work well with others in the link above.
Some of the key teamwork behavioral questions are:
Tell me about a team project that you worked on
Describe a project that required input from people at different levels in the organization
Share a rewarding team experience
Tell me about a time when you worked with a difficult team member
Interviewers ask these questions to check if you're easy to work with, if you communicate well, how you deal with difficult personalities, and similar.
If people may be reporting to you (or you're a project manager), then you should expect questions about your ability to lead and motivate others.
Some of the most common leadership behavioral questions are:
Tell me about a time when you demonstrated leadership skills
Tell me about a time when you took the lead on a difficult project
When have you delegated effectively?
Describe a time when you led by example
These questions will help an interviewer to figure out if you have leadership potential, what your leadership style is, whether you can assume a leadership role right away, how much experience you have, and similar.
Some roles require a lot of interaction with clients or prospective customers (or challenging situations with other employees). The employer may ask for examples of how you handled or defused tricky situations.
Some of the most common conflict behavioral questions include:
Tell me about a time you had a conflict at work
Give an example of a time you had to respond to an unhappy
manager/customer/colleague
Describe a situation where you disagreed with the supervisor
How do you handle conflict? Give me an example
Your interviewer wants to get a sense of how you handle conflict and interpersonal relationships, your ability to de-escalate a situation, and even how you talk about unpleasant situations. Bear in mind that questions about conflict are probably the most common behavioral question subject, so make sure to prepare properly.
If the role requires creativity and critical thinking, then the employer may want to hear about challenging issues/situations that required some innovation or outside-the-box thinking.
Some of the most common problem-solving behavioral questions include:
Describe a situation in which you found a creative way to overcome an obstacle
Tell me about a time that you identified a need and went above and beyond the call of duty to get things done
Describe a time when you anticipated potential problems and developed preventive measures
What's the most innovative new idea that you have implemented?
With these questions, interviewers want to gauge the levels of your initiative and creativity. But they also want to check how resourceful and determined you are, and whether you have an analytic mind. Prove to them that you're a go-getter who proactively seeks ways to contribute.
More and more recruiters and hiring managers are asking failure questions. Whether you like it or not, you need to be prepared to have a good answer.
Some of the most common failure behavioral questions are:
Tell me about a time you failed
What's your biggest failure
Tell me about a decision that you regret
It's not easy talking about failures and negative experiences. Interviewers want to see how you approach unpleasant subjects, if you're a person who learns from their mistakes, and whether you're self-aware enough to acknowledge your failures in the first place.
Every hiring manager loves a hard worker. No matter the job or the industry or the experience level, they want to hire someone with a strong work ethic and a commitment to getting the job done.
The most common work ethic behavioral interview questions are:
Tell me about a time that you went above and beyond the call of duty to get things done
Tell me about a time when you had to juggle multiple important projects
What's your proudest accomplishment?
Describe a time when you had to overcome a significant obstacle on an important project
The aim of these questions is to reveal your approach to work, whether you're a reliable person, whether you're willing to put in extra effort, and if you're a good culture fit. When crafting your answer, avoid generalities and bring up the most relevant and impressive accomplishments.
Every manager wants to hear about your "greatest hits." They want to know you've left a trail of amazing accomplishments.
Here are some of the questions you can expect to hear:
What is your greatest achievement?
Tell me about a time when you went above and beyond the call of duty
What were the biggest wins in your most recent role?
What you've accomplished so far in your career is one of the strongest arguments for proving why you're the right fit for a certain position. The interviewer wants to check what sets you apart from the competition and this is the perfect opportunity for you to proudly present your best work. Just make sure to find the balance; don't brag too much but don't be modest and shy.
Questions about your global and cultural awareness are being asked more and more by employers. Don't get caught off-guard.
Questions you can expect:
Tell me about a time you worked on a team with individuals from different cultural backgrounds
Describe a time when you found it difficult to work with someone from a different background
Describe a situation that required you to consider a different perspective from your own when exploring an issue
Tell me about a time you observed culturally insensitive behavior on the job
These questions can be particularly challenging to give an answer to. They can also raise all kinds of sensitive topics and you really need to prepare in advance AND pay extra close attention to the kind of language you'll be using.
With more and more companies going global and remote, interviewers are using these questions to check how interculturally aware you are, how well you can adapt, whether you're open to different cultures and social groups, etc.
These were examples for the most common behavioral questions, but we have a full article on the most common general interview questions if you'd like examples for more questions you'll get on your next interview.
And if you want to learn more about answering behavioral interview questions for specific roles, see this piece: Behavioral Interview Questions for Customer Service
Conclusion
There are so many different variations of behavioral questions that interviewers ask to get to know you better. But if you use the STAR method, you'll be able to quickly modify your stories so that they fit each question.
If you prepare properly, these questions are a great way to show off all your accomplishments, the way you think, behave, and communicate – basically, to prove to the interviewer that you're the right person for the position and the company!
Ask a friend to help you out or grab a tool like this Answer Builder to get ahead of the competition.