You could sell sawdust to a lumber mill. You could sell ice cubes in a snowstorm. Selling yourself when hunting for a job, though? That's harder, even for the smoothest-talking, most persuasive sales associate.
The first step? Getting your foot in the door. 
This is where you need a professional sales associate resume. In this one-page document, you need to show and prove your passion for assisting customers alongside your drive to hit targets and keep growing that revenue.
This article will show you how to write a sales associate resume that will finally land you interviews. Even those you thought were out of your reach.
First — two sales associate resume samples you can steal, tweak slightly, and make your own.
Sample Sales Associate Resume for an Experienced Candidate (5+ Years of Experience)

Retail Sales Associate Resume for an Experienced Candidate (Text Version)
Contact Info
Nicole Hanson
[email protected]
linkedin.com/in/nhanson
Resume Summary
Collaborative, friendly, and driven professional with over 7 years of experience in the industry. Delivers high-quality and consistent customer service while multitasking in fast-paced work environments. Skilled in marketing store products, resulting in a 10% increase in annual store revenue. Communicates effectively with team members, management, and customers. Looking to bring my expertise and experience to help Ilia bring natural skin care closer to customers.
Experience:
Forever 21
Sales Associate | Atlanta, GA | July 2016–Present
Assist 40+ customers/day in clothing selection and answering questions
Manage store inventory process 15% faster than average employee
Increase weekly revenue by 10% via new merchandise displays
Exceed sales goals by 20% via strategic marketing efforts
JC Penney
Sales Associate | Atlanta, GA | June 2013–July 2016

Assisted customers in product selection, received 97% positive reviews
Used negotiation strategy to increase credit card promotion sign-ups
Conducted cash transactions and processed customer returns efficiently
Belk
Sales Associate | Atlanta, GA | January 2012–May 2013

Collaborated with store manager to perform open & closing store operations
Consistently achieved sales goals & recognized as a top performer among staff
Shared suggestions with upper management to improve customer experience
Education
Clarke County High School, Atlanta, GA, December 2011
Skills
Customer Service

Sales & Negotiation Strategy

Creative Thinking

Effective Communication

Cash Transactions

Detail-oriented

Product Knowledge

Dependability

POS System

CRM

Basic Math

Collaboration

Friendly

Fluent in English/Spanish

Punctual
Languages
French – Conversational
Sample Sales Associate Resume for a Recent Grad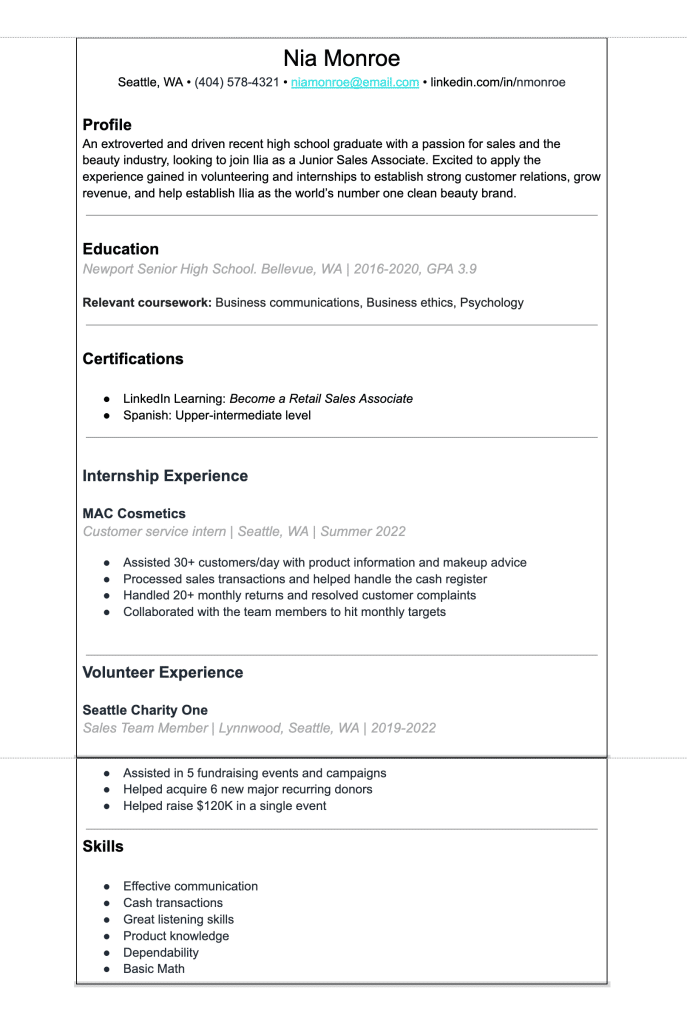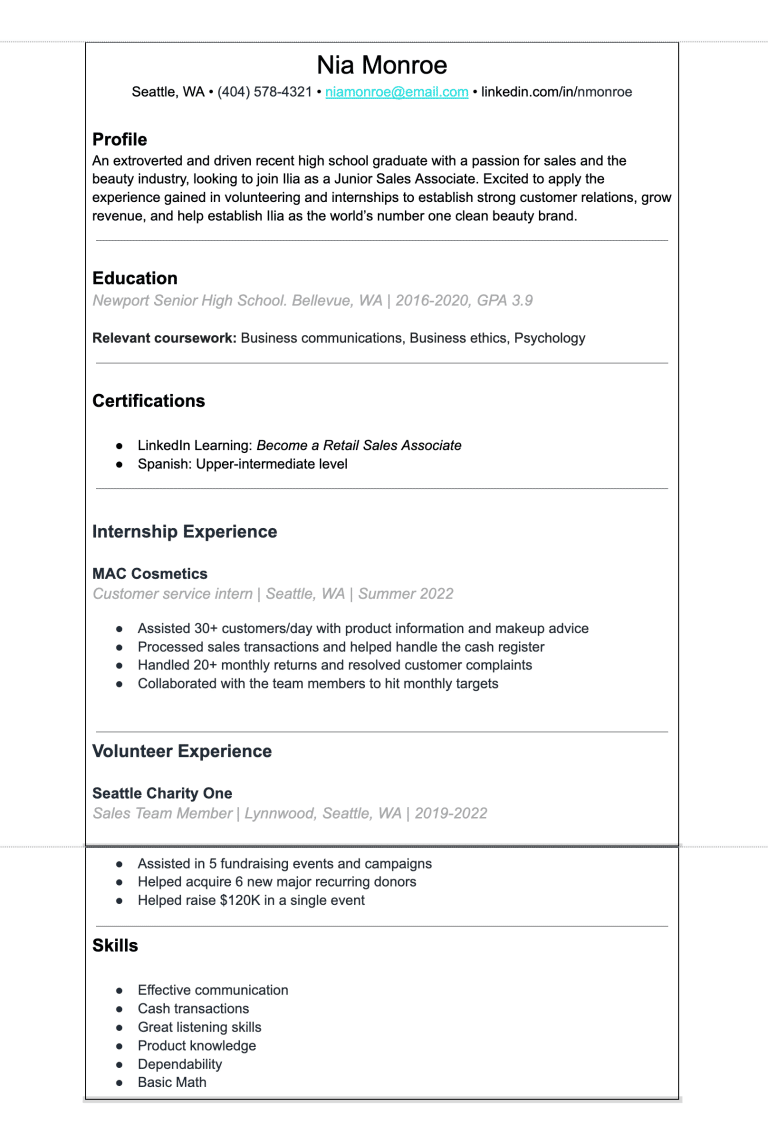 Retail Sales Associate Resume for a Recent Grad (Text Version)
Contact Info
Nia Monroe
Seattle, WA
(404) 578-4321
[email protected]
linkedin.com/in/nmonroe
Profile
An extroverted and driven recent high school graduate with a passion for sales and the beauty industry, looking to join Ilia as a Junior Sales Associate. Excited to apply the experience gained in volunteering and internships to establish strong customer relations, grow revenue, and help establish Ilia as the world's number one clean beauty brand.
Education
Newport Senior High School. Bellevue, WA | 2016-2020, GPA 3.9
Relevant coursework: Business communications, Business ethics, Psychology
Certifications
LinkedIn Learning:

Become a Retail Sales Associate

Spanish: Upper-intermediate level
Internship Experience
MAC Cosmetics
Customer Service Intern | Seattle, WA | Summer 2022
Assisted 30+ customers/day with product information and makeup advice

Processed sales transactions and helped handle the cash register

Handled 20+ monthly returns and resolved customer complaints

Collaborated with the team members to hit monthly targets
Volunteer Experience
Seattle Charity One
Sales Team Member | Lynnwood, Seattle, WA | 2019-2022
Assisted in 5 fundraising events and campaigns

Helped acquire 6 new major recurring donors

Helped raise $120K in a single event
Skills
Effective communication

Cash transactions

Great listening skills

Product knowledge

Dependability

Basic Math
How to Properly Format and Structure a Sales Associate Resume
Your initial instinct might be to start your sales associate resume by considering what important details to include. Instead, take a step back and consider the resume format first.
Good formatting boils down to:
Giving your resume a polished, professional look.

Making sure you follow standard practices as to what sections to include.
Let's break it down.
Aim for a professional look 
Did you know that 94% of first impressions are design-related? 
The format you select for your retail sales associate resume should appear professional and visually prioritize essential information over the rest. 
Bottom line – the visual appeal matters, and not taking this seriously can ruin the initial touchpoint with your potential employer. 
Let's discuss the elements that will make your sales associate resume look good. 
1. Pick the right font 
Select a classic, legible font that won't distract from the meaning of your words. Good fonts to use on a resume include:
Arial

Helvetica

Verdana

Calibri

Tahoma

Times New Roman

Garamond

Georgia
The ideal font size is 11–12 pt, but you can resort to a 10 pt if you're struggling with those few nasty lines spilling over to the second page.
2. Adjust line spacing 
The legibility of your sales associate resume heavily relies on line spacing. Plus, leveraging white space allows you to make your top skills and qualification pop right away. 
Stay between 1.15 and 1.5-point line spacing to ensure the cohesiveness and scannability of your resume. 
3. Set margins to one inch 
Setting margins is all about balance, and the golden rule says you should adjust them to one inch on each side. 
If they're bigger, your resume will look empty and the hiring manager will be under the impression that you're trying to camouflage a lack of experience. And margins that are too small will make your resume look cluttered and hard to scan. 
4. Put your headings in a larger font 
Using larger fonts (14-16pt) and bold for your headings will make them stand out and highlight the most important bits of information the employer is looking for. 
This simple tactic will visually walk the recruiter through your sales associate resume and direct their attention to the most impressive career and educational accomplishments. 
Structure your sales associate resume in a logical way
It's safe to assume your resume won't be read completely, so never save the best for last — say it first.
Organize your sales associate resume sections in the following way: 
Header with contact info

Resume summary or resume objective

Work experience (starting with the most recent)

Education and certifications

Skills

Additional sections — memberships in professional organizations, languages, or volunteer experience
In the work experience section, listing information in reverse chronological order allows for your most recent and relevant accomplishments to get passed the ATS and catch the eye of the hiring manager. Additionally, it will illustrate your career growth and development.
If you're a recent grad with little or no professional experience under your belt, placing the education and certifications section right below the resume objective is a better option.  
Our detailed guide on choosing the best resume format will navigate you through this process step by step. 
Let's break these sections down and see how to make the most of them. 
Include a Header with Contact Information
Don't skimp on providing all the necessary contact information on your sales associate resume. This will make it easier for the recruiter to look you up on the internet or social media and get in touch with you. 
Here are some must-have personal details to include: 
Your first and last name.

Job title.

Phone number

.

Email address. 

Location.

LinkedIn URL.
So, the header with contact info on your sales associate resume should look something like this: 
Mona C. Lowe
Retail Sales Associate
Plano, TX • (972) 282-5687 • [email protected] • linkedin.com/in/mclowe/ • 
Create a Sales Associate Resume Summary or a Resume Objective Statement 
Regardless of the format you select, your sales associate resume summary or a resume objective is always the section that comes first. 
Let's see how to distinguish between them and which one to use for your sales associate resume. 
Sales associate resume summary 
The main difference between a resume summary and an objective statement is that the former is suitable for seasoned sales associates who can easily populate the Work Experience section with relevant examples. 
So, if this is your first sales associate job application, or you're changing careers and have no relevant experience in the field, a sales associate resume objective will work better for you (more info in a bit).   
Consisting of three to five sentences, a resume summary serves to immediately capture the hiring manager's attention by recapping your key skills, competencies, accomplishments, and character traits relevant to this position. Besides showcasing your qualifications and background, this brief paragraph should also demonstrate how you plan to contribute to the company and why the employer should hire you. 
Here are some tips to help you make an entrance with your resume summary: 
Quantify your achievements

. Saying you hit or exceed your sales targets won't cut it unless you back up this claim with numbers. So, always express your performance through numerical values, percentages, money, people, or time.    

Include power words

. Your choice of words matters here. To punch up your unique selling points, use adjectives such as "results-driven," "detail-oriented," or "committed," and actionable verbs like "exceed," "helm," "lead," or "manage."    

Don't use complete sentences.

It's much more impactful to use sentence fragments and omit pronouns.  

Add qualitative information.

This includes awards and all kinds of recognition that will show how your previous employers and customers praised your hard work. 
Here's an example of a sales associate resume summary that covers all the bases  ✅
Sample summary for a sales associate resume
Results-driven retail sales associate with over 7 years of experience in the industry. Consistently exceeded sales targets by an average of 20% through effective product knowledge, persuasive selling techniques, and excellent customer service. Consistently received positive feedback from customers, resulting in a customer satisfaction rate of 95%. Seeking an opportunity to bring my proven sales abilities and customer-focused approach to Ilia.
Now let's reach into the recycle bin and see what a poorly written sales associate resume summary looks like. ❌
I have been working in the retail industry for a few years now and I am looking for a new opportunity. A hard worker who is good with customers and always willing to learn new things. I have a friendly personality and I am a team player. I think that I would be a great fit for any retail company looking for a dependable sales associate.
Would you hire someone who used the word "I" 10 times in such a short paragraph? Probably not. 
But being repetitive (and self-centered) isn't the only problem of this lame resume summary — even though the person might be someone who's regularly been voted Employee of the Month. Here's a list of everything that's wrong with it. 
It's too general, vague, and devoid of any specificities about achievements.

It lacks punch since the candidate used full sentences, packed with pronouns but sans power words.

There is no quantifiable or qualifiable information to corroborate that the sales associate in question is a hard worker who's good with customers. 

The candidate doesn't mention any particular skills or area of expertise that would distinguish them from other applicants. 
Check out our in-depth guide on crafting a resume summary for more practical tips and examples. 
Sales associate resume objective
You don't have much to brag about when it comes to professional experience? Don't worry, you can still make it to the "yes" pile! 
What you need is a well-crafted resume objective that leaps off the page and makes up for what you lack in competence and career history. This paragraph is instrumental in helping inexperienced candidates and career-switchers by underscoring their hard and soft skills, talents, abilities, and professional goals. 
Follow this simple formula to create a compelling career objective: 
Stick to no more than three sentences 

Introduce yourself briefly 

List your strengths but make sure to align them with job requirements 

Include relevant experience, even if it's helping out at your local a mom-and-pop store or volunteering at a food bank

Focus on how you can contribute to the employer, not on what you expect to get from the job. 
And if you concoct all these ingredients the right way, you'll get something like this  ✅  
Sample objective for a sales associate resume
Recent graduate with a degree in Marketing and a passion for customer service seeking a retail sales associate position to utilize my strong communication and problem-solving skills. Ready to bring a fresh perspective and energy to the team at Vintage Inc and to help drive sales and customer satisfaction.
This example works like a charm because it's succinct and actionable. The applicant mentions their strong traits that could come in handy for performing daily sales associate duties. Despite not listing any particular previous experience, this recent grad clearly knows how to sell the sizzle and present themselves as an invaluable resource that Vintage Inc should be happy to secure. 
Here's what your sales associate resume objective should NOT look like  ❌
As a recent Business Administration grad, I am seeking a Sales Associate position where I can learn the ropes of the job and grow professionally. I'm a quick learner, willing to expand my horizons and hustle. My university degree makes me a great choice since I'm familiar with sales-related processes. Being friendly, communicative, and hard-worker are the traits that also qualify me for this position. 
Let's dissect this example and see why the applicant failed to advance to the next round: 
Despite being wordy, this resume objective doesn't say why the candidate is the right fit for the job. 

It's all over the place and doesn't follow any order in listing the applicant's skills and strengths, clearly showing that being organized isn't one of them.  

We can see what the applicant's expectations from the position are, but there's no mention of how the employer will benefit from hiring this particular person. 

It's repetitive, somewhat boring, and full of redundant personal pronouns that only take up space and don't contribute to the objective in any way.

There's no hook that will capture the recruiter's attention, while the lack of targeted keywords, related to the sales associate position requirements makes it ATS-unfriendly. 
Bonus tip:
Work on this section last.
It is difficult to describe yourself adequately in just two to three sentences. If you are struggling to come up with talking points or narrowing things down, try to skip this section and come back to it. Often, writing your skills and work history sections preps you to decide what is most important to discuss in your resume summary or objective.
Read our detailed how-to resume objective guide for more ideas.   
Highlight Your Sales Associate Experience in the Work Experience Section
OK, now that your killer intro section sparked an interest in the hiring manager to go through your entire sales associate resume, it's time to bring out the big guns and nail your work history section.
Everything you've said so far served only as a sneak peek into your personality, skill set, and experience. The Work Experience section should expand on all that and get the hiring manager to think to themselves "This one's a keeper!" 
So, how do you achieve this? 
List your accomplishments in reverse chronological order 🔙
We already discussed why you should list your work experience in reverse chronological order — your most recent work is probably your most impressive and it's best to bring it to the fore.
In case you don't have too much experience in retail, select work experience that shares as many similarities to retail or sales as possible. 
Zero in on your most recent jobs 🔎
Share as much detail as possible about your latest jobs, so that the hiring manager can see what your responsibilities and work assignments were and how they correspond to the position you're applying for. 
Add up to 7 bullet points for your most recent job. As you go back in time, limit yourself to 3 to 5 bullets and only focus on tasks you excelled at. 
Amplify your accomplishments 🚀
Start each bullet point with an action verb, to illustrate your impact at work more vividly.
Also, since sales is a numbers game, make sure to quantify your accomplishments. Include, for example, how many people you managed, how many customers you assisted, or how much sales you generated. 
Let's take a look at a well-optimized work history section ✅
Sample work experience section for a sales associate resume
FashionLux
Sales Associate | Fort Lauderdale, Fl| July 2018–Present
Exceeded quarterly sales targets by an average of 20% through effective relationship building and product knowledge

Managed and trained a team of 6 junior sales associates, resulting in a 15% increase in overall store sales 

Implemented a new customer loyalty program, bringing about a 10% increase in repeat business 

Updated product knowledge continuously and kept up with the latest industry trends to effectively assist customers and drive more sales.  

 
Listing accomplishments in three to five bullet points? ​​✔️
Quantifying achievements? ✔️
Using actionable verbs? ✔️
Providing details relevant to the sales associate position? ✔️
Besides following the work history best practices to a tee, this candidate went the extra mile and explained how they achieved all this. In other words, the potential employer can rest assured that this sales associate knows what they're doing and that these impressive numbers weren't just a stroke of luck. 
On the other hand, the following work history example would leave you waiting for a reply from the hiring manager. In vain. ❌
FashionLux
Sales Associate | Fort Lauderdale, Fl| July 2018–Present
Exceeded sales targets regularly 

Managed and trained new sales associates

Stocked and managed inventory

Created attractive merchandise displays

Assisted customers and answered their questions
Although providing almost identical information as the well-optimized one, this work history fails to demonstrate how to applicant performed these tasks, what their results were, and whether and how the employer benefited.  
There are no numbers to substantiate these statements and convince the hiring manager this sales associate would be a great addition to their team. Our score: lukewarm. Pass!
To avoid making such a mistake, read our dedicated guide on how to properly create a dazzling work history section that will impress your potential employer. 
List Your Education on Your Sales Associate Resume
While it might not always seem relevant to your job, including your education on your retail sales associate resume is important.
Even more so if you have limited work experience in retail or in general. In that case, your education and certifications will have to do all the talking. 
Here are some tips for making this section work for you:
Structure it in reverse-chronological order, just like your professional history. 

Include all your degrees, field of study and major, school name, and graduation date, in any order you find suitable. Adding a GPA can also be worthwhile but only if it's higher than 3.5. The more scarce your work experience is, the more detailed your education section should be. 

Although a BA degree isn't required for a sales associate position, having one can increase your odds of becoming a floor or store manager. In case you've graduated from college, you don't have to include your high-school degree. 
Example of the education section on a sales associate resume
Education 
Clarke County High School, Atlanta, GA, December 2021, GPA 3.8
Relevant coursework: Principles of Marketing, Sales Management, and Customer Service 101
To find more examples and tips for crafting this section, use our curated guide on how to list education on your resume.  
Put Your Sales Associate Skills on Display 
Listing your soft and hard skills will give the recruiter valuable insight into your abilities and show whether you're a good match for the sales associate position. 
But, apart from this, these skills also serve as keywords so that the ATS can "read" your resume. These bots are designed to review resumes and decide whether or not they have "good-candidate potential". A bot searches for keywords — including skills associated with ideal candidate potential and either flags or rejects the resume.
The trick is to add only the skills relevant to the role you're applying for, so it's a good idea to carefully study the job description to be sure that your list makes sense. 
Here are some of the most common skills to put on your sales associate resume and outsmart the bots:
Examples of sales associate skills
Communication

Organization 

Problem-solving 

Time management 

Interpersonal skills 

Attention to detail 

Active listening 

Customer service

Teamwork 

Conflict resolution 

Product knowledge

Empathy 

Adaptability 

Flexibility 

Negotiation skills

Persuasiveness 

POS knowledge 

MS Office 

Maths 

Cash register operation 

Visual merchandising 

Inventory management

Friendly attitude 

Helpfulness 

Multitasking 

Languages 

Resourcefulness 

Initiative 

Patience 

Goal-oriented
And a word of advice — stick to the skills you actually possess if you don't want to get yourself into trouble over not being sincere on your resume. 
We also have a pretty useful guide on the skills to put on your resume, so you can use it if you need inspiration. 
Add the Not-So-Optional Extra Sections to Your Sales Associate Resume 
Although frequently referred to as "optional," this sales associate resume section goes a long way toward setting you apart from a slew of other candidates. 
So, instead of skipping it believing you've already said enough about yourself, it's much better to put extra effort into listing your certifications, hobbies, volunteer experience, the conferences you attended, and the languages you speak. 
Remember that you're up against hundreds of people with similar backgrounds, skills, education, and even work experience, so it's crucial to humanize your resume and add it an element of je ne sais quoi. This will hopefully convince the recruiter you're one of a kind and worth giving a chance at the job interview. 
Certifications
Some of the following certifications will give your sales associate resume a certain weight, particularly if you don't have much to brag about in your work experience section: 
Awards
The Associates of the Year Award is the pinnacle of every retail sales associate's career, and having this on your resume would open you ALL the (store) doors. But, even if you're a rookie or simply don't have the fancy awards to vouch for your excellence, you can and should mention every instance you've been designated as the Employee of the Month.  
Volunteer experience
Super valid. Apart from showing that you're interested in contributing to the greater good, volunteer experience on your sales associate resume will demonstrate your ability to solve problems, take initiative, and engage in teamwork. Plus, people who volunteer have great people and active-listening skills, both of which are essential in retail. 
Conferences
Every employer would like to have a motivated workforce, interested in staying up to date with the latest trends. Listing all the retail conferences you attended will show the hiring manager your dedication to continuous learning and willingness to move the needle at work. 
Membership in professional organizations
Are you a member of the National Association of Sales Professionals (NASP) or the National Retail Federation (NRF)? If yes, then make sure the recruiter knows it, because this shows you're not looking for a position in retail just because you're between jobs. 
Languages
As a retail sales associate, you'll have to serve people from all around the world, so speaking more than a single language is a welcome addition to your skill set. List all the languages you speak together with the level of proficiency.  
If you'd need more examples and ideas for this section, check out our guide on how to put hobbies and interests on your resume. 
Tailor Your Sales Associate Resume to Job Requirements
Finally, one rule to rule them all.

When you're applying for two or more sales associate positions simultaneously, the worst thing you can do is send out the same resume to each one of them. It's a big no-no because although these job openings might be similar, their requirements almost certainly aren't. 
If you want your sales associate resume to make a splash, customize it to check all the boxes from the job description. Yes, this means carefully reading what the employer expects from an ideal candidate and making sure your resume reflects these requirements. 
For example, let's analyze the following job description: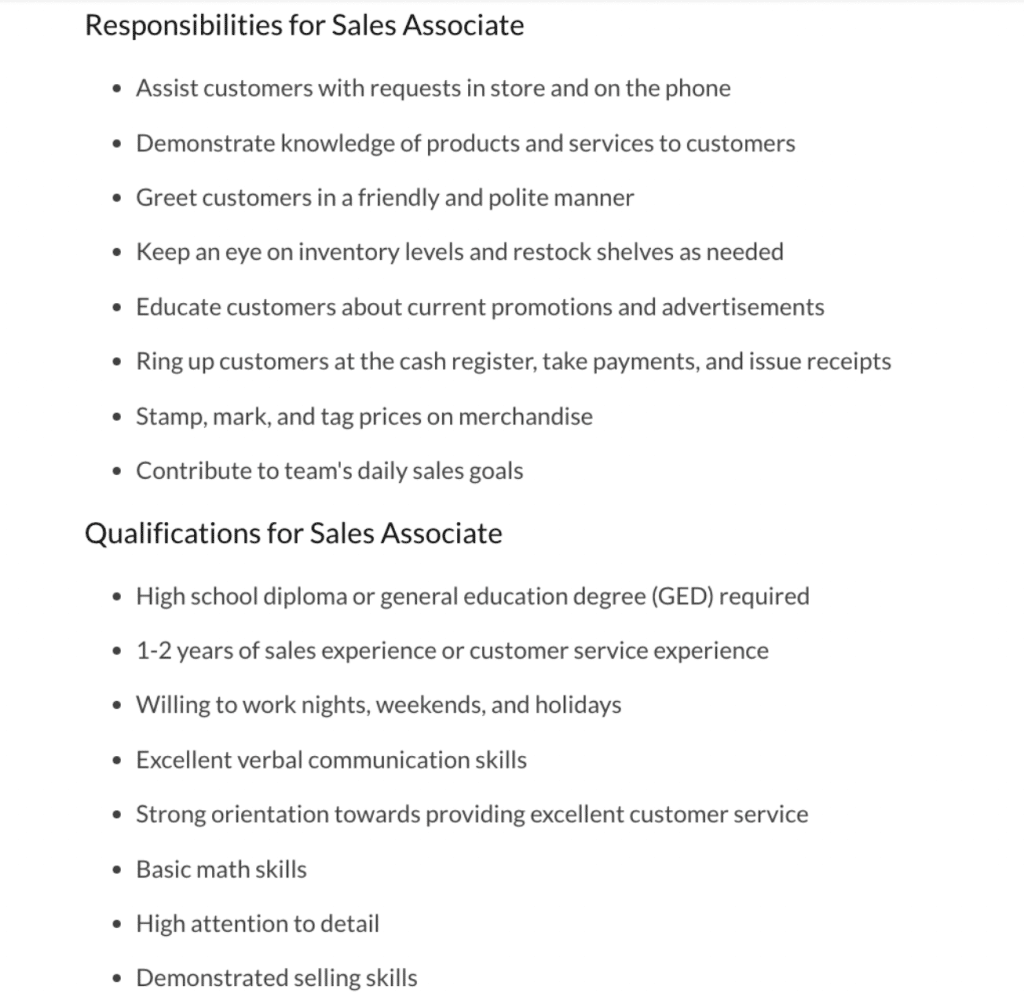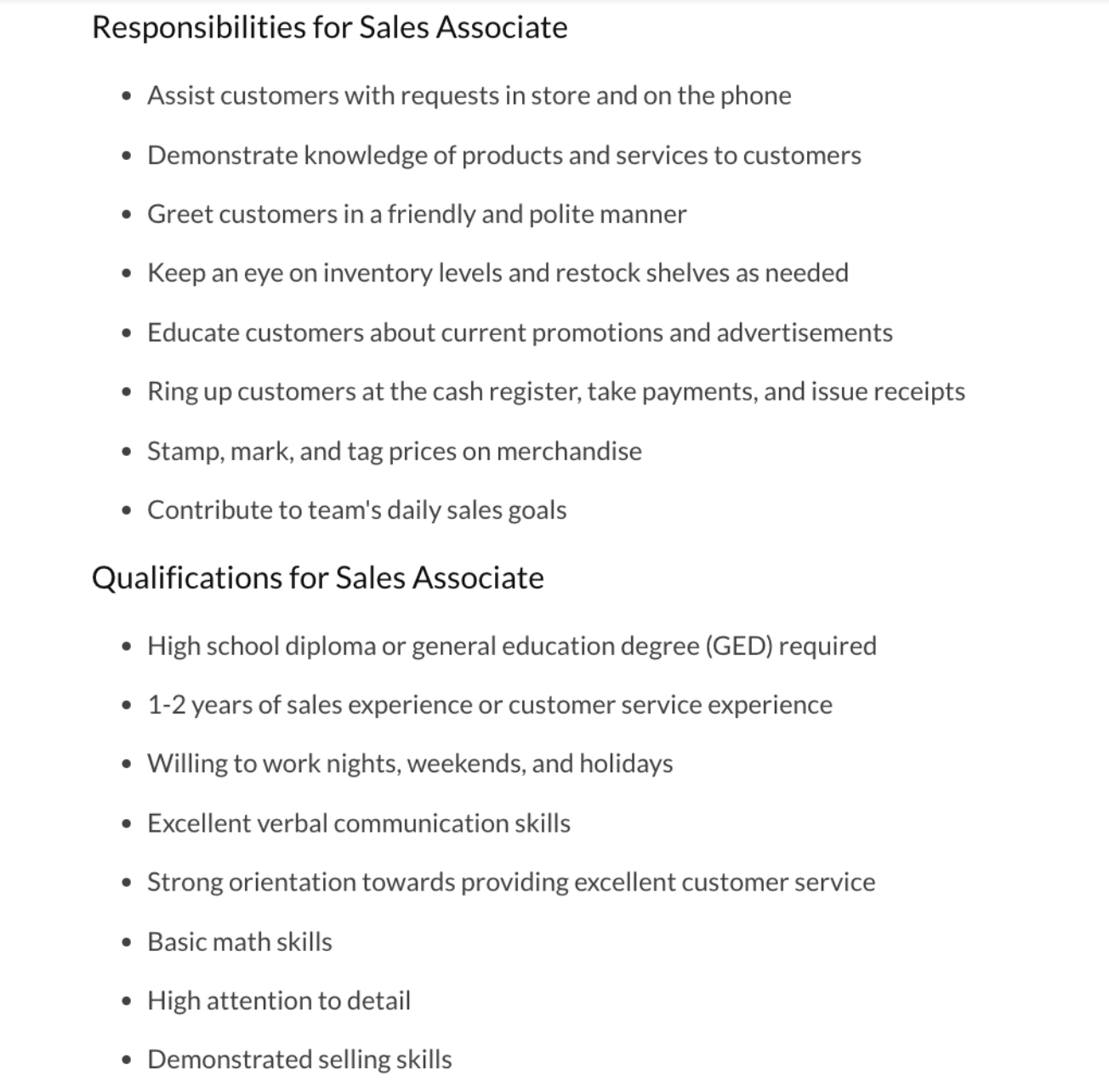 You'll spot a number of skill-oriented keywords, such as inventory, cash register, sales goals, attention to detail, communication skills, math skills, knowledge of products, and customer service. 
By sprinkling these terms into your sales associate resume, you'll both please the ATS systems and the hiring manager. It'll show that you understand what the job is about and have the right skills, competencies, and experience to perform your duties exceptionally. 
TL;DR 
Here's a roundup of the most important things to consider when writing your sales associate resume: 
Use reverse chronological order for your work history and education sections, so that you can highlight your most recent and relevant accomplishments in retail.

Improve the readability of your resume by leveraging white space, clear and elegant fonts, and highly visible headings.

If you have limited sales associate experience, opt for a resume objective, and if you're a seasoned sales associate with a couple of years in retail, then a summary resume will best fit your needs.

Double-down on your experience and education sections by calling the hiring manager's attention to your best and most relevant accomplishments for the job you're applying for.  

Wording plays an important role when it comes to composing your resume, so read the job description carefully to identify key skill-oriented words, as well as power verbs and adjectives related to your sales position, and include them in your resume.

Slighting the extra section is a big mistake since it gives the recruiter an overall idea of who you are, what your values are, and what makes you tick.

Tailor your resume for each sales associate position you're applying for unless you want it to get overlooked and discarded for being too generic.