Just google "resume templates" and you'll get 170+ million results. So we get it if you're a bit… overstimulated. And once you start looking, you'll come across all kinds of free and paid resume builders, tools, as well as dozens of options on Canva, Adobe, or Microsoft Word.
But there's another handy option – Google Docs resume templates library.
On the face of it… not the world's prettiest templates. But you can find some true gems if you do some proper digging.
Which is exactly what we did for you here. We browsed all those resume templates available for editing in Google Docs and handpicked the top 20, so you don't have to spend hours doomsurfing.
You can also save hours of work and use BigInterview's resume builder to create a job-winning resume in less than an hour.
Why Use a Google Docs Resume Template
There are three areas where Google resume templates get points:
They're free*.
They're ATS-friendly. And 3 out of 4 candidates get eliminated just because their resumes don't pass the ATS test.
They save you loads of time. You just need to open a template and edit it with your info. Unlike Word templates, they're automatically saved to the cloud, making it easier to access and update them. And unlike the MS templates, they're not designed as torture devices, taking hours to expand a table column by 2 mm while not obliterating the layout.
* Disclaimer: The original in-built Google Docs resume templates accessible via Google Drive are free, but there are also third-party versions that you can open and edit in Google Docs. Some of these are free. Others sit behind a paywall (but look way better!).
Another bit of info you might find useful — since the templates are fully editable, you can ignore the placeholder for the resume summary/objection. It reads "Skills" in these Docs templates, but nothing is stopping you from renaming this section to whatever you want. You can choose to keep the Skills-based approach, but we recommend that you start with the resume summary or objective.
Top 20 Google Docs Resume Templates to Use in 2023
Here are the best Google Docs resume templates we managed to find in the vastness of the world wide web.
Free Google Docs resume templates
There's a total of five original Google Docs resume templates that are built in your Google Drive:
Note: Some of these resume examples are view only. Copying a template will make it your own. To be able to use them, you need to be signed in to your Google Suite account (that usually means simply having an @gmail.com address).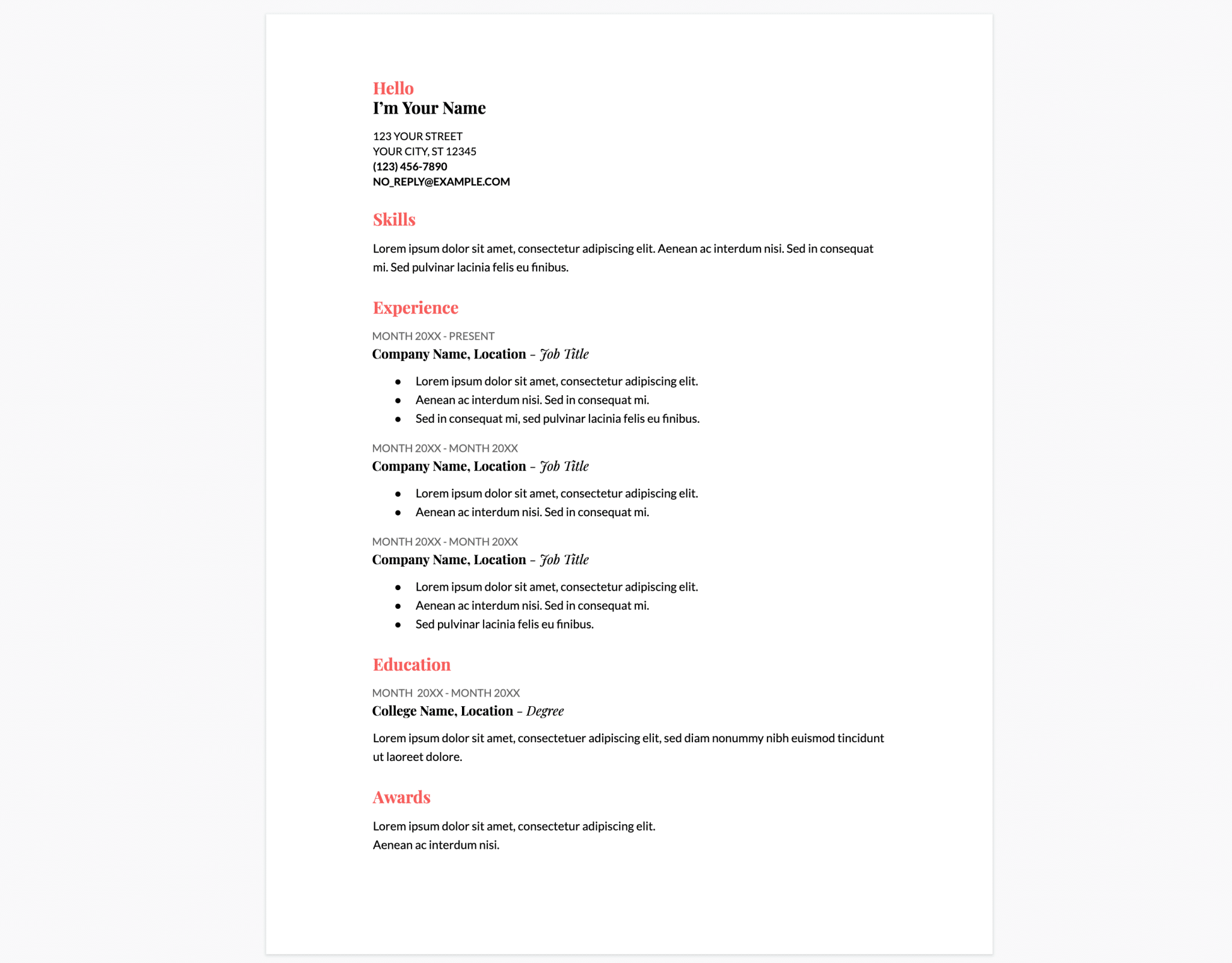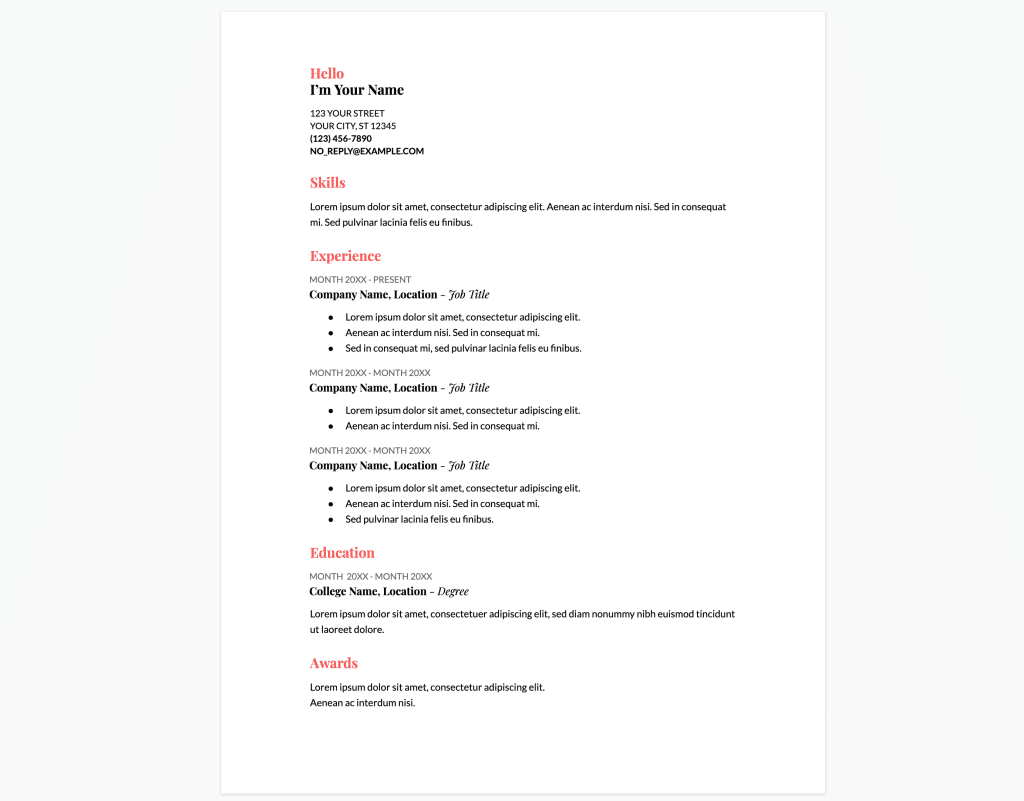 When to use this template:
Although this one's fairly simple, the combination of fonts and a pop of coral add playful design accents and personality to your resume. It's a great match if you have extensive experience and skills but not a very solid educational background. Also, it's a good choice when applying to companies with a more casual culture, such as those in IT, marketing, or advertising.
Our score: 4/5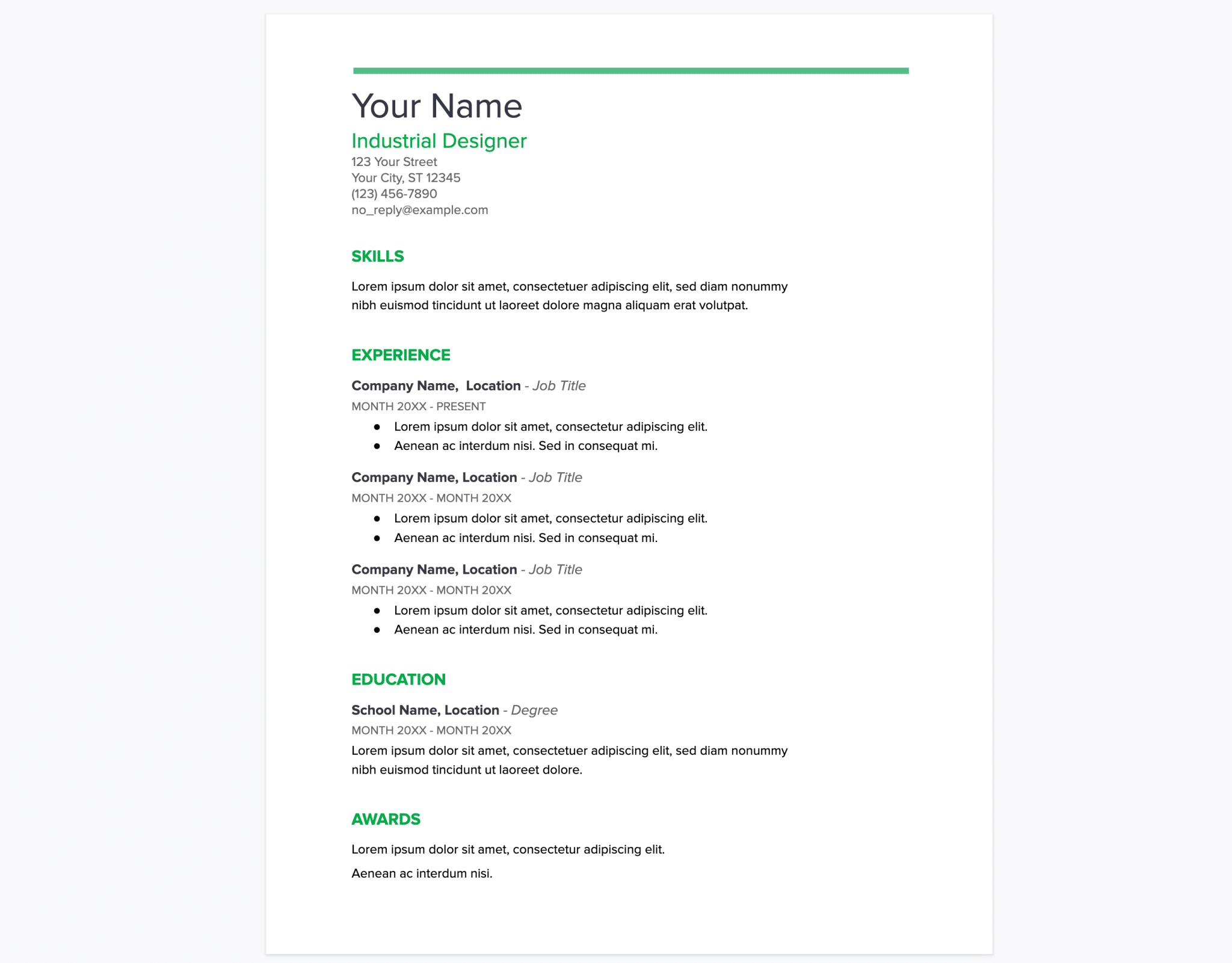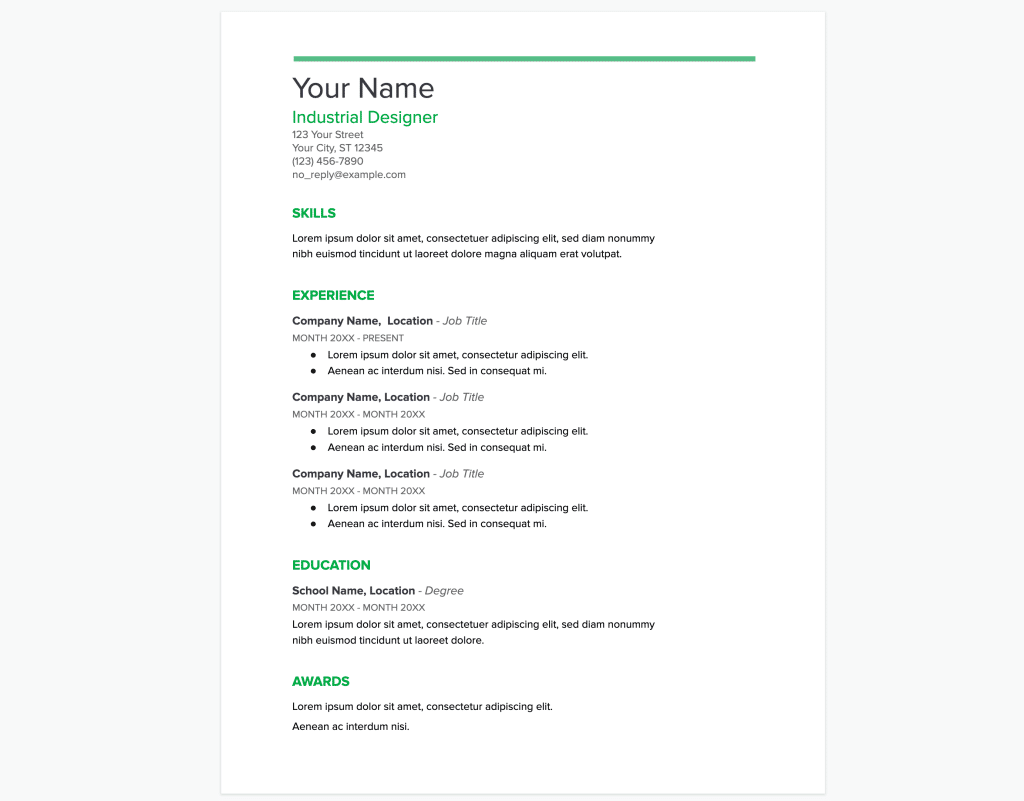 When to use this template:
Designed to highlight your skills, this free Google resume template is a good choice if you're a career changer. The simple and elegant design makes it suitable for formal businesses. Also, its green color is a nice touch if you're looking for jobs in the energy or sustainability industries, or even science, pharmaceutical, or healthcare jobs.
Our score: 4/5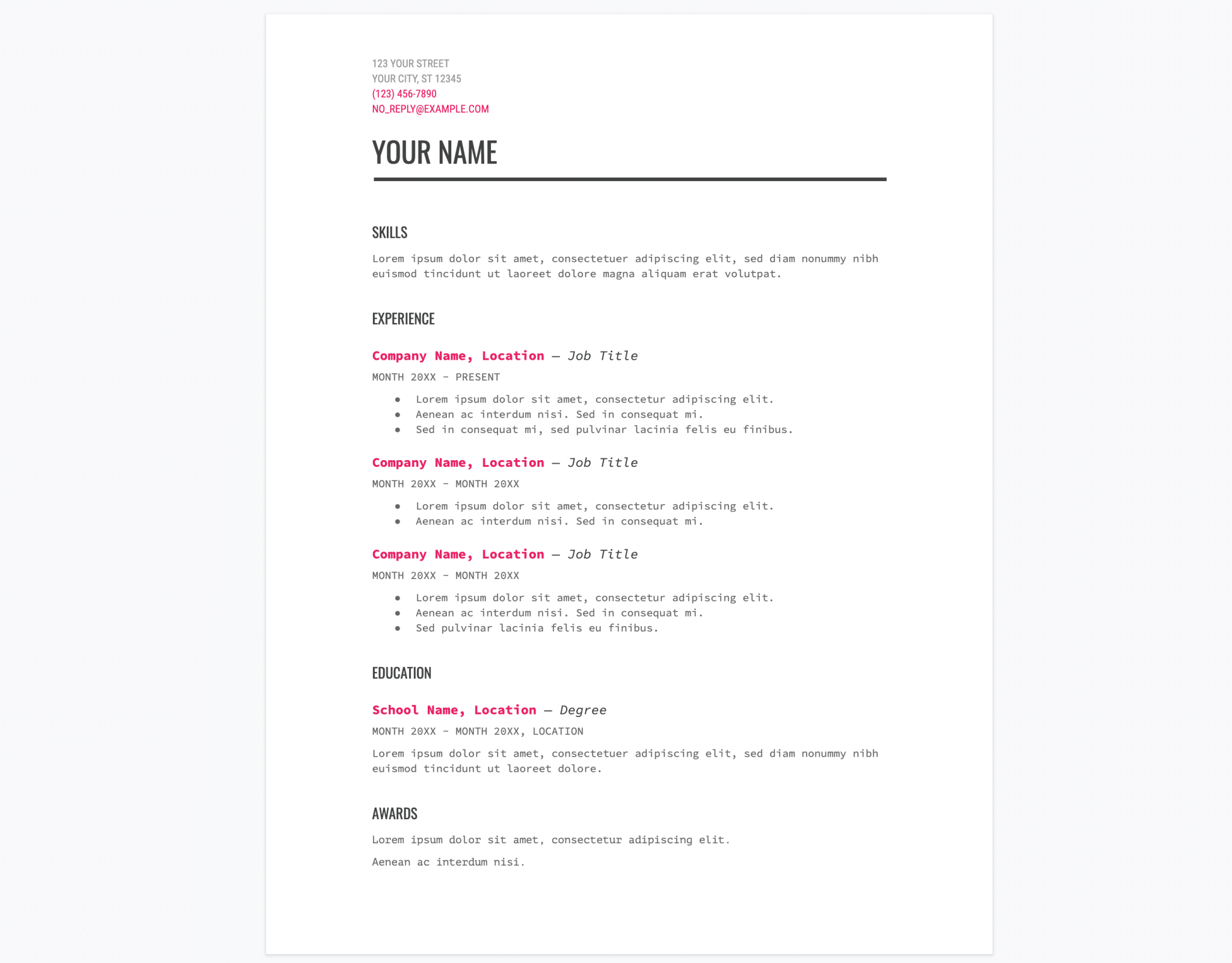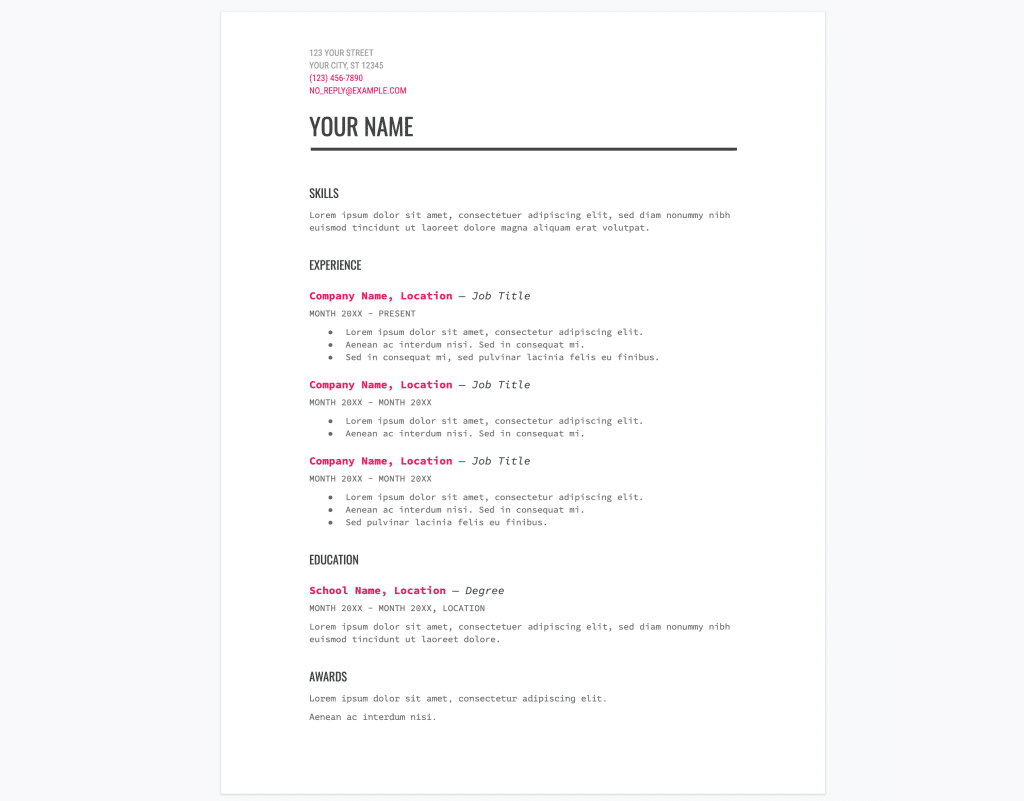 When to use this template:
With its eccentric mix of fonts and colors, the Modern Writer resume template has a creative flair and a unique style. It's a great choice for writers, designers, and other creative or independent professionals. On the other hand, employers really use resumes just to scan the FACTS, not to judge your creativity, and this template definitely doesn't score well in terms of readability. The typewriter font is definitely ill-suited for any corporate role, and it sort of breaks the rule of using a sensible font in your resume.
Our score: 3/5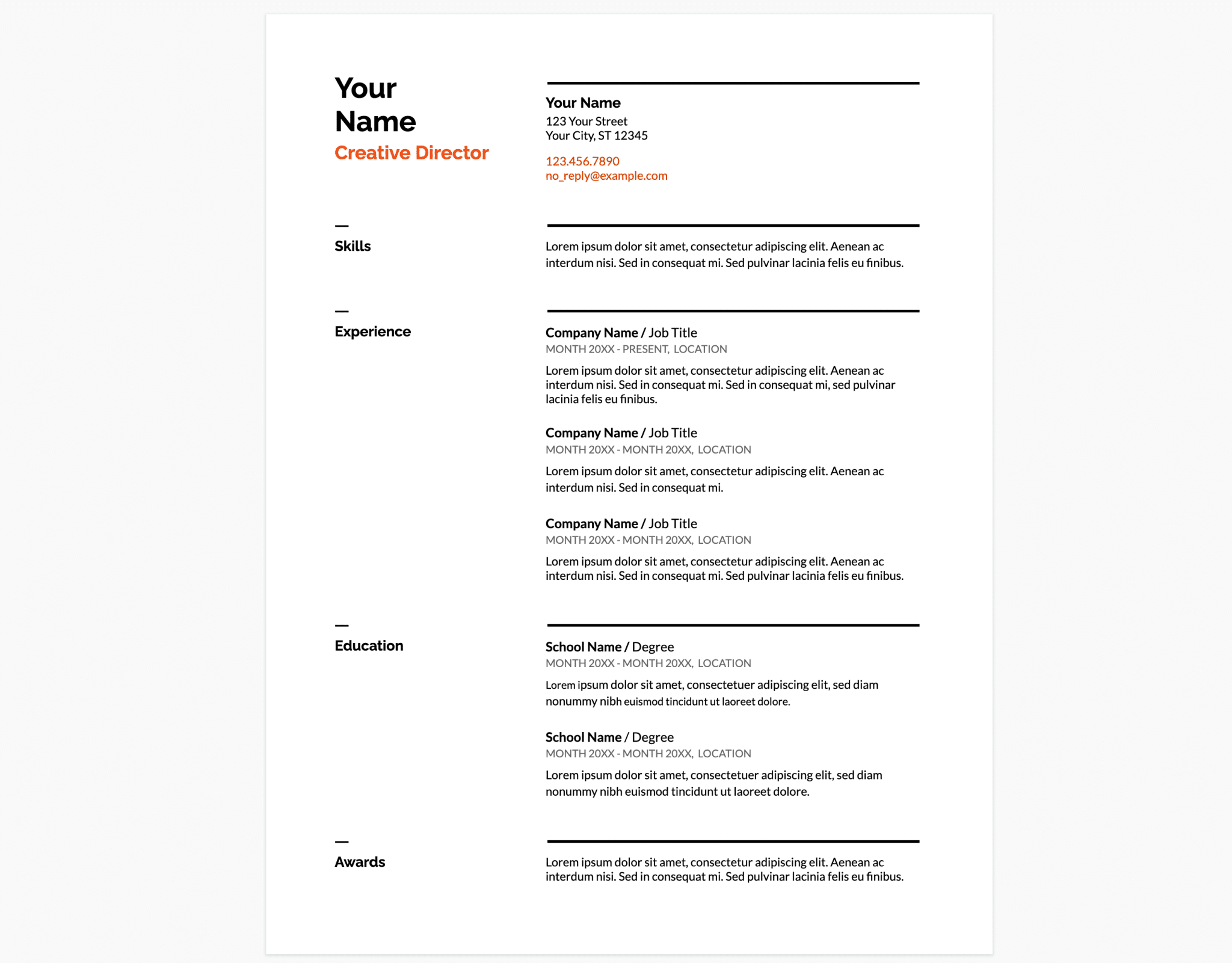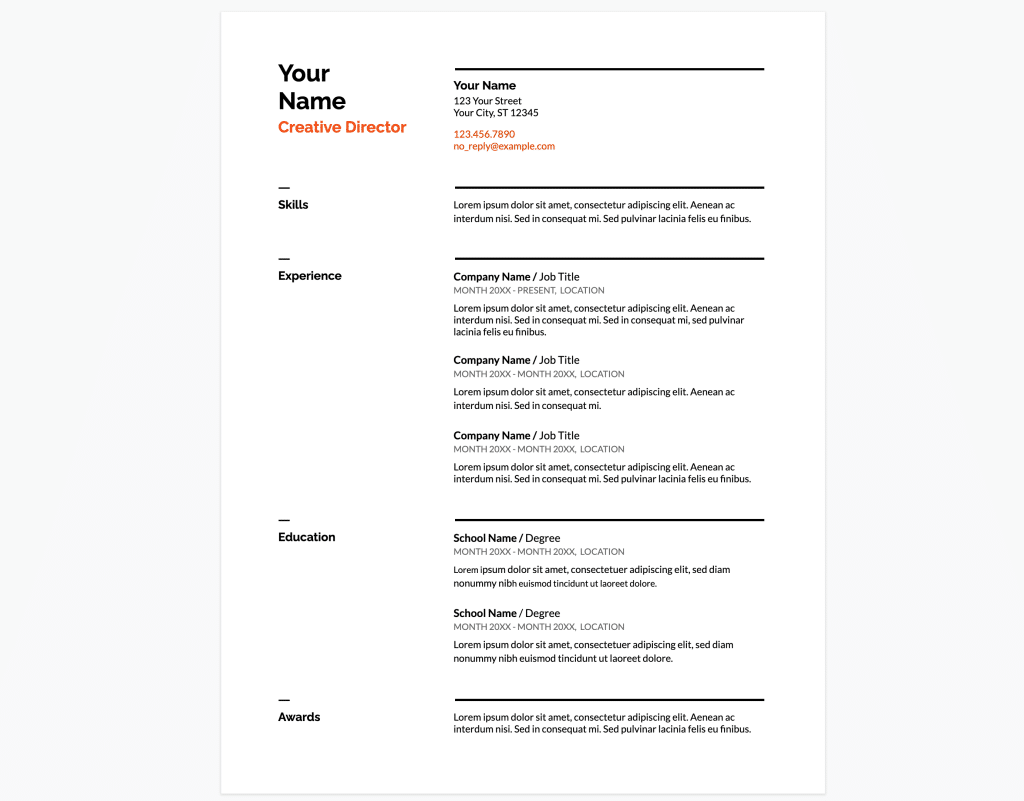 When to use this template:
Swiss has a simplistic design, and it's really easy to read and scan. Despite its minimalist feel, it comes with a touch of color, which gives it personality. There's a lot of space devoted to the main categories of skills, experience, and education. Because of this, it is best suited if you have some experience or if you're looking for a career change.
Our score: 4/5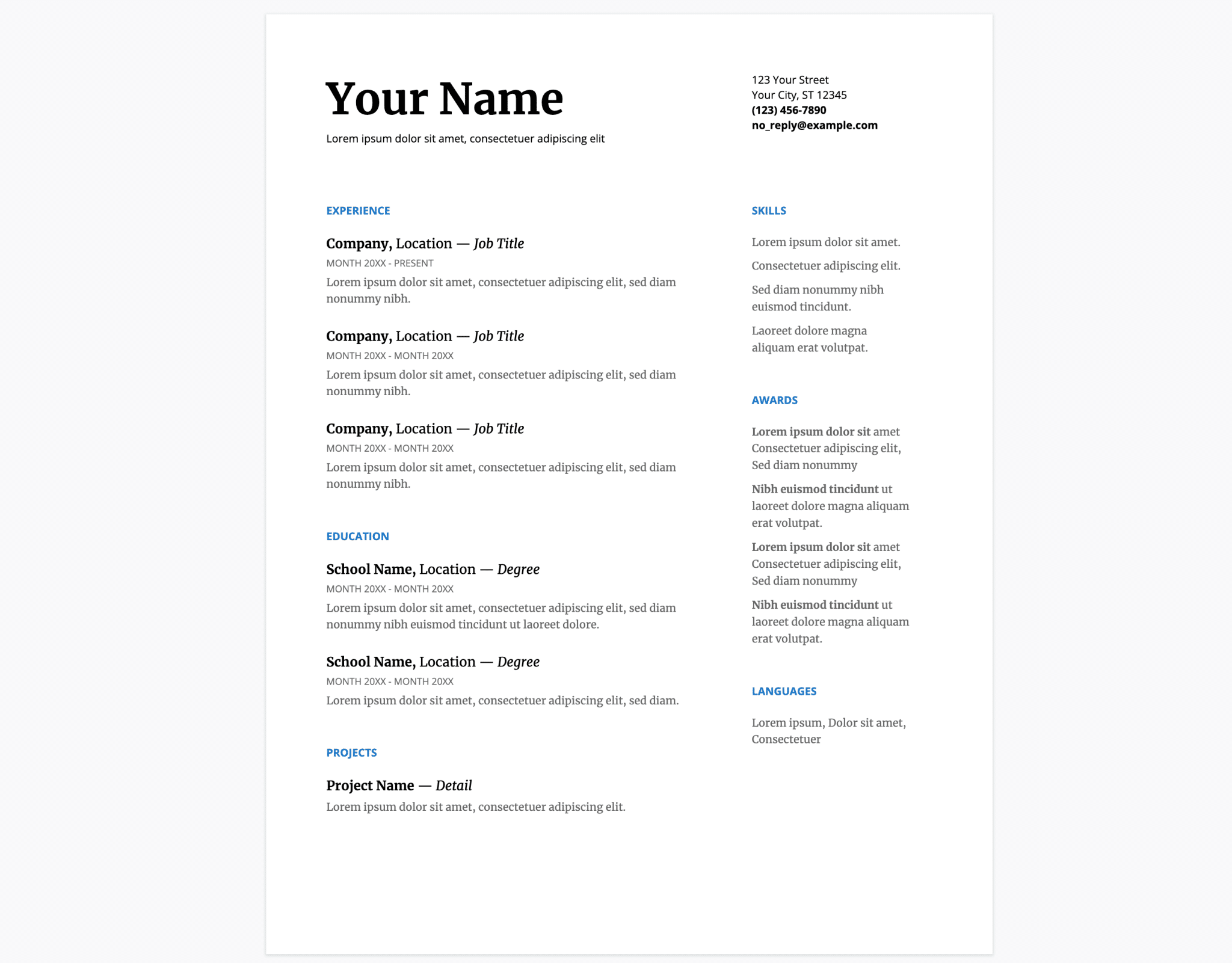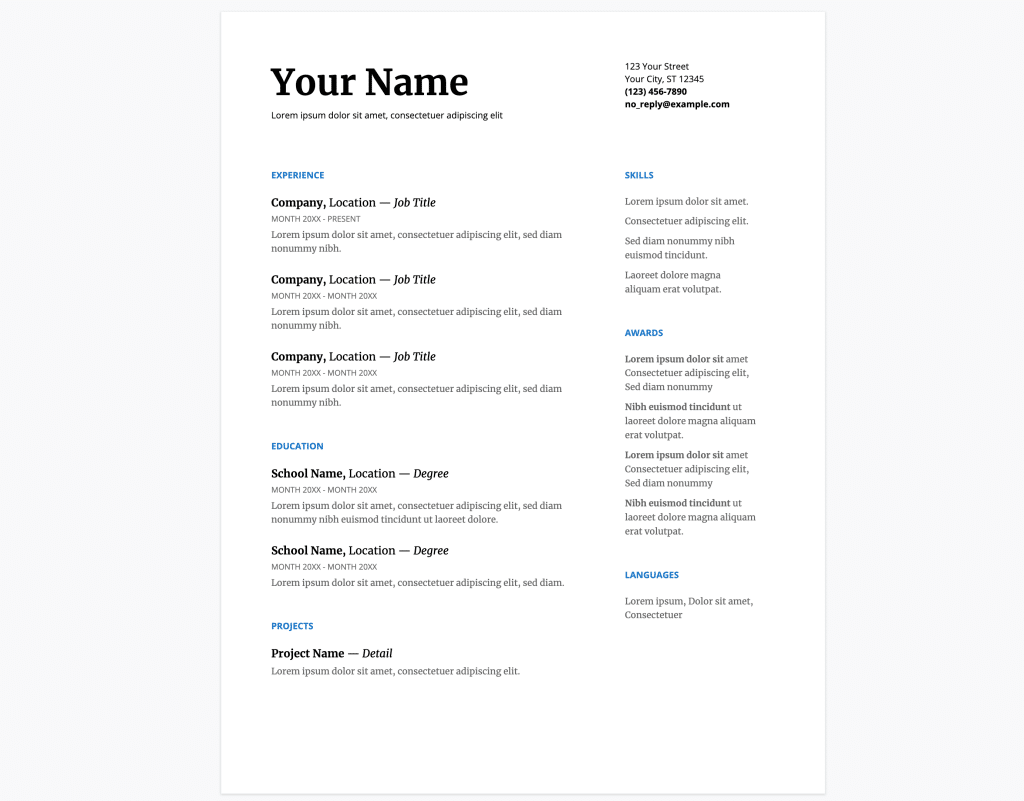 When to use this template:
This one differs a bit in terms of how it's structured. It gets points for its two-column layout, which lets you save space. The first four examples go straight to Skills, while Serif comes with a nice part where you can add your resume objective or resume summary, right under your name (see example below). As with the previous templates, you can change the order of the different resume parts and choose to open with the education section.
This is how one candidate did it: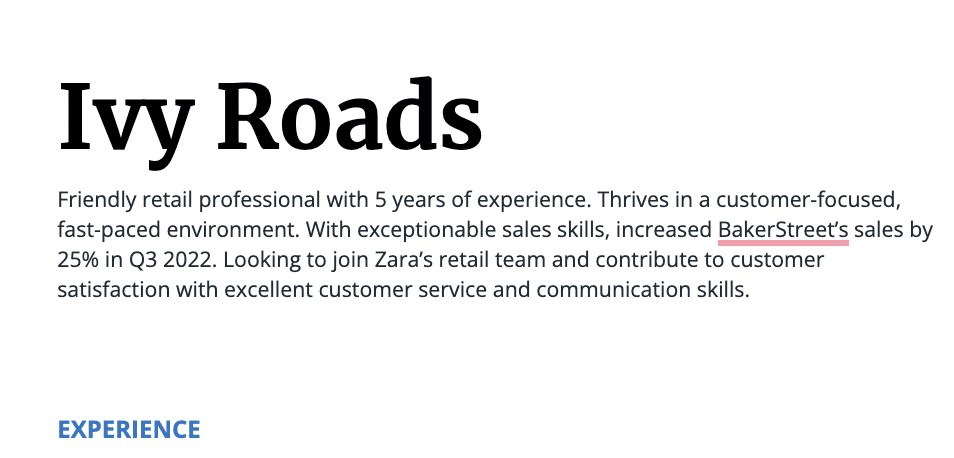 Our score: 4/5
How to find the Google Docs resume templates?
There are two ways you can access these:
1. Log into your Google account.
2. Proceed to your Drive.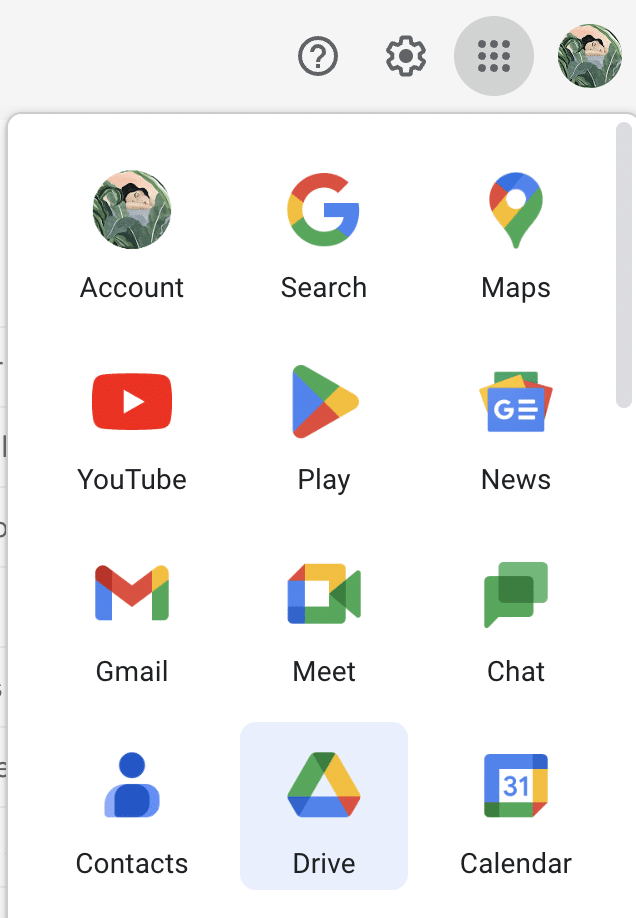 3. Once in Drive, click on New → Google Docs → From a template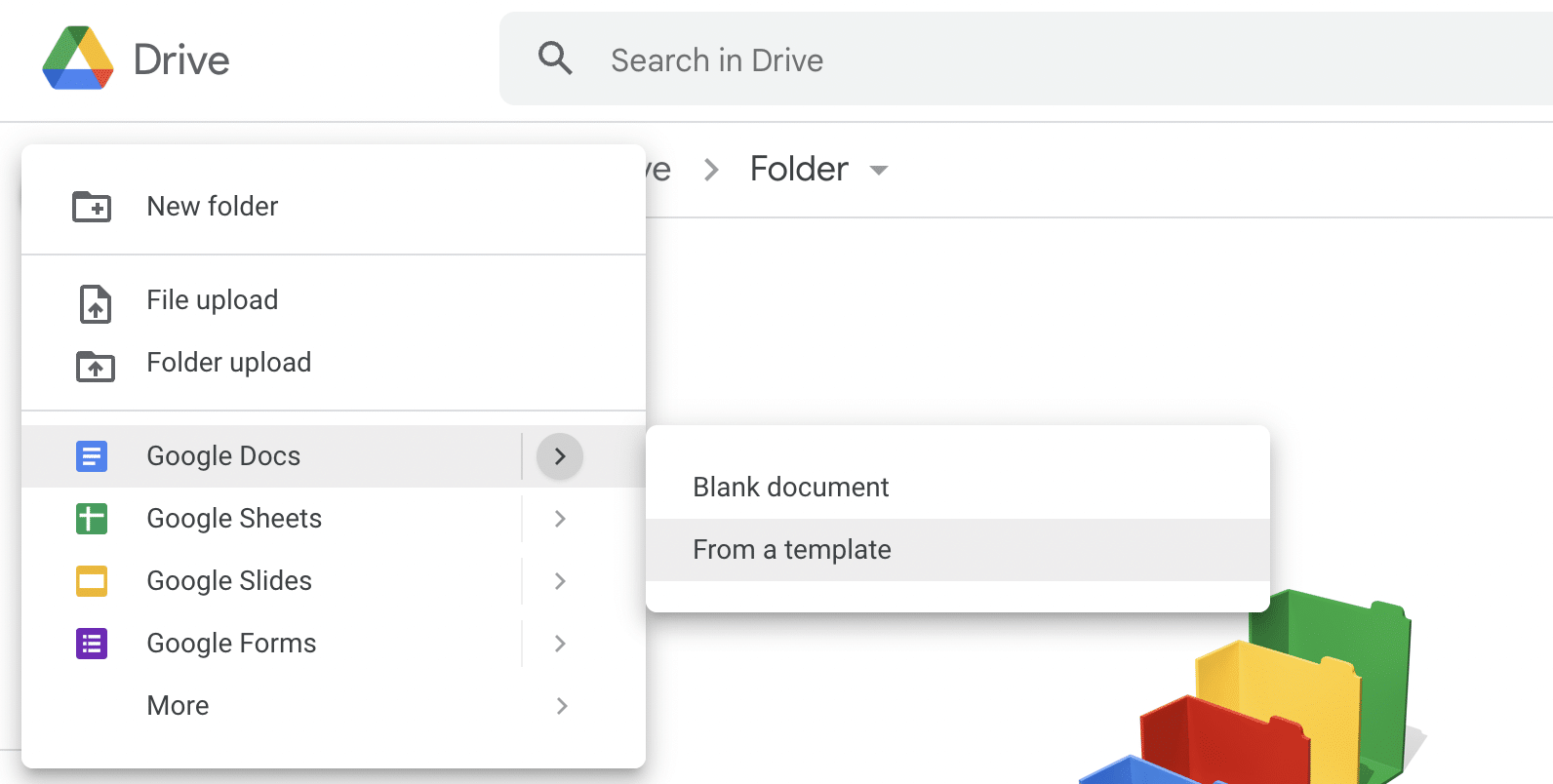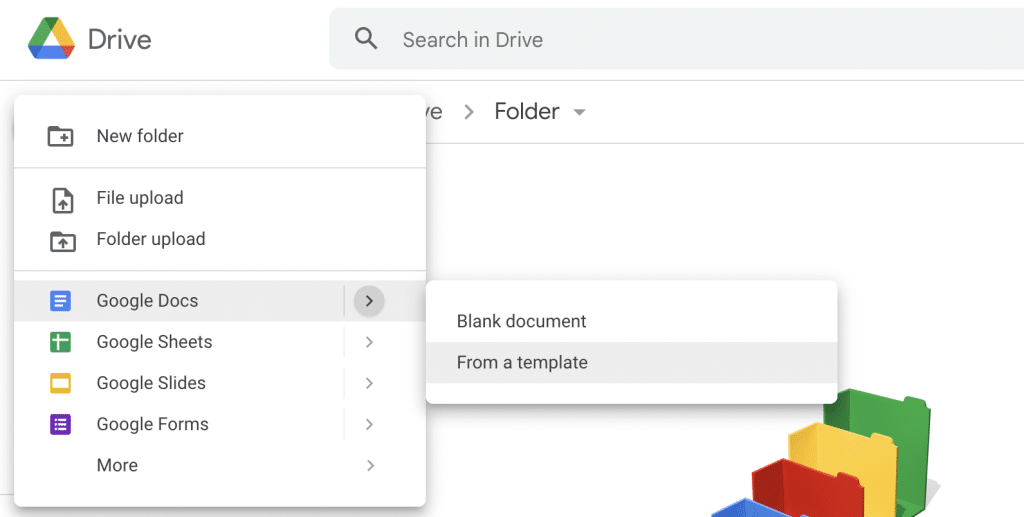 Then scroll down to Resumes or chose those from a header menu (this depends on the GDrive version you have). This will open the Template gallery, with the full list of Google Docs templates, including Resumes: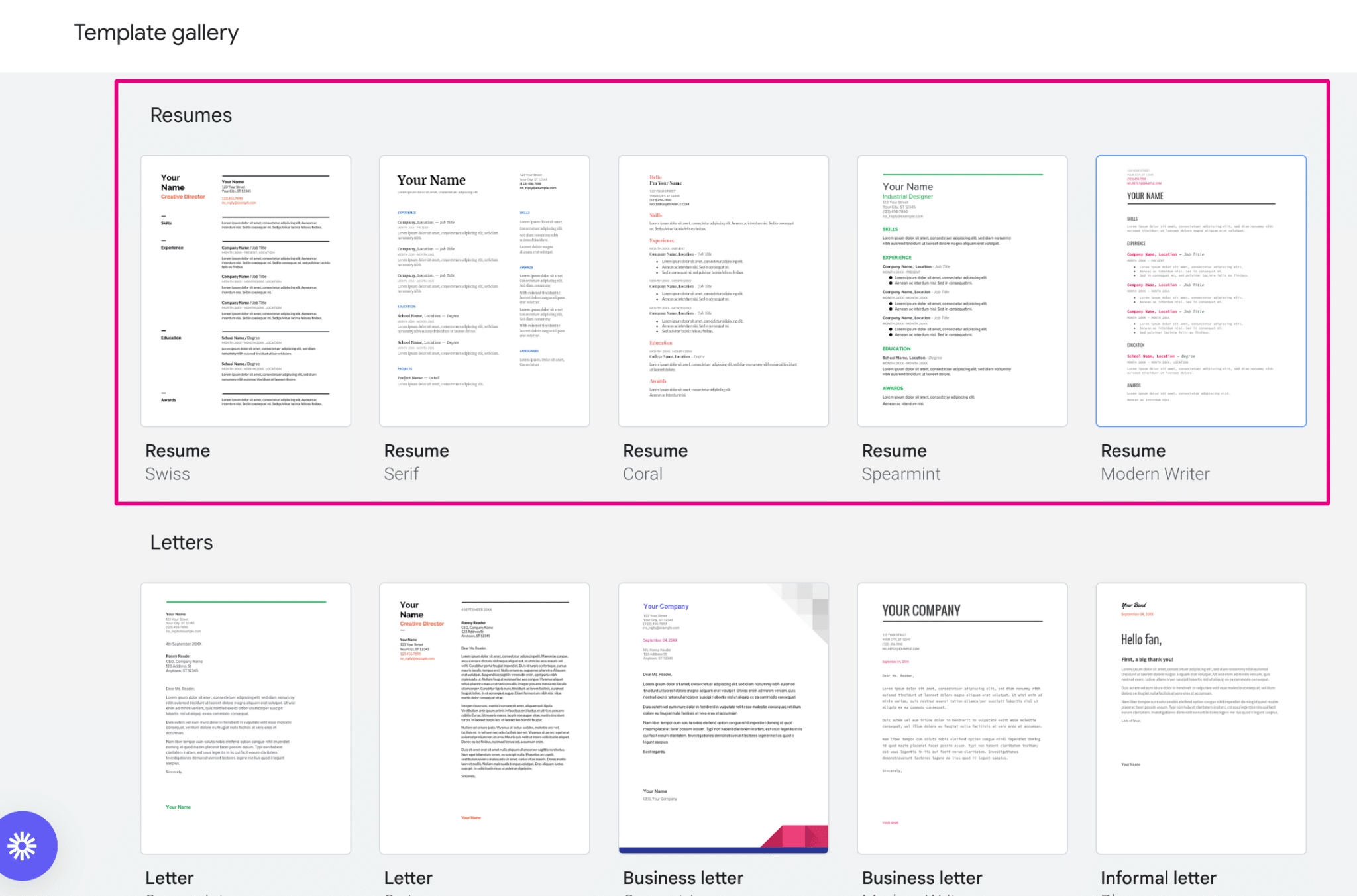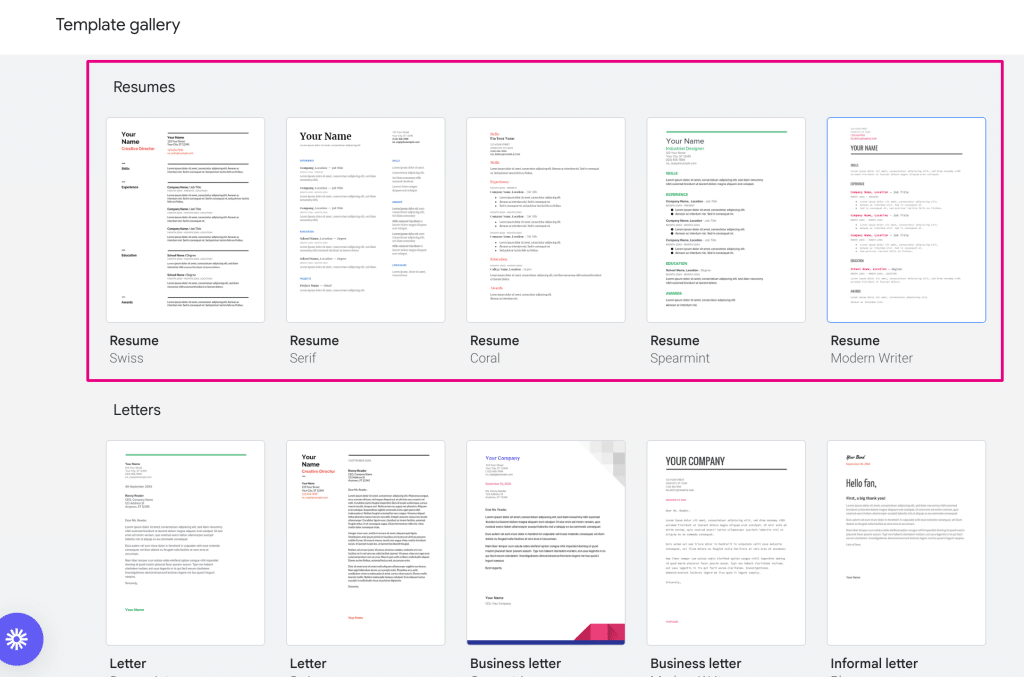 Alternatively, if you're already in Google Docs, you can access the Template gallery by clicking File → New → From template gallery.
A quick note: This only works if your Google Drive language is set to English. If your account is set to another language, you can change it to English in your Settings (the gear icon). Or just click here: chrome://settings/languages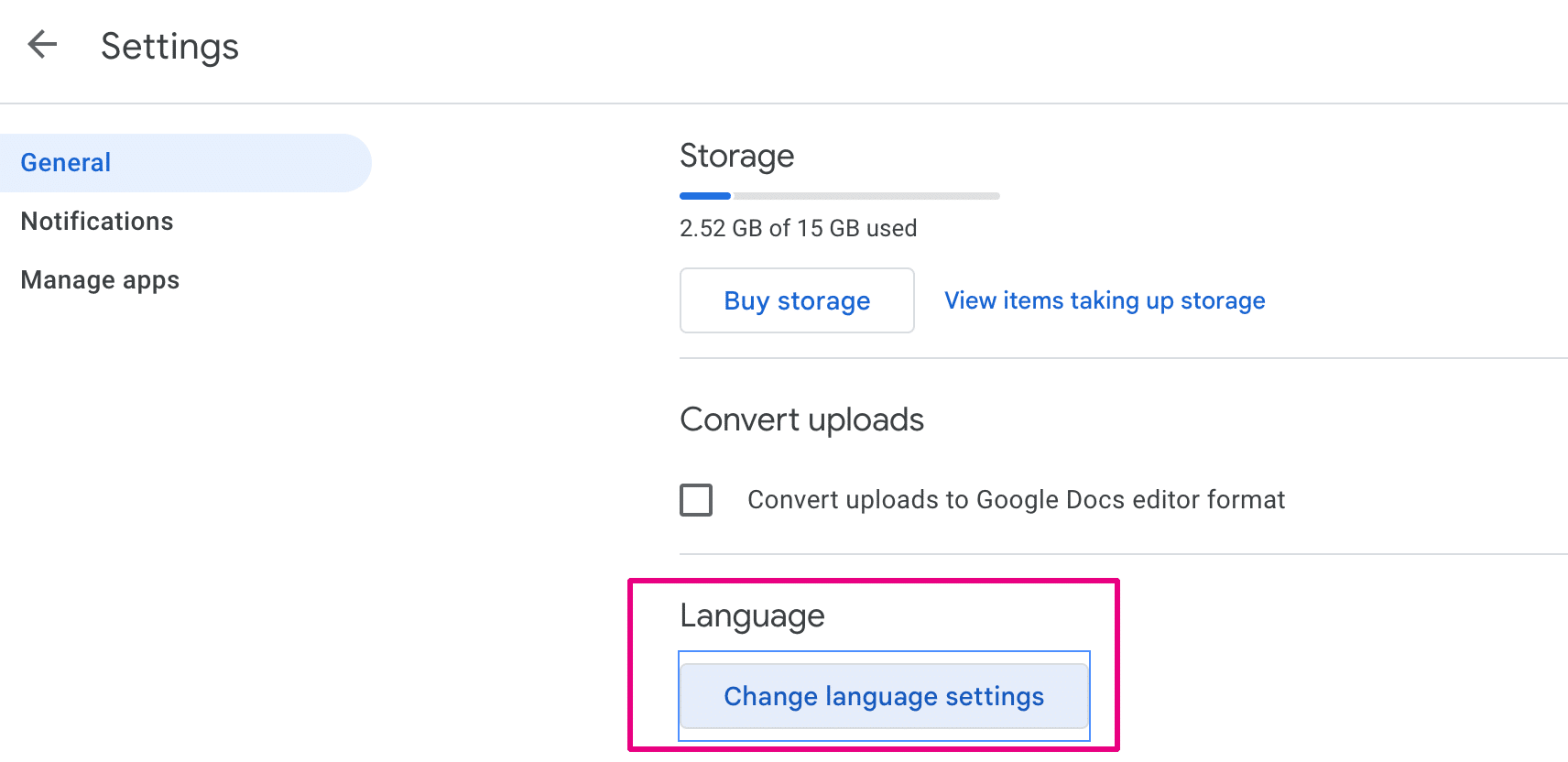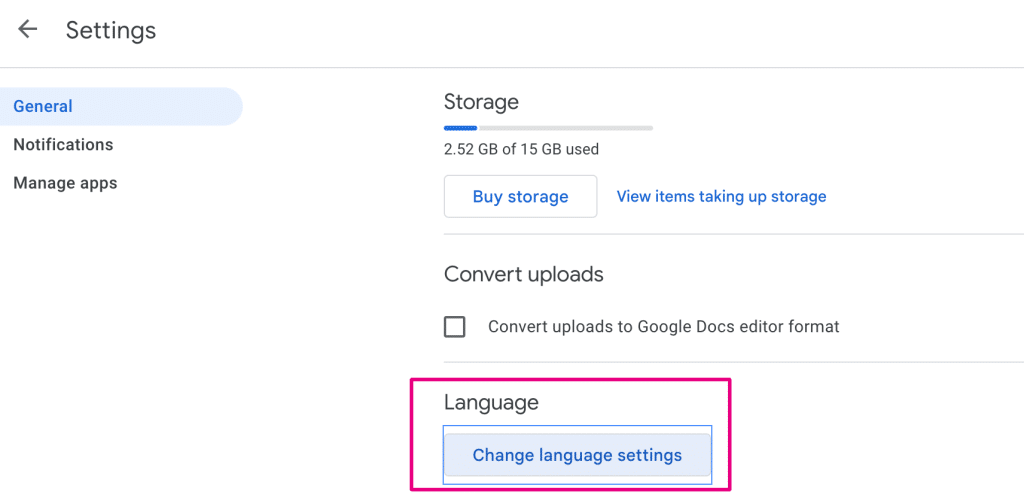 How to use Google Docs resume templates
If you're relatively proficient in Google Drive and Google Docs, this should be fairly simple. Although most of the templates follow the same structure (Contact information, Skills, Experience, Education, Awards), remember that these are editable, and that you can customize them in many ways. For example, you can change the font and colors, or replace the Awards section with Projects.
This candidate, for instance, used the Spearmint template and, instead of keeping Skills at the top of the page, chose to use this part for her summary statement: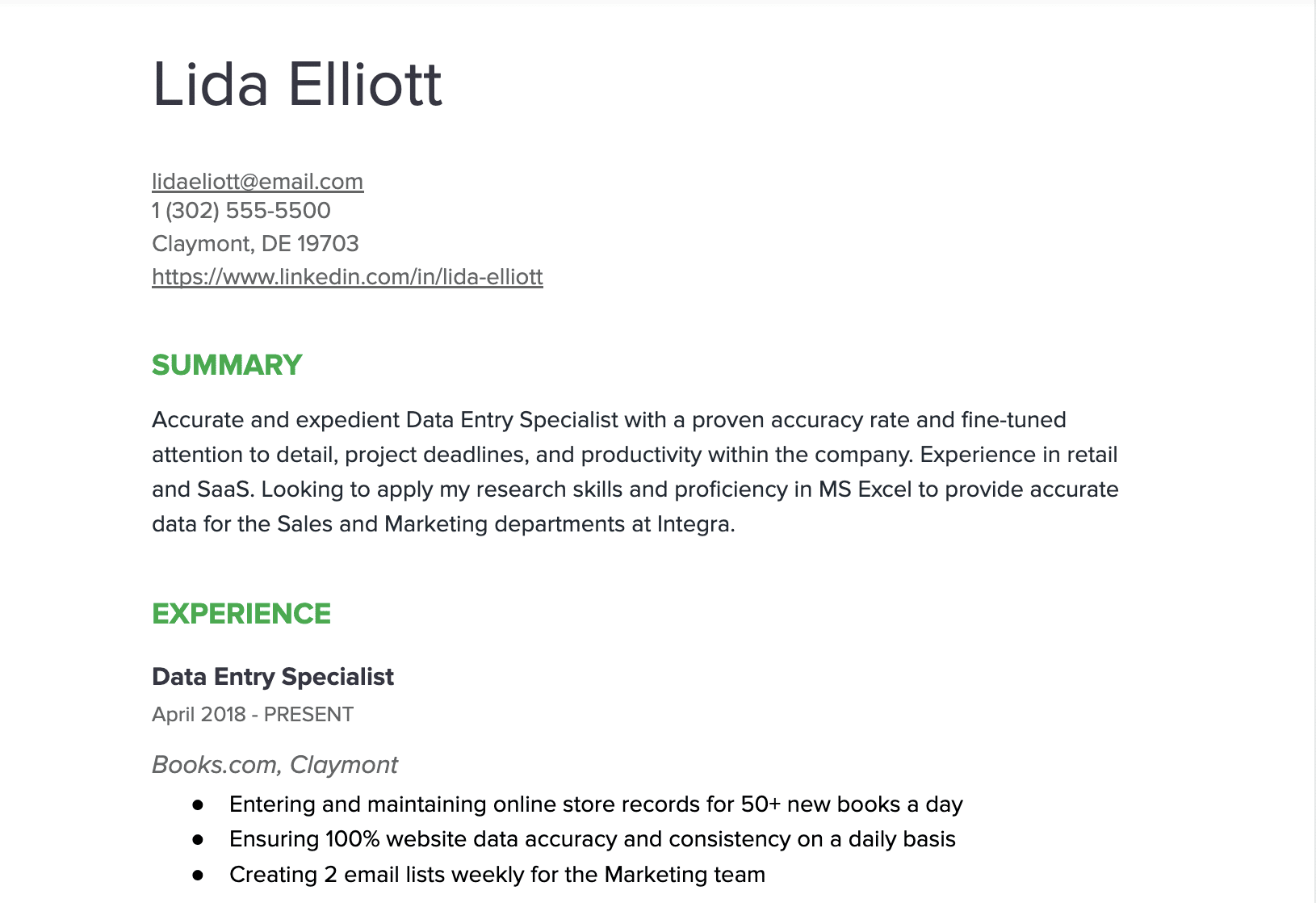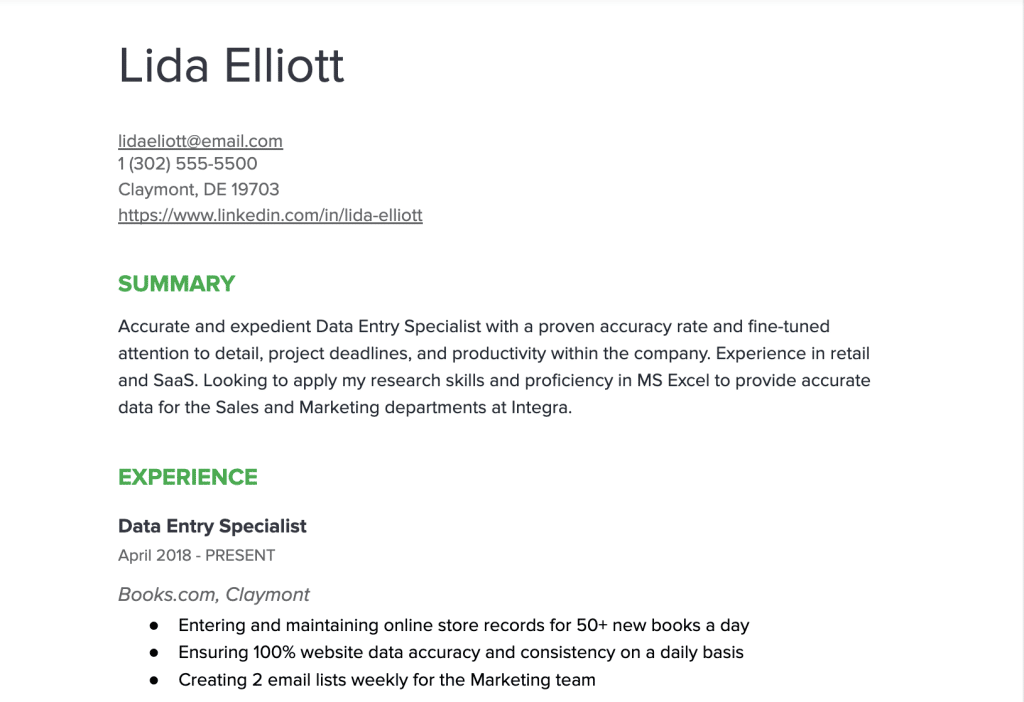 More free Google Docs resume templates
Here are a few more free templates from around the internet that can be opened as Google Docs files.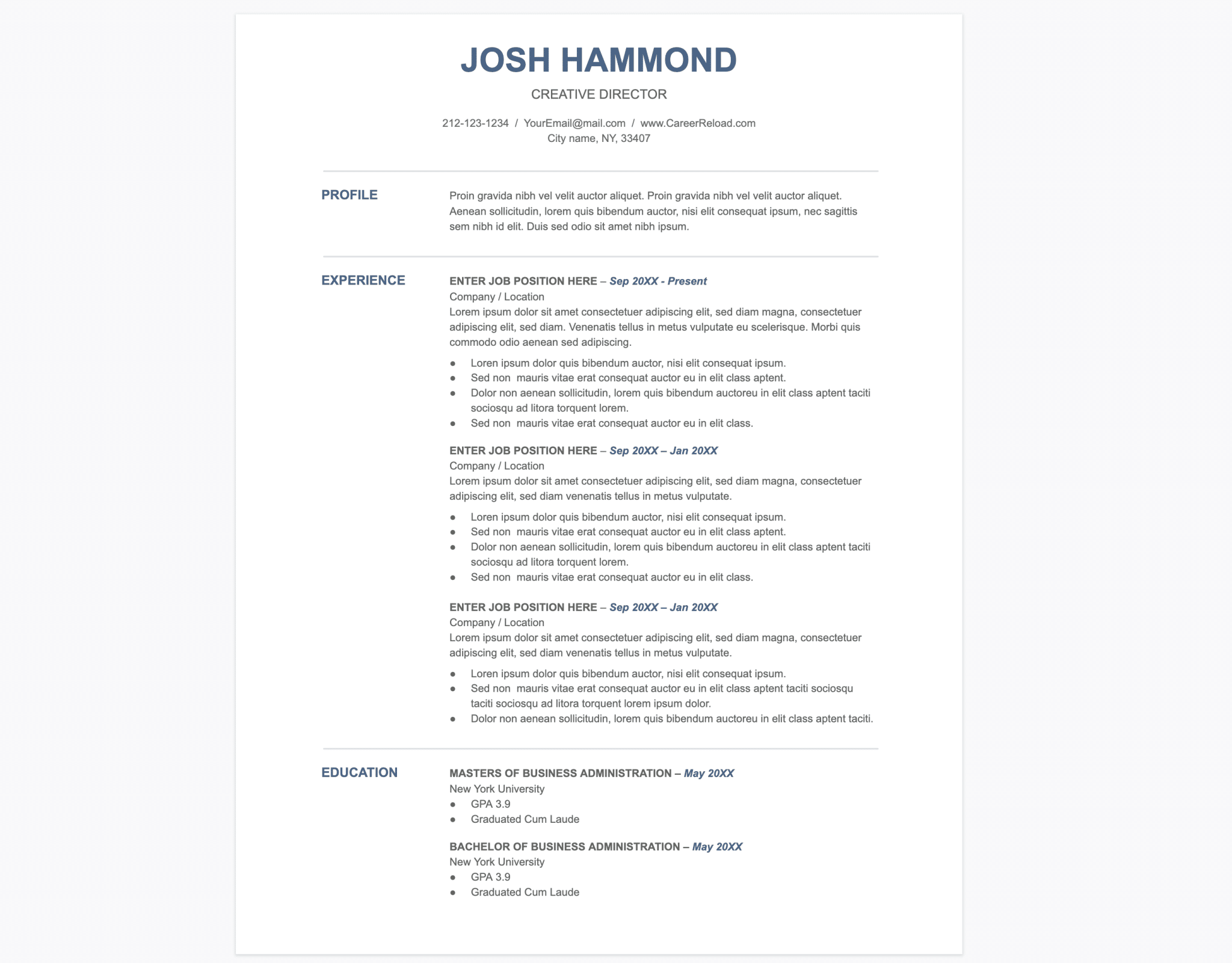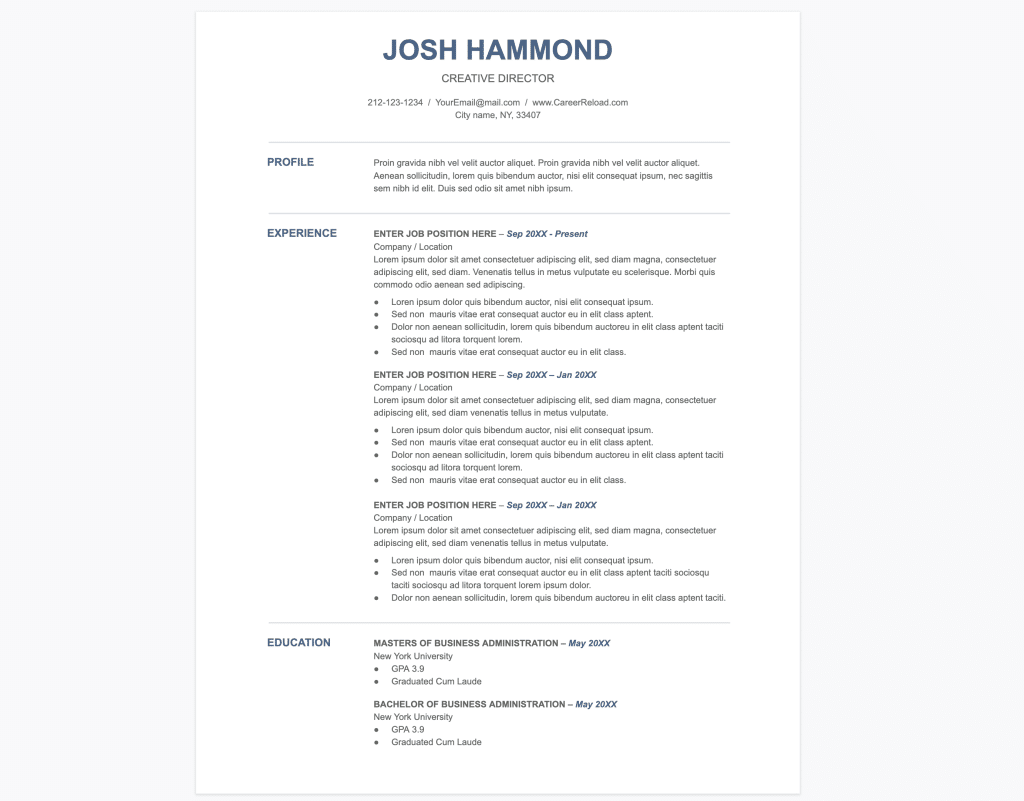 When to use this template:
This modern Google Drive resume template by Career Reload provides a simple, clean design with an easy-to-navigate layout. It strategically highlights your strengths, and, unlike the built-in ones, follows the latest best practices in terms of resume structure (e.g. highlights the position in the company rather than the company name).
Our score: 4/5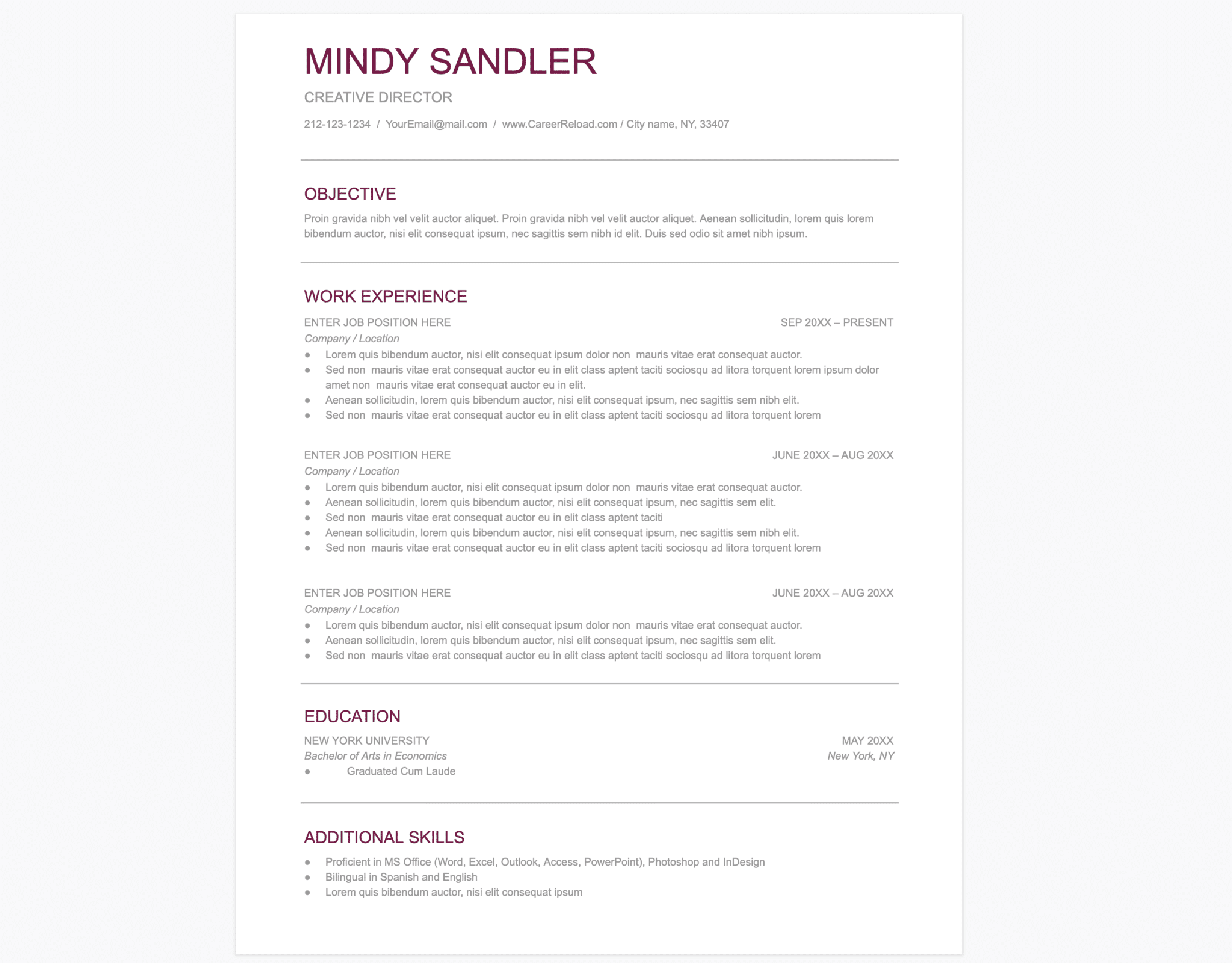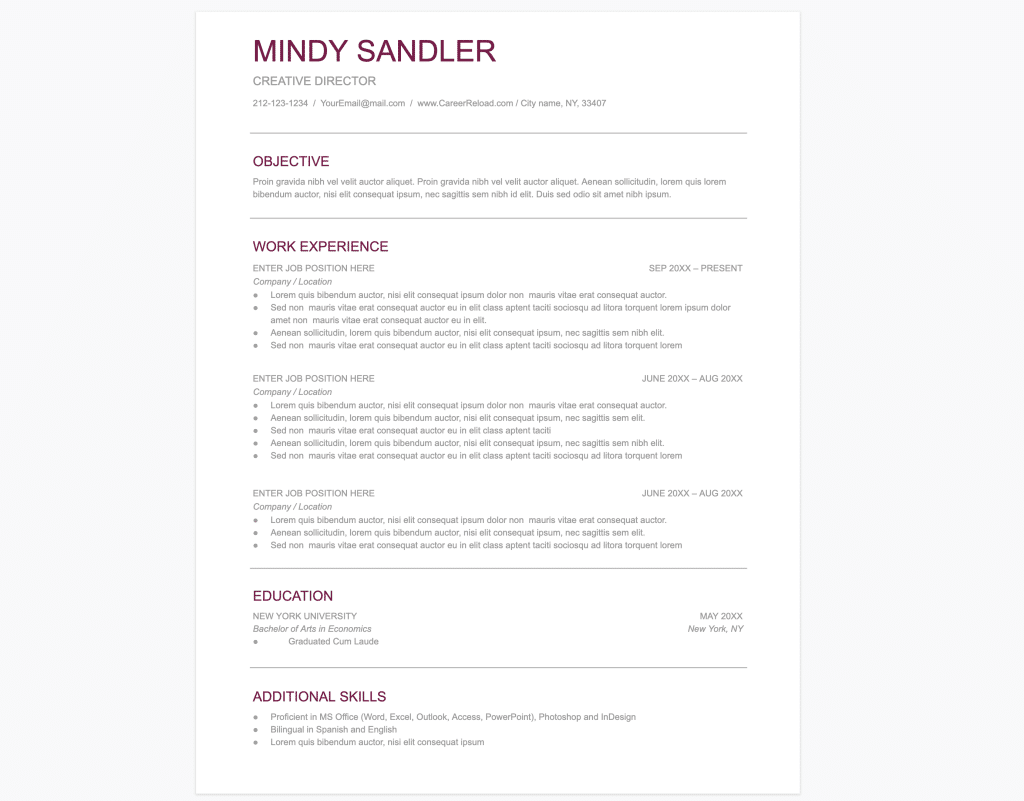 When to use this template:
Another Google Docs template from Career Reload that is well organized, so it is easy for anyone reading your resume to find all the necessary information quickly. The color choice is not too eccentric (hey, it's Pantone's 2023 color of the year!), so it's a great, super-modern template for most industries.
Our score: 4/5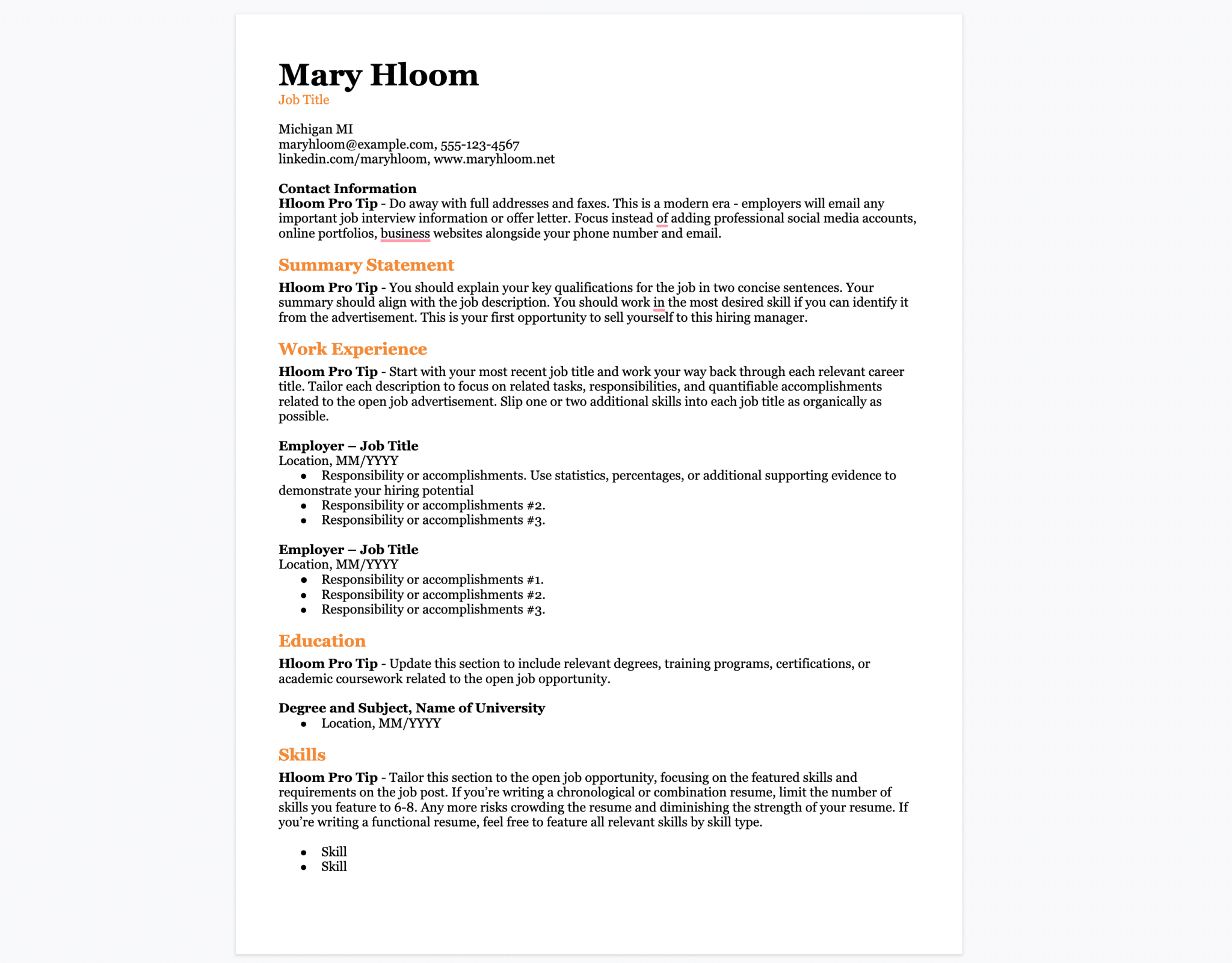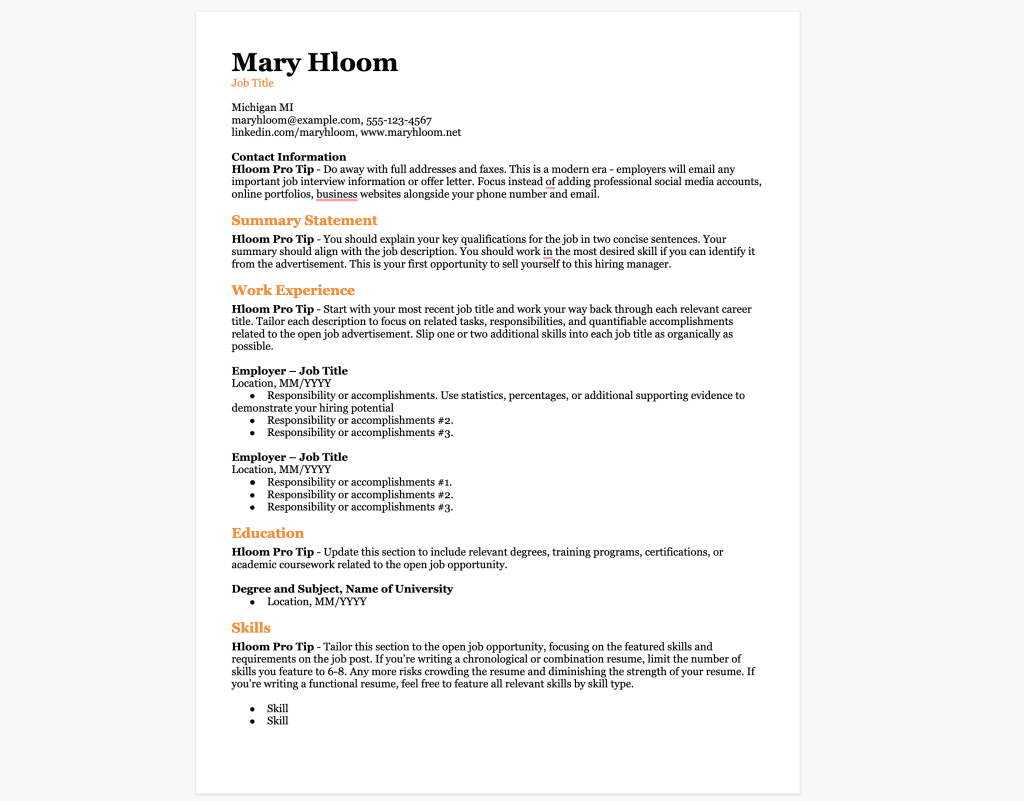 When to use this template:
This Google doc resume template by Hloom is pretty universal, but it's ideal for applying in a traditional career field. It draws attention to your accomplishments – information you really want to highlight. The Profile section can easily be transformed into a resume summary, or act as a Skills section.
Our score: 3/5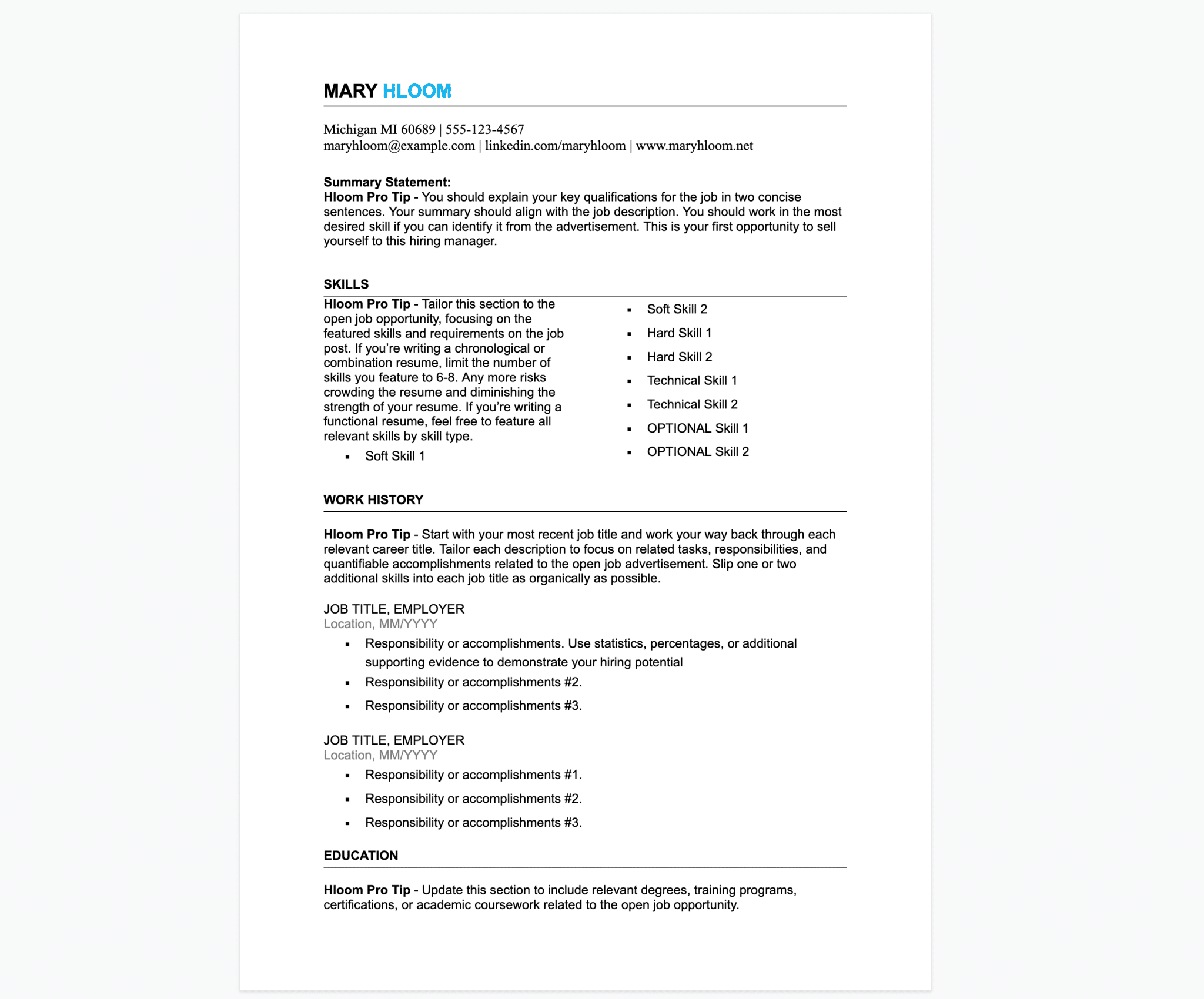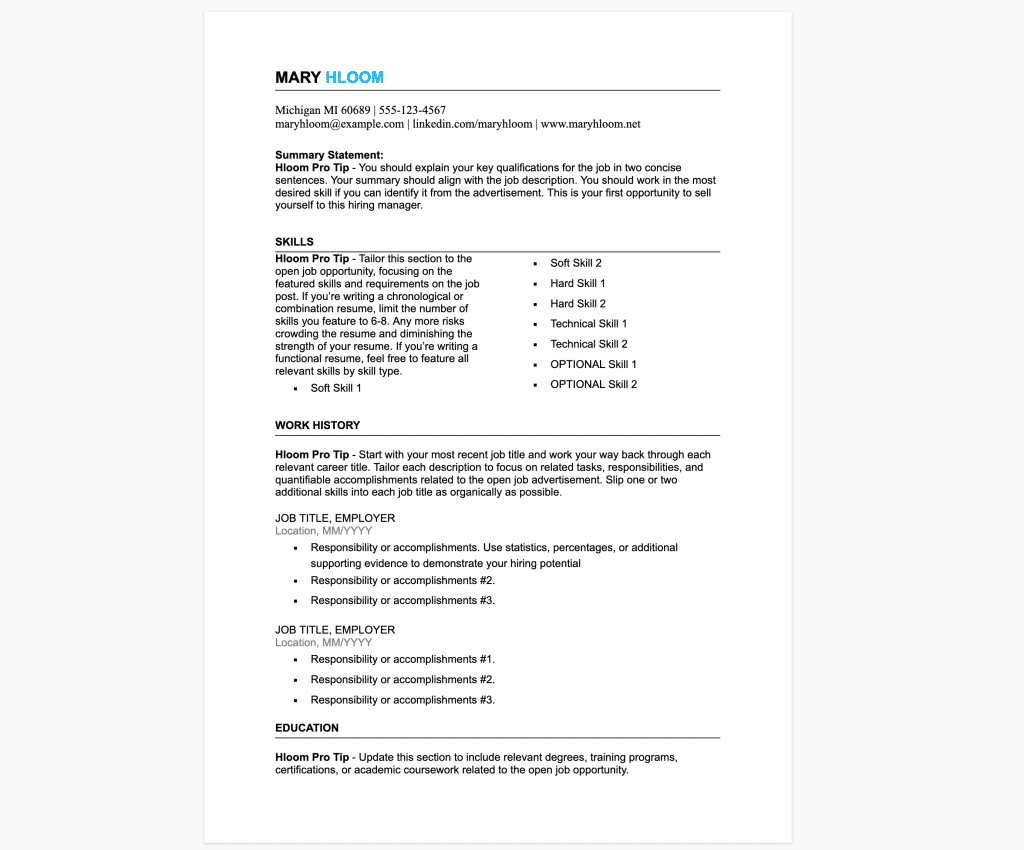 When to use this template:
Hloom's Button template is a simple Google Docs resume template ideal for those who want to play it safe and opt for a standard (maybe also a bit too ordinary) resume. If you use this resume template, it would be good to reduce the Contact Information section (remember, keep everything to the point and condensed). Job experience with little experience can easily transform the Summary Statement section into a resume objective. I'd also move the Work History section above Skills, and definitely add Education at the bottom of the page.
Our score: 2/5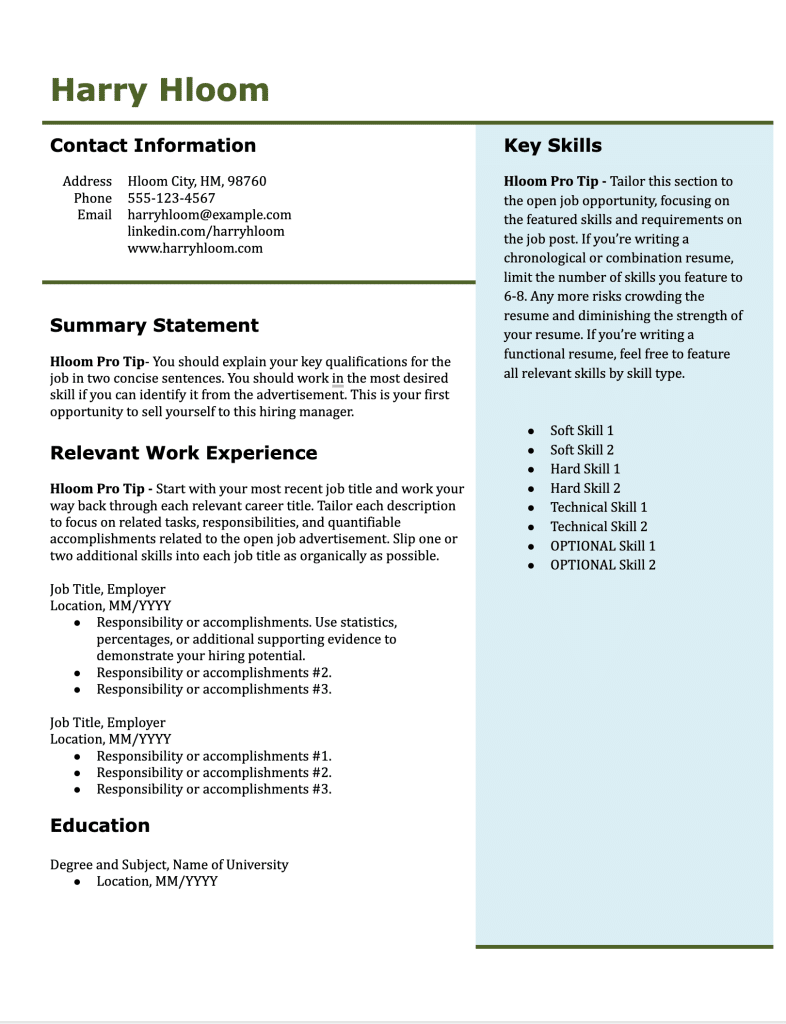 When to use this template:
This template is one of the best free Google Docs resume options out there. Great color combo that conveys tranquility and wisdom is a plus. When adapting the resume, make sure to change the section headlines (e.g. "Relevant Work Experience" to "Work Experience"), and format the whole document a bit better (e.g. change the Job Title in the Work Experience section to bold for better skimming and scanning). All in all, a solid resume template for Google Docs, fit for any job and level of experience.
Our score: 4/5
Paid Google Docs resume templates
With all the free options, why buy a Google Docs resume template?
Because, in most cases, it's REALLY worth it.
Most of them cost just a couple of dollars. (Tbh, this depends on the design and the author.)
Most are created by professional resume writers or companies that specialize in career development. In other words, you'll spend less time and energy on research.
Paid resume templates often come in packages, together with cover letter templates and some additional content like writing guides. Sending a matching resume and cover letter tells the recruiters you're taking this application seriously and are attentive to detail.
Let's check out some of the best paid Google Docs resume templates we could find: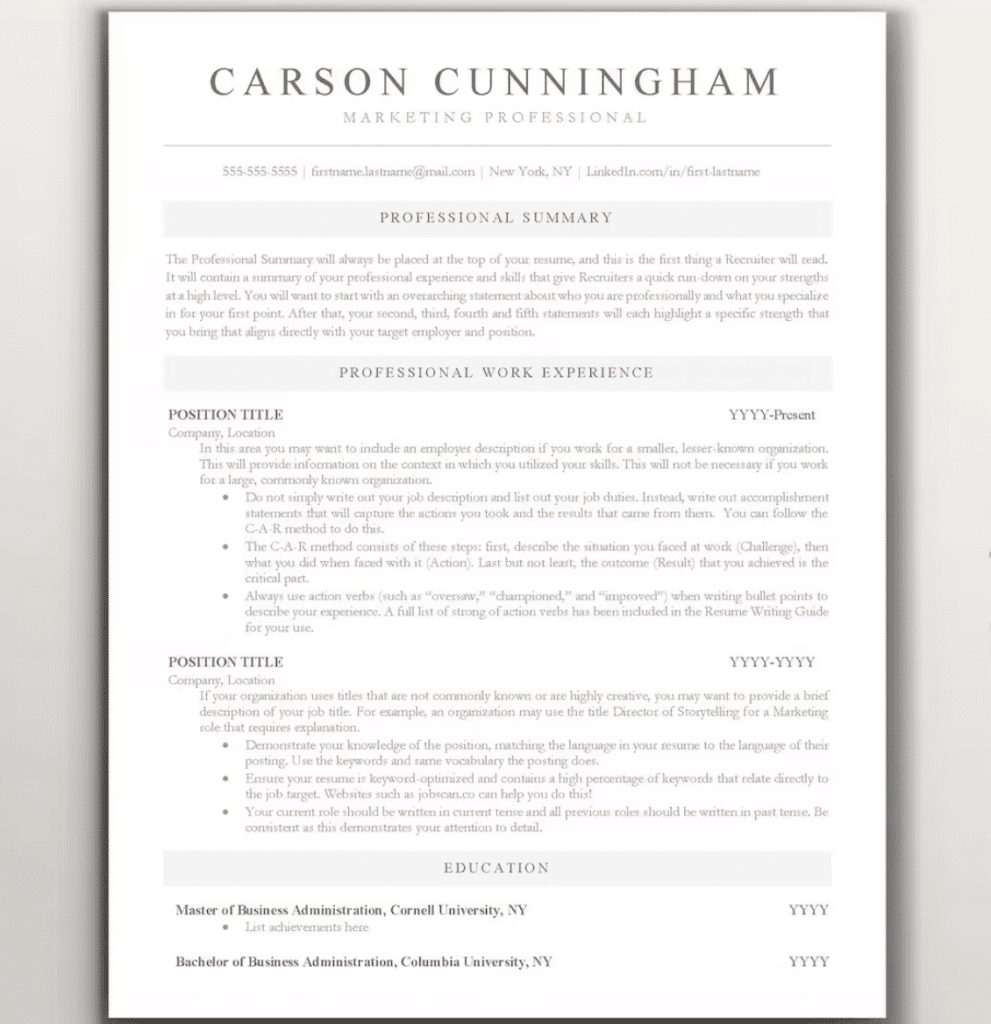 When to use this template:
This 5-star reviewed Google Doc resume template is clean, minimal, and made by a human resource professional who's also a certified resume writer. Very effective for such a low price – one of the most purchased resume templates on Etsy. For the same price (only $1.20), you get a matching cover letter and additional materials like extra icons. It has been reviewed over 2700 times, with buyers writing back saying how this template got them interviews and offers.
Our score: 4/5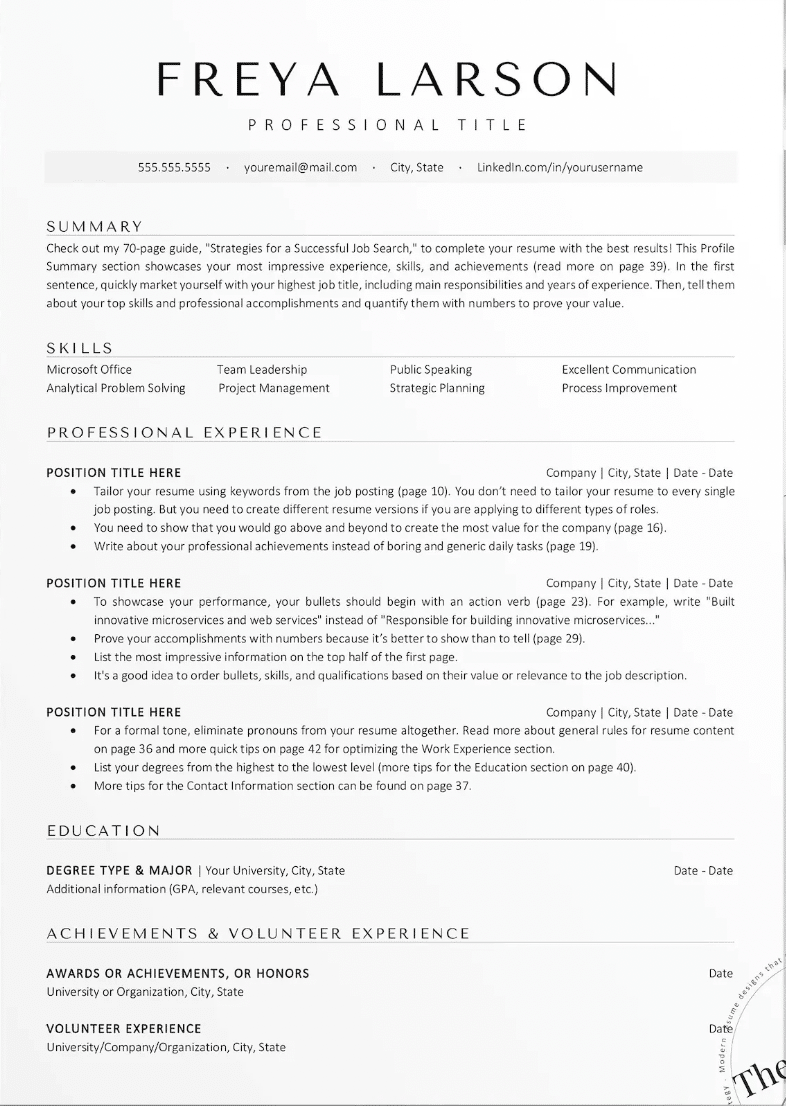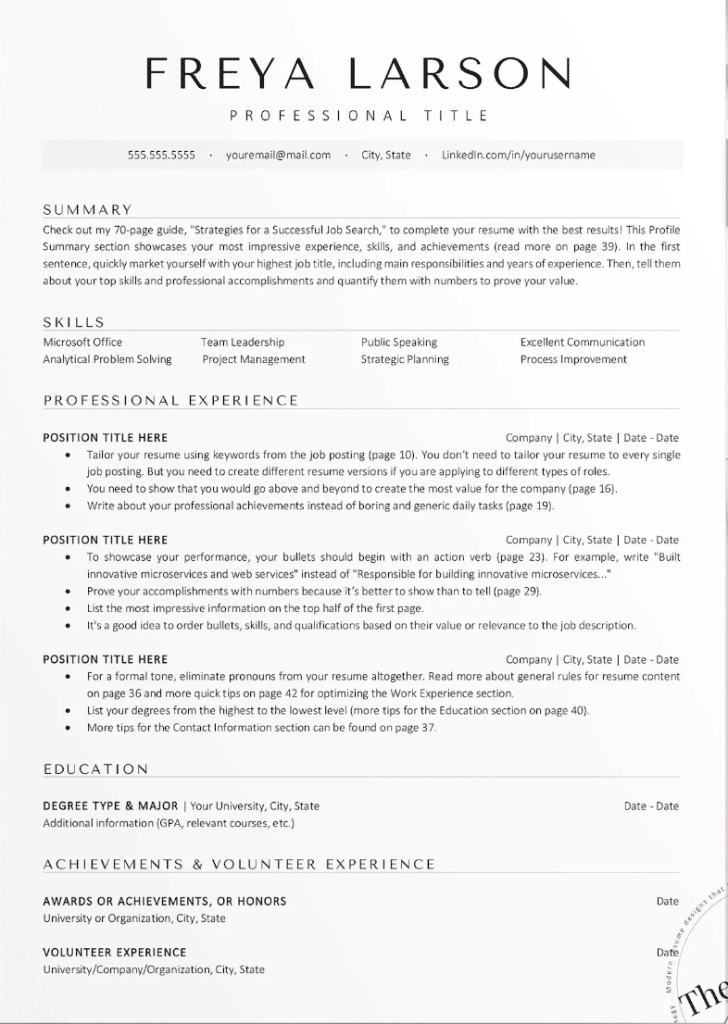 When to use this template:
One of the cheapest Google Docs resume templates you can find, created by a resume writer with hiring experience and adored by thousands. Professional-looking and attractive, this resume template also gets points for readability. For the same price (only $3.24) you get a matching cover letter and references. Comes in both US letter and A4 sizes and can be fully customized (e.g. colors, font). Sold almost 6000 times, and has 500+ five-star reviews.
Our score: 4/5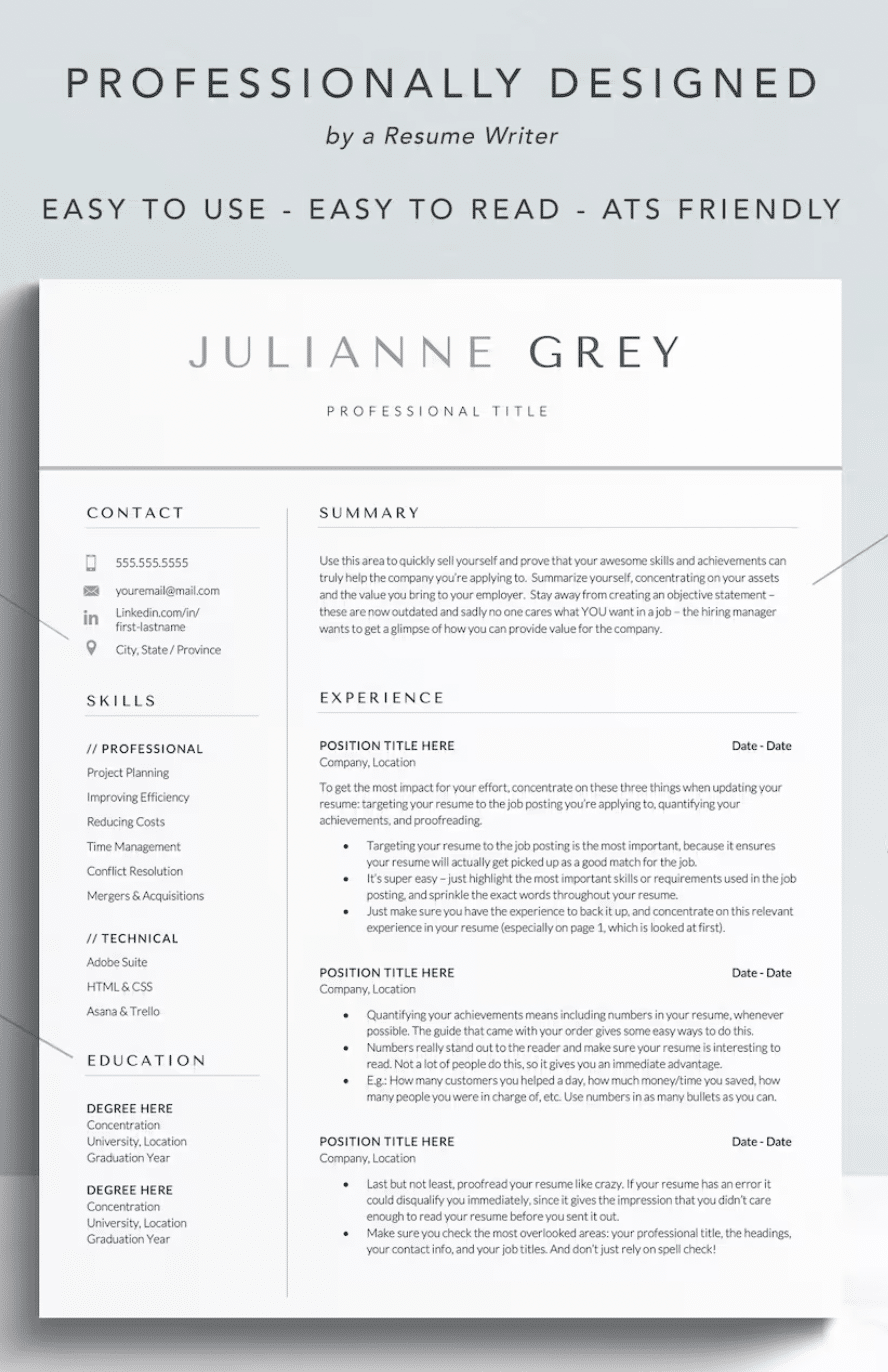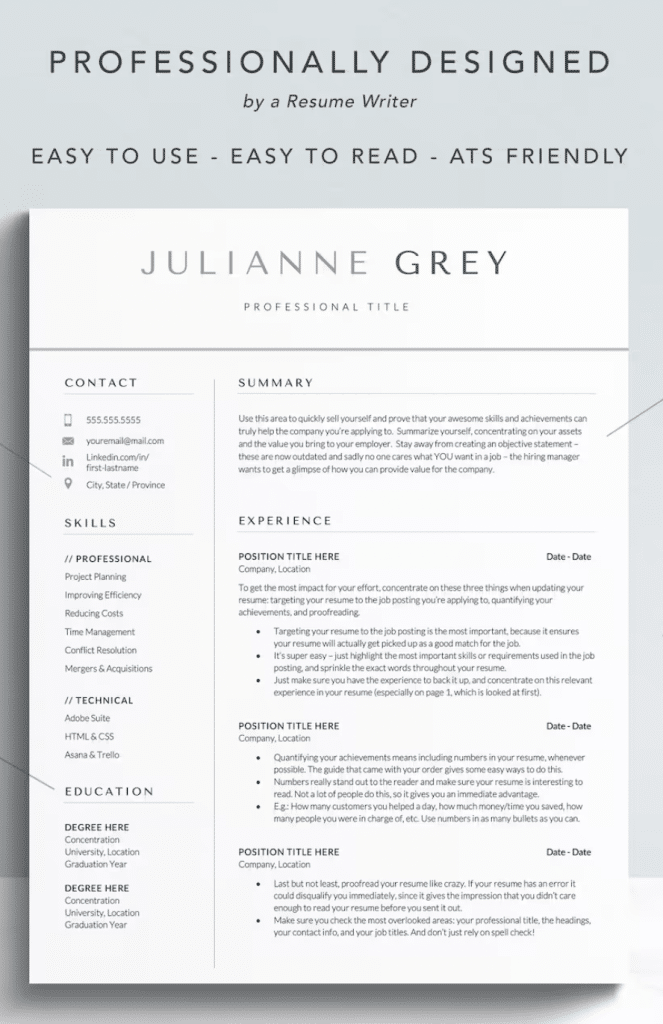 When to use this template:
Another resume template for Google Docs that uses the two-column format, providing a bit more space for information compared to the classic layout. Professional-looking, clean design with beige accents works best for any job or industry. Slightly better for experienced candidates with lots of relevant experience. At $9.56, this Docs resume template comes with the cover letter and references and clear instructions on how to remove or edit colors, fonts, headings, and sections.
Our score: 5/5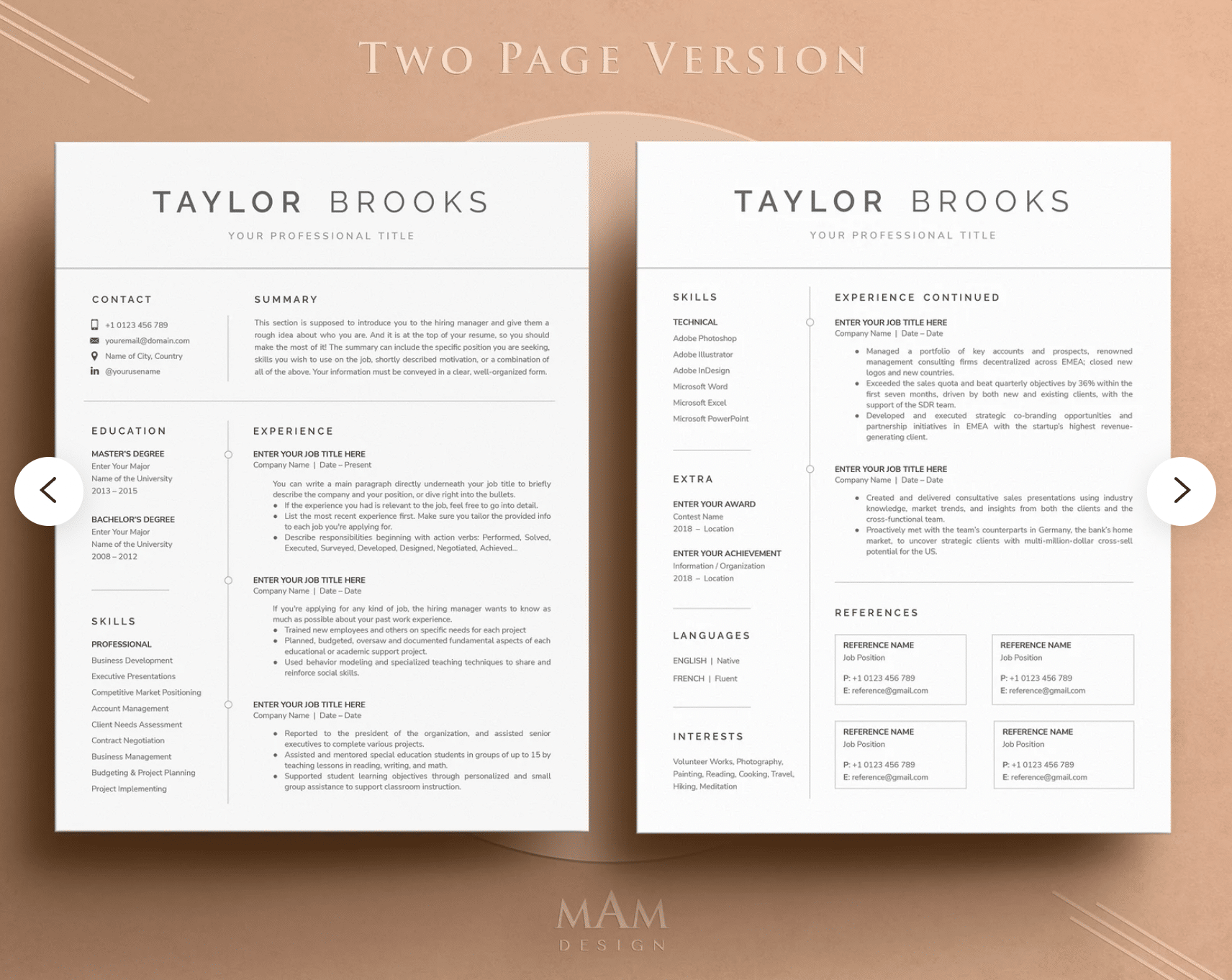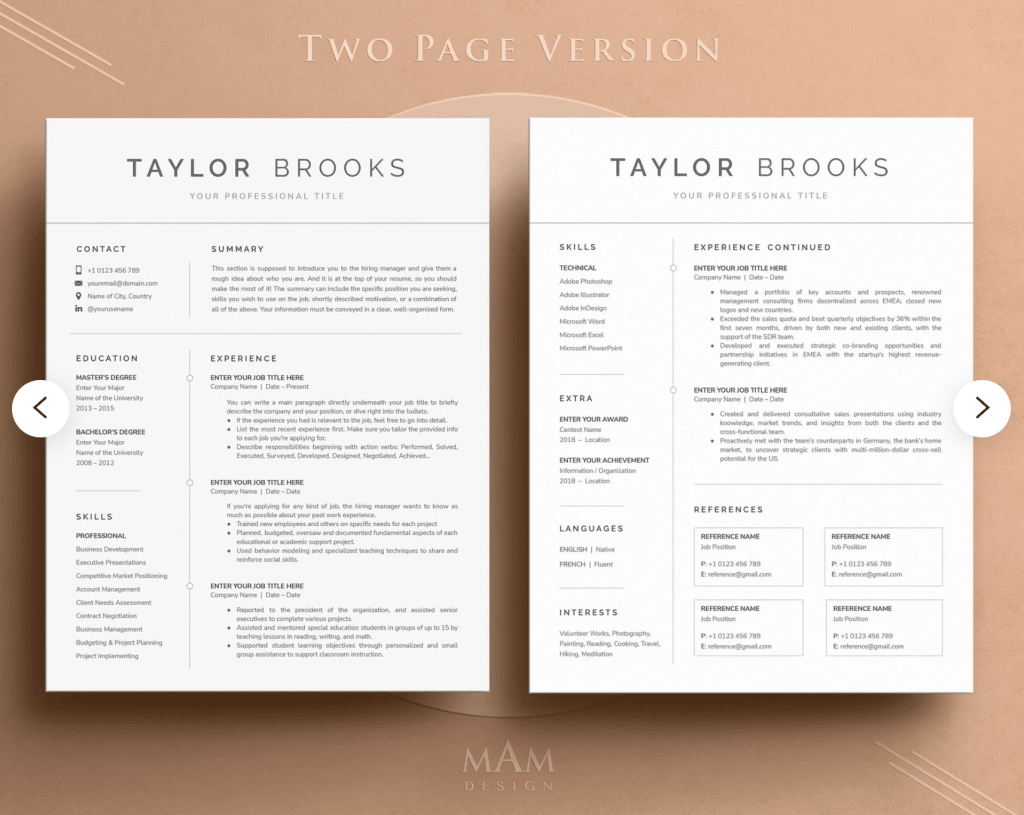 When to use this template:
This is one of the most professional and beautifully designed Google Doc resume templates we could find. At $4.80, this template has been purchased over 5700 times and has 200+ five-star reviews.
What is it about this template that people love so much? Although there aren't any colors, it's far from bland – the two-column approach will allow most candidates to fit everything on a single page. This two-page option includes references, additional information and hobbies/interests, which can all safely be omitted. Extra points for the font choice.
Our score: 5/5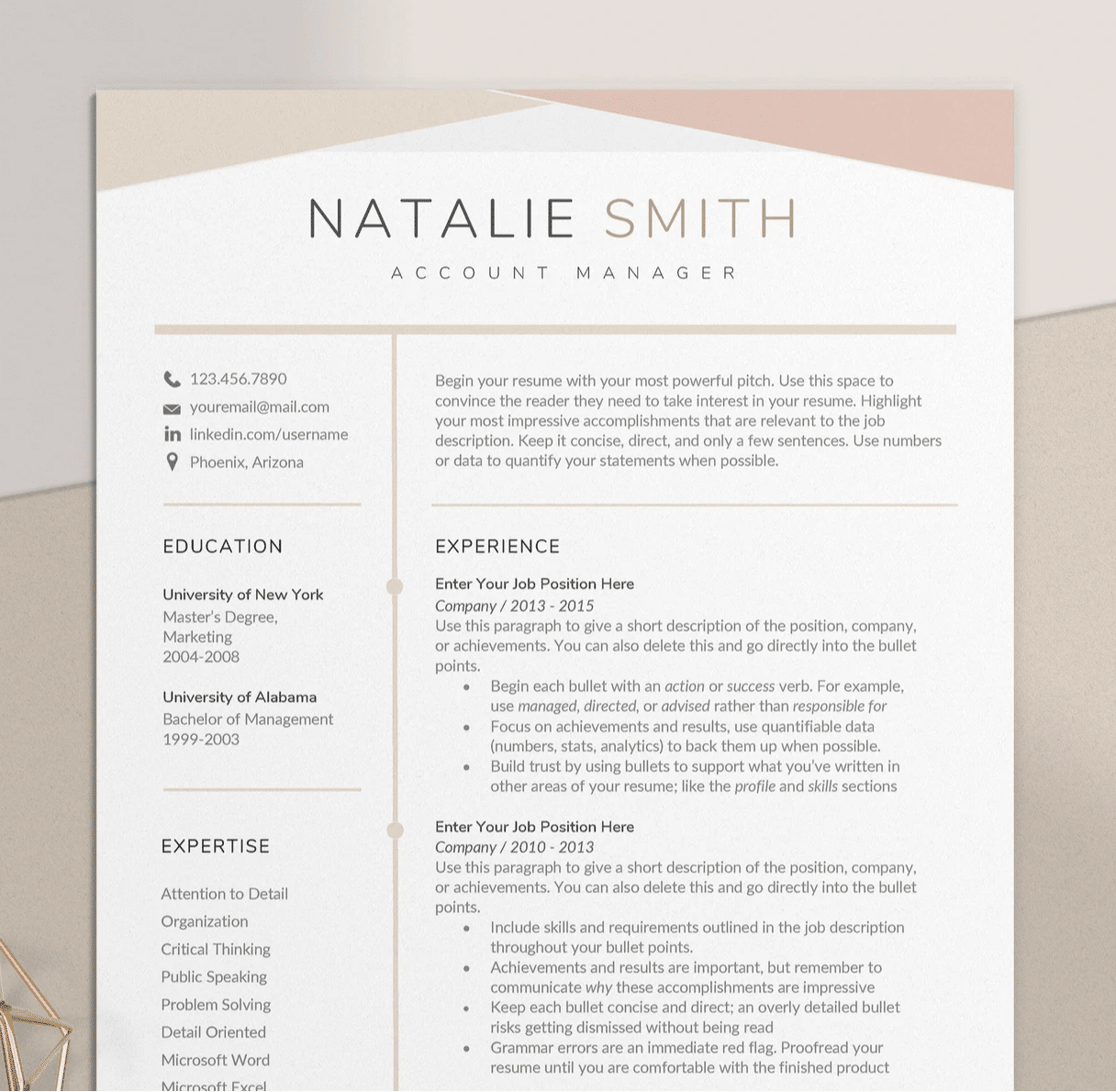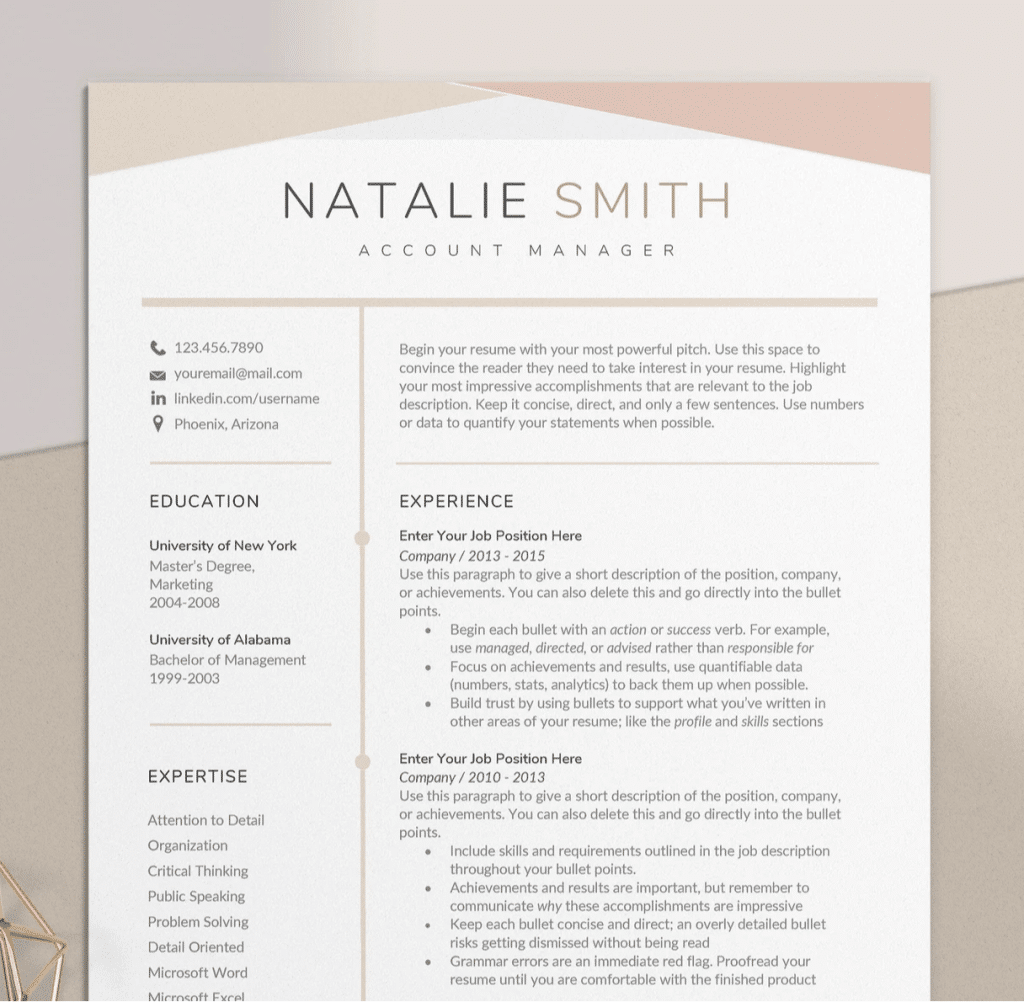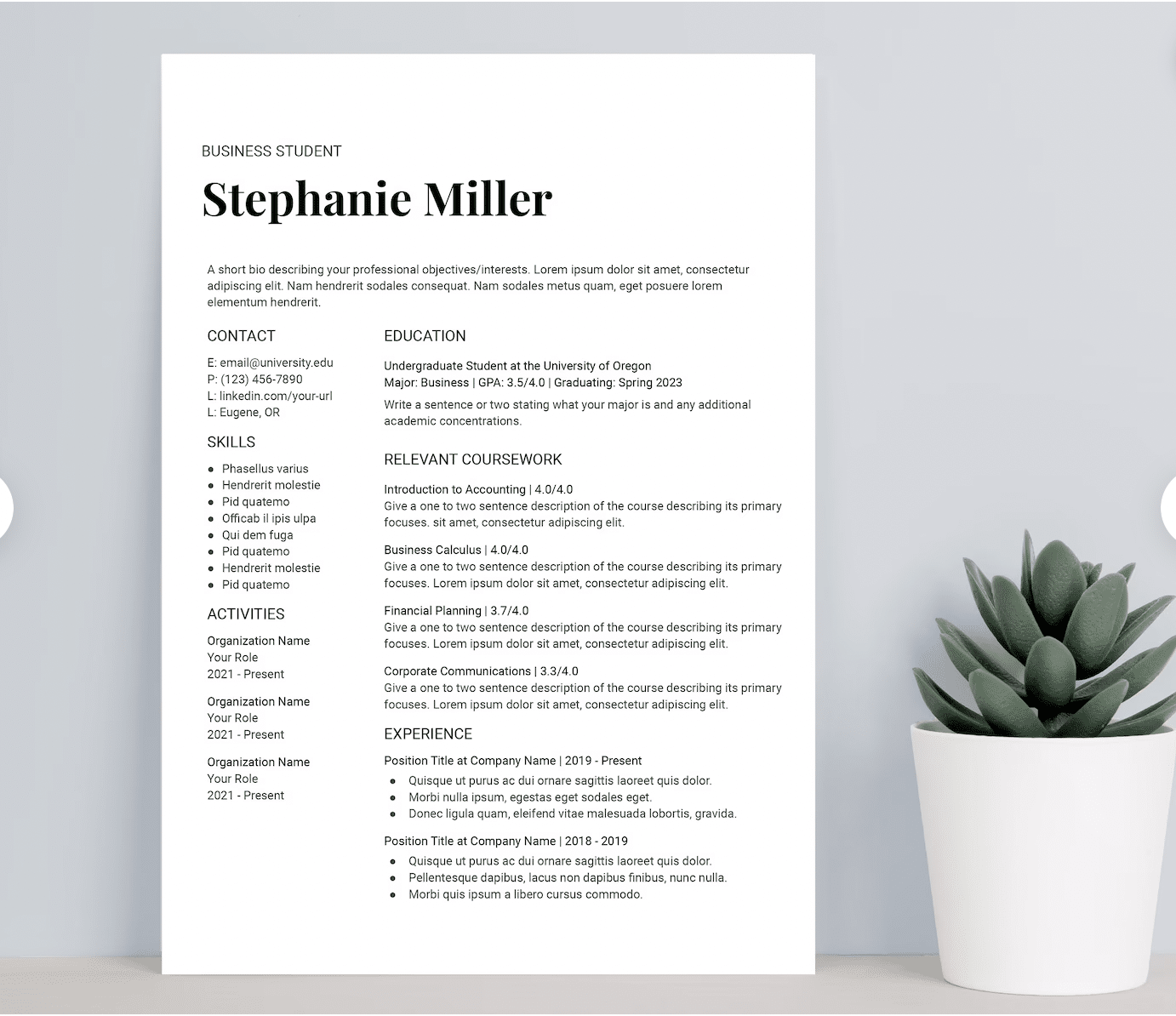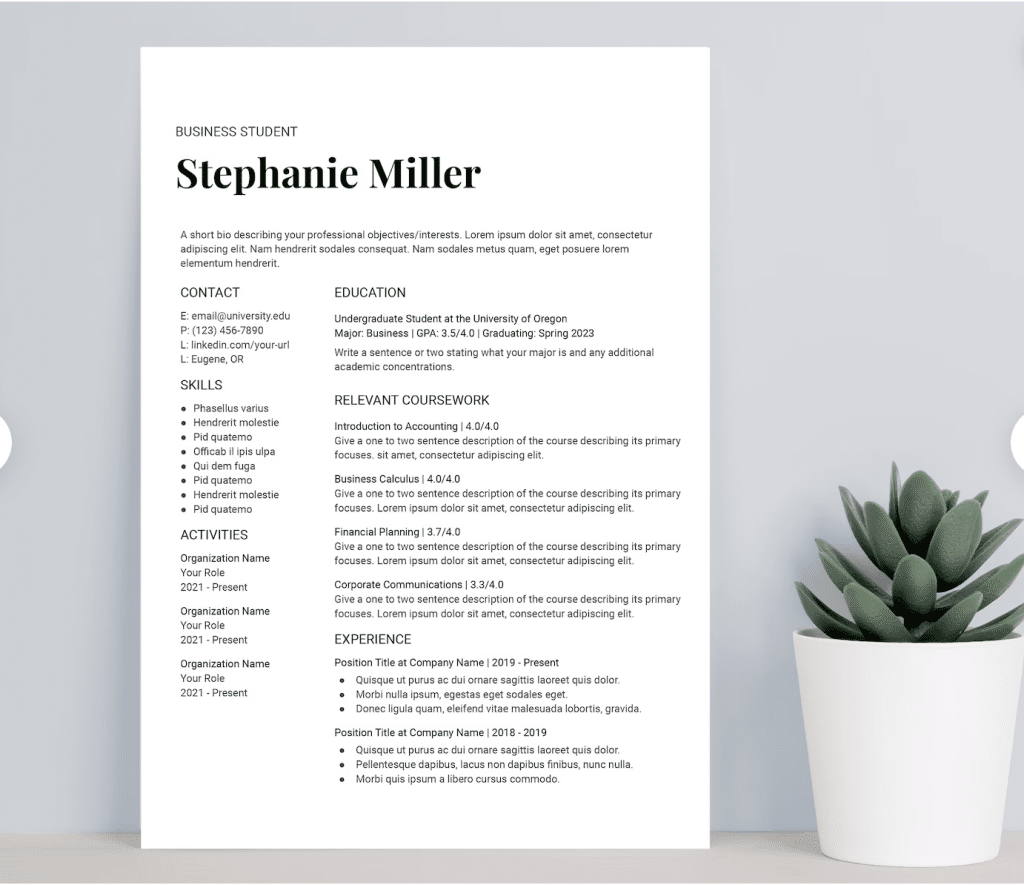 When to use this template:
This Google Docs resume template is ideal for entry-level candidates, recent grads, or candidates looking for internship opportunities. It puts special emphasis on education, coursework, and skills. It gets points for the two-column layout, which allows you to include more information. The package also includes a cover letter and references, along with instructions on how to use the template. Just like most of the other Google resume templates, this one is fully editable, so you can add, remove, and rearrange sections, as well as change the font.
Our score: 4/5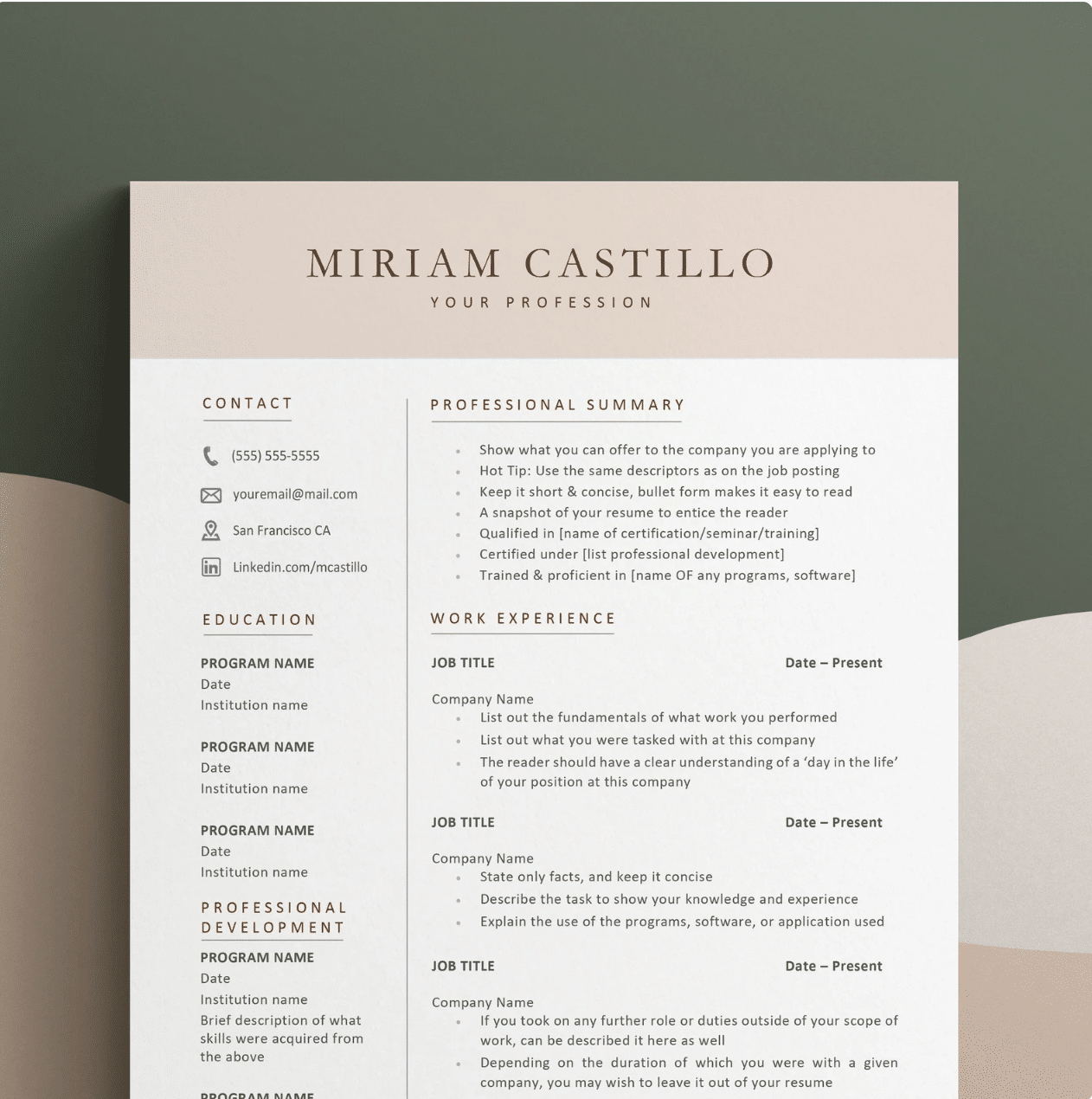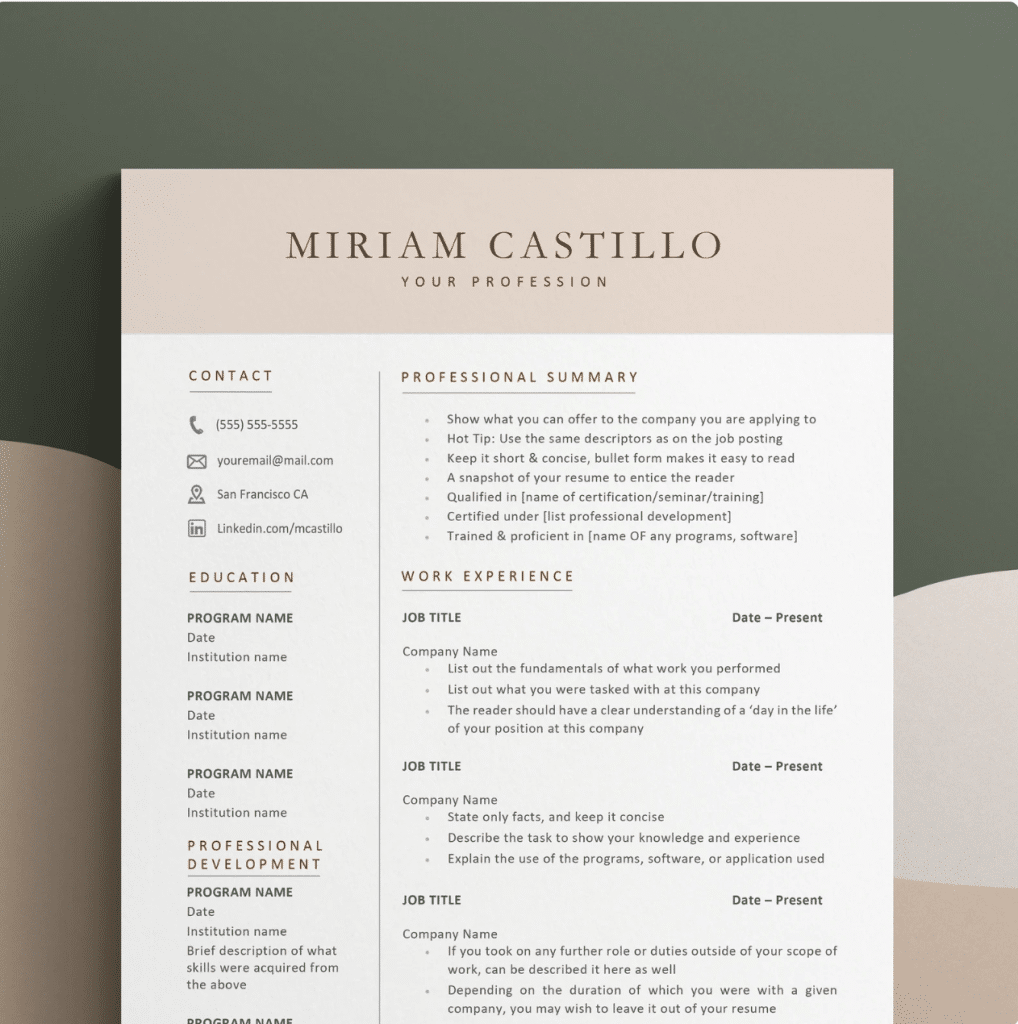 When to use this template:
This ResuStudio piece is one of the most visually appealing Google Docs resume templates we could find. At $9.35, the template has been given a 5-star rating by 800+ job seekers and is available as a 1-page or 2-page version. The package also includes templates for the cover letter and references. Apart from the clean design, readability, and convenient two-column layout, this Google resume template can be easily customized for a variety of positions and seniority levels.
Our score: 5/5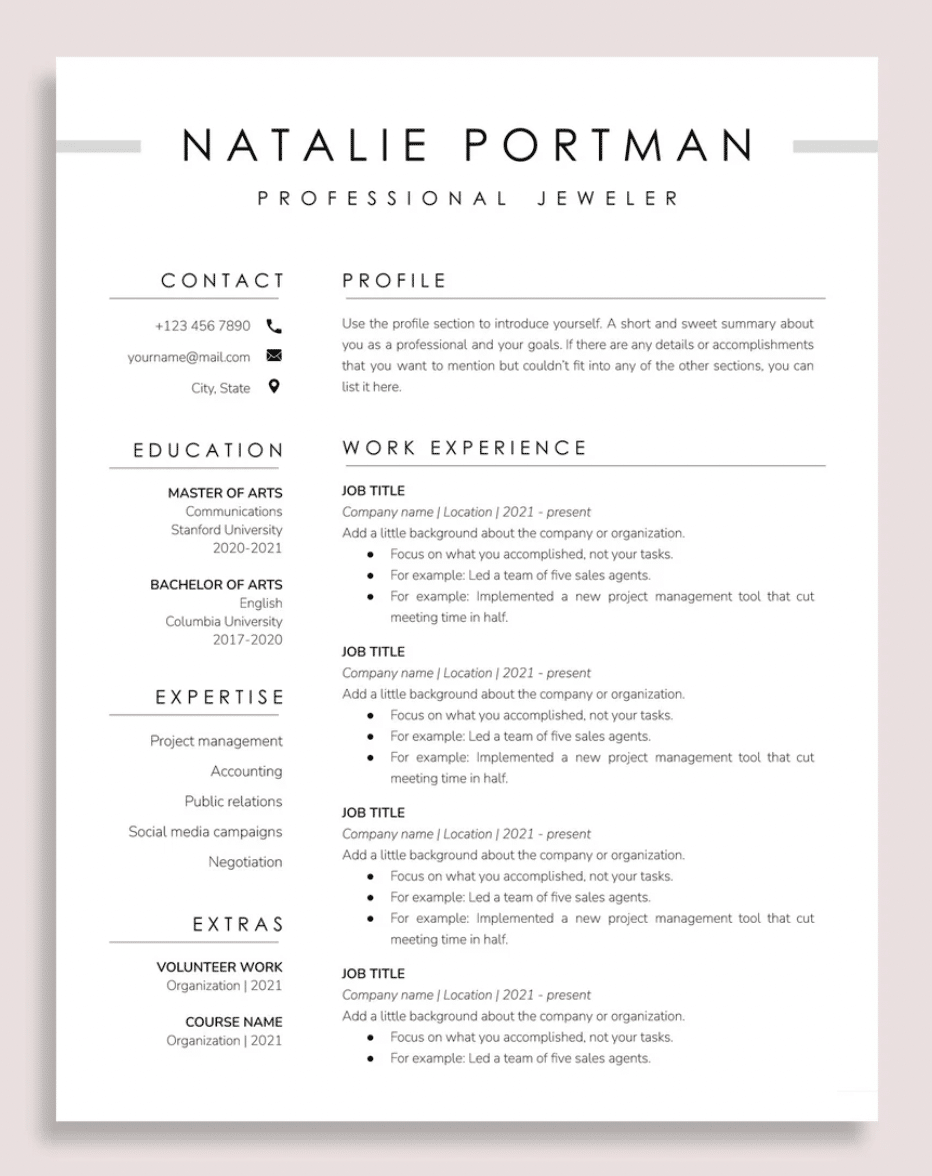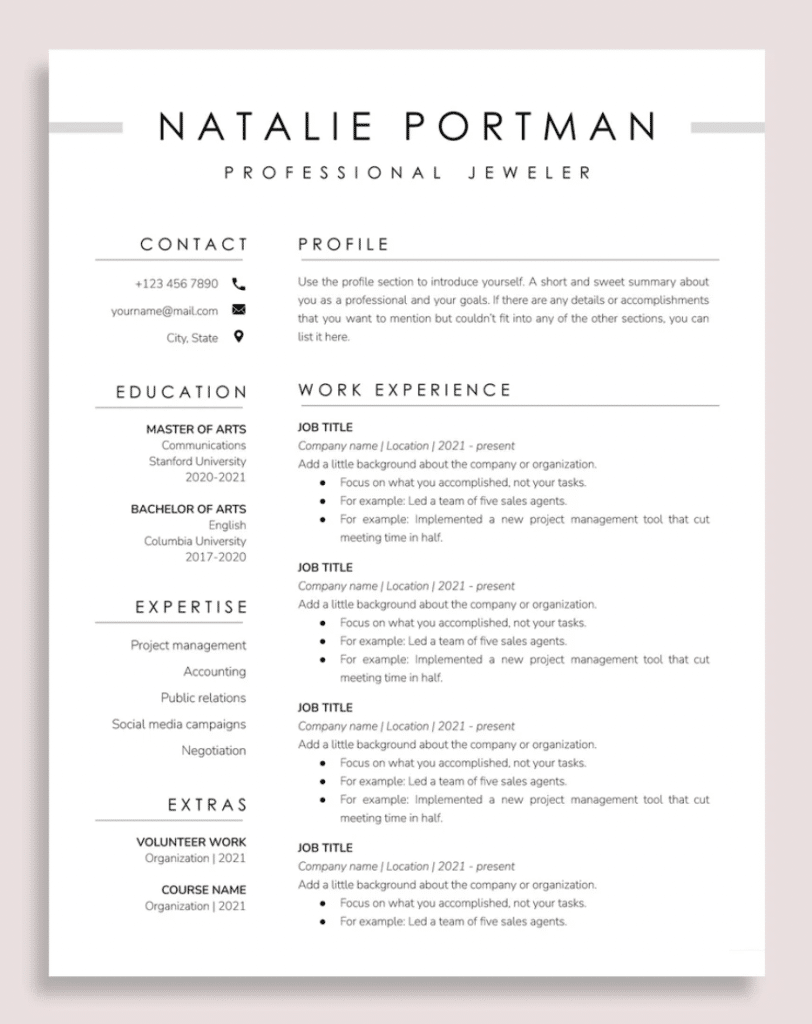 When to use this template:
This is one of those templates that looks basic, but is actually quite impactful. Despite the lack of colors or eye-catching visual elements, this Google Doc resume template by Design Studio Teti ($2.99) uses the classic two-column style, but gets points for the choice of font and the minimalist lines used to separate the sections. It's fully customizable, so it's possible to accentuate some parts with color, as well as rename the sections (e.g. change the Expertise to Skills or Profile to Summary). You can use it for a variety of career situations, although it works slightly better for candidates with substantial work experience.
Our score: 4/5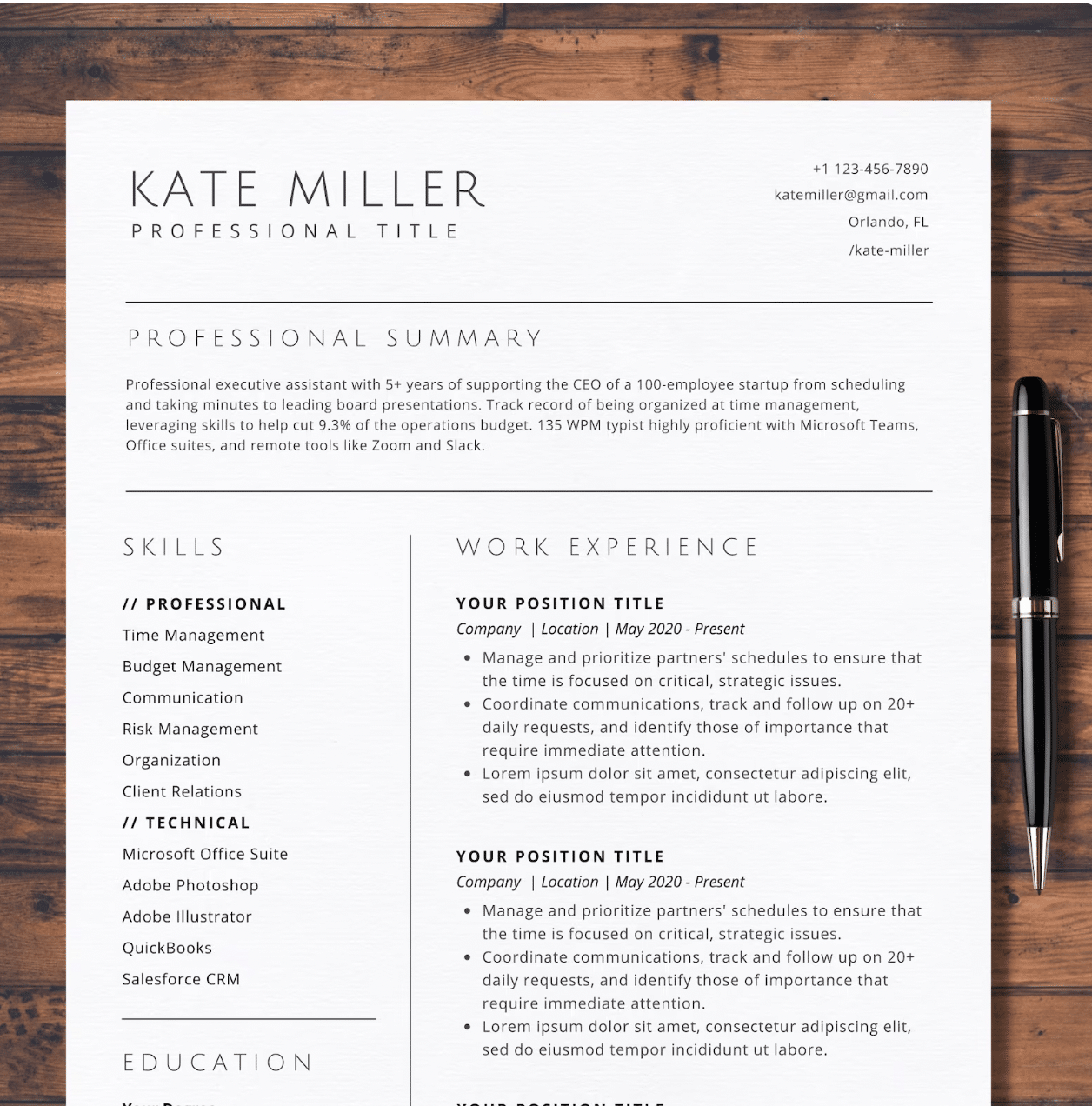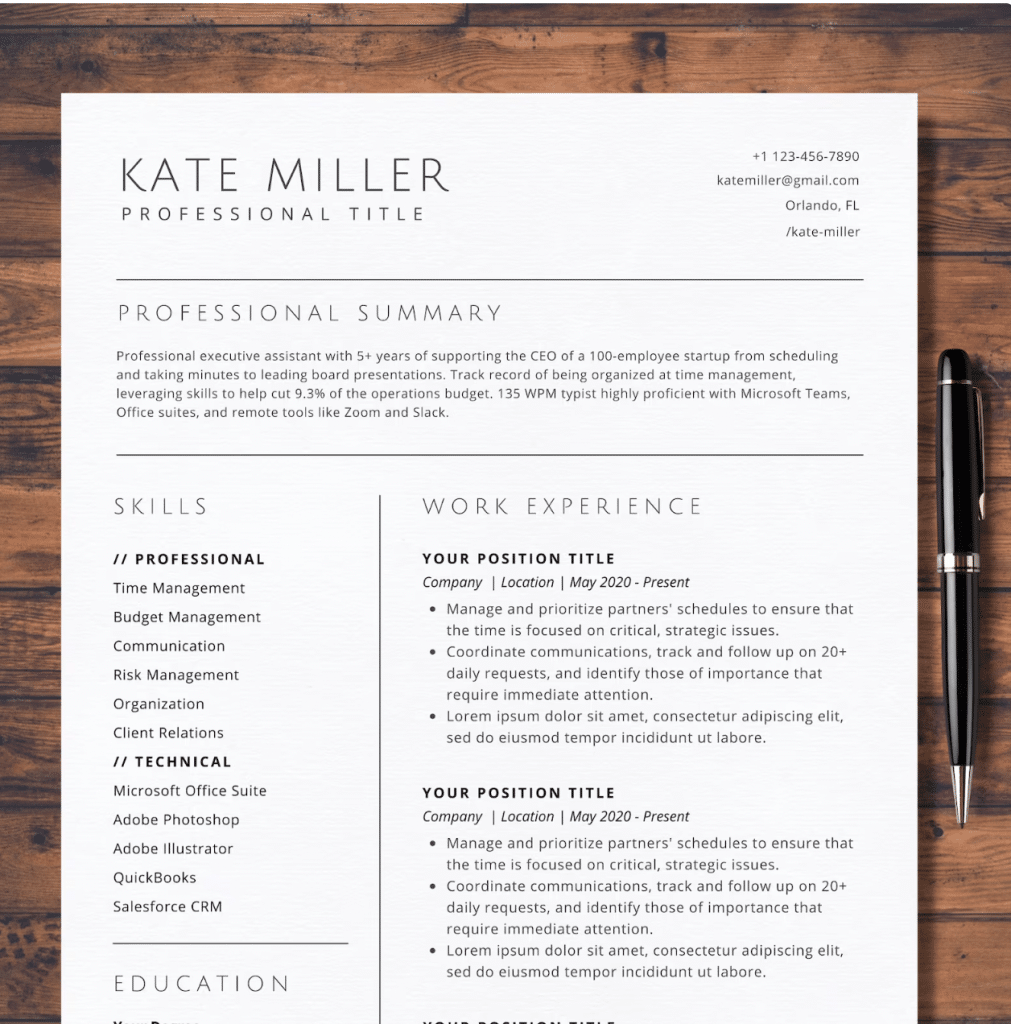 When to use this template:
Another sophisticated resume coming from an Etsy shop specializing in resume templates for Google Docs. Easily skimmable thanks to its minimalist design and font choice. Despite its classic look and feel, the right-centered position of the contact details and the asymmetrical line layout make it fresh and interesting.
Our score: 5/5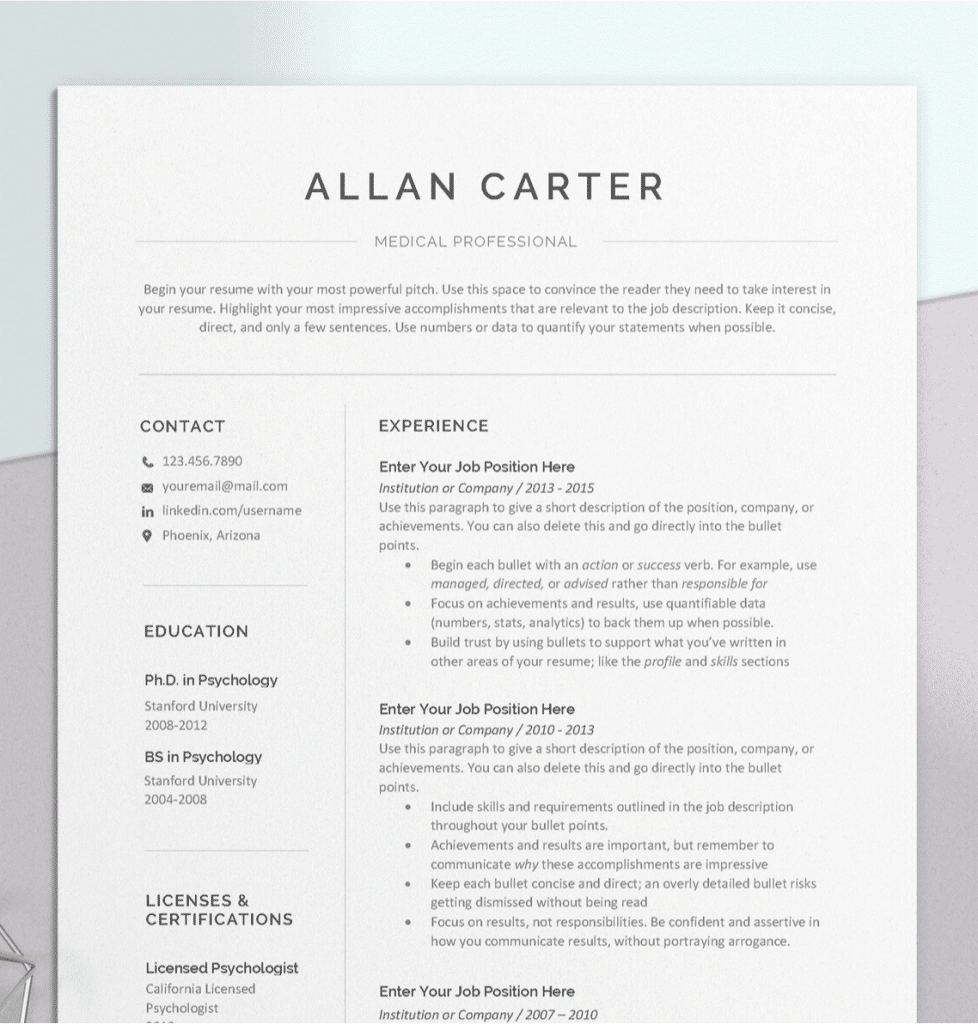 When to use this template:
Although this Google resume template was initially created for medical professionals (nurses, therapists, etc.), it can be used by professionals in any field. The "Licenses and Certifications" section can come in handy for other fields too. Like many other paid resume templates, this one comes in a package with the cover letter template and extra icons for the Contact section. Since the Work Experience section takes the central stage of the resume, we recommend this template to job seekers with substantial experience.
Our score: 5/5
Before You Go
There you have it! Twenty Google Docs resume templates to choose from. But before you do, here are some final thoughts to have in mind.
It's a time-saver. A well-picked Google Docs resume template can save you hours of work and days of stress, and, if done well, can increase your chances of being invited to an interview. Candidates usually don't pay enough attention to design and try to create their own designs from scratch. With a Google resume template, you can be sure your resume is well-designed. You'll know that it will come down to how qualified you are, not your typography and poligraphy skills.
It should represent YOU. In other words, don't be afraid to make the template your own. If you're not happy with the order of the sections, change them (just make sure you follow the best practices for what to include in a resume). If you don't like the colors, change them too. And if you don't need certain sections, tweak the template to include what you need, be it projects, certifications or extra skills. All these edits are super easy to make in Google Docs. Plus, many of the templates come with instructions, so you should be good.
It can help with spelling and grammar. It's the words that count, after all, and you don't want your resume content to be grammatically incorrect or give off a sloppy vibe. Google Docs comes with an integrated spelling and grammar checker, which helps a ton if you're writing your resume in English.
Finally, here are the key writing tips to help you create a killer resume. Combined with pretty design, resumes that follow these ground rules are winners.