No matter if you're a recent graduate applying for your first teaching job or an experienced teacher looking for your next opportunity, you'll find game-changing tips for writing your teaching resume here.
We know you've had a hard time these past few years.
The education sector is fiercely competitive. Throw in budget cuts, mandatory certifications, a limited number of local opportunities, and increasing demands in the post-Covid reality and you get a hot mess.
The least we can do is make wiring a teacher resume easy for you. That's why we created this guide.
Inside, you'll find:
Teacher resume examples for entry-level and experienced candidates
Tips on how to format your teacher resume
Advice on how to structure your resume and what sections to include
How to quickly tailor your resume to each job ad to double your success rate
Let's start with two teacher resume examples you can use as inspiration (or steal, slightly modify, and make your own).
Teacher Resume Sample for an Experienced Candidate (5+ Years of Experience)
Mia Bann
High School Biology TeacherPortland, OR •

(404) 123-0000

•

miabann

@email.com

• linkedin.com/in/

miabann

Professional Summary 

Innovative biology teacher with 7 years of experience in K-12 education. Strong background in curriculum development, classroom management, and student engagement. 89% pass rate in 2022. Passionate about integrating technology into the classroom. Committed to fostering a positive and inclusive classroom environment.

Work ExperienceBiology Teacher

Heartbreak High | Portland, OR | 2018–Present
Instructing an average class of 24 teenagers with 77% average pass score

Developing and implementing curriculum for biology courses (AP included)

Pioneered STEM education across the curriculum

Conducted 6 formal assessments over a 12–month period

Mentored 2 new teachers, providing guidance, training, and support



Biology Teacher
Cleveland High School | Portland, OR | 2015–2018
Devised and implemented 100% lesson plans for biology courses

Led 4 weekly interactive lab exercises for freshmen and sophomores

Continually assessed student progress and provided 4 yearly progress reports
Education 
MAT in Science Education, Oregon State, 2014
Bachelor of Science in Biology, Oregon State University, 2012
Skills
Google Classroom

Zoology

Dissection

Cell culture

Lab management

Technology integration

Nearpod

Blackboard

Wolfram Virtual Lab
Certifications 
OSHA Classroom Safety (2018)
STEM Education
First Aid, American Red Cross (2016)
Biology 7-12, State of Oregon (2017)
Conferences
Speaker:
NABT Professional Development Conference

, "Covid-19 and Virtual Labs: Lessons Learned" (Indianapolis, 2022) 
Attendee:
ISTE 2022

(online)

Get Your Teach On

(Atlanta, GA, 2022)
Publications
Impact of Lecture Methods in Biology Students' Performance in Secondary Education

, The American Biology Teacher Journal, 2021
Volunteer Work
Heading the Biology Club at

Heartbreak High

National Park Service Volunteer since 2012 (100+ hrs a year)
Why this works:
It's simple: the candidate communicated their skills and accomplishments clearly. The Professional Summary section is crisp and includes hard numbers and quantifiable results. The same goes for the Work Experience section, where they focused on superspecific achievements rather than merely describing their day-to-day tasks and duties. The Conferences and Publications sections act as proof that the teacher is actively seeking professional development and is following new trends in the field. Finally, their Volunteer Work is relevant to the position and puts focus on the candidate's commitment and drive.
Teacher Resume Template for a Recent Grad (with Limited Experience)
Miles Holden
Elementary School Teacher
Denver, CO •
(404) 404-0404
•
mholden
@email.com
• linkedin.com/in/
mholden
Profile 
A recent BA in Linguistics graduate with a freshly-minted MAT degree and a strong educational foundation in pedagogy and teaching methodology. Bringing in skills like empathy, collaboration, and resourcefulness. Looking to join Holly Hills Elementary School as a Third Grade Teacher and help promote excellence and diversity.
ExperienceStudent Teaching Intern
Schmitt Elementary | Denver, CO | 2022
Prepared lesson materials and conducted lessons under supervision

Managed a classroom of 30 students over a 12-week period

Conducted 3 formal assessments under supervision

Prepared students for the next grade level by promoting values like perseverance and teamwork
English Teacher 
Teach Away Volunteer Program| Vietnam | 2021
Managed classroom activities for 100+ kids, aged 9 and 10

Taught 20 class sessions a week, monitored performance, and provided feedback

Organized 3 Spelling Bees over a 6-month period
Summer Camp Counselor
Camp Granite Lake | Golden, CO | 2011-2014
Created daily schedules for 50+ pre-school and elementary school children

Organized 2 weekly group activities while adhering to the safety protocols

Helped design and host the annual Talent Show



Education 
Master of Arts in Teaching, MSU Denver, CO (2020)
Bachelor of Arts in Linguistics, MSU Denver, CO (2016)
Skills
Microsoft Office 

Blackboard

ESL

Powerpoint

Lesson planning
Certifications

Colorado State License (2023)

ESL/TESL

CPR and First Aid
Volunteer Work
Colorado Young Leaders (2017)
Speaker at Youth Climate Conference




"The Future of Animals We Love: Climate Change Effects on Wildlife"

Host of group work sessions



Denver University and CCESL: Reading Partners (2010-2013)
Provided 1:1 tutoring to elementary students who are behind grade level reading proficiency 
Why this works:
Although Miles has little hands-on classroom experience, his resume is strong and convincing. The resume objective follows the writing rules to a tee – in 3 simple, yet achievement-packed sentences, Miles manages to convey the idea that he's a great fit for the role. He added his internship experience to the work section, and also remembered to include the relevant Camp Counselor gig he enjoyed doing while in high school. The state-level and First Aid certifications definitely add credibility, while his volunteer work helps him come across as a person who practices what he preaches.
How to Format and Structure a Teacher Resume
When I say "format and structure," here's what I mean:
Ensure your resume has a professional look and feel
Include the proper (mandatory!) sections in the proper order
Let's see what this means in practice.
How to give your teacher resume a professional look
Good design elements and font choice go a long way. Here are some easy-to-follow rules that will keep recruiters and administrators interested.
Pick a good font
Save Comic Cans and other fun fonts for your 1st-grade posters. Instead, go for a classic font that's legible and doesn't distract the reader. Some great fonts to use on a resume (in no particular order):
Tahoma
Arial
Times New Roman
Open Sans
Helvetica
Georgia
Verdana
Calibri
Garamond
As for resume font size, we recommend 11 or 12pt for normal text. Your section titles and headers should be 14–16pt. In case your resume spills over to the second page by just a few lines, you can opt for a 10pt font size, but make sure it doesn't look cluttered.
Pay attention to line spacing
Line spacing is the vertical white space between each consecutive line of text. A paragraph looking too dense? This means the line spacing could be increased. Stick to the optimal line spacing, between 1.15 and 1.5 points – this will help the hiring teams scan your resume more easily.
Set margins to 1 inch
This may sound like overkill, but we promise margins are important.
Margins that are too big may sound an alarm among the hiring managers – Is the candidate using white space to cover the obvious lack of experience? You definitely don't want that. On the other hand, margins that are too small will leave your resume looking cluttered and visually overwhelming.
That's why all resume coaches suggest adjusting them to one inch on each side.
Use large, attention-grabbing section headings
Remember that hiring decision-makers start their selection by bulk-skimming the resumes (or using Applicant Tracking Software, but more about that later) and you want yours to be clearly laid out and super skimmable.
To make the section headings stand out, use larger fonts (14-16pt) and bold for your headings. That way, the reader will find the most important bits of information at a glance. Points for you.
How to structure your teacher resume for maximum results
Again, there are two things to keep in mind:
Use the reverse-chronological order when listing your items.
Make sure you include all the mandatory (and some teacher-unique) sections.
Now let's clarify this through some examples.
Use the reverse-chronological resume format when listing items
There are a few different resume formats to choose from, but most resumes today use the reverse-chronological format. (PS It's a fancy name for something you've seen a million times.)
What's typical of this format is that, in the Work Experience section, you start from your most recent job, and then work backwards from there. The same goes for the Education section, in case you attended multiple schools or have two or more degrees.

This resume format is great because, as your career progresses, you'll logically have your best and most recent accomplishments listed at the top of your resume (alongside another vital section, the Resume Profile). This will allow you to list your most impressive and recent work experience first. Both human recruiters and ATS systems love having essential information in the top third of the page, so here's an extra reason to go with this format.
🔮 Bonus tip:
You'll also want to describe your skills and experience using bullet points so that things are easy to read and split up with nice spacing.
Sections to include in your teacher resume
Your resume needs to include a few standard sections and follow a particular order (this is non-negotiable):
Header with contact information
Resume summary or objective (we'll explain the difference in a bit)
Work experience
Education
Skills
There are some optional (but recommended) additional sections to include:
Certifications
Professional affiliations
Courses
Publications
Conference attendance
Let's break these sections down and see how to make the most of them.
Start with a Header with Contact Information
This is a no-brainer. You want to include relevant contact details so that the HR department can get in touch.
You should include:
Your first and last name
Job title
Phone number
Email address
Location
LinkedIn URL
This is how one candidate did it:
Lena Peters

Primary School Teacher
Portland, OR •
(404) 123-0000
•
lenapeters
@email.com
• linkedin.com/in/lpeters
Write a Resume Summary or Resume Objective Statement
This is the part that sits right under your contact information and has a few versions and names. You've probably seen it as Resume Profile too.

Despite the confusion, it's fairly simple. You'll write a resume objective if you're an entry-level candidate. If not, you'll go with the resume summary. (Check out our in-depth guide on Resume Profile to learn how that's different).
Whichever one you pick, there are a few things to keep in mind:
Resume summaries/objectives are brief, so keep them to 3-5 sentences at most.

This (alongside your Work Experience section) is the sole most important part of your resume. It sits at the top of the page and grabs all the attention, so consider it your sales pitch – a condensed version of your entire resume where you're trying to persuade the hiring team to believe in what you have to offer. How do you do that?

The goal here is to briefly describe who you are as a teacher and what your best skills, abilities and qualifications are. Ideally, you'll pick out a few unique details or achievements and quantify wherever possible.

Finally, make sure to focus on what you can bring to the table rather than what you want from the job. In other words, focus on

them

rather than yourself.
🔮 Bonus tip:
Drop pronouns, articles, and full sentences.
Teacher resume summary example
Here's what Jonah, an experienced biology teacher, wrote in his resume summary:
✅
Driven biology teacher with 9 years of experience in teaching middle schoolers. Skilled at and passionate about teaching and engaging students through different pedagogical methods, and improving their knowledge and social skills. A member of the school board and a winner of the Teacher of the Year Award 2021. Would love to expand duties and take on challenging responsibilities with vigor and superb pedagogical skills at Bloomington High School.
Why this works:
Let's analyze this well-written teacher resume summary. Remember the rules? With four short, condensed sentences, Johan managed to distill his entire career into a short killer paragraph. He conveyed his passion for teaching, knowledge of pedagogical methods and sealed the deal with an award. In the last sentence, he clearly communicates what he's looking to bring to the High School he's applying for. 
And here's what not to do (I'll give you two bad examples, one worse than the other):
❌
Energetic, compassionate, and results-oriented teacher. Implements effective teaching strategies to meet the unique needs of all student learners. Develops engaging and creative lesson plans to stimulate the minds of students and delivers effective classroom management strategies in order to address behavioral concerns and maintain a productive learning environment. Demonstrates the ability to work closely with school stakeholders, including students, parents, staff, and community members.
Why this is good, but not great:
At first glance, this looks like a solid summary, but experienced hiring managers won't be impressed. Here's what can be improved:
While "energetic", "compassionate" and "result-oriented" are all relevant teacher qualities, these are the top 3 adjectives that

everyone

uses. Just look at a few resume templates if you don't believe us. You can do better than that. Think what makes you unique instead of using corny adjectives that the recruiters have seen a million times.

The summary lacks specificity – "implements effective teaching strategies" (

Which exactly?

), "meet the unique needs of all student learners" (

What needs?

), "maintain a productive learning environment" (

How?

). Instead of empty phrases, this candidate could have shortened the second sentence and added a few numbers to back up their arguments. For starters, they could have added the info on how long they had been teaching.
And here's another lackluster example:
❌
Great and energetic teacher. Implements teaching strategies to meet the needs of students. Develops lessons and handles classroom management strategies. Works closely with school stakeholders.
Why this absolutely sucks:
Look twice and you'll see that this is actually the same example. The previous version was filled with overcomplex, powerful, and (we dare say) pretentious language. And yet, this version is even worse because it describes the candidate in a way so basic that their unique dynamic abilities got lost in translation. 
Remember: aim for clarity, be brief, and quantify wherever possible.

If you need more help, check out our in-depth resume summary guide.
Teacher resume objective examples
Let's examine this well-written teacher resume objective by Alexandra.
✅
A teaching professional with strong interpersonal and communication abilities, looking for a full-time teaching role at Kalani High. Bringing in 2 years of tutoring experience and knowledge of basic ed-tech. Looking forward to supporting collaborative learning and helping the Kalani High students reach their full potential.
Why this works:
Instead of pulling your hair out because you lack work experience or are a recent graduate, think about how you can craft your resume objective to show that you're driven and that you have transferable skills that will come in handy. In the example above, the candidate mentions key skills for a teacher – strong communication and people skills. Her tutoring experience (similar to volunteer work) also sends good signals to the hiring managers. Finally, the resume objective is short and to the point, with zero fluff.
And here's a teacher resume objective style to avoid:
❌
I am a motivated recent graduate from Science Education, looking for a teaching position in K-6. Great organizational skills. Looking to make a difference.
Why this is wrong:
Yikes! This candidate surely kept their objective short, but made some serious faux pas. If I were looking at this resume, I'd have no idea which courses this person could teach, whether they're certified or not, and the "motivated" with "great organizational skills" isn't telling me much either. Remember the golden rule – actionable, quantifiable, with as much relevant info in 3-4 sentences. 
Bonus tip:
When coaching job seekers, I always advise them to work on this section last. It's often a lot easier to write a summary once you have everything outlined in your work history or skills section. Pick the best bits from there and make a "best-of" style bio. You can follow this simple formula:
A/an [2-3 DESCRIPTIVE, SOFT SKILLS ADJECTIVES] [YOUR CURRENT ROLE] looking for a [NEW OPPORTUNITY]. Looking/ready/excited/seeking to apply my [TOP TECH SKILLS] to help [COMPANY NAME] reach [THE DESIRED OUTCOME].
Also, check out our resume objective guide for more ideas. 
Highlight Your Experience in the Work History Section
Now this is the part that will make up the bulk of your resume and that you really want to nail. The summary/objective and work history should go hand in hand – the ideal work history should reinforce any skills and qualifications you claimed to have in your summary.
To put your best foot forward, you'll want to follow these basic rules:
List your work history in the reverse-chronological order, so that your most recent work is listed first. 

The more recent the job, the more details you'll want to include.

List your role, dates worked and then describe each position briefly using 3-5 bullet points and keywords listed in the job description.

A major mistake candidates make here is listing their day-to-day duties and responsibilities instead of focusing on achievements and measurable results. Apply the same rule from the summary section – make your bullets actionable and quantifiable wherever possible.
Here's how you can improve a mediocre work experience section in a few simple tweaks:

❌
B. Smith High School
Teacher | Charlotte, NC | August 2017-Present
Create lesson plans covering multiple subject areas

Adapt lessons and deliver instruction for diverse groups of students

Develop activities that promote academic achievement

Grade assignments and maintain records of all student progress

Discuss student progress and optional academic support with parents
Why this is wrong:
Another unimpressive example that many candidates think is actually good. Here are some problems:
Instead of starting with their position and listing it in bold as the most prominent information, they chose to start with the school name.

None of the five bullets contains any (measurable) results or accomplishments 

The candidate merely listed what their day-to-day duties were.

Some of the descriptions lack substance (e.g. "Develop activities that promote academic achievement")
Here's how you can improve it in just a few minutes:

✅
Teacher
B. Smith High School | Charlotte, NC | August 2017-Present
Create 6 lesson plans a week covering 3 subject areas

Adapt instruction methods to a diverse group of 34 students

Write and grade 20+ annual assignments and hit 95% pass rate

Provide monthly student progress reports and plan academic support
In case you need more information on how to write your work history section, this guide will give you all the answers.
List Your Education and Certifications
This should be fairly simple. When listing education in your teacher resume, there are some basic rules to stick to. Make sure to include:
Your degree

Field of study and major

School name

Graduation date
And some bonus bits to be aware of:
You don't need to include the information about your high school if you have a bachelor's degree. 

If you have degrees above the bachelor's level, list them all and use the reverse-chronological format (start with the most recent one and go backwards).

In this section, you can include a list of any certifications or licenses, or you can organize your certifications in a separate section. 
Here's an example you can use as inspiration:
Education 
Master of Early Childhood Education 
Boston University | Boston, MA | 2015-2017
BSc. in Elementary Education 
University of Michigan | Ann Arbor, MI | 2011-2015
To find more examples and tips on how to organize this section, check out our curated guide on how to list education on your resume.  
Showcase Your Top Skills
Next, let's tackle the Skills section. This is where you list a few relevant skills and abilities to send extra "I'm the one" signals to the hiring team. Sounds easy, but there are two common pitfalls to avoid:
Don't just list any skills. If you already mentioned "classroom management" in your work history or resume, opt for something else in this section. Think about the skills that are relevant to this position.

Take a closer look at the job ad and the requirements outlined there. Then make sure to use a few key phrases from there to make sure your resume gets picked up by the ATS system.
🤔What's an ATS system?
ATS (Applicant Tracking Software) systems are bots that scan resumes for specific keywords that describe the ideal candidate the organization is seeking. When a bot reads a resume that has "good candidate potential," it will flag the resume for further review. If your resume doesn't get flagged by a bot, it will likely not be given another glance.
Don't be discouraged by this. Many teacher resumes don't actually go through ATS, especially if you're applying for a smaller, less sought-after districts. However, it's another story if you're aiming for a popular school that gets tons of applications. 
Take a look at this example job ad and just how many keywords they've listed as relevant.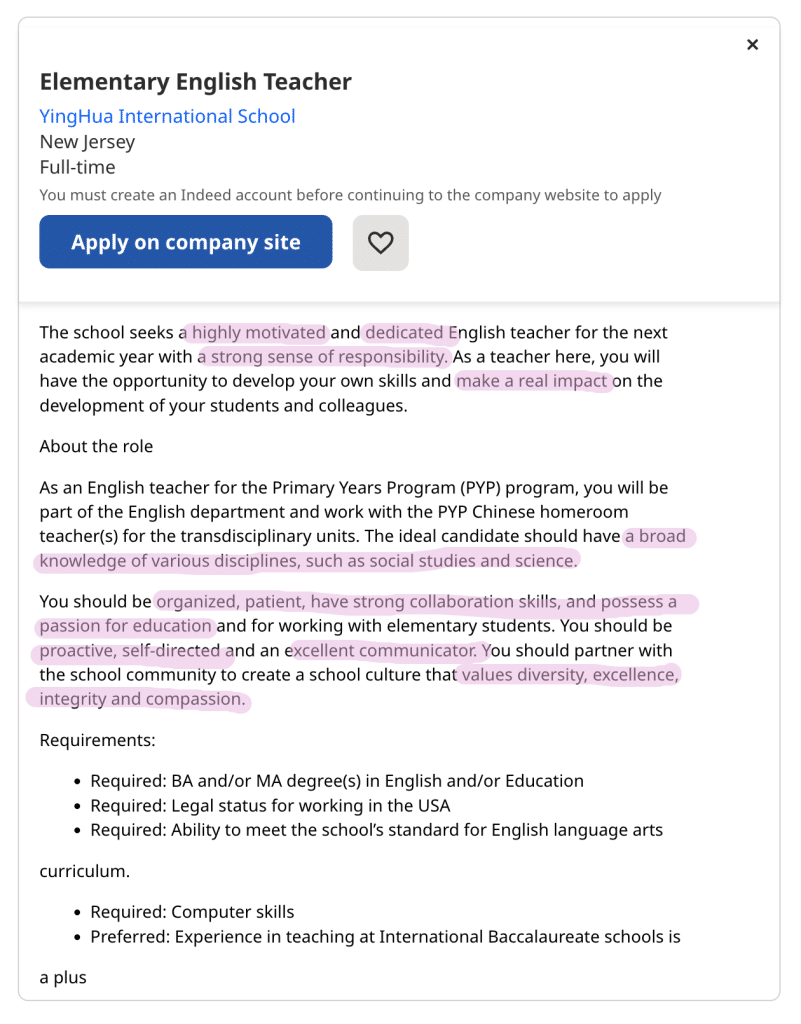 You can list 5-10 skills in total. It's best to have a mix of hard skills (like classroom software) and soft skills (e.g. your amazing knowledge transfer abilities).
Example skills for teacher resume 
Finally, here's our ultimate list of teacher resume skills that you can use as guidance.

Soft skills for teachers
Energetic

Responsible

Patient

Imaginative

Team player

Empathetic

Organized

Strong collaboration skills

Great communicator

Proactive

Ability to engage

Ability to empower

Innovative

Problem solving

Technology integration

Uses various teaching methods

Conflict resolution

Inclusive teaching

Curriculum knowledge

Discipline management

Testing

Continuous assessment

Record-keeping

IEP

Standardized testing
Technical (hard) skills for teachers

Google Classroom

Google Drive

Microsoft SharePoint

Moodle

Padlet

Desmos

Common Curriculum

Schoology

ClassTag

Tadpoles

Microsoft Outlook

Jamboard

Blackboard

Data entry

Microsoft Excel

Microsoft Office

Microsoft Powerpoint 

Prezi

Google Meet

Zoom

Google Docs

Microsoft Word

Canvas

Wisenet

Nearpod

Workday Student
Pro tip:
If you need to save space, you can divide your skills into Soft and Hard Skills and display them in two columns. 
Add the Extra Sections to Really Make a Difference

Once you have listed all relevant work experience and a comprehensive overview of your education, you'll have the option to include additional sections.
Although frequently referred to as "optional," these teacher resume extra sections can earn you some extra points. Towards the end of your resume, include things like certifications, volunteer experience, conferences, awards, hobbies, and any foreign languages you may speak. 
Remember you're up against dozens of other candidates with similar skills, backgrounds, education, and work history, so these sections can really help you stand out. 
Certifications
In your teaching career, there are plenty of certifications you'll obtain, but here are some that hiring managers love to see in a resume for a teaching position.
CPR/First Aid

STEM Teaching and Learning Certificate

International Baccalaureate 

Early Childhood Education

ASL

ESL

TEFL

TESOL

Reciprocity

Microsoft Certified Education (MCE)

OSHA Safety Certificate (40 hrs)

Training in Harassment, Bullying, and Discrimination Prevention and Intervention

Diversity and Inclusion for Educators

Special Education

GATE (Gifted and Talented Education)
There are 3 ways you can present your certifications:
Include them in your Education section.

Have them in a separate Certifications and Licenses section towards the end of your resume.

Include the certification(s) in the resume header, e.g.

Miles Holden, Certified Elementary School Teacher

.
Awards
You don't have to be a contender for the National Teacher of the Year Award to show off in your resume. And if you think the award you won isn't worth mentioning, think again – it may be the only differentiating factor between you and another candidate. 
Here are some of the awards you can add to your teacher resume:
Excellence in Education Award

NEA Foundation for Teaching Excellence

Pinnacle Award for Excellence in Education

State/County/School Teacher of the Year Award
Volunteer Experience
As a teacher, you have the opportunity to make a positive difference in the world and help others. The same goes for volunteering. That's why any volunteer work you've done will only reinforce the other qualities you mentioned in your teacher resume.
If you've volunteered as a teacher abroad during your studies or gap year, definitely add it to your resume (especially if you're an entry-level candidate). That year you spent teaching English in Cambodia? It will signal the recruiters that your intercultural skills are solid, that you have an open mind and are able to connect with others – all highly-prized qualities in a teacher.
Publications and Conferences
Teachers often attend workshops and conferences, and some of them are worth mentioning in your resume, especially if you engaged as a speaker or panelist. If your work has appeared in a journal or if you have an article published in The Language Magazine, then definitely add that too.
Languages
When teaching in a diverse setting, foreign languages come in handy. That's why you should list all the languages you speak, along with the level of proficiency and any certifications you've received. 
Customize Your Teacher Resume to the Job Description
No job ad is the same, so don't expect to have a single, generic resume version that you'll just blast-send to recruiters. This is where going the extra mile really pays off. 
If you'd like your teacher resume to hit all the right notes, you'll have to tailor it so that it reflects the requirements from the job description. 
This literally means reading through the job ad, underlining keywords and phrases, and then using those keywords in your resume. It also means customizing your resume summary to include the name of the school you're applying to. 
If this sounds like too much work, there are tools that can help.

For example, use the Resume Builder to create an ATS-friendly resume in under 30 minutes. Once you're done, AI goes through your resume and looks for room for improvement. Neat.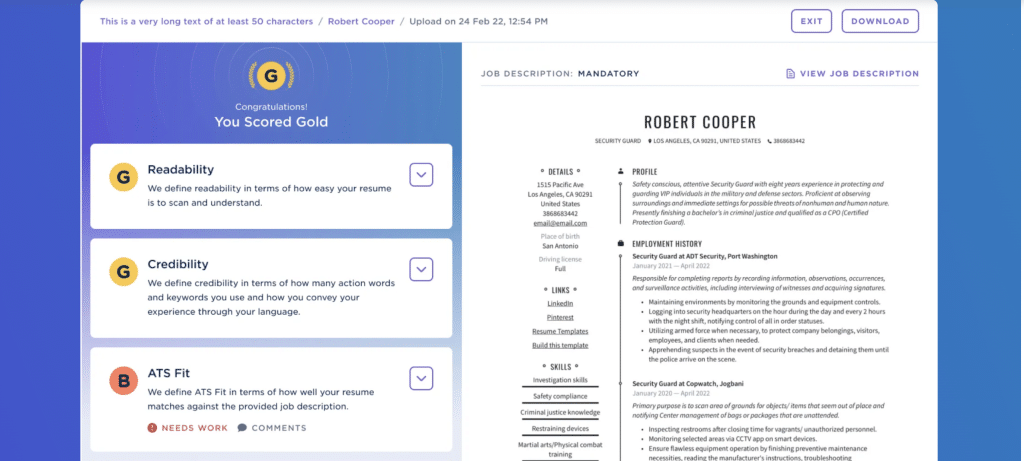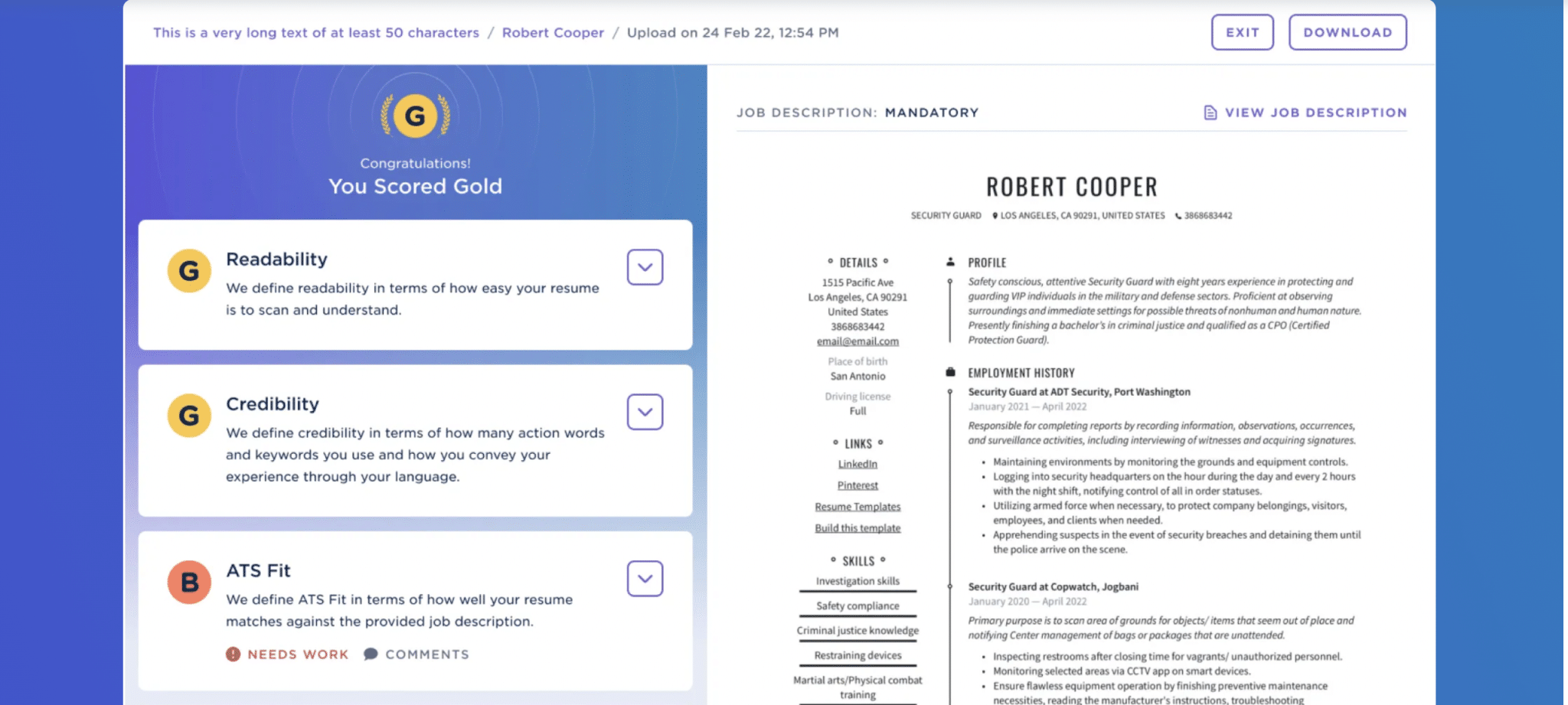 You should also check out the 8 video lessons covering the best practices of resume writing, section by section, with top career coach, Pamela Skillings.
It gives more detail about what we discussed in this article + gives you a step-by-step process you can follow.


And then, when you land the interview, you can prep to ace the big day.
You can check out the tool here or get in touch with us on LinkedIn for more info. 
Before You Go
In summary, here are some key things to remember when writing your teacher resume:
Format your resume so that it's scannable and clearly laid-out. If you need to pack a lot of information and keep everything on a single page, a two-column layout may work better.

If you have little hands-on teaching experience, start your resume with an objective statement. For experienced teachers, a resume summary is a better choice.

Use the reverse chronological order when listing your work experience and focus on the deliverables and accomplishments rather than describing your day-to-day duties.

Don't wing your additional sections. Your awards, certifications, conferences, YouTube or TikTok all matter and may prove to be the deciding factors if you're up against another strong candidate.

For best results, tailor your resume to each teaching position you're applying for.