As a receptionist, you're the first point of contact customers have with your organization. So, making a killer first impression is a critical part of your job. The same applies to your job search. And it's your receptionist resume that's going to make that first impression.
Sure, you have top-notch communication skills, be dependable, and great at multitasking. You might even have a relevant BA. But so do other candidates.
This guide will show you how to reframe your receptionist resume to stand out from other contenders. It's time to show your potential employer you have what it takes to be the face of the company!
But first, let's take a look at receptionist resume examples you can later use for inspiration.
Sample Receptionist Resume for an Experienced Candidate (5+ Years in the Field)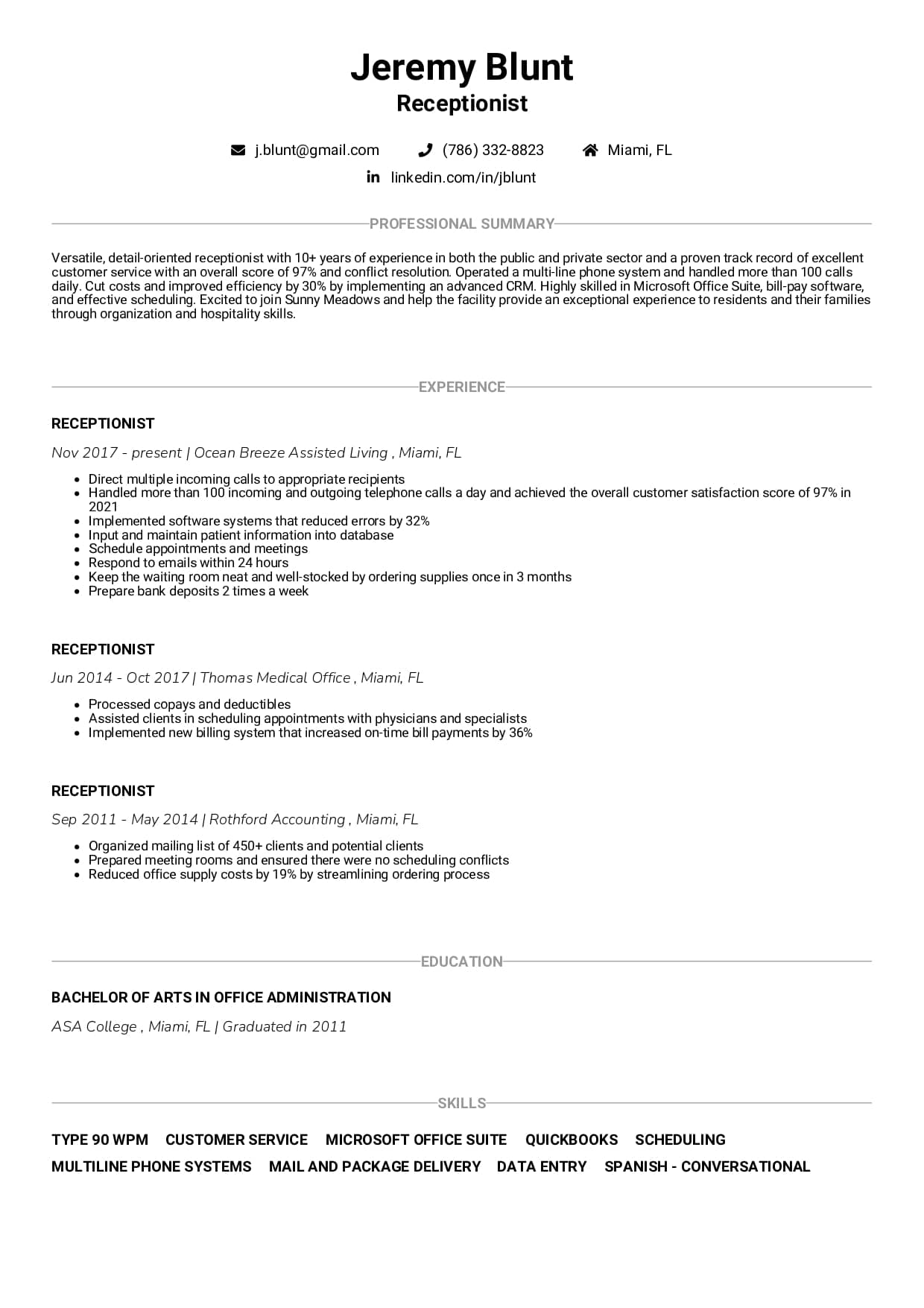 Sample Receptionist Resume for a Recent Grad (Limited Work Experience)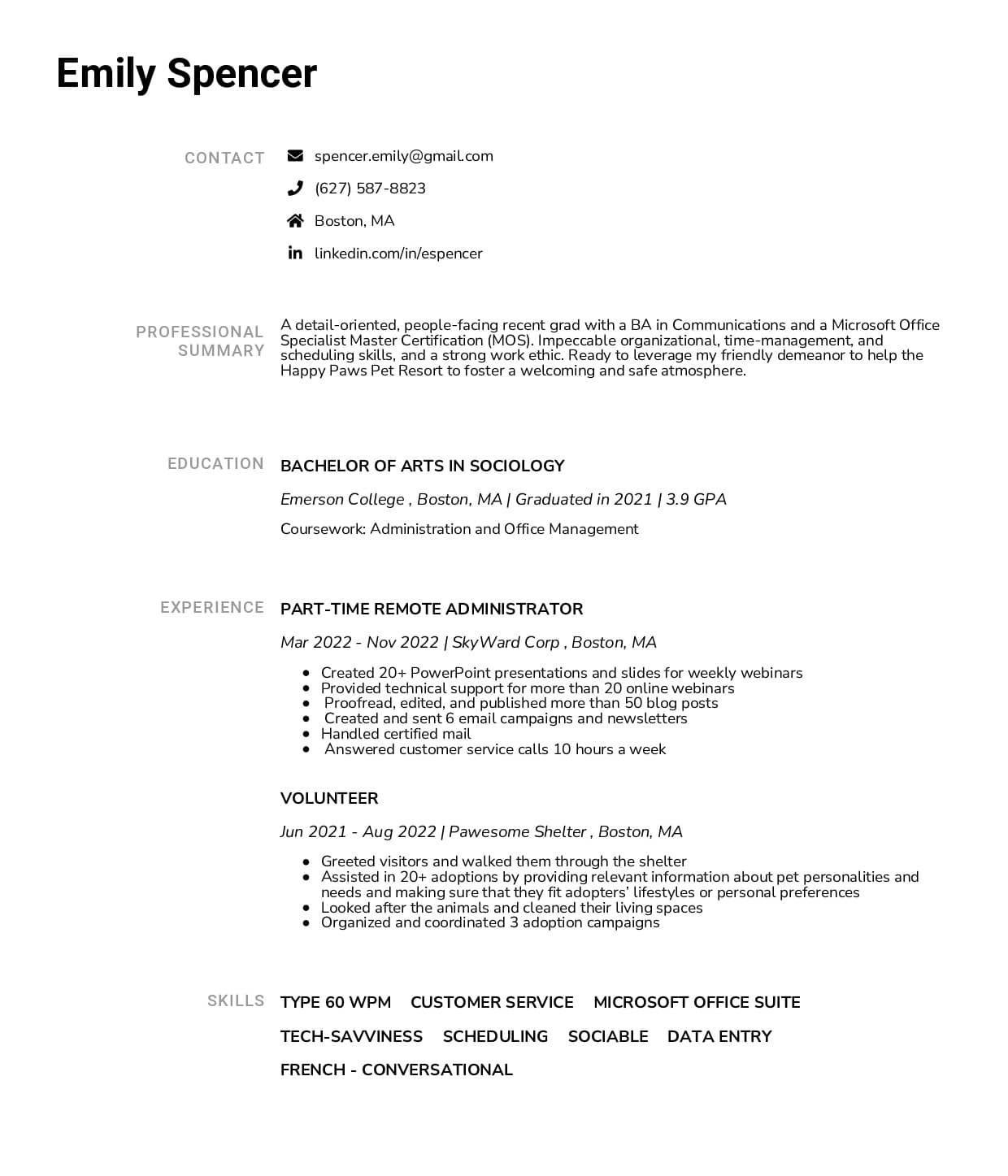 Receptionist Resume Structuring and Formatting Best Practices
Now, let's break these examples down into separate sections and analyze them.
Recruiters are swamped with resumes, and they will hardly spend more than 30 seconds skimming each in search of something relevant. So — do them a favor.
Optimize your resume for their flawless reading experience. Make it easy to scan. In doing so, you'll also boost your chances of successfully going through an Applicant Tracking System (ATS) — you know, those little bots that scan resumes for key pieces of information.
Here are some tips for breaking through this first line of defense against unsuitable candidates.
Make it look professional
1. Choose the right font
You want to stand out from the crowd, but curb your enthusiasm when it comes to creative fonts.
Legibility is the top priority here, so pick clean, professional sans-serif fonts such as Arial, Calibri, Tahoma, Roboto, Helvetica, or Verdana.
Serif fonts that work on a resume include Times New Roman, Georgia, and Garamond.
You can also combine a serif and a sans serif — one for regular text and the other for headings.
As for the size, 12 points is a golden standard, but if you want to fit your resume on one page, a sans-serif font at 10 points will do.
Bold and italics will make certain words and phrases stand out from the surrounding text, but only if you use them sparingly.
These simple rules will ensure your resume is easy to read and allow you to emphasize important details so that the recruiter can spot them right off the bat.
2. Set the line spacing and margins
Adjusting the line spacing and margins is about balance.
Having enough white space will declutter your resume and transform it into an easy, scannable read.
On the other hand, too much of it will disrupt text cohesion, make your resume look suspiciously empty, and obstruct vertical scanning. And just like that, you can ruin your chances of getting past the ATS. And even if you get to the next round, the recruiter will get the impression that you don't have much to say about your receptionist skills and accomplishments.
To avoid such a scenario, stay within 1.15 to 1.5-point spacing.
In a similar vein, set 1-inch margins on all sides. You can reduce them to no less than half an inch if you're running out of space.
Also, whenever possible, break down the wall of text into bite-sized chunks using bullet points.
3. Make section headings stand out
Section headings on your resume should be noticeable, which is why you should put them in a larger font than the regular text.
For better legibility, use the 14–16-pt font size, and accentuate headings by making them bold.
This way, you'll walk the recruiter through your resume and put a spotlight on the most relevant elements.
Follow a logical structure
The way you organize your career narrative into relevant sections is crucial.
To make the biggest splash, list your professional and academic accomplishments in reverse chronological order. The logic behind using this approach is that your latest job is the most relevant to the recruiter.
Also, mentioning your most recent position will highlight your competency and clearly demonstrate your professional growth.
Last but not least, this resume format is ATS-compatible.
Another reverse chronological formatting rule that will save you from getting sucked into the dreaded resume black hole is including the following sections sorted in this particular order:
Header with contact info
Resume summary or resume objective
Work experience
Education and certifications
Skills
Additional sections (these are optional but highly recommended)
Read our separate guide on different types of resume formats to learn how to pick the most suitable one for every job you're applying for.
After formatting your receptionist resume and giving it an ATS-compliant structure, it's time to focus on individual sections.
Write a Receptionist Resume Header with Contact Information
This short and frequently overlooked section of your receptionist resume is actually valuable real estate. Placed at the top of the page, it commands attention and is the first thing that the recruiters will look at.
So, what do you include?
You can mention:
Your full name. Make sure that you use the same name across all websites and platforms for the purpose of consistency, since it will help the recruiter to find you on the internet.
Job title. Oddly enough, many candidates omit this detail, even though it's only logical to list your work title in your resume. Add a relevant certification or license too.
Phone number. List the number you can be reached at, but avoid giving your business number because it wouldn't be good to talk about a new job interview in front of your boss.
Email address. Make sure it's a professional address, consisting of a variation of your first and last name + a more contemporary domain. [email protected] will always be a hit with your friends but unfortunately won't be as funny to a potential employer.
Location. Since this isn't a remote position, including the location on your receptionist resume is a must. You can limit yourself to the zip code, no need to put your full address in there.
Linkedin URL. A clickable link to your LinkedIn profile will help the recruiter learn more about you without cramming your resume with too much information. As for the other social media platforms, mention them only if your online presence is relevant to the receptionist position. In this case, it would make sense to include, for example, a link to your Instagram profile, but only if you're documenting your life as a receptionist.
This is what an effective and informative front desk medical receptionist should look like ✅

Note how the CMAA (Certified Medical Administrative Assistant) can be added to the resume header for highlighting the expertise.
Come Up with a Receptionist Resume Summary or Resume Objective Statement
A resume summary and resume objective statement serve a similar purpose — get the recruiter to say "Now, this is receptionist material."
But first, let's define each of these elements and help you tell them apart and understand when to use which one.
Resume summary
Since it will allow you to put your best career achievements on display, a resume summary is suitable only if you have something to brag about. For recent grads and career switchers, a resume objective statement is a safer option.
This brief career intro, consisting of up to 5 sentences, goes right below your personal information section.
List your professional accomplishments, key skills, and relevant experience in a succinct and actionable manner.
Use power words, that is verbs and adjectives such as led, coordinated, helmed, implemented, committed, or detail-oriented, that will underscore how the potential employer will benefit from hiring you and what makes you a valuable asset.
A head-turning resume summary should contain the following ingredients:
Your current role and years of relevant professional experience
Top skills and professional accomplishments
How you plan to contribute to the prospective employer
There's also a formula that can help you understand the anatomy of a resume summary better:

Sample receptionist resume summary ✅

You'll also notice that this example provides quantifiable information, such as "increasing accuracy and efficiency by 29%." Corroborating your accomplishments and hard skills with numerical values expressed through %, $, or, say, words per minute (WPM) has a greater impact than listing your day-to-day responsibilities.
Qualitative details like awards and other recognitions also go a long way toward proving your professional value.
To find more useful tips and examples, check out our guide on writing a resume summary.
For the sake of comparison, here's an example of a receptionist resume summary that would send your application right into the recycle bin. ❌
I'm an accomplished receptionist with a BA in business administration and a lot of experience in different industries. My previous employers describe me as competent, efficient, and friendly. I'm up to speed with all the latest tools of the trade. With a positive attitude to work and a drive to learn new skills, I'm sure CozyHotel will greatly benefit from having me at the front desk.
And the worst part? This person might be a top-notch hire! Sadly, the CozyHotel recruiter won't get a chance to find that out. Here's why:
It's messy and disorganized — everything an exceptional receptionist shouldn't be.
It's vague. We have no idea what different industries the candidate is referring to. The same goes for the latest tools of the trade.
Quoting previous employers without substantiating the claims about being competent and efficient is just a string of empty words.
Resume objective statement
If you're afraid that your lack of experience in the field could hinder your chances of being considered for the job, then, instead of using a summary, open your receptionist resume with an objective statement, otherwise known as a career objective.
A career objective allows you to compensate for not having enough experience by playing up your soft and hard skills, goals, and potential.
Here's how to put together a winning resume objective statement:
Make it short — no more than 3 sentences.
Say who you are.
Mention your education, skills, and certifications to show why you qualify for the receptionist position.
Explain what you want to achieve and why hiring you would be the best decision.
Here's a receptionist resume objective statement sample ✅

This example works because the candidate mentioned the portion of their previous experience relevant to the new position. The so-called transferable skills are those that can be taken from one job to another, regardless of the field. In this case, the applicant identified transferable skills that will come in handy in the role of the receptionist, thus showing they understand what it takes to advance in their new career.
Learn how to nail this critical section in our detailed guide on writing a resume objective.
Now let's see a resume objective that falls flat ❌
Although I'm a recent grad, my BA degree in communications prepared me for interacting with people. I'm a proficient MS Office user with superb organizational skills. I have a strong work ethic and I'm more than happy to acquire new skills and learn more about customer service. My friendly disposition is another trait that qualifies me for this role. I'm looking for a career opportunity that will allow me to grow.
So, what's wrong with this example? Practically everything!
It's completely disorganized and skills are listed in no logical order.
There are way too many personal pronouns, which is a big no-no in this section.
It doesn't say what's in it for the employer.
It's bland and forgettable.
Pro tip 1: Regardless of whether you choose a resume summary or objective statement, insist on what you can do for the company and not what you want. Everyone knows what you want. A job!
Pro tip 2: Write this section last — after you've crafted all the other resume sections. This tactic will help you filter out the most important details and work them into these couple of sentences.
Highlight Your Receptionist Experience in the Work History Section
Your work history is THE most pivotal section on your receptionist resume.
The one that makes a difference between "meh" and "wow."
We're not going to lie — both recruiters and the ATS are known for their take-no-prisoners approach to filtering out candidate resumes. That's why you need to bring your A-game here and spend as much time as it takes to put together a show-stopping work experience section.
Here are some rules to create a "wow" experience section:
Use the reverse chronological resume format and organize the work history section by listing the most recent job first and then working backward through your career.
Be detailed when describing your latest couple of jobs and gigs. Recruiters want to know more about your responsibilities.
Instead of simply listing your day-to-day duties, be more specific and talk in terms of your achievements by quantifying them. Play the numbers game to showcase how well you performed. This means including the scale, e.g., how many calls you handled daily; the specific results, e.g., cutting costs by $ or improving efficiency by %; and the frequency, e.g., performed weekly inventory and office supply counts.
Focus mainly on the experience relevant to the receptionist role you're applying for. So, detailing your experience as a babysitter or delivering pizza while in high school will only be a distraction from the work accomplishments that matter.
Organize your responsibilities and achievements into bulleted lists for clarity and better readability.
Sample receptionist work history section ✅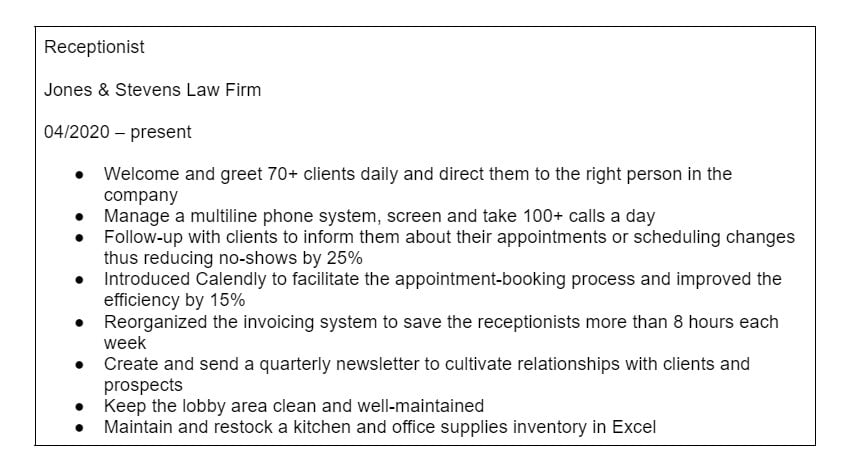 This work history section checks all the boxes.
The candidate demonstrates their competence by listing and quantifying their accomplishments.
It's clear what they do on a daily basis, but these duties and responsibilities aren't presented as a to-do list — the recruiter gets additional information about the candidate's performance expressed through metrics.
Every bullet point starts with an actionable, power word, thus illustrating the candidate's impact on the business processes and success of the company as a whole.
Here's an example of an underwhelming work history section to give you an idea of what you shouldn't do ❌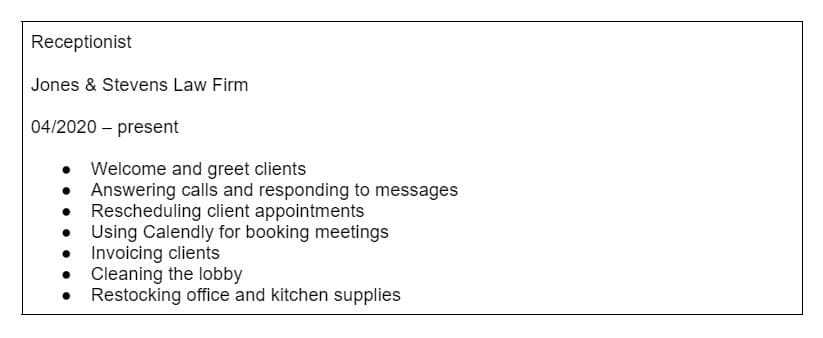 There's nothing that would intrigue the recruiter enough to schedule an interview and find out more about the candidate. Basically, the only thing it says is "I'm a receptionist." Yeah, so are all the other candidates.
Check out our guide on showcasing your work experience on a resume and find a detailed walkthrough plus more examples.
List Your Education and Certifications on Your Receptionist Resume
Putting your education and certifications on a resume is pretty straightforward, but that doesn't mean you can't mess it up.
Just like all the other resume sections, this one needs to be properly structured and formatted.
If you've recently graduated and still haven't had a chance to populate your work experience section with notable achievements, then your education can be the deciding factor. If this is the case, you can shift this section up and place it before work experience.
Here are some rules to follow:
Use reverse chronological order and list your most recent degrees first
Include the following entries: your degree, field of study, major, university/high school name, and graduation date. The order of these elements can vary, so if you went to an Ivy League school or some other prestigious university, you can start with that information and emphasize it.
If you have a BA degree, mentioning your high school is redundant. Only the degrees above it count.
Candidates with limited work experience have to work with what they have at their disposal, and that means including more education-related details.
Let's see how a candidate with no experience as a receptionist can make the most of their education section.
Sample education section for a receptionist resume

Apart from great academic performance, the candidate demonstrated their potential by listing the roles of the peer mentor and school newspaper editor-in-chief.
Find more tips for crafting your education section in our dedicated guide on the topic.
Showcase Your Receptionist Skills
Your skill set complements your work experience and gives the recruiter a 360-degree view of your capabilities and potential.
Plus, these strengths will indicate whether you're a good fit for the company.
While you probably have a plethora of different skills, shortlist them and focus on the ones that correspond to the job of a receptionist. So, don't simply do this off the top of your head. To make this section count, analyze the job description and requirements, and adjust the wording accordingly.
Include both soft and hard skills, but don't resort to bending the truth, as it will ultimately backfire on you. (Yes, this is my roundabout way of saying… don't lie on your resume!)
Here are some of the most common receptionist skills you can include on your resume (but only if you really have them).
Communication
Organization
Active listening
Scheduling
Conflict resolution
Customer service
Detail oriented
Empathy
Performing under pressure
Problem-solving
Prioritizing
Handling distractions
Front desk
Multiple-line phone systems
Typing
Data entry
Microsoft Office
QuickBooks
Greeting visitors
Relay messages
Phone etiquette
Mail management
Multitasking
Tech-savviness
Sociability
Patience
Professionalism
Attention to detail
Flexibility.
Learn more about making this section pop from our dedicated guide on the skills section.
Add the Not-so-Optional Extra Sections to Your Receptionist Resume
Certifications, awards, volunteer experience, conferences, and languages are the extra sections that candidates frequently neglect when they're creating their resumes.
And that's a big mistake.
Why not use another opportunity to beef up your resume and show the recruiter that you have the X factor?
All these extras become even more impactful if you're lacking in the work experience department.
Certifications
Some of the most typical medical receptionist certifications include Certified Medical Administrative Assistant (CMAA), Certified Medical Office Manager (CMOM), or Nationally Certified Medical Office Assistant (NCMOA).
Other non-medical certifications are offered by the institutions such as the International Association of Administrative Professionals, or the National Association of Legal Secretaries.
Awards
You can mention all relevant awards you received during your career. If you don't have any experience as a receptionist, for example, the Employee of the Month or any other award proving your hard work and dedication can go a long way.
Volunteer experience
Volunteering will show not only your desire to help others but also that you have good time-management and organizational skills since you have enough time to pursue different interests and goals.
College students or recent grads with not much to put on display in terms of experience could use this section to demonstrate their work ethic and why they would be a valuable addition to the potential employer's team.
Conferences
Attending events such as the Administrative Professional Conference by ASAP, the IAAP Summit, or the Administrative Assistants Conference by SkillPath will convince the recruiter that you always want to learn more and stay up to date with the latest trends in your field of work.
Languages
As a receptionist, you're bound to get in touch with different people from different parts of the world. So, speaking more than just one language is a big plus. When adding a language to your receptionist resume, don't forget to mention the proficiency level.
Customize Your Receptionist Resume to Match the Job Description
Once you put together a stellar receptionist resume, you're good to go, right?
Almost!
Still, to ensure the recruiter moves your application to the "yes" pile, tweak your resume to match the particular job description and its requirements.
Start by identifying the skill-related words the employer included in the job description.
Take a look at this job description: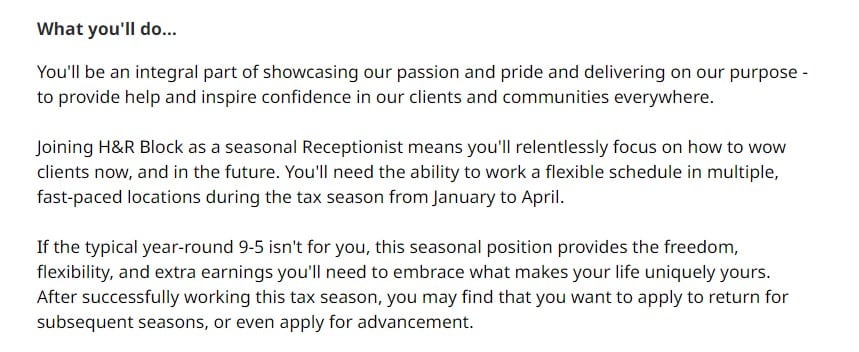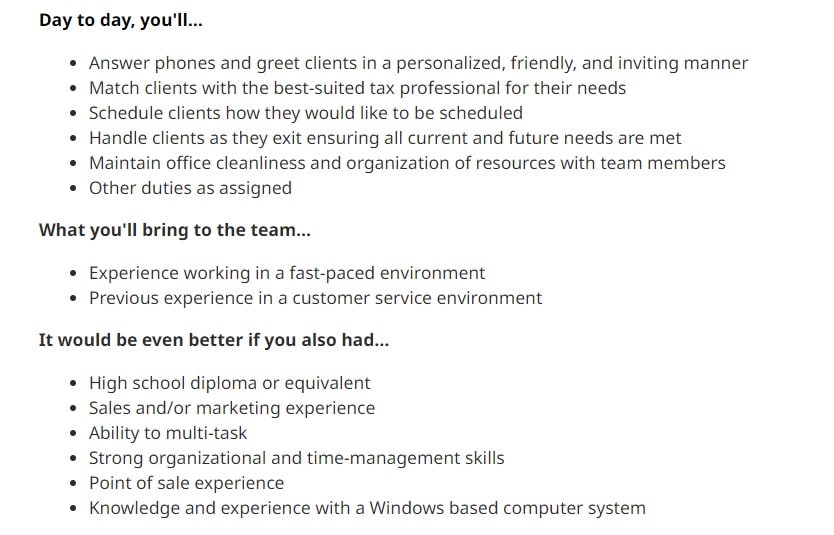 You'll notice that it mentions a flexible schedule, fast-paced environment, scheduled clients, maintaining office cleanliness, customer service, multi-tasking, strong organizational and time-management skills, point of sale experience, Windows-based computer systems, and bilingual candidates.
This means that a receptionist resume for this particular opening should include these keywords and phrases. By doing so, you will be able to pass the ATS test and actually reach the human recruiter.
And then, you'll have an opportunity to show you're more than just another applicant whose resume will end up in the trash, but the real McCoy.
So, tailoring your resume to each job opportunity is an essential step of the application process.
TL;DR
Here's a recap of the receptionist resume guide:
Use reverse chronological order for your work history and education section to guide the recruiter's eyes to your last receptionist-related experience;
Structure your resume properly, improve its readability, and make it look good with the help of the right fonts, line spacing, and other design elements;
Depending on the level of your receptionist experience, pick either a resume summary or a resume objective — the former works well for seasoned professionals while the latter gives candidates with limited experience the benefit of the doubt;
Analyze the job description and requirements to identify the skill-oriented keywords and the ones that reflect receptionist duties, which you'll use to optimize your resume and get past the ATS bot;
Don't overlook the extra section. Use it to add even more information to showcase your social and organizational skills, thus getting the recruiter to think you're the one.
Tailor your resume to the needs and expectations of each individual employer and receptionist job posting.