After months of desperately applying for dozens of nursing positions, you feel like giving up. You rarely hear back from the employer, let alone get a call for the interview.
Despite there being numerous nursing job openings available, you have probably already discovered firsthand the competitive nature of this industry.
Whether you are job hunting again after years of working as a registered nurse or this is your first time applying for an RN position, we are here to help you land your dream job with the perfect nursing resume.
After reading this article, you'll know how to:
Properly format and structure a resume depending on your work experience.
Make your nursing resume stand out from the rest.
Optimize your RN resume for ATS (applicant tracking system).
If you already know how to implement resume best practices, here are some examples you can steal, modify slightly, and use as your own!
If you are a caring perfectionist, like most nurses, keep reading!
Nursing Resume Example For an Experienced Candidate (5+ Years of Experience)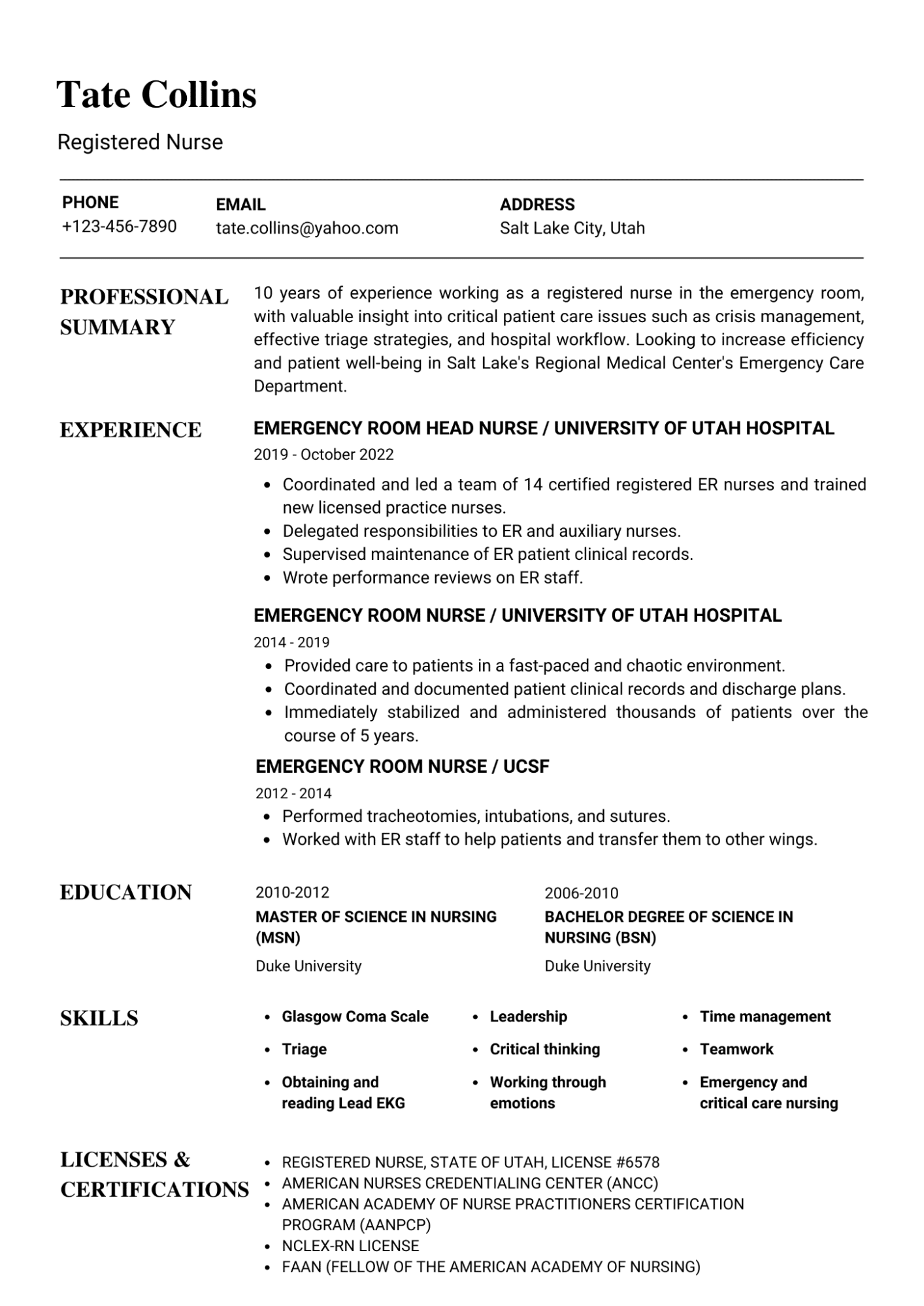 Nursing Resume Example For a Recent Grad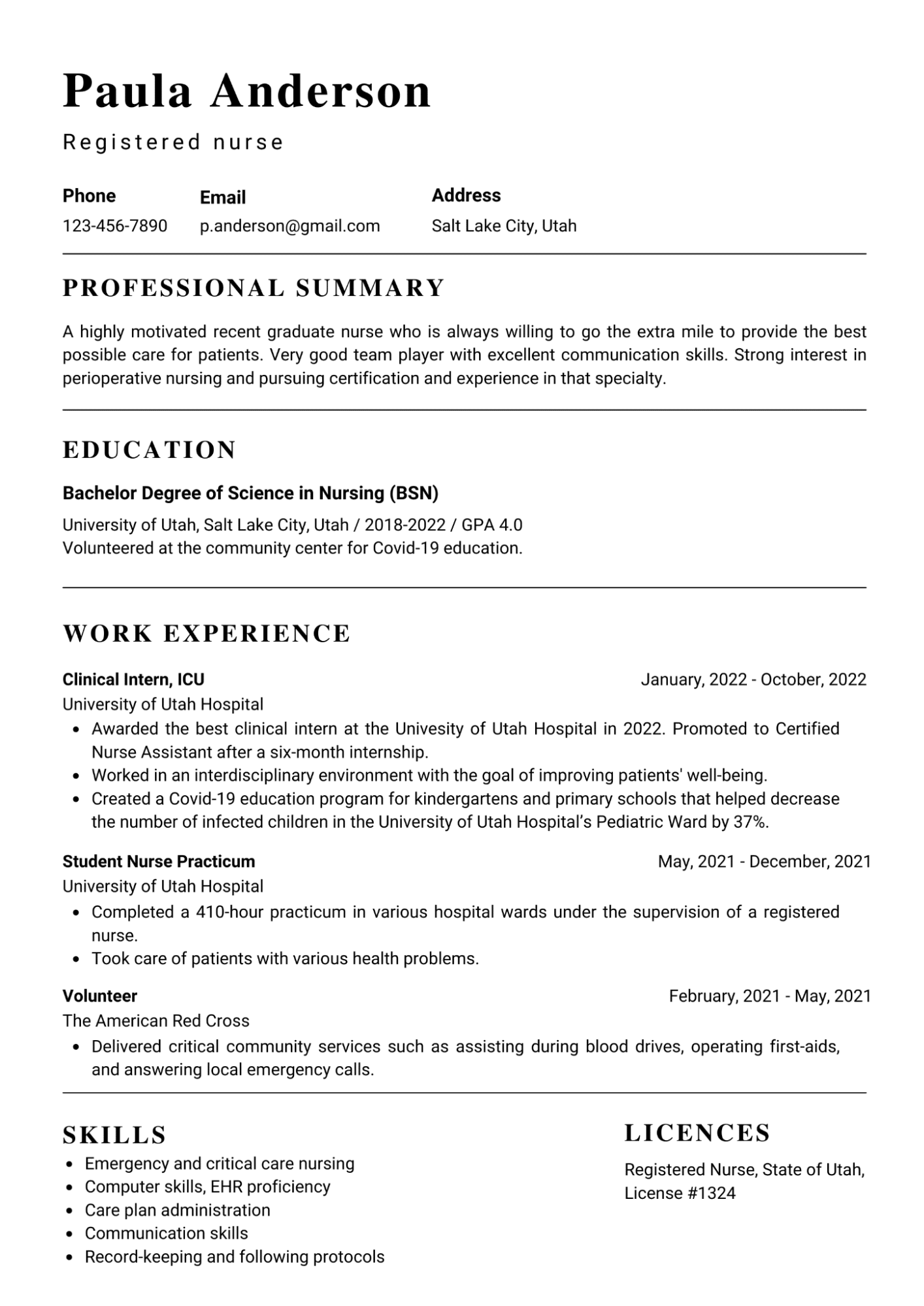 How to Format and Structure a Nursing Resume Step-by-Step
Let's dissect what makes a good nursing resume.
Here's a TL;DR before we dive deep into each section.
Technicalities – Fonts, length, margins, line spacing.
Proper formatting – Depending on your skill level and experience, there are three different RN resume formats you can use.
A resume summary or objective statement – A clear statement of what you can bring to the table or why they should hire you.
Work experience – Use reverse-chronological order and highlight only relevant experience.
Education – Degree, the field of study and major, school name, graduation date + certifications.
Skills – Depending on the type of nursing job you are applying for, there are different skills you should include (don't worry, we'll help you).
Sections for bonus points – Certifications, awards, volunteer experience, conferences, and languages.
Customization – You should create a tailored version of your resume for every nursing job you apply for, even if the positions are very similar.
Technicalities: Make Your Nursing Resume Look Professional
The overall design of a resume creates the first impression of you in the recruiter's mind — and that impression will, by and large, dictate the success of your resume.
Before the recruiter starts reading what you wrote, they will pick up on the fonts and formatting and form an image of you in their mind.
A neat and clean resume paints a picture of someone who is organized and attentive to detail.
Here's a quick example of how big a difference the appropriate font choice can make: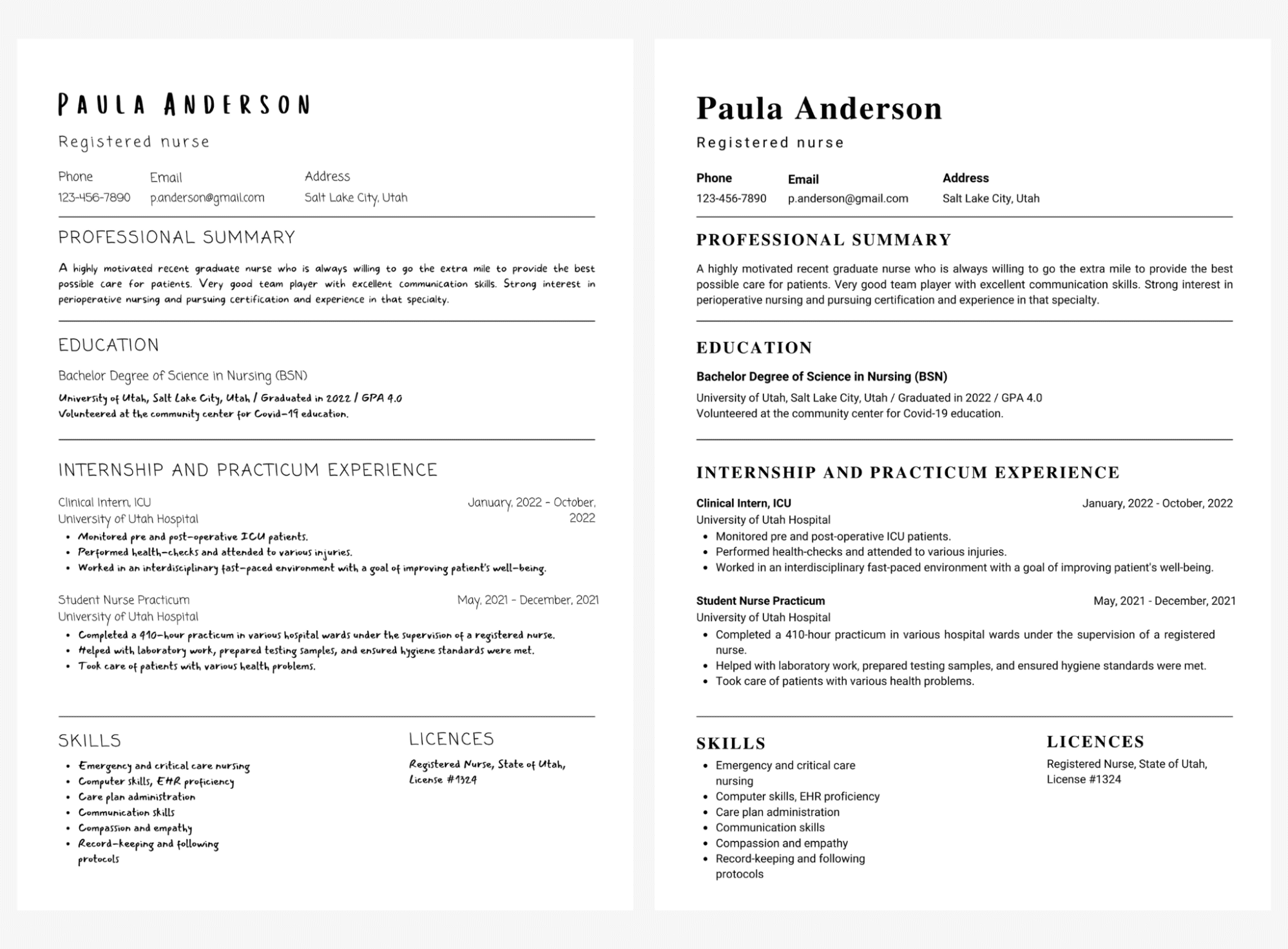 The resume on the left is hard to read and overall looks low-effort, whereas the right one appears as professional, organized and scannable.
Good choice of fonts and use of bold and italics allow recruiters to quickly skim through the resume and extract the most important information.
Here's how to ensure that your first impression is spot on:
1. Pick a good font:
Opt for readable fonts like Times New Roman, Roboto, Arial, Verdana, Tahoma, Calibri, or Helvetica.
You can combine two fonts, one for headings and the other for body text.
In our nursing resume example, we combined Times New Roman for headings (14–16pt) and Roboto for body paragraphs (11–12pt).
Since you are applying for a nursing position, keep it simple and minimalistic — no one will judge you based on your design skills.
✅Yes: Readable traditional serif and sans serif fonts.
❌No: Fancy or handwriting fonts.
2. Adjust line spacing and margins
For maximum readability, stick with single or 1.5 line spacing. Go easy on recruiters' eyes.
As for margins, stick with 1-inch margins on each side. Leaving some negative space is essential for achieving that professional and minimalist appearance.
3. Use legible, large headings above each section
Headings should be bigger than the rest of the text on your resume, preferably 14–16pt, depending on the font choice.
Bold them to grab the recruiter's attention and keep them concise and straightforward.
4. Length
Resumes shouldn't be longer than one page for recent graduates and nurses with less than 5 years of experience.
If you are a registered nurse with more than 5 years of experience, having a two-page long resume is fine — remember that you can cut it down to one page if you stick with only relevant work experience.
Long resumes are hard to follow and usually contain unnecessary and irrelevant information.
To keep it short and sweet, check the job posting and include only what's relevant.
If you are applying for a nursing position in ICU for instance, you don't have to mention one year you spent working in a psychiatric ward.
For more detailed information on this, check our post "How to write a winning resume."
Give Your RN Resume a Logical Structure
Depending on your current work experience, there are three different resume formats you can use:
Reverse-chronological – The best choice for virtually all healthcare professionals.
Functional – Not recommended in the healthcare industry. It forces recruiters to dig for information, and they just won't be bothered to do it.
Combination – Good for highly experienced nurses that want to change specialties.
Depending on your choice, the order of information will change, so here's how each type of resume is formatted properly.
1. Reverse-chronological nursing resume format
This type of resume format focuses on your work experience and career progression. Hence it is most commonly recommended for experienced nurses who have had a linear, predictable career progression.
However, almost any registered nurse, including recent graduates and travel nurses, can use this format.
Start by listing your current or most recent job first. Then, list each of your previous jobs in reverse chronological order.
The proper order of sections is:
Header with contact information
Resume summary or objective
Work experience
Education and certifications (if you have many certifications, they can be a separate section)
Skills
Optional but recommended sections: nursing affiliations and membership in professional organizations, foreign languages, volunteer experience, etc.
2. Functional nursing resume format
We said it before, we'll say it again — use this resume at your own peril. It's not the safest of choices for a nurse.
The functional format highlights skills rather than experience.
For that reason, it is often used by:
Nurses with big employment gap
Nurses that are changing their specialty
Why is it frowned upon by healthcare recruiters? Most importantly, because it keeps the most valuable information out of their sight. Besides, most applicant tracking systems can't read it properly.
The proper order of sections for a functional resume is:
Contact information
Resume summary or objective
Skills related to the position
Education and certifications
Work experience
If you're freaked out about your gaps in employment, this format will do you no favor either. It immediately makes you look like you're trying to hide something.
Also, recent studies have shown that recruiters don't really care for employment gaps if those are followed by relevant experience.
3. Combination nursing resume format
This is a mix of functional and reverse-chronological resume formats that puts focus on both experience and skills.
It's particularly suitable for highly experienced candidates as it helps keep your resume short and to-the point. It can also prove successful for someone targeting a very specific position.
However, because this format is used so infrequently, recruiters have a hard time reading it and an ATS will often reject it.
If you decide to use this format, here's the proper order of sections:
Contact information
Resume summary or objective
Work experience or key skills and accomplishments
Additional skills
Education
Extra sections (certifications, licenses, awards, publications, volunteer experience, etc.)
We've put together this in-depth guide, best resume formats in 2023, to give you more guidance on choosing the right format for you.
In this post, we will mainly focus on the reverse-chronological format, but regardless of which format you choose, the same rules apply — only the order of sections differs.
Don't Forget a Nursing Resume Summary or a Resume Objective Statement
This is your shining spotlight — an opportunity to pitch yourself to the recruiter and become memorable.
Depending on your work experience, here's which one you should choose:
In either case, to present yourself in the most flattering light, try to convey what value and experience YOU have that the employer will benefit from.
👉 Pro tip: Write this section last. Once you put together the rest of your resume, take a step back and cherry-pick the most impactful points. This allows you to craft an effective summary statement or career objective that encapsulates who you are as a professional.
How to craft a good nursing resume objective
The focus of the nursing resume objective is on what you can offer the healthcare organization you will be joining.
It's a place where you have to convince the recruiter that you have the necessary skills and education to complete the job effectively.
Here's how you can do that in 3 simple steps:
a. A passionate recent graduate with Bachelor's Degree in Science and Nursing (BSN).
b. An experienced ER registered nurse with an MA in Science and Nursing.
Showcase your relevant experience, skills, and licenses:
a. Completed internship and practicum in ICU and other critical patient care wards at the University of Utah Hospital.
b. 2 years of experience in ER, developed skills in crisis management, effective triage strategies, obtaining and interpreting Lead EKG, and hospital workflow.
What do you hope to achieve in desired workplace:
a. Looking to develop skills further and pursue certification and experience in perioperative nursing.
b. Looking to increase efficiency and patient well-being in Salt Lake's Regional Medical Center's Urgent Care Department.
Examples of good and bad nursing resume objectives:
✅ Resume objective for an RN without experience:

✅ Resume objective for an RN with little work experience switching specialties:


❌Resume objective for an RN without experience:


Why is this an example of a bad resume objective?
It's written in active voice and in first person — Sticking with a passive voice is a safe bet when writing resumes + it looks more professional. If you decide to go with active voice, ensure to avoid personal pronouns at all cost.
Mentions academic background and skills but doesn't specify — Clearly state which university/college you attended and what crucial skills you mastered.
It isn't tailored to any specific job position — Did you notice that this job description can be sent to literally any RN job opening? Always tailor your resume objective to the role you are applying for.
How to craft a good nursing resume summary
A resume summary is for experienced registered nurses who are progressing in their careers in the same specialty.
Here are the essential parts of a captivating nursing resume summary:
Clear statement of your specialty and experience:
a. 5 years of work experience as a Pediatric Nurse.
b. 7+ years of experience working as a registered nurse in ER departments.
Relevant experience, skills, and licenses:
a. Skilled at diffusing stressful situations and executing successful family and patient communication. Certified in Pediatric Advanced Life Support (PALS).
b. Specialized in the emergency room and urgent care with a great focus on high-risk stressful working environments. Excels in infection control, pain management, and triage strategies.
What you bring to the organization:
a. Looking to contribute to UCSF Children's Hospital and further reinforce its PRIDE values.
b. Looking to help MedStar Harbor Hospital's ER department perform clinical tasks more effectively and help coworkers provide patient care while working through emotions.
👉 Pro tip: Research the healthcare organization you are applying to and check if they have a mission and values page like UCSF does. It will allow you to further personalize your resume objective and summary.
Examples of good and bad nursing resume summaries
✅ Nursing resume summary for Pediatric Nurse position:

✅ Nursing resume summary for Emergency Room Nurse position:

❌ Example of bad nursing resume summary:

What's wrong with this resume summary?
Length – No recruiter has the time and energy to read an essay. Keep your resume summary short and sweet, 3–4 lines depending on font size and margins.
Formatting – The summary doesn't follow the essential logical order of information we discussed above: experience > skills and licenses > what you bring to the table.
Me vs. You approach – Instead of talking about yourself and bragging, ensure that you precisely depict how you can help: Instead of saying, "I am passionate about providing care and support to children and families," it's better to say "Skilled at providing care and developing healthy coping skills and interpersonal communication between children and families."
Uses personal pronouns, which shouldn't be used in resume writing.
Highlight Your Nursing Experience in the Work History Section
This is by far the most important part of the resume — it showcases what you've accomplished and helps the recruiter gain trust that you have the necessary professionalism and expertise for the role.
Here's how to excel at this part:
Use reverse-chronological order for listing work experience.
Focus on experience relevant to the job you are applying for.
The more recent the job, the more detail you should include.
Focus on achievements over day-to-day duties — quantify achievements whenever possible.
List achievements as bullet points, 3–4 bullets per work experience.
Depending on your level of experience, you can either focus on qualitative or quantitative achievements:
Qualitative achievements: Great for recent grads and RNs that don't have much experience. The focus is on showcasing certificates, awards, licenses, and honors. For example:
a. Awarded the best clinical intern at the Univesity of Utah Hospital in 2022. Promoted to Certified Nurse Assistant after a six-month internship.
b. Awarded with the badge of honor for taking exceptional care of Covid-19 infected children.
Quantitative achievements: These demonstrate to employers that not only can you handle the demands of the job, but you excel at them. For example:
a. Completed a 410-hour practicum in various hospital wards under the supervision of registered nurses.
b. Coordinated and led a team of 5 certified nursing assistants, worked 12-hour shifts for 3 days in a row, and trained new staff members on the computer system.
c. Created a Covid-19 education program for kindergartens and primary schools that helped decrease the number of infected children in the University of Utah Hospital's Pediatric Ward by 37%.
If you are a recent graduate nurse or don't have much experience, you can list any community or volunteer work you have done, participation in student organizations, exchange programs, internships, and practicums.
Some examples of showcasing nursing volunteer experiences that can boost your resume are:
Overseas healthcare volunteer: Provided health education in impoverished African communities. Assisted with administering vaccines and other medications. Educated families and children about hygiene, STDs, STIs, and contraception.
The American Red Cross: Delivered critical community services such as assisting during blood drives, operating first-aids, and answering local emergency calls.
Nursing home volunteer: Worked with a diverse population of residents and helped them during daily activities. Shadowed nursing staff to learn more about geriatric care.
Medical Reserve Corps (MRC): Provided medical care and distribution of supplies during community outbreaks and natural disasters. Responded to and worked with media.
Here are good and bad examples of a nurse's work history section:
✅ Work experience section for a recent graduate, position ICU nurse: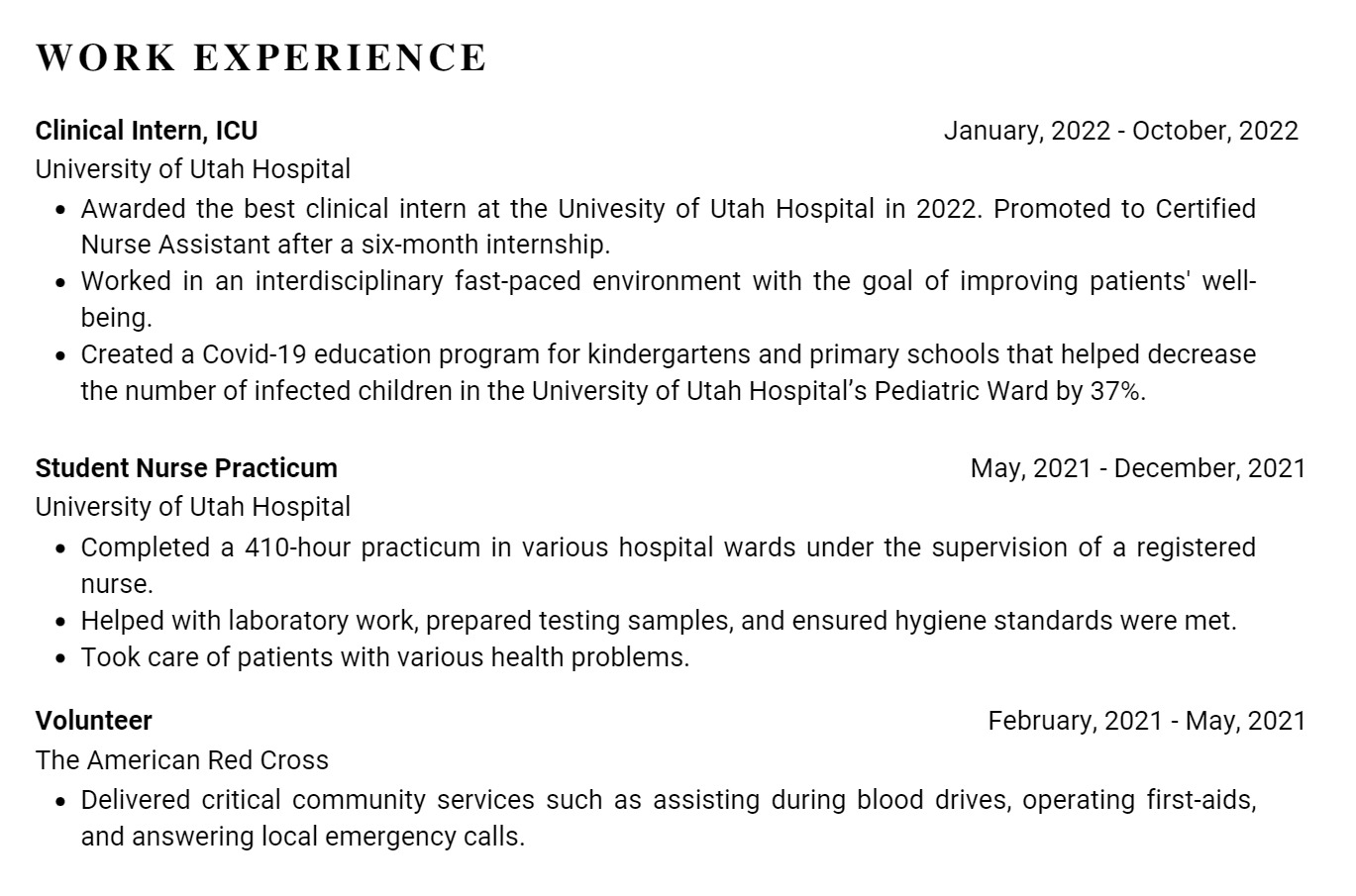 ✅ Work experience section for an experienced Registered Nurse, position Chief Nursing Officer: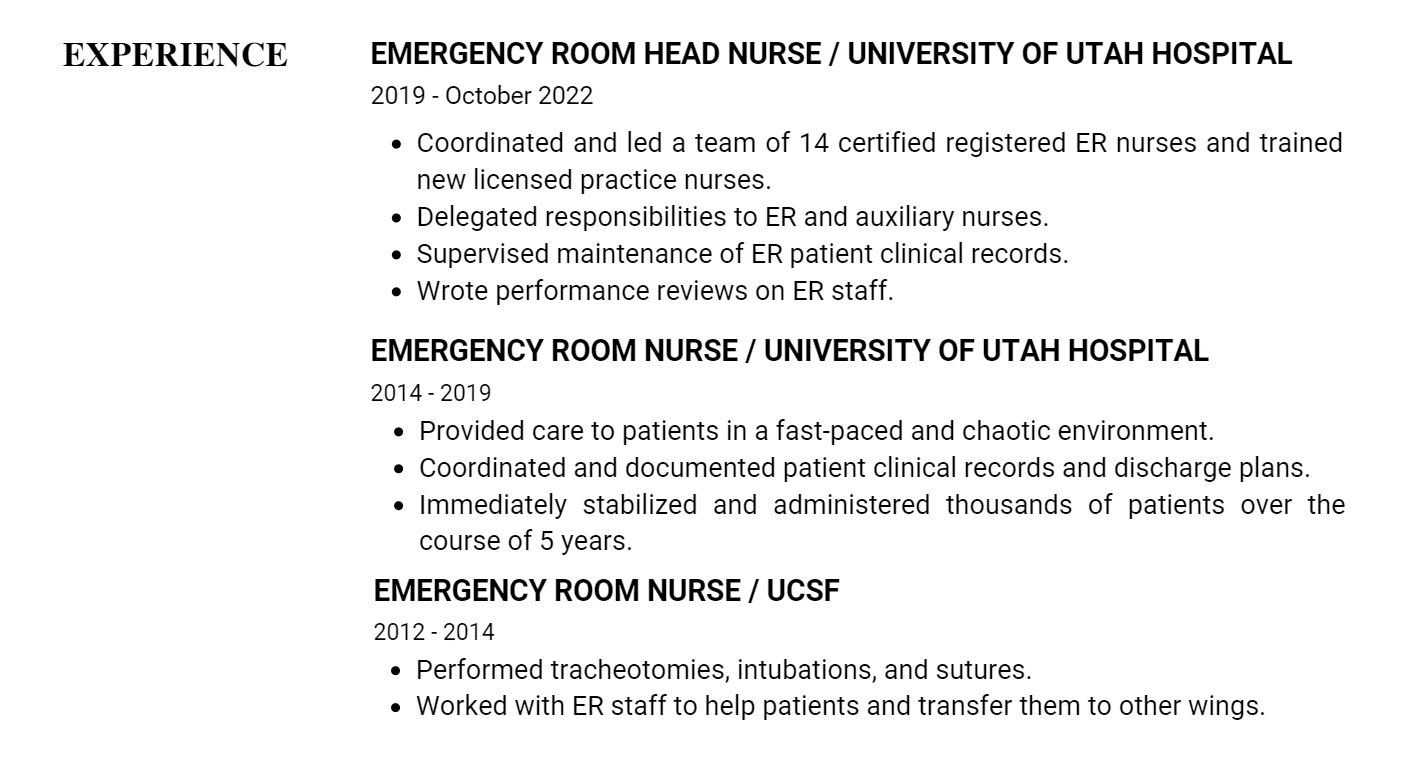 ❌ Bad work experience section for RN applying for the position of Chief Nursing Officer.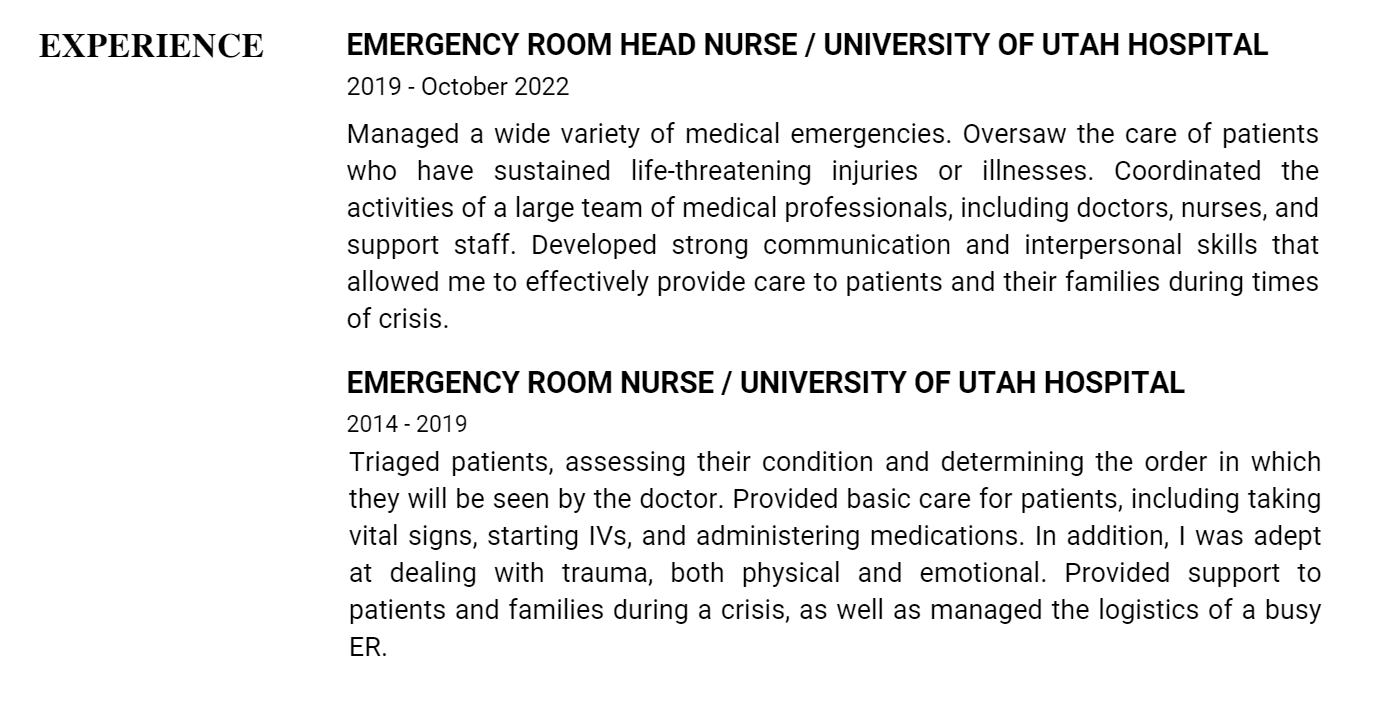 What's wrong with this section?
Formatting – Instead of writing thick blocks of text, summarize key achievements in bullet points.
A lot of fluff – Only list the most crucial achievements. Refrain from using filler words.
Lacks specific achievements — Refrain from using generalities and try to add specific information that showcases how you added value in a workplace.
And to learn how to Prepare for a nursing interview, click here.
List your Education and Certifications
List your education in reverse chronological order, just like you did with work experience.
If your GPA was higher than 3.5, you can include it, especially if you are a recent graduate nurse or don't have much work experience.
Degree, field of study, and major
a. Bachelor Degree of Science in Nursing (BSN)
b. Master of Science in Nursing (MSN)
a. University of Utah
b. Duke University
a. 2018-2022
b. 09/2012-10/2016
c. Graduated in 2022
a. Only if above 3.5
Honors or academic achievements (optional):
a. Awarded the best student of the year 2021.
a. Only if relevant
b. Minor in chemistry
For your certifications (and the order in which to place them), follow the official guidelines from ANCC.
If you have a lot of certificates, consider creating a separate resume section for those:

Examples of a nursing education sections:



For more information about listing your education on a resume, we go into all the nitty-gritty details in this guide: "How to List Education on a Resume."
Showcase Your RN Skills
A hint of which skills you should include can be found in the job ad you're replying to.
However, most healthcare recruiters are looking for some of the following soft and hard skills among nurse applicants.
Basic hard skills for a nursing resume include:
Advanced cardiovascular life support (ACLS)
Telemetry
Basic life support
EHR proficiency
HIPAA and OSHA
Patient care
Computer skills
Emergency and critical care nursing
Care plan administration
Intravenous therapy
Ventilator care
Administering medication
Patient/family education
Patient safety
Essential soft skills healthcare employers look for are:
Communication skills
Time management
Empathy
Teamwork
Critical thinking
Flexibility
Confidence
Attention to detail
Stamina
Leadership skills
Professionalism and candor
Ethics and confidentiality
Remember, you should include a combination of soft and hard skills in your skills section.
Besides soft and hard skills, there are also special skills that vary based on the nursing specialty/position.
Skills to put on your resume based on the position you are applying for:
Licensed Practice Nurses (LPN) Skills:
Record keeping
Ability to follow protocols
Patient monitoring
Acute and rehabilitative care
Collaborative work ethic
Basic nursing
Observation skills
Intensive Care Unit Nursing (ICU) Skills:
Assessing pain levels
Intra-aortic balloon pump
TPA and Streptokinase
Catheterization
Sheath removal
Arrhythmia analysis
Tracheostomy care
Determining tissue viability and patient mobility
SV02 monitoring
EHR proficiency
Transducer set-up
Analyzing patient's response to treatment
Medication management and administration (heparin, morphine, nitroglycerine, bicarbonate, atropine, lidocaine, Cardizem, incocor, epinephrine, dopamine, and digoxin)
Emergency Room (ER) Skills:
Triage
Pain management
Infection control
Basic life support
Advanced cardiovascular life support
Taking vital measurements (heart rate, blood pressure, height, and weight)
IV therapy
Glasgow Coma Scale
Obtaining and reading Lead EKG
Emergency room and urgent care
Patient evaluation
Working through emotions
Healthy coping skills
Labor and Delivery Nursing Skills:
Epidurals
Labor status assessment
Newborn care
Postpartum Care
Delivery and neonatal care
Postpartum counseling
Infant vitals monitoring
Med-Surg Nursing Skills:
Surgical Care
Activities of Daily Living (ADLs)
Pre-Operative (Pre-Op) Care
Post-Operative (Post-Op) Care
Trauma care
Acute care
Wound care
Triage
Orthopedics
Oncology
Pediatric Nurse skills:
Mental status, cognition, and responsiveness assessment
Childhood development assessment
Assessment of respiratory system
Intramuscular injections
Diffusing stressful situations
Pediatric advanced life support (PALS)
Pediatric care
Pediatric nursing
Patient and family education
Example of skills for ER nurse resume:

Example of skills for recent graduate nurse:

If you're still finding the skills section tricky, we've written a guide to walk you through it: Skill to Put on a Resume.
Add the Not-So-Optional Extra Sections to Your Nursing Resume
Certifications, awards, volunteer experience, conferences, and languages you are proficient in are often forgotten, but can be a huge game changer.
These sections help you reinforce that you are the right candidate and seal the deal. Hence, if you have any certificates, awards, or volunteer experience that is relevant to the job you are applying for, do include it.
All these sections can be exceptionally helpful if you don't have considerable work experience.
We already mentioned volunteer experience when talking about showcasing work experience.

Nursing Certificates & Awards
Depending on the nursing position, there are numerous certifications that are worth having and mentioning:
Certified Emergency Nurse (CEN) – Good for ER nurse job application.
Acute/Critical Care Nursing (Adult, Pediatric & Neonatal) (CCNS) – Good to have on a pediatric or labor and delivery nursing resume.
Certification for Nurse Educators (CNE) – Useful for nurses applying for positions as academic nurse educators.

On the Nurse.org website, you can check the complete list of common Nursing certifications.
If you have any award worth mentioning, you can add it along with your certificates list:

If you are a recent graduate or don't have much work experience, you can further populate your resume by adding a small description to your certificates:

Publications & Projects
Publications and projects prove that you are passionate and care deeply about your job, making them a wonderful resume asset.
They can be exceptionally helpful if you are a recent grad or have little work experience.
Remember to add a link to your publications, or attach a document if it can't be found online.

Languages
If you speak languages other than English, include them on your resume.
Nursing jobs vastly depend on communication with patients, and sometimes you might be working with patients who are tourists, immigrants, or people who simply don't know English well.
Simply add the Languages section after your skills section:

Customize your Resume to Match the Job Requirements
You should create a tailored version of your resume for every job you apply for.
It helps your resume pass the ATS scan (more on that in the following section), but also shows you as the perfect candidate, not just another candidate once your resume reaches a human recruiter.
Start by carefully analyzing the job description: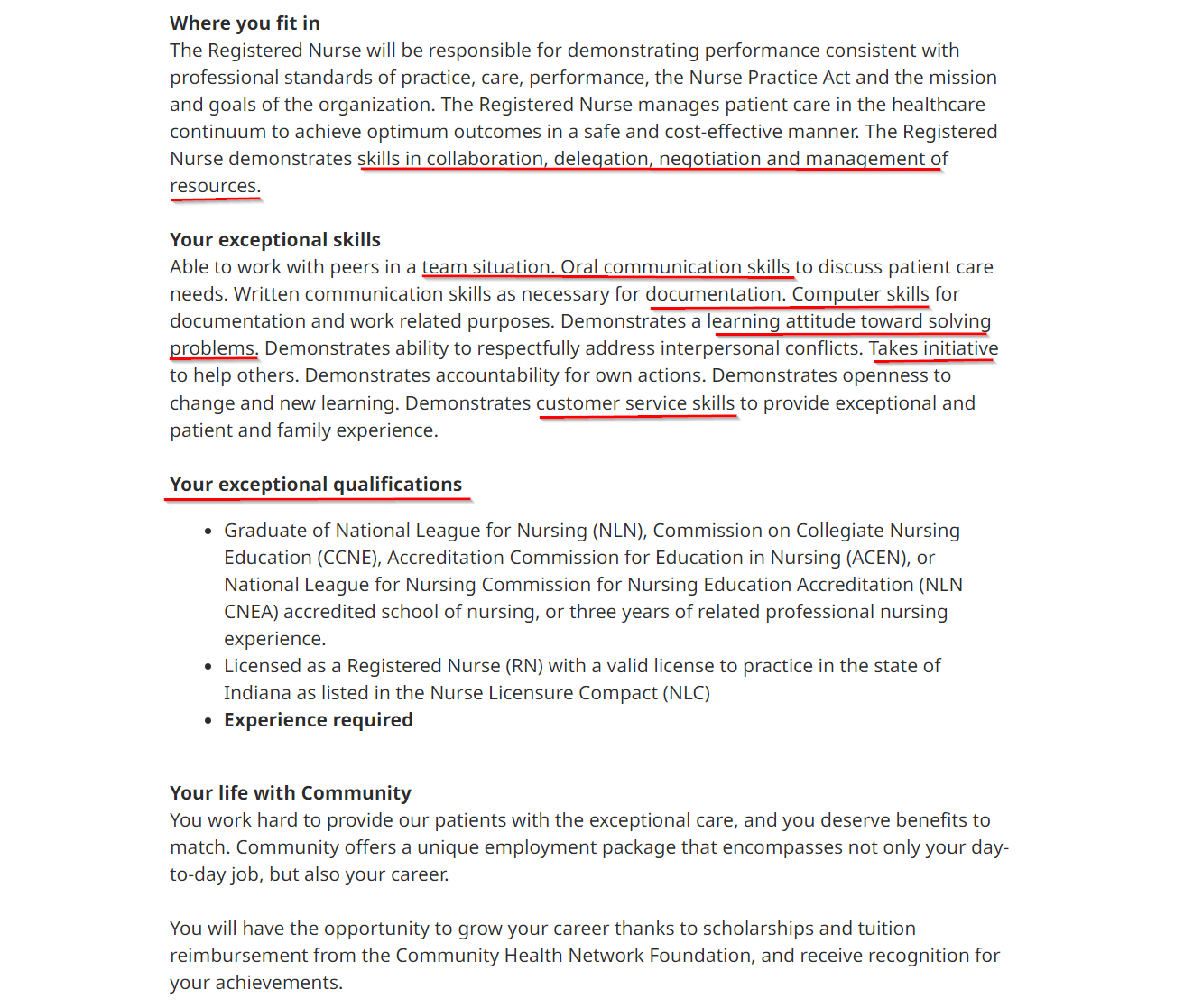 If you were to tailor your resume to this job description, you would:
Stress that you are a good communicator and team player.
Showcase that you are dependable and have leadership skills.
Demonstrate that you have the needed empathy for patient and family communication.
Here's what your work experience and skills section would look like:

In short, use specific keywords from the job description in your resume.
Now, the qualifications part is tricky, because you either have the required certificates/licenses/education, or you don't.
If you notice that certain qualifications are always required, but you don't have them, the best thing to do would be to work on obtaining them. But don't shy away from applying even if you miss one or two requirements — your work experience and skills can make up for it in some cases.
If you have numerous certifications/licenses, prioritize those mentioned in the job description and list the other ones afterward.
Tailoring your resume to the job description will make your resume stand out from the rest, and by doing so, showcase that you are the right fit for them and increase your chances of being called for an interview.
Optimizing Resumes for Recruiters Isn't Enough — You Must Optimize for Machines, Too
There are numerous tools (ATS – applicant tracking systems) used to screen and filter resumes and candidates, making the life of a recruiter significantly easier, but the life of a job-hunting nurse significantly harder.
Those tools extract and analyze key information from your resume to see if you're a potential fit.
If your resume doesn't pass the initial scan, the tool will filter it out as inadequate, and the recruiter, in most cases, won't even get their hands on it.
Here's how you can ensure that doesn't happen:
Use relevant keywords – Check the job description, especially the responsibilities and qualifications parts, and ensure to include keywords they used.
Opt for clean design – It's easier both for the software and the recruiter to read and screen minimal design. Stick with conventional textual design — no images, weird formatting, spacing, tables, graphs, headers, footers, symbols, borders, and fancy fonts.
Double-check grammar and spelling – Clear, concise, and grammatically sound language is favored both by artificial intelligence and recruiters.
Check how ATS sees your resume – There are resume checkers that allow you to import your resume and further optimize its readability for ATS.
Remember, you are just optimizing for the machine, but creating for the person – The resume must go through the tool, but a human makes the final verdict. Your resume must contain useful and honest information about your previous work experience in the healthcare industry, not just relevant keywords.
Double-Check Everything Before Submitting!
Once you have crafted your nursing resume, let it sleep, then come back the next day and carefully go through everything.
Fonts, alignment, spacing:
a. Is everything properly aligned? You don't want to have sections sticking out randomly.
b. Are you using a maximum of two fonts? Are fonts easy to read?
c. Is line spacing 1-1.5 lines?
a. Are all sections in the appropriate order? (this depends on the resume format you choose)
b. Is your work experience and education listed in reverse chronological order?
a. Run your resume through Grammarly. It can quickly spot errors for you.
b. Send your resume to your friend or family member and ask them to proofread it.
Is All of This Too Stressful and Confusing?
Even though nurses are professional when dealing with stressful situations, looking for a job and going through interviews can be a handful.
For that reason, we created an advanced nursing resume builder that can save you soo much time and energy.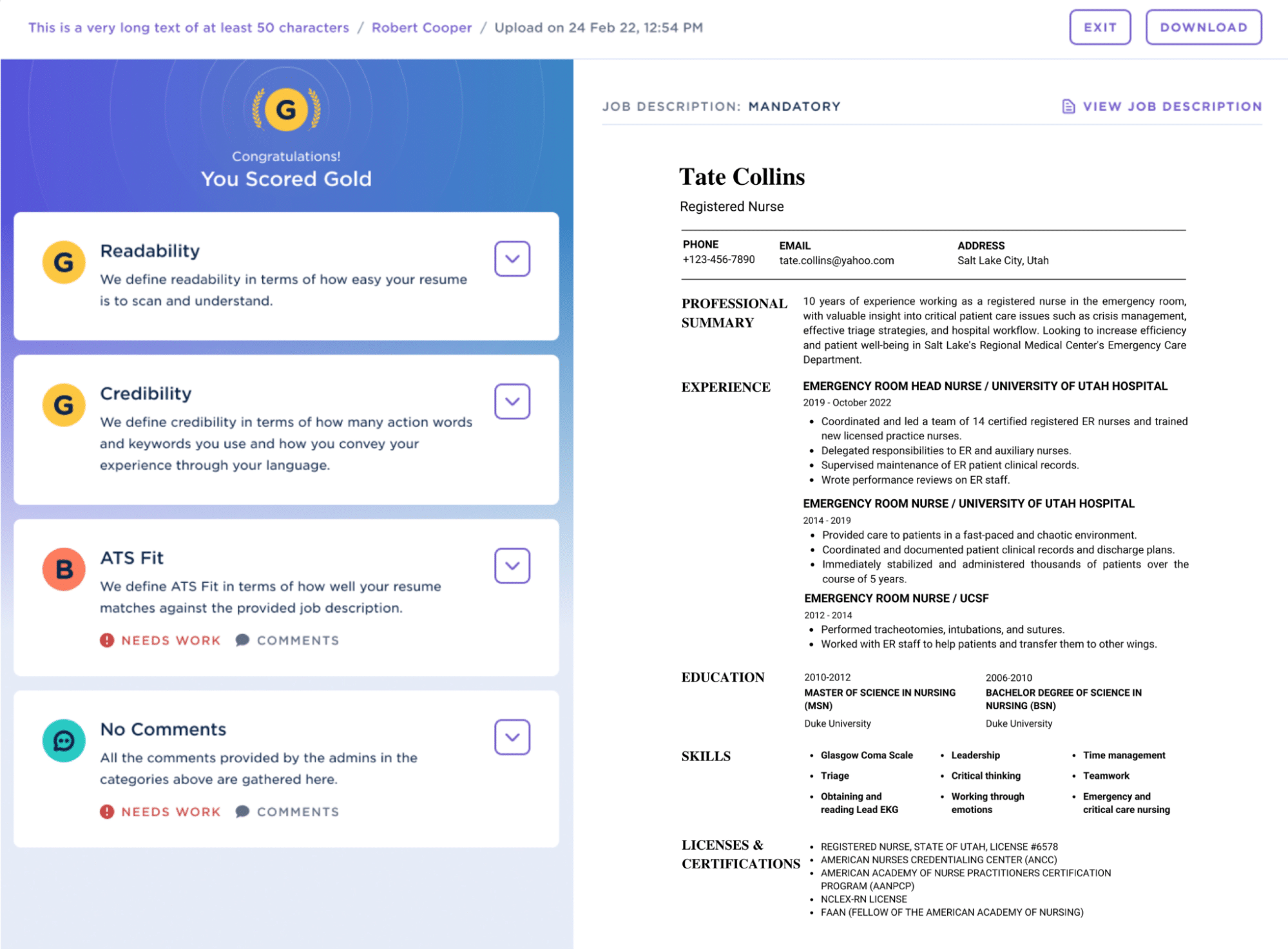 All you have to do is upload your resume and the job position details, and you'll get detailed feedback on what can be improved and how to improve it.
Want to stay ahead of other RNs? Check it out!
And good luck landing that job!