Every time your University Career Center needs a new EdTech solution, there will be objections.
With mock interview tools, you need to ensure the platform can deliver on its promises and improve student outcomes, justifying the investment.
Before making the decision, you'll need to review several options and gather as much feedback and success metrics from other universities before committing.
In this article, we analyze the Big Interview mock interview tool* to help University Career Centers understand the platform better and make an informed decision when choosing mock interview services.
*You're reading this on Big Interview's website, so we'll probably be a bit biased. Still, we promise to be transparent and provide you with educational content to help you choose the best option for your Career Center, even if that's not us. What you'll learn:
What features are inside the tool
Who will (and won't) benefit from using Big Interview
5 ways Career Centers become more successful with Big Interview
Big Interview Mock Interview Tool Overview
Big Interview is a comprehensive and customizable interview preparation tool used by Career Centers at Yale, Stanford, Columbia, and 600+ other universities.
The tool includes interview preparation courses, mock interview practice sets, and answer review options.
It can also be further customized to include additional tools and premium features like:
AI Feedback — a premium feature where students get artificial intelligence suggestions on how to improve their interview answers.
Interview Roulette — an add-on that acts like a interview simulation program where the candidate doesn't know which questions they will get next.
Here's what Career Centers accomplish working with Big Interview:
Help thousands of students thanks to a highly scalable system
Have more productive and impactful 1:1 sessions with students
Customize interview training courses using custom practice sets and assignments
Help students find jobs 4-5 weeks sooner (with 2-3 fewer interviews)
If you want to learn how Big Interview can help your Career Center reach more students, book a personalized tour.
Who Shouldn't Use Big Interview
There is a possibility you won't see the biggest ROI from a tool like Big Interview. Your school just might not need something like this.
That would be the case if you have a robust Career Center team where the counselors have enough time to see and provide guidance to all of the students one-on-one.
Coupled with this, if your student engagement rates are high and most students are coming to practice mock interviews in person, you may not need a tool like this.
Maximize Student Success: How Big Interview Drives ROI for University Career Centers
If, on the other hand, you struggle with student engagement or have a small team of counselors who feel like they're failing to give each and every student the attention they deserve, you may want to check Big Interview out.
Here's where you'll see the biggest impact for your school:
Improve student interview skills at scale
Unlike other mock interview tools, with Big Interview, Career Center admins get to help more students, even with limited resources and manpower.
If you're a small team working with thousands of students, you can't possibly meet with each and every one to practice interviewing before their big day.
And, as a Career Advisor, you know how vital preparation is when you're fresh out of college with little or no substantial work experience. And even if you could see and coach every student, unfortunately they're not likely to come in.
To help with this problem, you can create Assignments for your students (set the deadlines, choose the questions, turn off/on AI answer feedback, and limit the number of recording attempts), and invite users to respond to your assignment.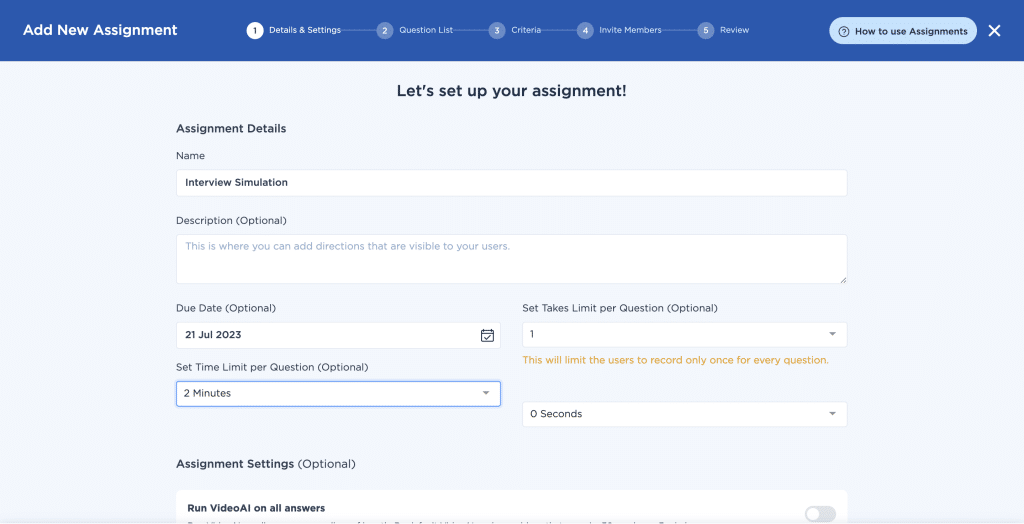 The system is designed to do the heavy lifting of mock interviews for a small team. Big Interview will handle the interview training and practice for you, so you have much more time to give actionable feedback to students and do the fine polishing later, in 1:1 sessions.
In other words, the tool has everything you need in one place.
Just like you, your students will have a single go-to place to do everything job-search and interview related.
Learning – Students go over in-depth lessons and quizzes on how to answer interview questions and browse the vast library of questions divided into categories (e.g. admissions to post-grad programs, industry based, general questions)
Mock Interviews – Students practice what they learned and record their own answers, based on a set of questions selected by you or one of the pre-made sets Big Interview has ready.
Resume Builder – A resume creator tool for students (with AI feedback on what to improve).
Video AI Feedback – Big Interview's AI tool that grades student answers on things like answer relevance, vocabulary, power words, filler words, and pace of speech.
We've all noticed that University students now are more comfortable doing online work than coming in person. Using a tool like this, you'll have more success if you ask them to complete mock interviews online than come meet you for an in-person session.
If you're still not sure how you can increase student participation and success rates with interview preparation training and mock interviews, check out this story from Ramapo College.
Use 1:1 time with students better
The 1:1 sessions between students and counselors should focus on providing personalized guidance, networking advice, and mentorship. They shouldn't be focused on you coaching them on basic interview skills and fixing small mistakes (that could have been handled before they arrived at your office).
When you spend this valuable time addressing technicalities and minor mistakes, the impact of individual sessions is diminished.
The Big Interview platform frees this time for you and helps you maximize the effectiveness of 1:1 sessions:
By practicing mock interviews, students will give more relevant answers with better delivery.
By learning from the training, they'll be more confident, comfortable, and have better flow when answering.
By reviewing their answers and checking out AI feedback, they'll get a better idea of what they need to improve.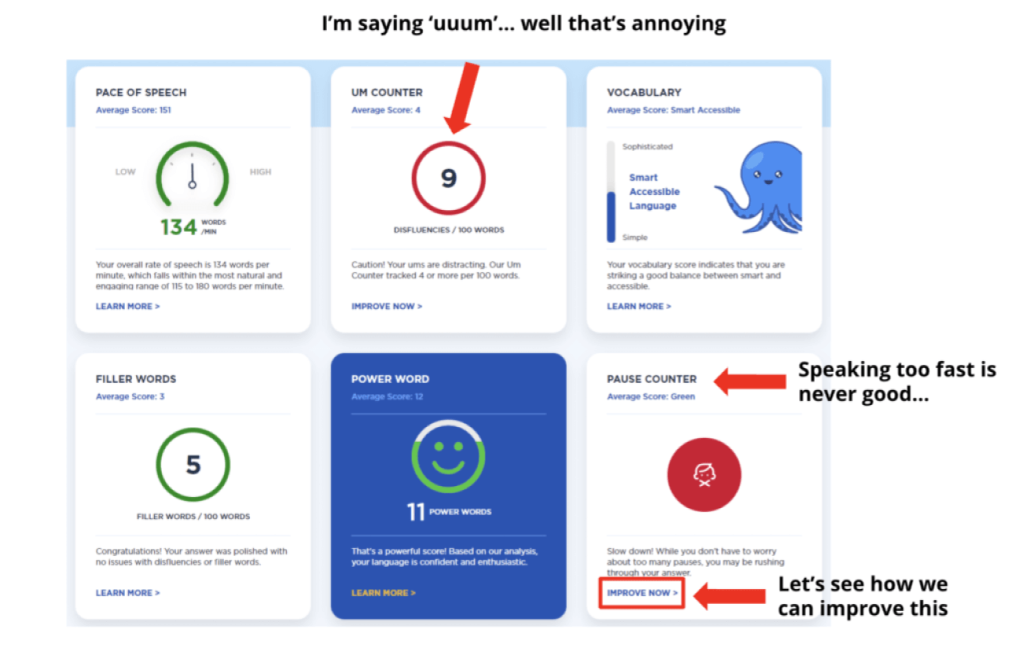 Your job is just to review and track completion. So when they show up for 1:1 sessions, you can give more in-depth and actionable recommendations to each student based on their individual needs.
Here's how College of Charleston uses Big Interview when they don't have enough manpower for 1:1 coaching.
Customize for your students
Big Interview specializes in working with higher education, and the platform is designed in a way that lets universities cherry pick the courses and tools they need based on their students and local employers.
Here are some customizable features you can use to tailor it to your needs.
Customized dashboard — Your go-to analytics page where you can track things like engagement, top active users, top interview questions practiced by users and so on. It's fully customizable, so if there are any reporting features you'd like to see, the Big Interview CSM team will make it happen for you.
Custom sets — Allows you to custom-tailor the questions you'd assign to students based on their needs. Let's say your students from Design School will mostly interview for Graphic Design, Web Design, or UX Design internship jobs. You are able to customize your interview questions around their industry, seniority, competency and so on. But you can also create and record your own questions and add them to the sequence.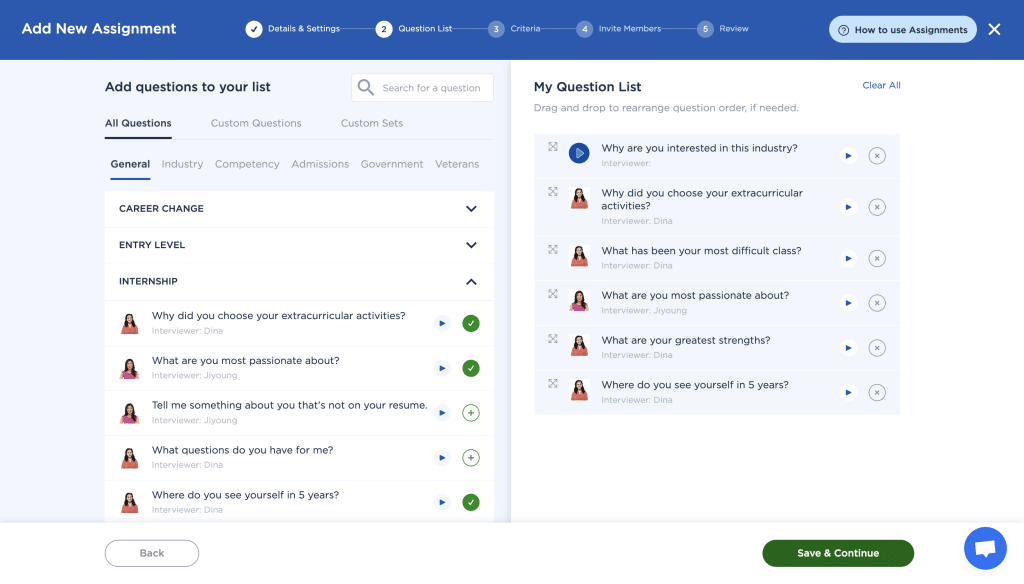 Single Sign-On — Big Interview integrates with Canvas, Blackboard, Moodle, and Handshake and you can have SSO enabled for these platforms. All in all, there is nothing for you to install or maintain, freeing you from additional administrative tasks.
Custom resume templates — We have resume templates and a resume builder students can use to create their first resume, but we understand that many universities already have their own. You can upload your own resume templates to our preexisting template library for students to use.
Many Career Counselors benefit from ResumeAI feedback, an integrated tool which scans student resumes and gives them immediate feedback and tips on Readability, Credibility and ATS fit.
Again, this saves plenty of time for both students and counselors — if a student submits their first resume draft to ResumeAI, and makes edits based on AI feedback, they will have better and more productive conversations and only do final polishing when they meet you at 1:1 sessions.
For you as an Advisor, this is neat because you can customize the feedback for your school, different classes, majors, upload your own resume templates to make it easier for students, or even change how much factors like spelling or formatting affect the final score.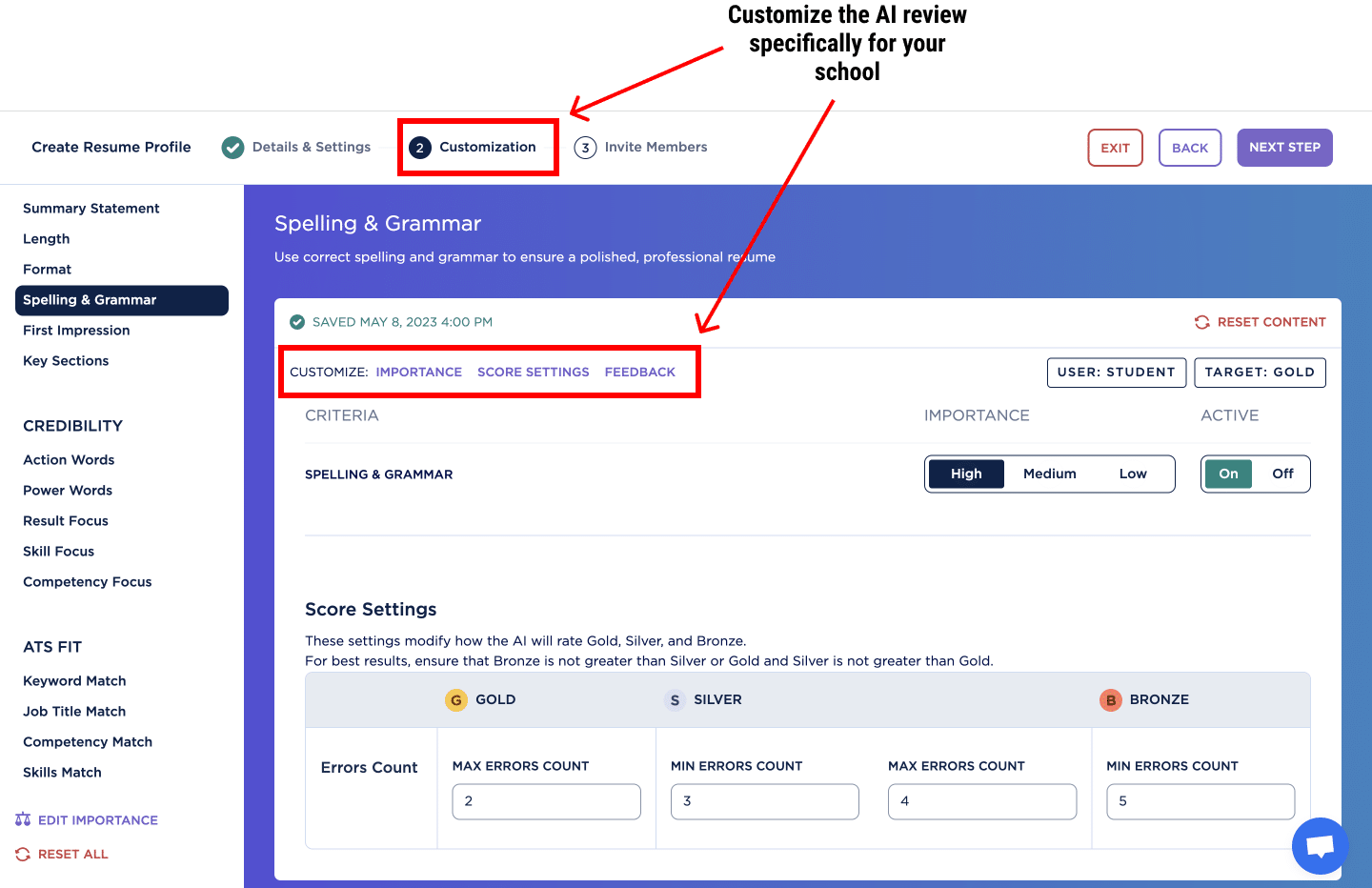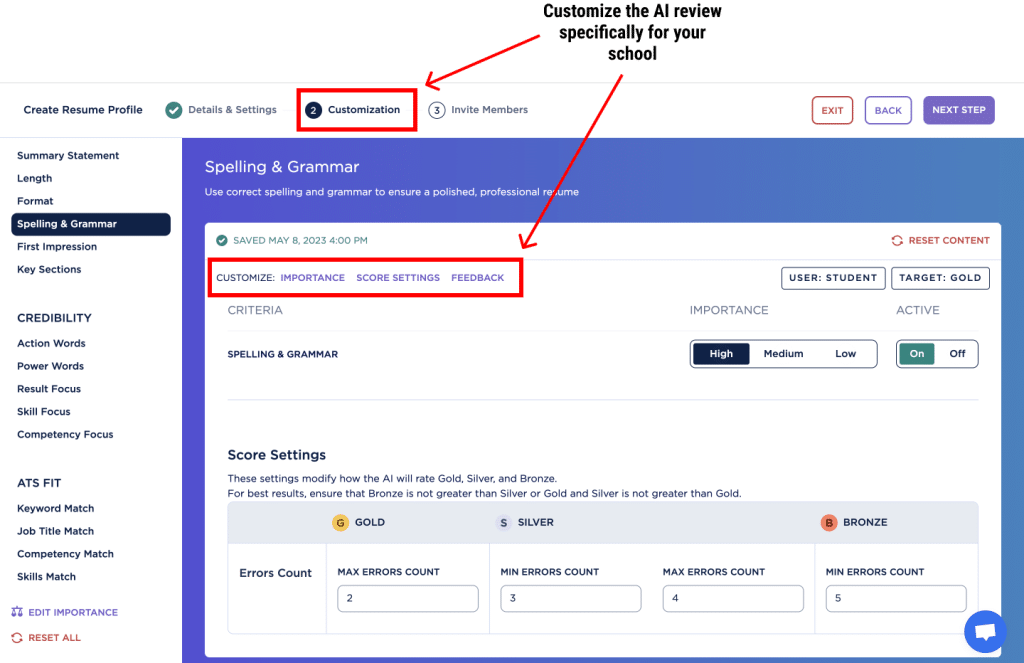 Learn more about automating resume feedback for your school — How Universities Can Scale Career Services Using ResumeAI.
Keep the learning curve low (for you and your students)
The trouble with the ROI of software solutions for universities is that they need to have a robust feature set while maintaining the intuitive design and ease of use for administrators and students.
Career Centers need to get the hang of the system as fast as possible to be able to show it to students.
With Big Interview, we're continuously working on this.
When a new University starts using Big Interview, there's an initial onboarding call for staff and students to explain how to use the mock interview service. There are also regular weekly Quick Start training sessions, so if you have a question, you can always hop on a call.
Apart from onboarding and training programs and ongoing customer support, Big Interview comes with regular software updates and new features added.
Get students jobs, faster
Most students will be new to the job market, and, as entry-level candidates, they'll face fierce competition.
And, as a Career Counselor, your main role is to help them prepare for real job interview scenarios, but you can only do as much with your limited time.
This is where interview training and practice really pays off. At Big Interview, we help people land jobs 4 to 5 weeks sooner, with fewer interviews necessary in the process.
How do we do this?
Big Interview was created by Pamela Skillings, an expert in the field of interviewing and career coaching. The lessons included will ensure students are prepared for everything, even the hardest interview questions.
Over the years, we've helped millions of people land their dream jobs, internships, and post-graduate courses.
AJ Aminrazavi is one such example: "I think Big Interview was super helpful in that aspect of having canned answers for every possible scenario and being in the moment of answering those questions."
Learn how you can help students land jobs just like AJ landed his first job in tech.
Big Interview Pricing
After years of working with universities, we're familiar with the budget constraints faced by many career centers. We understand that price is an important consideration for many universities, so we strive to strike a balance between affordability and the value we offer.
For this reason, we tailor our pricing to make it on par or better than competitors' while offering a much wider feature set. To get a quote for your university, book a chat with us here.
Key Takeaways
To find the tool with the best ROI for your school, be sure to weigh the tool's main benefits with what you need to accomplish.
Ideally, this tool will increase your career center's efficiency by reaching more students (and help them land jobs).
Big Interview has a proven track record of doing exactly that, with 4.9 out of 5.0 rating by 1M+ users, including students and Career Centers across the country.
If your student engagement rates are already high or if you manage to meet them all in person for interview practice sessions, you may not see a positive ROI with Big Interview.
But if you're not one of those people, then you can use Big Interview to improve student engagement rates, improve their interview skills, use 1:1 time better, and customize the tool based on your and your students' needs.
Gen Z and younger students think it's more convenient and comfortable to prepare for interviews online than meet you in person, because it gives them a sense of autonomy and lets them work at their own pace.
With expert training by a top interview coach, customizable assignments and AI feedback, your team will be helping more students in no time.
_____________________________________________
Ready to reach more students?
To take a look inside the tool, schedule a tour of Big Interview.
Not sure which mock interview tool to choose? Compare Big Interview and Interviewing.com.
Tired of low employment rates and limited career center functions? Discover actionable lessons and interview practice for users (Rated 4.9/5 by 1,000,000 users).