Your career center's priority is helping students land jobs — that's a given. But if students aren't learning how to formulate answers that show off their university skills and wow recruiters, it's all in vain. It's even worse if the students were provided the resources to practice and simply aren't using them. Many university career centers suffer from:
Students not being able to create a clear structure for their interview answers
Students not knowing the basics of preparing for real-life interviews
Low student engagement with mock interviews
In this article, we'll discuss how Ramapo College overcame these exact challenges to increase student engagement rates using Big Interview.
How it Started
Ramapo College has 1600+ new students (across 5 colleges) coming in every year. Their career center's goal is to prepare all of these students for internship and full-time employment interviews.
Before Big Interview, they used another interview preparation tool that had mock interview features but didn't have the training to answer the questions (at least they never found it).
The problem was because the students didn't have the training to create answers, they felt unprepared to answer the mock interview questions, and wouldn't do the mock interviews.
Engagement rates were pretty low. And as a result, the students' performance was declining. That's when they found Big Interview.
Increasing Pass (and Employment) Rates with Training and Practice
Big Interview has the mock interview practice they were using before, but it also includes interview training to give students step-by-step templates to answer interview questions.
So universities can pick from one of the existing interview preparation courses (such as Fast Track, Mastery Track, Negotiation, etc.) based on their students' needs.
LaQuan Norman, the Director of the Ramapo Career Center, went through all of the training courses and picked one that would work best for her students.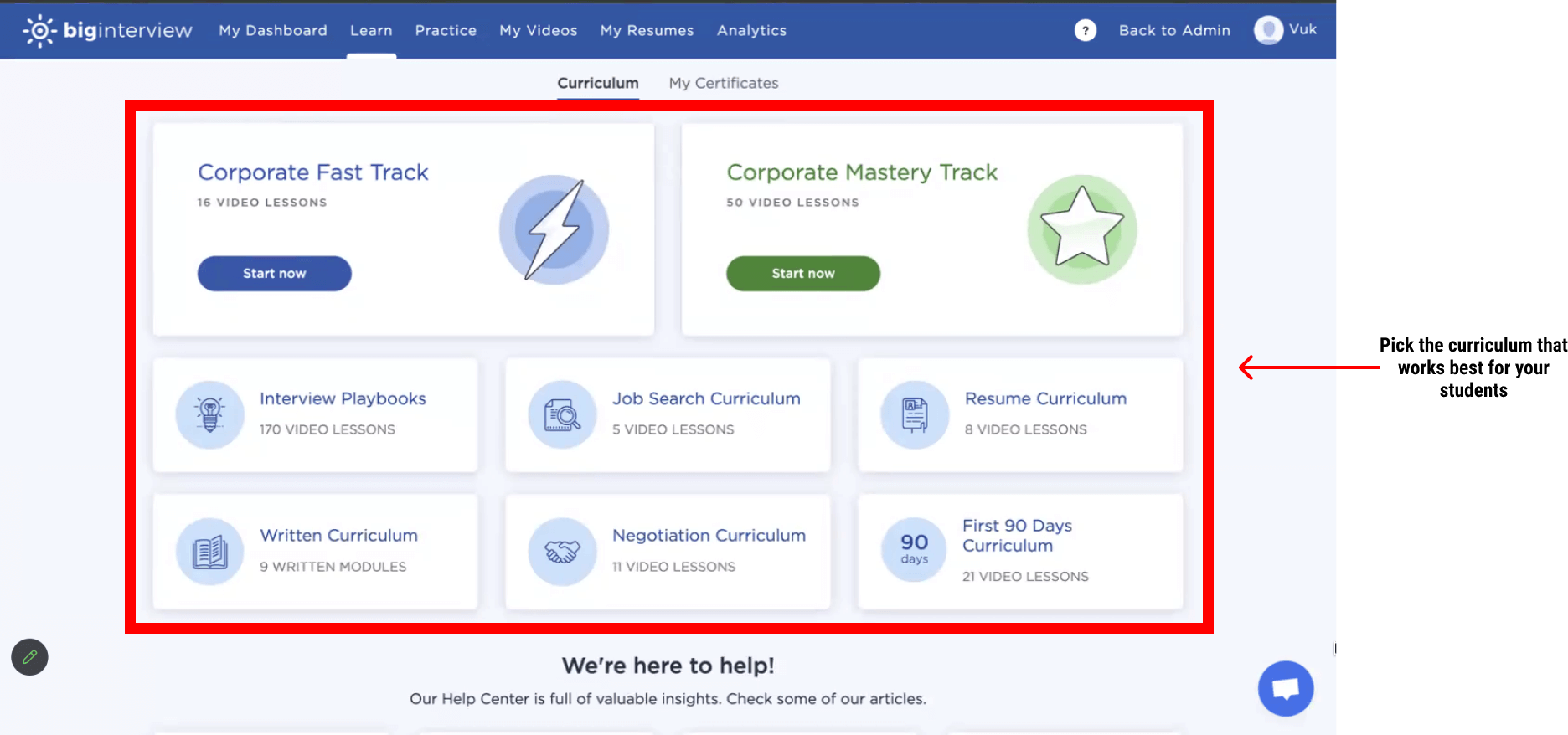 All of the courses include a pre-set curriculum broken down into short bites so students can watch the videos at their own pace. They also come with automatic video transcripts so students can read the lesson if they prefer learning that way.
This worked perfectly for them!
For Ramapo's needs, LaQuan decided on the Fast Track. This course has all of the most common interview questions students will have to answer, as well as practice sessions so they can formulate and practice their responses. All in one expedited format so students didn't feel burdened to complete it.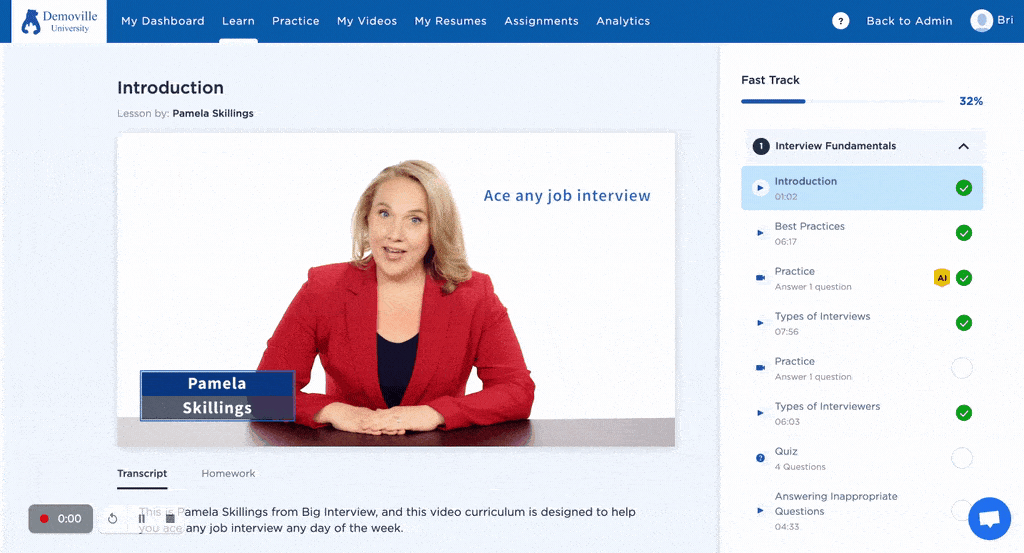 Plus, each student is able to choose how they want to digest the info so they can watch all the videos at once or at their own pace.
After making this switch, mock interview answers got significantly better.
When career coaches watched the students' recordings they could clearly tell they were using the tips from Big Interview's training videos.
So how did they get these students to actually use the Big Interview training and mock interviews?
Increasing Student Engagement Rates
Since Ramapo College has over 1600 students coming in every year, they decided to make a prerequisite course dedicated to preparing students for finding jobs during their education and after they graduate.
Big Interview fit perfectly into this with the pre-set curriculum for interview training and practice. So Ramapo added the Fast Track into their prerequisite course.
But they noticed that one thing was missing…
Most students were clearly skimming through the training lessons, but not going in depth. They could easily identify the handful of students in each class that actually went through all the videos.
So Ramapo switched up the requirements.
To give you some context, in Big Interview, once a student has completed an entire course, they get a completion certificate.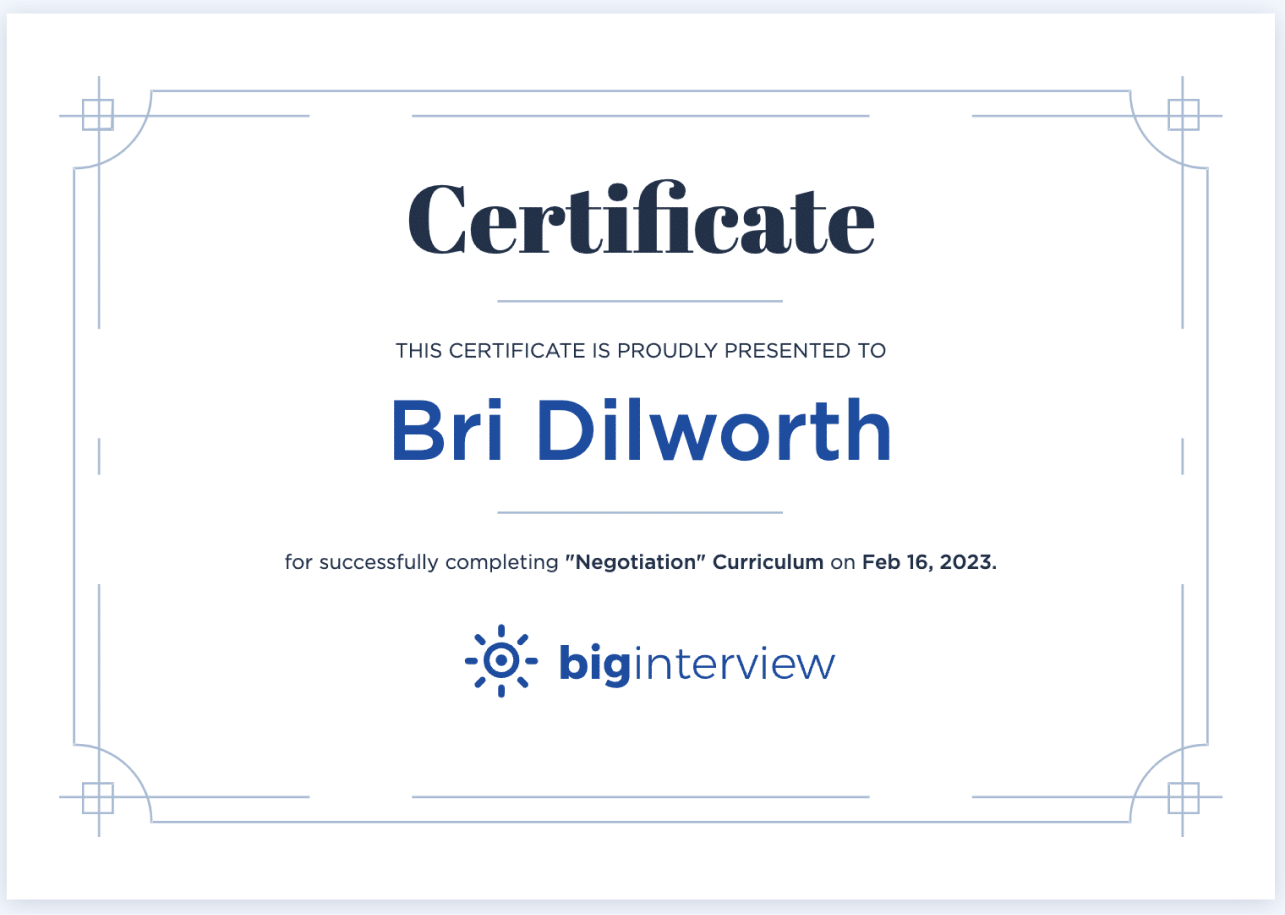 So instead of just having students run the mock interview practice and then get feedback from counselors, Ramapo added a step of students submitting their completion certificates.
On top of this, Ramapo College hosts an "Interview Palooza" with career coaches doing live mock interviews. Students love this because it gave them a chance to practice in person.
But again, Ramapo added the same requirement. So students had to complete the Big Interview Fast Track, completing the training and practicing their answers, to be eligible for the Interview Palooza.
This was a complete game-changer. They saw the results go from barely any good answers (1 or 2 students) to a majority of good answers, with a clear progression in how their answers were formulated.
Continuous Improvement with AI and Coach Feedback
To add the cherry on top, Ramapo has added feedback as a part of this process so the student can see how they are doing and re-do their answers if they have areas of improvement. Ramapo does this in two ways:
Using the Big Interview video AI feedback
Having Ramapo Career Center Coaches review answers
Once students have submitted their mock interview answers, they'll automatically get AI feedback on their answer relevance, pace of speech, um counter, vocabulary, tone, authenticity, lighting, volume, and more.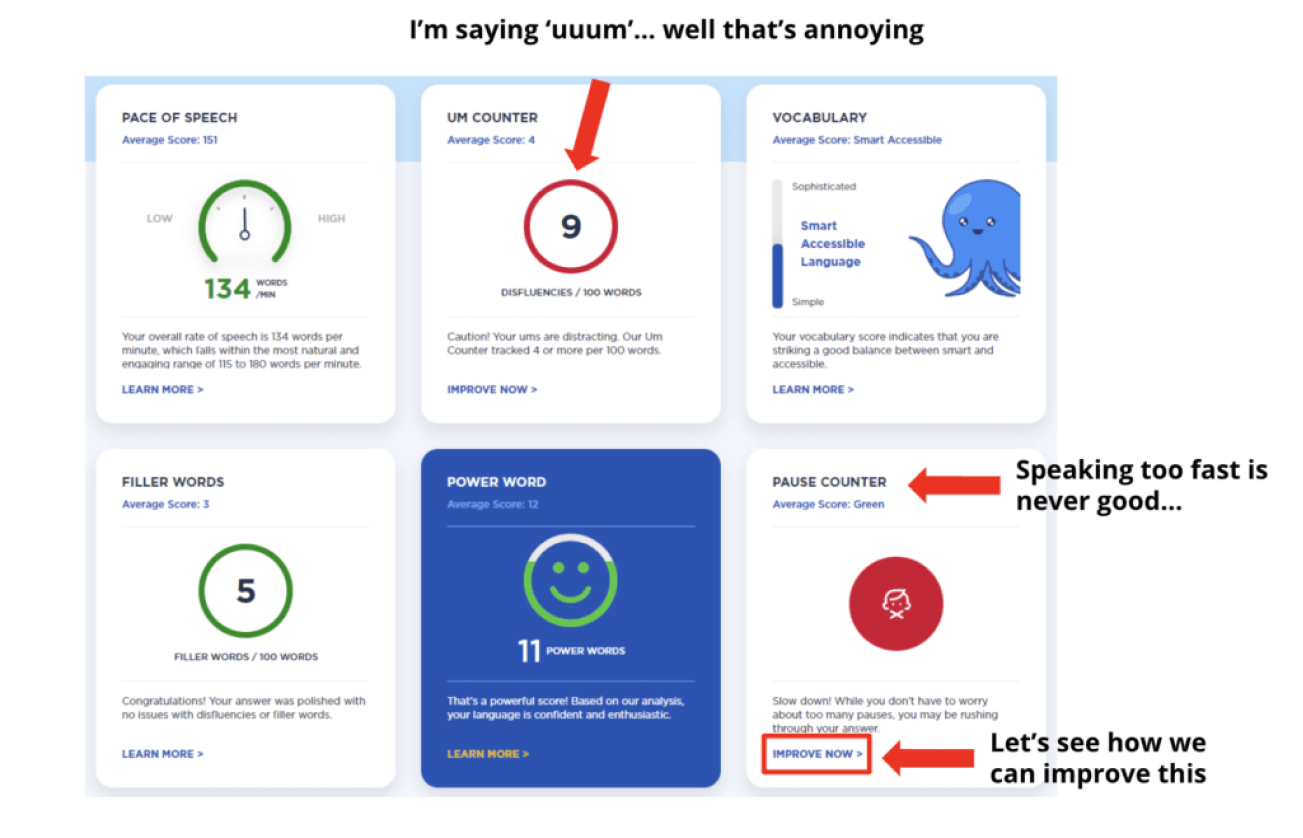 Then a career center coach will go in and add their scores and feedback, so the students can use both of these levels of feedback to perfect their responses.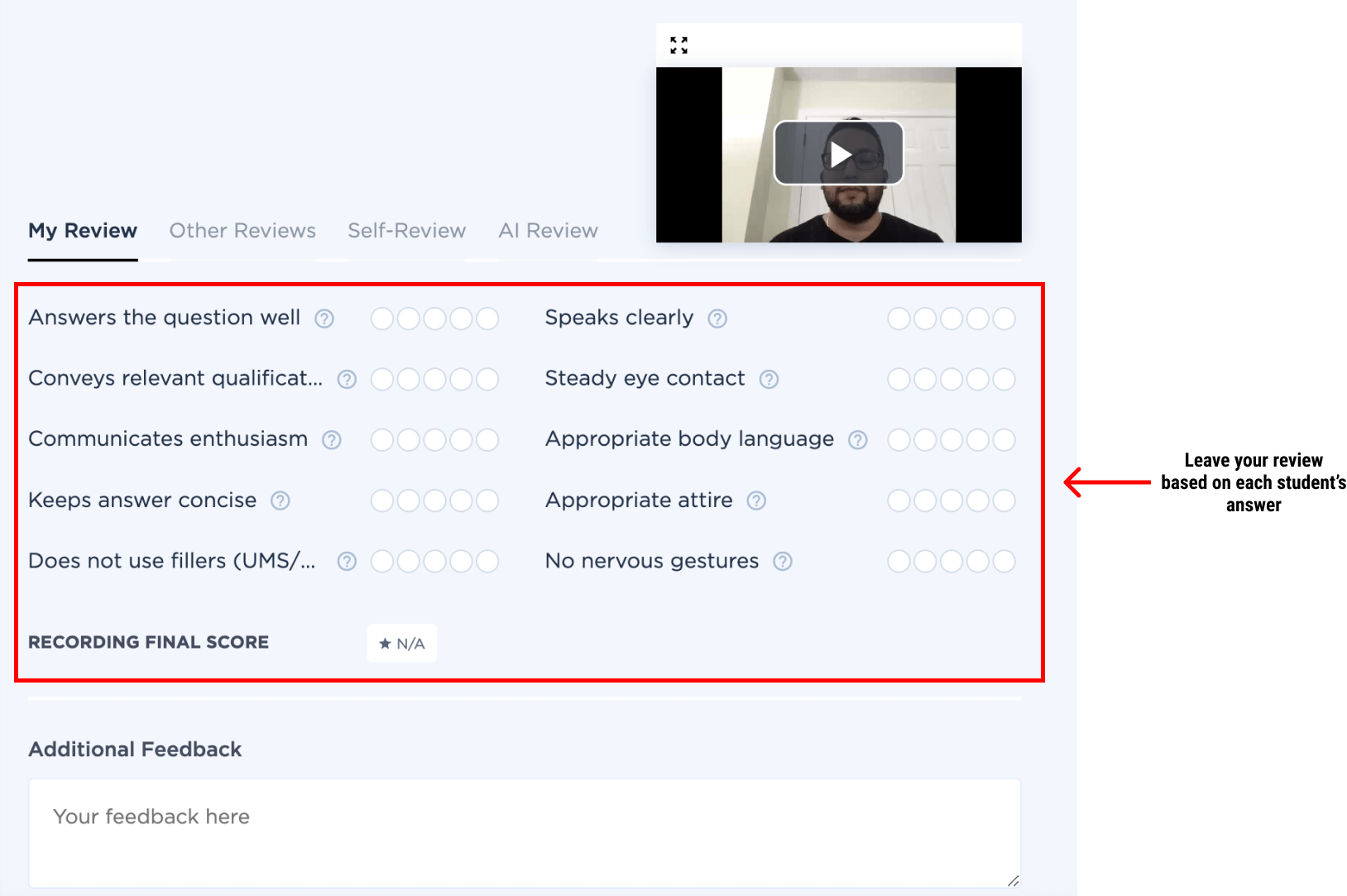 The Result
LaQuan considers Big Interview as the complete resource to prepare for interviews. When it comes to training and preparation for interviews, improving your resume, and learning how to show up professionally and confidently. Everything a student needs to succeed in the job search.
As Director of the career center, LaQuan's biggest win with Big Interview is getting so many more students to pass the classes and pass their interviews.
And I mean, that's what we're all here for. Getting more students more job opportunities.
Want the same setup Ramapo used to increase engagement (and employment) rates among their students? Schedule a tour!