Your career services team is vital to students landing jobs after graduation, and students thrive on things like 1:1 coaching to improve their interview and resume skills.
Resumes in particular are vital to students getting shortlisted and getting callbacks!
But unfortunately, many career centers struggle with going back and forth editing, wasting time on first-draft resumes that have much to be desired, and not being able to see (or engage with) all of their students.
In this article, we'll go through how you can overcome these with ResumeAI.
We'll cover:
What ResumeAI is
How students can improve their resumes with AI feedback
How you can adjust ResumeAI feedback to fit with your university's standards
Extra tips to get the most out of ResumeAI (for students and counselors)
What is ResumeAI?
ResumeAI is a tool that allows someone to scan their resume and get immediate feedback and coaching on the Readability, Credibility, and ATS fit of their resume.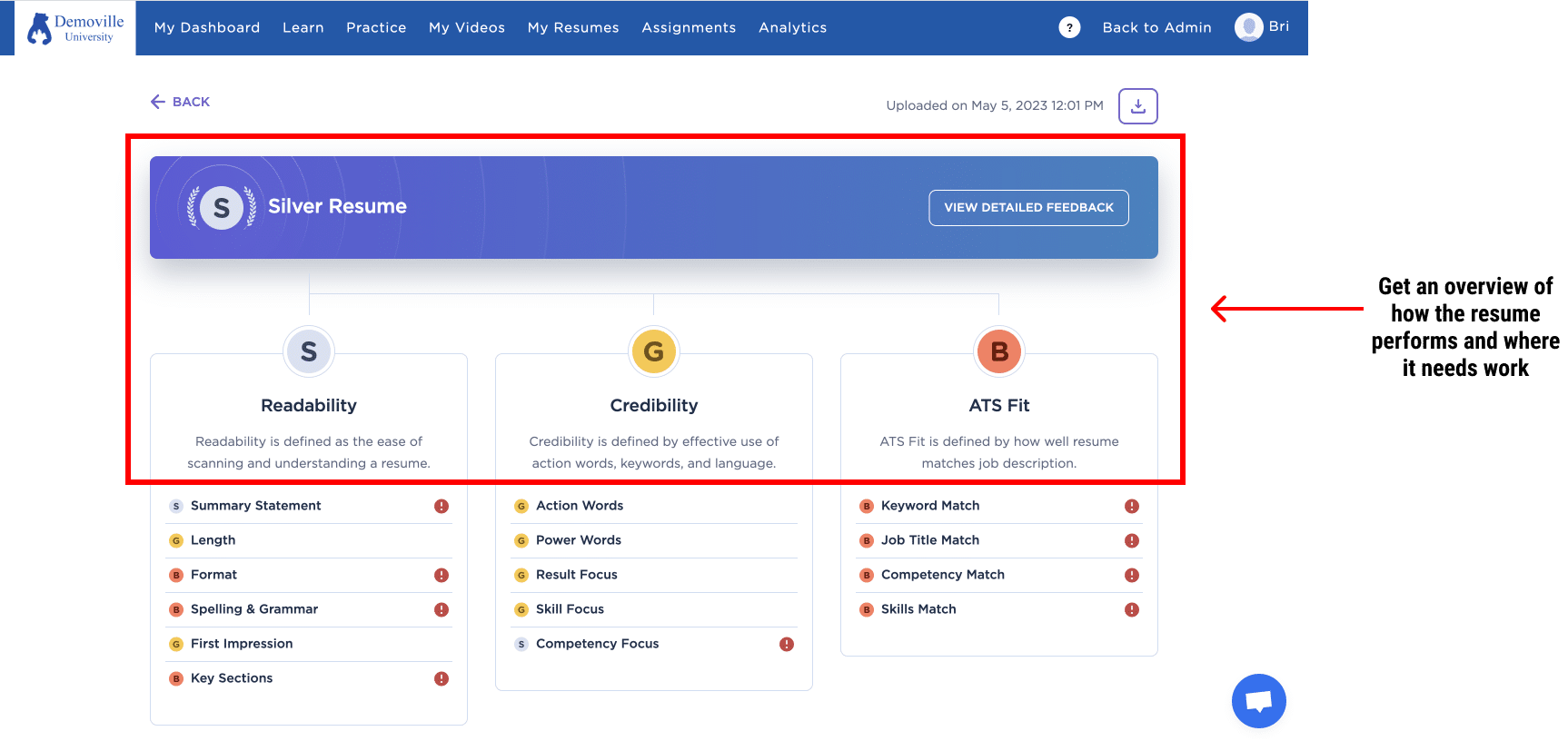 The tool can help universities scale their services and make the most of 1:1 time between students and career counselors.
So instead of students coming with their very first draft (that needs a lot of work), students can submit their first draft to ResumeAI, get feedback, make changes, and then come to the career center with a polished first draft.
How does it help students improve?
Career centers are vital for students. They help with 1:1 counseling, give advice based on specific situations, and just add that human touch.
But with the help of AI, you can scale these services and spend less time on back-and-forth edits.
ResumeAI helps students:
Understand how their resume is performing: They'll get a clear overview of the rating of their resume, either Gold, Silver, or Bronze, and a detailed breakdown of which areas they need to improve. For example, they might present their experiences well with action words, skill focus, and results, but the format could be off.
Use actionable tips to modify their resume: Once they see the overview of what can be improved, they can click on each rating to see a score breakdown with clear instructions on what to fix and examples and replacements for things like font, spelling, and vocabulary.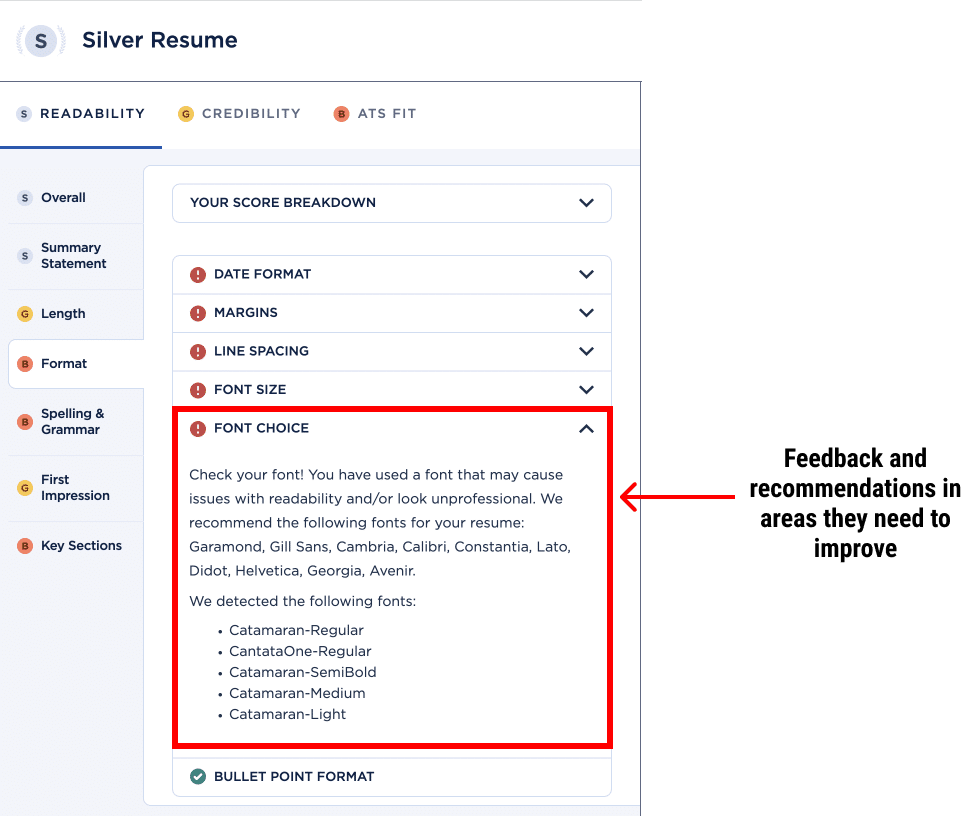 Sell the skills they've accomplished in school: It's really hard for students to show how they would be a good fit if they don't have work experience. The "credibility" section of ResumeAI helps fight this by giving students feedback and examples of how to fill their experiences with action words, power words, result focus, skill focus, and competency focus. So recruiters and hiring managers won't have any doubt about why they should hire them.
Know if their resume will make it past an ATS: This is especially helpful when students are applying to multinational companies. Huge companies are getting hundreds (and sometimes even thousands) of resumes for each job post. They need to use an ATS to filter through, and if a student's resume isn't adapted for it they could be immediately disqualified, even if they are the perfect candidate. ResumeAI points out what students need to include to make it past this first check.
Get feedback faster from career services: Your students need you, and ResumeAI can help facilitate this communication. As an administrator, you can customize the feedback AI gives your students, leave comments on each resume, and you'll be able to give more powerful feedback when students come in for 1:1s because they'll have much better resumes when they come in. So students are getting the best feedback they can get!
How to Adjust Resume Feedback for Your University
Not every university is the same, not every major is the same, and not all physical locations are the same. To help ResumeAI give the right feedback to your students, you can customize the feedback for your school, for different classes, or different majors, depending on your needs.
To do this, administrators can create a scoring guide. This allows you to customize what the AI will look for in a student's resume, and therefore what feedback it gives them.
There are several ways you can customize ResumeAI for your school, including:
Add a due date if you want to make resume creation an assignment
Upload your existing resume template so students have something to start from
Adapt the importance of factors like format, spelling and grammar, skill focus, etc.
Change the score settings to adjust what "gold", "silver" and "bronze" will mean
Add feedback to help guide students based on your resume standards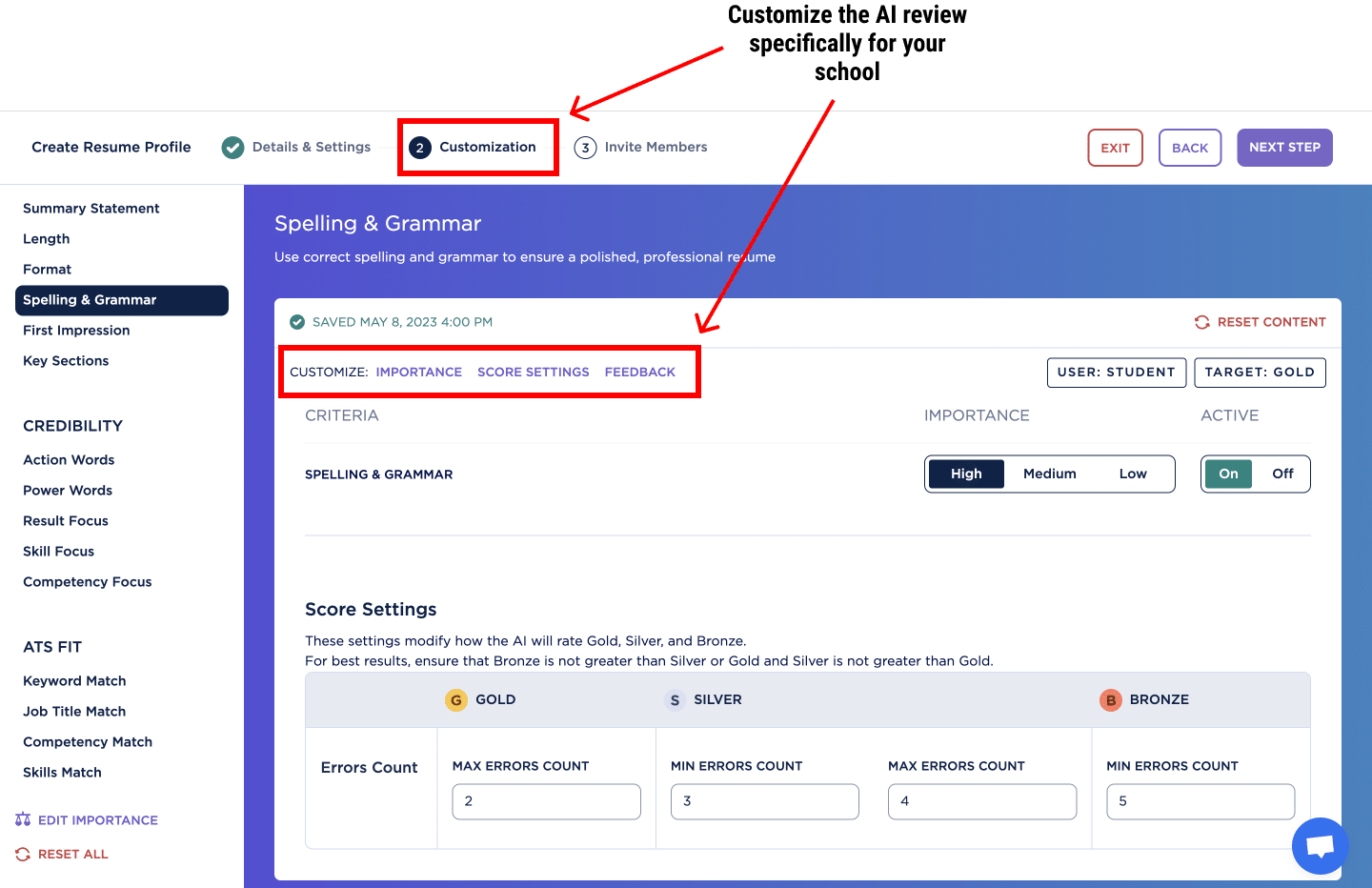 And as an admin, you can always go in and see the same view the students have. So when a resume is scanned you can easily go in and check the AI feedback, and add your feedback directly as a comment.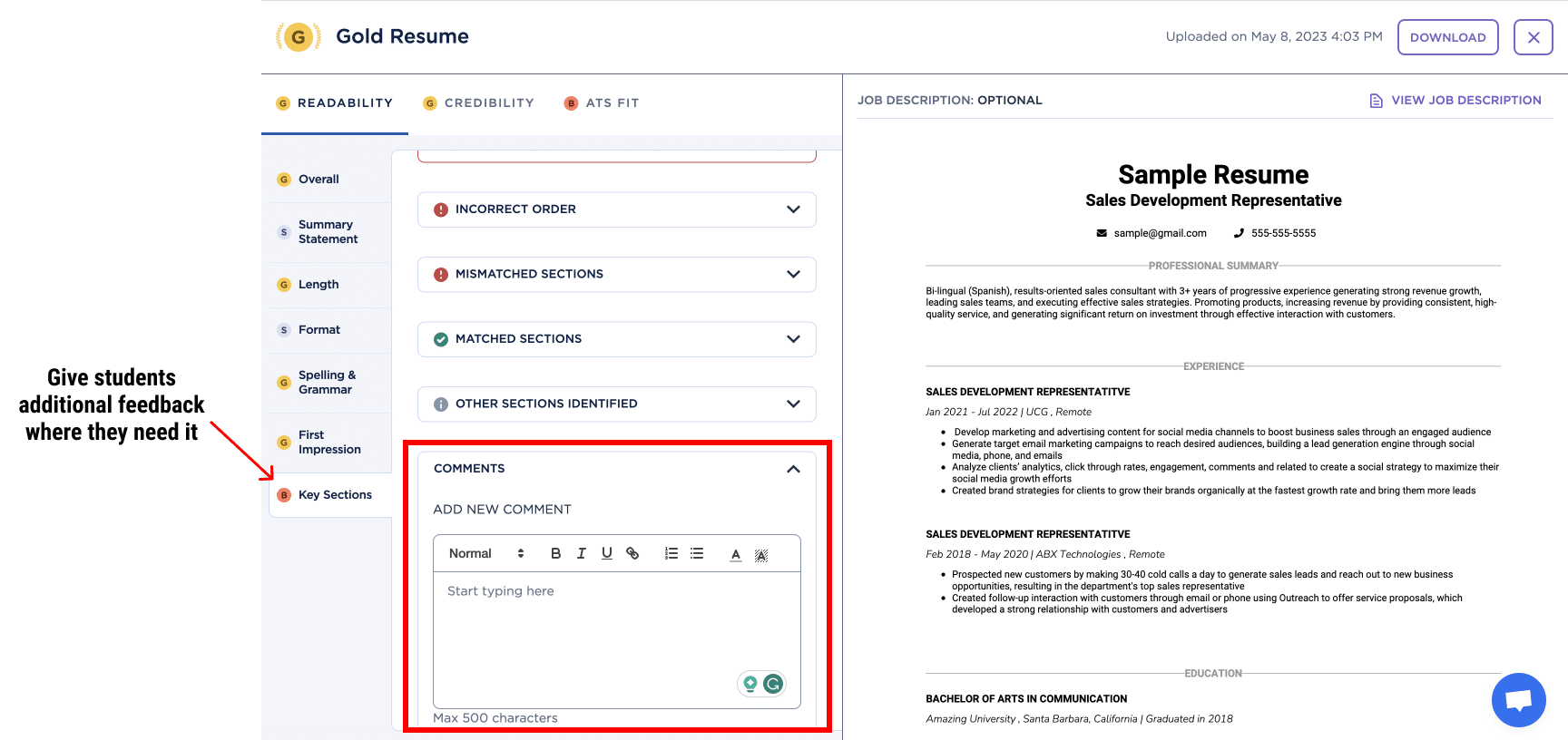 Extra Tips to Get the Most out of ResumeAI
To get the most out of ResumeAI for your students and your career center, there are a few best practices you can follow:
When going through the customization process, use Key Sections based on what your university is looking for. This allows you to mandate or exclude sections, giving students a clear idea of what their resume should include. For example, if you want students to list education first, you can change the order. And if your university has a lot of students that do already have experience, clarify they can adjust their resume accordingly.

If you don't have time for 1:1 meetings, add comments directly in Big Interview. If you have thousands of students to coach and only a few counselors, it's natural that you won't be able to schedule meetings for each one. To help expand your reach, go into the submitted resumes and leave comments on the "bronze" sections, so you can help students with the points they are struggling with the most.
If you do have time for 1:1s, ask all students to submit their resumes to ResumeAI before your meeting. This ensures that you are getting a polished draft instead of a very rough draft, and eliminates unnecessary back and forth so you can help more students on a much deeper level.
Add your university's resume template so students don't have to start from scratch. For some reason or another students might not have gotten your resume template yet, it's safe to upload one just in case so they have somewhere to start and can avoid blank page syndrome.
Key takeaways
ResumeAI will never replace the human touch of your career center. But it will enhance your services so students can come to you with better drafts, you can give detailed feedback based on your experience (instead of formatting and grammar tips), and you can gain back time to help more students.
Learn how you can scale the resume editing process and eliminate seemingly endless back-and-forth. 👇