In today's competitive market, many qualified candidates vie for a limited number of positions.
In such cases, interview preparation is the factor that will help them stand out and land a job.
The candidates who prepare in advance will get ahead of the competition: they'll know which questions to expect and how to answer them in an effective way, they'll know how to sell themselves, be confident, and act professionally.
There are many interview tools out there. Not all are great and not all will fit your needs.
In this article, we'll walk you through two market leaders, Interviewing.com (also known as Interview Prep and Interview Stream) and Big Interview, to help you decide which one's the better fit for your organization.
Interviewing.com vs Big Interview at a Glance
Although we're proud of our platform, we'll give you an objective overview and a straightforward answer about which tool is better for you.
When it comes to interview preparation, both video interviewing tools are easy-to-use. They both have a straightforward design for students, offer assignments, and include mock interviews. But there are a few differences in their features and benefits. Take a look at the table below.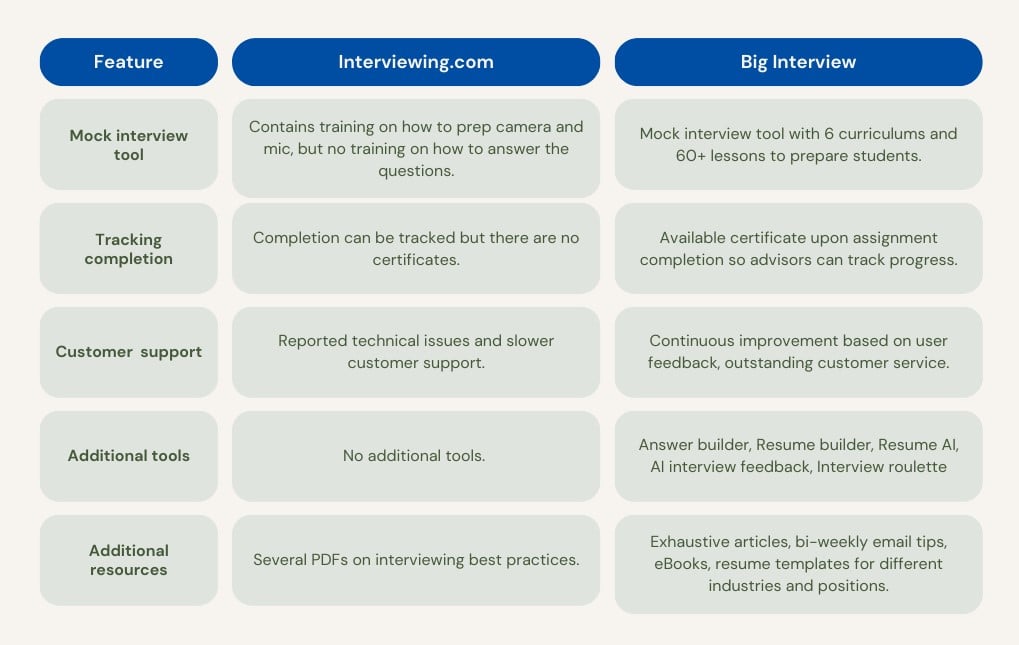 The short of it:
If you need a solution to help students with mock interviews only, then Interviewing.com might be the choice for you.
If you want to help students prepare before their interview, then run the mock interview, learn how to write a resume and get instant feedback to eliminate mistakes, practice with proven tips by a top career coach, and get automatic interview feedback to quickly improve, Big Interview might be the tool for you.
If you'd like to see an example in action, Ramapo College's career center switched from Interviewing.com to Big Interview when they noticed their students needed more help preparing for mock interviews. This increased student engagement with mock interviews, helped them create a clear structure and approach to interviewing, and increased their student employment rates.
For a detailed breakdown of both platforms' core features, keep reading.
Big Interview's Core Features
Big Interview's core features include Learn, Practice, Review, Video and Resume AI, Resume training and builder, Custom sets, and Assignments.
Learn
The Learn feature comprises 6 curriculums dedicated to different stages of a job hunt (Interview playbooks, Job search curriculum, Resume curriculum, Written curriculum, Negotiation curriculum, and First 90 days curriculum).
Each is designed to support candidates through stages like job hunting, resume creation, preparing for an interview, negotiating an offer, and navigating the first three months at work.
These curriculums contain in-depth video lessons and are particularly suitable for visual/auditory learners. For those who prefer to read, each video contains a transcription.
There are 2 additional curriculums available, Fast track with 16 crucial lessons and Mastery track with 50 in-depth lessons, that cover everything students need to be confident (and successful) in an interview.
You can choose what's best for your organization and students. Most universities choose the Fast track curriculum because it covers all the basics to prepare students for an interview. But programs are customizable so students or administrators can choose which lessons they want to take and assign a specific course to students.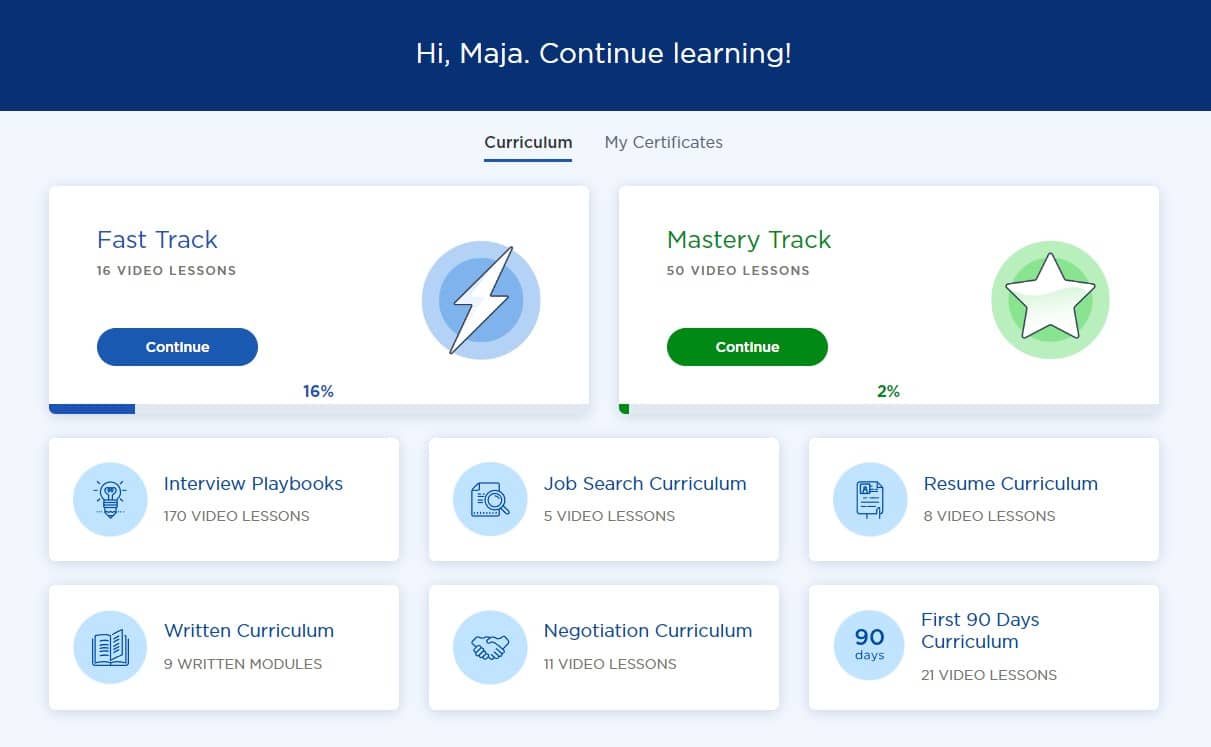 Check out what one of our students, Jade Wang, had to say about Big Interview lessons:
Once a course is completed, students will get a certificate so universities can track completion.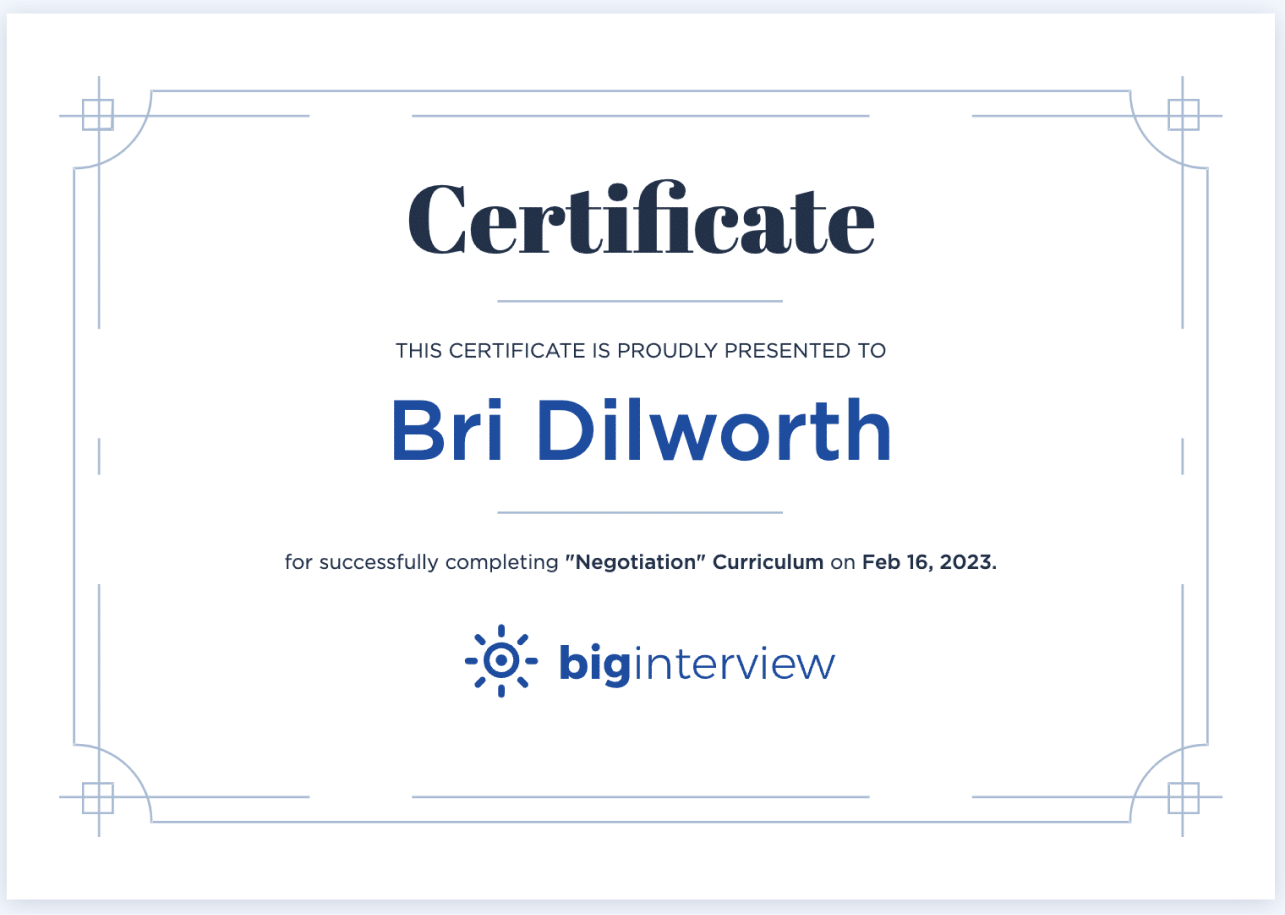 Finally, the free Resources page contains complementary sources students can use to strengthen their knowledge and find interesting tips and tricks.
The topics vary and cover different areas of job search, such as resume writing, interviewing, job search, interview Q&A, behavioral questions (the trickiest group of interview questions), industry-specific Q&A, and work life.
Practice
The Practice section comprises different tools, as well as Custom sets (more on those later). Here's what you can expect.
Mock interviews
With this tool, the candidates can start a mock interview. They'll get an interviewer who asks questions, while they record their answers. It's similar to Interviewing.com's mock interviews. The difference here is that when they are done recording, they get instant AI feedback on the quality of their answer (pace of speech, power words, stuttering, etc.). And there are different types of interviews your students can go through. They can practice general interviews that cover 80% of the questions they will get, or practice industry-specific interviews, interviews guided by a specific competency/skillset, interviews sorted by program type or school, interviews for federal and state jobs, and interviews for veterans.
Interview roulette
The interview roulette will provide candidates with random interview questions in no particular order, a fun way to check their knowledge.
Answer builder
This tool is especially useful for candidates who aren't sure how to answer certain questions. They can write down their key points and supporting arguments here, sort them out, eliminate the weak ones, and expand on the ones they want to cover. There are separate answer builders for the most important interview questions (for these, candidates will get tips and tricks while they're working on their answers), and there's a general answer builder for the remainder of the questions.
Question library
This kind of practice is most suitable for candidates who want to work on difficult questions they're not confident answering. They can go through question-specific tips and practice tricky questions repeatedly, without having to go through the entire mock interview.

Review
Big Interview offers three different ways of reviewing mock interviews. Students can:
Do a self-assessment
Send answers to teachers, mentors, and career coaches to rate them
Get automatic AI feedback
Going through three different rounds of assessment can help them spot areas of improvement and ensure they're confident in their answer and delivery.
Video and Resume AI
As mentioned above, the Mock Interview AI Video tool will go through candidate answers and provide valuable feedback on how to improve. It provides information on the pace of speech, filler words, power words, stuttering, pauses, and vocabulary, which will help your students perfect their delivery and have a confident, smooth answer up their sleeve.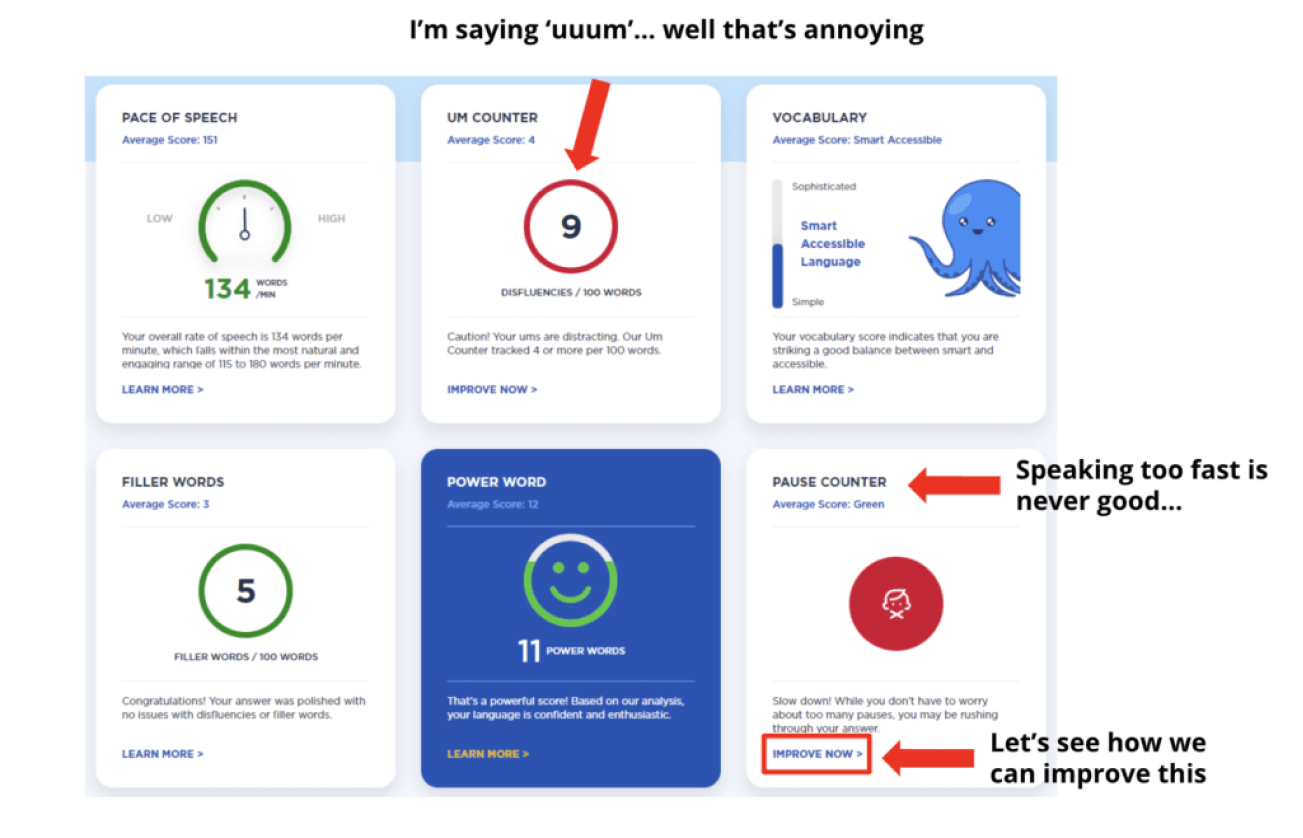 On the other hand, the Resume AI will let candidates upload their resumes and provide feedback on how to improve it.
It provides scores and feedback on key points such as Readability (spelling, grammar, length, the quality of the summary statement, and length) and Credibility (if a resume is result-oriented, action and power words, skills and competencies focus, etc.).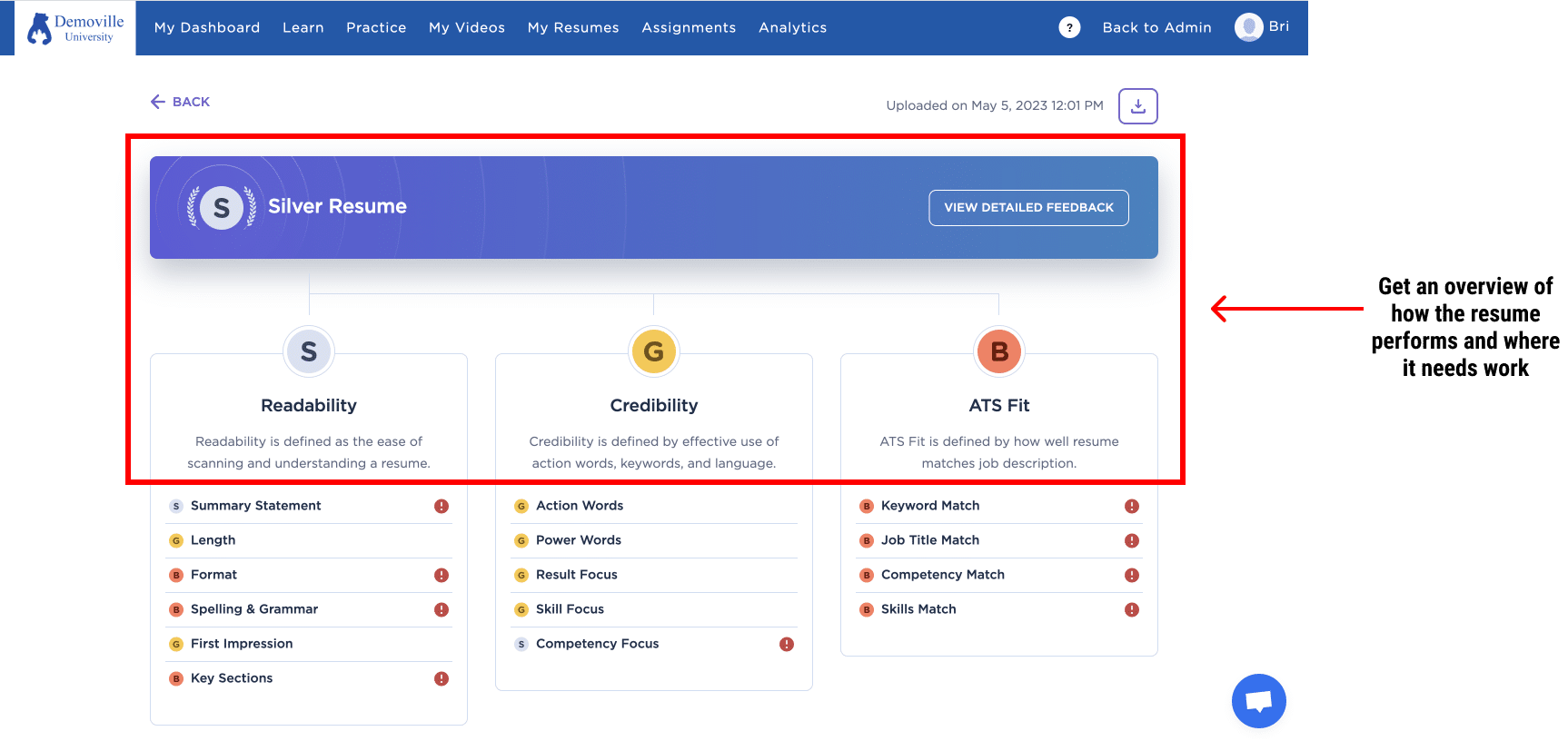 All of this ensures students come to career centers prepared. If they come and they have already reviewed, career counselors can give them impactful feedback instead of using that valuable time correcting minor errors.
Resume training and builder
Big Interview provides help along the entire job search journey, which covers resume creation too. Our resume video course helps candidates with formatting and resume content, focusing on measurable achievements and key skills and experiences.
Resume Builder helps candidates apply the theoretical knowledge in-platform, in just a few clicks. They can choose different formats, pick different layouts, fonts, and other formatting details.
Using Resume Builder for resume creation is optional. If your students already have resumes, they can simply use Resume AI to upload them and get feedback, and you'll be able to customize and add your own feedback and prioritization.
Custom sets and assignments
As we already said, we know that interviewing tools cannot follow the one-size-fits-all approach.
That's why we enabled the option to create custom sets and assignments, so each organization can tailor the courses and practice sets to their unique needs.
This means you can choose which interview prep lessons to include for your students, along with which questions they'll need to answer in the Practice area. Basically, you can create a custom-made mock interview to best check the skills and answers crucial to your students.
For example, if you wanted to create a custom interview training for your engineering capstone course, you could easily do this by picking out the most appropriate questions from the library.

And if you want to add any other questions, you can record your own questions and add them to the assignment.
Why choose Big Interview
Exhaustive training for all job search stages
Big Interview provides candidates with thorough, jam-packed lessons for each step of the job search journey, including resume creation, landing interviews, answering interview questions, negotiating an offer, and navigating through the first 3 months of employment.
Diversity
The platform caters to different user groups and provides custom programs for students with no experience, people with English-as-a-second-language, veterans, career changers, people with disabilities, recent grads, and more.
Created by the leader in the industry
All the training materials are created by Pamela Skillings, our Founder and Chief Product Officer. She has 15 years of experience as a career coach, coaching thousands of people to land jobs at companies like Disney, Google, the United Nations, and Goldman Sachs.
Excellent customer service
Our Help Center is full of information to help you get started, and our Customer Support team is here to assist you with anything you may need. Including an initial onboarding call for both staff and students along with ongoing training and student support 7 days a week.
Interviewing.com's Core Features
Interviewing.com's core features include "Prepare" users, "Conduct" the interview, "Review" interviews, and Custom sets and assignments for admins.
"Prepare" users
Before filming the interview, users will be asked to prepare by checking their connection, webcam check, and microphone check. After all the tests have been successfully passed, a student will be able to record their answers.
Additional resources for students to prepare:

"Conduct" the interview
This is the main Interviewing.com feature. Before conducting the interview, that is, filming their answers, students will be asked to film a short introduction video. Having completed this, the first interview question will appear automatically.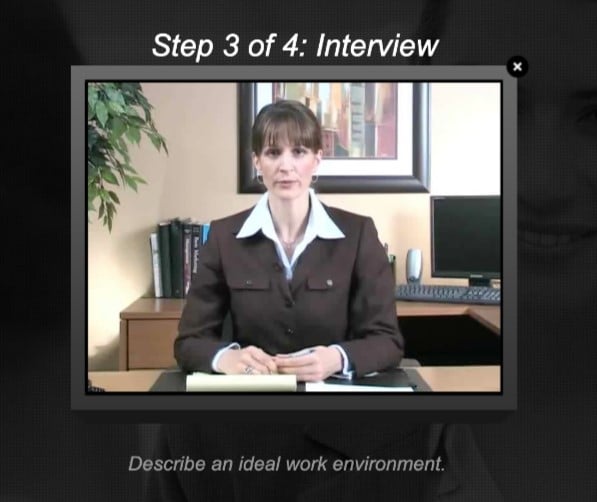 After recording each response, students will get three options: review, retry, or submit a response. Having submitted their final answer, they will be asked to film an Outro video, and then all of their responses will be uploaded. Students also have the opportunity to view and self-assess their responses.

"Review" interviews
The Review feature can be used by students (self-assessment), and others (teachers, mentors, career advisors), and contains a Summary with all the reviews compiled.
The feature provides a standard way of assessing student answers, focusing on verbal and non-verbal communication and elements such as eye contact, posture, confidence, message content, filler words, and similar.

Custom sets and assignments
This feature allows admins to create and record custom questions and create tailor-made sets and assignments for assessing different skills, or preparing students for different types of interviews.

Why choose Interviewing.com
Universality and simplicity
This is a decent, standard mock interview tool that provides features for creating and assessing student interview preparation, and focuses on interview practice (without training).
Shareability
Sharing assignments for assessment is quick and easy, as each assignment can be automatically shared internally if a list of recipients is pre-set.
Pricing
The tool is cheaper than other interview prep options, as it provides only mock interviews with no training on how to answer interview questions, increase confidence, or modules related to other areas of job search.
Interviewing.com vs Big Interview: Final Decision
If you're looking for a simple, stand-alone mock interview tool, choose Interviewing.com.
If you want a tool where students can learn how to answer interview questions confidently from an industry-leading expert, practice their answers, and get automatic feedback to scale your career services, go with Big Interview.
Final Thoughts
When choosing an interview platform for their students, some of the key factors organizations should consider are the scope (mock interviews only or the entire job search process), user-friendliness, support, pricing, interview types and formats, customization, assessment and feedback, and similar.
Interviewing.com offers a decent, stand-alone mock interview tool for organizations that want to focus on mock interviews only.
Big Interview provides a more detailed mock interview tool with exhaustive training materials (video + written) students can go through before practicing. It also provides 3 different levels of feedback. Additionally, the platform focuses on the entire job search process, from creating a resume and mock interview tools to negotiating and navigating the first three months in a new company. It's a great choice for organizations that want to help students develop core job-searching skills that will serve them in the long run.
___________
Here's how we can help you:
Tired of low student employment rates and limited career center functions? Discover actionable lessons and interview practice for users here (Rated with 4.9/5 by 1,000,000 users).
Schedule a tour of Big Interview.
Learn how you can help students land jobs with a story of how AJ landed his first job in tech.