First up, our resume expert and professional resume writer Kimberly Sarmiento analyzes a new grad resume and makes a few key changes to create a strong resume sample that you can use for inspiration.
You have four years and tens of thousands of dollars invested in your bachelor's degree and now you are ready to find the job of your dreams.  Unfortunately, you are not alone.  There are thousands of fresh graduates – and some seasoned employees – looking at the same jobs you are.
You were a great student – head of your class even – but employers aren't busting down your door looking to hire you.  So what do you do now?
Let's start with the most fundamental element of your job search – your resume.  Does your resume make you stand out from your competition?  Are you communicating your full value to a potential employer?
Unsure?  Read on to see recommendations and examples on how to do just that.
Resume Rules for New Grads
First, it is important to understand that any resume – from copywriter to CEO – should be limited to 1-2 pages.  If you are just starting out, employers will expect your resume to be one page.  Therefore, you should not try to "pad" it with information that is not relevant or of interest to a hiring manager.
Prioritize the information you want to convey in the document and if you do need to go to a second page, make sure the most important items are listed on page one.
Let's review the information you might want to include in your resume and the order of importance you should place on that data:
Education: Degrees and Certifications (and the name of the University that conferred your degree), Thesis or Dissertation Titles, GPAs (3.5 and higher), and special honors or recognitions (graduated with honors, Deans List, etc…).As a fresh graduate, you will want to list this information near the top of your resume. As your career progresses, you will be able to move it to the bottom of page two of the document.  You may want to include a list of relevant courses completed but only do this if you cannot convey those skills in any other manner.
Professional Experience: List first experience (paid or unpaid) that relates to your career goal.  This includes internships, TA positions, and work-study.  Next list of professional experiences unrelated to your career goal (part, full-time, or seasonal employment can be included here).Demonstrating that you have work experience is important, even if it is not directly related to your goals.  At times, you might have to list related and unrelated experiences under the same heading to avoid confusion.
Technical & Business Skills: A resume can be organized in different ways, but rather it is listed early or late in the document, you should include a list of technical and business skills that you consider yourself proficient in.
Volunteer Work: If you are light on professional experience, you can use volunteer work to demonstrate skills and capabilities.  How detailed you are in this section will vary depending on how much room you have in your resume. You might want to list achievements in this section if you planned an event, contributed to fundraising activities, put together a newsletter or website or other such activities.
Professional Associations: You may list professional associations and student organizations on your resume, but this list should be limited and should not include high school clubs or activities. You will also want to list any positions you held and major accomplishments you completed if there is room.
Languages: If you are proficient enough to conduct business in any foreign language, you should include that on your resume in the skill section or by itself.  This can set you apart from other competitors in your age/experience range.
Honors & Awards: If you have space, you can include a listing of honors and recognitions.  It should be kept brief and apply only to recent (i.e. college) activities.
Presentations/Publications: While this likely applies more to graduate students than undergraduates, if you have had the opportunity to make conference presentations or have been published, you should include that information on your resume at some point.
Read on for more advice on how you can use each of these to demonstrate your value to the employer.
However, I also want to include a brief list of things you should probably leave OFF:
High School name/degrees and activities.  Even if you lettered in three sports, it is not a good idea to reference high school experiences.  Concentrate on your collegiate career.
Hobbies and personal interests.  While this can work in Europe, US employers are not usually interested in your personal hobbies or interests.  This might come up in an interview, but it is not usually a good idea to mention it in your resume.
Personal information and social media links.  In an age when people are increasingly open about their personal lives to the point of divulging personal information with relative strangers via social media, it is good to take stock of how much you share with an employer. It is fine to include your LinkedIn address or a portfolio web page if appropriate, but you should probably leave off links to Twitter, Facebook, and Instagram (Exceptions: If you use your Twitter account to showcase your professional expertise and/or if you work in a field that requires a strong social media presence).It is also advisable to maximize your privacy on social media sites and screen twitter posts for things an employer would consider inappropriate.
Resume Requirements for All Experience Levels
Hopefully, you are already starting to see how your resume could take shape.  Perhaps these lists have helped you remember things you have left off and evaluate the information you have included in a new light.
Please consider the next set of recommendations as to things all resumes should include, even as your career progresses.
A summary statement that conveys your career objective and value to the employer.  This is not the same as an objective statement.  Typically this section would be represented as a title such as "Sales Professional" or "Research Scientist" and a 3-4 line summary paragraph that communicates your value to the employer. This should not include first-person pronouns such as "I" or "my," but be written with you as the understood subject of the paragraph.
Include a "Summary of Qualifications" section or "Career Highlights" later in your career.  This is a list of 4 or 5 bullets that if the reader scans them, they will quickly understand what you offer as an employee.  I see many resumes with these types of sections, but they are focused on the wrong thing. This is not the place to say you are proficient in MS Word, but it could be a good place to indicate that you are multilingual.
Achievement-driven bullets and quantifiable measurements.  It is becoming more and more important in resumes that you explain not just what you did, but also how well you did it.  You will want to make note of times when you improved processes, elevated revenue, and lowered costs in addition to any other measurable contribution you have made to the success of an organization or company. This can be individual achievements, things you did as part of a team, or the result of team efforts that you led.
Resume Makeover — New Grad Resume Sample
For an illustration of how these recommendations can strengthen your resume, consider the following before and after resume sample.
The Candidate: John Doe is a soon-to-be university graduate interested in a career in finance, but with a limited finance background.
Please note: Identifying details have been changed and/or disguised to protect privacy.
BEFORE — John Doe's Old Resume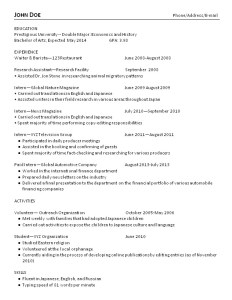 AFTER: John Doe's New and Improved Resume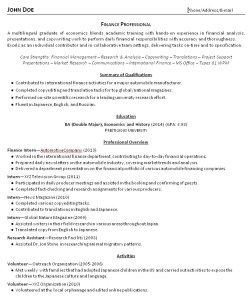 What Kimberly Changed and Why
Look at the difference that a few strategic resume changes can make!
This candidate has some strong pluses and even though we removed the company names in the interest of anonymity, he had also completed internships with some highly recognizable businesses.
However, the resume as previously presented did not make a strong case for the individual's job candidacy.  Consider the changes made:
Summary Section is Key. First, I added the summary section which is important to give the reader an immediate impression of who you are and what your goals are.  Without such a section, the potential hiring manager might be left wondering why he or she is reading your resume at all.
Make Most Relevant Strengths Prominent. I added a core strengths section and summary of qualifications with four short bullets that provide the reader with a quick understanding of the candidate's accomplishments to date.  As this candidate's career progresses, it will be best to include quantifiable measures and dollar figures to support financial achievements.  For now, this shortlist will suffice.
Use Space Wisely. I compacted the presentation of education information.  When writing your resume, it always best to present information concisely.  Sometimes, people go too far with this and don't end up providing enough information.  But generally speaking, for resumes, less is more.
Reverse Chronological Order.  I put the professional overview in reverse chronological order and simply listed years for when the work was completed.  There are times when adding months might be required for an application, but using just years on a resume creates a cleaner career progression for the reader to follow.
Additionally, you always want your most recent work to appear at the top of the list and your oldest work at the bottom of your resume.  In this instance, I removed the barista work altogether as it was not needed.
Keep It Focused. Lastly, I simplified some of the information in the activities section.  This was done – in part – because an employer cannot ask you religious questions in the US and I tend to advise clients not to reveal much in terms of political or religious leanings.
Sometimes it is unavoidable, but when you can emphasize the value of the achievement by itself, I recommend that approach.
What do you think of John Doe's new resume? Are there techniques that you can use to make your own resume more memorable?
Looking for a resume makeover? Big Interview is interested in reader resumes to spiff up and feature in future blog posts.
We can change/hide your identifying details if you want to remain anonymous. Send us an email at resumes[at]biginterview[dot]com with your current resume and a description of your current resume challenges.
More Resume Resources from Big Interview