Whether you're looking to land your first job, changing careers, or simply exploring new job opportunities, writing a great cover letter might seem daunting at first. However, once you read this comprehensive guide and check out our superb cover letter examples, you'll be well on your way to becoming an expert cover letter crafter.
Cover Letter Examples (By Career Situation and Seniority)
Our resume cover letter examples are just what you need if you're going to learn how to write one for yourself. Keep in mind that all cover letters have a similar structure that you should follow:
Contact Info – Add your name, address, phone number, and email address.
Greeting – Always start with a professional greeting that addresses the hiring manager by name.
Introduction – Grab your reader's attention with a first paragraph in which you introduce yourself and state your intention to apply for the open role.
Body paragraphs – Write one or two paragraphs that highlight your professional experience, achievements, skills, and education.
Closing paragraph – Insert your call to action and ask the hiring manager to invite you for an interview. Don't forget to sign your name at the end.
With this information in mind, let's check out some of the best cover letter examples!
Cover Letter Example 1: Returning to Work after a Job Gap/Relocation
Dear Mr. Hennessy, My name is John Young, and I'm applying for a software engineering position at your company. I'm excited about your organization's mission to change the world, and I'm passionate about your tech stack that includes Scala, Java, React, and Python, all languages I've used in the past. 
Recently, I took a year-long hiatus to aid my friend who launched a startup accelerator. During that time, I learned quite a bit about business strategy and going from zero to one hundred while working on a very limited budget. I'm confident that I can turn those skills into new products for your company. 
I'm prepared to get back into the game and restart my career as a software engineer in your beautiful city. I'm positive that I'm the perfect person to lead your middle-out engineering team. I would love to schedule a meeting and discuss this further. 
Our Take: The candidate starts by expressing his excitement about the company's goals and then seamlessly proceeds to highlight the programming languages that he excels in. This way, he showcased that he is the right person for the job. He then explains that the job gap that appears in his resume was due to working on a personal project that has taught him some valuable new skills.
Cover Letter Example 2: Changing Careers
Dear Ms. Garcia,
Blending a formal background in marketing with proven success in retail sales and customer service roles, I am looking to transition into public relations and believe I would make a great fit for the advertised position of Public Relations Specialist at your company.
Having both used and sold your products, I am already well versed in your brand and both present and past years' offerings. I have followed with excitement as you launched in European and Asian markets and incorporated an international feel into your product line. I would bring both passion and expertise to championing your company with the press and public.
I am already trained in creating buzz and awareness through social media channels including Twitter and Facebook. When my sales team decided to participate in Walk for a Cure three years ago, we used social media to heighten our sponsorship support and raised more than $20K for the event.
Confident my transferable skills make me a solid candidate for this opening, I respectfully submit my resume for your review and request a meeting to discuss the opportunity further. I will make myself available at your convenience and look forward to your call to arrange a time. Thank you for your time and consideration.
Our Take: This candidate leads off with a strong statement about her career change goal and her fit for the specific position at hand. She uses the rest of the letter to discuss her interest in the company and some of her key transferable skills/experience.
Cover Letter Example 3: New Graduate/Entry Level
Dear Ms. Morris:
I am writing in response to your listing in the Memphis Gazette for a nurse's aide. Please accept my enclosed resume for consideration.
As a CPR-certified lifeguard and an LPN student at Memphis Community College, I have the formal training necessary for this position. Additionally, with two years of experience in retail sales, I have excellent customer service skills that can translate well to patient relations.
After you have reviewed my resume, I hope to meet with you to discuss how I can be beneficial to your team. I look forward to hearing from you to schedule an interview at your earliest convenience.
Our Take: Nice concise approach for an entry-level candidate. She doesn't have years of nursing experience to point to, so she highlights her training and how her non-nursing work experience has also helped to prepare her.
Cover Letter Example 4: Professional
Dear Mr. Carter,
As an Accounts Payable & Receivable Specialist, I offer a proven ability to accurately process invoices, payments, reimbursements, and tax reports. I quickly learn and adapt to software changes and updates and help team members resolve issues and problems they are having with data input and processing.
Examples of my accomplishments include:
Handled biweekly accounts payable processing of checks and ACH payments; reconciled payments made to accounts payable software and addressed any discrepancies that arose.
Created a spreadsheet that listed bank and routing numbers to expedite the processing of expense reports.
Uploaded and reconciled monthly phone bills for approximately 200 branches and 4 operational centers; total billing amounts were coded for various departments and branches as required.
Confident I will prove valuable to your company, I respectfully submit my resume for your review. I would also like to request a personal meeting to discuss your upcoming goals and how I can help you achieve them. I will make myself available at your convenience and look forward to your call. Thank you for your consideration.
Our Take: For an experienced candidate, a bit more detail is expected. This candidate customized the bullet points to specifically communicate his experience with the position responsibilities listed in the job description.
Cover Letter Example 5: Manager
Dear Ms. Nguyen,
As a Human Resources Manager with a strong customer service background, I offer expertise in employee relations, benefits administration, and generalist duties. I have made significant contributions to succession planning and workforce engagement as well as ensuring compliance with employment and labor requirements.
I am also known for my ability to help identify and implement key technology and process improvements. I am well-versed in Six Sigma methods and have led projects which produced significant and sustainable savings. Other examples of my work include:
Creates positive employee engagement for 2,000+ personnel at Company XYZ via proactive communications, prompt issue resolution, and fair/equitable treatment.
Led Six Sigma project related to FMLA administration and online orientation programs for Lean Belt training.
Proved instrumental in the deployment of an E-recruitment system that serviced a Fortune 200 company; defined policies, procedures, and communication planning for the project.
Confident I will make a positive impact on your organization, I respectfully submit my résumé for your review. I would also like to request a personal meeting to discuss your goals for this position and my potential contributions. I will be available at your convenience and look forward to your call to arrange a time. Thank you for your consideration.
Our Take: This cover letter highlights the applicant's relevant accomplishments as a leader and manager. It goes beyond stating familiarity with the required job duties and emphasizes results in key projects. Remember that you don't want to copy and paste your whole resume into the cover letter. Think about the key selling points that you want to feature prominently. The goal is to make them excited to learn more about you.
Cover Letter Example 6: Senior-Level Executive
Dear Mr. Jones,
As a Senior-Level Finance & Operations Executive, I offer proven success in maximizing productivity and improving profit margins. My work spans companies and business units at various stages of growth, including start-up, established, and turnaround settings.
Believing profitability requires strong revenue generation and cost controls, I monitor budgets and sales performance closely to identify areas for improvement. I am known for enhancing overall performance through technology upgrades, advanced employee training, and implementation of best practices.
Examples of my work include:
Drove successful launch of start-up company by hiring a talent team, defining product development plans, and leading go-to-market strategies to achieve $35M+ revenue and 50% margins within two years.
Managed daily operations of a $150M subsidiary that provided a complete suite of manufacturing solutions in the US and Canada; improved profit margins on overall product line by 10%.
Proved vital to reorganization leadership that cumulated in a 10% productivity improvement in the sales and service organization and a 20% improvement in support organizations.
As CPA and MBA, I am confident I will prove valuable to your company and respectfully submit my resume for your review. I would also like to request a personal meeting to discuss your upcoming goals and how I can help you achieve them. I will make myself available at your convenience and look forward to your call. Thank you for your consideration.
Our Take: This cover letter nicely distills years of experience into a concise overview that really "sells" achievements most relevant to the specific advertised role. Each bullet presents a compelling high-level overview of a specific position, complete with impressive data points. It's hard to be this concise when talking about a long career! However, a concise letter is always more effective — make the most exciting information jump out of the letter and grab the recruiter's attention.
Cover Letter Examples (By Industry)
Teacher Cover Letter Example
Dear Principal Townson,
With five years of experience in teaching high school and a master's degree in Chemistry, I believe I am an ideal candidate to fill the science teaching position you have open with the retirement of Stacy Jones. My teaching experience was at John Smith High School in Smallville where I taught all levels of Chemistry and helped host the science fair each year.
I keep up with all developments in teaching and chemistry by reading literature and attending conferences hosted by the American Association of High School Science Instructors. I have also volunteered my time at the community center, tutoring all levels of students in general sciences.
I look forward to working in this community and teaching at Rosewood High School. Please review my attached resume. I will be contacting you next week to schedule an interview. Thank you for your consideration.
Our Take: We love how this cover letter emphasizes the applicant's relevant qualifications in the first line. This puts emphasis on her ability to do the job. Later, she briefly explains how she has kept current with industry developments and shows passion for her career by mentioning her volunteer work.
Nursing Cover Letter Example
Dear Dr. Manning,
Five years ago, I worked my first shift as an emergency room nurse and have never before left the workplace more fatigued and fulfilled. Today, I am proud to declare that I am still an ER nurse. I love this work partly because I flourish in a fast-paced environment. I also take great pleasure in the opportunity to care for patients every day and be there for their loved ones. This is not easy work, but I can't see myself doing anything else which is why I am applying for the position of Emergency Room Nursing Lead. I believe that I can be a great asset to your team and that I have a proven track record when it comes to patient care as further shown in my attached resume. 
I have reviewed the qualifications required for this position. I am confident to say that I possess all the skills and experience needed. I have a BSN in nursing and have held a nursing license in good standing for over five years. I have experience working in emergency rooms at several large hospitals, and I fully understand all of the regulations that are in place. I also have the kind of team leadership that you need to ensure that even the busiest nights in the emergency room go as smoothly as possible. 
I would love to sit down with you and discuss my qualifications along with your needs when you are free. Meanwhile, please review the rest of my application package. There you will find all the information you need. 
Our Take: The candidate starts by stating her experience and expresses how difficult a nursing job can be. However, she then turns it around by stating that the rewards are worth the effort. We like her storytelling approach and how she highlights her passion for working with patients and transitions into why her abilities qualify her for the job.
Business Analyst Cover Letter Example
Dear Ms. Sousa,
I am applying for the advertised business analyst job at your company that was posted on your website. I am a data-driven critical thinker with excellent interpersonal skills who holds teamwork in high esteem but can also function independently. I am always searching for fresh ideas and solutions that I can bring to the table to increase the company's efficiency. 
During my time at XYZ Group, Ltd., my previous employer, I developed and implemented a new program designed to drop needless business expenses. In just one year, the costs were reduced by 15%. Apart from project management, I spearheaded the collection and analytics of business processes and data toward creating more efficient business models. Thanks to my achievements, I was ranked as one of the best employees in the company and received recognition from top stakeholders.
I would be delighted to join your team because I believe that the experience, skills, and vast knowledge that I bring to the table could improve the company's operational performance. Thank you for your time and consideration, and I look forward to speaking to you soon. 
Our Take: Adopting a confident tone in your cover letter is a good way of showing the hiring manager that you have the necessary skills and experience to shine at the job you're applying to. It's also great when candidates state their accomplishments and showcase the contributions they can make to a company if hired.
Cover Letters: Basic Rules to Follow
What is a cover letter and how do you write one? It can feel like a chore but it's actually one of the surefire ways to get an actual job interview.
There are five simple rules to follow if you want to write cover letters that make hiring managers giddy with excitement before meeting you:
1. Your cover letter should be grammatically correct and error-free
Avoid making grammar and formatting mistakes to give your cover letter a professional appearance (regardless of the job you're applying for). If you're not a particularly good writer, use a tool such as Grammarly to clean up your text, or kindly ask someone to read and edit your document.
Hiring managers get turned off when noticing mistakes in your cover letter. It sends them the wrong message about your professionalism and attention to detail.
2. The maximum length of your printed cover letter should be one page
If an employer asks for a physical cover letter, make sure it's only one page long. You'll want to add essential information highlighting your professional experience and best personality traits. The letter should also be printed on high-quality paper just like your resume.
If you send your cover letter digitally, cut and paste it into the email and attach your resume. Make sure that the letter is easy to read with minimal scrolling. Get to the point and be succinct. 
3. The letter should include examples of your qualifications
You can write a cover letter in paragraph or bulleted formats, but either way, you should include examples of your achievements and credentials. While you want to be brief, you also want to encourage the reader to review your resume for greater detail. The best way to do that is to call out two or three things you have done professionally to catch their attention and make them want to know more about you.
4. Your letter should address a specific person
Whenever possible, do some research and learn a few things about the person who will be reading your cover letter. This is a minor detail and some hiring managers won't care, but it can distinguish you from your competition all the same. More importantly, don't send an obviously-generic letter that has not been customized for the company/position.
5. Your letter should end with a call to action
When you close your letter, be sure to ask for a meeting. It is obvious that you want an interview when you submit a cover letter and resume, but job hunting is usually helped along with a proactive approach. Therefore, at every point in the application process, you should seek to move along to the next stage of consideration.
Don't miss the opportunity to encourage a meeting with the hiring manager when ending your letter. Also, be sure to thank them for their time and consideration.
Do You Need a Cover Letter?
Second chances to make good first impressions in the job search are scarce. Adding a great cover letter at the beginning of your resume gives you the opportunity to "wow" the hiring manager. It also helps you influence their opinion prior to meeting you. Remember that your resume cover letter will be reviewed by a real live person who will be deciding whether or not you are worth their time to interview. It makes the difference between your resume going to the "yes" pile rather than the "file for future opening" (or the real or digital garbage can).
Even though there are times when a recruiter or hiring manager will skip right over your cover letter and focus on the resume, other screeners won't even look at your resume if the cover letter doesn't get their attention. Why take a chance? Write a strong cover letter and you'll know that you're doing everything possible to get past the gatekeepers and score an interview.
There are plenty of resources on the internet that you can learn from. A simple Google search might take you a long way when looking for a job. But once you find one you really want, you start thinking that you're not ready to go get it.
A strong cover letter can give you confidence in your application. Send one along with your resume and you'll know that you might have already stirred a potential employer's curiosity.
If you're struggling with writing your cover letter, the samples that you've seen so far will supplement Big Interview's Resume Curriculum. Everything you need to know about writing persuasive resumes and cover letters can be found there including structure formatting, writing great summary statements, and meaningful 'Thank You' notes.
It's really easy to use. Just log in to your Big Interview account, select 'My Resume', and press the 'Watch Lessons' button under Resume Curriculum.

You'll then be taken to the lessons page where you'll have access to some great advice like how to add high-value details to your letter, how to follow a job application's requirements, and how to turn them into advantages.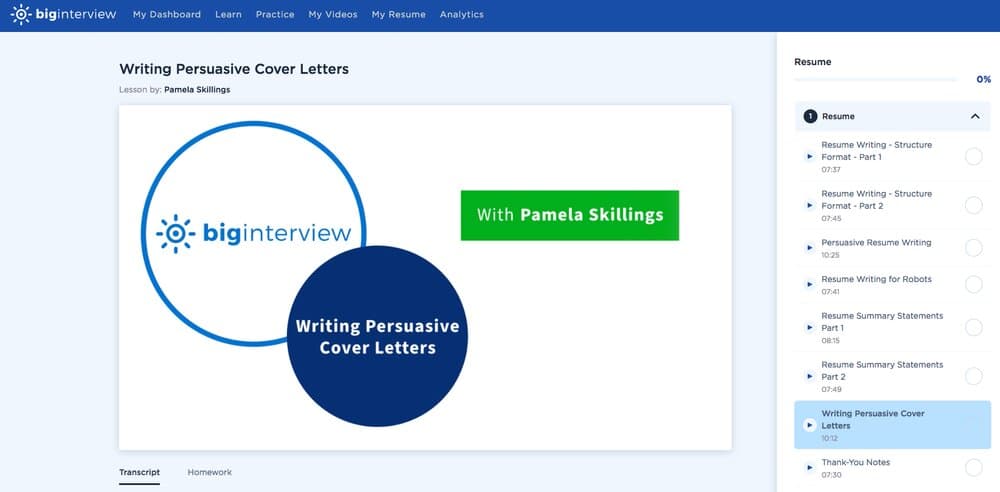 Three Situations When a Good Resume Cover Letter is Critical
1. When you need to include information that should NOT go into the resume
A resume is a formal business document with strict rules that must be followed. These rules include not writing in the first person or including personal information like your desire to relocate.
However, there are times when you need to communicate this type of information in order to make the case for your fit for the position.
​​Example: Your cover letter can be used to communicate your intention to make a transition in your career or move to another city/state. Recruiters receive thousands of unqualified resumes for every position. They will look at your resume and cover letter and immediately trash them if they don't see a fit — assuming that you are another one of those annoying applicants who applies for every job posted. This is always a challenge for career changers and individuals looking to relocate and a good cover letter can make a big difference.
Example: Your cover letter can also explain away other aspects of your particular career situation that might not be appropriate to include on your resume. For example, if you took some time away from the workforce, but have kept your skills and knowledge up-to-date.
In some job ads, the company will ask for specific information to be included in your cover letter. This technique is used to make screening easier – if someone can't follow simple application directions, why waste time on an interview? Pay careful attention to the information they request and be sure to address it.
One problematic area is if they ask for salary requirements to be included in your cover letter. Companies make this request to help them rule out individuals with higher salary requirements than they have budgeted for the position, but it can also lock you into a lower pay range than they might offer you otherwise.
However, ignoring the request could disqualify you as well. Ergo, I suggest you research the average salary for the position you are applying to in the state of the opening and include a range slightly above and below that number.
2. When you want to reference a network connection
There is no right way to include in your resume, "Our mutual associate John Smith referred me to this role and says he thinks I will make a great fit for the job opening." That is a reference line reserved solely for the opening paragraph of a cover letter. There are multiple ways you can mention a network connection or mutual friend in a cover letter, but such a statement has no place in a resume whatsoever.
Note: In professional resume writing, it has become passé to include a list of references on your resume or even the line "references available upon request." Such information takes up valuable real estate on your resume (which should be 1-2 pages max) and it is best to focus on your achievements and qualifications instead. Besides, the hiring managers know you will give them references when they request them.
Rather than waste space on your resume, prepare a reference sheet with the same header as your resume and give it to the interviewer at the end of your meeting.
This sheet should include the first and last names of your references, their titles and company names, city and state, phone numbers, and e-mail addresses if possible.
You can even be proactive and have letters of recommendation ready to hand to the hiring manager at the end of your meeting, but don't send them prior to that initial interview.
3. When you want to emphasize why you're interested in the company
One way to distinguish yourself as a job candidate is to research the company you are interviewing with and talk about things you like or ask questions about the work they have coming up. This demonstrates your interest in their particular organization as opposed to them being just another job ad you responded to in your desperate attempt to find employment.
You can use your cover letter to show that you've done your homework and see a strong fit with the organization. Within the second or closing paragraphs of your cover letter, you can mention being interested in the specific work the company does, recent grants they have been awarded, a product they recently released, etc.
Again, this is not appropriate for inclusion on your resume, but adding it to your cover letter can help you stand out from the stack of applications the hiring manager is sorting through on the day your resume passes by him/her.
Cover Letter Format Examples
When choosing a cover letter format, consider what stage your job search is in and how you want hiring managers to perceive you. Cover letters are used for many different reasons and the proper format for each one varies.
The three main types of cover letters are the application cover letter, the prospecting cover letter, and the networking cover letter. You may also send cover letter emails which are an effective and increasingly common way to introduce your resume.
Let's take an in-depth look at each type of cover letter and see exactly what sets them apart.
Application Cover Letter
This is the most common cover letter used alongside a resume during a job application. It's geared toward a specific job, and it is designed to highlight the skills and specifications listed in the job posting.
The application cover letter is a vital instrument that gives you the ability to sell yourself as a job candidate. It rounds off your resume and expands on relevant parts of your work history and qualifications.
Application Cover Letter Example
Dear Ms. Osbourne,
I am writing this letter to express my interest in the graphic designer opening as advertised on your website. 
If hired, I believe I can begin making valuable contributions to the design team of your company from day one. I possess a wide range of abilities that combine fresh art and design principles. Furthermore, my knowledge of Adobe Creative Suite, HTML, and CSS will allow me to play a pivotal role in the implementation of your design initiatives. 
During my previous job, I led a team of six designers to develop and implement the graphic, layout, and production of communication materials while helping clients cut their costs by an average of 17%. I also oversaw the efficient use of production budgets running from $3,000 – $20,000 and developed a myriad of marketing programs including advertisements, presentations, infographics, newsletters, brochures, and logos that have improved client transactions by an average of 35%.
I look forward to discussing face to face how my skills and strengths can best serve your company. In the meantime, please review the enclosed resume and portfolio. Thank you for your time and consideration. 
Our Take: In the first paragraph, the candidate is quick to mention all the tools they employ to bring value to the company. They use the second paragraph as a canvas on which to paint all of their accomplishments and relevant experiences.
Prospecting Cover Letter
Prospecting cover letters are also known as letters of inquiry or cold call letters. They are useful if you're looking to apply to a company that isn't actively hiring or isn't widely advertising. A prospecting cover letter shows your interest in learning about available positions while at the same time demonstrating eagerness and initiative.
If the company decides to expand its talent pool, sending a prospecting cover letter could put you at the top of the list of desirable candidates.
Prospecting Cover Letter Example
Dear Mr. Patel,
Your company recently came to my attention while reading a very interesting LinkedIn article about how you're becoming innovators in the industry. I'd very much like to embark on this journey with you. I haven't seen any open positions on your website, but I'd like to be considered for open positions in the future. I'm interested in pursuing a career in software engineering. The hybrid work model that your company employs couples well with my extensive remote experience. 
I have a bachelor's degree in Software Engineering, and in the following months, I will obtain a certification from the Institute of Certification of Computing Professionals. In addition to my two years as a freelance software engineer, I also have four years of software engineering experience at a publicly traded corporation. 
Please review the resume I've attached which contains additional information on my skills and experience relevant to your company. I'd love to discuss any openings you may have coming in the near future. Thank you for taking the time to read this letter. 
Our Take: This candidate took the bull by the horns and went straight to knocking on the company's door. Even if there is no open position, their chances will grow when a job becomes available.
Networking Cover Letter
Networking is a highly effective method of finding a job. According to the U.S. Bureau of Labor Statistics, 70% of all jobs are found through networking. It can help you discover job opportunities that might not be advertised yet or it can provide you with a job opportunity that was previously non-existent.
Sending a networking cover letter during your job search is a good idea if you need help from a contact in your industry or career field to introduce you to a potential employer.
Networking Cover Letter Example
Hi John, 
I hope this letter finds you well. I'm reaching out about possibly meeting to get some information from you as a top professional in our field. 
As you might remember from our time as co-workers at our previous company, I have always thrived when working in client-facing positions. I'm looking for a new career opportunity in that direction and I wanted to ask for your advice. 
As I'm aware of your experience and your vast area of expertise in working with job seekers on a more personal level, I feel confident that you are the right person to discuss this matter with. 
I know that it's a busy period for you right now, but I'd appreciate it if you'd let me buy you a drink and pick your brain. I'd also value your thoughts on the matter via reply if we can't meet. 
Thanks, 
Our Take: This candidate knows that a networking cover letter has a casual tone. He uses an informal greeting but still sounds professional throughout. He makes sure to emphasize his former co-worker's skills and success before asking for a casual meeting and some friendly advice.
Email Cover Letter
This simple, short, and professional cover letter is sent over email when a formal cover letter is not requested in a job posting. It does not follow a specific format but usually includes a greeting and a simple body of text explaining your experience and interest in the company. You should also include a closing with references to any attachments such as your resume, portfolio, samples, or any other necessary documents.
An email cover letter should be a maximum of two paragraphs long and the writing style should be casual but still professional. Remember to create a subject line that includes the position you're applying for.
Email Cover Letter Example
Subject line: Following Up on Your Content Writer Job Posting on LinkedIn
Dear Mr. McClane, 
This letter is being submitted as an introduction. I am applying for the position of Content Writer with your company. I believe my verbal skills and writing style would be of great value to your team and I can guarantee that if hired I would offer original content with a quick turnaround time. 
I've been writing content for over six years and have contributed to several notable blogs in the IT, Finance, and Cryptocurrency industries which I've mentioned in my resume. I would like to continue my passionate journey toward advancing my writing career within your company. I am adept at writing SEO (search engine optimization) articles that convert efficiently which would suit your article marketing business model well. I also write highly engaging copy for social media campaigns as seen in my portfolio. 
I read in your job posting that you'd like a candidate who possesses in-depth knowledge of working with keyword research tools. I'm happy to say that I've been using Semrush successfully for the last four years. 
Please review my attached resume and portfolio. I'm looking forward to meeting you and discussing my writing skills and history in more detail. 
Our Take: The candidate keeps it short and sweet. They shed light on their relevant skills and then guide the hiring manager towards the resume and portfolio.
Cover Letter Examples – Bottom Line
Adding a cover letter to your resume is the best way to connect with a potential employer from the get-go. Hiring managers get a glimpse of your accomplishments and experience as soon as they open your email or letter.
By analyzing good resume cover letter examples, and understanding their purpose, it will become simpler for you to write one yourself.
Make sure to stick to the structure and include only the best things about your career. Also, remember that your cover letter should only include valuable information that does not repeat itself in your resume.
Stay fresh, always.
___________________________
Need a hand? There are 2 ways we can help you:
1. Learn how to turn more job interviews into job offers here. (Rated with 4.9/5 by 1,000,000 users)
2. Learn how to successfully negotiate a better salary. (Take a sneak peek of one lesson for free here)