Reportedly, around 450,000 veterans across the country are currently looking for steady employment.
In March 2021, this number reached its lowest point since the beginning of the coronavirus pandemic. At that time, the veteran unemployment rate was at 5%, which is less than half of what it was in April 2020. In November 2021, that number dropped to 3.9%.
If you're a veteran looking for work, then it's important to know where to go. Today, we're sharing some of the most useful veterans resources, designed specifically to support our nation's heroes as they look to re-enter the workforce.
U.S. Department of Veterans Affairs: VEC
The U.S. Department of Veterans Affairs (VA) has developed a comprehensive Veterans Employment Toolkit that contains many helpful resources as you begin your job search.
Here, you'll find materials and online tools designed to help you complete different aspects of job hunting, such as:
Writing a cover letter
Creating a resume
Completing a job application
This information is provided under the VA's greater Veterans Employment Center (VEC) initiative. The VEC's mission is to connect transitioning service members and veterans with meaningful career opportunities.
Here, you can find more veterans resources about upcoming job fairs and related networking events. You can also access other veteran-specific employment resources and tutorials.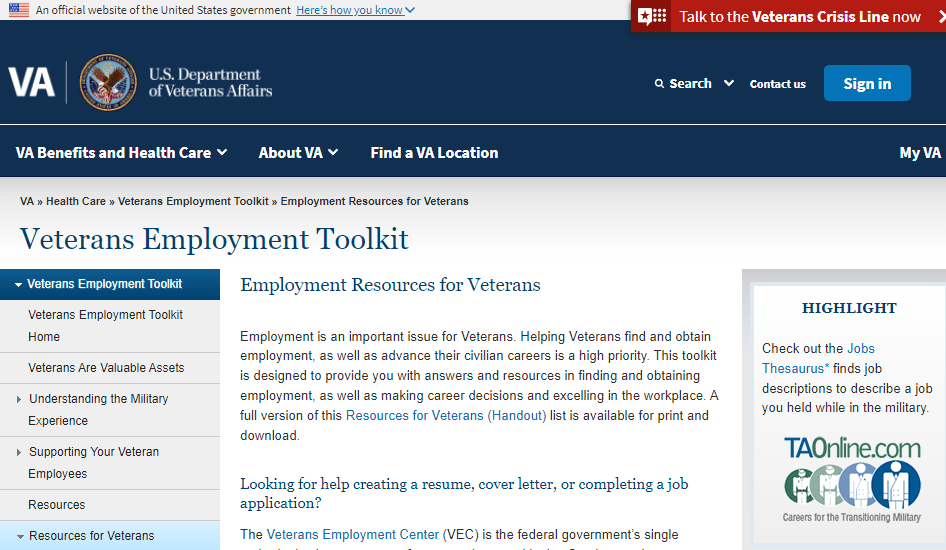 U.S. Department of Labor: VETS
The U.S. Department of Labor (DOL) created the Veterans' Employment and Training Service (VETS) to help service members and veterans find and maintain steady employment. This veterans resource includes several career-focused initiatives that are similar in focus to the VA's VEC program.
Here, you can browse several job search engines, including the CareerOneStop: American Job Center Finder. Sponsored by the DOL, CareerOneStop connects veterans to more than 42,000 job centers across the U.S. You'll start your search by entering your location.
In the results, you'll find extensive contact information for the closest job centers near you. This includes a link to each center's website, where you can browse available openings.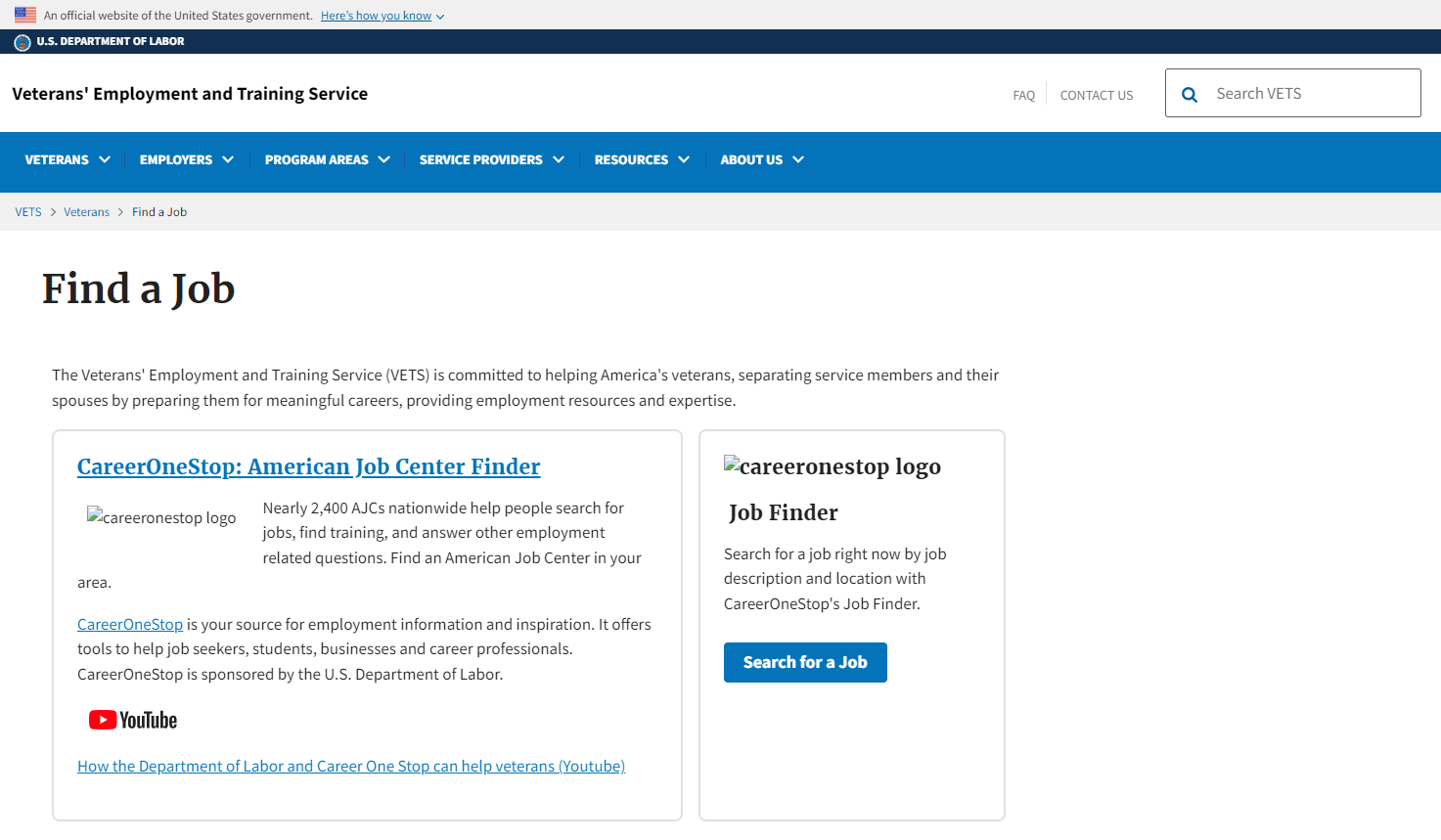 My Next Move For Vets
My Next Move is a job search website with great veterans resources including a special portal devoted strictly to veterans. Here, you can search for available jobs near you in a few different ways. This includes:
By keyword
By industry
By the name or code of your military classification
If you choose the latter, then My Next Move will reveal civilian careers that are most closely related to the type of work you did in the military. Once you make your initial selection, the tool will reveal general career classifications that you might want to pursue.
When you click on each field, you'll learn more about the knowledge, skills, and abilities required to excel there. When you click on the "Job Outlook" portal and enter your location information, you can start scrolling through available openings.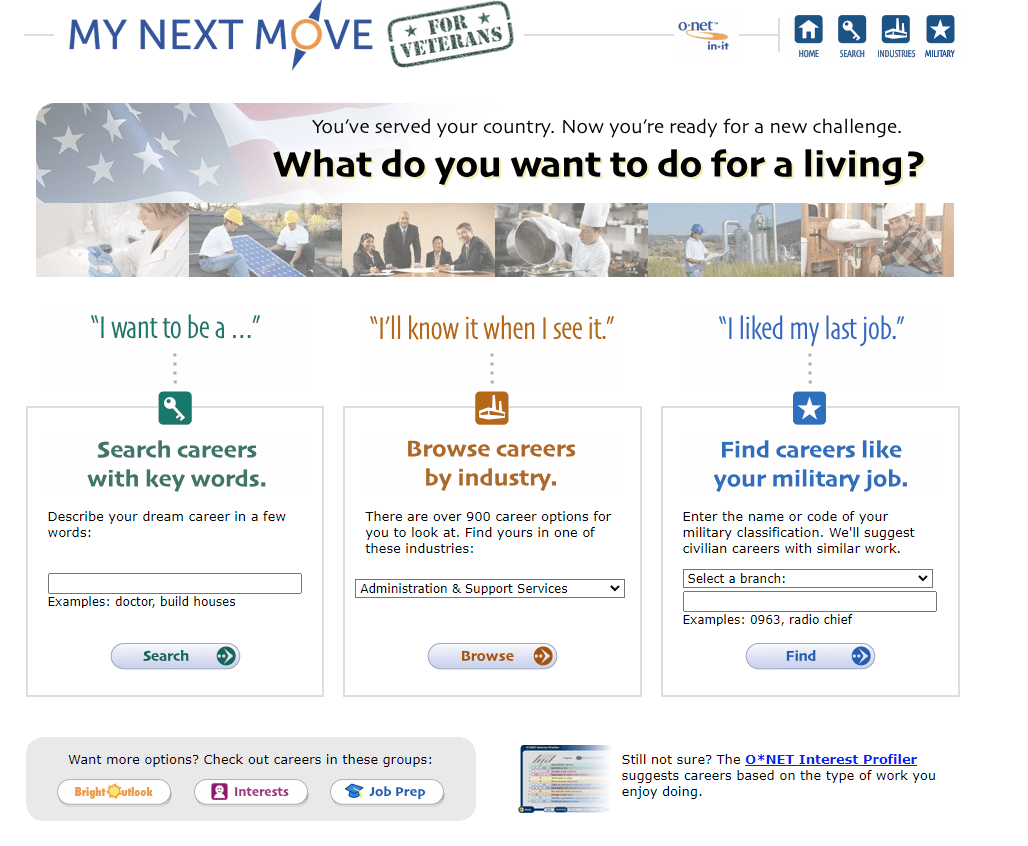 National Labor Exchange
The National Labor Exchange (NLE) connects visitors with veteran-friendly employers. Similar to My Next Move, you'll begin your search in one of three ways:
By keyword
By location
By your military job title or code
To date, more than 300,000 employers are registered through the NLE. In addition, the portal maintains a database of roughly three million jobs every day, with a total job count of 75 million.
This resource is provided under the Honoring Investments in Recruiting and Employing (HIRE) American Military Veterans Act of 2017.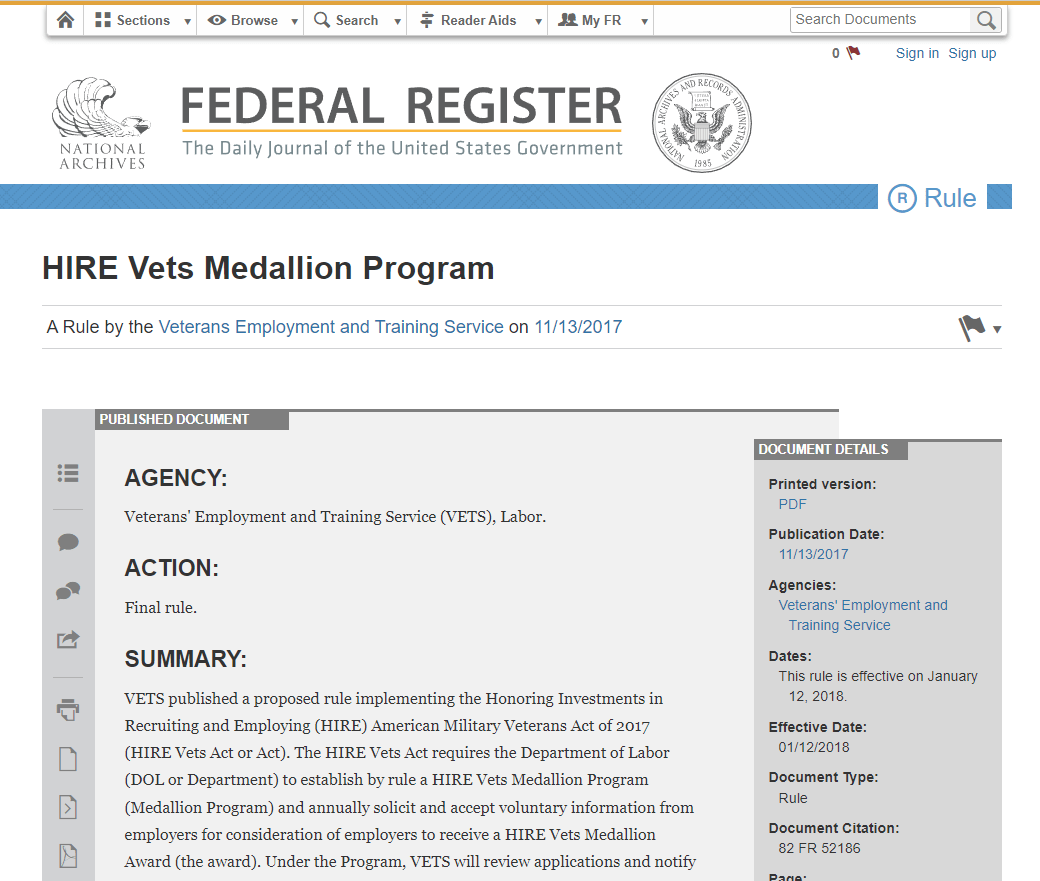 USAJOBS
The USAJOBS program connects jobseekers to federal employment opportunities across the U.S. and around the world. Veterans can apply under a special "veterans preference" portal designed to support veterans who served in active duty in the U.S. Armed Forces.
As long as you were separated under honorable conditions, you may be eligible to receive preference over non-veterans in your USAJOBS search. You can apply this preference to both permanent and temporary positions. To determine if a job is open to veterans, find the section that reads, "This job is open to" and look for the designated green and white icon.
In addition, you can also add the word "veteran" to your search filter, which will reveal jobs designated in this category. Note that to receive this special preference, you'll need to supply a copy of your DD-214: Certificate of Release or Discharge from Active Duty.
Note that the USAJOBS search platform is provided under the government's FedsHireVets initiative. An official website of the U.S. Office of Personnel Management (OPM), FedsHireVets is designed to provide job-related support and veterans resources. It also supports transitioning service members and their families along this journey.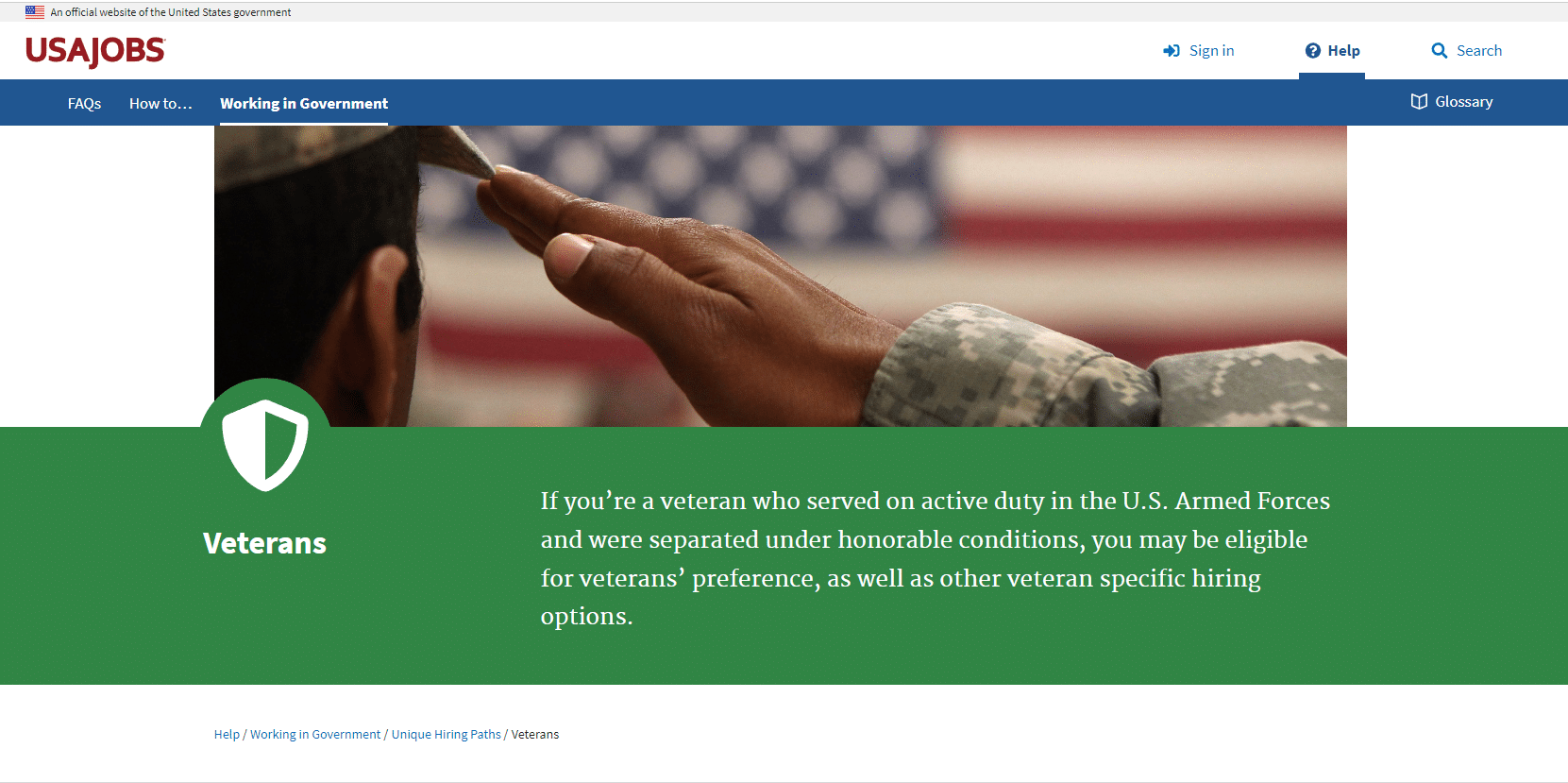 Hiring Our Heroes
Hiring Our Heroes is a program offered through the U.S. Chamber of Commerce Foundation, in partnership with the VA. Here, you'll find educational tools and training materials designed to help you understand the steps of your job search more clearly.
In addition, you can also search for upcoming veteran-focused webinars, conferences, and career summits designed to help you navigate this process. While there isn't a dedicated portal of current openings to browse, the networking opportunities you'll gain can be equally valuable.
The mission of Hiring Our Heroes is to connect veterans with employers near their location, including big name Fortune 500 companies. The Chamber and VA work closely with qualifying vets to help them network with local mentors and executives. This can be an invaluable step forward in your employment journey, and could even give you early access to upcoming positions that haven't made the job boards yet.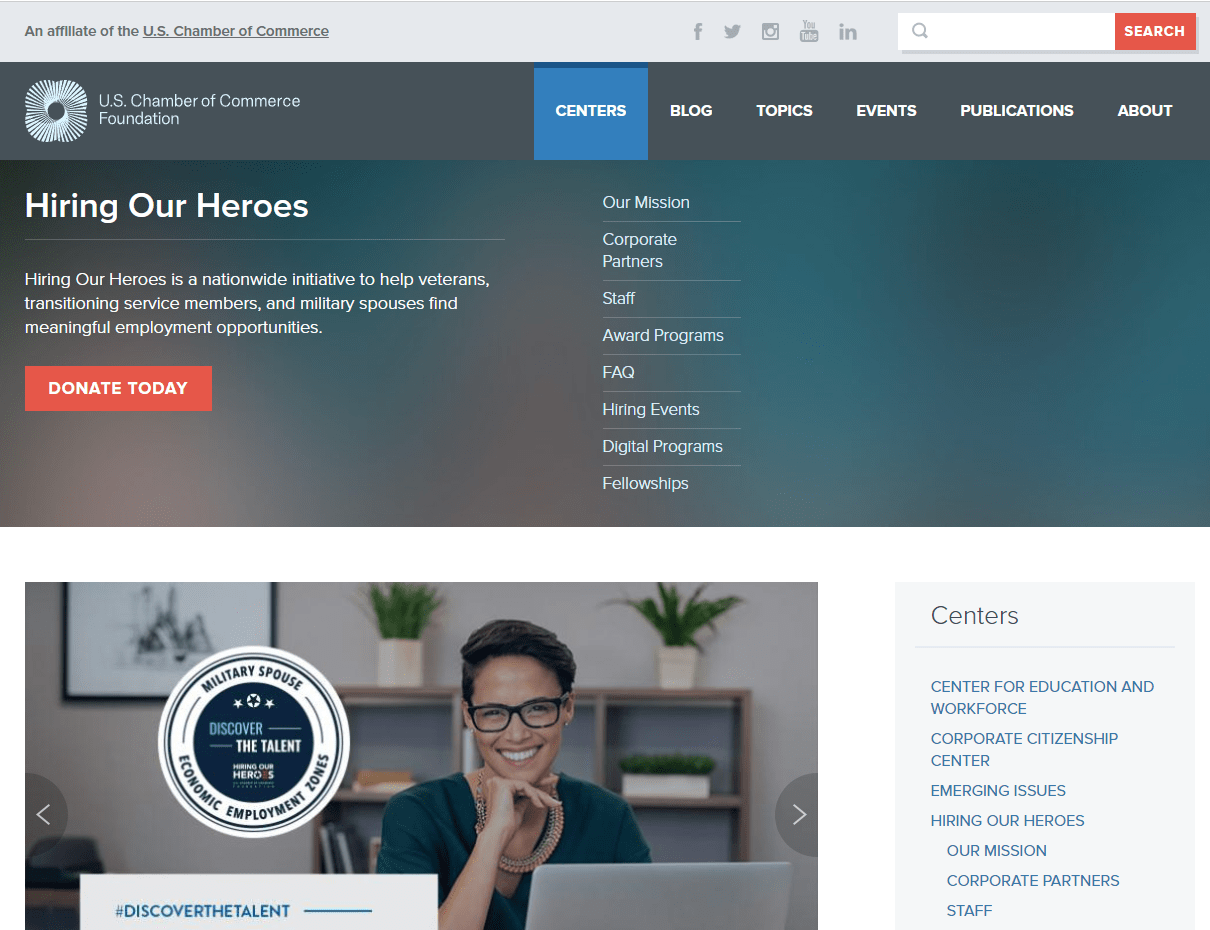 Handshake 2 Hire at Lockheed Martin
Offered by global security and aerospace company Lockheed Martin, Handshake 2 Hire connects transitioning and recently-separated military veterans with the resources they need to successfully enter the workforce. If you're interested in veteran jobs that center on this field of work, then this could be the ideal place to start.
Unlike some of the other job search portals on this list, Handshake 2 Hire doesn't include a daily-updated list of available jobs in your area. Rather, you'll simply complete an application process, and Lockheed's designated military relations team will take care of the rest.
This includes sending important communications your way, facilitating job screenings, and matching your qualifications with appropriate openings within their workforce.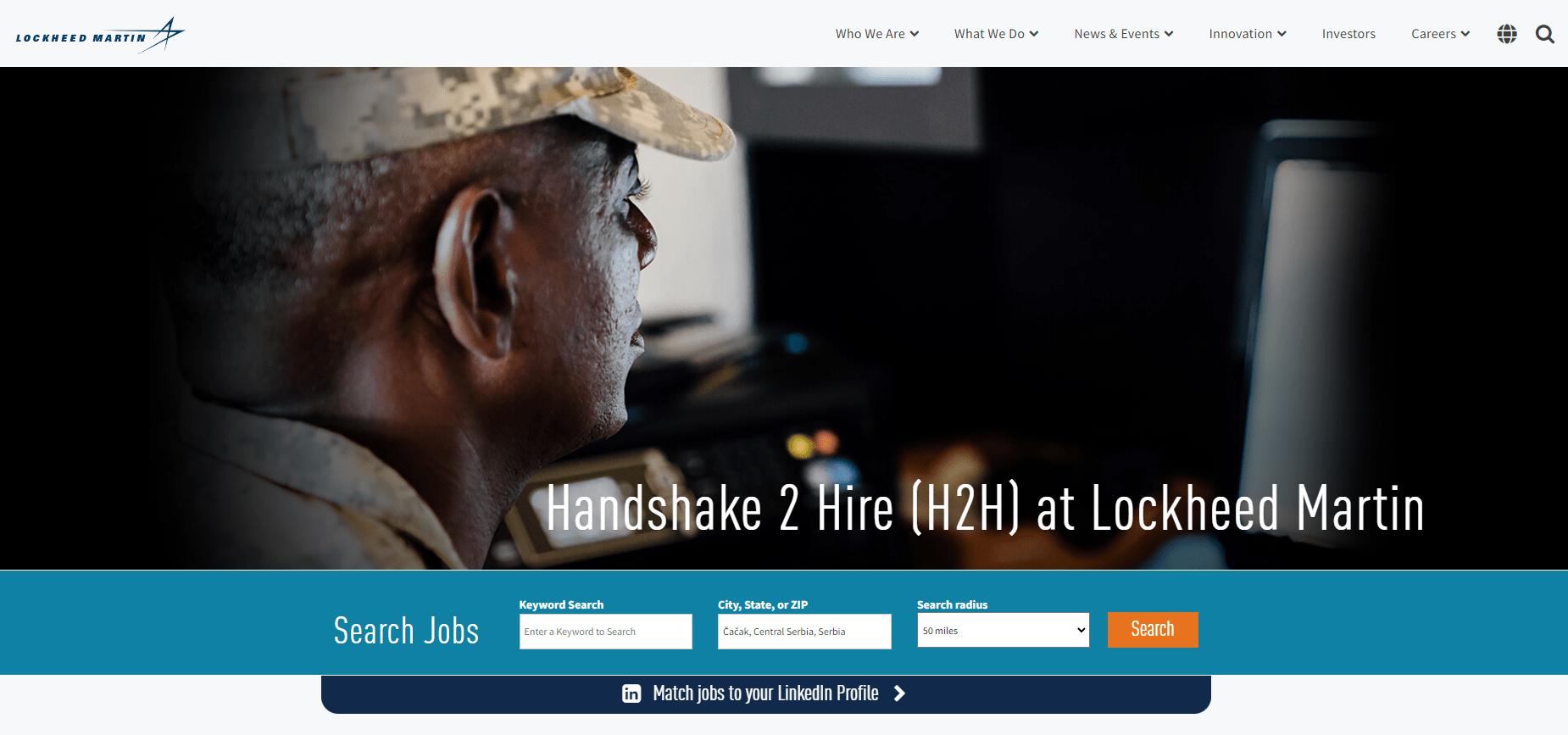 Military.com
Founded by Monster.com, Military.com is a veteran's all-inclusive, one-stop-shop for everything job-related. Here, you'll find relevant news and resources, such as military pay charts and pay dates. In addition, when you click "Veteran Jobs" in the upper menu, you can visit the site's designated job search portal.
Military.com cites that this particular portal is the largest of its kind, meant to connect you with companies that have expressed an interest in hiring veterans. As you search for jobs by industry, you can also access a variety of job hunting resources. These include local job fair calendars and resume-building tools.
Once you narrow your interest, the tool will reveal a list of current job openings in that niche. You can also learn more about that field, and where it's projected to be in the future.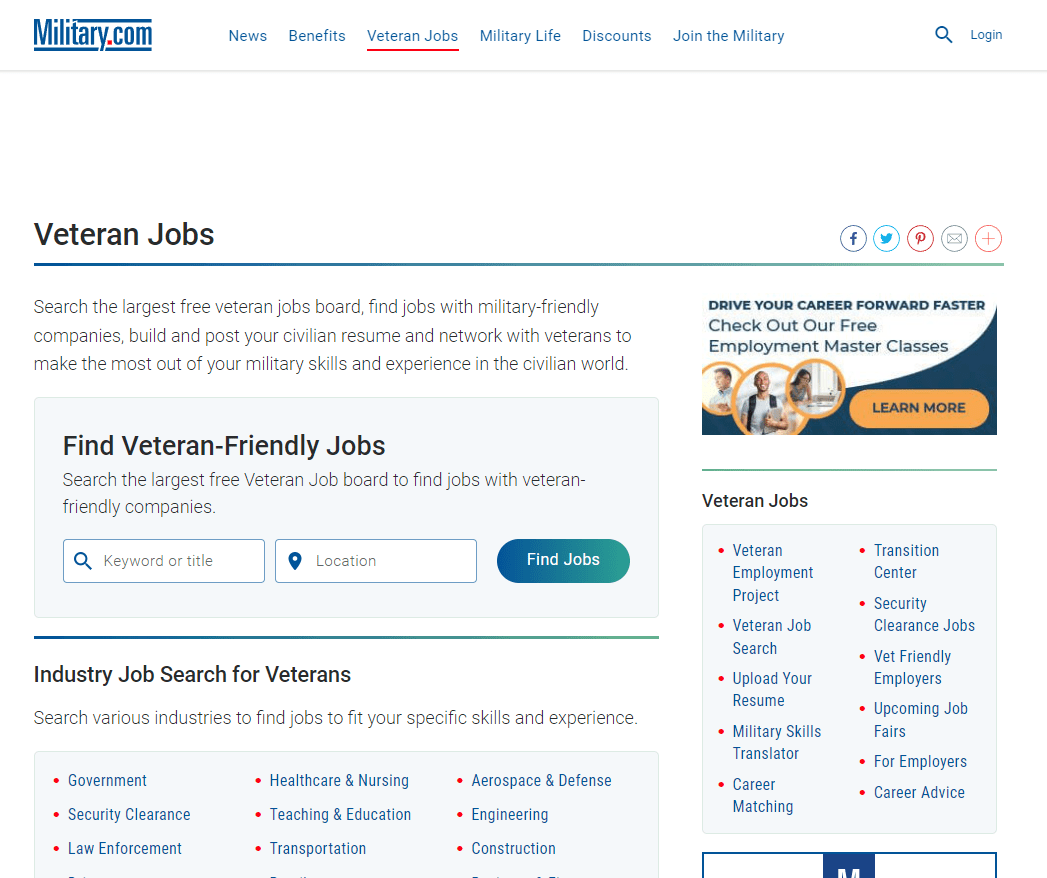 RecruitMilitary
If you're seeking veteran job help, then RecruitMilitary is a smart site to check out. To date, more than one million job-seekers have created accounts on the portal, and those profiles have raked in more than five million collective views.
There are hundreds of thousands of active jobs available to browse, with thousands of new openings added every day. Major employers, including Spectrum, The Home Depot, and Zillow, use RecruitMilitary to hire veterans to fill a variety of roles. To get started, you'll simply enter your location, as well as the keywords that describe your career interests.
Then, you'll go directly to your search results. If you find a position that piques your interest, you can save it for later or email it to a friend. You can also click on the position to learn more about it and apply directly online.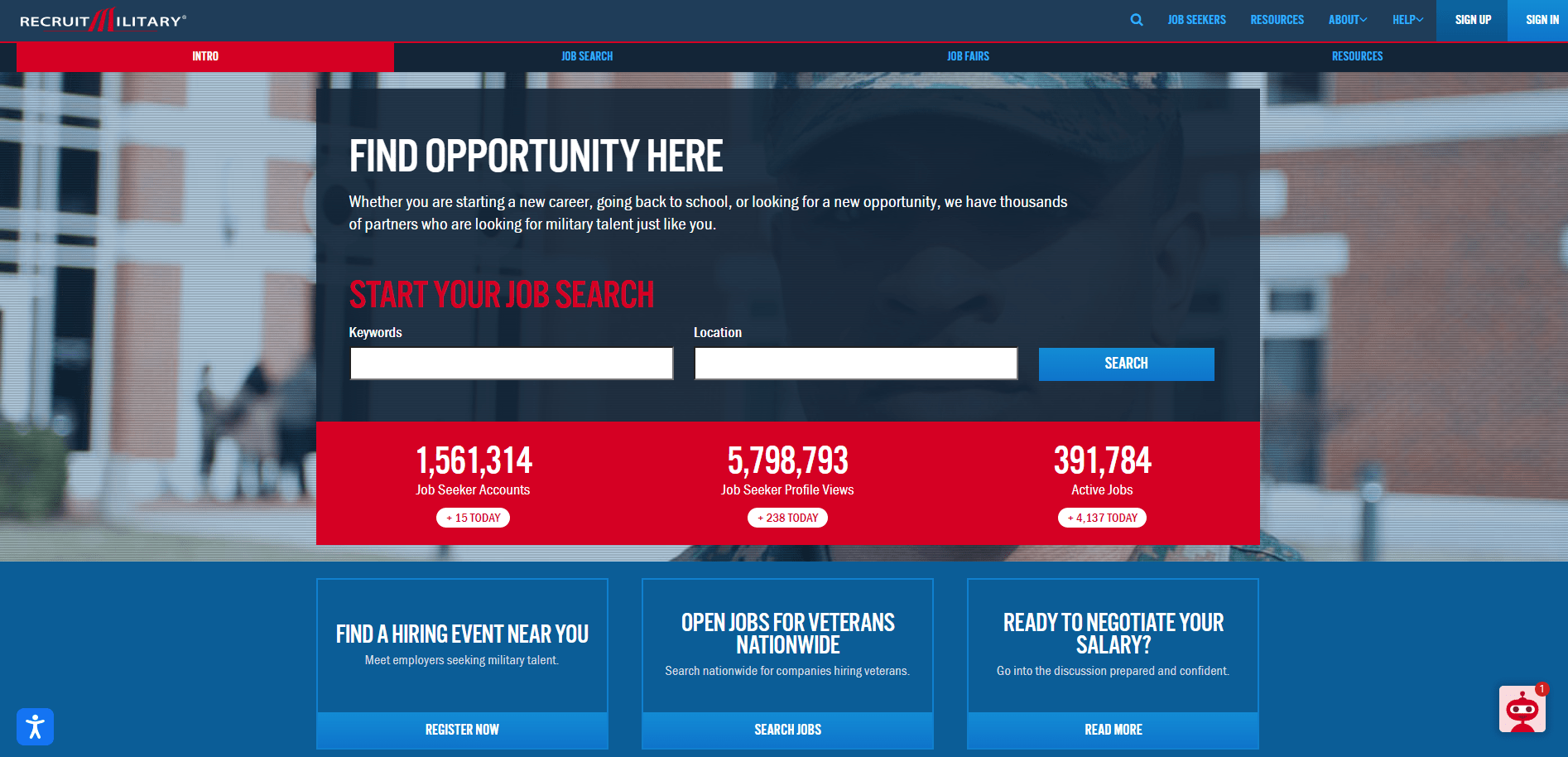 Hire Veterans
Hire Veterans is another job search portal designed to help you find the new career of your dreams.
On the home page, you can browse the site's daily featured openings or featured employers. You can also filter the tens of thousands of openings by industry. These range from healthcare and retail to technology and engineering.
The site is easy to navigate and allows you to complete your application process online. Hire Veterans also posts regular updates about veteran-focused career fairs across the country, so check back often to stay up-to-date.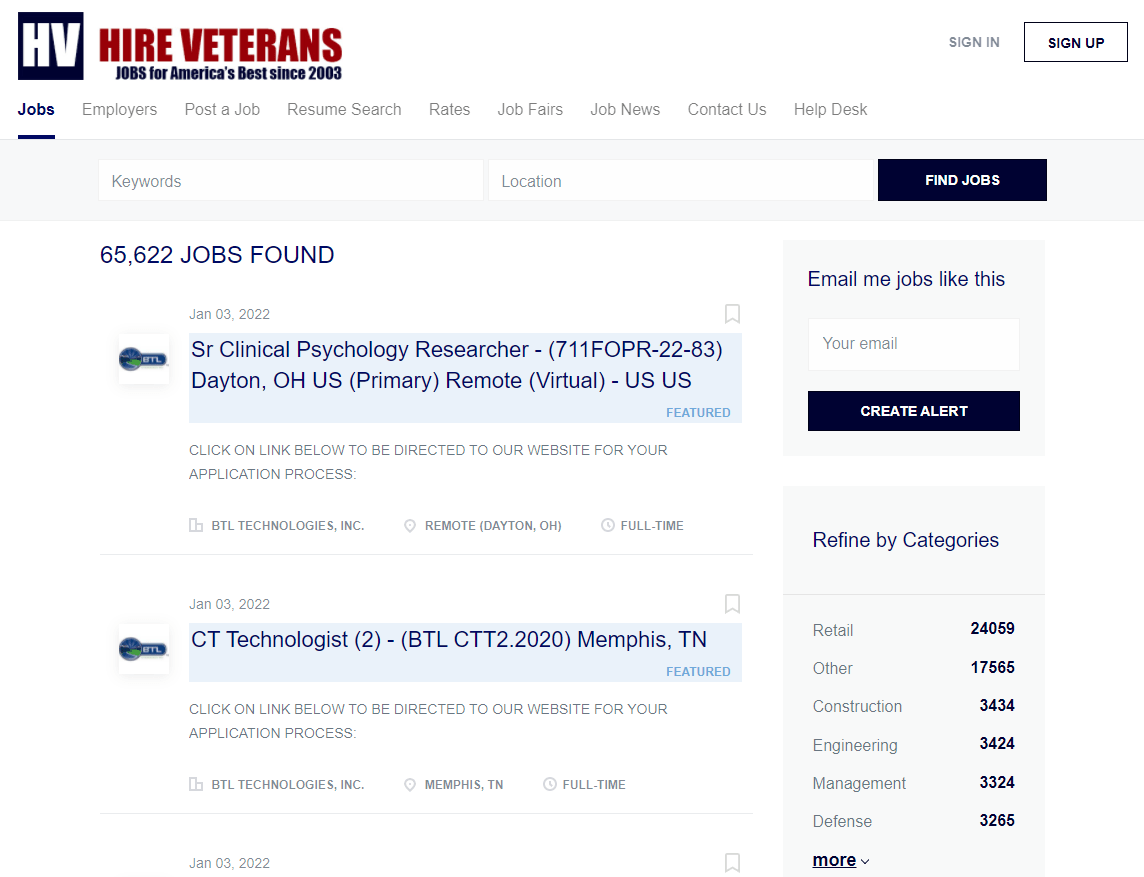 GI Jobs
Like the other programs and portals on this list, GI Jobs is designed to connect veterans with civilian job opportunities where they live. Yet, it goes a few steps beyond basic search functions.
While you can use GI Jobs to search for nearby openings, you can also use the tool to find a school or find information about opening a franchise. If you want to further your education, then GI Jobs can help you connect with the ideal institution. You can even find out whether or not each school will accept your military training as credit hours.
As you browse the site, you'll also notice that GI Jobs encourages communication between job-seeking veterans and virtual recruiters. You can connect with these recruiters directly at the GI Jobs Virtual Career Expo. Or, you can find them by exploring the online job portal.
With two million jobs and more than 20 different industries to browse, you'll want to set aside plenty of time to scroll through this one.
LinkedIn For Veterans
For years, LinkedIn has established itself as a leading player in the global job search and networking space. However, did you know that there's a separate function set aside just for veterans resources?
LinkedIn For Veterans is offered under the site's LinkedIn Learning portal. Here, you can access a variety of videos and tutorials designed to help you create and enhance your online professional profile. You'll also learn how to successfully navigate the LinkedIn Job Seeker tool to find new opportunities and network with others in your niche.
There isn't a dedicated job search space meant just for veterans, but this helpful guide can allow you to optimize your LinkedIn presence, which can boost your online visibility and lead to new connections.
Note that U.S. service members and veterans qualify for one year of a free LinkedIn Premium Career subscription, which includes access to LinkedIn Learning resources. You can learn more about the application process here.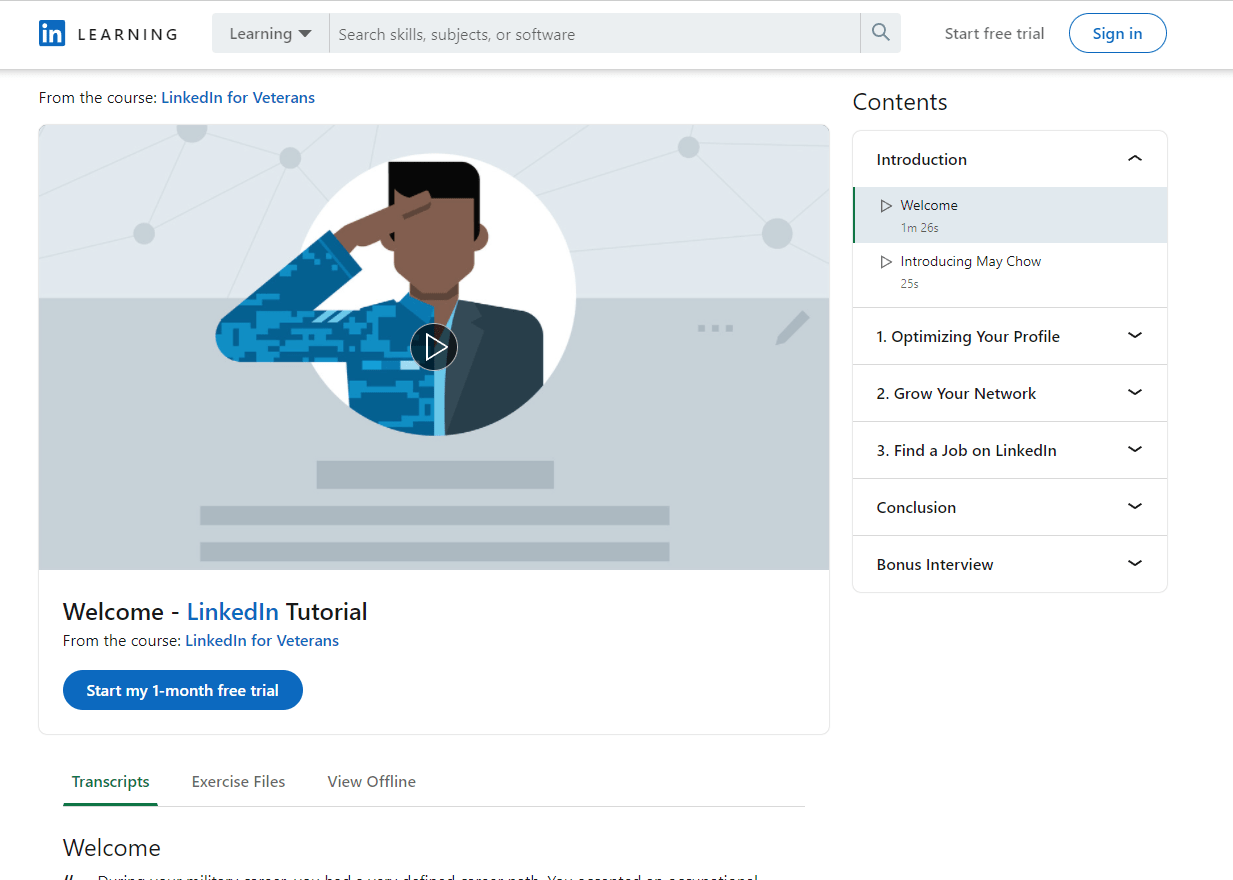 FASTPORT
FASTPORT is a job portal meant to help veterans organically transition into civilian careers. This platform takes a slightly different approach, helping you find work as a paid apprentice. If you prefer to skip this step and head straight to traditional employment, then you'll take the "Fast Track" approach instead.
Once you register on the site and share your information and interests, FASTPORT will work to connect you with local employers looking for someone with your skill-set. After completing an interview, you can either become hired as a full-time, traditional employee or an apprentice.
If you go the apprentice route, then you'll receive a paycheck that FASTPORT guarantees will increase as you receive more training. This route is ideal if you don't have hands-on training or experience in a particular field, but are interested in pursuing it. After graduating from your apprenticeship program, you'll receive special training credentials accepted by employers across the U.S.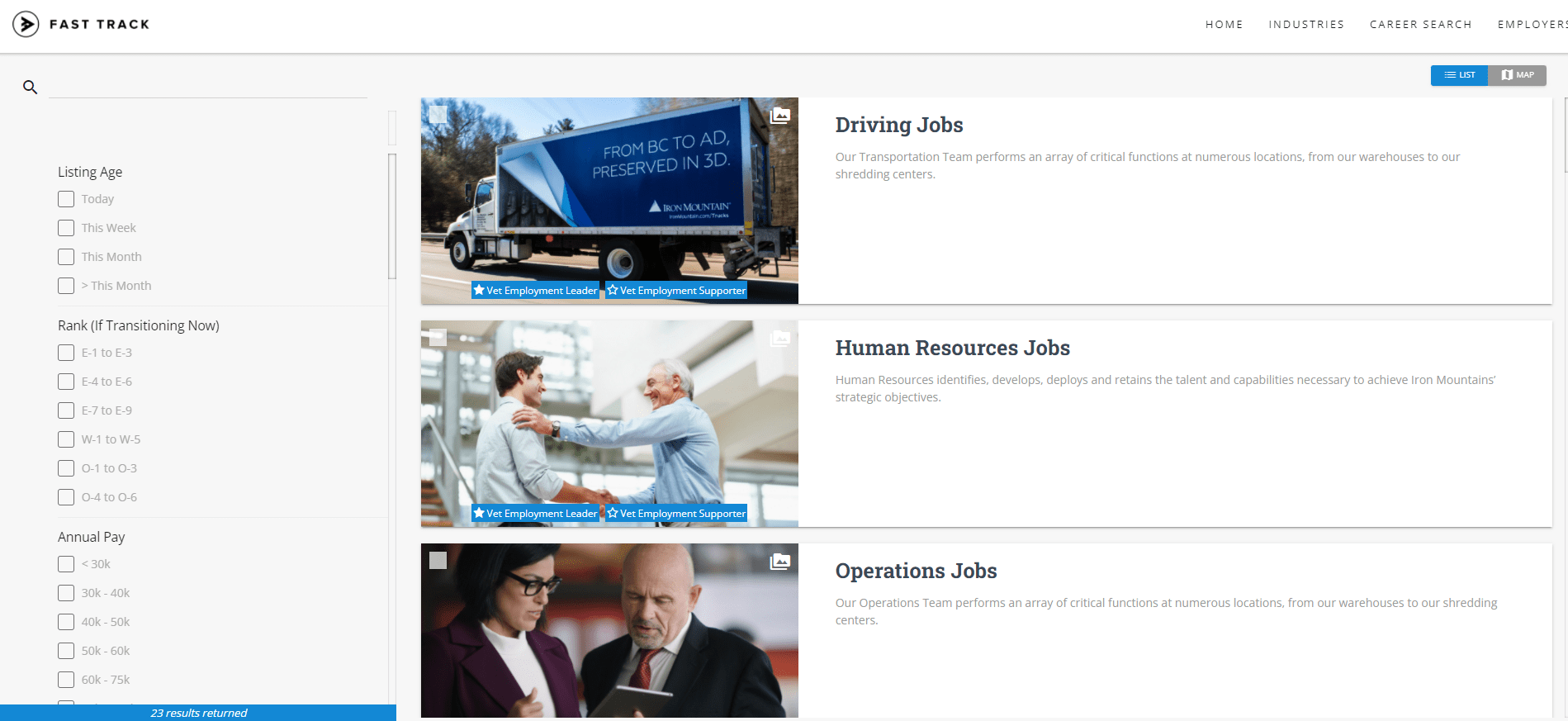 Access More Veterans Resources Today
If you're looking for veteran resources on how to enter the civilian job force, then you should be able to find dedicated websites, portals, and programs designed to cater to your needs.
The veterans resources described above can help you jumpstart your job search. Along the way, we're here to help you hone your interview skills and impress future employers. We'll also provide you with job search tips, resume templates, and other types of career advice to help you along this journey.
Get started today to learn more about our tested, step-by-step training program!