Layoffs are everywhere. Google, Amazon, and Microsoft alone laid off 70,000 people in recent layoffs. Let's not even list additional companies that had to let people go.
Just imagine how many lives were affected. And companies are affected, too. Layoffs can destroy their reputation and employee morale.
Let me illustrate that with a personal story.
I recently spoke to a friend I used to work with at a previous company. He told me he'd just handed in his two weeks' notice.
The reason? The company was doing a major layoff. But wait, it gets tricky here.
They weren't going to let him go. He just hated the way they treated his coworkers.
Obviously, layoffs disrupt the lives of those who face unemployment. But the ones who stay behind are also affected.
Layoffs are never easy. But there's a way to handle them and help those affected bounce back while protecting those who stay.
Companies can do this through good internal communication and quality outplacement services.
With outplacement services, you'll provide a safety net to those you need to let go; you'll create a safe environment for the remaining employees; and you'll save your reputation.
Below, you'll read about:
What exactly outplacement is
How outplacement services help the affected people
How they can help the employees that stay
How they can help your reputation
How to choose an outplacement service provider
What Is Outplacement and How Does It Work?
Outplacement is part of a severance package offered to employees upon being laid off. It's a broad set of services that usually covers:
Resume and cover letter writing
Career coaching
Networking and finding relevant opportunities
Negotiating salary and benefits
Interviewing preparation
Market assessment
These are evergreen skills that can improve people's careers immensely and shorten their job search considerably.
Who takes care of outplacement?
Outplacement services can be carried out in-house, or, more frequently, via an external agency or firm.
In the latter case, a team of experts will work with your talent and provide:
Group and individual coaching sessions (in-person or online)
Resume and interviewing advising
Libraries of materials, courses, and practice sets for all seniority levels
Training for internal HR teams to handle layoffs
Why You Need Outplacement Services
Outplacement impacts several aspects of your business.
1. Outplacement services help you handle a difficult situation humanely
When you're meeting your goals and enjoying the benefits of profitable quarters, everything is great. Everyone is in a good mood and the team dynamic is positive.
More often than not, what we do in the dark puts us in the light. How we treat people who are being impacted by layoffs is one such situation. We should be willing to stick with them through thick and thin.
Letting them go because of the recession, to cut costs, or due to a decline in demand is considerably different from letting them go because of their poor performance.
In the former case, it's not their fault, and you need to give them something in return for years of effort and dedication. By equipping them with skills that help them improve their job search, you're helping them in the long run.
Outplacement services will help your employees:
Update their resumes and cover letters
Shockingly few people know how to write resumes and cover letters the right way. Plus, the people you're letting go might not have had to write a resume in 10+ years. They might not even know what ATS is and how it works. Everything about the world changed.
Having dedicated professionals will help them spruce up their weaponry, properly summarize their experience, present their best accomplishments, highlight key skills, and fine-tune their resume for each new role they apply for. They will stand out.
Outline their career path
Sometimes, people need a bit of perspective to spot their strong areas and consider changing positions or industries. And even those who want to continue in the same vein could use tips on how to be even better at what they do. Certified professionals are of immense help here.
Find relevant opportunities
A lot of open positions aren't advertised anywhere and the only way to get them is through networking. But networking is hard and overwhelming when one does it on their own.
It gets easier when a coach helps! Learning how to network and form meaningful connections can help your people widen their scope of opportunities. They will go from passive applicants to professionals who actively shape their careers. This is an evergreen skill that will improve their professional life forever.
Negotiate salary and benefits
Almost everything is negotiable. And even if they had the bad luck to be impacted by layoffs in your company, they can thrive in another one. They can make the most out of the situation and negotiate a nice salary with benefits that suit their needs. Again, who better to teach them than career experts.
Prepare for interviews
Even if they have the necessary experience, it means nothing if they don't know how to present it properly. Career coaches can help them create systems for effective communication – that way they will know exactly how to answer common interview questions and present themselves in the best light.
To sum up: Even if you're letting them go, you don't have to be another disappointment in their work history. They don't have to have bad feelings and leave you bad reviews.
2. Outplacement services boost team morale
Initially, the employees who stay behind are guaranteed to feel guilt, anger, and frustration with your company. If you don't handle the situation skillfully, it will make things worse.
In that case, you can expect a huge blow to your team's morale and a sharp plunge in their performance and productivity. Furthermore, after the crisis, it will take your business results longer to recover and bounce back.
There are ways to avoid this.
Even though it may not look like it, outplacement services will positively affect the layoff survivors.
Outplacement services can:
Help them overcome survivor guilt.
Outplacement services can help you minimize the risk of survivor guilt. If the ones who stay behind see that you're handling the situation with care and respect, it might ease their worries.
Let them know you got their back.
Seeing you're taking a systematic approach and necessary steps to help the affected ones will give peace of mind to the ones who stay. They will know that they too will be taken care of if another round of layoffs hits. The chances of them holding a grudge against the company will be minimized. More importantly, you prevent the erosion of trust throughout the organization.
Strengthen company values.
If layoffs are communicated and carried out properly start-to-finish, they can prove that you stand by your company values. Employees will see that you practice what you preach, which might inspire them to help each other in any way that they can. And employees who stick together create a strong company culture. Moreover, you can prevent the problem of waning organizational loyalty.
3. Outplacement services improve your reputation

Above is a fraction of a Glassdoor review for one of the tech giants that laid off thousands of people recently. Needless to say: don't be like them. Be like Apple. Hire reasonably and at a slow pace and carefully conduct your shareholder value.
Outplacement services can help you keep or even improve your reputation:
You'll avoid negative reviews on social media and Glassdoor
You'll avoid bad rep and media picking on you
People won't smirk and associate your company name with layoffs and negative feelings
You'll still be perceived as a great company to work for – potential candidates won't be advised to run as fast as they can in the opposite direction




The whole point is this: treat your people like human beings and be resourceful in finding ways to help them. Even when you're letting them go. Take care of your employer brand now and you'll be rewarded with great candidates who will want to work for your company in the future.
How to Pick the Right Outplacement Service
Right off the bat, you'll have to decide whether to keep outplacement services in-house or partner up with an external company.
Your HR team will probably be able to:
Properly communicate the layoff
Write a recommendation
Share useful resources on resume building and interviewing
Connect a few people
(To get some ideas about how your HR team can help, check out our free Outplacement and employee transition guide).
However, with the right training, they can do so much more!
Having an expert from an outplacement firm train your HR employees on how to handle outplacement services themselves can help you keep things in the company.
You won't have to hire an outplacement company every time, plus the procedure will be handled by people who are familiar with each other. It might enhance a sense of support.
And if you're wondering how to choose the right outplacement company, here are several factors to consider.
1. Consider your budget and the scale of the layoff you're dealing with
Outplacement service prices can vary to a great extent. Here are a few factors:
The number of employees
Outplacement services cost is usually determined per employee. This would mean that the more people you let go, the more you'll pay.
And if you have a considerable number of employees, it might be a good strategy to separate them into tiers. Different tiers will have different needs and therefore a different outplacement program, which might make it easier for you and the outplacement company you choose to work with.
Level of seniority
Look for a program that fits with the type of employees you're laying off. For example, a lot of outplacement companies simply don't have a suitable program for senior-level employees and executives.
What is relevant in their case won't be relevant for people with limited experience and that's why you'll be wasting your money on a one-size-fits-all outplacement program.
Type of services
A better service will usually entail exhaustive (and often in-person) 1-on-1 meetings which will naturally be more expensive than lower-end programs which focus on groups and video calls. Be ready to pay more for personalized services for each employee.
Longevity
Will your workers be supported until they have found a new job? Or is there a time limit in your contract with the outplacement company?
Unfortunately, there is no clear answer on how much you will have to pay. Depending on your budget and the scale of the layoff you're dealing with, you'll have plenty of options to choose from.
What are the best practices?
First and foremost, there are certain topics that are high in demand. For example, how to create a job-winning resume or how to optimize our presence on LinkedIn. There's a high chance a lot of impacted employees would be interested to learn more about those. Therefore, you could organize group workshops (e.g. Resume Workshop) with an expert coach.
Also think about providing actionable, on-demand content to support group workshops. This way you'll manage to personalize support at scale.
In other words, your employees will be able to access the courses they need at any point in time. For instance, if they have a job interview that's coming soon and need to prepare. Or if they want to go over high-performing job search tactics on their own.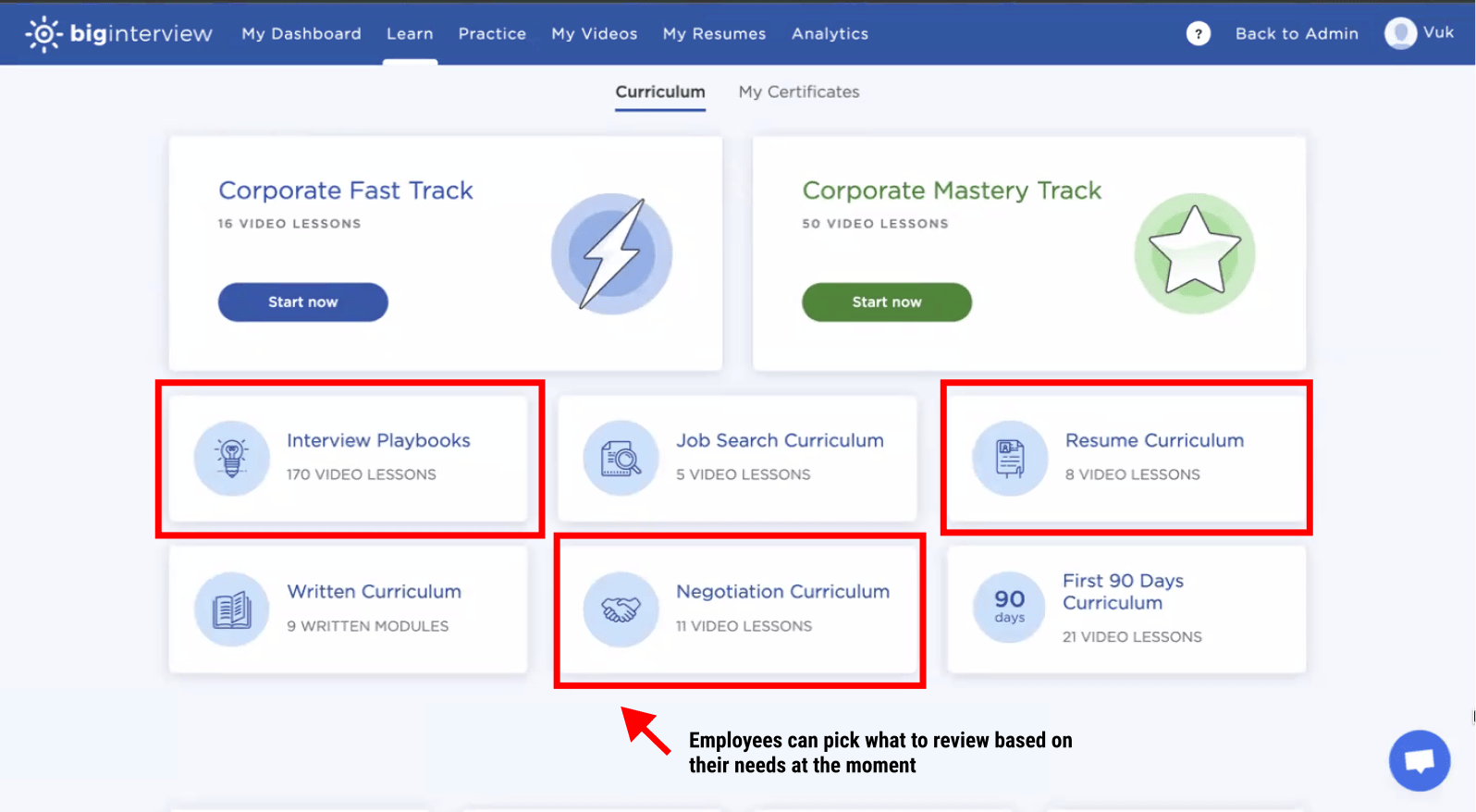 Another challenge with outplacement is how to best help impacted employees prepare for job interviews. Sometimes, there's not enough time for everyone to have 1-on-1 training with a coach while putting theory into practice is very important.
There's another way.
You can leverage online platforms that offer mock interview practice. This way, your employees can prepare for an interview by role-playing and choose scenarios tailored to their needs (e.g. different positions, seniority levels, interview questions…). They'll also get instant feedback after completing them on what they can improve (e.g. body language, confidence, communication flow…).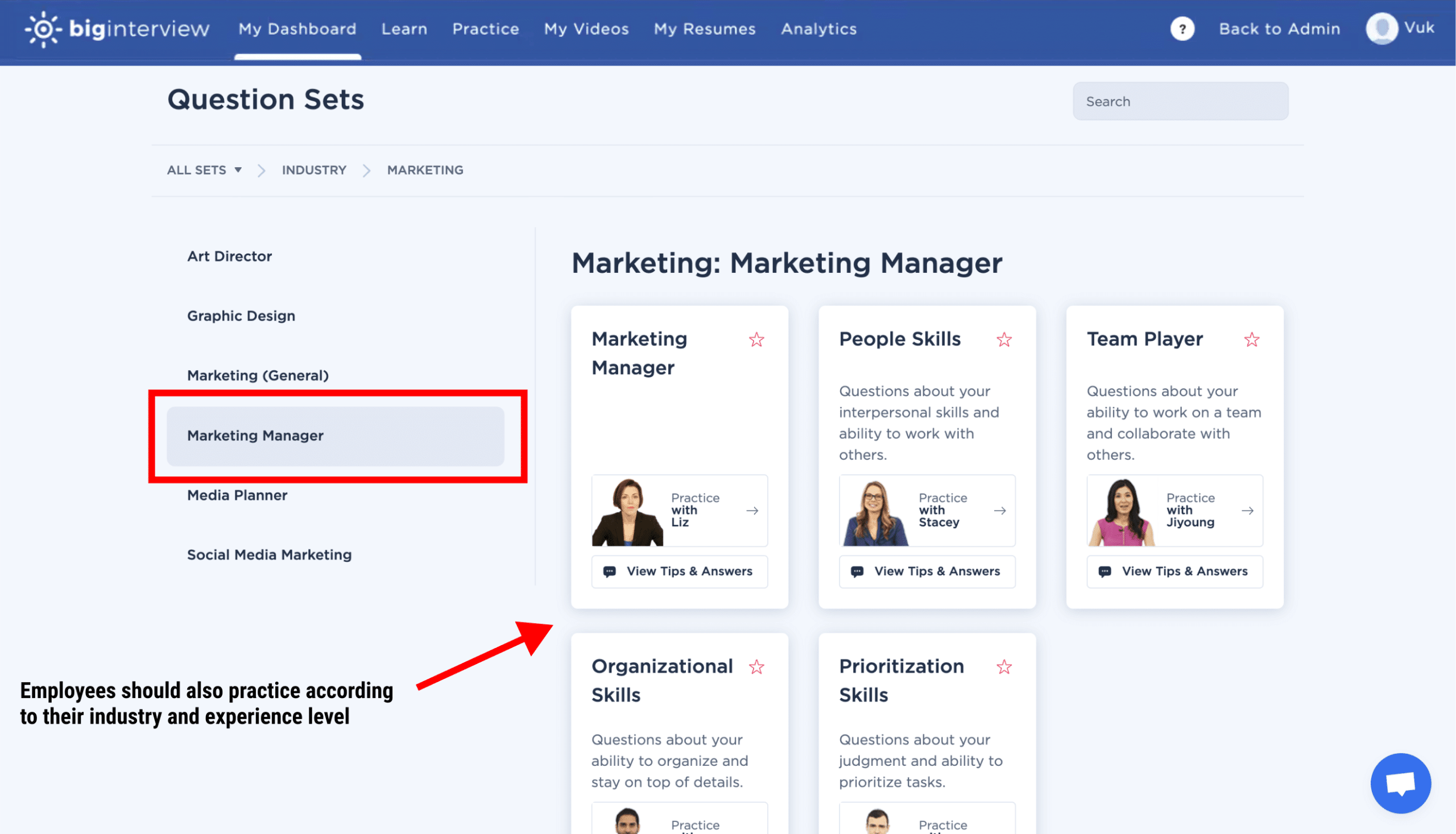 Finally, individual sessions are offered as a tiered service. For instance, those needing help with assessment and deciding their next steps can be supported. Alternatively, if you're considering moving an employee to a new department, you can assign a coach to make the transition smoother.
By combining online courses, practice sets, group workshops, and individual sessions strategically, you can maximize results without exceeding your budget.
2. Make sure the services offered are actually useful to your workforce
Before you sign a contract, you need to make sure that the outplacement company is offering exactly what your workforce needs.
This will be different for each company, but here are some of the factors to consider:
User-friendly technology
A balanced mix of 1-on-1 and group sessions
A balanced mix of written and recorded materials
Plans and programs suitable for all seniority levels (executives, seniors, mediors and juniors)
Multiple channels of communication
But the most important factor, the one that will affect every single aspect we listed above, is a trustworthy and skilled coach.
That's why you need to look for a coaching expert who can deliver on many different fronts: resume building, interviewing tips, networking, and career coaching tailored to different seniority levels and career goals.
For example, our certified career coach Pamela Skillings was hired to help an executive from a real estate company.
His main struggles were conveying the right executive presence and confidence, articulating his interest in different roles (he seemed cold), and staying motivated when dealing with the frustrations of the job search.
She helped him re-evaluate his career goals and establish a few different directions to explore. Then they updated his resume and customized it to 3 different job types he wanted to pursue. She helped him expand his network on LinkedIn and in person; prepare for interviews (years ago, the last time he was interviewed, he was a junior and had fewer accomplishments and experiences to talk about); and navigate the job search process.
As a result, he was in the position to choose between two offers and accepted a similar position with a few extra duties, which paid more than the position he was laid off from.
If the client had collaborated with a coach without executive experience, the result wouldn't have been the same.
3. Make sure the outplacement services company is trustworthy
There are a lot of options out there. Unfortunately, a lot of outplacement services look attractive only on paper.
In reality, their number 1 goal is to sign a contract with your company and earn some $$$, not to help your employees.
How to spot a low-quality outplacement company?
When visiting websites and speaking to representatives, be wary of these phrases (they'll tell you what's their priority and focus):
Line of defense
Mitigate risks
Avoid expensive lawsuits
Avoid legal fees
Save reputation
Sure, if you opt for outplacement services, it's likely they will, as a consequence, be your line of defense and help you avoid lawsuits. But that should not be the primary reason you opt for them.
Your primary reason needs to be helping your employees land on their feet.
Therefore, you need to look for a people-centric company that's focused on proper onboarding and training, and that will regularly track and measure your employee's efforts.
Useful questions to ask them:
How will you onboard my employees?
What are the criteria based on which you will form coaching groups?
Do your coaches have experience with various industries?
How often will you engage with my employees?
Do you have programs tailored to each person's goals and affinities?
How will you track my employees' progress?
How will you measure their success?
If they have clear answers for each question, and if they can present a detailed, tailor-made plan – you've found the right one.
4. Do background checks
Always check references and make sure their staff is legit and trained.
Comb through their website and reviews
Check their Linkedin page
Schedule a meeting
Ask around – perhaps some of your acquaintances already collaborated with them
Check online databases
You're dealing with a sensitive situation, so make sure you accommodate your workforce and provide coaching from trustworthy, world-class experts.
Here at Big Interview, we care about the driving force of each business: people. That's why we're not going to be focused on you. We will be focused on the people you had to let go. We're teaching people key business skills that will improve the quality of their professional lives immensely.
To see what we offer and how we can help, take a look at our outplacement plans and packages.
Key Takeaways
Outplacement services are the best way to help your workforce land on their feet quickly after a layoff.
They decrease the time needed for a person to find a new job; teach valuable evergreen skills; help the employees who stay behind; and help your employer branding.
Picking the right outplacement company will depend on many factors, from your budget and your employees' needs to the kind of services, contract longevity, etc.
You need to do thorough background checks and find the right company; a lot of them tend to focus on merely covering legal necessities for employers – but you are looking for a team that will truly give value to your employees.
If you need an outplacement firm that can customize the program to fit your company's needs, we're here for you.
FAQs
What is outplacement?
Outplacement is part of a severance package offered to employees upon being laid off. It helps them get back on their feet and find a new job quickly and easily.
What services are provided by outplacement companies?
Outplacement companies provide services such as resume writing, cover letter writing, career coaching, networking and finding relevant opportunities, interview preparation, etc. Outplacement companies can also coach your HR team (as Big Interview does) to provide outplacement services to your employees so you don't have to hire an outplacement firm to deal with it.
How much do outplacement services cost?
The price can vary depending on a number of factors such as the number of services, the number and seniority level of employees, the quality of services and coaches, etc.
How do I find the right outplacement company?
By assessing your company's and your employees' needs, you'll know what type of outplacement services you need for different employee tiers. You will also need to find a trustworthy company with verified coaches that fits your budget.