Layoffs are always a mess.
Due to the COVID outbreak, 2020 layoffs affected the tourism and hospitality industry the most.
On the other hand, tech companies thrived and started hiring people like crazy. Which led to a new round of tech layoffs 2022 and 2023 we're seeing today.
By the look of it, 2023 will break records. And according to some studies, one-third of Americans fear they might lose their jobs this year.
All in all: From 2020 to 2023 so far, 3.9 million people have been affected by layoffs.
Behind each number is a person with bills to pay, a family to feed, and children to raise.
The question becomes: How were these people enabled to get back on their feet? Is there a right way to do layoffs? What can companies do to make this difficult decision bearable for the affected?
In this article, we'll cover:
How not to handle layoffs, illustrated by Twitter, Salesforce, and the like
Why these layoffs went so badly
How to treat people during difficult times
Why certain layoffs are better than others
How
Not

to Handle a Layoff

Not all layoffs are equal. While they're always bad news, there are ways to soften the blow (more on that later).

Tech layoffs 2022 (but this is a timeless practice, really) were marked by a lack of transparency, poor communication, inconsistency, insufficient support, and meager severance packages. It's not ethical and certainly not the way to treat employees.

Let's check out some examples.
Infamously, Twitter
Having fired roughly one-half of its workforce, Twitter caused a great deal of frustration among its employees and the general public during the recent layoffs.
It was one of the most notable tech layoffs in 2022. The focus was on Elon Musk's questionable management and how the affected employees were treated.
First off, the people were notified via email – the managers did not make announcements in person. Additionally, many found they'd been locked out of their work laptops and messaging apps.
In a messy turn of events, some people were then asked to come back, and some got their severance offers after months of waiting. Allegedly, they were promised a 3-month severance (less than Meta, for example) but got a 1-month severance conditioned by a lengthy list of constraints.
Many were left wondering whether to accept the offer or file lawsuits against the company.
"We've been hearing from hundreds of Twitter employees who are considering their options and not happy about only being offered one-month severance, after they were promised much more. We have filed hundreds of arbitration claims already and will continue to file them.", said Shannon Liss-Riordan, a lawyer working on behalf of former Twitter employees.
Naturally, the company's (and Musk's) reputation suffered.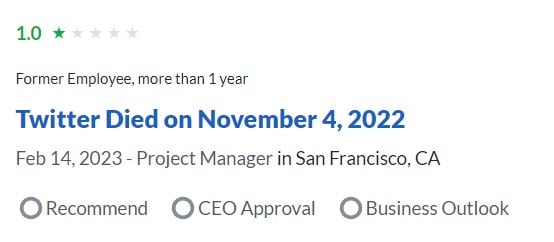 Ohana No More: Salesforce
After a prosperous 2020-2022 period and a 60% headcount increase, Salesforce found itself in a bit of a downward spiral.
In order to balance the books, the company got rid of a 75-acre wellness retreat center and discontinued the practice of giving its salespeople a "well-being" day, an additional day off each month.
Then it laid off 8,000 people in January.
"Layoffs are always hard," said Marc Benioff, Salesforce CEO. "You can continue to keep a company going with excess employees, but it's not healthy for the company. If you don't have a performance culture, and you don't operate the company with that kind of efficacy, you're not doing anybody any favors."
But then… *drum roll*
Salesforce hired Matthew McConaughey as a creative adviser for $10M a year. It was a desperate attempt to save the company's reputation, but the reality is that it did precisely the opposite.
To quote one of Salesforce reviewers on Glassdoor: "Ohana no more" (Ohana is a Hawaiian word for family bonds, which Salesforce used to describe the relationship between the company and its people).


Moved to tears: HyperSocial
LinkedIn exploded when HyperSocial's CEO, Braden Wallake, posted a crying selfie because he had to fire two employees. The public reaction was swift and, dare we say, brutal.
Wallake was criticized for his inapt approach to a tricky situation.
It was argued that, instead of making grandiose statements, Wallake (but also a lot of other founders and CEOs) should focus on practical measures such as proper planning and forecasting, taking pay cuts, hiring responsibly, or, if the worst comes to worst, taking effective steps for the laid-off: writing recommendations, connecting them with the right people, providing generous severance packages, organizing outplacement services, and similar.
In all honesty, we don't know the details. Perhaps Wallake seriously did everything he could to help, especially having in mind he fired only a couple of employees.
But this certainly is a lesson to all the C-suite management out there. Layoffs are hard and the public is watching. One wrong move and your company's reputation goes to pieces.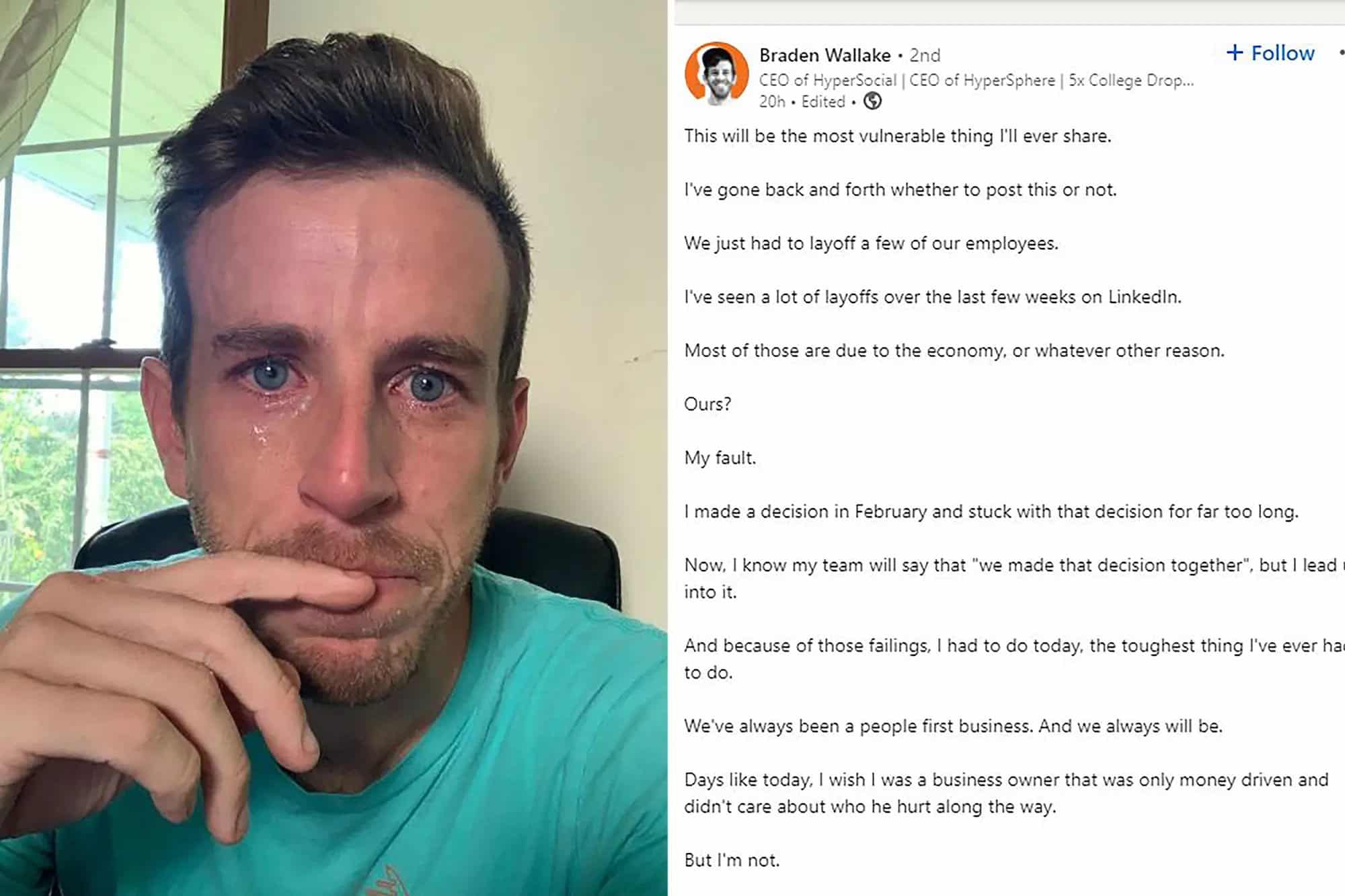 Amazon: Earth's best employer?
Amazon laid off 18,000 people in January due to "uncertainties in the economy".

Employees claim they received an email notifying them they're no longer needed in the company, "effective immediately" – no face-to-face communication whatsoever. "Our primary mode of communication will be through internal email on your non-Amazon device," one of Amazon's HR top executives wrote in the email.
There are two problems here: 1) communicating sensitive topics via email and 2) cutting people off from all company accounts.
These practices are not uncommon, as a number of huge companies did the same. And they often go against common company values such as transparency and respect.
How is it possible that overnight, the employees who helped build the company went from an integral part of the "family" to enemies who can't be trusted with the data they previously had access to?
And why is it acceptable that managers could not take the time to speak to the affected people in person?
A common excuse: too many people. It's not feasible. Yet, the managers do have time for face-to-face meetings during regular, everyday work. Why should this situation be different? Managers should be managing in good and bad times alike; letting them off the hook robs the affected employees of the respect they deserve.
The worst part is that even huge names like Instagram are not immune to this practice.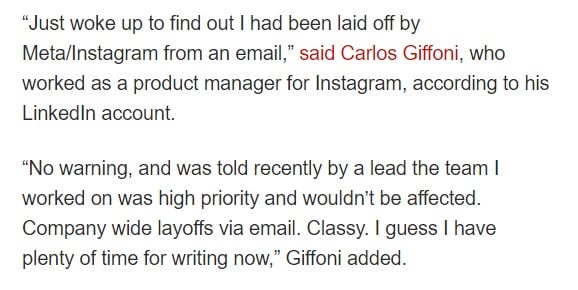 Why Are These Layoffs So Bad?
The list of companies that couldn't handle layoffs with care and respect goes on. Here are the main reasons why employees feel let down:
The company does not announce layoffs in a timely manner
There's no transparency about the process and the next steps
There's no face-to-face communication
Employees lose access to their work accounts immediately
Severance packages are not good enough
There are no outplacement services and help with the job search
With the public backlash and the increasing number of people sharing their experiences, we hope the companies will learn from their mistakes.
Everything's not lost, though! As hard as it is, there are still some companies that tried to do the right thing.
How to Handle Layoffs Ethically
First things first.
What makes a layoff ethical?
Being transparent about what's happening
Acting in accordance with company values
Giving time frames
Communicating next steps
Providing resources and helping with job search
Generous severance packages
In the sea of poorly executed layoffs, there are a few companies that (we dare say successfully) tried to soften the blow and support the affected people.
Strong leadership: Airbnb
Back in 2020, Airbnb had to let around 25% of its workforce go.
Airbnb's CEO was praised for his informative, humane letter and how graciously the company weathered this rough period.
In the letter, he explained the reasons for the layoff, decision criteria, next steps, and details around healthcare, severance, and job support.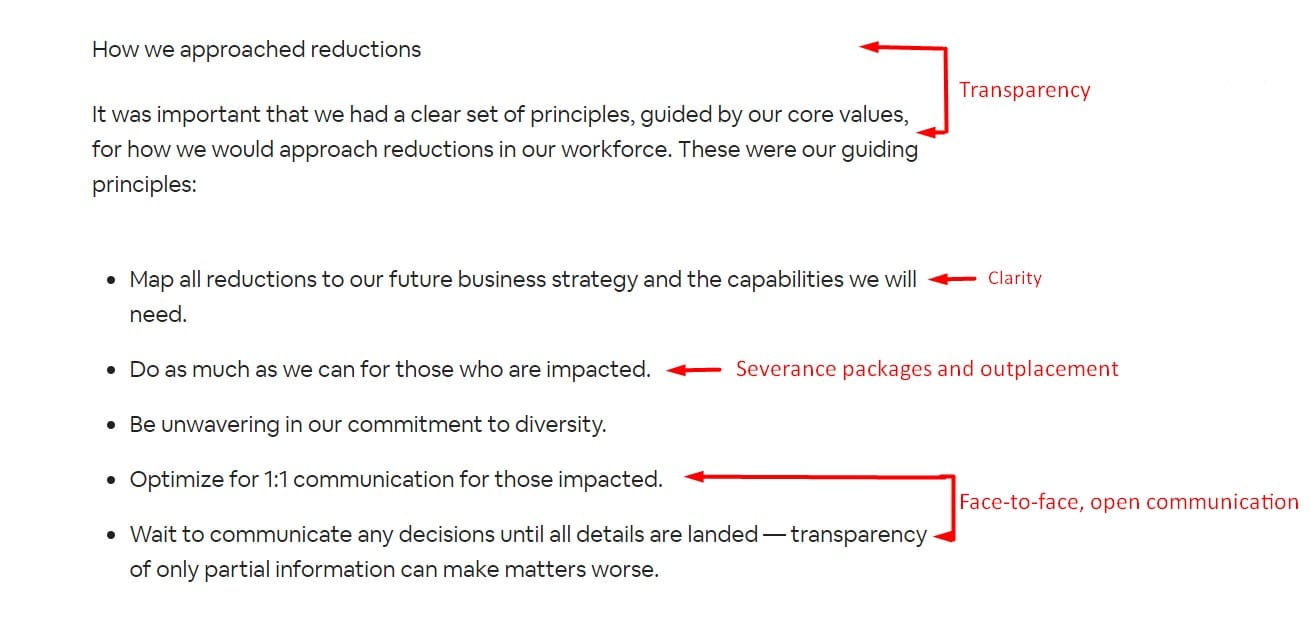 What AirBnB did right:
Provided transparency and honesty
Provided severance packages and outplacement services
Provided face-to-face communication
This honest approach obviously bore fruit, as Airbnb still gets praise publicly, several years later.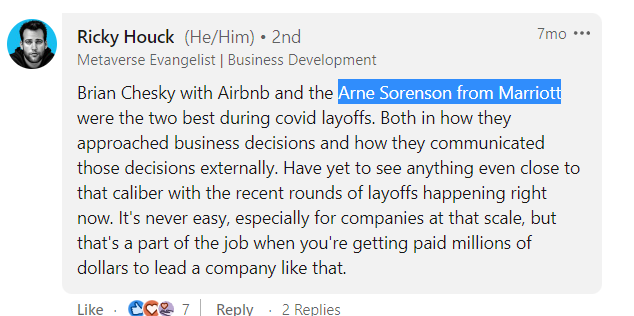 Standing by values: Hubspot
At the end of January 2023, Hubspot decided to lay off around 500 employees, which make up 7% of its workforce.
Following Airbnb's footsteps, Hubspot issued a statement, communicating everything around this decision and the effects it will have on the employees and the company alike.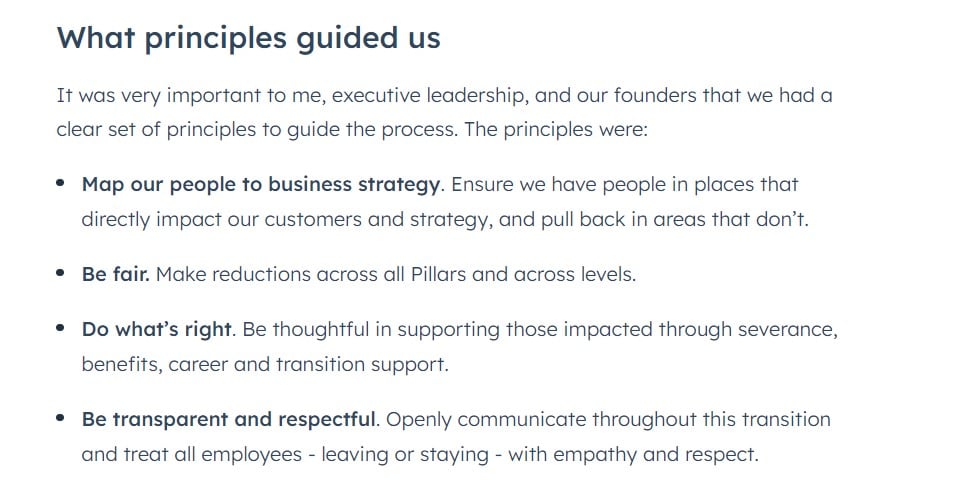 What made Hubspot stand out:
Generous severance package

Hubspot paid a 5-month severance and an additional week for every year spent at the company, up to a 7-month total severance period. They also paid out management bonuses following their standard bonus structure.

Extended medical benefits

They extended medical benefits for up to 5 months. EAP (Employment Assistance Program) and Modern Health have also been granted to employees to provide them with mental health support and career coaching.

Equity

Hubspot accelerated vesting through April 1, 2023, and removed vesting cliff for people who have been with the company for under 6 months.

People could keep their work laptops and equipment
1-on-1 conversations with management
Help with coaching, job search, and resume building
Something to chew on: For example, Twitter's 2022 revenue was 88.5% bigger than that of Hubspot ($4.4B vs $1.7B); yet, Hubspot was the one giving decent severance packages and outplacement services, while Twitter's employees waited for several months to get offers drastically different from the ones they were promised.
Culturally consistent: Atlassian
At the beginning of March, Atlassian, the company behind project management tools such as Jira and Trello, announced that they were letting 500 people go.
Reportedly, this decision has nothing to do with financial performance – it's simply a consequence of restructuring, where the key people made the decision to cut down on certain expenses and focus on others.
The company offered the affected people 15 weeks of severance pay, and one additional week for every year spent in the company. The unused time off was also paid out, as well as accelerated vesting, medical insurance, and visa assistance. The company ensured the ones who are laid off get help with resume building and interviewing too.
What set Atlassian apart:
Visa support

Let us paint the picture: there are employees who moved to a different country to work for Atlassian. They got a temporary resident visa through Atlassian, probably rented an apartment, got a car, and maybe even had spouses whose temporary visas were settled through Atlassian employment. Imagine the consequences of losing a visa in such circumstances. Atlassian recognized the severity of the situation and provided help with external immigration counsel to review visa status and options.

Internal mobility

The affected employees could apply to open roles internally and basically switch careers and stay in the company.

Communication

Atlassian did not cut off all the affected employees immediately. Instead, they got an entire week of access to all company communications. This way, people could connect with coworkers and share experiences, say goodbye, and organize handoffs.
A tough situation, but Atlassian made the most of it.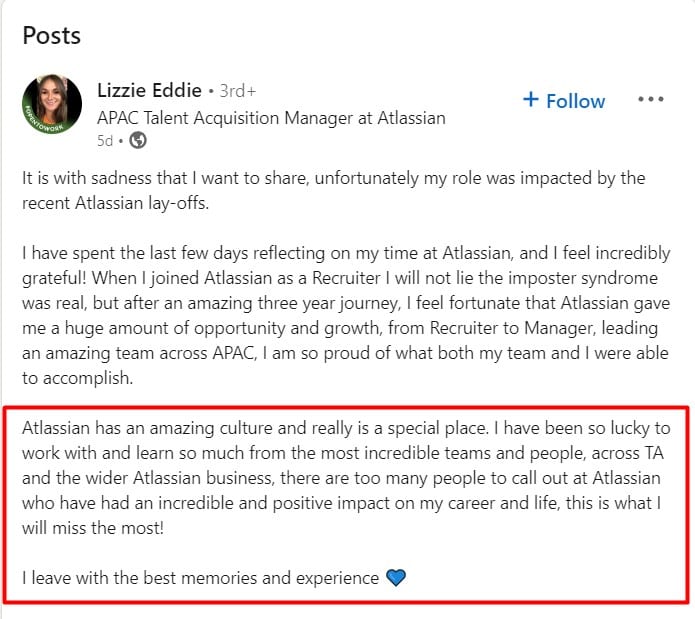 Key Points
While layoffs are sometimes the only way for a company to stay afloat, not all layoffs are the same.
Unethical layoffs encompass poor communication, immediate removal from access to company communication systems, no transparency, no face-to-face communication with the management, weak severance packages, and no outplacement services.
Ethical layoffs are conducted in a transparent, human manner; they involve personal communication, assistance during the transition (generous severance, health insurance, visa support, etc.), internal mobility, and outplacement services that offer help with job search, interviewing, and resume building.
Considering the destructive effects layoffs have on both the impacted people and company reputation, employers should reconsider their communication plans, severance packages, and employee support strategies.
________________________________
Need a hand? There are 2 ways we can help you:
Lost your job due to layoffs? Learn effective job search strategies and land a new gig in no time.
Need to conduct a layoff? Learn a better approach to outplacement and employee transition.