Landing a job is not as easy as it used to be, so we've developed this guide to help you know where to start. Learn where to find jobs, how to apply, how to network, and more.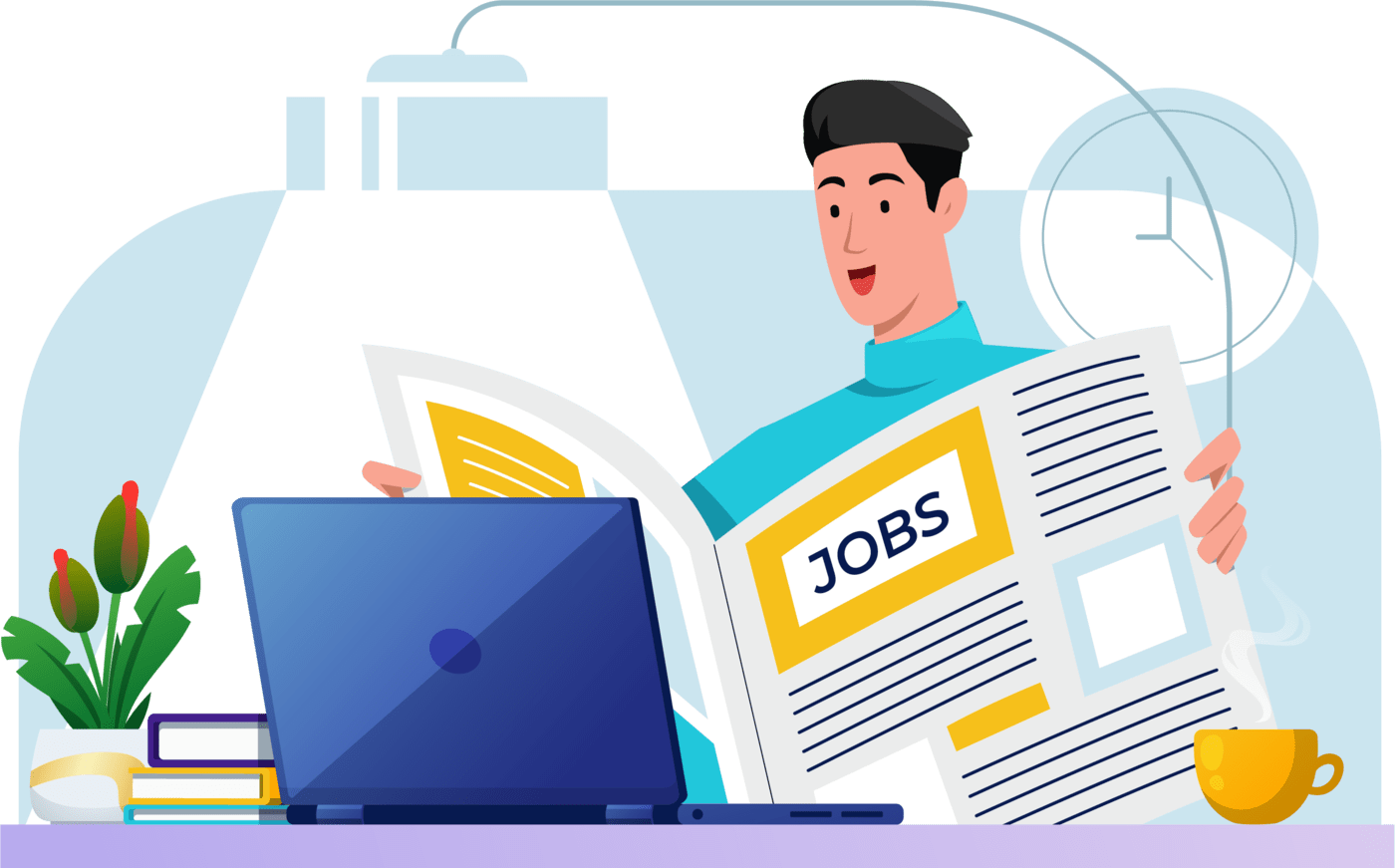 Conducting a job search is a full time job in itself. It takes a lot of thought, energy, and time on top of an already full schedule to seek out new employment opportunities. You may be completely new to job searching or have been out of the job search game for a while and feeling completely overwhelmed. How do you get a job? How do you start your job search? What are the tips you need to know to make your job search a success?
Every job-seeker is unique, but there are many who have trodden the path before you and have ended their job search successfully with a brand new position. We're going to look at how to get started looking for a job by laying out a few best practices.
Chapter 1:
How to Start a Job Search
How do you organize your work projects? Likely you utilize organizational tools and time management skills to break up the needed tasks and get the job done bit by bit.
Your job search is no different.
Consider landing your next role as your new job (or at least the next big project you'll be working on.)
The average job opening attracts 250 resumes.
(Glassdoor, HR and Recruiting Stats for 2019)
Many people conduct their job search by doing a few half-hearted searches on big websites with lots of competition, blast out several dozen generic resumes or application forms, and bemoan the fact that they aren't getting any calls.
Job searching takes some thought and intention to be done successfully.
This doesn't mean that it has to take up all of your time or consume your life.
But it does mean that you should put some thought into setting yourself up for success.
How to Organize Your Job Search
Like any big project you have worked on, take it piece by piece and utilize a few organizational best practices.
Make a Schedule
Set aside some time every day to conduct your job search. This can be for any length of time and at any time of day that makes sense for your circumstances.
Have 25 minutes between dinner and bath time for the kids? Great. Use that time.
Have a solid hour in the mornings or during lunch break? Excellent. Utilize that time.
The goal should be to make a schedule that is realistic and fits into your life as-is. Otherwise, job searching will become overwhelming quickly and you will not be able to maintain the schedule you have set for yourself.
Use Organization Tools
Organization tools can be anything from good old-fashioned post-it notes to Excel spreadsheets, to digital bulletin boards like Trello or Asana (pictured below).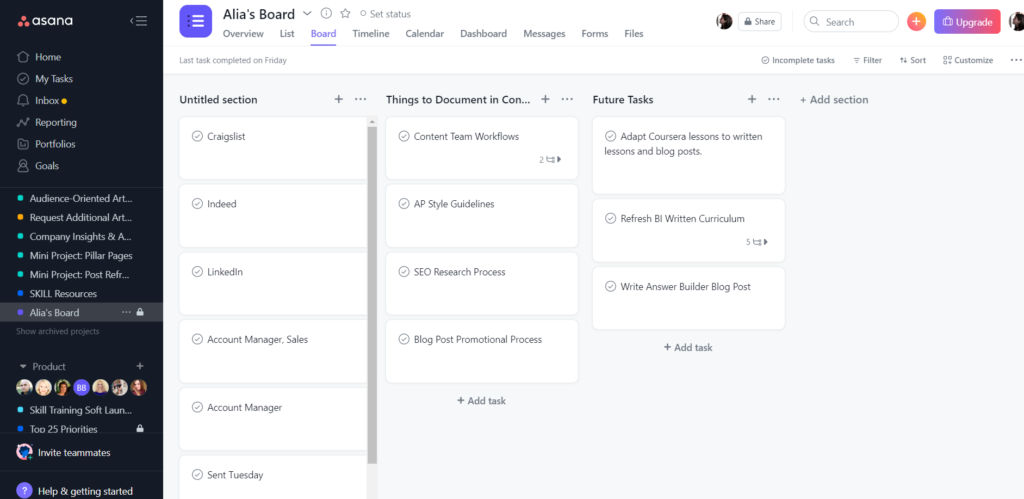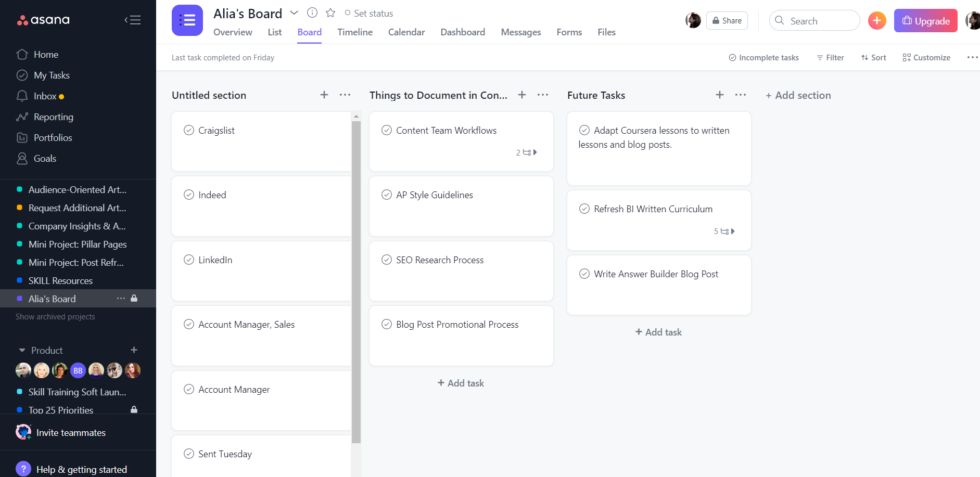 An example of an Asana board used to organize job search tasks.
The important part is that it's a tool you are comfortable using and actually helps you keep track of your job search.
Settle on a Process
There's no way around the fact that job searching takes time, but parts of the process can be streamlined once you've figured out a system.
For instance, perhaps you spend the first half of your allotted job search time each day looking for new opportunities to add to your Asana board or spreadsheet and the second half writing cover letters and sending emails.
Maybe you spend one day networking on LinkedIn and the next going through a specific list of job boards.
However you choose to do it, figure out a system and stick to it. You can always refine it as you go if you find you're not getting the results you want.
Getting Clear About Your Goals
If you are currently seeking a job, there was likely something about your old one that wasn't fulfilling everything you hoped you'd find in your working life. Maybe it started as your dream job but you've found there's actually some other focus that makes you happier or you're better at. Maybe the culture, team, atmosphere, job duties, or management have changed and you no longer feel it's a fit.
Whatever your reasons, the first thing you have to do when determining what's next in your career is defining what you want in your new job.
The best way to approach this is to ask yourself some self-reflecting questions.
Ask Yourself Questions
The pain points in your last position are excellent indicators of the things you will want to be sure to have (or avoid) in your next job. Discomfort, as unpleasant as it is at the time, offers us a wealth of data about the changes we can make to help ourselves be happier, more stable, and fulfilled in our working lives.
For instance, if your last manager was domineering and micromanaging and that was a pain point for you, you can know that moving forward you would prefer a more hands-off boss that allows for more autonomy.
The number one reason why employees quit is a lack of appreciation at their current job. 79% of employees who quit claimed this was a major reason for leaving.
(O.C. Tanner 2019)
If you had a very chatty and casual workplace before and you'd prefer a more formal environment, that's excellent for you to know too. You can look for that in your next role.
Spend some time thinking through the pain points of your last job and what you'd like to have in a job instead. Write them all down. This is your "wish list" and will be an excellent resource for you to reference as you begin your job search.
Some of the questions you can ask yourself are:
"What was it about my last job that made me want to leave?"
"Which of my job duties did I enjoy the most?"
"If I could have changed one thing about the culture or environment at my last job, what would it have been?"
"5 years from now, what would be my dream work scenario?"
"What can I look for in a new job that will help me accomplish that scenario?"
Keep this list handy during your job search as a quick reference and refine as necessary.
What Are Your Strengths & Weaknesses?
The next thing you should evaluate as you begin your job search is your skillset. What are your strengths? The things you particularly excel at?
What about your weaknesses or things you could improve in?
What about things you like to do but aren't very good at yet?
You have a lot to offer a new employer, but landing a new job means you're going to have to convince them that you actually have the skills you say you have. Before you can do that, you need to be clear about what your skills actually are.
Make a list of these skills, the good, the bad, and the ugly. When you're searching for new jobs you'll be able to see what roles will include the types of duties that you enjoy doing, excel at, and also give you room to grow.
Where Do You Want to Be In 5 Years?
This is one of the questions you asked yourself earlier and the answer will help you gain clarity on one important question: are you looking to change only your role or are you looking for a whole new life?
Do you want to change cities? Move states? Work abroad? Work from home? What are your values in this area? Is travel important to you? Is an easy commute (or no commute) very important to you?
Figuring out what you want your life to look like with your new working circumstances is very important at the beginning of your job search. It will determine where you focus your search efforts and what cities and locations you can take out of the running completely.
Ready to land your Dream job?
Chapter 2:
The Job Search
Now that you are armed with what you're looking for, what your goals are, and what your skillset is, you can start conducting your job search.
The questions you've asked yourself should give you an excellent starting point for how to narrow your search.
Where to Start Looking for a Job
Like nearly everything these days, your job search is more than likely going to start on the internet.
Different companies have different platforms they like to post job openings on.
Some companies list their open positions on their websites, while others prefer to exclusively list job openings on platforms like Indeed and LinkedIn.
If you have a particular company in mind for your next job, start on their website and go from there.
Alternatively, you can also simply google *company name* and *job openings* and see what results come up. This can be a quick way to curate all the job openings for that company in one place.
For example, here we've searched for "Microsoft job openings."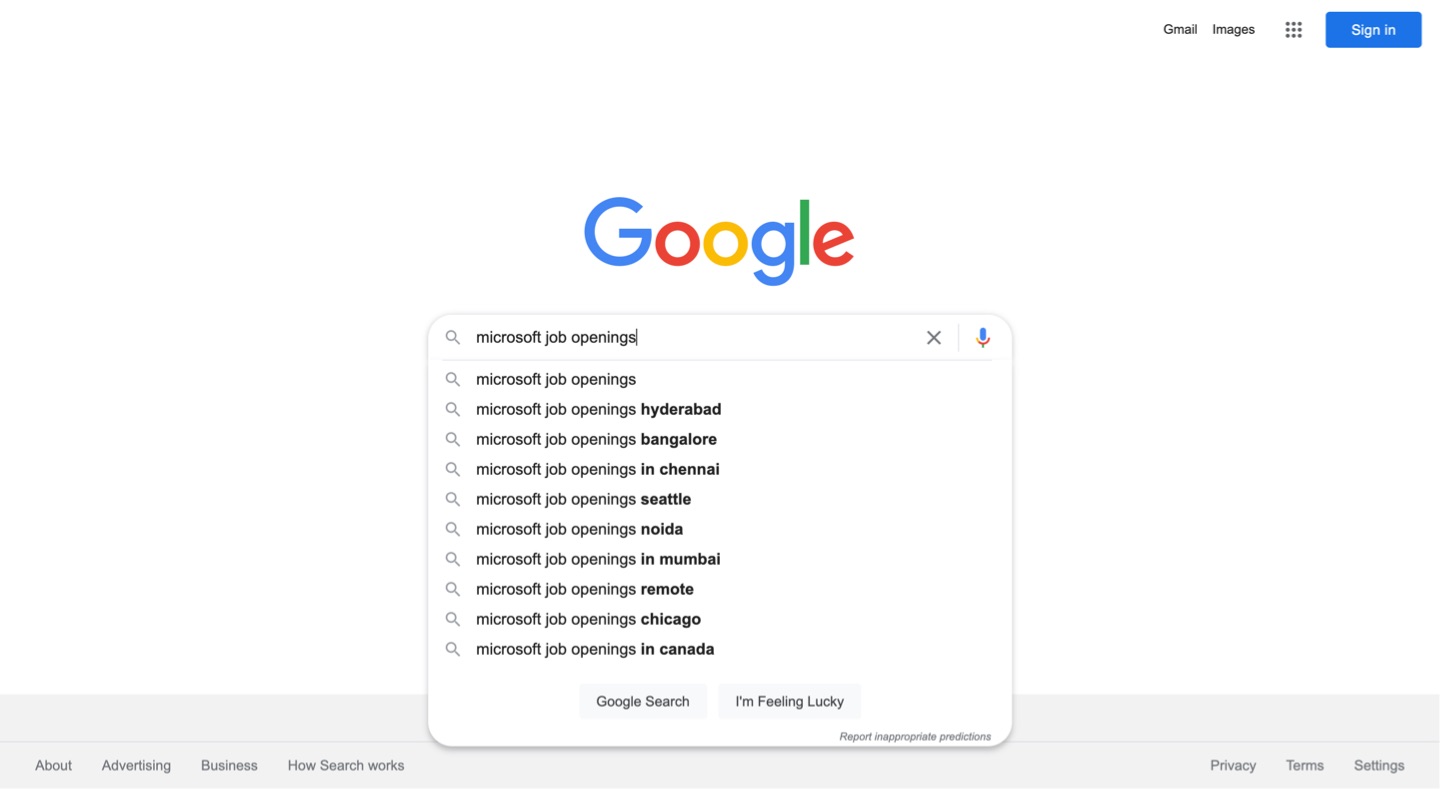 We are then shown jobs at Microsoft that have been posted all over the web. The first few are displayed, and you can view more by clicking the "100+ more jobs" arrow.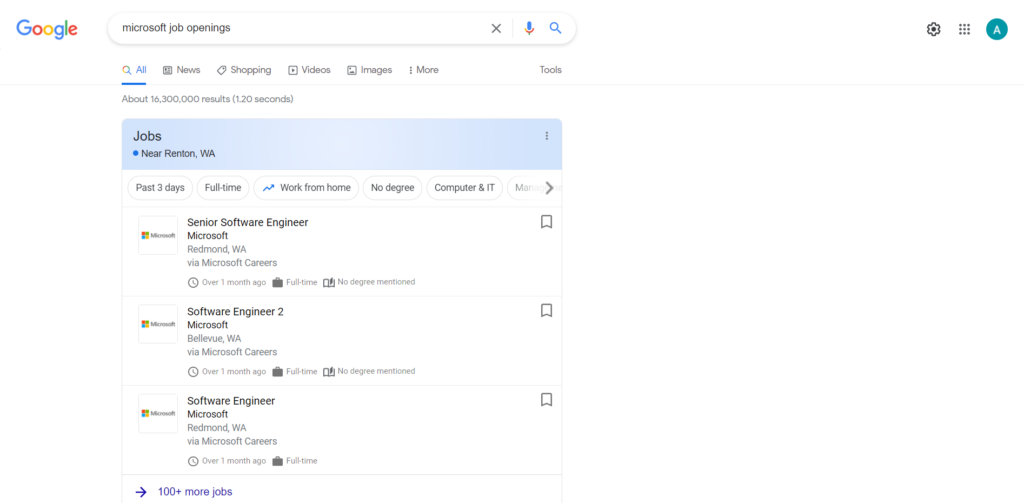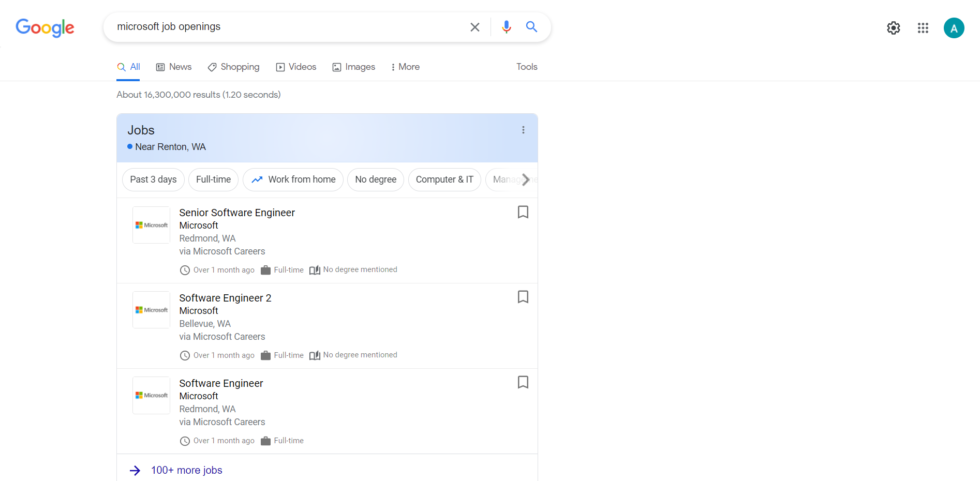 There are many, many job search sites available online, and you've probably heard of the most common ones already.
People often start their job search on these platforms:
Google
LinkedIn
Indeed
Monster
CareerBuilder
Many job search platforms have a similar design to searching for jobs.
For instance, on your LinkedIn profile, simply navigate to "Jobs" on the menu bar and you will be taken to a screen where you can enter the job role and location you are interested in.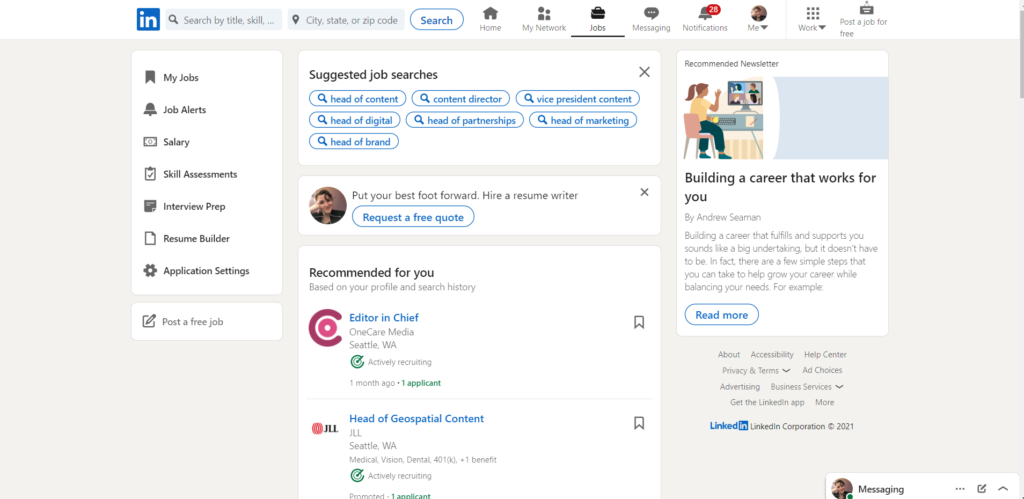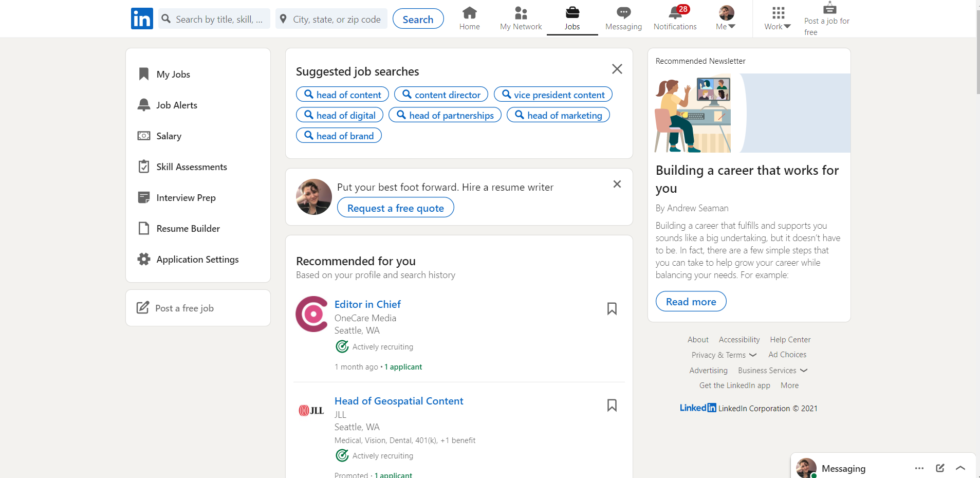 Once you've entered the desired details, you will be shown a screen with the result of the search. You can further refine your search by filtering results by Date Posted, Experience Level, Company, Job Type, and Location.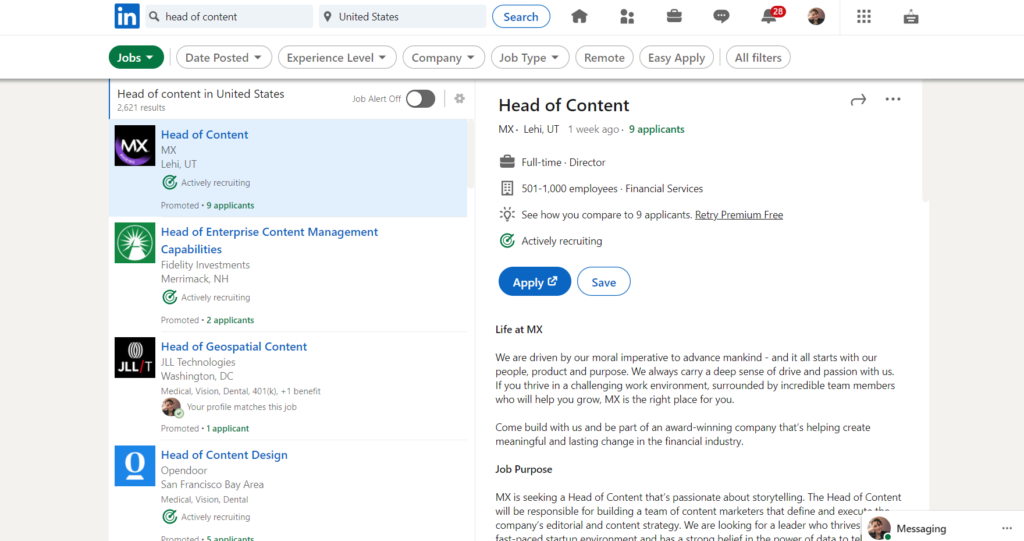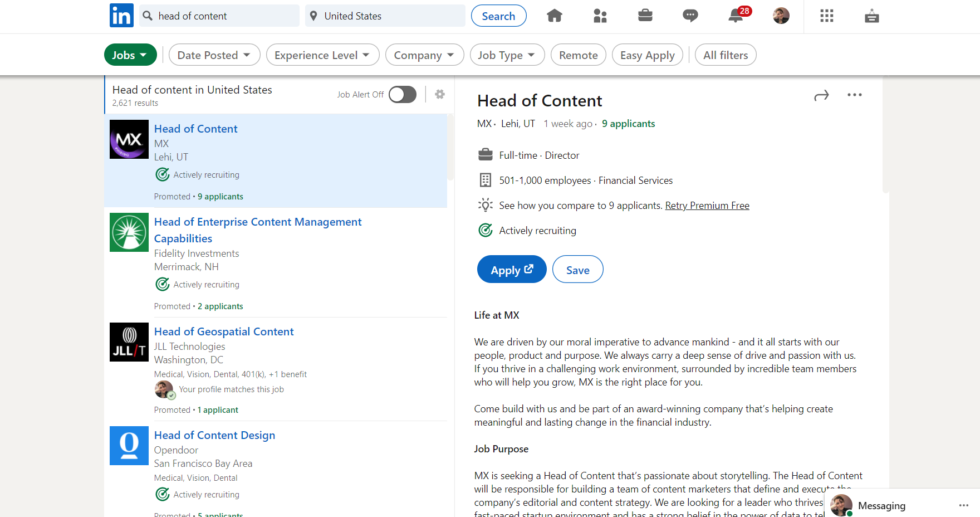 Job opportunities can also be found on more informal platforms like craigslist and Reddit. Of course, it's always very important to keep on high alert for scams on these platforms, but many stable and legitimate jobs can be found there.
Some less common platforms for finding jobs include:
Craigslist
Reddit
AngelList
Facebook Groups
You can also sometimes find databases that list jobs for specific industries or sectors. For instance, the California Arts Council is a State Agency that lists job opportunities available in the Arts in the state of California.
Bottom Line: Get creative with your search. If the standard sites aren't working out for you, do some exploring and see what else you can find. The World Wide Web is a big place!
Read Job Descriptions
The job description outlines in detail what the employer will expect from you. It may be tempting simply to search by your desired job title or location and breeze past the job description, but it's important that you read it.
The job you'll actually be doing every day may have very little to do with the title of the position, so it's important that you get a full understanding of if you are actually a fit for the role.
Don't Waste Your Interview
Finally landing an interview after months of job searching is a plus, but it's not a victory yet. Don't waste your precious interview opportunity by being unprepared. Big Interview's practice tools are all the preparation you will need, making you really good, really fast, guaranteed.
Get Instant Access
Research Companies
When you find a position you'd like to apply for, navigate to the company's website and do a little research. What is their Mission Statement? What are their core values? Does anyone you know currently work there and could possibly be a good networking connection?
(This "About Us" page from Squarespace lists the company's values and mission.)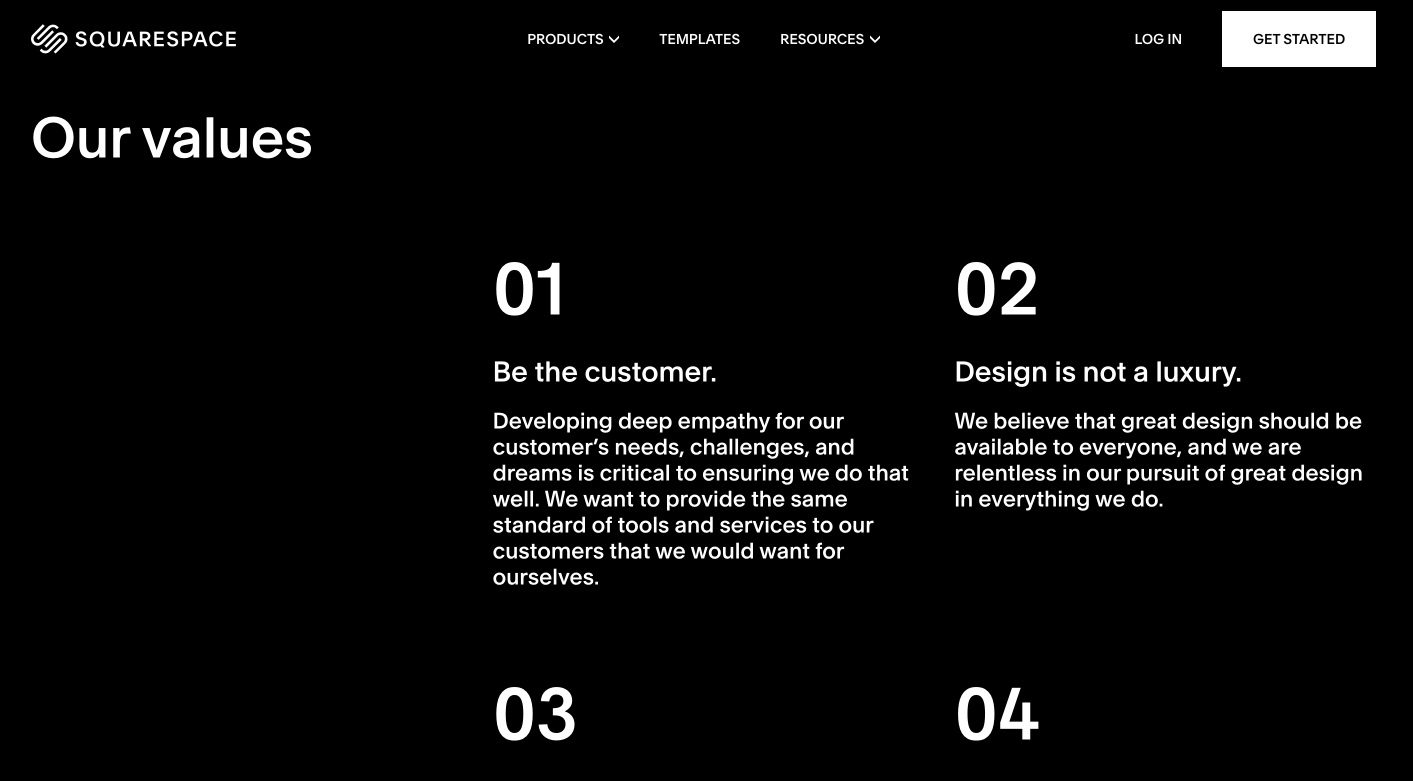 Many companies put a little bit about themselves and what they do in the job description, and you can also find out useful information about the company culture, values, and employment philosophy by looking up their social media profiles, interviews with employees in executive roles at the company, and platforms like Glassdoor that allow former and current employees to review the company.
Taking all of this information into consideration can help you determine if the company is actually a good fit for you, even if the job looks like a dream in the description.
Research Job Requirements
Job requirements are the skills, knowledge, education, and qualities an employer has defined as being necessary to be considered for the job.
Job descriptions also typically include a list of job requirements. Researching these requirements will help you narrow your search to jobs you actually qualify for.
There can be some gray area, however. There are both soft (people) skills and hard (technical) skills that can be learned on the job, and some employers will be willing to teach you some of the skills you need to know and won't completely take you out of the running for not having them.
The average amount of time to find a job is 24 weeks.
(Bureau of Labor Statistics, November 2020)
Some hiring managers make this easy to determine by splitting up the job requirements into lists of "mandatory" skills and some skills that would simply be "nice to have."
For instance, if a company is looking for an SEO Specialist, knowledge of SEO research tools and best practices will be mandatory, while also being a good writer would be a nice bonus.
Some jobs also require special certifications and licenses that are non-negotiable (real estate, law, mental health, etc), while some degree requirements can be replaced by years of experience.
If, for example, your degree is in Art History but you have demonstrable success in working as an SEO Specialist for the last 5 years, chances are the hiring manager is going to care more about your experience than what your degree is in.
Ready to land your Dream job?
Chapter 3:
Applying for Jobs
You've found some great opportunities that match what you're looking for and now it's time to apply!
When you've reached the point of applying for jobs, you want your documentation to be in the strongest possible position. What documentation, you may ask?
Your resume, online profiles, and portfolio.
You want to make sure that all of the materials you'll be submitting to job openings is updated, relevant, and showcasing your best work.
Resumes in particular are important to keep updated. If you're ready to start applying to jobs, wipe the dust off your resume and give it a polish.
How to Write/Update Your Resume
Your resume is your calling card, the hiring manager's introduction to your work history, and your skillset.
75% of HR managers caught people lying on their resume.
(Careerbuilder 2018)
Whether you're updating your resume or starting from scratch, there are a few best practices you're going to want to keep in mind.
List Your Strongest Assets at the Top
The average hirings manager only spends 6 or 7 seconds scanning a resume. This means you want to put your most impressive points at the top of the resume where they can be seen first and quickly. Only include your strongest selling points, and avoid being vague.
For example, when listing your skills
Certified Google Analytics User
Is much stronger than
Conducts Research
Don't Include an Objective or GPA
It used to be common practice to state an objective at the top of your resume, but that is now an outdated practice. Instead, write a resume summary that highlights why you'd be an amazing hire.
If you are not a new grad seeking a first job, there is no need to list your GPA. Even if you are a grad seeking your first job, it is advisable not to include your GPA unless it is very high (3.7 – 4.0). Due to the competitive nature of the job market, you don't want to give hiring managers any more reasons to cut you out of the pile.
Keep it Short and Sweet
There is no need for your resume to exceed one page. You should include only your most recent and relevant work. For instance, if you've been working in Finance for 10 years, your college internship or high school job delivering pizzas isn't going to be relevant information to the hiring manager anymore. Save the space and cut it out.
Use Good Formatting
Some job seekers think they can stand out by making their resume outlandish or strange, using fonts, colors, or other formatting tricks to make them seem different and unique.
This approach will likely get you attention, but not the kind that will land you a job. Resumes that don't follow standard formatting rules and aren't easily readable will likely just get your resume tossed into the trash before anyone has a chance to read about your qualifications.
Save Your Resumes as PDFs
Speaking of formatting nightmares, saving your finished resume as a PDF will eliminate the possibility of a hiring manager opening your Word Document to a jumble of incomprehensible nonsense.
Don't Waste Your Interview
Finally landing an interview after months of job searching is a plus, but it's not a victory yet. Don't waste your precious interview opportunity by being unprepared. Big Interview's practice tools are all the preparation you will need, making you really good, really fast, guaranteed.
Get Instant Access
Sometimes the format you save your document in will not translate to the software that will be reading it on the other side, no matter how beautiful it looked on your screen before sending it off.
Eliminate this possibility by simply making your edits and saving your document as a pdf.
Writing Your Work History
Your work history is usually a collection of your top 3 most relevant and impressive job roles, starting with your most recent role and working backward.
It's important to list the name of the company you worked for, your title, the location of the job, and the dates you worked there.
When it comes to describing your job duties, stay away from vague language. You want to use descriptive language that conveys action and competence.
Example:
123 Marketing | Redmond, WA | Copywriter | May 2013-Present
Participated as an active member of the marketing team, particularly in ideation of on-brand messaging
Wrote crisp, clean copy for a variety of digital platforms including web pages, blogs, newsletters, and product descriptions
Researched industry trends and presented findings to agency
NOT:
Copywriter, 2013-2015
Wrote Content
Experienced in Microsoft Word
Experienced in writing blogs
I have great ideas
You can see how the first example paints a picture of what the candidate did every day in a way that shows they have a wide variety of skills and experiences.
The second example is just a list of things that anyone could say. It's vague, uninformative, and unimpressive.
Keep Algorithms in Mind
It's very common these days for employers to use what is called an Applicant Tracking System (ATS) during the hiring process.
An ATS is an automated system designed to flag resumes for potentially good candidates based on specific keywords.
Some job seekers try to increase the number of keywords on their resume to strengthen their chances of getting past the applicant tracking system.
Keep in mind, after the ATS, your resume will be read by a human who is likely to only look at your resume for those 6 seconds we talked about earlier.
Therefore you should not only focus on getting past the bots. You should also focus on readability and conveying the most amount of information in the smallest, most digestible format.
Don't "keyword stuff" at the expense of clarity, good writing, and readability.
Online Application Forms
Nearly every job search platform includes online application forms you need to fill out in order to apply for the job.
It can be frustrating to re-enter all of the information that is already on your resume, but it's important that you fill out these forms correctly and accurately. You don't want to flag something in the system that may disqualify you immediately, such as an empty field or irrelevant information.
Always leave a way to be contacted and tailor any cover letters they may require to the specific job and the specific company.
(Sites like Indeed.com offer forms like the one below where you can fill out a few personal details, upload your resume, and save the information for future job searches.)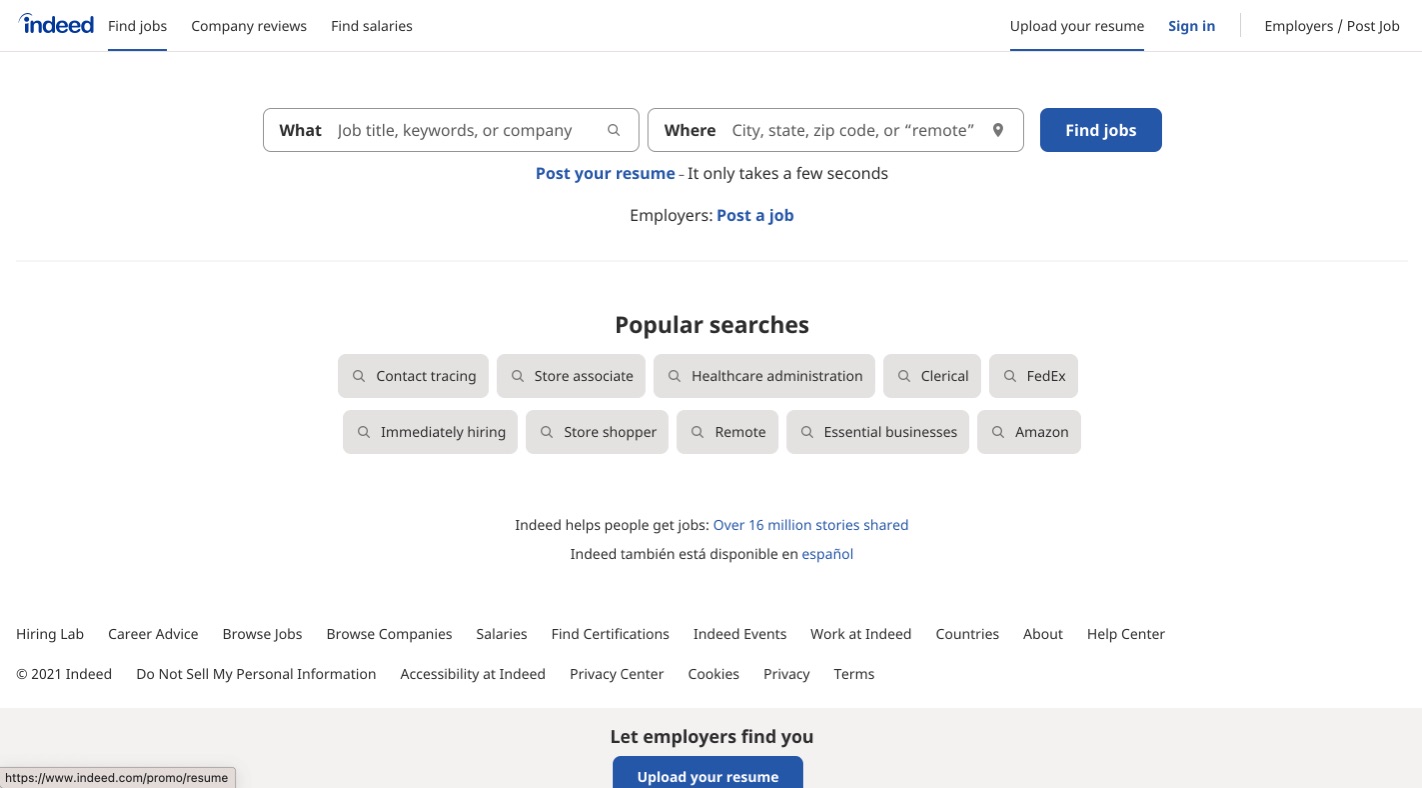 Sometimes hiring managers give specific instructions on how to apply to see which applicants take the time to read to the bottom and complete the whole application.
These instructions are usually things like, "mention the color blue in your subject line," or "what is the last book you read?"
These questions weed out the applicants who are simply trying to fire off as many forms as they can without regard for the company or positions. No employer wants to feel like they are simply 1 in a million to you and you have no particular interest in the work that they do.
Cover Letters
When a job application asks for a cover letter, it replaces your resume as the first representation of you the hiring manager sees.
Therefore, you want to make sure that it is professional, short, and to the point.
Some things to include on your cover letter:
Power Words
Don't use vague or weak language when describing yourself and your past accomplishments.
Be specific and use language that is "powerful" or conveys action.
Power Word Examples:
Coordinated
Administered
Executed
Operated
Formulated
Implemented
Accelerated
Focused
Directed
Enhanced
Make it About Them
This may seem counterintuitive because you are, after all, trying to sell them on how great you are.
You definitely want to sell your strengths, but you want to convey how your strengths benefit them.
For instance, instead of saying something like, "I have many years of experience and excellent communication skills."
You could say:
"My many years of experience in a role similar to the one you are filling and my expertise in customer-facing communications will directly aid me in accomplishing your stated goal of increasing customer satisfaction. I believe we can accomplish a lot together and I look forward to hearing how I can help you continue the great work you are doing."
Here, the candidate is listing her strengths, but she is specifically mentioning how they can benefit the company and how excited she is about working with them to accomplish their goals.
You'll also notice the above example gives some specifics about what kind of experience the candidate has, which brings us to our final point:
Be Specific
The job description usually tells you exactly what the employer is looking for, so utilize that in your cover letter by working those skills into your experience (if you can do so truthfully).
In the above example, the candidate doesn't just say she has excellent communication skills–this is a pretty broad generality after all–she says she has customer-facing communication skills that directly apply to the desired outcome the hiring manager mentioned in the job description.
Portfolios
Portfolios are tremendously important in certain lines of work. Usually, a portfolio is required for coders, developers, and those in the creative professions.
A portfolio demonstrates your work like nothing else can–it visually demonstrates your skill level by showing off the work you've already done.
After all, one of the best indicators of future success is the quality of past performance.
Portfolios will look a little different depending on your profession–a developer won't have the same portfolio needs that a photographer will, for example–but there are some rules of thumb that can be applied to any portfolio.
Lead With Your Best Work
Your portfolio should only include your best work and should begin with the project that showcases your most impressive strengths as well as your range and expertise. Don't save the best for last, put it out there loud and proud, right at the very beginning.
Keep it Relevant
It may be tempting to round out your portfolio with other pieces to make it look stronger, but projects that have no relevance to the job you are applying for won't often help you and may even hurt you if they wonder why you dabble in interior decorating when you say your expertise is in logo design.
Make it Easy to Navigate
Don't make it hard on hiring managers to find your portfolio by giving broken links, or burying it in a sea of other pages on a personal website.
It should be easy from a casual glance for a hiring manager to see what they are looking at and how it applies to what they're looking for.
Ready to land your Dream job?
Chapter 4:
Growing your network
Networking is a very important part of successful growth in your career. Unfortunately, the word "networking" can have a lot of not so great connotations.
When you think about networking you may imagine an inbox full of pushy emails demanding your attention from people you don't know, or stuffy conference rooms full of well-dressed strangers all trying to sell each other something.
Sadly, both of these things happen often in the name of "networking."
However, there is an organic and mutually beneficial way to network that is not fraught with fakery and manipulation.
How to Network
If you are new to networking, there are a few places to start that are easily accessible and, with a thoughtful and intentional approach, can lead to some great results.
Your Personal Network
If you are brand new to networking, the best place to start is with your personal network. Your personal network is a group of people who already know and respect you, therefore cutting out the part of networking that can be so tricky.
The fact is, you probably already know people who would be happy to support you in your job search.
From family and best friends to former colleagues, bosses, and acquaintances, take inventory of everyone you know who might possibly be able to help you with information, advice, introductions, or leads.
Of course, we're not suggesting that you immediately start calling up everybody you've ever met to ask them for favors.
What we are suggesting is to simply take inventory.
Everyone in your network has their own network, who in turn have their own network, and so on. Therefore, taking stock of everyone in your personal network can have far-reaching effects on your job search.
Your Linkedin Profile
At its heart, LinkedIn is a social media platform that hosts over half a billion professional profiles worldwide as of January 1, 2020.
That's a HUGE searchable database of potential networking and job-finding opportunities.
Make sure your LinkedIn profile is filled out and up to date. People will be much more likely to trust the legitimacy of a profile with a professional-looking headshot and robust work history and educational details.
(A robust LinkedIn profile helps establish legitimacy)
As many people as there are to potentially connect with on LinkedIn do not spam strangers asking for favors.
It's perfectly acceptable to strike up a conversation with someone you see a common connection with. Perhaps you went to the same school or interned for the same company or are from the same city.
Don't Waste Your Interview
Finally landing an interview after months of job searching is a plus, but it's not a victory yet. Don't waste your precious interview opportunity by being unprepared. Big Interview's practice tools are all the preparation you will need, making you really good, really fast, guaranteed.
Get Instant Access
By all means, send out friendly messages and connection requests to profiles like this, but focus on building trust and rapport and expressing genuine interest in what their endeavors are.
Chances are information about your job search will come up naturally as you're getting to know one another and your new friend will be much more likely to want to help you out after having a personal connection with you.
In a nutshell, be professional, be thoughtful, don't steamroll people with your desire for a job, and LinkedIn will prove a valuable tool to have in your job search toolbox.
Professional Networks
Now that we've covered personal networks and LinkedIn, let's talk about professional networks. Professional networks are important for widening the circle of contacts in your field.
You likely have access to some professional networks you may not be aware of. Some of these include:
1. Alumni Networks
Alumni Networks can be a fantastic networking opportunity, especially for new grads or young professionals just starting out.
Depending on what school you attended, your alumni network may be very robust and well connected in your field.
Nearly every institution has a pool of alums who are now thriving in the workforce and many are happy to help a fellow alum. Some schools even offer mentorship programs that connect students with working alums.
Contact the Career Center of your school to access their database of alums and explore all of the resources your school has to offer.
(Fellow alums are also a great way to begin building your network on LinkedIn.)
2. Professional Organizations
Joining a professional organization can be a great way to meet people in your industry.
There is a wide variety of professional groups out there — there's one for every industry and career path and professional interest you can think of.
Some are huge international organizations with big conferences and pricey membership dues. Others are more local, more specialized, and more casual, while some are totally or partly online.
These groups can be great for connecting you with others in your field or area of interest.
Some even have their own job boards and other career resources for members. In most cases, there are low-key ways to check them out and see if you would want to get more involved. You can check out newsletters or online discussions, maybe attend an event.
Begin by simply searching for your industry name followed by the word "organization" and see where the search leads you.
3. Events
There are many organized events designed specifically for networking.
Some of these are hosted by professional associations.
There are also tons of networking and MeetUp groups and conferences.
Some of these events can be pretty cheesy. So do your research and make sure the group and event theme is a fit for you.
If you find an event that seems promising, make sure to do a little preparation so you know what you're trying to accomplish and can set some goals for the evening.
Job searching can be a lot to manage, but with some careful consideration and good preparation, you'll be on your way to your next job in no time. Good luck!
Ready to land your Dream job?
Chapter 5:
What if You Can't Get an Interview?
There's nothing more frustrating (and panic-inducing) than spending all of the time and energy on sending out resume after resume, email after email, and getting no results.
We get it. The job search is not for the faint of heart.
If you have been at your job search awhile and are not getting results, here are a few things to try:
Re-Evaluate Your Approach
The popular adage that insanity is doing the same thing over and over again but expecting different results can be applied to your job search.
Are you using the same approach in all of your applications, cover letters, and resumes? Are you being too vague in your language, (i.e. citing "communication skills" without demonstrating how you've applied that skill) or overly verbose?
Take stock of your approach thus far. Do you tend to be aggressive? Casual? Are you overlooking (or outright breaking) an unspoken rule of professionalism? Are you disregarding any special instructions that have been requested of applicants?
Doing any and all of these things can get you tossed in the "discard" pile. If you are attempting the same approach over and over again, find what your patterns are and go in a different direction. Then evaluate the results.
If a different approach is getting you more responses, continue to fine-tune your process until you've got it on lock.
Change Your Keywords
Since so many job searches are now conducted online and all online results come from keywords being curated by an algorithm, you simply may need to alter your search terms to see more opportunities.
For instance, perhaps in your old job, your title was "Account Manager," so in your job search you have been looking for "account manager jobs" as your keywords and have applied to all of those available jobs in your areas.
However, some companies looking to fill an account manager role may list the job as being for a "Relationship Manager" or "Client Liaison."
If you try searching these terms, more opportunities matching these keywords will pop up, giving you a chance to apply.
Ask for an Information Interview
An informational interview is a meeting you have with someone in order to get information about a certain company, industry, or career path you are interested in.
The purpose of an informational interview is not to beg for a job, but to collect information. There is often very valuable insight that can be gathered from people working "behind the curtain" and they can help you determine if your approach is the best one, or if there is something you might be missing.
Seeking informational interviews is also an excellent way to expand your professional network. Professionals are usually busy people, but they are often happy to speak to someone about their work and share the experience they've gained in their careers.
After establishing a personal connection with you, it's completely possible that they will also be ready and willing to help with your job search or put in a good word for you.
How to Stay Motivated
Job searching properly takes time and effort. And there's a lot on the line. Jobs are needed in order to survive, put food on the table, take care of yourself and your family. There's a lot at stake and every day that goes by feels like another day irredeemably lost. It definitely starts to take a mental toll. That's why it's important during your job search not to abandon all other aspects of your life.
Spend the time you've allotted yourself for job searching during your planning period on your job search and once you've filled that time, step away.
If you are unemployed during your job search and not just looking for something better while keeping your old job, take advantage of the time you have to do things that fill you up.
Bust out that old guitar or your set of paints. Take advantage of the myriad of free online classes available, read more books, take long baths, go for walks.
Inspiration and problem solving often happen when we are not actively seeking inspiration or answers.
Sometimes if you give your brain something else to do, solutions to your troubles will come to you.
Continue to socialize (when it's safe to do so) and spend time with people in a meaningful way that has nothing to do with job searching.
Know that you are a whole human being and not just a productivity machine. You have an intrinsic value that has nothing to do with your money-making ability or employment status. Enjoy your life. The work will come.
Practice Your Interview, Win the Job
Good interview preparation is about practice. It's not enough to merely read advice. You have to put it into action. Big Interview's practice tools simulate live interviews in real time, making you really good, really fast, guaranteed.
I'm Ready to Land a Job
Want to learn more about interviews?
Resume Writing 101
Learn how to write a job-winning resume in no time.
Coming soon
Job Search Documents
Impress your future interviewer with well-written cover letters, LinkedIn profiles, and portfolios.
Coming soon
Ready to Land a New Job? Let's Do It!
Big Interview will guide you through the process of becoming really good, really fast. Guaranteed.