According to LinkedIn, more than two new users join the network every second. This means that LinkedIn is becoming so much more than a simple social or professional platform, and we are here to tell you how to make the best use of it.
When used strategically, LinkedIn can be a powerful tool to aid you in your job search and help you advance your career. It can also help you bridge bigger career changes.
Are you using your LinkedIn profile to its full potential? If not, this advanced guide may help.
The previous post in our LinkedIn series helped you with using the basics of building a LinkedIn profile for your LinkedIn job search advantage. This post provides more advanced techniques for tapping into more LinkedIn job opportunities.
This post will include 4 parts:
Asking for and Receiving Fantastic LinkedIn Recommendations
Expanding Your Network Strategically
Building a Presence in Industry Groups
Getting Active About Posting Content and Updates
Because the reach of LinkedIn as a job search tool is far and wide (and ever-evolving), future posts will cover even more advanced LinkedIn techniques that will open you up to a whole new pool of LinkedIn jobs.
Part 1: Asking & Receiving Fantastic LinkedIn Recommendations
LinkedIn Job Recommendations – Making the Simple Request
The idea of requesting a recommendation on LinkedIn may very well make you almost as skittish as the prospect of a job interview. On LinkedIn, though, it's worth going out of your comfort zone because recommendations serve as powerful testimonials of your hard work, dedication, and ultimate employability.
4 Tips for Asking for LinkedIn Recommendations
These great tips will help take some of the sting out of the big ask, and help you approach recommendations in a whole new light.
Tip # 1: Expect some rejection
Don't take it personally. Some people are simply uncomfortable offering recommendations. Perhaps they've been burned in the past and are reluctant to do so in the future. Or maybe he or she doesn't remember you quite as clearly as you had hoped.
Often, it's just a matter of being too busy to respond to every request. If you don't get a positive response, thank the person for his or her time and move on to the next contact on your list. Don't risk a friendship or hold it against someone you have respected in the past if they choose not to recommend you publicly.
Tip #2: Ask for specific recommendations
Create a list of strengths you're most interested in highlighting in recommendations and then ask different people to recommend you for specific skills, knowledge, qualities, or expertise.
Don't be afraid to offer a little helpful prompting as well. Reminding them of specific occasions when you exhibited or practiced said skills can be useful in getting recommendations that paint a vivid picture of you as an employee. Over time, memories fade and LinkedIn recommenders often appreciate a reminder that will help them write a more eloquent and helpful recommendation without laboring over it.
Tip #3: Write individual requests
While LinkedIn will allow you to mass email a number of connections in an effort to get recommendations, it always works best if you send individual messages and emails so you can ask for specific things from individuals. This is also a more personal approach and allows you to show your respect and appreciation for each individual who you contact.
Tip #4: Invite people who aren't yet on LinkedIn to connect with you and write a recommendation
If some of your past managers/colleagues/clients still haven't joined LinkedIn, you can send an invite to prompt them to sign up. This kills two birds with one stone as it attracts new connections to LinkedIn and allows you the opportunity to reconnect with people you've lost touch with along the way.
Whom Should You Ask for Recommendations?
Asking is the hard part for most people. But some people struggle with the question of whom to ask even more. The key to solid recommendations is to limit the people you ask to those who can speak about your skills, leadership qualities, etc.
Getting high-quality recommendations is one of the most important things you can do to boost the usefulness of your LinkedIn profile in a LinkedIn job search situation. It makes sense. Aren't you more likely to buy a product with glowing Amazon reviews from real people who have purchased that item (you may have noticed the designation of Verified Purchase on some reviews)?
If you're trying to make yourself stand out in your industry, focus on recommendations from people who have used your services, worked by your side, or supervised your work in the past. This list includes:
Colleagues
Bosses
Mentors
Mentees
Clients
Senior-level recommenders can be particularly impressive to recruiters and hiring managers viewing your profile. When someone in a senior position takes the time to recommend you, it's a strong sign that you were highly valued (and less likely it's just your buddy in the next cubicle doing you a favor).
The Etiquette of Recommendation Requests
There is a sense of quid pro quo that goes along with recommendation requests on LinkedIn. If someone does offer a recommendation or agrees to write one on the specific subject you've requested, it's worth the goodwill to offer a small token of appreciation.
A "Thank You" at the very least is in order.
A gift card to Starbucks or something along those lines is a thoughtful gesture you can make as well.
Finally, consider giving the gift of your time and attention by crafting a beautiful recommendation for each person who recommends you. If you really want to score points, send a draft to the person in question before making it public.
Part 2: Expanding Your Network Strategically
Building a bigger and better LinkedIn network is one of the most important things you can do to boost the value of the platform in your LinkedIn job search.
The more connections you have, especially industry-specific and relevant connections, the more seriously recruiters and hiring managers will take you as a player within your industry.
That doesn't mean you want to dive right in and start trying to connect with any and everyone in your field. In fact, this approach could end up frustrating you with the entire LinkedIn job search process before you have the opportunity to enjoy the benefits of the platform.
Begin with people you know. It's perfectly acceptable to send out invitations to people you know, just remember to send individual and personal invitations rather than group invites. If you don't know the person well, include a reminder of how you met. This is particularly important if it has been a while or you're connecting with someone who meets a lot of people.
Invite people to connect with you by including your LinkedIn link on business cards, in your email signature, on your professional website and/or blog, on your Facebook page, etc.
Shift to people you want to know. Hold this step until you have at least 50, if not 100 connections of your own. Begin with people who are connected to people you're already connected with.
Attend real-world networking events

and invite the people you meet to connect on LinkedIn.

Use the LinkedIn "connection introduction" tactic

to selectively request that people you're connected to introduce you to people they're connected to. This lets you connect to people who are in your 2nd-degree and 3rd-degree networks. Keep in mind that you should ask respectfully as it's a favor for someone to open up their network to you.

Consider joining "open networker" LinkedIn groups.

This will help you boost your numbers quickly, though it may not be as targeted as you'd like. However, it is an excellent tool for building first-level connections who may be connected to the people you ultimately want to connect with.
Why are connections so important? Not only do connections impact how others view you, but they also impact the way LinkedIn views you as well. The more people you are connected with, the more often you'll show up in LinkedIn search results. This is crucial, and greatly increases your exposure and the chances of you landing one of those LinkedIn jobs you are searching for.
And in case you were wondering, here's 7 reasons to accept LinkedIn connections from strangers.
Part 3: Building a Presence in Industry Groups
If you're serious about using LinkedIn to grow your career prospects, you must take advantage of the various industry-related groups the network has to offer. There are more than 2.2 million LinkedIn Groups, so making use of them will be highly beneficial for your LinkedIn job search and overall presence on the platform.
To assist you in finding a group you may want to join, review the LinkedIn guide to groups. This is located on the left side of your LinkedIn homepage, about halfway down the sidebar.
Once you find a group you'd like to join, such as the Software & Technology: Metaverse | Web 3.0 | Blockchain | Managers | Sales | Human Resources group (which has over 2.5 million members) or the Digital Marketing group (which has over 2 million members), joining is simple. You click the BLUE JOIN button under the group's name and follow any subsequent instructions.
Some groups require additional steps to join. Some require administrative approval. Others require nothing more than a desire to join and participate.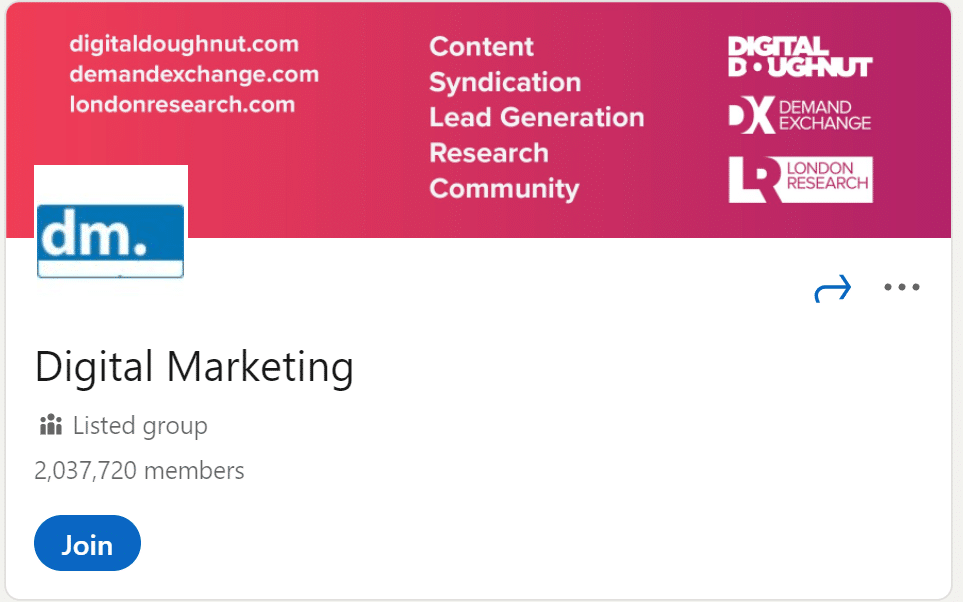 LinkedIn used to have a contribution level indicator for some of its groups, and it would showcase top group contributors at the very top of the page. But even without this feature, according to LinkedIn, being an active member of LinkedIn groups increases the chances of your profile being viewed up to 4 times more than it would otherwise.
The Importance of Group Participation
Not only is it important to participate in groups to get your profile noticed, there are many other benefits for membership in addition to participation, including the following:
Develop relationships with major players in your industry.
Build credibility as an expert in your field.
Establish yourself as a leader.
Learn about the latest news, developments, and advancements in your field.
Discuss industry-related problems and brainstorm potential solutions.
Get introductions to prominent leaders in your field.
Of course, there are things you shouldn't do when working to build your industry presence through groups as well. Making the wrong moves in groups can lead to a negative reputation among members. These things include
Negativity about the industry.
Peddling your products, wares, etc. obnoxiously
Sharing inappropriate or excessive content.
Posting unrelated content.
Focusing on the relevant and positive in group discussions is always a good plan unless you're actively working on solving negative issues within the conversation.
It's also wise to avoid joining more groups than you can actively and effectively participate in. Look for groups with active conversations and participation and make the most of those groups rather than casting too wide of a net.
Also, go ahead and get involved in groups before diving into your LinkedIn job search (if possible). This is a good idea because you'll already be established within the groups. Potential employers can view your posts to help determine your possible value as an employee.
Part 4: Being Active About Posting Content and Updates
In the realm of academia, the familiar battle cry is "Publish or Perish." On the internet, particularly in the realm of social networking, that particular anthem rings true, too. Perhaps it's more like "Publish or fade into the background."
With LinkedIn, it's easier than ever to publish. Your status updates and new content help to keep you top of mind with contacts who could refer you for open positions.
You don't have to go through laborious effort. What you must do, however, is find interesting details about your areas of interest and expertise to share with the masses.
It doesn't even have to be your own work – at least not entirely. Using the LinkedIn App, you can get news from various RSS feeds on your tablet device or mobile phone. Take the latest news in your industry and turn it into a status update.

Sharing Updates
Sharing an update is really simple to do too! Simply go to your LinkedIn homepage, type (or copy and paste from your Word document or blog), and hit the blue "Post" button in the lower right corner. You can even choose whether to make your status update public to all of LinkedIn, share it on Twitter and LinkedIn simultaneously, only share it with your connections, or post it in a specific group.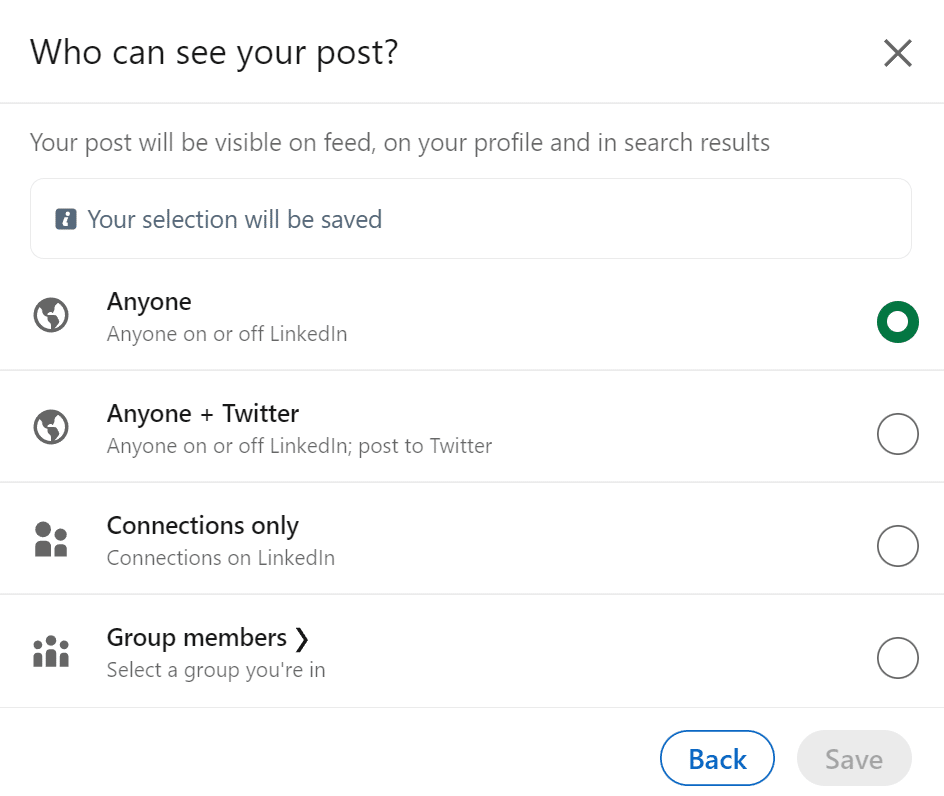 Your Potential Impact
1) Time Your Status Updates Wisely
If you're going for maximum exposure for available LinkedIn jobs, you need to post your status updates during LinkedIn's busiest hours. You want to do so on weekdays, in the morning or at midday.
2) Reduce, Reuse, Recycle
Content that is. Take your existing content from white papers, blog posts, articles, etc., and repurpose them into status updates, food for thought, new blog posts, top ten blog posts, discussion starters, and LinkedIn content.
The more frequently you post, the more visible you are to recruiters, and the higher likelihood of you getting contacted for a LinkedIn job.
3) Post Regularly
In order to get the best possible results from your posting efforts, you should post at least 20 status updates each month. As only 20 percent of your followers are reached with one status update, it is optimal to post three to four status updates each day.
How does it help to make routine content and status updates on LinkedIn?
These are just a few of the highlights to keep in mind before you decide to skip out on this vital step:
Informs others that you're staying up to date with what's going on in the industry.

Invites conversations with other leaders in your field.

Solidifies your credibility in the industry.

Provides a large return for a minimal investment of time and daily effort (it only takes a few minutes each day to do).

Positions you as a leader.

Engages others in the conversation.

Brings people back to your profile.

Earns more recognition from LinkedIn.

Makes your profile page more "findable" in industry-related searches.
In Summary
LinkedIn has made it easier than ever for savvy LinkedIn job seekers to stand out from the crowd of other applicants. You simply have to participate in the process by creating an inviting profile and engaging other LinkedIn users with conversation, interaction, and thoughtful participation.
This guide covered some of the more advanced areas of the LinkedIn profile that you need to spend time on in order to maximize your LinkedIn job search success.
In future posts, we'll cover even more advanced techniques for finding a job using LinkedIn — including sprucing up other profile areas (like Honors & Awards, Volunteer Experience & Causes, Following, etc.) and using the "Who's Viewed Your Profile" as a job search weapon, creating a LinkedIn portfolio (projects), and turning your LinkedIn profile into a resume with its Resume Builder Tool.