Craigslist, one of the best-known classified ad websites out there, is a vast and trusted platform featuring a variety of sections. With categories such as housing, items for sale, or community service, Craigslist is a great place to post your local ad, score a piece of vintage furniture or find an occasional babysitting gig.
Is Craigslist Good For Finding jobs?
Originally, Craigslist had nothing to do with job seeking, and even today, it can't be considered a full-service recruiting platform. Still, despite its vintage user interface and several major scandals, it remains one of the best platforms for finding work, with 208 million visits in April 2022 and 80 million new ads posted monthly.
Since Craigslist differs considerably from other popular job search sites, we compiled a list of things to know before applying – information on how it works, how to find your way around, and how to apply for a job there. We also included some Craigslist advantages and disadvantages to be aware of.
Craigslist Jobs: How It Works
Craigslist is a location-based website, and its job section is organized by industry. When you choose the city closest to you and the subcategory that best fits your expertise and interests, the open positions will be shown in a list.
The most recently advertised jobs in your area will be displayed at the top of the page and each job will have the location (or "remote"/"telecommute") specified in brackets. Alternatively, you can opt for the map view and then zoom in and out to filter the ads better.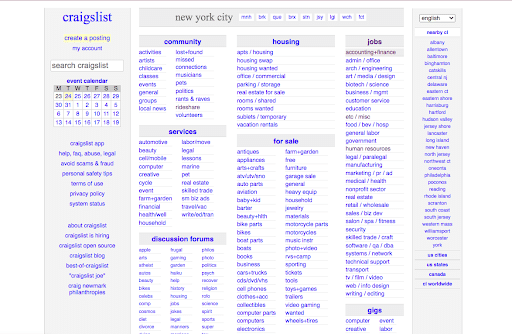 Don't stop at the Craigslist job section, especially if you're looking for a temporary job or a side hustle for a little extra income. Unlike "jobs", the "gigs" section is organized into one-word categories like "event" or "computer" rather than industry.
You can click a single category or the "gigs" link to view them all. Gigs can easily turn into jobs, so do take a look even if you initially set out to find permanent employment.
How to Find a Job on Craigslist
Although the same general rules apply to all job searches, each platform is different. Below are 10 tips on how to find a good, high-paid job on Craigslist.
Explore Craigslist jobs in other cities
Remember that Craigslist will only allow you to search for location-specific job ads, which means that you'll have to select a larger city or a neighborhood near you. If you'd like to browse jobs all over the US, there are third-party websites like https://www.searchcraigslist.net/ that let you search for a particular job in all cities at once.
Pick your industry and job type
This should be easy – with 30+ categories ranging from accounting and administration to web design, there's something for everyone.
Bear in mind that on Craigslist, job posters are required to distinguish between full-time and part-time positions. If you're looking for part-time employment only, make sure to select the part-time option. Otherwise, pick the industry that's most similar to your career field.
Pro tip: Avoid the etc. / misc section, a subcategory containing jobs that don't fall into any particular industry. 95% of these listings prove to be scams and phishing ads.
Explore categories and subcategories
Craigslist allows a decent amount of refined filtering – once you've chosen your industry and location, you'll be able to narrow down your search to only display craigslist jobs posted on that particular day or search by job title (e.g. transcriber, attorney, SysAdmin etc.).
And if you don't have a college degree, here are 11 high-paying jobs that don't require it.
Join Big Interview
Great interview preparation is about practice. It's not enough to merely read advice. You have to put it into action. Big Interview's practice tools simulate live interviews in real time, making you really good, really fast, guaranteed.
Get Instant Access Today
You can also search for internships and WFH opportunities only, as well as select employment type categories like full-time, part-time or contract. This way, you'll end up with more precise and relevant results.
Don't be afraid to dive deep
Things happen and change fast on Craigslist. Since the newest listings are shown at the top and each page contains 100 listings, it's easy to overlook anything that's not on the first page.
Don't fall into that trap and remember that most job seekers are thinking exactly like you. With more and more employers leveraging Craigslist to advertise job openings for free, there can easily be hundreds of good jobs hiding beyond the first page. Digging a little deeper could land you a great job with fewer applicants to compete against.
Refine your search for Craigslist jobs by using keywords
Broad searches come with two problems. One, if you only look for jobs in one or two categories, you'll have to wade through numerous positions, most of which won't be a good match or you're simply not qualified for.
Two, your dream job may be hiding in a category you don't normally search in. By entering keywords in the search bar at the top of the page, you'll narrow down your Craigslist job search.
You can filter results by job title, full-time vs. part-time, or even enter multiple comma-separated keywords.
For instance, some of the keywords that can help you find a genuine remote opportunity could be "work from home", "home-based", "work remotely", "remote work", "telecommute" etc. All in all, the more specific your search criteria, the more chances you'll have of landing the right job.
Pay attention to posts and titles of Craigslist jobs
Should you trust Craigslist jobs? There are two general rules of thumb to follow here – the more details in the ad the better, and second, if a job sounds too good to be true, it probably is.
So how do you tell if a Craigslist job ad is legitimate?
Generally speaking, genuine job ads on Craigslist come with plenty of details regarding the necessary qualifications, job description, working hours, responsibilities and compensation.
Legit advertisers are transparent about the company name and history, they include links to the company website, and provide a lot of supporting information.
This is not to say that all brief ads are automatically fake, but you could easily waste time responding to an ad for a position that's not adequate simply because there wasn't enough information in the ad itself.
Join Big Interview
Great interview preparation is about practice. It's not enough to merely read advice. You have to put it into action. Big Interview's practice tools simulate live interviews in real time, making you really good, really fast, guaranteed.
Get Instant Acces Today
Before applying, do run a background check on the company and check out their website. If there's none, consider it a red flag.
Speaking of red flags, don't forget to scan the job title and the ad itself for scammy words and marketing lingo. Bad grammar, emojis, money signs, exclamation marks, all caps, or ad titles that read "flexible hours, start immediately" could turn out to be a scam.
While most Craigslist jobs are legit, the fact that the platform is free and enormous makes it difficult to moderate. That's why the website itself has a page with information on avoiding scams and what to do if you've been a victim of one.
Here are our top 5 tips on avoiding job scams on Craigslist:
If the advertiser has no website or no footprint on the web, do not apply.
Avoid jobs with ridiculously high salaries. Sometimes, such ads are classic scams. Other times, unrealistic compensation could mean that the company is legit, but that they do not pay on time, or that the information in the ad was misleading. Always run a background check and read a few positive and negative reviews by former employees
Be alarmed if a company requires that you make a payment before you start work. A legitimate company will never ask you to do this.
Avoid job postings where it's unclear what your role would be and what kind of work is required.
Stay clear of any job postings where you're asked to provide your social security number or any financial information. A legitimate company will ask such questions only after the interview.
Follow the employer's instructions
Once you find the position you'd like to apply for, read the ad carefully. This step is crucial because companies sometimes ask for something very specific. Don't let a seemingly silly request deter you – if there's a special request, it's there for a reason.
In most cases, the employer simply wants to be sure that you've read the ad carefully, that you have the attention to detail that's required, and that you're not mass emailing a bunch of other companies too.
If the ad asks you to send three samples of your work or salary expectations, do it. If you're asked to record a short video or include a phrase like "Denver Nuggets" in the email subject, most definitely do it. Following the instructions to the letter will increase your chances of being seen and considered for the position.
Tailor your reply
Responding to job ads on Craigslist is different from what you see on other career websites. There are no forms to fill or documents to upload. It all happens by replying to the ad using your personal email.
When responding, avoid generic messages and don't mass email your resume. It's okay to have a couple of templates to use as starting points (e.g. writer vs. proofreader), but keep in mind that your main goal is to show the recruiters that you're taking the job seriously.
Take the time to tailor your response and reference the job posting. It's always a plus if you attach your resume and cover letter or supply a sample of your work in advance. That will help the recruiters to speed up the selection process and take your application more seriously.
Pro Tip: Instead of attaching it, write your cover letter as the body of the email – CEOs and recruiters love some time saved!
Adjust your language
Craigslist job ads can be short and written in an informal, conversational tone. When responding, try to match the tone and level of formality to the one in the posting.
Be super concise, keep it simple and avoid fillers and fluffy words that make little impact. Focus on how you can help and show some passion, determination and drive.
Make your subject clear and concise
When have you ever clicked on a boring or irrelevant email subject? Exactly.
When replying to a Craigslist ad, put the job title in the subject line and include the reference number from the posting (if applicable).
Remember that the advertisers receive hundreds of emails on a daily basis and that they can easily miss yours if the subject is too long, written in all caps or if they aren't sure what the email is about.
Pros and Cons of Craigslist Jobs
Despite its utility, Craigslist won't work for everyone. Let's look at some advantages and disadvantages to help you decide whether it's the right place for your job hunt.
Join Big Interview
Great interview preparation is about practice. It's not enough to merely read advice. You have to put it into action. Big Interview's practice tools simulate live interviews in real time, making you really good, really fast, guaranteed.
Get Instant Acces Today
Pros
It's free – This allows smaller companies with limited budgets to advertise without spending much and helps candidates browse thousands of open positions at no cost.
It gets updated every single day – Contrary to other job platforms, there will always be new job listings on Craigslist.
It's great for freelancers – Despite the rise of competitor freelancing platforms such as Fiverr, UpWork, 99 Designs, or Behance, Craigslist remains a trusted place for freelancers to find work and build a portfolio.
Cons
It might not work for senior positions – There are typically few senior positions advertised on Craigslist when compared to other platforms like ZipRecruiter, Monster or LinkedIn.
The info in the ads can't be verified – Unfortunately, Craigslist doesn't verify the information provided in the job ads. Since it's free, legitimate opportunities can often be buried under fishy ads and pyramid schemes.
You'll need to be diligent – Job scams are unfortunately part of the Craigslist job universe, and you'll need to be on your guard when reviewing job ads in a way you may not need to be with other sites.
In Summary
In case you've been skeptical of Craigslist jobs, you might be pleasantly surprised once you give it a chance. Although it works best for people looking for occasional part-time work, it's not impossible to find long-term and full-time employment on the platform. Using the tips above will surely help you see a difference in your search for craigslist jobs.
Big Interview is a system that combines expert video lessons and interactive practice to help candidates ace their job interviews. If you're changing careers or if your interviewing skills are rusty, Big Interview can help you build confidence, learn how to answer difficult questions and practice in virtual mock interviews.
Read next:
10 Ways to Determine If A Craigslist Job Posting is Legitimate
How To Find A Job On Twitter | Job Search – Big Interview Resources