How To Interview With English as a Second Language
If you are a job candidate that knows English as a second language, you are likely concerned about applying for and interviewing for jobs in an English speaking country. We're here to help.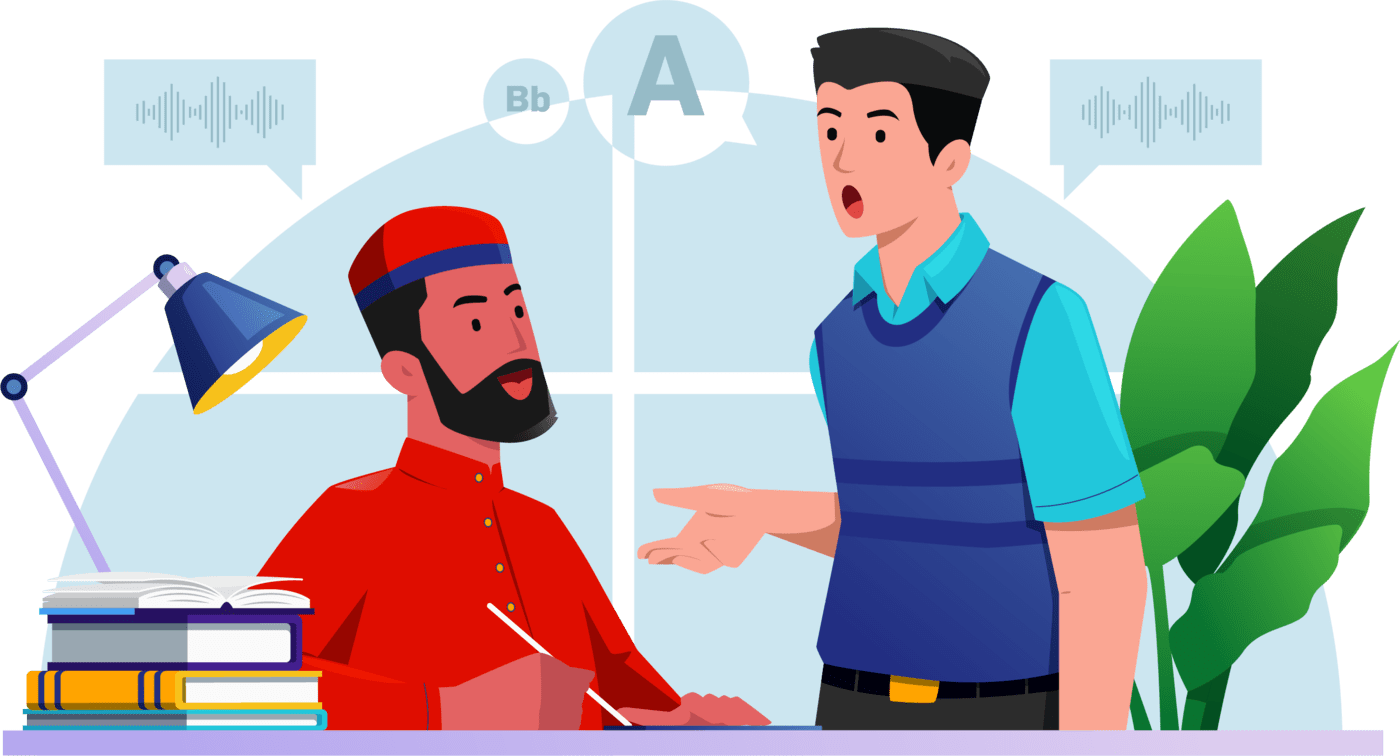 Job interviews are odd even for native English speakers, so they may feel particularly odd to you. There are certain verbal and behavioral expectations in the job interview context that will be important for you to understand so that you can make the most positive and professional impression possible.
It's true that being an ESL candidate adds some extra challenges for you, but they are completely surmountable. With good practice and preparation under your belt, you will gain ESL interview skills that will help you sell yourself and win the job.
Chapter 1:
Applying to Jobs with English as a Second Language
Before you even get to the interview stage, you need to go through the job application process. We speak in depth about the job search process in our Job Search Guide which walks you through how to find and apply to jobs.
But as an ESL candidate, there will be an additional layer to your job search process; navigating the language barrier.
Some jobs may have more emphasis on English language skills than others. Writing and communications jobs for instance may very clearly state being a native English speaker as a requirement.
If the job application does not specify being a native English speaker as a requirement, however, you should go ahead and apply.
If you are qualified for the job, that is all that matters.
For writing and communication roles, it is very common for some sort of writing, editing, or grammar test to be given to all candidates as part of the interview process.
This kind of test could work in your favor if there is any concern about English being your second language.
In general, however, having English as a second language shouldn't really come up during the job application process.
Know your rights when English is your second language
Though many companies are equal opportunity employers and value their diverse employee population, it's also a sad fact that some employers may display casual micro-aggressions towards you as a result of conscious or unconscious bias.
Other employers may not intend to be discriminatory, but simply don't stop to think that you may have the right to certain accommodations or information in your mother tongue and are neglecting to provide you with these things.
You should understand your rights and know what you can reasonably expect in the workplace.
According to the U.S. Department of Labor, these include:
OSHA – The Occupational Safety and Health Administration (OSHA) safeguards the rights that workers have to a safe and healthy work environment. This includes receiving safety training and assistance in a language you understand.
Speaking your native tongue – EEOC Regulation 29 C.F.R. § 1606.7(a) makes it unlawful to insist that English is spoken in the workplace at all times. However, it is lawful for an employer to adopt an English-only rule under very limited circumstances and only for necessary business purposes. Therefore, you may be required to speak English only for your job duties, but it is unlawful for your employer to keep you from speaking your native language to fellow coworkers or on breaks.
WHD – The Wage and Hour Division (WHD) of the U.S. Department of Labor enforces labor laws and focuses on vulnerable labor groups including those with limited proficiency of the English language. If you need help with advocating for yourself for fair wages, work hours, overtime pay, or any other wage and labor concern, the WHD has a workforce of investigators who are multilingual and provide services in over 50 languages to get you the help you need.
Your Right to Privacy – Your national origin is a protected class, which means it is illegal to discriminate against you based on where you are from. If you are asked questions about your country of origin, what culture you are from, or what language is your mother tongue, you do not have to answer and can file a complaint against the company. Most interviewers do not want to do anything discriminatory or unlawful, so hopefully, no questions of this nature will arise.
However, an employer can require that fluency in English (or any other language) be a requirement for a job role. Needing to be fluent in a language in order to effectively do the job is not discrimination and is perfectly acceptable. Again, be sure to read the job requirements carefully when applying for jobs to make sure you won't run into any issues.
Ready to land your Dream job?
Chapter 2:
English as a Second Language in Job Interviews
Job interviews are nerve-wracking for everyone, but you may especially be worried about your upcoming interview because English is your second language. The good news is, being an ESL candidate may not be as big a barrier as you think. If you are confident and qualified, many hiring managers won't care what your primary language is.
How to practice your ESL interview skills
You can read all of the articles and take all of the courses you want, but when it gets right down to it the only thing that is going to make you comfortable and confident in your interviews is practice.
You can practice nonverbal communication such as eye contact and posture, how to approach answering questions, and the vocabulary you want to use beforehand.
The importance of good practice is the reason we developed Big Interview. Our software simulates a real-life interview situation and allows you to record as many answers as you need until you get it right.
Additionally, we have created ESL interview lessons that talk you through the challenges unique to you as an ESL candidate.
Our other video curriculum teaches everything from what to wear to how to negotiate your salary and everything in between.
If you are nervous about your upcoming interview, there's no better thing you can do for yourself than to prepare with Big Interview. We'll make sure all of your bases are covered and that you're in the best position possible to win the job.
Answering interview questions as an ESL candidate
More or less all job interviews focus on the same types of questions. Some questions may be related to the specific industry you're interviewing for, but the rest of the questions you can expect will be behavioral questions.
Behavioral questions are meant to give the hiring manager an idea of how you might behave in a future context by hearing how you demonstrated a certain competency in the past.
They usually start with "tell me about a time…" or "give me an example of…" and are meant to give you the chance to demonstrate your strengths.
We have written an entire guide on job interview questions, the types of questions you will be asked, and how to answer them, so we strongly encourage you to read this guide as a part of your job interview preparation.
Be prepared for variations
Sometimes candidates who speak English as a second language prepare by memorizing the questions they think they'll be asked.
The problem with this approach is your interviewer may ask you the same question phrased differently.
For instance, an interviewer could say, "Tell me about yourself," or "Walk me through your resume."
Both questions are asking for the same thing–the hiring manager wants you to discuss your background–but they are phrased completely differently. If you are ready for one and not the other, it can really throw you off.
For this reason, make sure you practice with all of the possible variations of an interview question. (Big Interview's Question Library feature and Mock Interview Tool are perfect for this.)
Speaking about your ESL strengths
While doing all of this preparation for your interview may start to feel like speaking English as a second language is a weakness for you, it's actually pretty awesome.
Being bilingual is definitely a strength and it demonstrates some great qualities about you. Some of these qualities are:
Intelligence
Cultural fluency
Resilience
Quick learning
Adaptability
Education
In America, speaking more than one language is considered quite impressive in its own right. So be sure to mention your language fluency on your resume and speak openly about it if it comes up in your interview.
Are Your English Skills Holding You Back?
Being a good English speaker is just one obstacle you'll face in your job interview. Make sure you're prepared for any cultural differences, terms, phrases, or questions by practicing with Big Interview, a software designed with your unique challenges in mind.
I'm Ready to Land a Job
When answering questions about your greatest strengths in job interviews, your ESL status can do a lot for you. Let's take a look at some sample answers.
ESL Interview Sample Answer #1
One of my greatest strengths is how quickly I learn. I was 12 when my parents came to America, so I had to get up to speed quickly, and I'm proud to say I did just that. I worked very hard to get my English skills up to par and did very well in school. I can say that the ability to pick up new skills–especially skills involving speech and patterns–has stayed with me, and I'm usually a quick study when it comes to learning new things.
ESL Interview Sample Answer #2
One of the advantages of speaking English as a second language is it has allowed me to participate in global teams and learn a lot about cultural fluency. I love working on diverse teams and being bilingual has enabled me to make professional connections and communicate more effectively in the workplace than I would have been able to do otherwise.
ESL Interview Sample Answer #3
I can definitely say that one of my strengths is being adaptable. When I was growing up in America, we still mostly spoke Russian at home, so I learned to adapt my speech and language depending on the environment I was in. This has really served me in my professional life because it allows me to adapt to whatever circumstance is at hand and communicate with the stakeholders in a meaningful way.
Spend some time thinking through how speaking English as a second language has been a strength in your life and draft your own answers that make those strengths shine.
ESL accent reduction
We often see ESL job seekers being very, very concerned about their accents. But honestly, it's not as big of a deal as many ESL job seekers think.
In fact, oftentimes it isn't the accent that causes problems but the job seeker's anxiety about their accent is so high that they spend all of their time worrying about it and not enough time focusing on giving great answers.
The only real concern about your accent is if it makes your answers difficult to understand.
Often, the nerve-wracking circumstances of the interview make ESL candidates speak very quickly and this can make it hard for the interviewer to understand what you're saying.
To minimize any issues that might come up, make sure you are:
Speaking at an even, measured pace
Enunciating all of your words
Recording yourself during practice (and adjusting as necessary)
We have found that doing these 3 things during your interview and interview prep pave the way for smooth sailing.
Once again, it comes down to practice! Practice well and you'll do brilliantly.
Ready to land your Dream job?
Chapter 3:
English as a Second Language: Common Challenges
We've helped thousands of international job seekers train for their interviews, and in that time the same challenges tend to come up over and over again.
Let's address some of these challenges and how to approach them.
Cultural differences
Cultural differences you may not have considered before often come into play during job interviews. Depending on your country of origin, you may think you are displaying the utmost professionalism and respect, but to an American interviewer, you may have appeared cold, aloof, and uninterested.
It can be confusing and frustrating when you realize these nonverbal communications are being passed back and forth in the interview without you even realizing it. The best way to keep these cultural miscommunications from happening is to understand the context of your culture of origin.
What is a cultural context?
Broadly speaking, a cultural context is the values, beliefs, and attitudes that are incorporated in a people group. They inform the cultural behavior as a whole and include the "unwritten" social norms of people groups.
A High-Context Culture is a culture that values the well-being of the group above the individual. Social trust is very important and must be earned through relationships, and the connection between people is more important than the actual words spoken. Examples of high context cultures include many countries in the Middle East, Asia, and South America (among others).
In Low-Context Cultures, there is more emphasis placed on the individual and their ability to succeed separate from the group. Instead of spending time establishing trust and building a relationship, there is more of a mentality of "getting down to business" and an individual's ability to sell themselves or "talk a good game" is highly prized. The U.S., the U.K., Germany, and Australia are examples of low-context cultures.
These differences in cultural contexts can subtly show up in job interviews. The hiring manager may be looking for you to demonstrate your strengths in a low-context culture job interview, but if you're from a high-context culture, doing so would seem rude, unprofessional, and behavior to be frowned upon.
Understanding what cultural context you come from and which you'll be in when you are interviewing can go a long way in smoothing over what could otherwise be a rocky conversation.
Are Your English Skills Holding You Back?
Being a good English speaker is just one obstacle you'll face in your job interview. Make sure you're prepared for any cultural differences, terms, phrases, or questions by practicing with Big Interview, a software designed with your unique challenges in mind.
I'm Ready to Land a Job
It may take time for you to get comfortable talking about yourself if you're from a high-context culture, but with enough practice, it will start to become easier for you.
(Remember how we discussed the importance of practice in Chapter Two? This is another very important reason to get your practice time in!)
ESL interview lesson: How to sell yourself
If you are from a high-context culture, "selling" or promoting yourself in a job interview is going to feel odd and uncomfortable at first. It is vital that you learn to articulate your strengths and values in a job interview so the interviewer can feel confident that you are the right hire.
If you are a modest person (from any cultural context) you have likely lived life by performing well and then sitting silently waiting to be recognized.
This won't work in a job interview (or in advancing in your career). In an interview setting, you have only a short amount of time to make your case. If you spend that time being modest and stand-offish, the interviewer will simply think you are not qualified or don't care and will go to the next candidate.
To avoid this from happening, a pivotal part of your interview preparation needs to involve learning to sell yourself.
We have discovered a 3-step approach that has worked time and time again for ESL and other modest candidates.
Step 1: Know what makes you special
Before you can speak confidently about what your strengths are, you have to know what your strengths are.
More importantly, you'll need to know what they want your strengths to be.
To figure this out, you'll want to analyze the job description and make special note of any skills, experiences, or qualities they mention.
Next, analyze your own strengths and match what you can bring to the table with what they are looking for. These are the skills you'll want to be sure to talk about during the interview.
If it helps you get more comfortable talking about yourself, realize that you speaking about your strengths is doing them a tremendous favor. You're doing it to make their job easier so they can tell if your strengths match what they're looking for in the role or not.
So it's not you bragging about yourself–it's simply you stating some facts about your experience and skill set that will help them do their job better.
Step 2: Outline your answers
You don't want to memorize a script and sound canned and unnatural during your interview, but you do want to outline your speaking points.
Once you know what strengths of yours to speak about after analyzing the job description, you can start working on an outline for answering common interview questions.
Your answers will be different each time, but you'll still stay on point while delivering naturally and confidently.
3. Step: Practice your answers
That's right, we're talking about practicing again! With your newly outlined answers, practice, practice, and practice again until you know you can handle any interview question that is thrown your way.
Are Your English Skills Holding You Back?
Being a good English speaker is just one obstacle you'll face in your job interview. Make sure you're prepared for any cultural differences, terms, phrases, or questions by practicing with Big Interview, a software designed with your unique challenges in mind.
I'm Ready to Land a Job
ESL Job interview vocabulary
A very common fear among those who speak English as a second language is that the interviewer will say or ask them something that they don't understand. What do you do in this situation? It's easy to freeze and panic, feeling like you've blown the whole thing.
Don't let your mind run away with you, there are ways to approach not understanding that will help you get past the moment and still answer well.
Ask them to repeat or clarify the question
If you don't understand a question or part of the question, it is perfectly acceptable to ask them to repeat or clarify what they asked.
Oftentimes, when asked to repeat, an interviewer will ask the same question in a different way. This may be all the clarification you need to understand the question.
Buy some time
In general, people answer pretty quickly when they know the answer to a question. However, you can take a pause if you need one by saying something like, "that's a good question, let me think for a moment."
If you're having a particularly hard time coming up with an answer you can say, "this is a good question and I want to give a thoughtful answer. Can we circle back to this question when I've had some time to consider?"
Hiring managers want you to give thoughtful answers, so they are likely to be happy to give you some extra time, especially if they know that English is not your first language.
Buying time may not be the best thing to do however if you start hesitating on a question about why you left your last job after a short time, were out of work, or anything else that could be considered a red flag.
It's not always fair, but it's, unfortunately, true that pausing can be interpreted as a sign of dishonesty, or looking for a way to lie. Therefore it's best to pay particular attention to red flag questions in your preparation so that you can answer them quickly and confidently without causing suspicion.
Know you're not alone
As a bit of encouragement, it should be pointed out that many native English speakers are not good communicators. They can have poor vocabularies and vocal tics like saying "um," "uh," and "like" excessively.
Furthermore, many candidates don't practice well for their interviewers and can be as easily stumped as you, with poorer recovery time and no strategies for circling back and answering well.
An ESL job candidate who has practiced well and speaks confidently is much, MUCH better off than a native English speaker who has not prepared.
So don't get too in your head. Big Interview has been specifically designed to help you and you're going to do great!
Learning ESL interview skills
The great thing about job interviews is that generally, they are pretty predictable. They follow a particular structure and the same kinds of questions are asked in all job interviews.
This means that if you get familiar with the structure and the questions, there shouldn't really be any surprises on job interview day.
This is why we've developed our Mock Interview tool in Big Interview that allows you to simulate a real interview with an interviewer asking you questions. You can choose your industry, competency, and skill level when you do this so that your practice is completely customizable to your unique situation.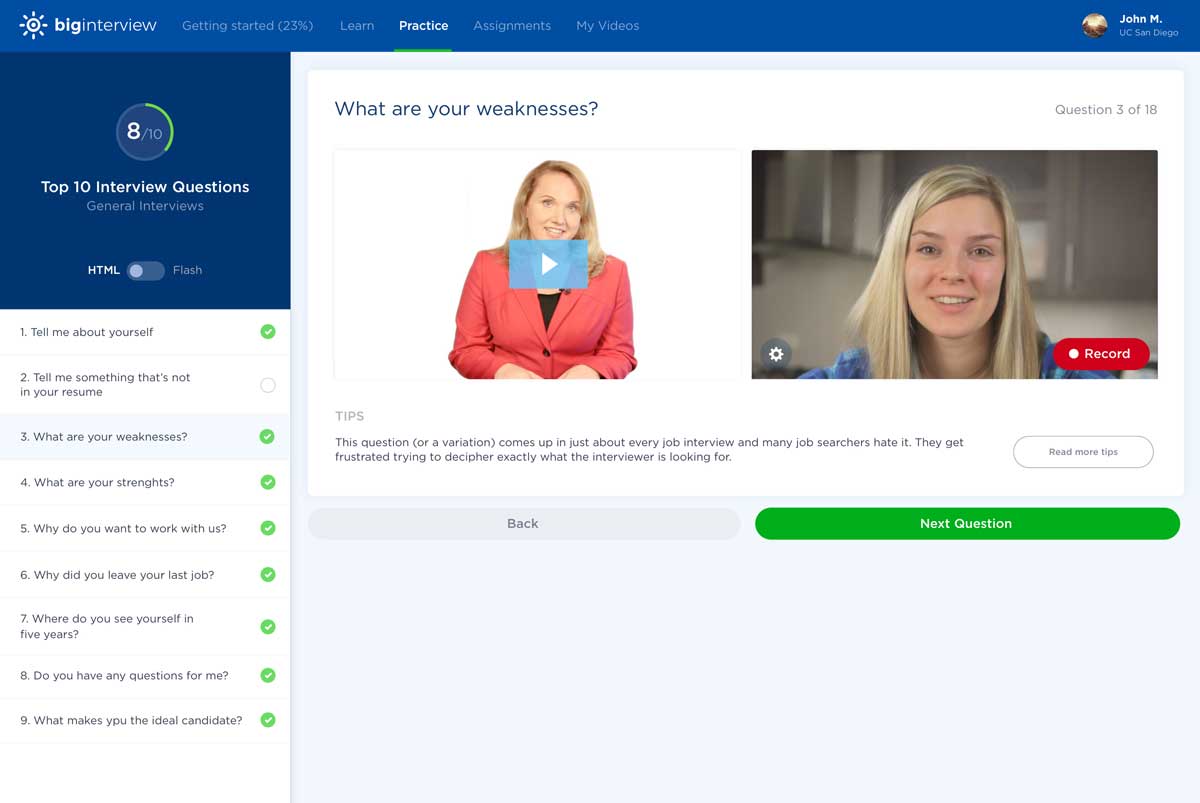 Additionally, we have an AI Feedback tool. This will be especially helpful for you to practice things like eye contact, rate of speech, verbal tics, and other things you might be worried about.
Our Answer Builder allows you to build answers to every kind of question you are likely to encounter and helps you outline them with the job-winning S.T.A.R format approach.
You can practice as many times as you need to until you feel completely comfortable. This kind of preparation is invaluable to all job seekers, and will especially help you with English as a second language in job interviews.
Ready to land your Dream job?
It is normal to be nervous going into a job interview. With English as a second language, you have some additional challenges to overcome, but you have already proven that you are remarkably resilient and intelligent, and qualified for the job.
If they didn't believe you were a great candidate, they wouldn't have invited you in for an interview. In that way, you've already won! You've beaten out many (sometimes even hundreds) of applicants who were trying to land the interview already.
When it gets right down to it, the success of your interview is going to be dependent on your confidence. Do you believe you can do this? Are you walking into that interview room ready to knock their socks off? Or are you approaching them timidly, modestly, nonverbally asking if you even have permission to be there?
Walk into that room knowing you have every right to be there, that you are prepared, qualified, and confident, and have a fantastic interview!
Are Your English Skills Holding You Back?
Being a good English speaker is just one obstacle you'll face in your job interview. Make sure you're prepared for any cultural differences, terms, phrases, or questions by practicing with Big Interview, a software designed with your unique challenges in mind.
I'm Ready to Land a Job
Want to learn more about interviews?
Resume Writing 101
Learn how to write a job-winning resume in no time.
Coming soon
Job Search Documents
Impress your future interviewer with well-written cover letters, LinkedIn profiles, and portfolios.
Coming soon
Ready to Land a New Job? Let's Do It!
Big Interview will guide you through the process of becoming really good, really fast. Guaranteed.