First Jobs for New Graduates
First jobs can be difficult to get and hard to navigate, but this guide will give you insight into interviewing well and starting your career off strong as a new graduate.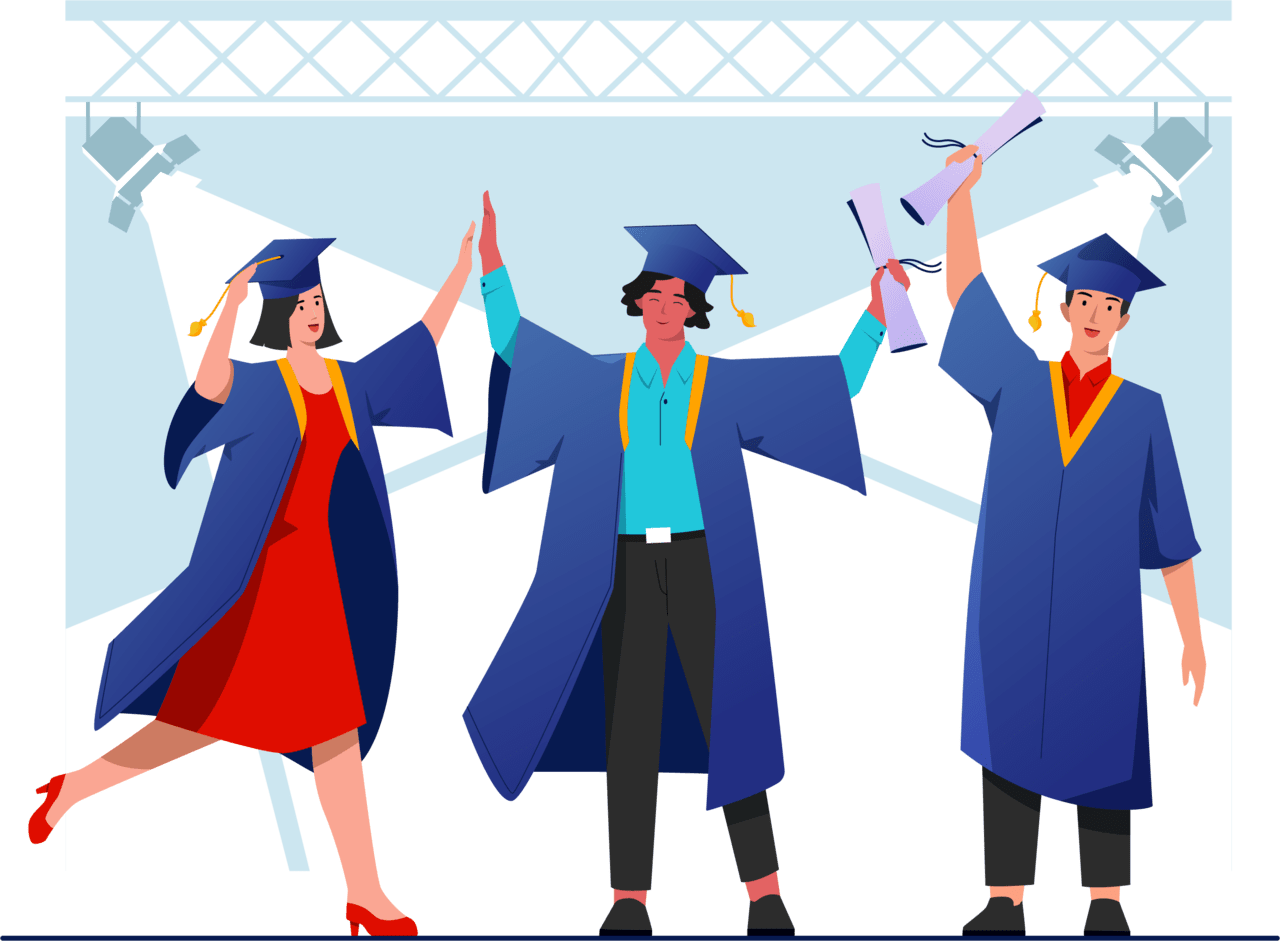 Graduating from college and starting your first job is a step into adulthood that you haven't yet experienced. Up until now, your trajectory has been pretty much set–graduate from high school, get into college, choose a major, then graduate college. So now what? You've got your degree in hand and the party is over. Come Monday morning, you are no longer a student who needs to be in class. You are now an unemployed adult looking for a job.
As with many endeavors undertaken in life, that first job is often the hardest one to get. You don't yet have the proven workplace skills and experiences to make you an enviable asset to hiring managers, but with this new graduate career guide you will be on your way to your first job in no time.
Chapter 1:
How to Get Your First Job as a Fresh Graduate
You have likely held some sort of job before you graduated. Many people have part-time jobs through high school and college, or participate in a work-study program,
have an internship
, help run a family business, or something similar. You may have held a full-time job for a brief period of time, or perhaps you've always done more flexible jobs such as babysitting, lawn care, or dog walking.
The process of landing your first professional full-time job will be different from all of these experiences.
There are many ways to get a job–personal connections or recommendations, internships, recruiters–but the most common way is through job boards.
What is a job board?
Before the internet, job boards were bulletin boards where people could post job opportunities. Sometimes you can still find odd jobs this way on the job boards of artsy coffee shops or in student lounges at your university.
If you're looking for your first professional, full-time job out of college however, you'll likely be using the plethora of job boards available online.
The most commonly used job boards you've probably heard of include:
In fact, you can simply type in a job title and your location and Google will curate a list of jobs for you, without having to go to specific job boards.

Simply click "100+ more jobs below the first results to see all of the jobs you can apply for.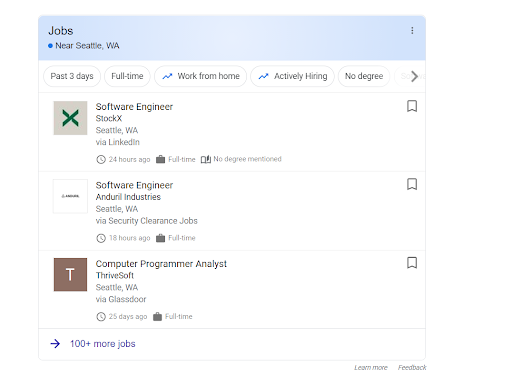 If you are looking for a specific kind of job however, specific boards can be useful.
AngelList for instance, is a job board entirely for jobs in startups.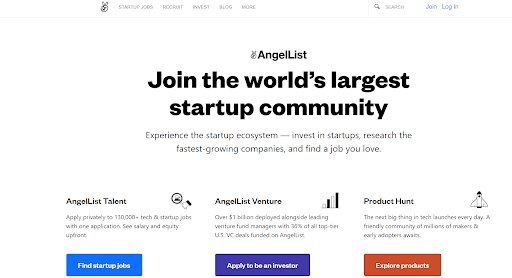 Flexjobs is solely for remote jobs. (Though post-Covid, many employers now consider work from home options who didn't before.)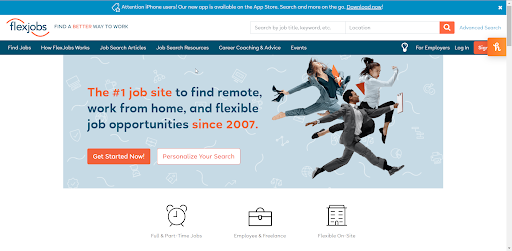 Scouted is a good job board for first jobs as well. It matches talent with companies looking to recruit for jobs and internships.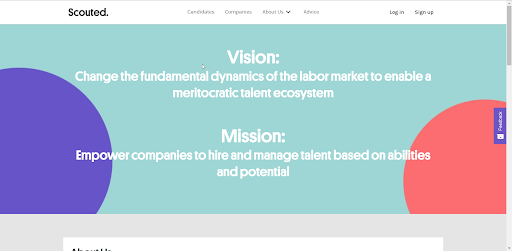 Many job boards (including the popular job boards like Indeed and LinkedIn) are free, but some of the more specialized boards ask for a subscription fee in exchange for their curated lists.
Sometimes paying for a service can be very helpful and save hours of time you'd spend combing through job boards of job listings that don't apply to you.
However, if money is tight, there are many free options available to you.
Craiglslist, for instance, may not be the first place you'd think to look for your first job, but many full-time, professional opportunities can be found there. Just be sure to use discernment and not respond to anything that seems like a scam.
HINT: if it seems too good to be true, it probably is!
You will also have some resources available to you as a student or new graduate that you may not be aware of. Speak to your Career Services office about their job boards. Many have a curated board specifically for alumni with job opportunities you wouldn't find anywhere else. You often have access to these boards for a couple of years after graduation, so take advantage of these resources while you can.
How to write a resume with no experience
Resume writing is unlike any other writing you have likely done. Certain formatting and grammar rules are expected and can make you appear unprofessional and sloppy if they are not followed.
We have written an in-depth guide that covers resume writing in detail, as well as developed an entire library of sample resumes (complete with templates and examples) so we won't get into the nuts and bolts of good resume writing here. However, you'll definitely want to check out these resources to make sure your new graduate resume and cover letter are as tight as they can be.
If you are writing a resume with no experience, you're not just concerned with learning proper resume writing, but also what to include on your resume.
The good news is, you likely have a lot more experience than you think.
A common mistake new graduates make when applying for their first job is thinking that only paid work should be included on their resume.
As you advance in your career, unpaid work is not as relevant, but when you're starting out it is absolutely acceptable (and encouraged) that you include work you have done that you may not have been paid for.
Were you involved in the organization of clubs or events while in school? That is relevant Leadership experience. Are you a whiz at building spreadsheets? Websites? Engines?
Have you ever volunteered your time at a social group or religious organization? Have you sent out newsletters, done maintenance, provided food service or childcare?
It all counts!
Your future employer will care a lot less about whether or not you were paid than they will about the experience you have and skills you accumulated.
How you convey your experience will be everything. That is why we again encourage you to read our resources on resume writing.
Often the difference between getting the job and losing the job will depend on your professionalism and articulation, so put yourself in the best possible position to succeed.
How to network as a new college graduate
You've probably heard the advice that goes something like, "Networking is really important! Make sure you network!"
But how often is it explained what that really means?
And more to the point, how are you, as a fresh graduate looking for your first job with no history of professional contacts, supposed to achieve this elusive idea of "networking?"
Are You Ready for Your First Interview?
Don't assume you'll know how to interview without any preparation. Job interviews are a specific kind of conversation and there are many unspoken rules you should know. Prepare with Big Interview and land your first job fast.
I'm Ready to Land a Job
The whole notion of networking can sound really daunting. Especially if you're not really a talkative person and wouldn't be considered an aggressive go-getter.
But the truth is, networking is just building relationships with intention. You already have networked to some degree. If you've ever had lunch with friends of friends and found an interest in common, you grew your friend network just by eating lunch.
If you ever reached out to someone online and started a conversation, you've expanded your social network.
Networking doesn't have to be done in stuffy conferences under fluorescent lights while sipping some cheap beverage out of a plastic cup.
It can be done in your home, at a get-together, or online.
To begin networking as a new graduate, start with some of these steps and watch your network grow.
Speak to your professors and career counselors
It is in your school's best interest to see you succeed. There are curmudgeons in every line of work, but generally your professors and the professionals working in your career services center want to support you and help you find a job.
Speak to the professors you have the best relationships with and pick their brains about your desired line of work. Do they see places you need to shore up our skills? Do they have advice about what aspect of the industry you would thrive in? Do they currently know of any people who are looking to bring on new graduates for mentoring?
Your Career Services Office will also have their ear to the ground about opportunities that may be a perfect fit for you.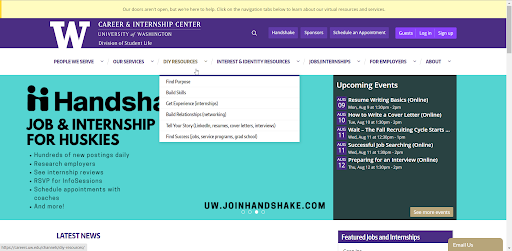 Make sure the Career Office knows who you are and what you're looking for. Build a relationship with them and periodically check in. If something comes along, they will remember you and possibly get you an interview.
Leverage your existing network
You alone may not have a sizable network, but what you may not have realized is you also have access to the network of everyone else you know.
If a friend of your friend works at Microsoft, and your friend introduces you to her friend, then you suddenly have access to someone who works at Microsoft.
So don't be discouraged. You don't have to come up with networking opportunities all on your own. You already have valuable connections that you may not have realized.
Make your needs known
No one can help you if they don't know you need help. Don't whine or be obnoxious about it, but when people ask what your plans are after graduation (and believe us, LOTS of people will ask this!) don't just shrug it off with a polite, "Oh, I don't know, I'll keep myself busy."
Take it as an opportunity to make a connection and let them know exactly what you hope to do.
You never know who you are talking to–they may just be someone who can help you get your foot in the door.
Set up informational interviews
An informational interview is a meeting you set up with a professional in order to learn more about their profession.
An informational meeting is a discussion and should not be seen as an opportunity to ask for a job.
You will be making a connection with someone in the field you are hoping to break into, someone whose experience and advice can be very valuable. They may offer to put in a word for you or let you know about potential job openings, but ultimately the meeting is a favor to you and you should be respectful of the time they've taken to share with you.
The Career Office is once again a good place to start with informational interviews, as many alums are happy to talk to new graduates from their school or major and are often quite open to being helpful.
Ready to land your Dream job?
Chapter 2:
Common Interview Mistakes for First Jobs
Job interviews are odd, there's no way around it. It's a conversation with a stranger who is trying to assess your ability to do a job and usually follows a particular structure.
If you've never had a job interview or your former interviews were very informal, you may have no idea what to expect.
Below are a few pointers to help you avoid some common pitfalls and keep you on the right track.
Burning bridges
If you are lucky enough to land an interview through an informational interview, networking, or even a simple job application, do not be a no show.
Few things can damage your professional reputation more than not showing up. It reflects very badly on whomever helped get you the interview, and will effectively burn the bridge between you and them and the entire company.
You don't want to start your career out on such a negative foot. When you're young and inexperienced it may seem that it can't hurt to burn a bridge or two, but you will quickly find that the world is quite small, and the world of your industry even smaller. You could get the reputation of being unreliable and untrustworthy before you've even landed your first job.
Be a respectful and reliable adult and show up. If you have to reschedule an interview for any reason, give as much notice as you can with a good reason for your absence.
Saying the wrong thing
If you have never interviewed before, or have very limited interview experience, you may not know how to answer common interview questions.
You've likely never had to discuss your weaknesses or give examples of your workplace competencies before.
The primary thing you want to avoid when interviewing is raising red flags.
A red flag is a warning sign to your interviewer that you may be a risky hire.
Red flags can include:
Using unprofessional language
Growing excessively nervous or agitated
Describing conflicts that escalated verbally or physically
Displays of being unreliable or irresponsible
Being overly candid about your weaknesses
Showing contempt or apathy towards the position or work in general
Speaking negatively about yourself or other people
Arrogance
Not listening, interrupting
An unkept or unprofessional appearance
If you don't know how to answer a question, it's perfectly acceptable to say you've never thought about it before and to take a minute to consider what you want to say.
If you think of a great answer later on, you can also say, "If we could, I would like to circle back to the question you asked me about weaknesses earlier. Now that I've had time to consider, I feel I have a good example to share."
Of course the best possible thing you can do before your interview is to prepare for the most common interview questions for new graduates so you don't ever find yourself in the position of not being able to answer.
Are You Ready for Your First Interview?
Don't assume you'll know how to interview without any preparation. Job interviews are a specific kind of conversation and there are many unspoken rules you should know. Prepare with Big Interview and land your first job fast.
I'm Ready to Land a Job
At Big Interview, we have designed our entire curriculum around preparing you to answer interview questions seamlessly and effectively and win the job. See everything you'll learn and how it will make you a better interviewer by learning about our software and features.
Not negotiating your salary
Many new graduates feel so grateful to even have a job offer that they don't think they have room to negotiate when it comes to salary.
It's true that you don't have a lot of experience yet, so you should have realistic expectations about your entry level salary. However, it's an unfortunate truth that some companies try to take advantage of new graduates by offering them a much lower starting salary than they are worth.
Be prepared with a researched salary range for your industry and experience level. You can find salary ranges on sites like Glassdoor and PayScale.
PayScale has custom ranges you can view, including salary ranges that alumni make from certain schools.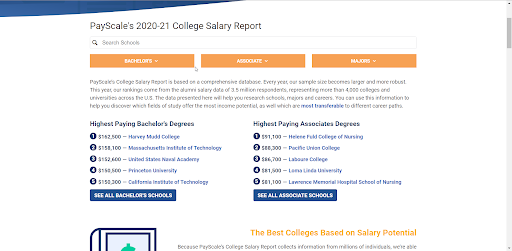 The more understanding you have of what a fair offer is, the better off you'll be. Do your due diligence so you don't make a mistake that could result in losing thousands of dollars and setting you back significantly in your career growth goals.
Not planning ahead
Many hiccups can arise on interview day that you did not foresee. Often, interviews take place in the heart of the city, making traffic and parking a real concern.
Interviews in office buildings with many floors may require you to know a suite number or passcode to get through doors and elevators, or you may have to walk up many flights of stairs.
Look up the location of the building on google maps to see where it is located, and be sure to ask about parking and access if it appears it may be an issue.
Make special note of any access codes you are given via email and write them down on a piece of paper and put it in your pocket.
Not being prepared
Not being prepared is probably the number one most common interview mistake and can absolutely cost you the job.
We've already discussed how preparing for the interview questions themselves is the most important thing, but there are other things you need to prepare in advance too.
These include:
Transportation – if you don't have your own car, make absolutely certain that your transportation plans are in place and that you have a backup in case they fall through. If you are not going to make your interview because of transportation problems, contact your interviewer as soon as possible and make them aware of the situation.
Your Resume – it is a good interview best practice to bring several hard copies of your resume with you to the interview. One for you and one for the interviewer (or interviewers, if there is more than one). This shows how prepared you are and allows you a quick reference point when they ask you questions pertaining to your resume.
Professional Attire – how to dress for a job interview will be determined a lot by the kind of company you're interviewing with. However, even if the company is casual, you want to look your best. Make sure you have some clean, well-fitting, professional clothing to wear to your interview to make the best first impression possible.
Ready to land your Dream job?
Chapter 3:
Internship Interviews Fresh Out of College
Though
internships are brief opportunities
, the internship interview should be approached just like a full-time job interview.
Companies dedicate a lot of resources to taking on interns. They have to design the internship program, provide senior staff to mentor interns, and spend the time and money recruiting, interviewing, and training them. It is in their best interest only to bring on interns who are serious about being dedicated to their jobs and will add value to the company.
For this reason, you don't want to make the mistake of thinking that the internship interview will be more informal and not as important to prepare for. All of the same best practices still apply when preparing for an internship interview.
Questions that are asked in an internship interview
While you will encounter many of the same interview questions while interviewing for an internship, your hiring manager will understand that you don't have a lot of real world experience as a fresh graduate, and therefore a few of the questions will be unique to internships.
Internship interview questions (and how to answer them)
Here are some interview questions you can expect in your internship interview and some advice on how to answer them:
Why do you want this internship? – you will get this same kind of question for any job, only after you have some professional experience it will be phrased as, "why do you want this job?"
The key to answering these types of questions well is to research the company and the internship description so you can speak intelligently about why it appeals to you.
The interviewer wants to see that you are genuinely enthusiastic about the opportunity and that you took the initiative to learn about the company and the role.
Why did you choose your major? – your answer to this question will tell the interviewer a lot about how you approach decision making, your educational goals and priorities, and your feelings about your education.
Your response should focus on the positive aspects of your school and your major. If you are currently seeking an internship that is not closely related to your major, you should also discuss why you are making a switch and how your course of study has prepared you.
The interviewer may follow up by asking you whether you feel you made the right decision. Avoid negativity about your school or your major. After all, if your education was so bad, why would they want to hire you?
How has your education prepared you for your career? – When interviewing without experience, be prepared to discuss your educational background extensively.
With limited job experience, your school accomplishments are important indicators of what you'll be able to do in an entry-level role.
Be prepared to discuss why you chose the learning institution(s) that you did and what you learned. You'll likely be asked about your coursework, grades, and extracurricular activities.
Think about the competencies required for the job at hand and how your school experiences have prepared you in these areas.
What was a course or project that helped prepare you for this internship? – The focus here should be on how you demonstrated the competencies required for the internship. For example, if the internship requires good teamwork skills, talk about a successful team experience in which you played a key role.
What are your future goals in this industry? – This is a standard interview question used to gauge your commitment level, how interested you are in the industry, and if your future goals match what they can offer. This question will pop up in job interviews throughout your career, and may be phrased as, "where do you see yourself in 5 years?" or "what are your career goals?" so it's good to practice answering it well now.
Be honest about your enthusiasm for the industry and your goals, paying special attention to how your career plan aligns with their company values and needs for the current time. If they are looking to hire an intern for the long term but you're only planning on sticking around for the summer for instance, it's not ultimately going to be a good fit.
Should you take an unpaid internship?
Choosing to take an unpaid internship is entirely up to you, but you should measure the costs and benefits carefully.
While many companies are dedicated to doing right by their interns, it is an unfortunate fact that others will try to exploit you for free labor without any real intention of teaching you or helping you gain useful skills and experiences.
If the internship seems to be exactly what you're looking for and you feel the experience you will gain and the things you will learn will be worth not getting paid, you could consider an unpaid internship.
However, it is wise not to agree to an internship that pays nothing, unless you are doing it for college credit, which can work towards your degree. At the very least, you should get a stipend for your time and possibly some help with transportation costs.
It's good to know that you can't start at the top in your first job, but know your worth and don't tolerate being exploited simply because you are young and inexperienced.
If you do decide to take an unpaid internship, get an agreement in writing about when it ends and when you'll start getting paid. If the time comes and the company doesn't honor the agreement, leave. You are under no professional obligation to allow yourself to be exploited.
Can an internship lead to a job?
An internship can often lead to a job offer and many internship programs are designed to create a pool of qualified candidates the company can recruit from.
This isn't always the case however, so it's wise to ask about what the expectations are in your internship interview.
If the understanding is that the internship will lead to a job opportunity, make sure you get that information in writing, with a time range for when it is expected that the internship will end and the job begins.
Are You Ready for Your First Interview?
Don't assume you'll know how to interview without any preparation. Job interviews are a specific kind of conversation and there are many unspoken rules you should know. Prepare with Big Interview and land your first job fast.
I'm Ready to Land a Job
In the event of a job offer, make sure that you have the discussion about salary and you don't get tricked into a situation where you are not being compensated fairly for your work.
Weigh your internship options carefully. There are many benefits you can gain from internships, even if they don't lead to a job offer. You are testing out the company and industry just as much as they are seeing if you are a good fit.
Think about these benefits when considering what internships (if any) you should take:
You will expand your professional network – if you don't land a job at this company, you will have made valuable industry contacts that could perhaps help you get in the door at a different company.
You will know what it's like working in an office – office life is a specific kind of lifestyle. You may have just taken for granted that you would fit into office life, but your internship will give you a taste of whether or not it's for you.
You will know what it's like working in the field – you will get to learn what it's like to do the job everyday, and if that's something you actually want. For non-office related work, maybe you've found being outside all day isn't as fun as you thought it would be, or maybe the job requires far more paperwork than you realized. Consider all of these things. Is this a job you want to devote the next 30 years of your working life to?
You can earn academic credit – your program may require you to complete an internship as part of your degree program while you're still a student. While juggling an internship around a full time class schedule can be challenging, it also gives you the benefit of being able to learn what you want out of your first job while still in school. There's less risk and you may be able to better afford taking on an internship that's unpaid.
Ready to land your Dream job?
Chapter 4:
Common Challenges in First Jobs
The majority of your life has been spent in school, where all expectations were set. Now that you've reached the end of college, you've mastered the school system, what is expected, and how to succeed.
Your first job will not be like school. Many fresh graduates face some of the common challenges below when they first join the workforce.
You are your own authority figure
While you still have managers and your performance will be monitored, there is no longer an entire institution keeping track of whether or not you succeed.
In fact, whether you're succeeding or failing can be entirely ambiguous. In school, you have a syllabus. Everything you will learn and be tested on is laid out for you in black and white.
There will be a job description for your role, but you may find that you get a bit lost in the day-to-day tasks and aren't certain of what is expected of you.
The mistake you can make here is waiting to be told what to do and not taking initiative. The delicate balance to strike is not to take too much initiative and overstep the mark into insubordination.
It's not always clear where you will fall on this line, so the best thing to do if you find yourself unsure about how to fill your days or prioritize your tasks is to ask your manager.
If you are interested in taking on additional responsibilities or learning new skills that will help you in your job, voice them. Many managers are very happy to help you grow in your professional development, and in fact, getting to mentor you is one of the reasons companies hire new graduates.
Ultimately, you will have to grow an active mindset and build the career you want instead of just doing what you're told and hoping it will be handed to you. There is no degree at the end of the workday. It will only be what you make of it.
There is no summer vacation
Unless you're a teacher, you will be working through the summer from now on. While you may have already thought about this mentally, once summer rolls around during your first job, your body starts to think it's about time for a break.
Getting used to not automatically having 3 months off out of the year can be a hard adjustment to make. You'll now have to use your paid time off for a work break, and in many companies, paid time off accrues slowly after a probation period of several months.
There isn't as much grace for mistakes
In college, if you skip class or fail an exam, there is usually some grace extended to you. You may be forgiven for a certain number of skips or have the opportunity to earn extra credit to get your grades back up.
In the workplace, if you drop the ball and mess up there will be real consequences for many people. Not showing up to a meeting could mean the loss of a big client. Not turning in your piece of a project on time may mean tying up the whole team and delaying the finished product.
Everyone makes a mistake from time to time, but they should be the exception, not the rule.
Depending on the leadership philosophy of your managers and the policy of your company, one mistake might be enough to cost you the job.
You'll need to switch from a college mindset to a professional workplace mindset when you get your first job, and be responsible with your duties.
What if I don't like my job?
It's not uncommon for a fresh graduate to get started in their first job only to discover that they hate what they do.
There may be a few reasons for this:
You chose your major too young – in most cases, college students choose their major at 18 or so years old. This is a very young age to be deciding the entire course of your future. You will change a lot in the four (or more) years you've spent in college, and you may want completely different things for your career now then you did then.
Reality hit you – you may have studied something you loved in college and enjoyed every second of it, but now find that your earning potential isn't what you thought it would be. In fact, you may not be able to work in your field of study at all because there simply aren't many jobs in those industries, and the opportunities that are available are extremely competitive.
Your first job isn't what you thought it would be – maybe you had dreams of being a big city accountant, but your first job is for a small business run out of your bosses basement. Maybe you imagined yourself taking on cases that would change the world, but you spend your days in Excel spreadsheets. The fact is, sometimes studying something and actually doing the job you studied for are very different experiences. Additionally, the day-to-day responsibilities you will have for your first entry-level job will likely look very different than the career you imagined.
If you find that you studied for years only to land in a job you hate, your life is not over. According to a recent report from the Bureau of Labor Statistics, on average workers change jobs every 4.2 years.
Are You Ready for Your First Interview?
Don't assume you'll know how to interview without any preparation. Job interviews are a specific kind of conversation and there are many unspoken rules you should know. Prepare with Big Interview and land your first job fast.
I'm Ready to Land a Job
It's okay if you are not thrilled with your first job, but it's important to analyze the reasons for your discontent. If you are simply impatient with entry-level work, it may be worth sticking it out and growing with the company so you can gain more experience and be promoted.
If you discover you've made a mistake and want to completely change career paths, you can do that too! Being 22 or 23 is still very young. You can absolutely change direction (no matter how old you are) and find something that suits you better. Your first job will not be your last job, so don't get discouraged.
You may be overwhelmed
All of these changes and realizations hitting you at once can likely cause you to become overwhelmed. You may start thinking that you're a wimp who needs to grow up and all your friends are out there succeeding while you're shrinking away at your desk, doubting yourself and every decision you've made up until now.
Chances are, a lot of the people you graduated with are probably feeling similarly. Reach out and confess your struggles. They probably feel as alone and as adrift as you do. Making that connection with someone and talking about it can do a lot to help you feel better.
Give yourself some time to adjust. Your first job is different from school, and you won't always be the new person starting at the bottom. You'll learn new things, you'll prove yourself, you'll do great work on cool projects, and make workplace friends.
If you give it time, you will adjust and things will improve. If they don't and you feel in your heart you are in the wrong place, you can absolutely choose to leave and try something else. Don't feel stuck in a hopeless situation. You are in control of your career and it can look however you want it to look.
You may already have your first job lined up, or you may just be getting ready to apply. You may have a large network, or may be starting from scratch. You may be starting an internship, or have no plans at all.
Whatever your circumstances are, your career is yours to build. No matter where your first job lands you, it's just the beginning. Boldly grab ahold of the opportunities that come your way, prepare well, and buckle in to your new career.
Are You Ready for Your First Interview?
Don't assume you'll know how to interview without any preparation. Job interviews are a specific kind of conversation and there are many unspoken rules you should know. Prepare with Big Interview and land your first job fast.
I'm Ready to Land a Job
Want to learn more about interviews?
Resume Writing 101
Learn how to write a job-winning resume in no time.
Coming soon
Job Search Documents
Impress your future interviewer with well-written cover letters, LinkedIn profiles, and portfolios.
Coming soon
Ready to Land a New Job? Let's Do It!
Big Interview will guide you through the process of becoming really good, really fast. Guaranteed.